Over the weekend, I attended a class at Pottery Barn presented by Sherwin-Williams called "How to Choose the Perfect Wall Color."  I furiously took notes so that I could share the information with you in today's post!
In case you don't already know, Pottery Barn has teamed up with Sherwin-Williams to hand-pick a selection of Sherwin-Williams colors to use as the Pottery Barn seasonal palette that coordinates with the store's latest collections.  Here's a look at this year's Fall/Winter palette: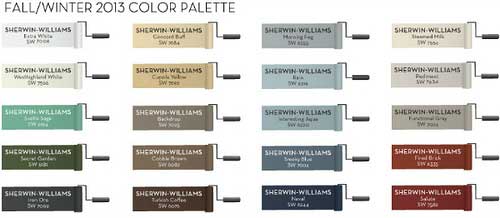 What's nice about the Pottery Barn palette is that it's reduced to a manageable number of choices so that it isn't too overwhelming.  But the reality is that when it comes to paint, there are so many color choices that it can be a daunting task to find just the "perfect" color.  To help make the process easier and give you confidence, here are 7 tips to help you find just the right color for you and your home.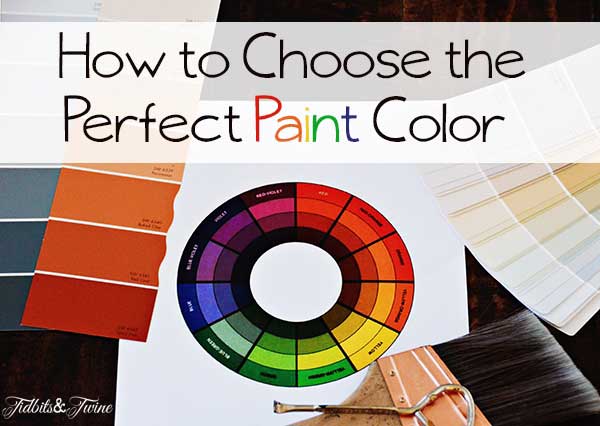 1.  Choose Your Paint Color in the Space You're Painting
Both the lighting in a space and the surrounding colors used can affect the way a paint color appears, so when choosing a paint, always make your selection while in the space that you'll be painting.  Take a few paint swatches home from the store and you'll see that they way the look in the store is entirely different than how they look in your home!  The reason this occurs is because of two phenomenons that affect color:
A.  Metamerism – The influence that light sources have on the appearance of color.  Natural light shows the truest color, while incandescent and fluorescent lights cast warm and cool tones, respectively.
B.  Simultaneous Contrast – The tendency of one color to appear to change based on the surrounding colors.  For example, in the image below you'll see that a gray-green (right) viewed next to red will appear more green.  On the other hand, a gray-green (right) paired with a vibrant green will tend to look more gray.
In order to determine how a paint color will look in your home, you need to sample the paint in your space so that you can take into account the two factors above.
2.  Choose Paint Last
Because paint colors are affected by their surroundings, it is important to always pick your paint color last and have all of your items in the room when choosing a color.
Remember, you are not just choosing a color for a wall, but for an entire space.
3.  Have Your Inspiration Piece Ready
The first step in the design process is to find your inspiration.  You can look to magazines, Pinterest, accessories, art and even your wardrobe to find what it is you're drawn to and what makes you happy.  Once you have your inspiration, you'll have an idea as to the color palette you will be working with.  You can also choose a color palette by familiarizing yourself with the color wheel.
4.  Familiarize Yourself with the Color Wheel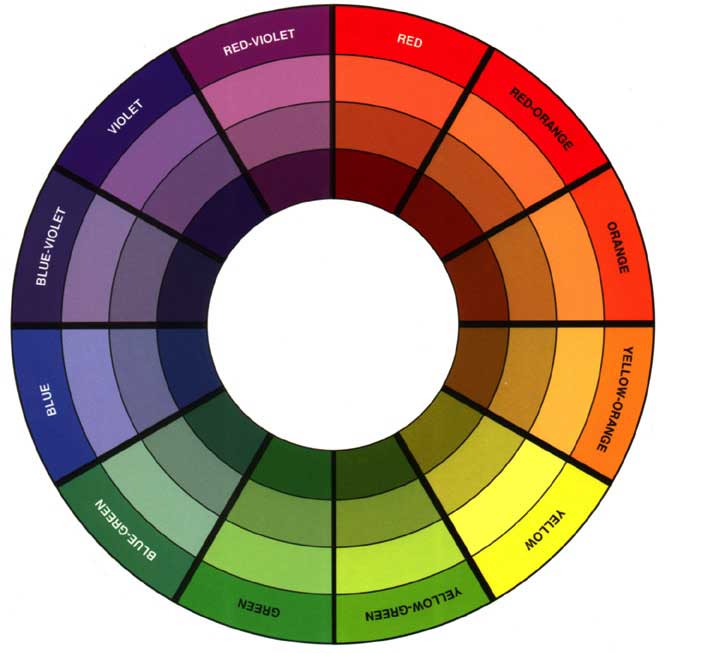 A. Colors can be broken down into the following categories:
Primary Colors: Red, Blue and Yellow.  These are true colors that are not mixed with other colors.
Secondary Colors: Orange, Green and Purple.  These are created by combining an equal mix of two primary colors.
Tertiary: All colors made from any combination of other colors.
B. The color wheel also demonstrates the visual temperature of colors.  If you look at the color wheel above, you'll see that all colors on the right are warm colors, while the ones on the left are cool.
C. You can use the color wheel to help identify interesting combinations of colors:
Monochromatic Color Scheme – This is created by using a single color in varying shades.  This is the simplest of all color schemes and in fact, when looking at paint chips, you'll notice that all paint chips are laid out in the monochromatic scheme showing each color in a variety of hues.
Analogous Color Scheme – This is the combination of two or more colors that are next to each other on the color wheel.  For example, yellow, orange and red.
Complementary Color Scheme – This color scheme is created by using colors that are opposites to each other on the color wheel.  As such, it mixes a warm color and a cool color.  If you've been reading my blog for some time, you know that my personal favorite color combination is a complementary one that mixes terracotta and gray-blue.
5. Know What Mood You Want to Create
Color has the ability to affect mood, so before painting, take into consideration the type of space you are painting and what mood you want it to reflect.  For example, blues, greens and neutrals tend to evoke feelings of calmness and relaxation and so are generally suited for bedrooms.  Reds, yellows and oranges are more energetic colors that stimulate blood flow and so work well in kitchens.  One word of caution – some colors are so intense that they can be overstimulating or cause eye fatigue, so pay careful attention to the amount of saturation.  You can read more about color psychology here.
6.  Create Color Continuity
In order to create a harmonious environment in your home, use color continuity between all of the rooms even if the walls of different rooms are painted different colors.  For example, if your living room is blue and green, you can use blue and purple in the ding room, thereby creating a continuity of blue between the two rooms.
7.  When Using More Than One Color, Don't Play Fair
If you choose a color scheme using three colors, don't use the colors evenly throughout your space.  Instead, follow the 60/30/10 rule: 60% should be your main color, 30% your secondary color and 10% your tertiary.  As a practical example, think of your walls as your 60%, your furniture as your 30% and your accessories as your 10%.
Alternatively, if you are using just two colors, use 66% as your primary and the remainder as your secondary color.
Additional Tips & Tidbits
Sherwin-Williams' paint strip #16 is currently their most popular color strip

Sheen doesn't affect the way a color appears but does affect the amount of light that is reflected.  The higher the sheen, the more the light is reflected.  Higher sheens also allow for better washability but tend to look institutional in a home (with the exception of kitchens and bathrooms)
Because colors play off of one another, be sure to always pay attention to the undertones of a color.  For example, a beige with a pink undertone will look different in your space than a beige with a gray undertone.
When sampling paint colors, try to paint a square of at least 1′ x 1′ so that you can clearly see the color.  Also try to paint on more than one wall since shadows are cast differently around a room.
Observe your paint samples at all times of day to see how the look changes as the lighting changes
Sometimes, less is more.  Highly saturated colors often look beautiful on the paint strip, whereas softer colors sometimes look boring.  But remember that you're painting an entire space and highly saturated colors are often overwhelming in a space and we quickly tire of them.  When looking for the perfect color, don't rule out the pale shades, as they are often the ones that are most pleasing on the walls.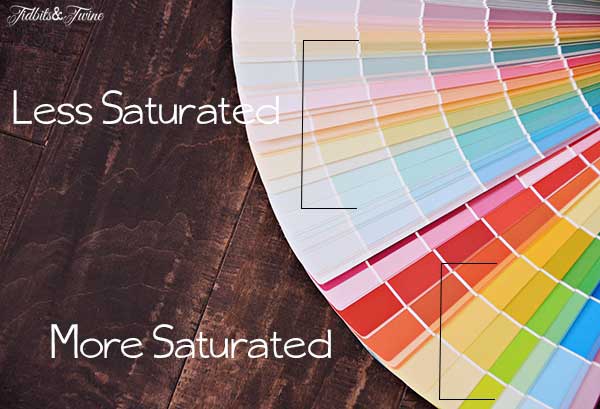 If you have an inspiration image but still aren't sure what colors to work with, try the Chip It tool as a starting point.  You can read more about Chip It here.
 If you find a color you like but don't like the brand of paint, ask about color matching.  Almost all manufacturers can now color match to a competitor's color.
When testing out colors at home, be sure to ask about sample sizes, as they are smaller and less expensive amounts for sampling colors at home.  Many manufactures can tint their sample sizes to any color you want, but they likely only have one sheen available.
When painting from a can, you can use a rubber band around the opening to wipe off your brush, keeping the paint from spilling into the rim.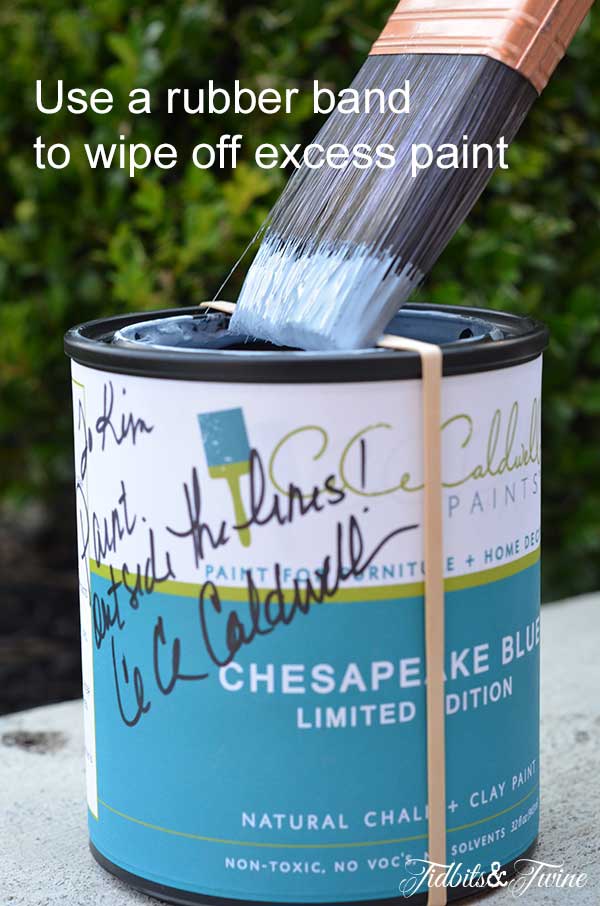 Trust your instincts!  If you glance at a sample on your wall and your first reaction is that the color looks different than you thought or you hoped, then it's probably not the right color for you.  Often, your first reaction is the right one!
One final thought.  There are literally thousands of paint colors available, so if you find yourself unsure or hesitant about a color, eliminate it from consideration and move on to other options.  If you follow the tips above, then chances are when you find the right color, you'll know it!
Now I'm off to pick a paint color for my  guest bedroom!

Would you like to receive my posts via email? Enter your email address below. You will instantly receive an email from FeedBurner and you will need to click the link to activate your subscription.