I was sitting in my favorite Winter spot in the house when I got to thinking just how important this spot is to me. Even though it's not that cold where I live (today it's 59 degrees), I light a fire in my room every afternoon just before the kids get home from school. I sit by the fire and eat lunch, catch up on emails and sometimes, just relax in order to prepare myself for the afternoon craziness. Even if it's just for five minutes, it's still an important part of my day. I'm even sitting here as I type now.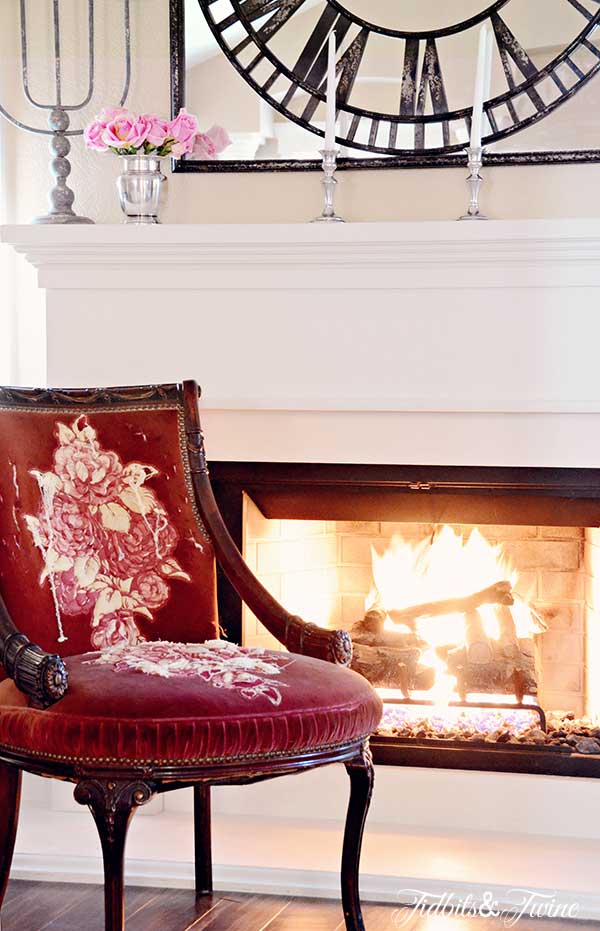 Having a spot in your home where you can unwind is so important. Whether it's a craft room, sewing room, your bedroom or even a well-loved spot on the sofa, it's the idea of an environment where you can breathe, feel comfortable and feel at peace. After all, our homes should be a sanctuary, right?
The kids' first week back at school from the holidays has been a rough transition. Plus, with the start of the new year, I've been purging my home of everything that either isn't necessary or that I don't truly love. Last weekend, we worked on the kids' rooms, getting rid of clothes they had outgrown or toys they no longer played with. I then moved on to organizing the coat closet and the closet under the stairs and was able to donate two big bags of items from those two closets alone! I finally got around to my bedroom just yesterday. I really want to make more space to appreciate and show off the items in my home that I really love and cherish.
And yes, I cherish my bedroom chair. I know it's tattered and torn and the stuffing is falling out, but it's comfortable and it's a family heirloom. So now that my room is clean, I can once again sit in my favorite thinking spot and enjoy the cozy fire.
What's your thinking spot?

Would you like to receive my posts via email? Enter your email address below. You will instantly receive an email from FeedBurner and you will need to click the link to activate your subscription.