Lately, I've noticed that many of my Facebook posts are not reaching everyone who has Liked my page. After doing a bit of research, I discovered that Facebook made some changes to how content appears in your News Feed, so if you follow me on Facebook, you might have realized that some of my posts are not appearing in your feed. You can follow these two easy steps to ensure that all of my posts continue to show up!
1. Go to Tidbits&Twine Facebook Page and mouse over the blue LIKED button. When the drop down menu appears, make sure that "Show in News Feed" is checked.
2. In that same drop down menu, click on "Settings" and check "All Updates."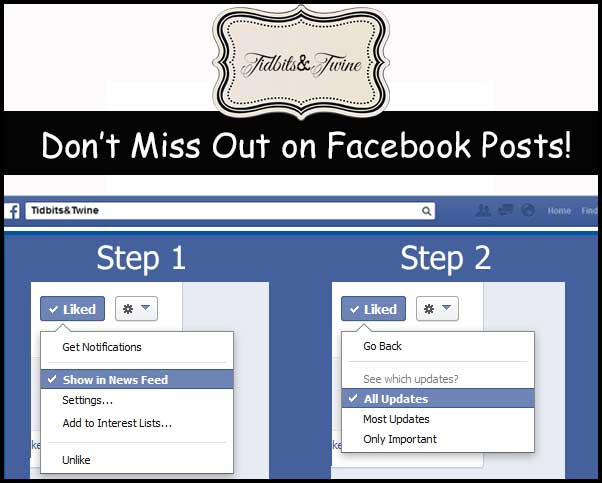 If you're not already following me on Facebook, please do! I post additional bits of info and inspirational photos that I don't necessarily post to my blog. Just click the "Like" button and the follow the two steps above.
Have a great weekend!

Would you like to receive my posts via email? Enter your email address below. You will instantly receive an email from FeedBurner and you will need to click the link to activate your subscription.