Decorating with a wreath doesn't have to be limited to your front door! In fact, if you want to get the most bang for your buck, you might consider using a wreath in other areas of the house to give it a fresh look and add some greenery to your decor. So before you put that holiday wreath back in storage, check out these 12 ways to decorate with a wreath.
1. Door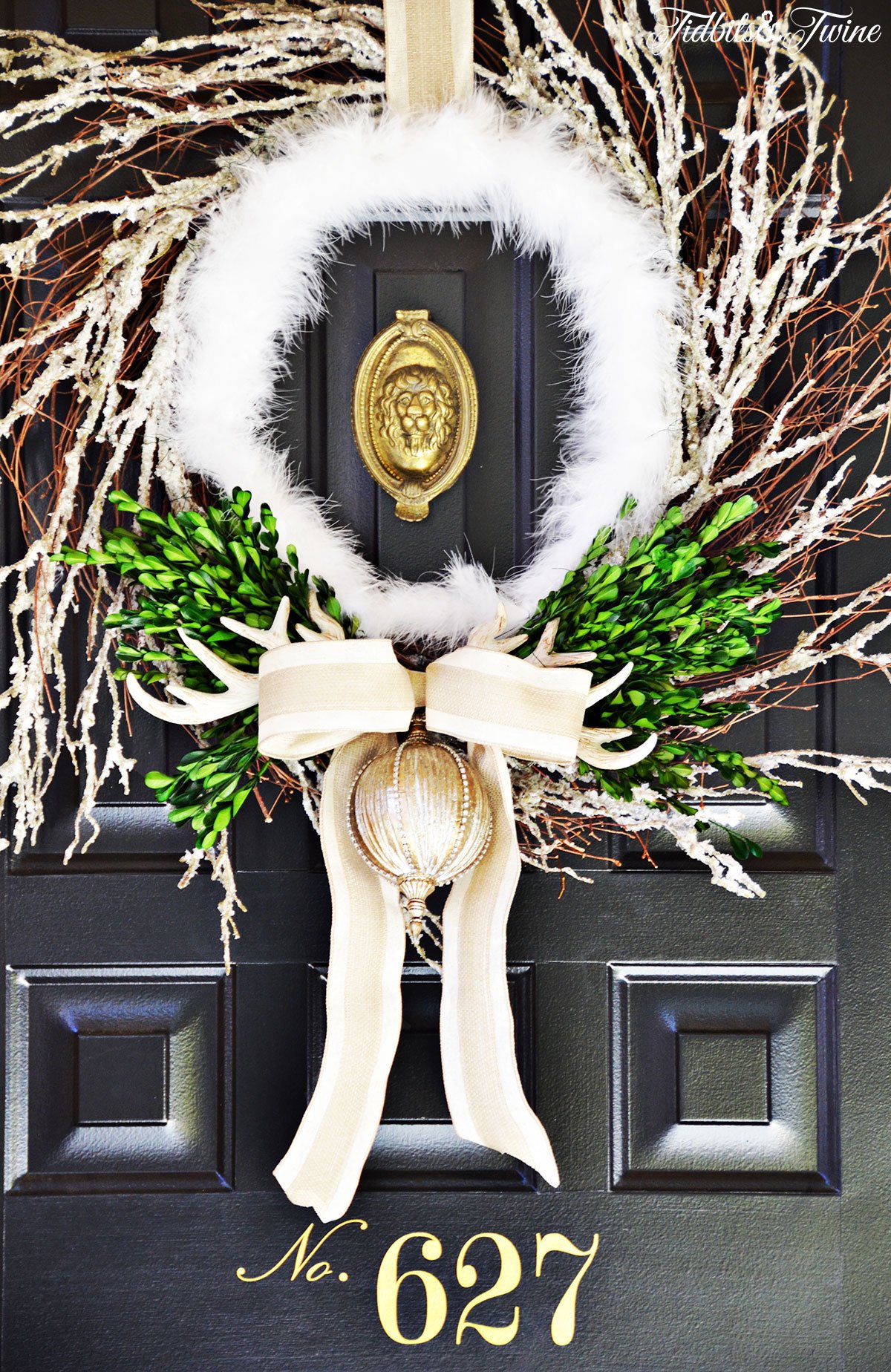 Well, okay, this list wouldn't be complete if I didn't list the obvious. While wreaths are often reserved for the front door, though, maybe consider placing one on an inside door, like a pantry!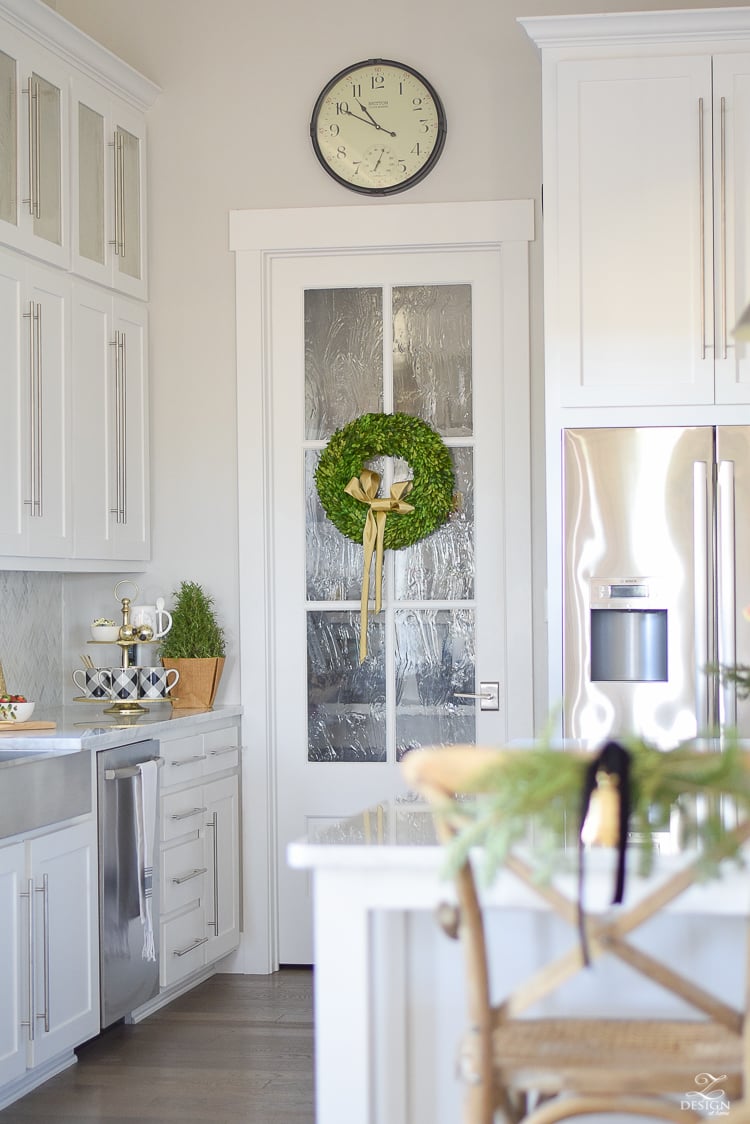 And here's an easy way to hang a wreath!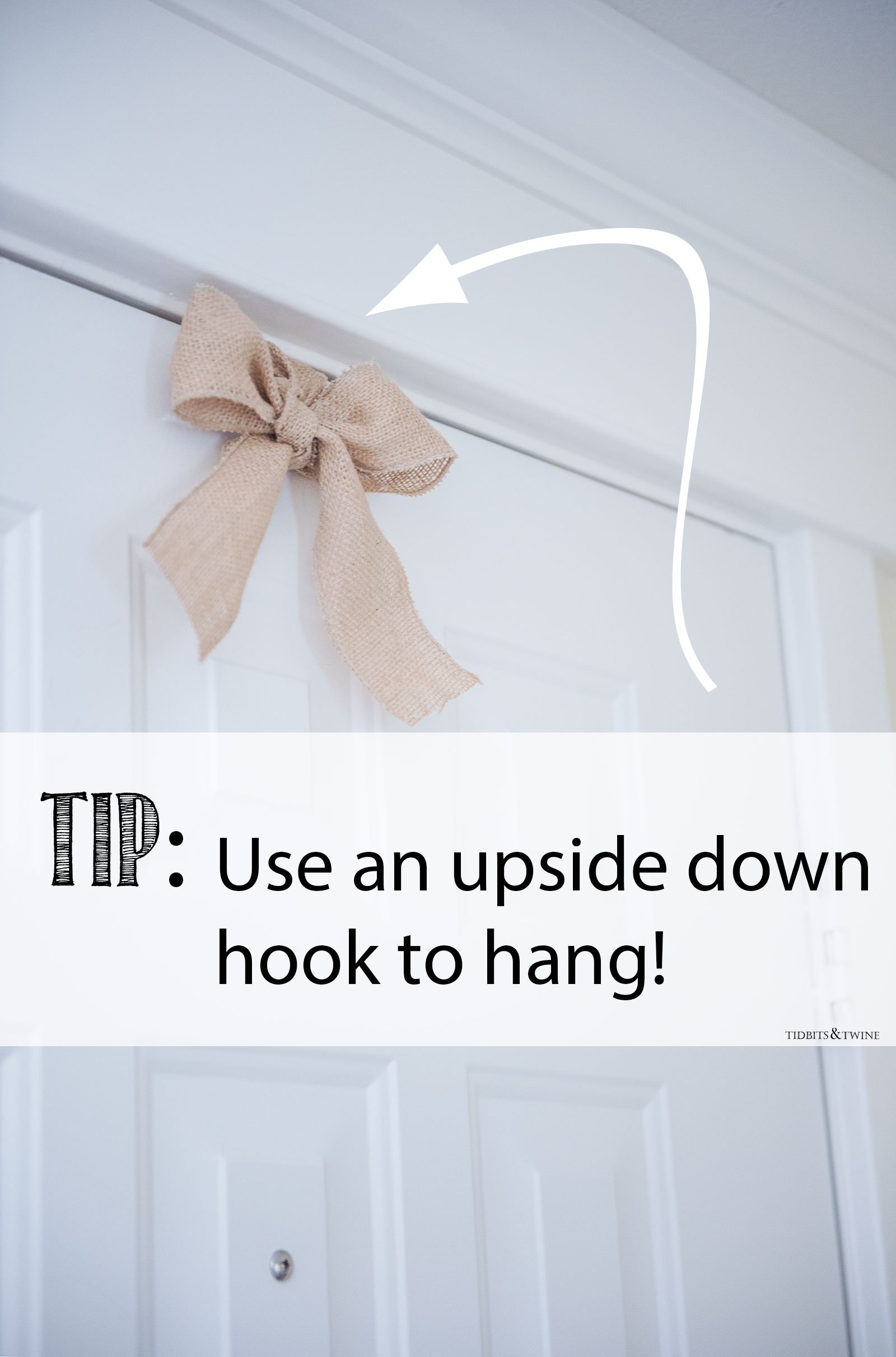 2. Place Setting
A small 6″ wreath is the perfect size for a pretty place setting. You could even add a place card to the center with each guest's name!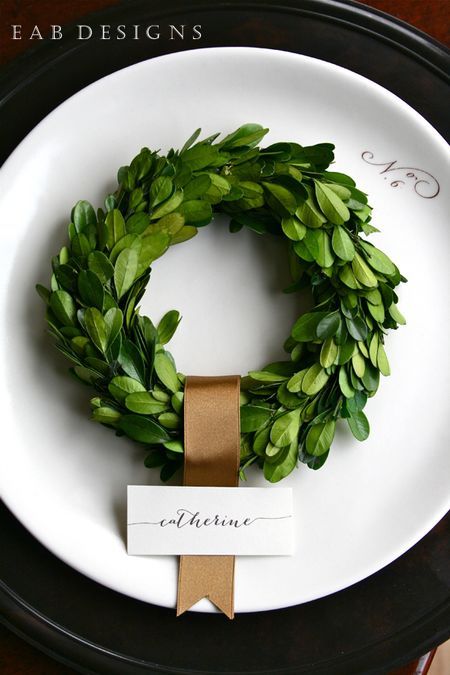 3. Chair Backs
I love to dress up the backs of my dining chairs with decals, ribbon, fabric, etc. and have found that small wreaths give an unexpected look and pop of greenery!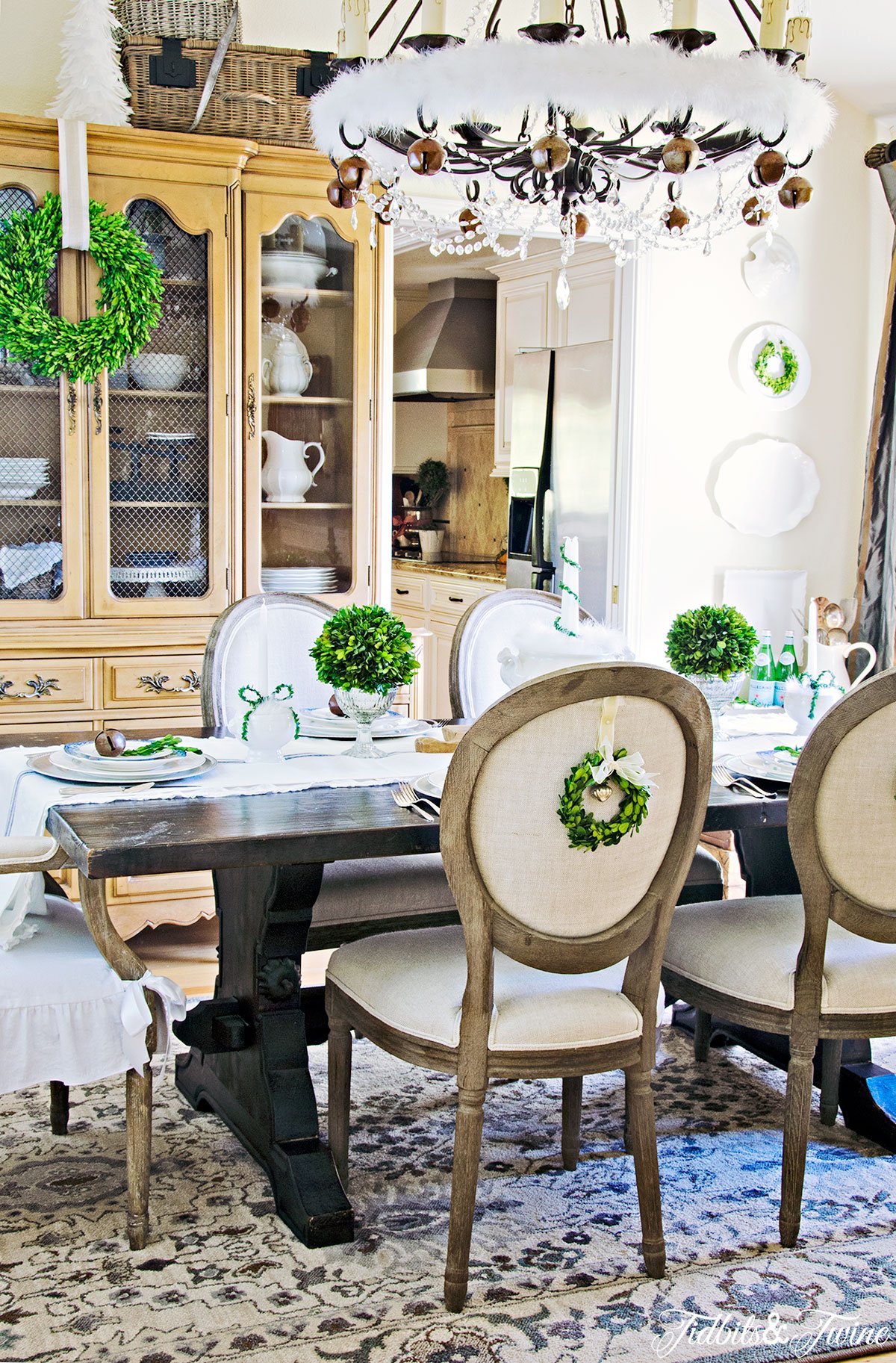 4. Centerpiece
A wreath can make a beautiful centerpiece for your table, whether as part of a tablescape or just year-round decor! You can leave the center opening bare, or add a few candles, or a cake plate, or maybe even some pinecones! Here's a gorgeous example from The Small Stuff Counts.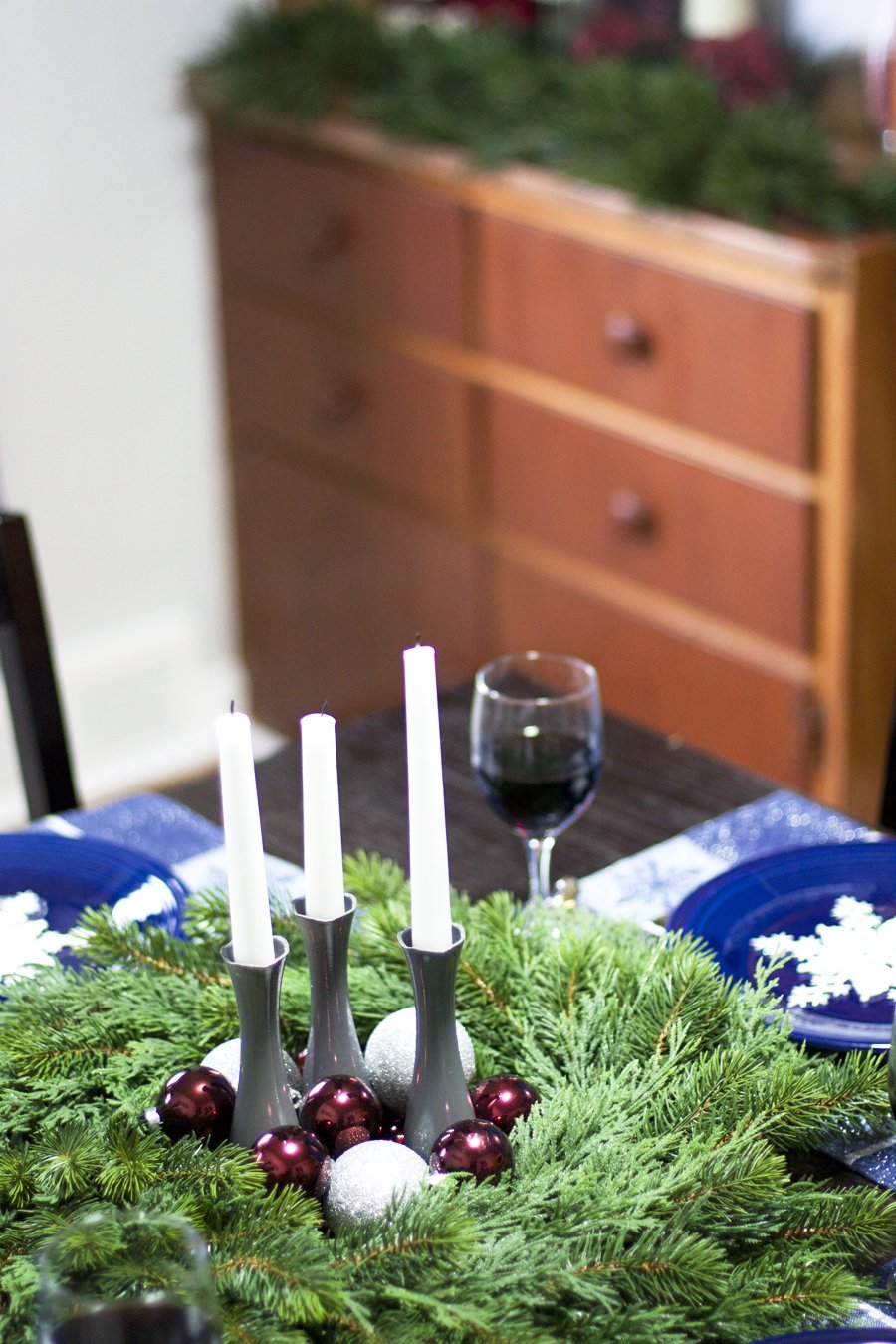 5. Cabinet
I often hang a large boxwood wreath on my dining room hutch to break up the wood with an organic texture…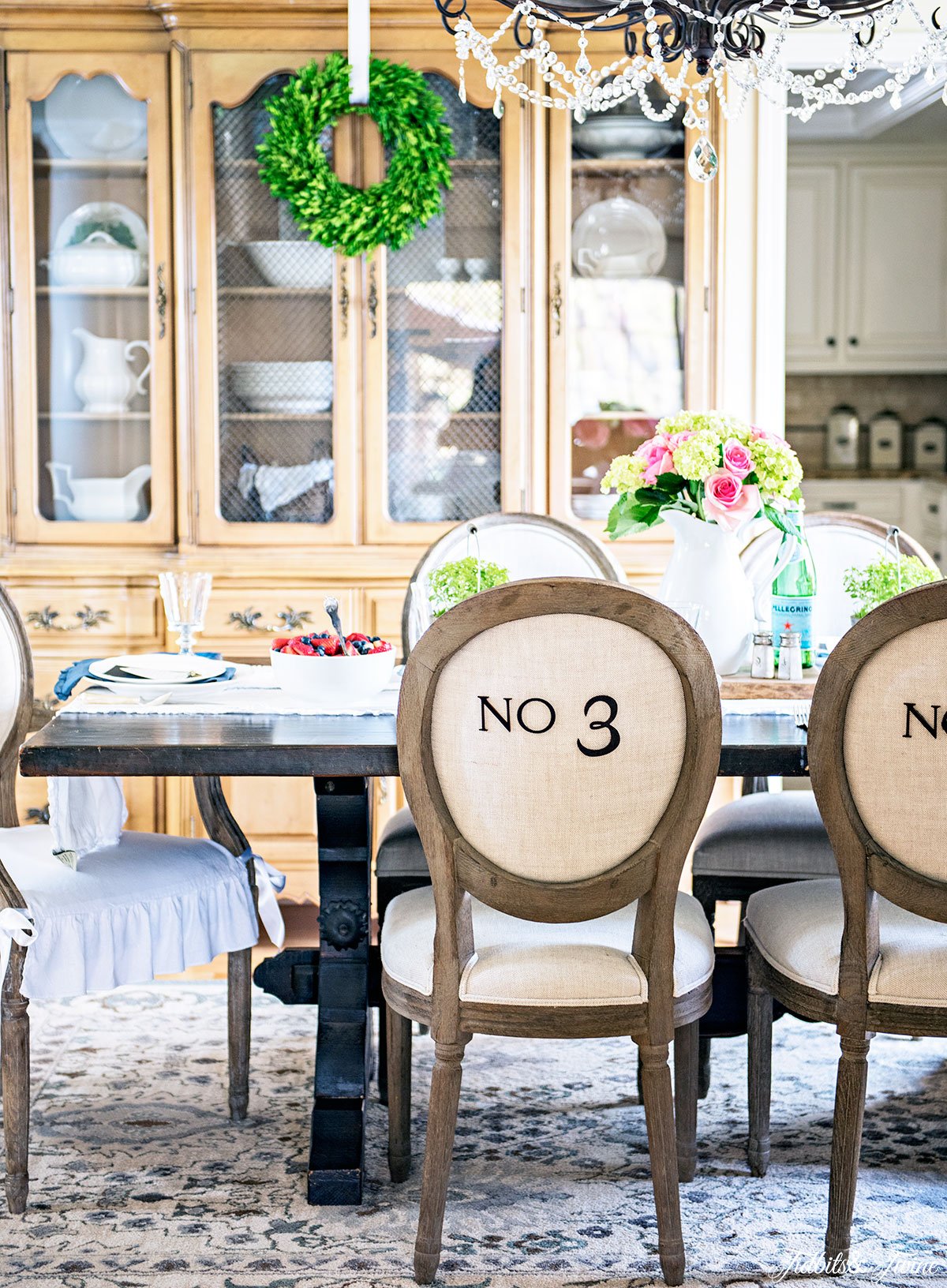 …but smaller wreaths also look nice hung on the doors of a smaller cabinet.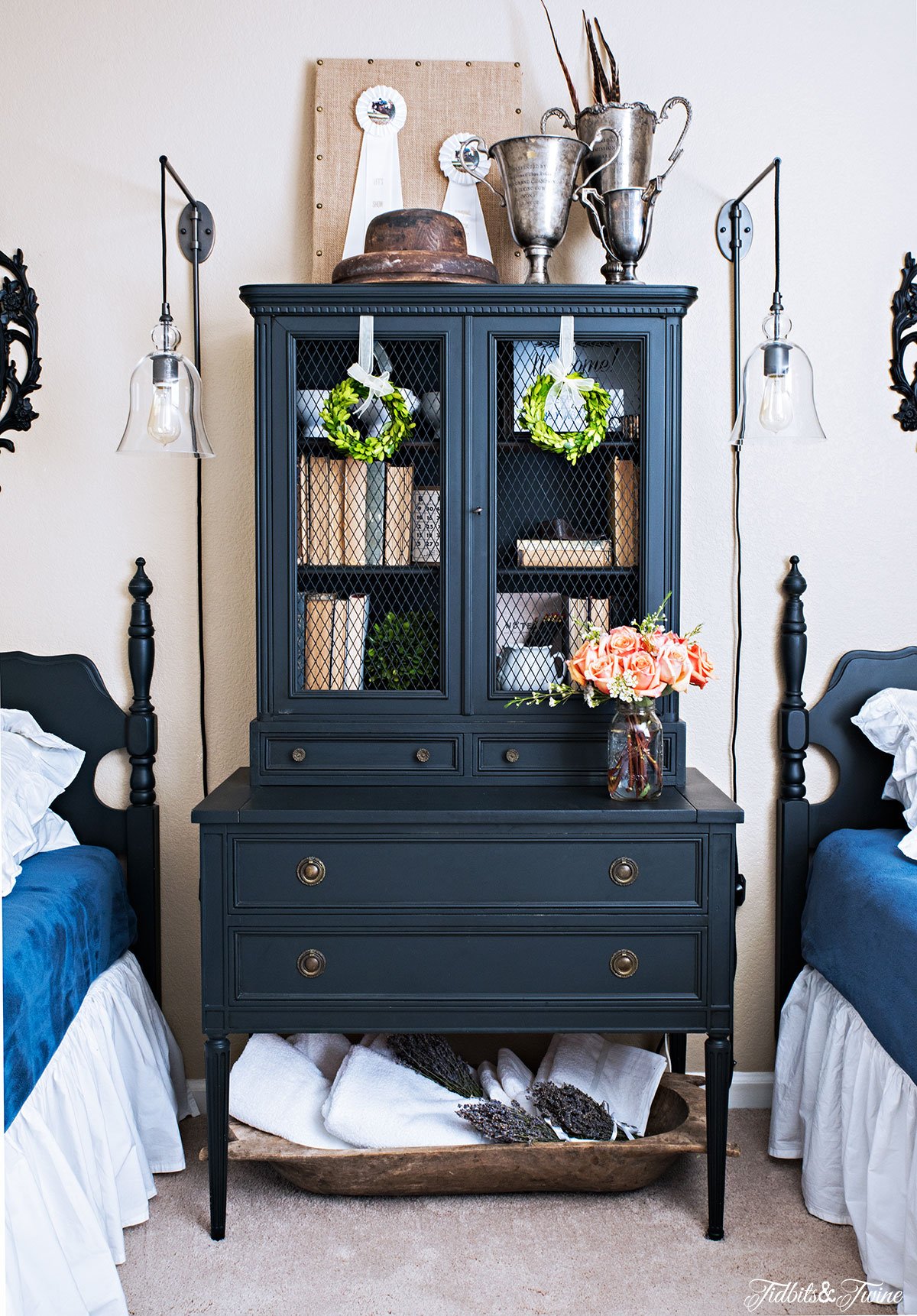 6. Picture Frame
One way to give a wreath a bigger impact and larger presence, is to frame it! You can hang it inside an empty frame…
…or even "frame" it by placing it on another backdrop, giving it a larger presence. Perhaps a chalkboard like this example from A Delightsome Life…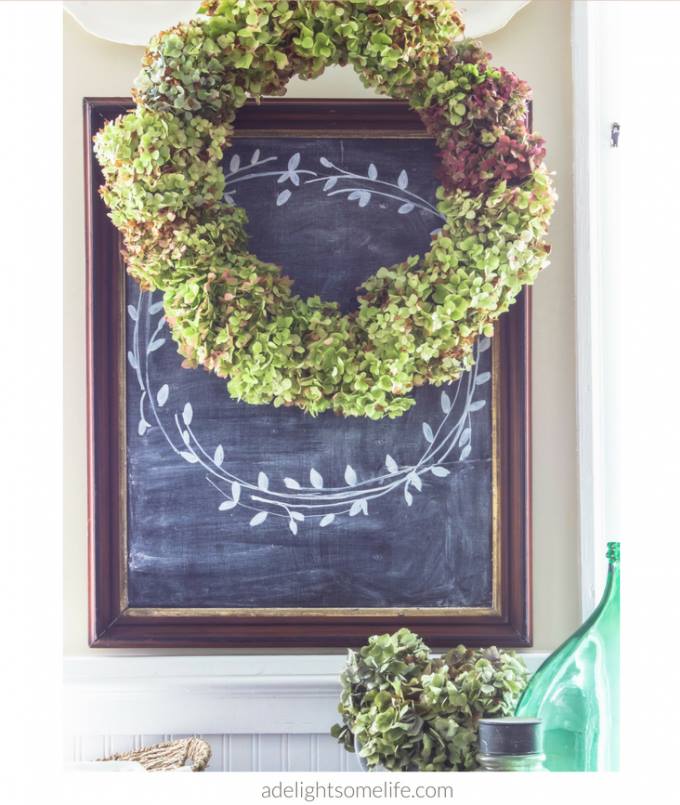 …or even a window pane as shown by Practically Hippie…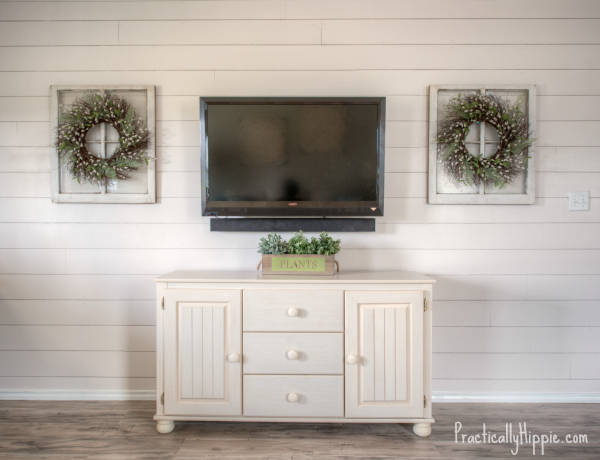 …some shutters, as shown by DIY Beautify…
…or even a tobacco basket like this one from Our Crafty Mom!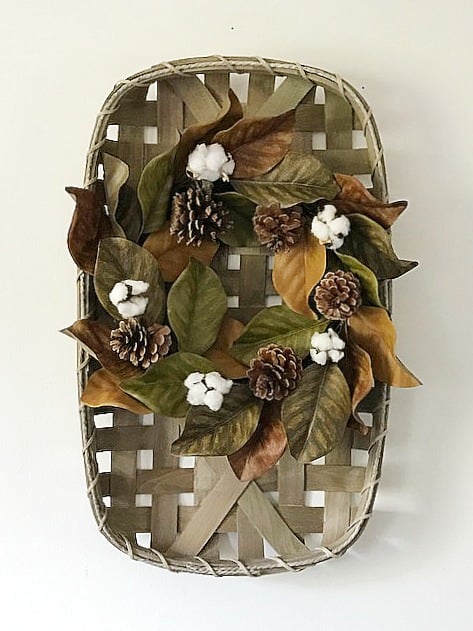 "Framing" a wreath is a great way to give it a larger presence when hung on the wall and help to tie it in with the rest of your decor.
7. Mirror
Similar to the concept of framing a wreath, you can hang it on top of a mirror to add a bit of dimension and texture to the glass! Tip: If hanging on a mirror, make sure the back side looks nice as well, since it will reflect in the mirror.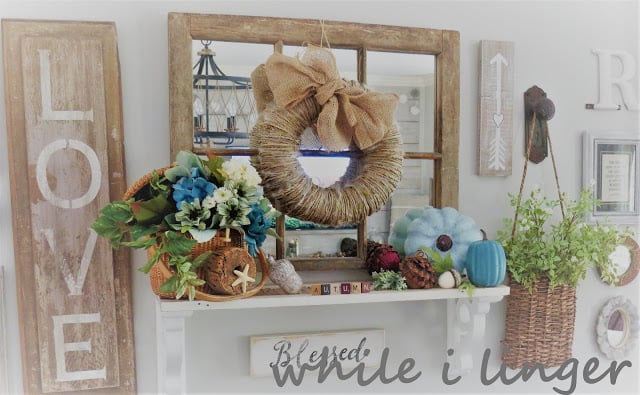 8. Window
Whether hanging inside the house or outside, a wreath is a beautiful way to dress up a window! Here's a pretty porch from A Tattered Pew.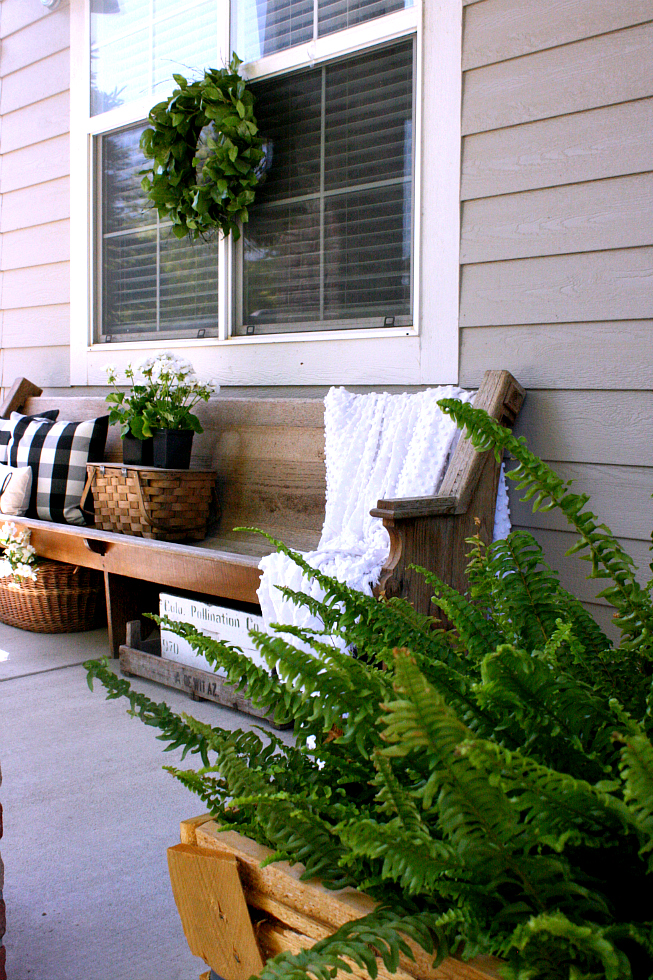 9. Kitchen Hood
Adding a wreath to the kitchen hood is a fun way to bring in a pop of color and texture! Be sure to clean it regularly, though, to keep dust and grease from building up.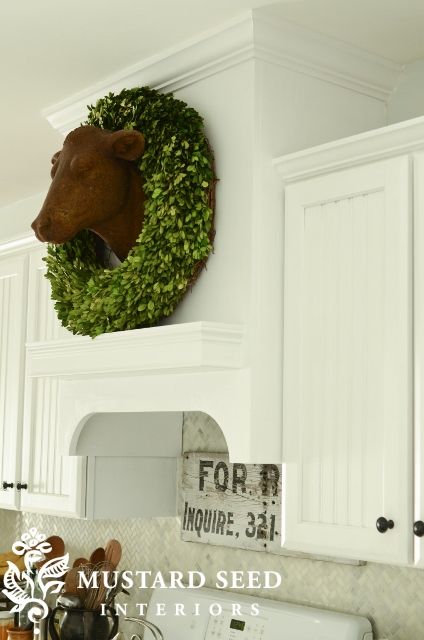 10. Ladder
My old orchard ladder that sits in the corner of my family room usually has a 6″ boxwood wreath hanging from it because I love the contrast between the wreath and the time-worn wood.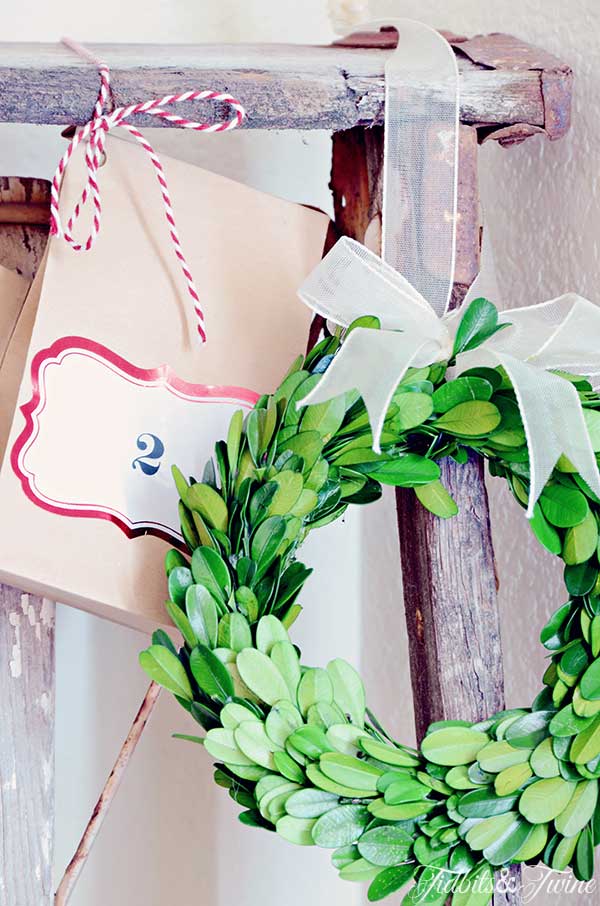 You can of course use a large wreath, though, for a bitter impact!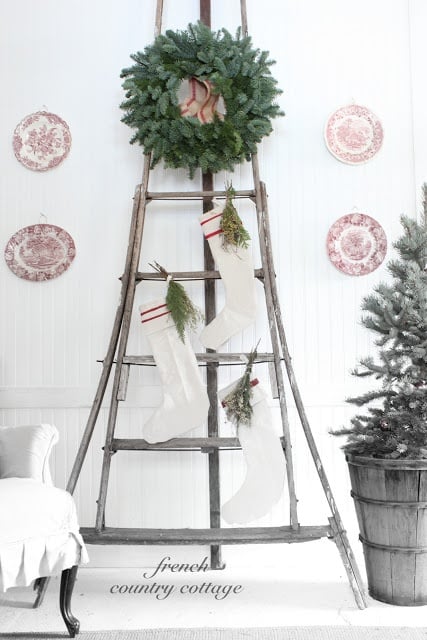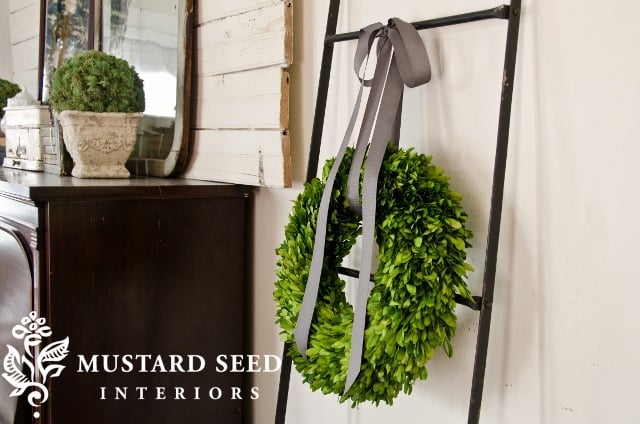 11. Vignette
A small wreath can easily be tucked into a display in a basket, a tiered server, a side table, and more to add some color that will last year-round.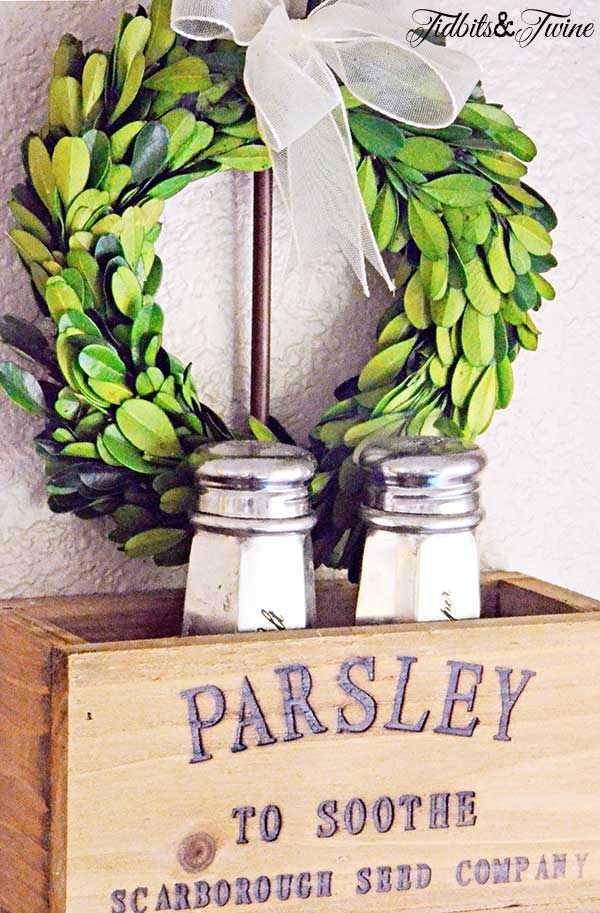 12. Above the Bed
Knowing what to hang above the bed can be tricky, but if sized appropriately, a wreath can make a beautiful addition! I love the simplicity of this example from The Brown Dog Vintage.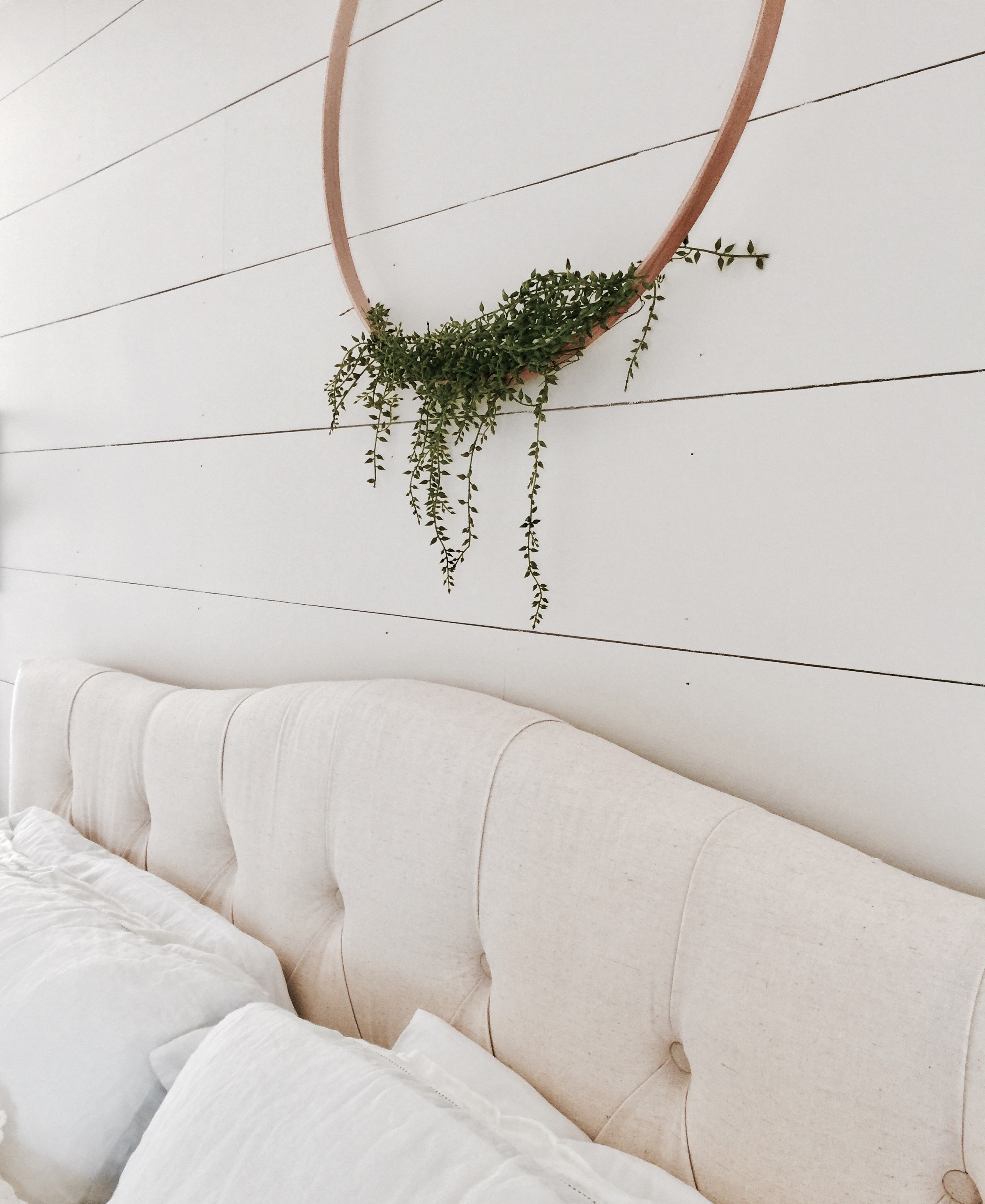 So before you pack away your wreath this holiday season, see if you might find another use for it in your home!
Like it? Be sure to PIN IT!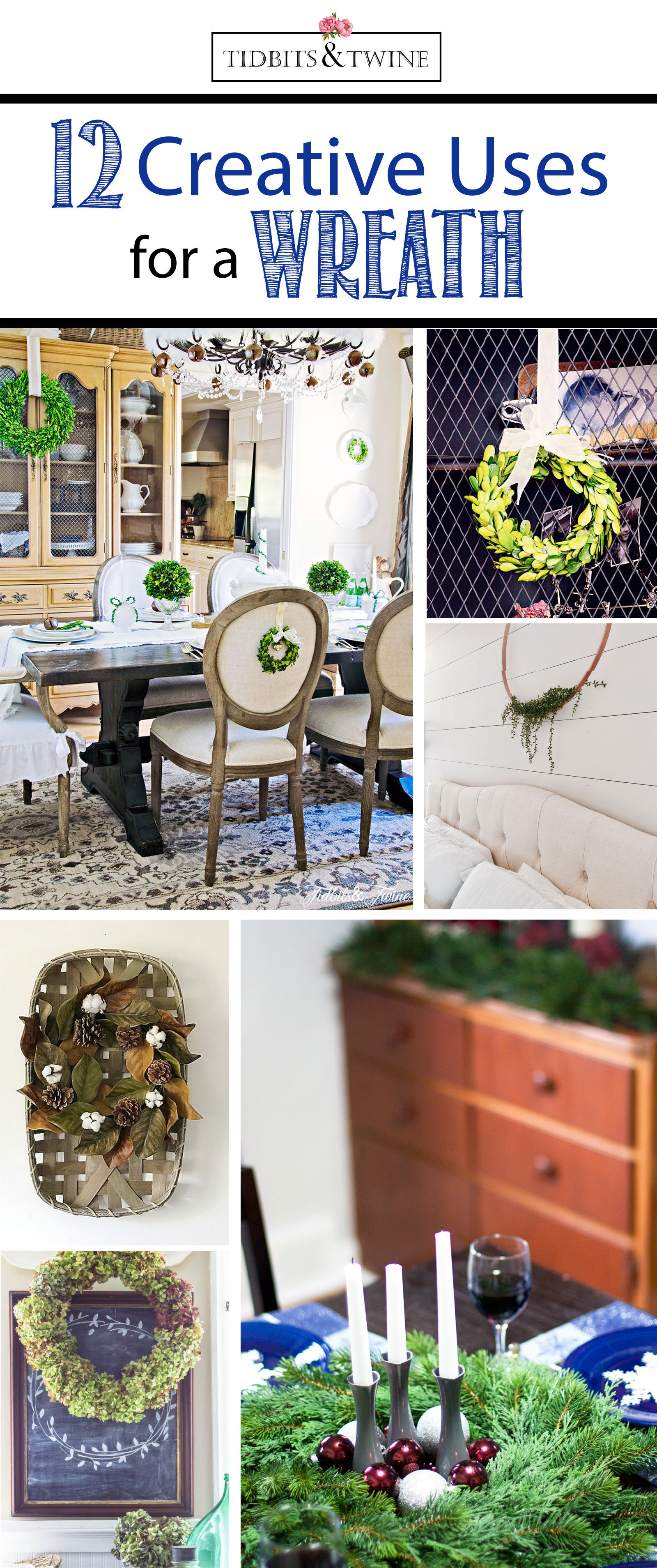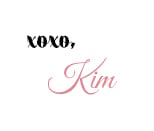 Join the Community
Let's keep in touch! Get exclusive artwork plus the latest news delivered directly to your Inbox!