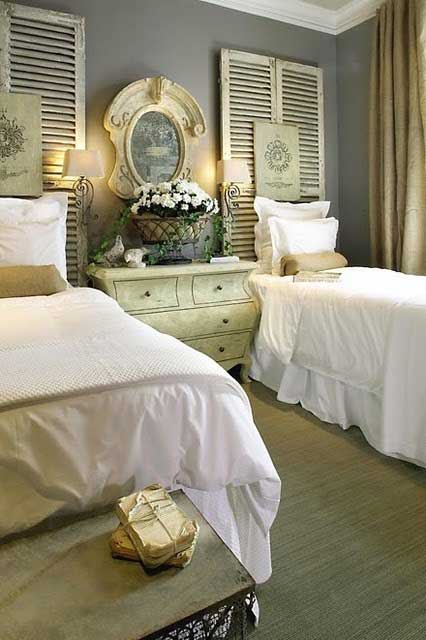 With the warmer months just around the corner, it's time to spruce up the guest room and get it ready for an endless stream of summer visitors. While preparing the house for guests can be a lot of work, I really don't mind, as I love having lots of activity and commotion around me. I always welcome house guests with open arms and want them to stay for as long as they'd like – they provide a break from our normal routine and typically are a source of entertainment for the kids, which means a break for me! But there are some things you need to have on hand, so here is a list of 22 guest room supplies you can keep handy!
Just a couple of notes about the list below:
1) This list is in addition to the obvious cleaning and decluttering that you should do before a guest arrives, so I'm not going to mention anything related to general cleaning.
2) You can still use the list below even if you don't have a dedicated guest room and whether your guests are sleeping on a bed, an air mattress or even a pull-out sofa. You can gather these items together and place them in whatever space your guests will be sleeping.
2) Most of these items you probably have lying around your house, so it's just a matter of collecting and putting them in the guest bedroom and won't require you to spend any extra money!
Here is a list of 22 guest room supplies to help you prepare your home!
Bedroom Essentials
1. Fresh Bedding – Always wash the bedding before a guest arrives so that the sheets feel and smell freshly laundered and ensure that the bed is made prior to their arrival. Also be sure to provide extra pillows and blankets.
2. Fan – Although I am fine with guests opening the windows at night or even adjusting the thermostat to their liking (note: this is only because the guest bedroom is on a different level than the family bedrooms and so has a separate thermostat), I also like to keep a small portable fan in the closet for guests that either like sleeping with the noise or need extra air.
3. Reading Material – When you sleep away from home, it can sometimes be difficult to get to sleep and so I like to keep a few different magazines on hand, as well as a small selection of books.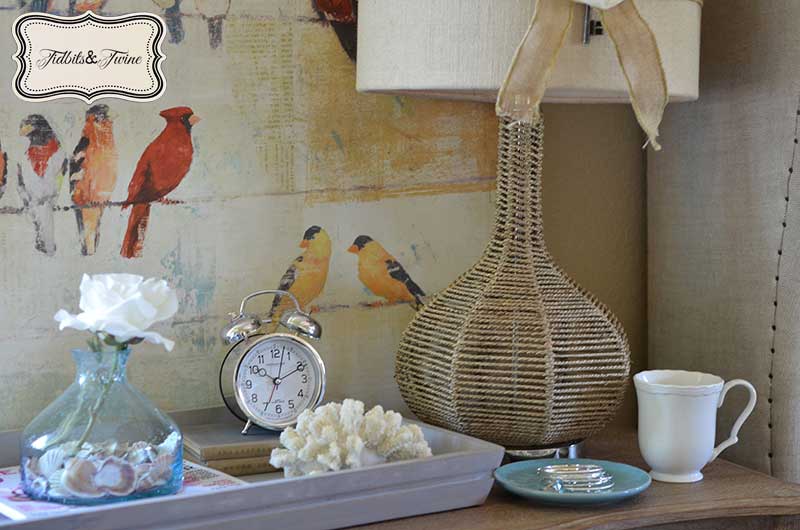 4. Lighting – It's important that there be good overall lighting in the room, but also good bedside lamps for reading.
5. Small Bowl or Dish – I like to create a place for guests to take off and set their jewelry for the night. I know that when I travel, I am always looking for a safe spot to put my things!
6. Alarm Clock – Many people now have cell phones that have alarm settings, but just in case, it's always nice to provide one. If it's a digital alarm clock, make sure that the brightness can be dimmed so as not to keep your guests awake with a glowing light in their room.
7. Water – Keep a bottle of water or a carafe on the bedside table for guests that get thirsty during the night.
8. Tissue – Keep a box of tissue handy, either in the bedroom or the bathroom.
9. Suitcase Holder – Luggage racks are great, but if you don't have one, you can also use a bench, chair or ottoman. At the very least, make sure you have a clear spot where a guest can lay their suitcase and open it all the way for easy access to their belongings.
10. Extra Hangers – It's important that guests be able to hang up certain items of clothing. For some things, hooks are fine but for others, make sure that you've cleared out space in a closet and have provided some extra hangers.
I keep the following items in a spare drawer that is tagged with a label that says, "Help Yourself" so that guests know they are free to use anything in the drawer.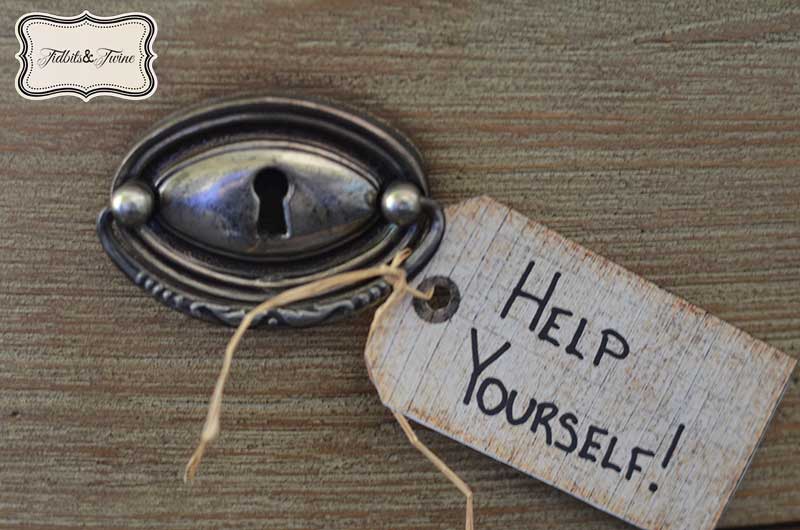 11. Flashlight – Just in case the power goes out or someone needs to get up during the night, I keep a flashlight on hand.
12. Desk Supplies – It's nice to give guests paper and pen so that they can jot down numbers, names, lists or anything else they need to remember. Stamps are also nice to have on hand.
13. Mirror – A full-length mirror is preferable so that guests can see their entire outfit when dressing, but at the very least, provide a mirror large enough that they can do a quick face/hair check.
14. Snacks – Sometimes, guests get hungry after dinner but might feel it impolite to ask for a snack (this especially applies to guests to are traveling across time zones). Just like the snack baskets in hotel rooms, I like to keep a few items like nuts, pretzels, granola bars, gum, mints and even a piece of fresh fruit on hand. Be sure to include a special food or beverage that specific to your area, if possible. (Don't forget to remove the food from the room after your guests leave!)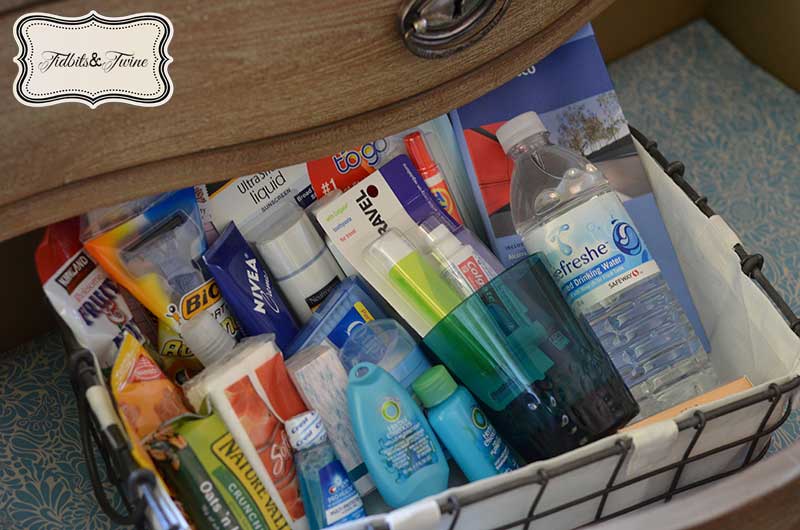 Other Bedroom Items
15. Flowers – These are of course nice to put in the room, but not a necessity.
16. Maps/Tour Books – For larger cities, a general map of the area is nice to have on hand, as well as a list of local destinations and activities. Even if you don't have a guide book for your area, you can always write your own list or print out information from the internet.
17. Playing Cards – Just in case they have trouble falling asleep, it's nice to have a deck of cards on hand.
Bathroom Essentials
18. Fresh Towels – Just like the linens, be sure to wash the towels prior to a guest arriving so that they smell fresh. This includes bath towels, hand towels and wash cloths.
19. Toiletries – In a small basket I keep new, sample-sized items of soap, shampoo, conditioner, mouthwash, Q-tips, lotion, dental floss, toothpaste, and Tide To Go (to help avoid guests having to do laundry). I also keep a spare toothbrush, comb, hairdryer and razor on hand. Many grocery and retail stores sell travel sizes of these items, but you can also pick them up from hotels whenever you travel.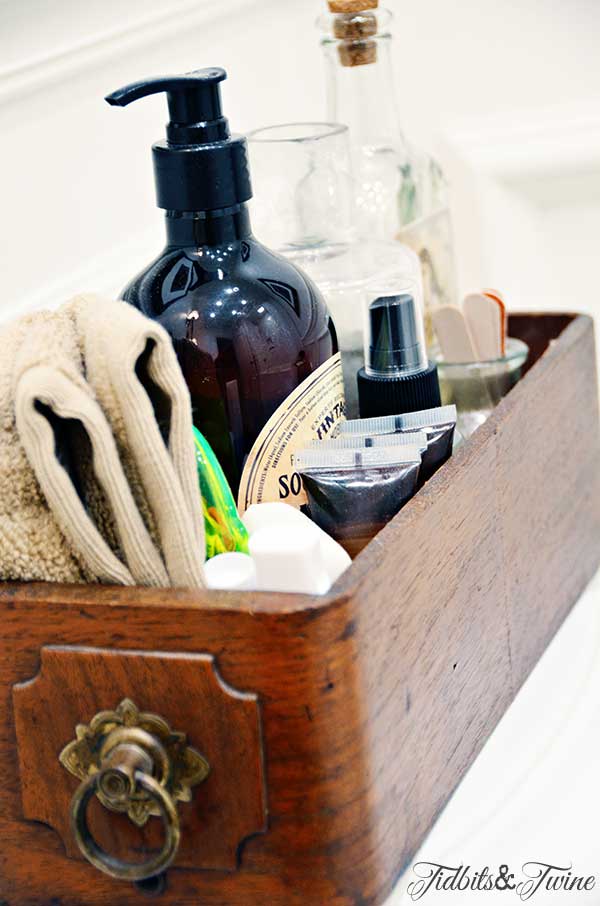 20. Extra Toilet Paper – There's nothing worse than running out of toilet paper at someone else's house and not being able to find a spare roll! Make sure that you have extra toilet paper on hand and that it is easily accessible. You might also consider using the "good" toilet paper when guests are visiting!
21. Night Light – Help your guests find their way in the middle of the night be equipping the bathroom with a nightlight or small lamp.
22. Drinking Cup – Keep one in the bathroom for any medicine or vitamins that guests need to take.
Have I missed something in this list of guest room supplies?? Let me know if you have other suggestions for how to make a guest feel comfortable in your home!
P.S. – You can download the vintage tag I used on the drawer for FREE from J Ann B designs!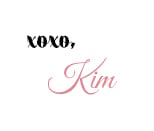 You might also enjoy this post!