Who doesn't love the look of candles glowing on their Christmas? Learn how to get an old-fashioned look with a modern twist with this upgrade to your clip-on Christmas tree candles!
I've been using clip-on Christmas tree candles for a few years now. If you haven't discovered these beauties yet, they are a game-changer! They add a touch of old-world romance to your Christmas tree but unlike real candles, these are perfectly safe to use on your tree! Affiliate links included for your shopping convenience. You can read my full Disclosure Policy here.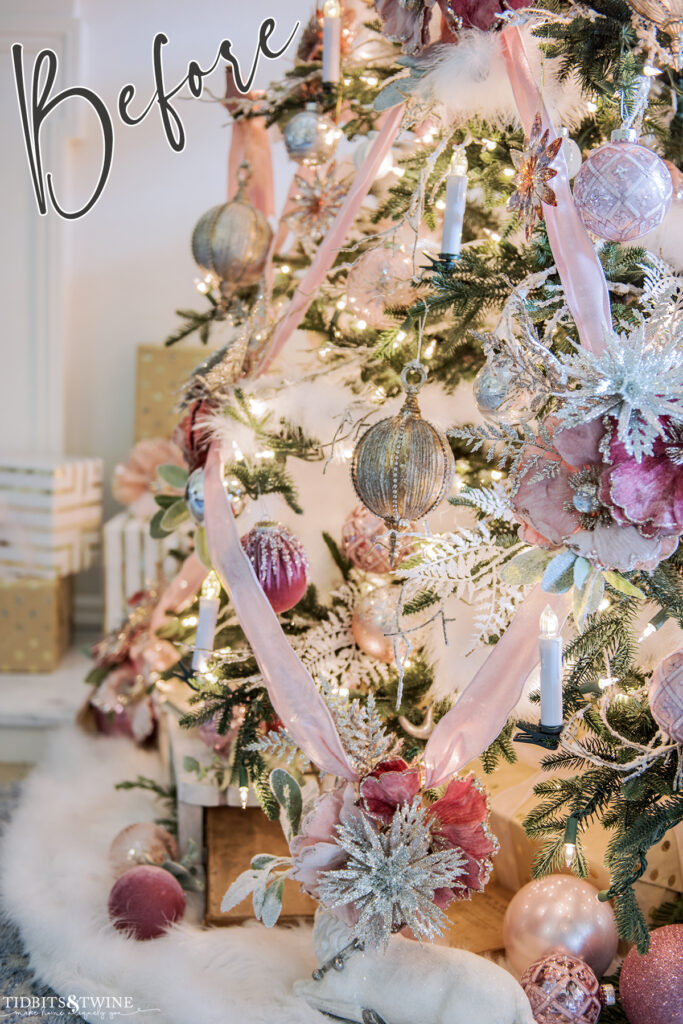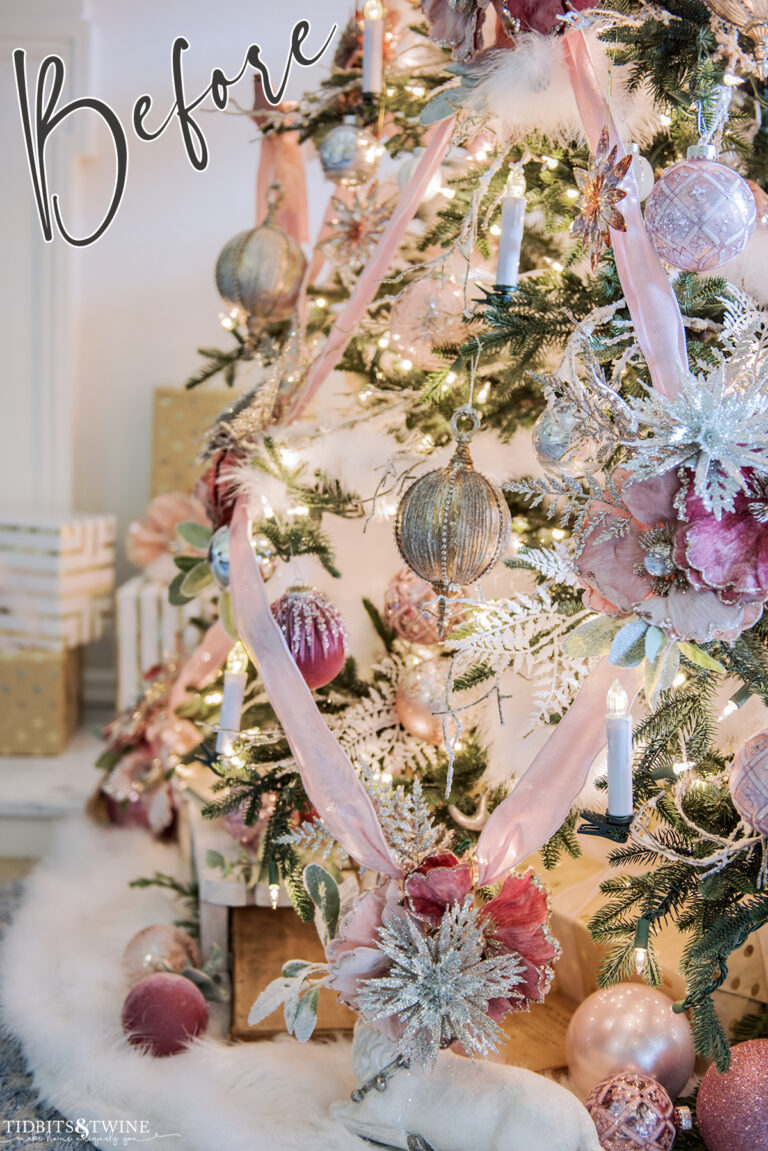 While I've loved using my clip-on Christmas candles just the way they were, a purchase suggestion from Amazon (thanks a lot, Amazon!) gave me a whole new idea for upgrading my favorite LED candles and making them even more beautiful! Yes, sometimes little changes do have a big impact.
History of Christmas Tree Candles
While we all know that fire and trees don't mix, believe it or not, people used to put real candles on their Christmas trees. This tradition is thought to have started in Germany by Martin Luther, a Protestant reformer in 1525.
Small candles were affixed to the tips of tree branches with a foil dish beneath each one to catch the wax drippings. With open flames on a Christmas tree, the candles would have to be carefully watched, especially as the tree dried out throughout the season.
Because candles were expensive at the time, only wealthier families could afford to put a candle on their tree. This changed in the mid-19th century when the combination of less expensive candles and greater wealth allowed middle-class families to decorate their trees with candles, sometimes up to a dozen!
Traditional electric Christmas tree lights weren't available until the 1930s, with LED lights making their appearance in the 21st century.
Modern Clip-On Christmas Tree Candles
Nowadays, we don't have to worry about open flames on a dying tree thanks to battery-operated Christmas tree candles.
My favorite Christmas candles are white with faux wax drippings on them. They take 1 AA battery and simply clip to the branches of your tree. The base swivels to allow you to get a vertical placement even with the weight of the battery and the bounce of the tree branch.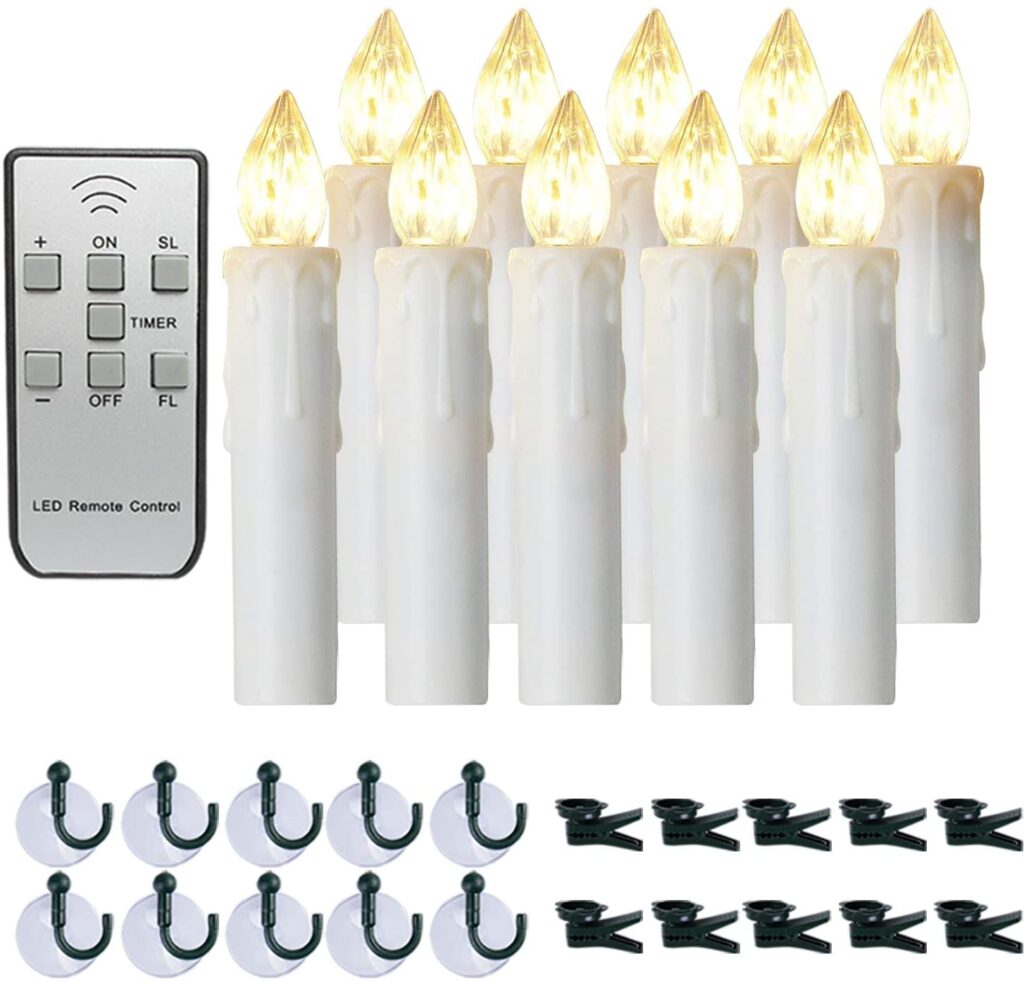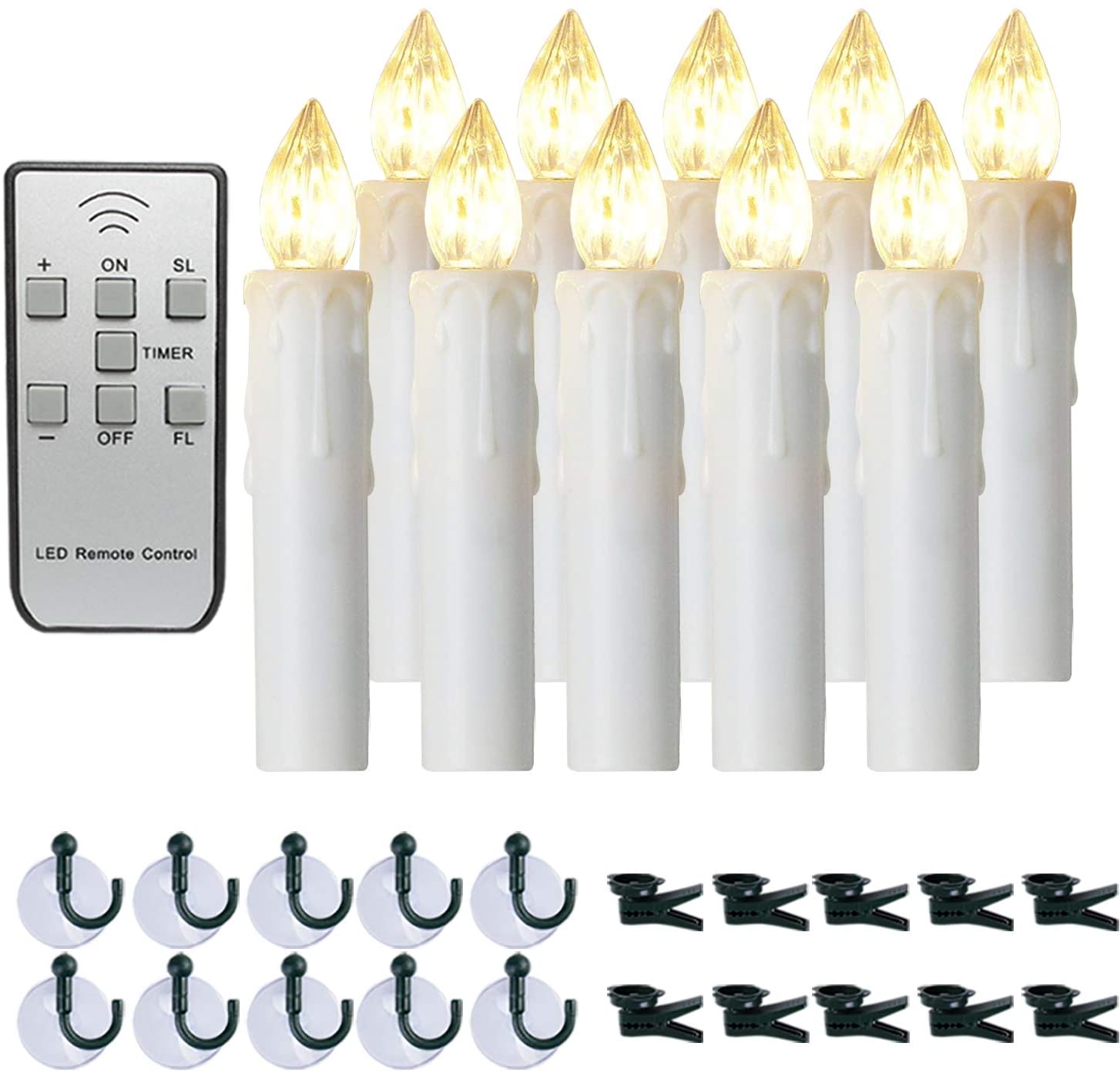 Better yet, they are remote-controlled and on a timer. Plus you can set them to a steady glow or a flicker to similate actual candle light, and they are dimmable. They also come with an option to attach them to a window, but I've never tried that.
And while I've loved my clip-on Christmas tree candles all these years, this year, I decided to give them an upgrade with vintage-style bases!
Christmas Candle Holder Clips
I purchased these vintage-style candle clips. Sadly, they are not made for LED candles, but rather real candles, so you have to DIY them a bit. But I absolutely love the look of them! And just like what I imagine was used back in 1525, they have a small dish to collect wax drippings.
Depending on which LED clip-on Christmas candles you purchase, yours might be too big or too small for the vintage clips. Mine were too big, but either way, you can follow the same process.
How to Update your Clip-On Christmas Tree Candles for a Vintage Look
Pop Candles Out of Plastic Base
First, you'll need to pop your candles out of their plastic base. If they are new, they come packaged separate from their bases so you can skip this step; otherwise, just pull to separate the candle from the swivel base.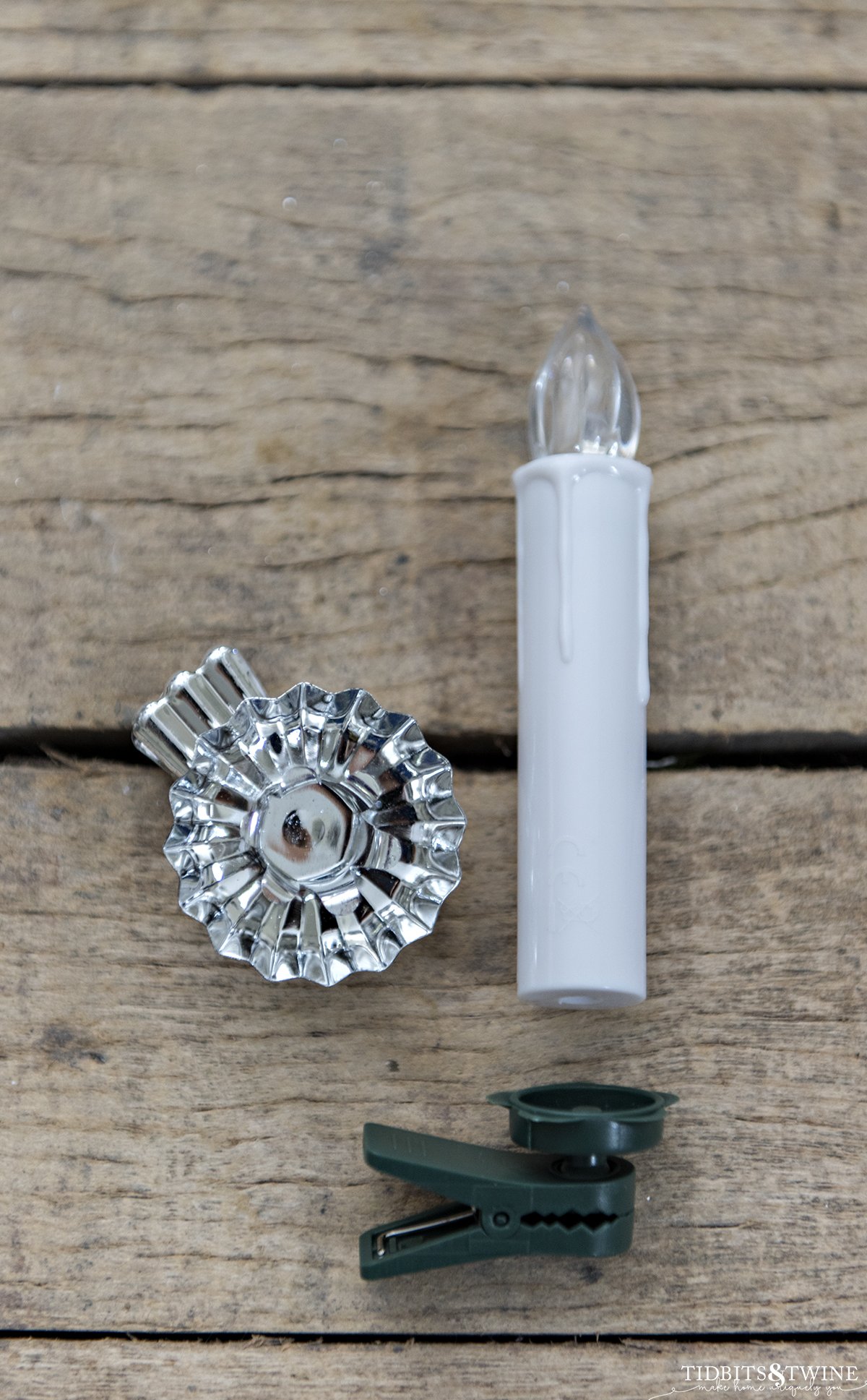 Bend the Vintage Clips to Fit
Since my candles were a bit big, I opened the "petals" of the clip, inserted my candle, and then cinched the petals back around my candle.
Once you have a proper fit, you're ready to glue.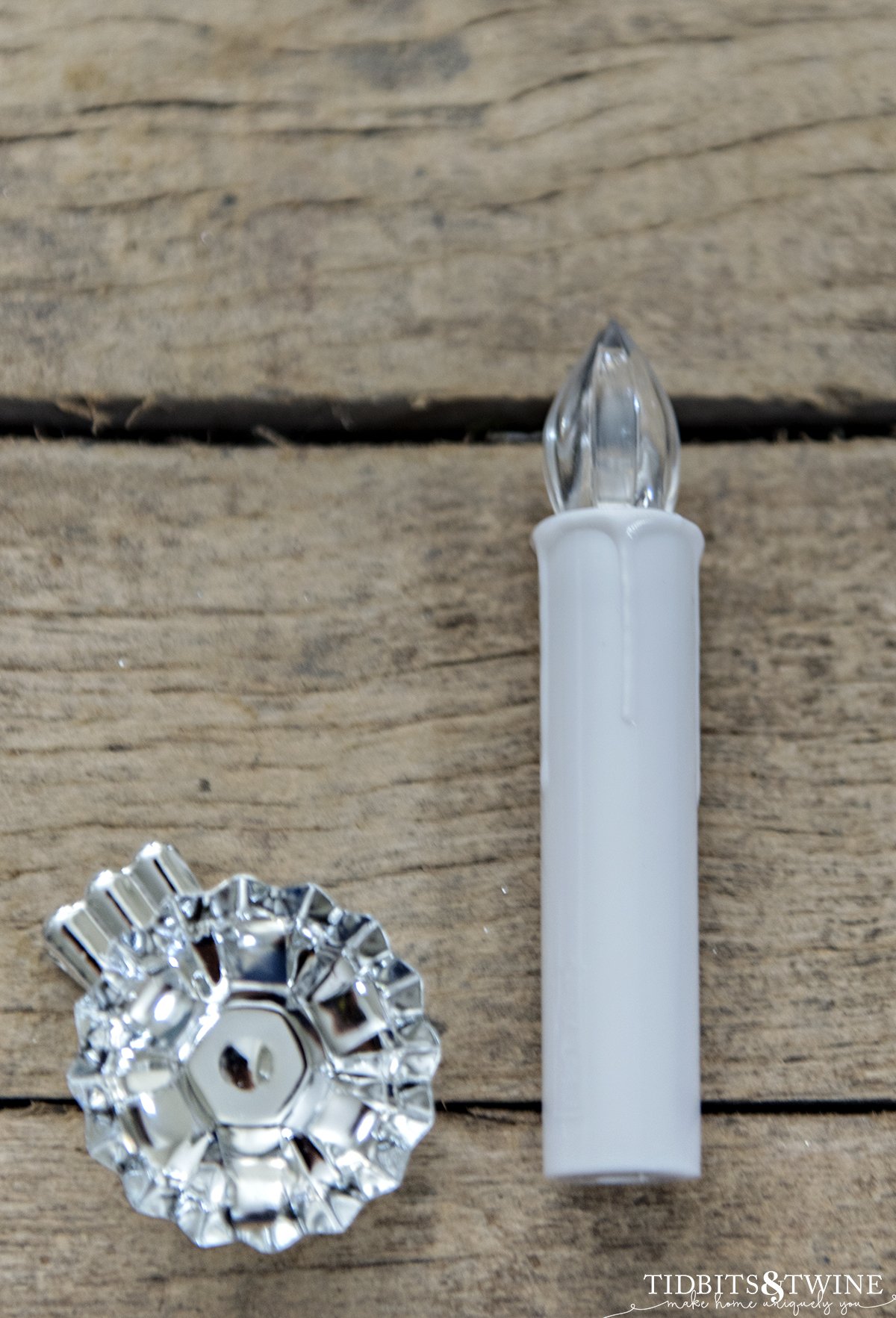 Glue Candle in Place
Remove the candle from the vintage clip and add a dab of hot glue to the inside of the petals. I used All Temperature mini glue sticks and they worked perfectly!
Insert Your Candle
Before the glue dries, pop your candle into place, making sure that the petals are tightly cinched around the candle. Ensure that the candle is straight in the holder as it dries.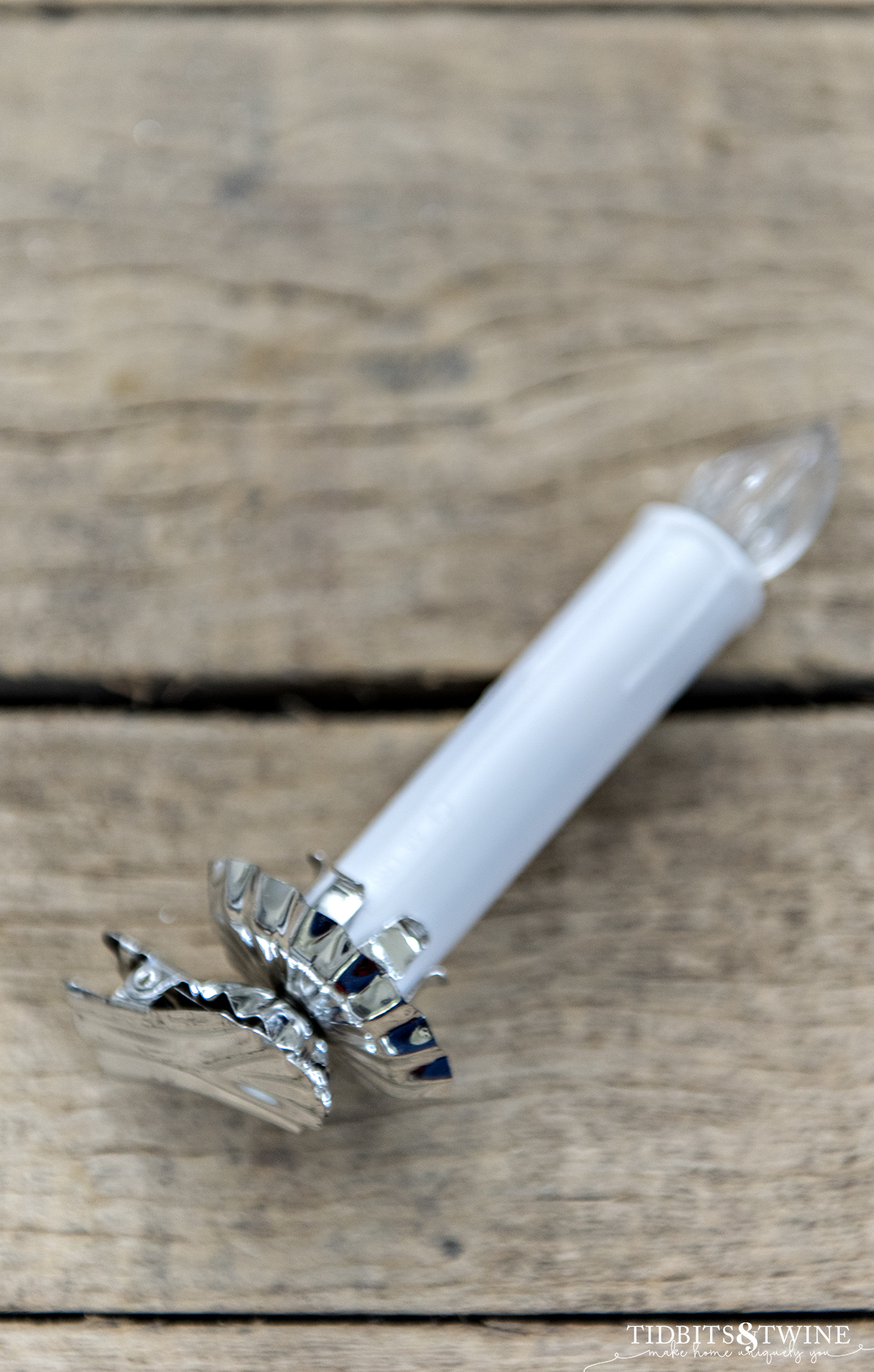 That's it! You're ready to decorate!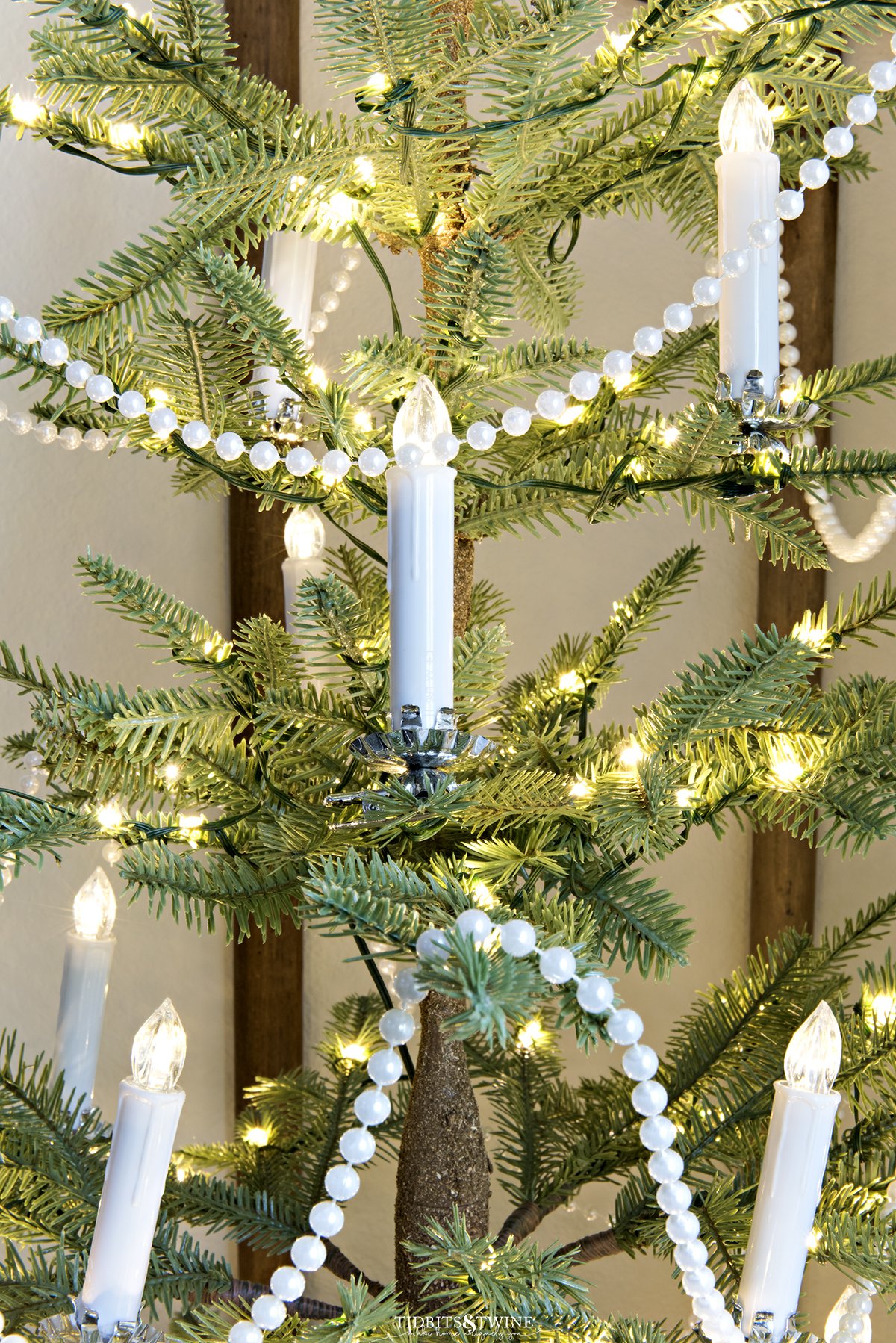 You will have to sacrifice some practical for pretty with these clip-on bases. The vintage-style metal ones don't swivel like the plastic ones do. This means that you won't be able to adjust the candle once it's clipped into place, making it more difficult to get them to all stand vertically.
If you're okay with having some angle a bit then these are a beautiful upgrade to traditional LED clip-on Christmas candles!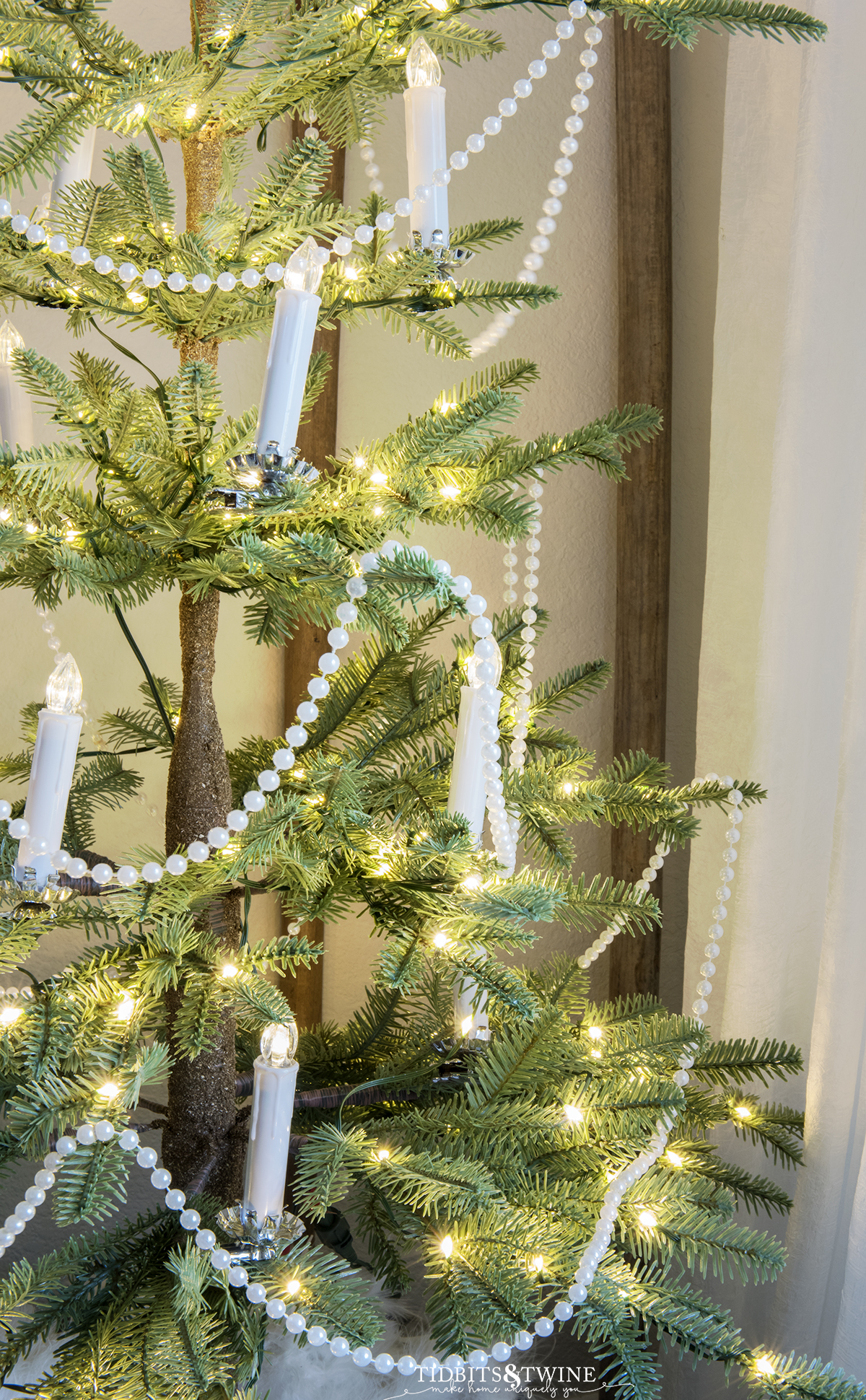 This year, my candles are in the corner of my Christmas dining room (tour coming next week) and in another tree in my upstairs bedroom…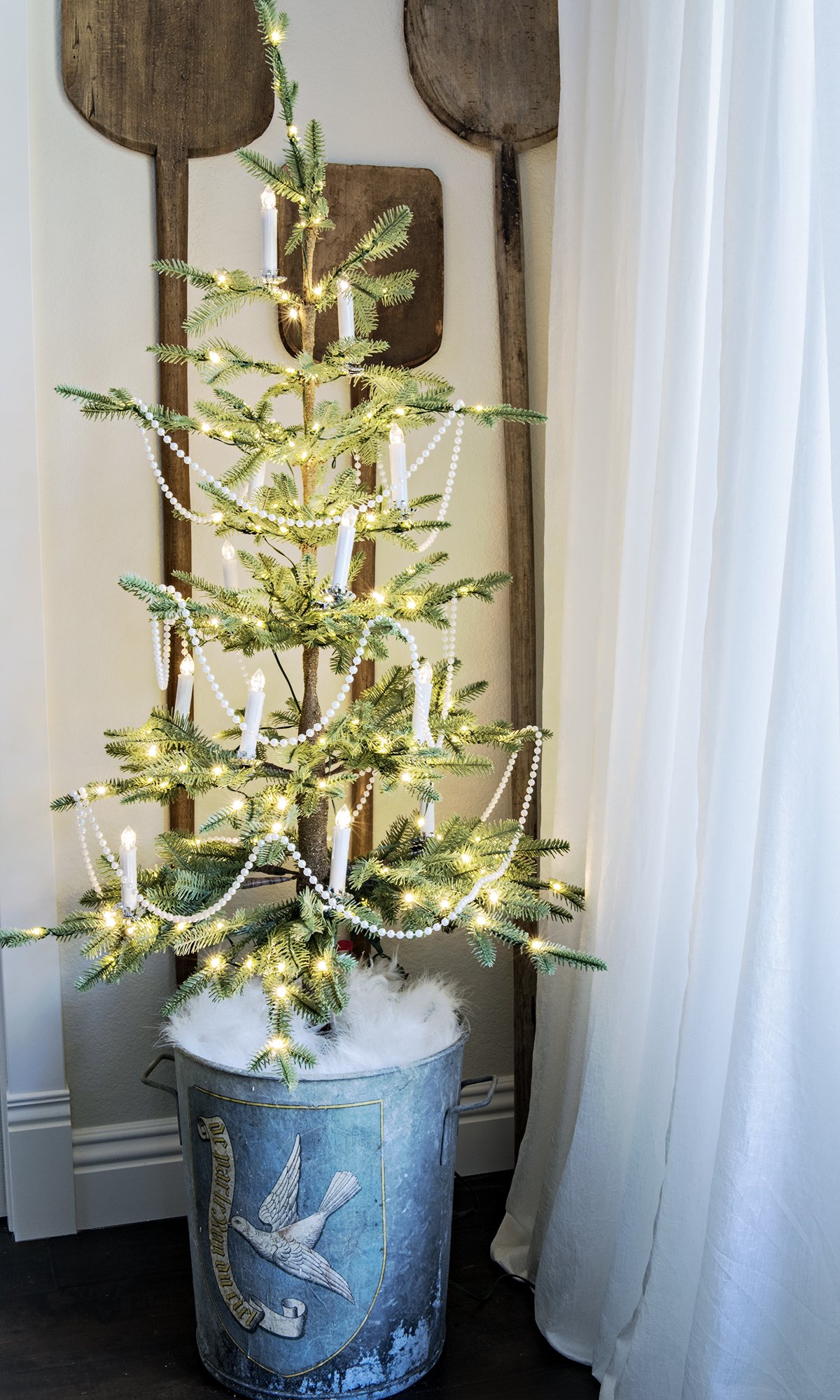 Sources: 4.5′ Balsam Alpine Fir | LED clip-on Christmas candles | Vintage candle bases | Pearl garland (similar) | French galvanized bucket | White balloon drapery panel | Vintage bread paddles (similar)
More Christmas Decorating Ideas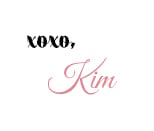 Join the Community
Let's keep in touch! Get exclusive artwork plus the latest news delivered directly to your Inbox!