How do you marry traditional furnishings that have been handed down to you and incorporate them into your contemporary home? This e-design will show you how to combine the two different styles for a cohesive look using a mix of traditional and contemporary design.
My dear friend Jill has a decorating dilemma that many face. She owns sentimental pieces of furniture that she's inherited from family that are a traditional, southern style. Growing up in the south, she loves this style of furniture and wants to incorporate it into her home.
But Jill also loves contemporary décor and her recent purchases reflect her love of sleek, contemporary styling.
So how can she incorporate both styles into her home?
With a home full of two distinctly different decorating styles, Jill has been hesitant to move forward with any decorating projects. Well, with COVID, I really don't have much going on so just for my own pleasure, I decided to give her dining room a makeover to reflect her love of both styles!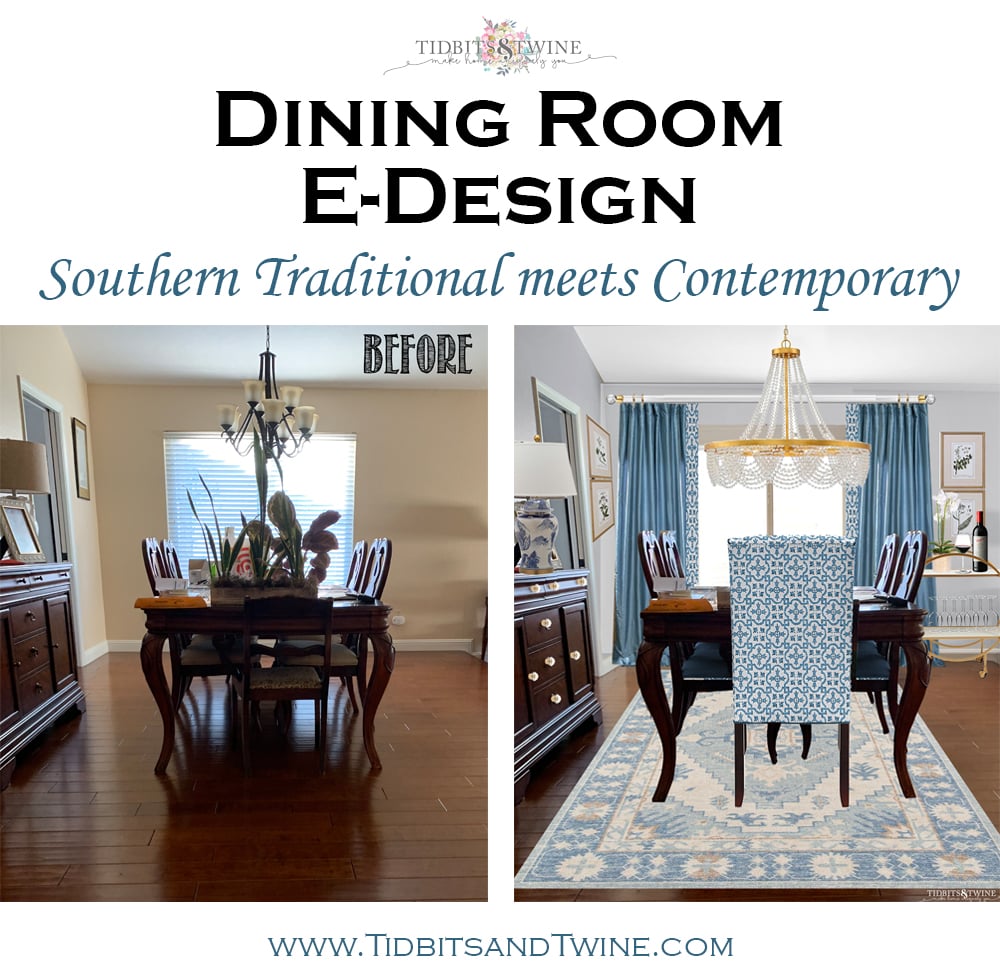 Today's post will show you step-by-step what I incorporated and why. Does this mean Jill will like everything I picked out? Not necessarily! But this will give her a direction and an idea as to how to combine traditional and contemporary for a cohesive look.
So even if this isn't your particular style – and it might not be – you'll learn the how and why so that you can combine two different styles in your own home.
JILL'S DINING ROOM – BEFORE
Jill's home has an open floor plan with a vaulted ceiling spanning the entryway, living room and dining room.
As mentioned before, most of the furnishings in her home are very traditional in style and constructed of dark wood. As you'll see, she has all of the basics in her dining room but no textiles of any sort.
Jill's newly-renovated, contemporary kitchen is through the door on the left. While not completely open to the dining room, her kitchen is visible from the dining room.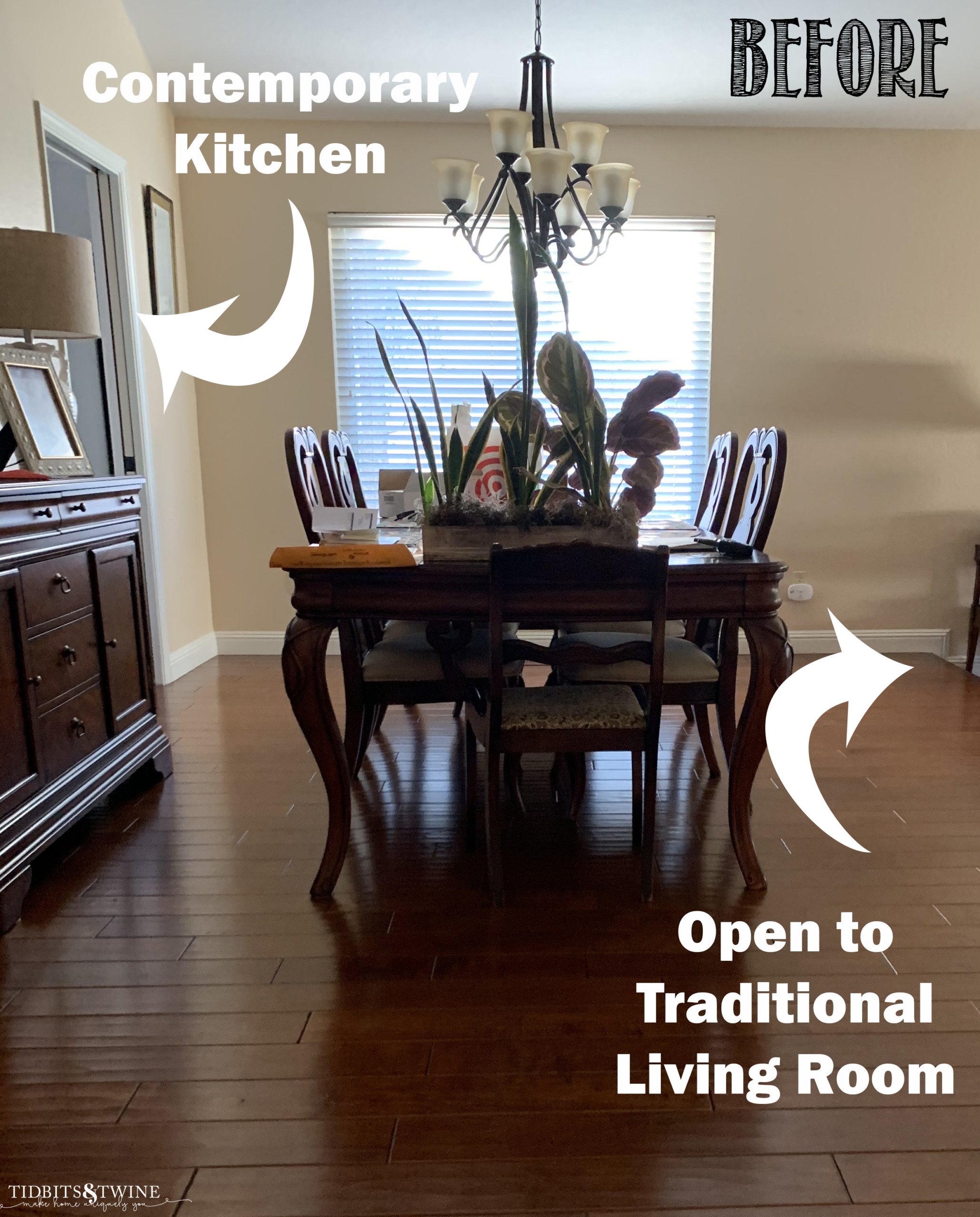 Design Parameters
Jill's design direction to me was as follows…
Keep the floors
Keep the table, side chairs, and buffet
Use blue silk drapes with a pleated header
No animal print
Oh….and don't spend too much! Lol!
Design Style
Truly, Jill is not defined by a decorated style! She likes what she likes regardless of what style it is.
What's so great about this decorating philosophy is that she isn't faced with limitations. She evaluates every piece of furniture and décor on its own merit. What makes it difficult for me, though, is trying to pick a direction I think she'll be happy with!
Design Inspiration
You'll see from the inspiration that Jill sent me that her style is varied. But she's got great taste!
Here's a look at Jill's favorite rooms and items: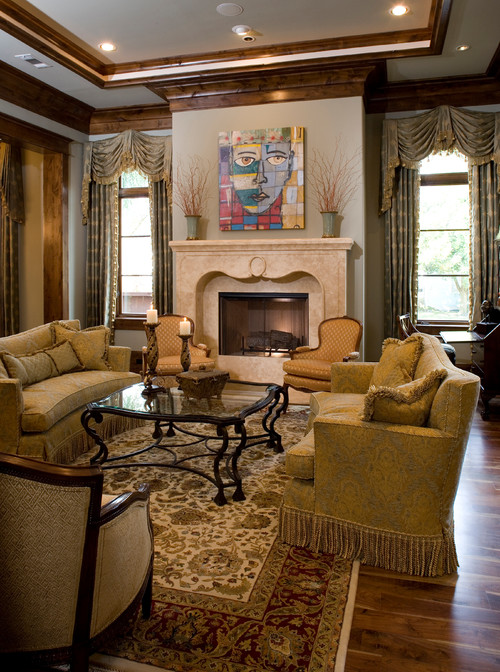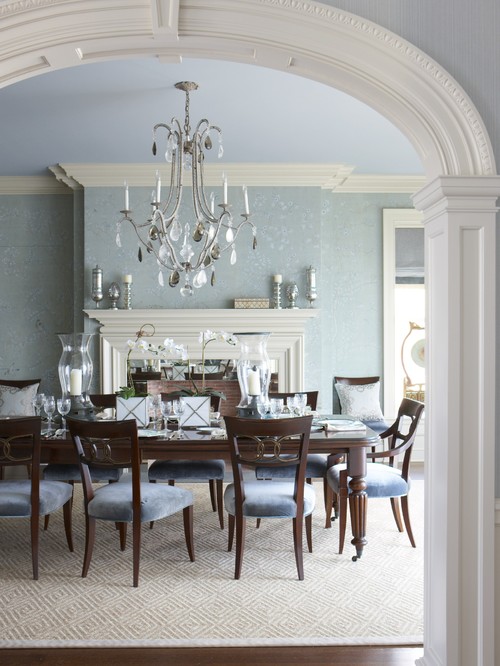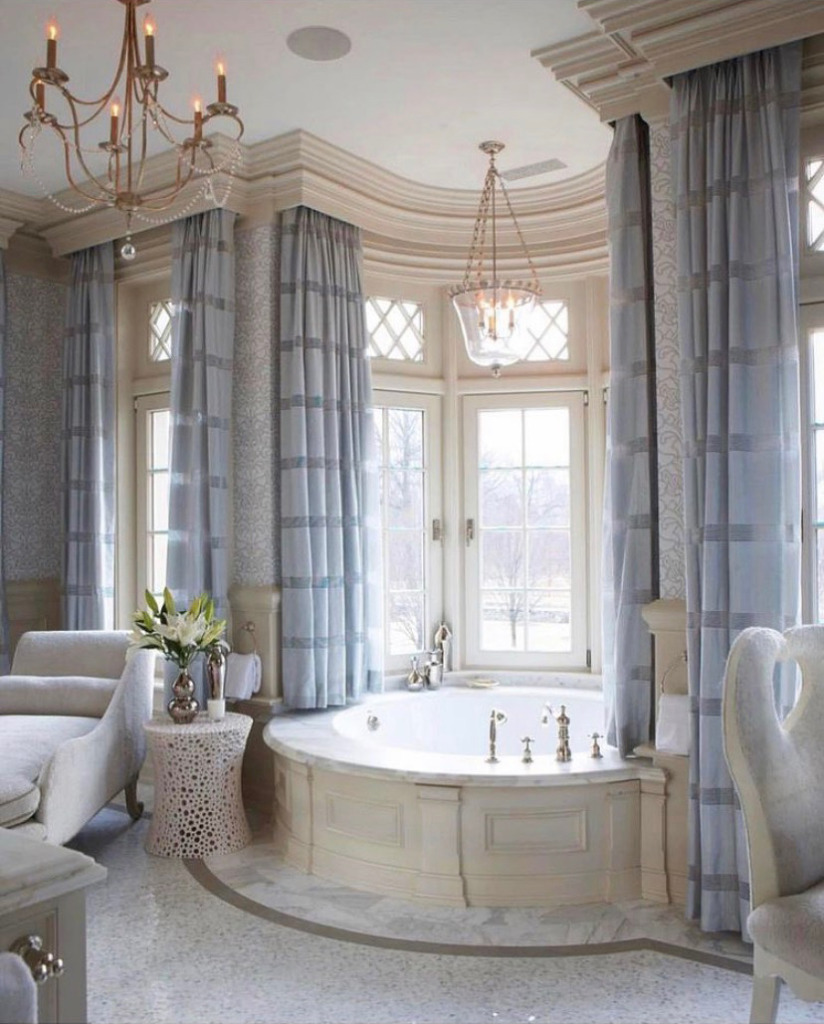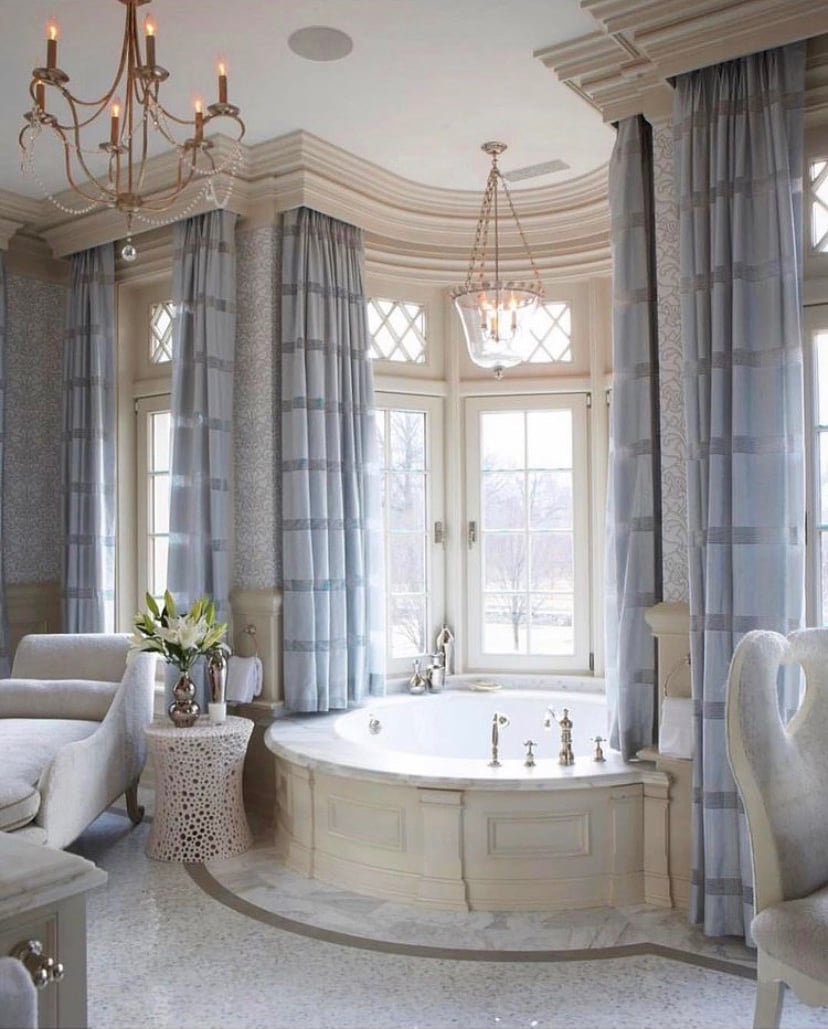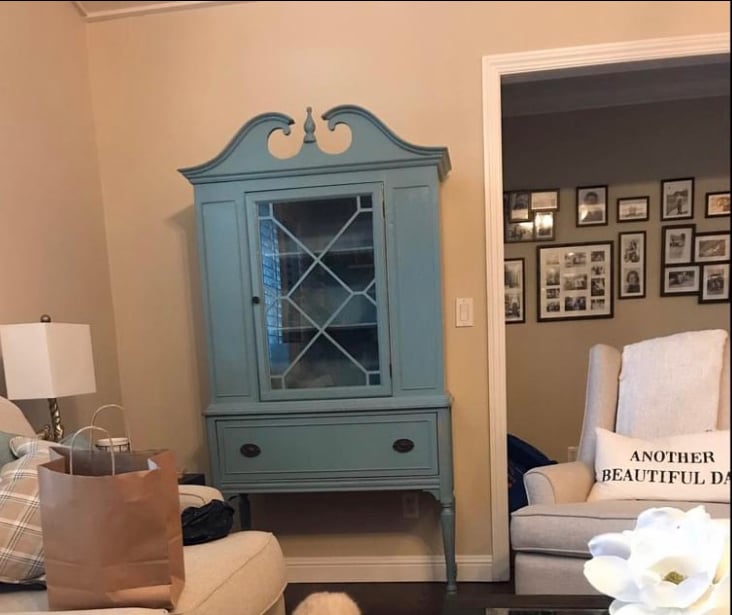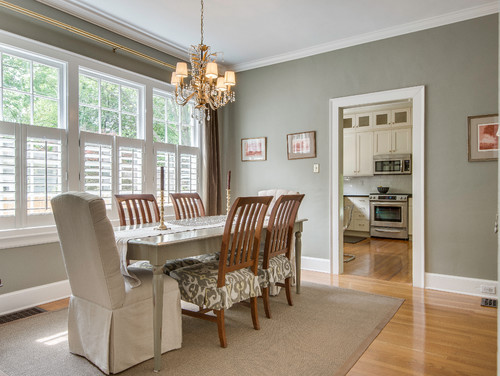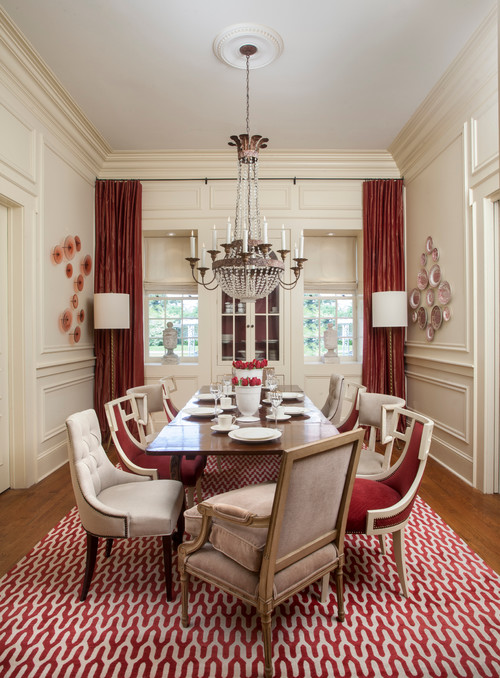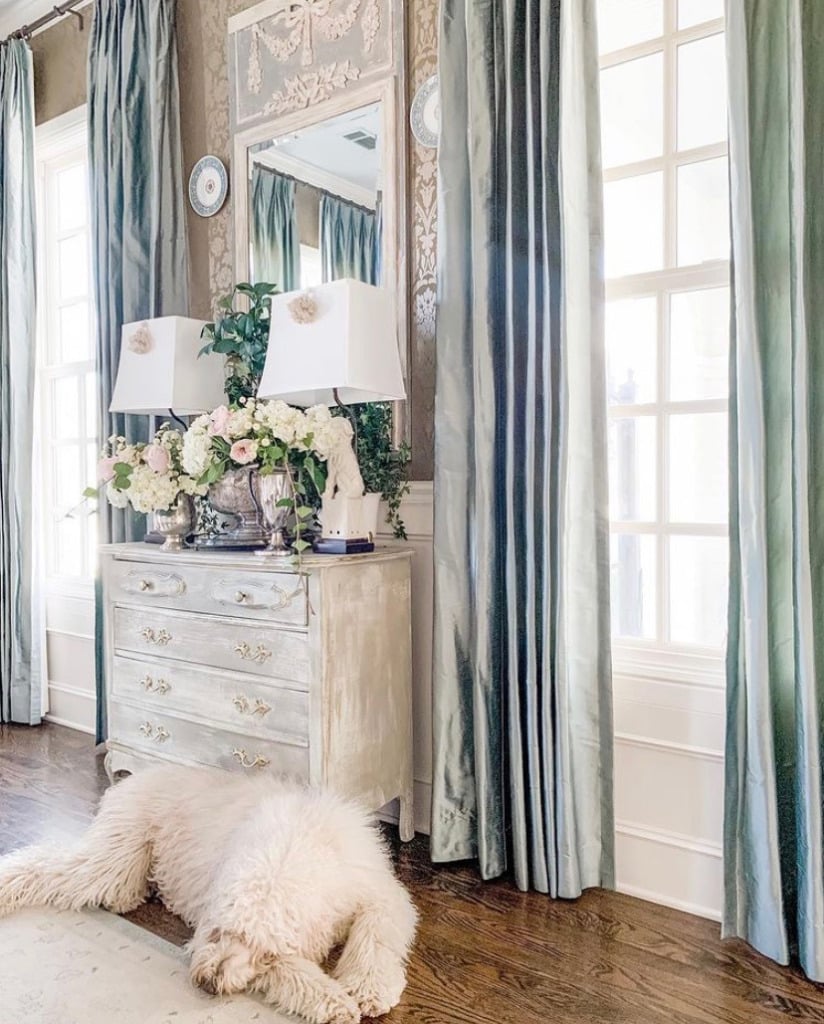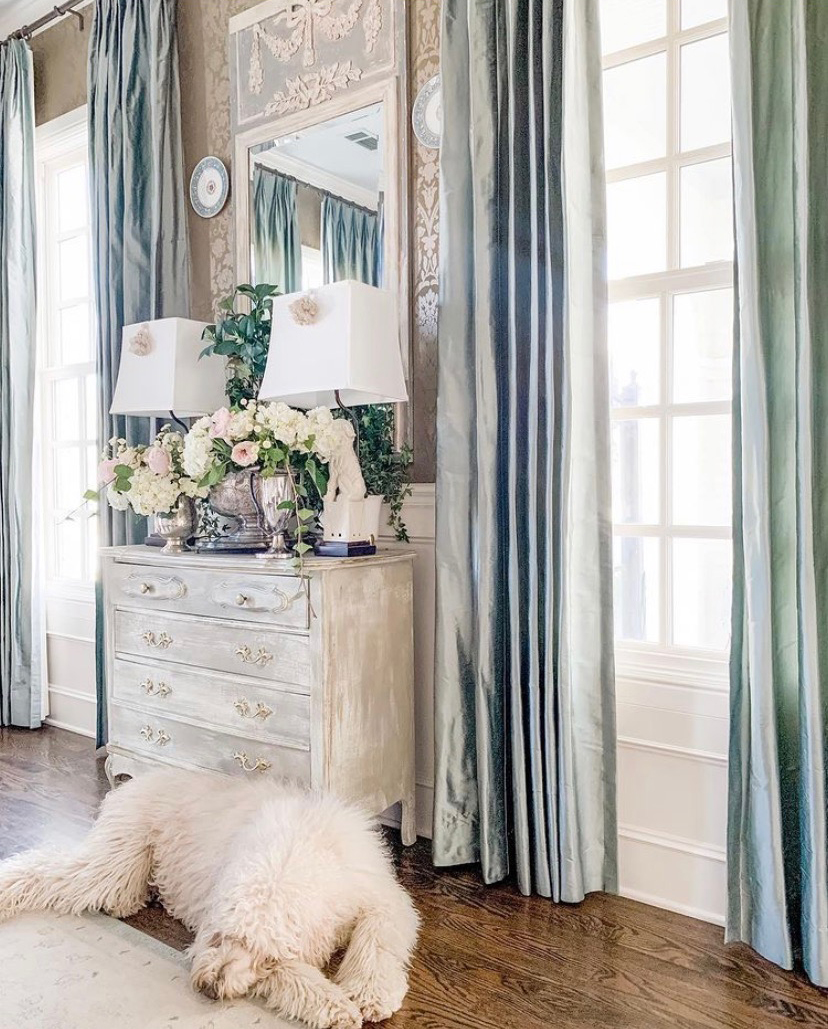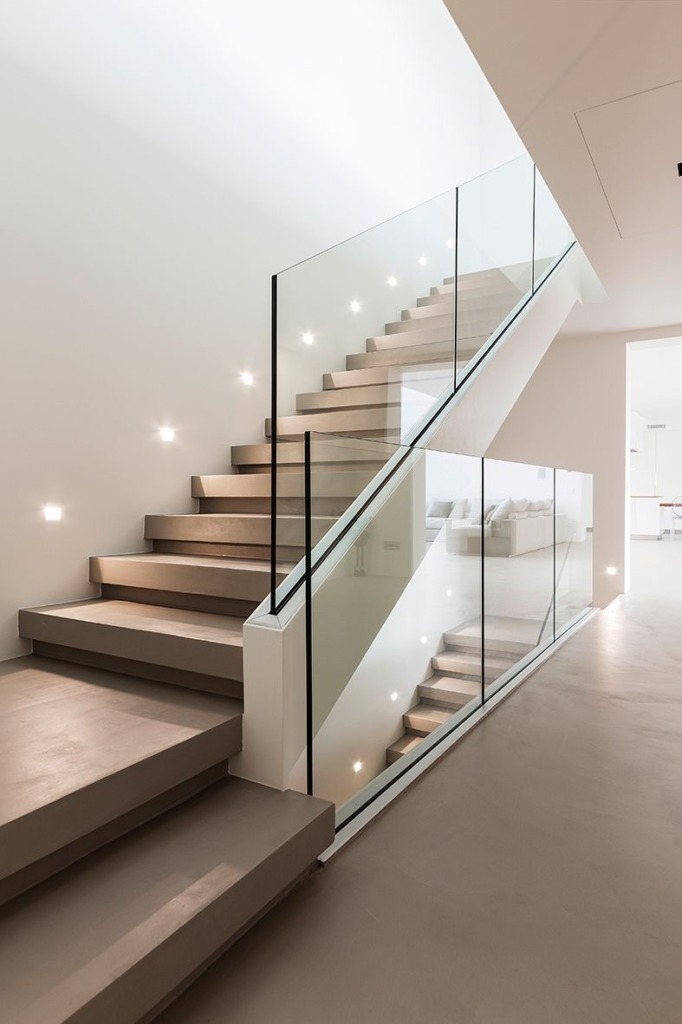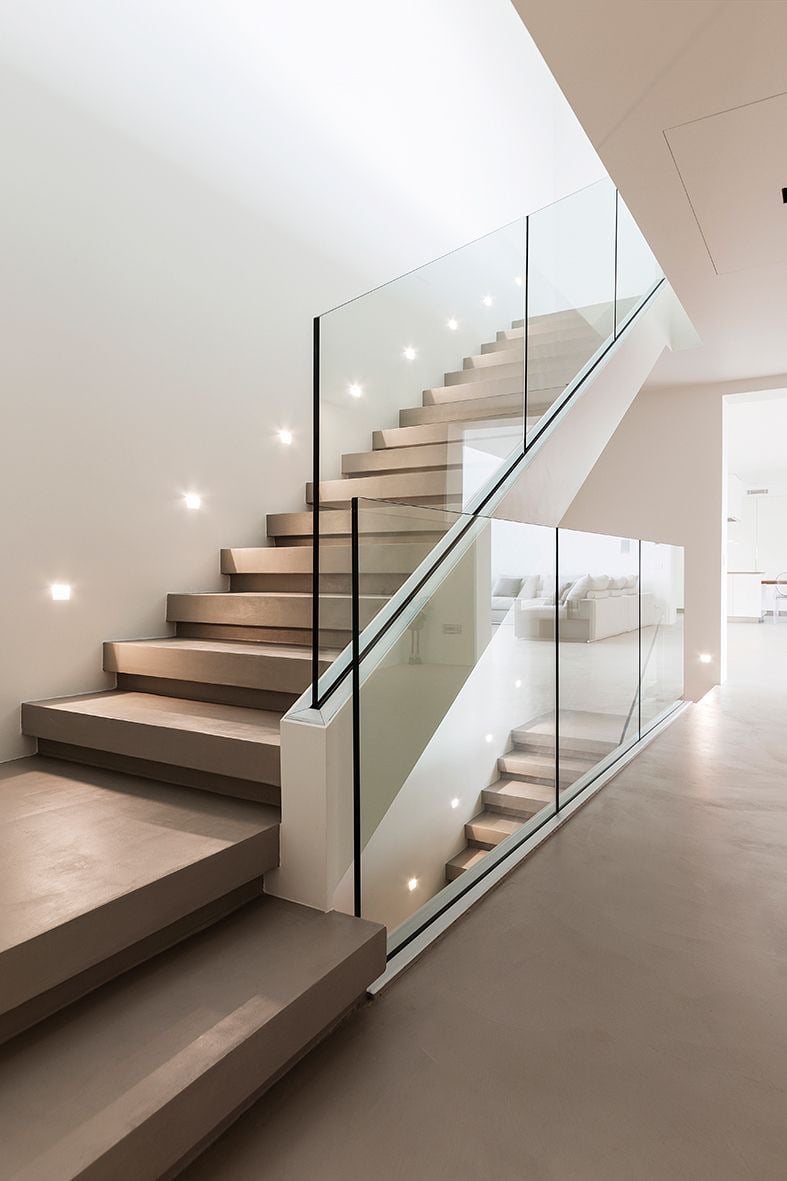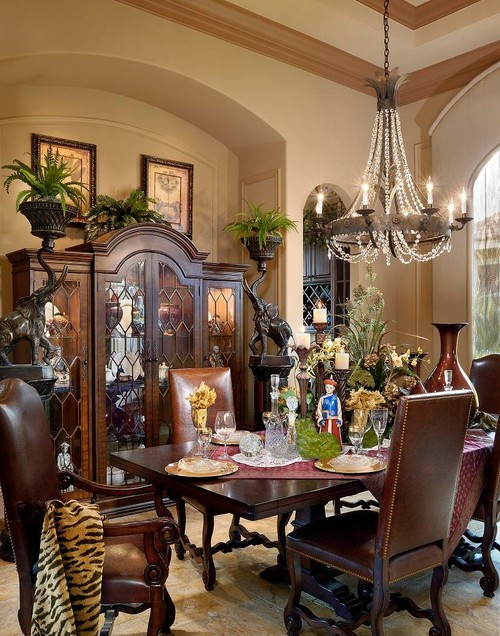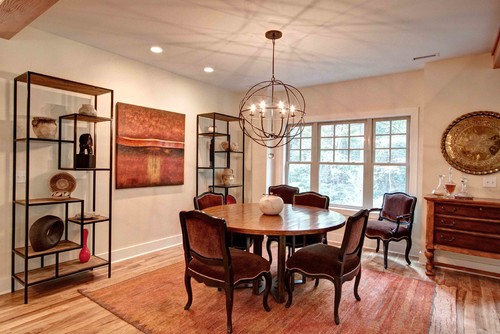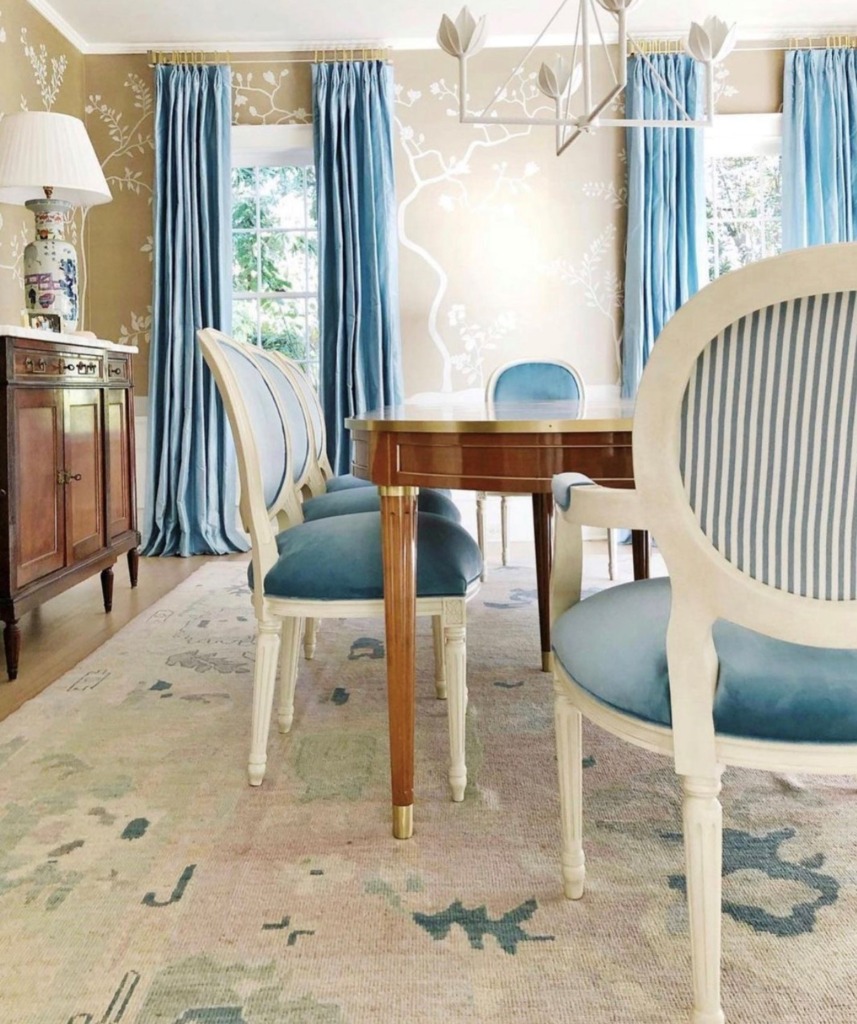 Jill's Decorating Style
Based on the photos and my personal knowledge of Jill's house, I decided she'd like something that was a mix of Southern Traditional and Contemporary.
In looking at the inspiration photos, she chose several images with dark, formal wood furniture. Her own home has a Queen Anne style dining set. All of these things work in a traditional Southern home.
Jill's newly renovated kitchen, however, is very contemporary in white, blue and gray! She also told me she'd really like a modern glass railing.
I can also tell from her inspiration that she isn't afraid of pattern and likes both blue and red.
My challenge: How to marry a Queen Anne dining table and a modern glass railing!!
Step 1: Add Curtains
I started with the curtains because that was the one element on which Jill provided input. She likes silk (or faux silk) curtains in blue. She wants a pleated header, but I couldn't find a photo showing the curtains with a pleated header so for placeholder, I just used the pole pocket with back tabs, but you'll get the idea…
To contrast the traditional curtains, I used a contemporary acrylic curtain rod with gold accents.
The mix of traditional and contemporary begins…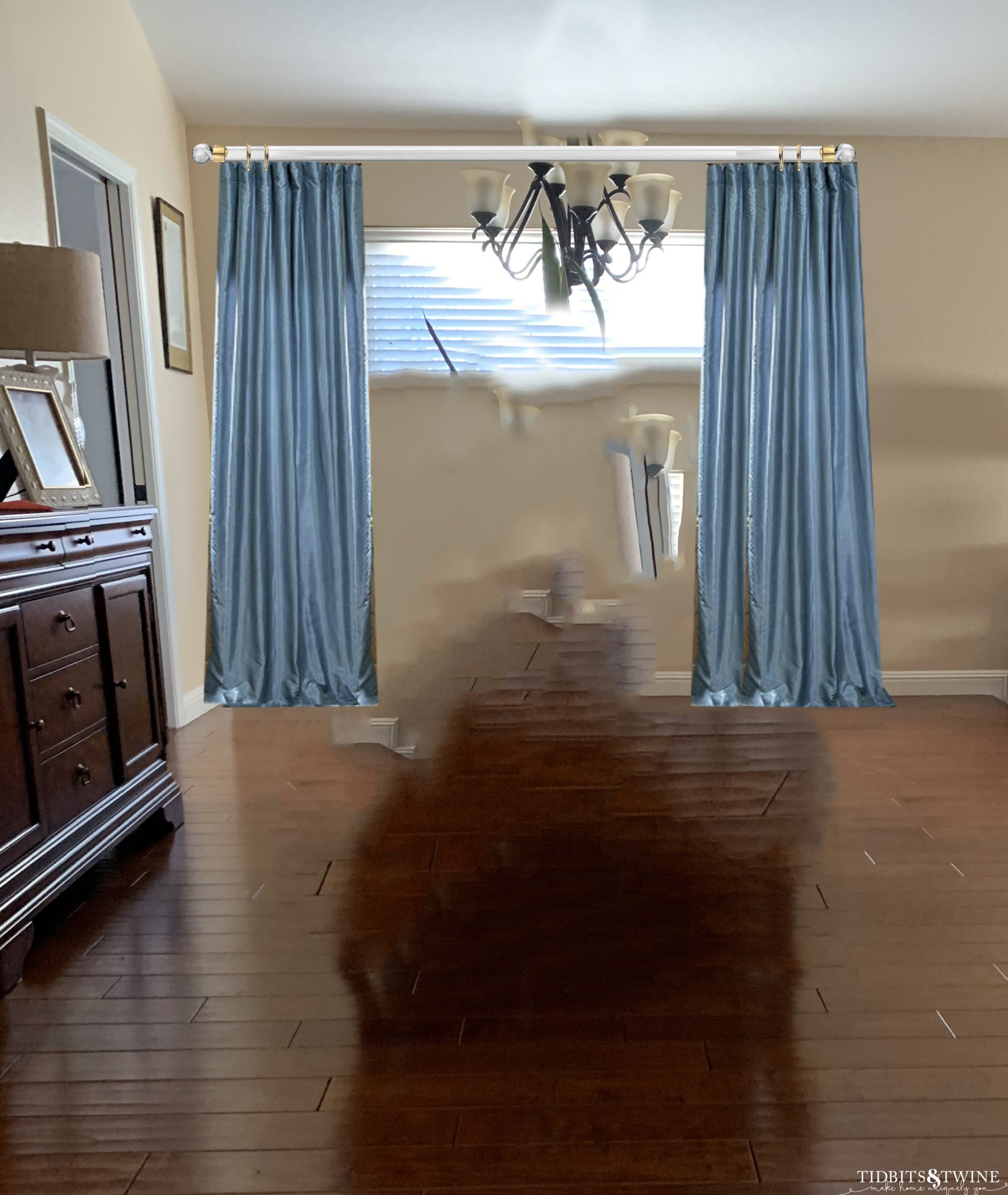 Step 2: Reupholster Side Chairs
To coordinate with the blue being brought into the room, I decided to reupholster the side chairs in a coordinating color.
Ignore the fact that it looks messy right now…it gets better!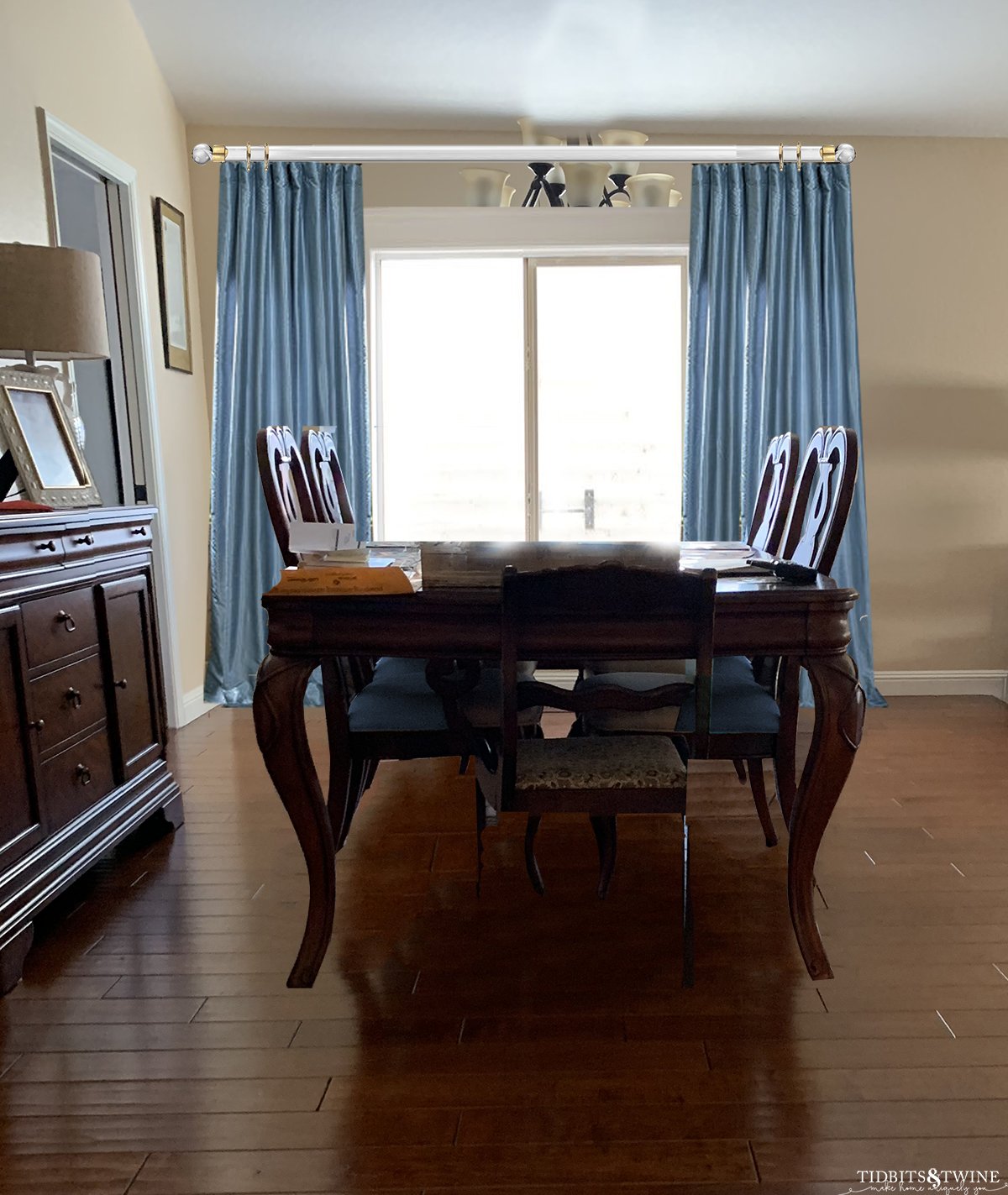 Step 3: Add Area Rug
The area rug is really important in this room. It holds the job of pulling all of the various colors together for a cohesive look. As such, I wanted a rug with pattern (as opposed to solid).
I wanted a rug that had both shades of blue and beige. The furniture and floor have a lot of red in them, though, and clashed with the blue.
The solution? Incorporate a touch of reddish/brown into the rug to help tie the furniture in with the textiles.
This wool and nylon Erela Oriental Wool Blue Area Rug from Wayfair is a fantastic price and brought in all of the colors I wanted. Now Jill might ultimately choose a different rug. That's fine! She now knows the job of the rug and can pick something she likes that accomplishes the same thing.
Can you see how the curtains and floor/furniture now tie together?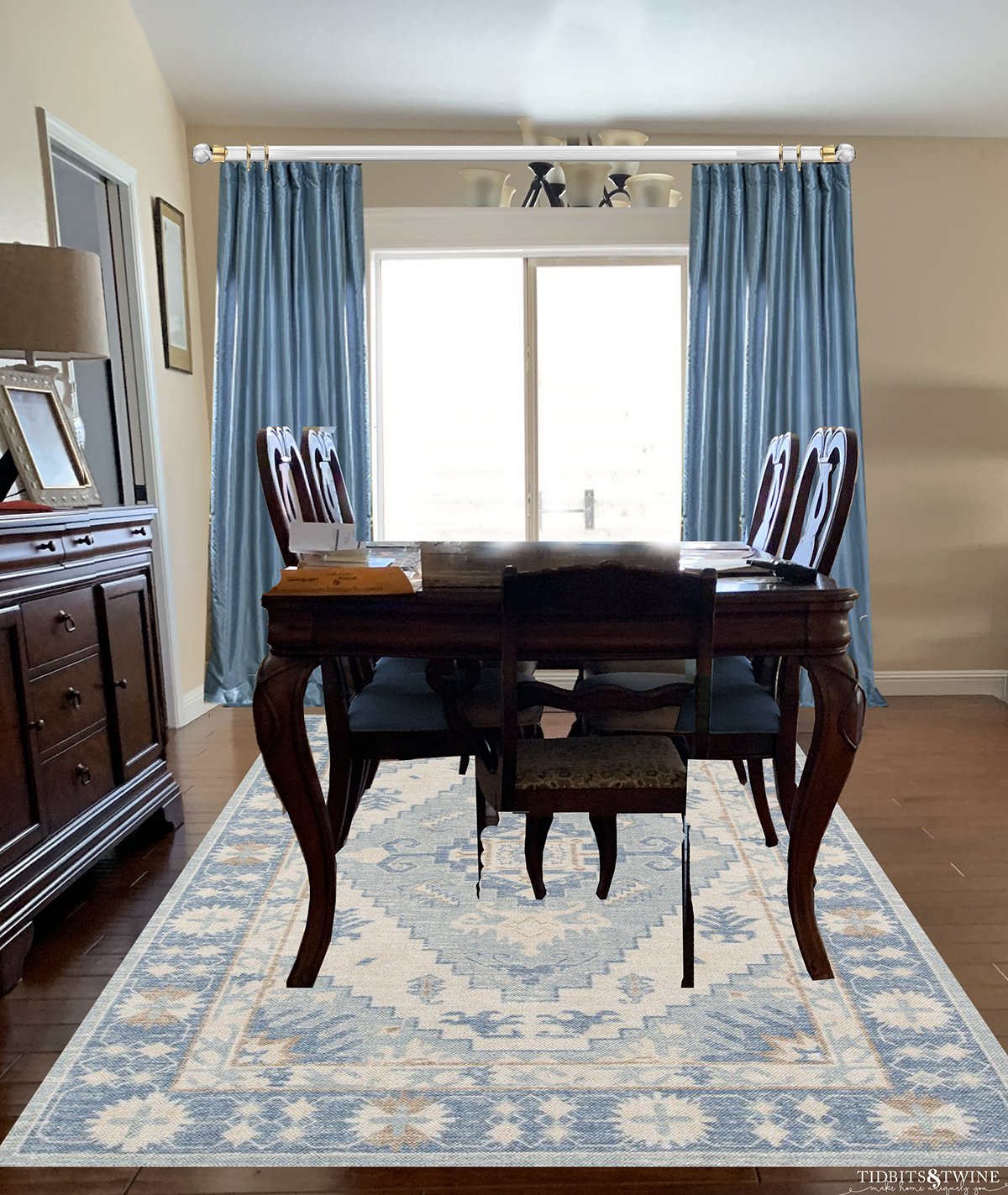 Step 4: Replace Head Chairs
Jill's head chair broke so is in need of new head chairs. I really wanted to use an upholstered chair to break up some of the dark wood in the room and soften the overall look.
I tried out a few different options, but ultimately settled on a style with legs (as opposed to a skirted chair).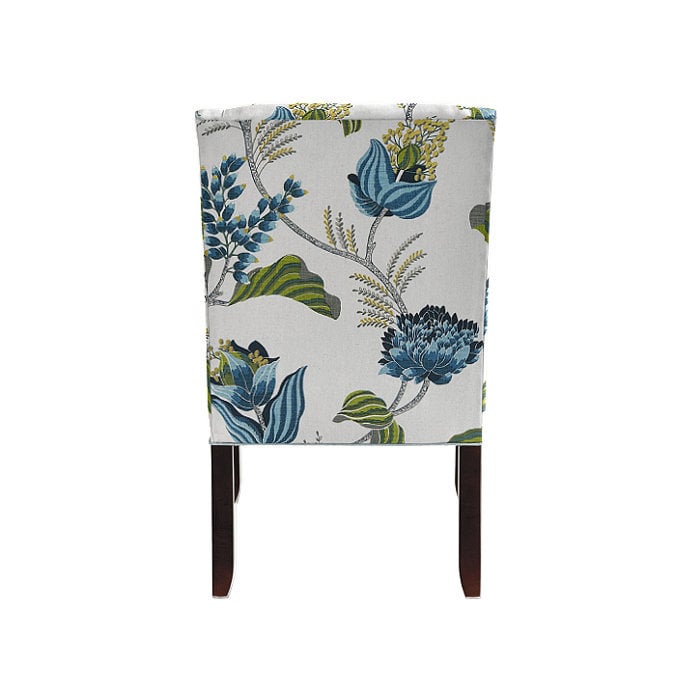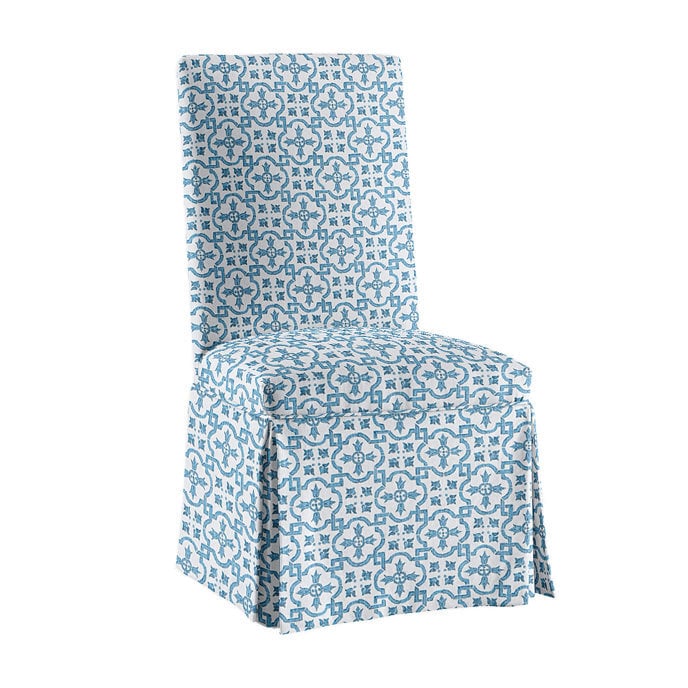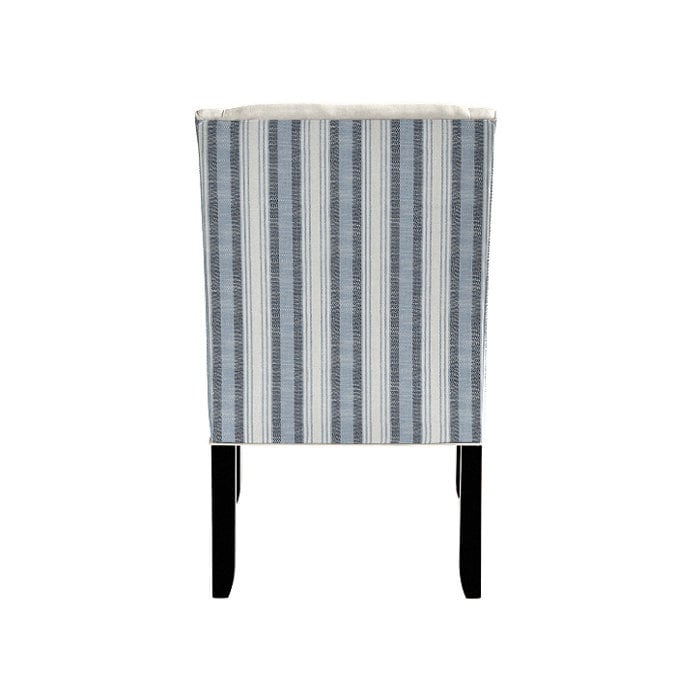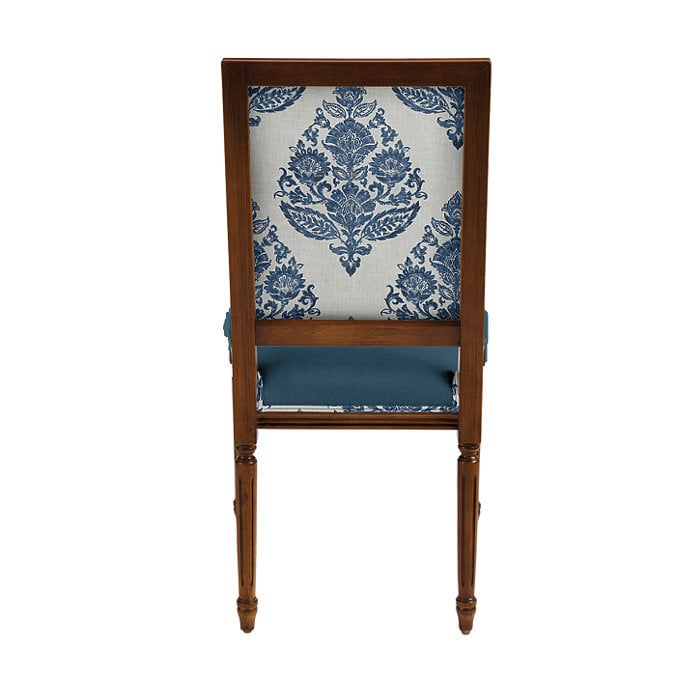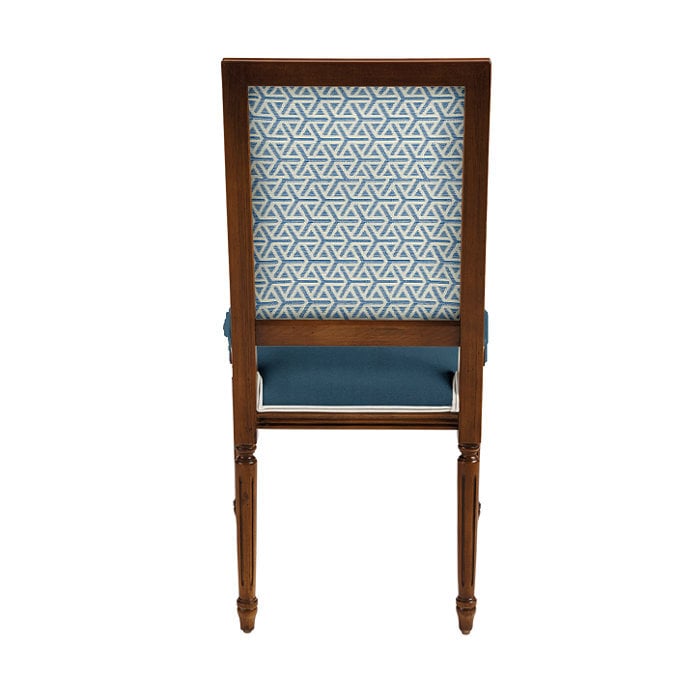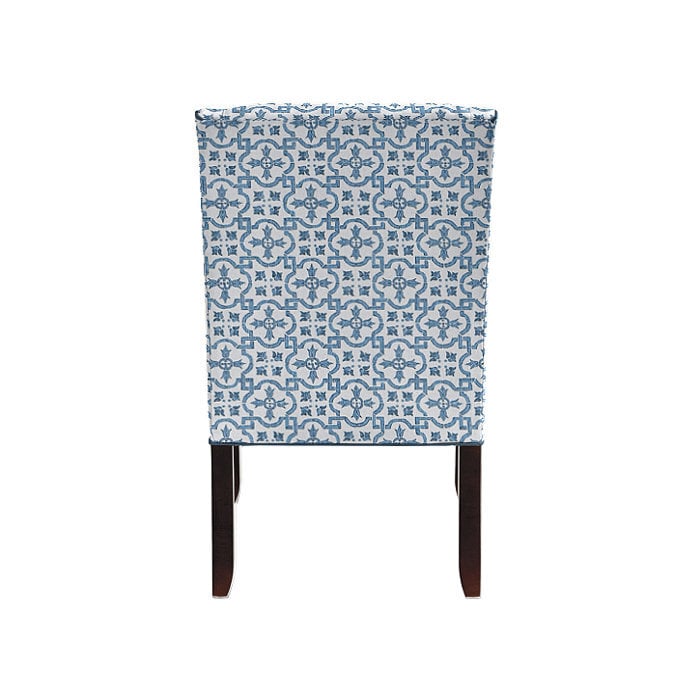 I chose the Ballard Designs Gramercy Chair. It has a sleek, contemporary design with low sloping arms, but the legs are mahogany to complement the side chairs.
The fabric is called Karen Blue and is a smaller print than that of the area rug but with similar shapes, helping the patterns to coordinate.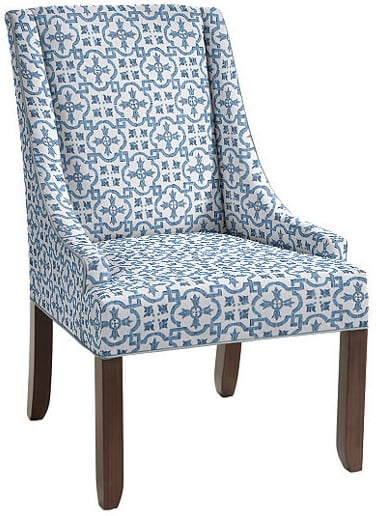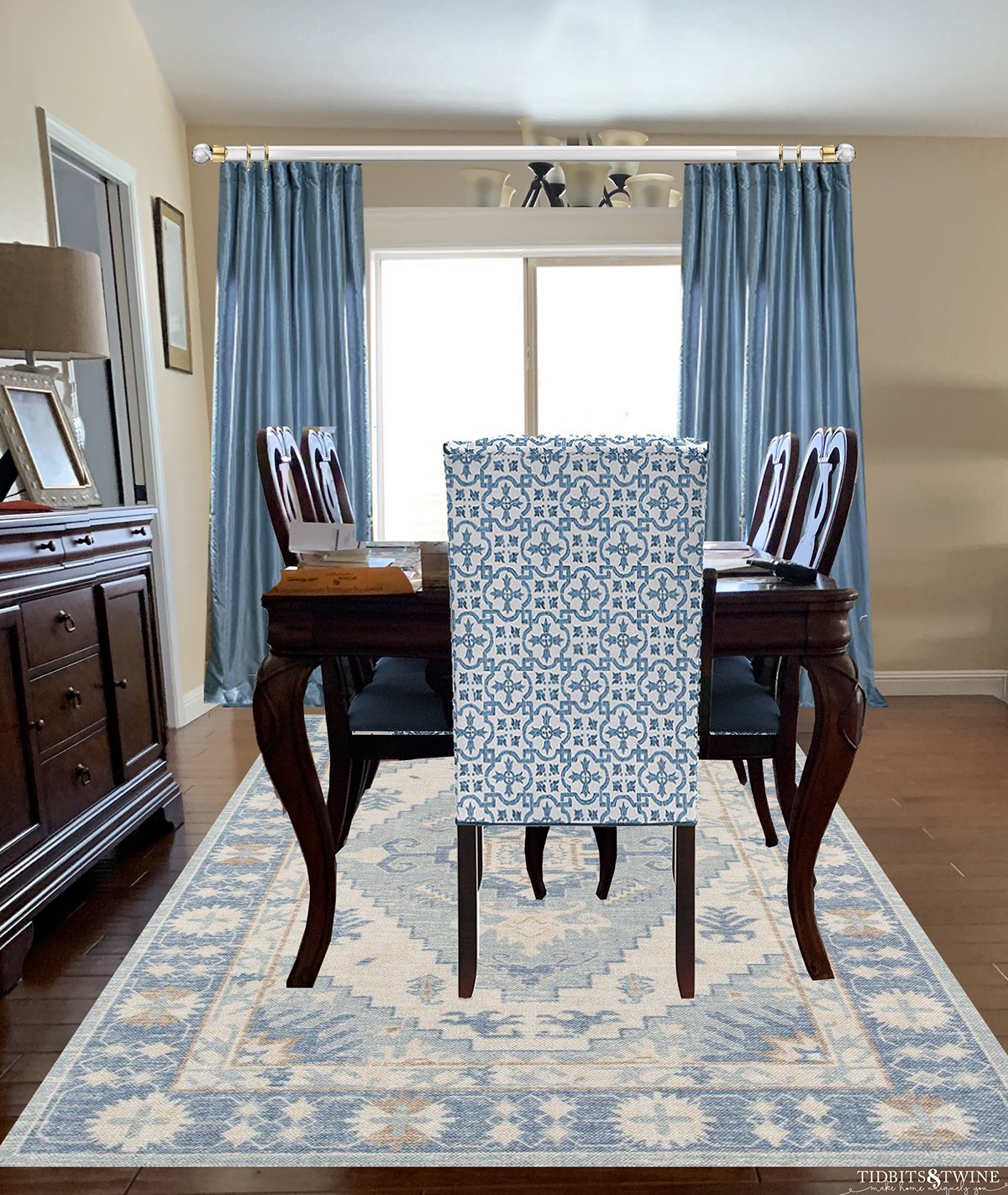 Step 5: Replace the Chandelier
Now that the furnishings and textiles are in, it's time to address the chandelier. The current chandelier is very traditional and dark, similar to the furniture. I wanted to brighten the space a bit and find a light fixture that could really span both traditional and contemporary.
This is the Crystorama Fiona chandelier. What I like about it is that it coordinates with the curtain rod I chose earlier while brightening the space. Full disclosure, I couldn't tell from the online pictures whether the beads are clear glass or white. This chandelier only works in this room if the beads are clear.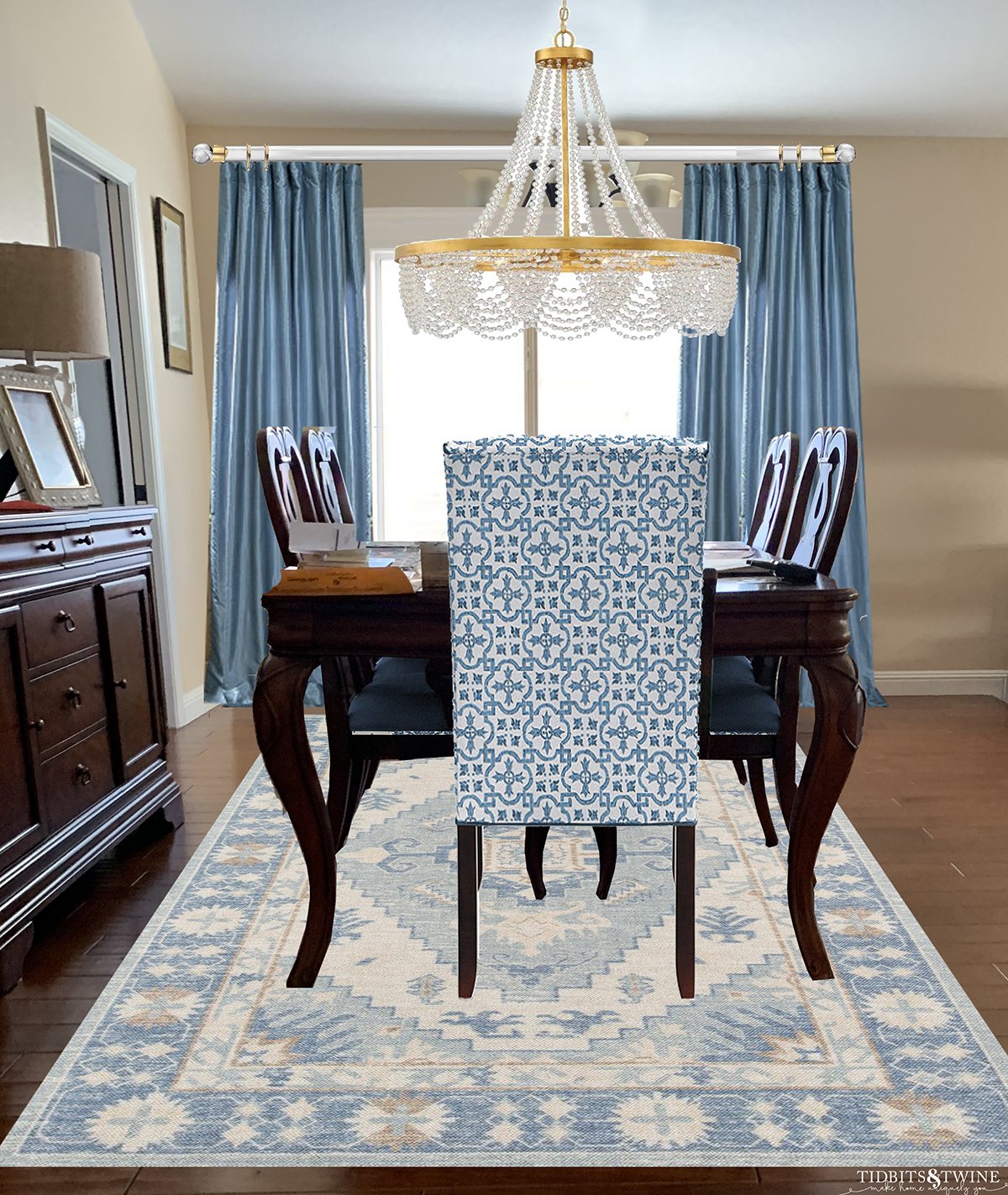 Step 6: Paint the Walls

With the materials I've selected so far, I felt that the walls looked a little too yellow and a bit traditional. I love a soft gray/blue in the room, though! What's great about this color is that it is used in both traditional and contemporary decorating. I also happen to know that this is the color of her subway tile backsplash in her kitchen so it'll help tie the adjacent kitchen in with the dining room.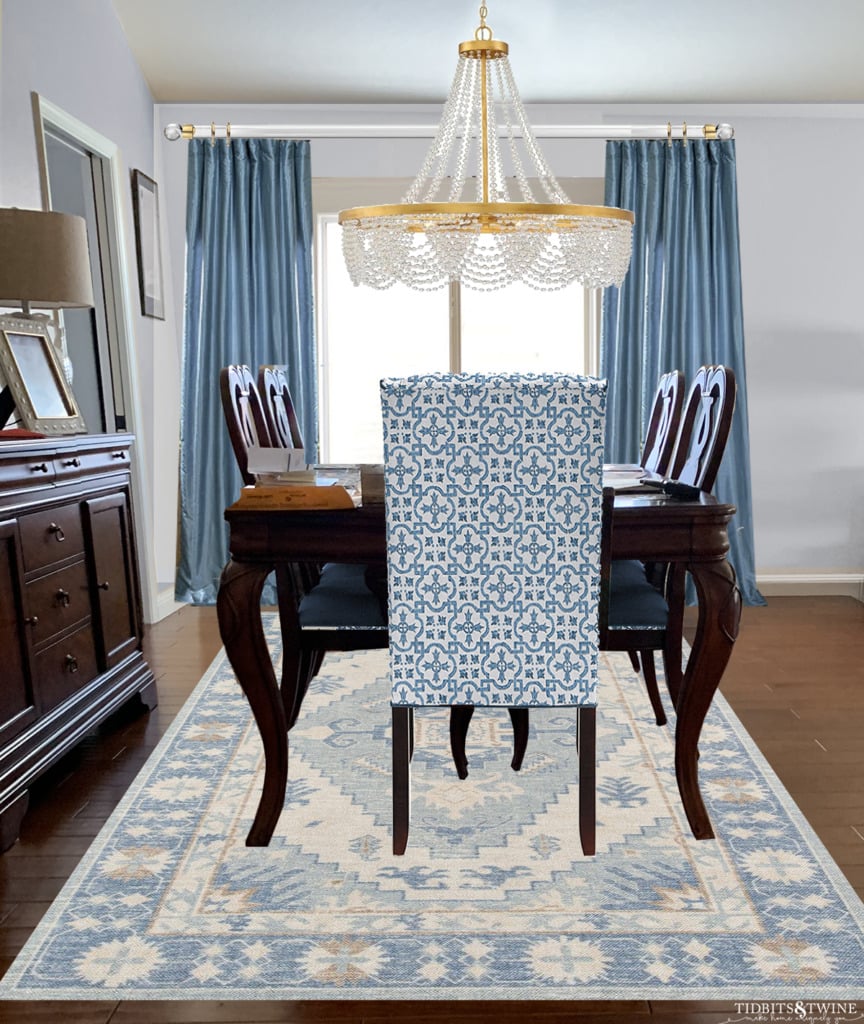 Step 7: Add a Bar Cart
The space to the right of the wall seemed like it needed a little something to me and I opted for a completely contemporary bar cart! The gold detailing ties in with the other gold details and the round shape complements the chandelier. Plus, I know for a fact Jill has been searching for a new home for her wine glasses….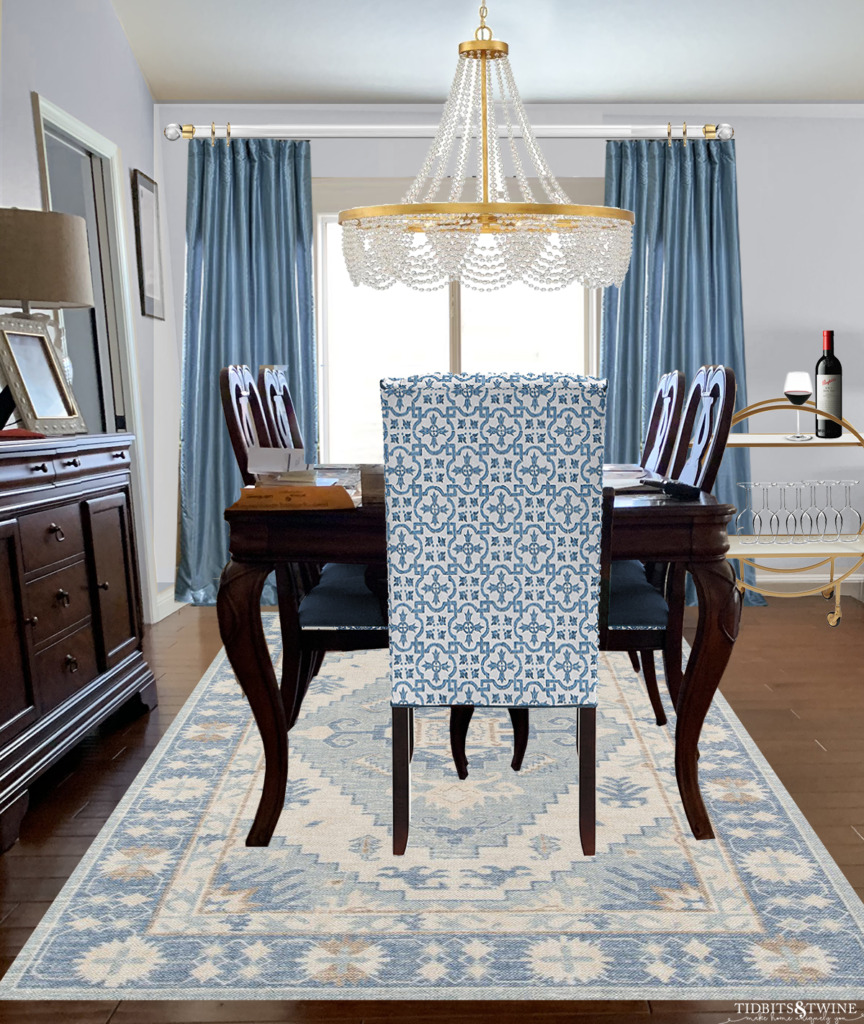 Final Design: Add Accessories
Accessories give this room a final touch! I added:
Gold-framed botanical prints
A traditional table lamp on the buffet
Glass/brass knobs on the buffet
Trim on the curtains to coordinate with the head chairs
A small orchid (traditional) in a white and gold pot (contemporary)
Painted the ceiling a brighter white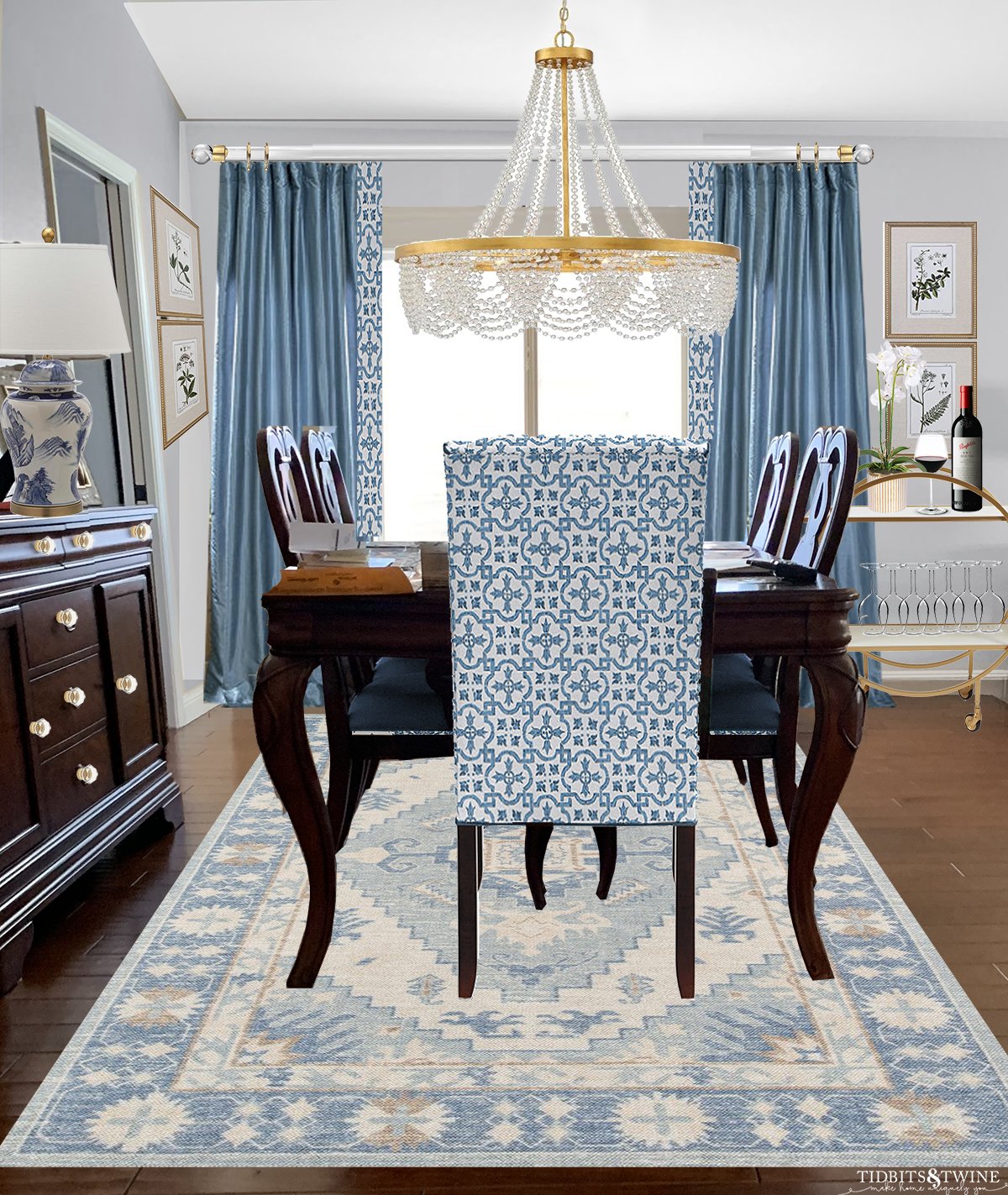 At the end of the day, I have no idea what Jill will end up doing with her dining room, if anything. But my hope is that she'll realize that it's possible to combine traditional and contemporary.
And regardless of whether this is your style or you like the specific elements included here, I hope you were able to get some insight as to how to evaluate furnishings and décor for your own home!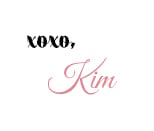 Join the Community
Let's keep in touch! Get exclusive artwork plus the latest news delivered directly to your Inbox!