Netflix's Bridgerton reignites a love affair with Regency décor! Here are 7 ideas for how to add just a touch of Bridgerton décor and still maintain a modern-day home!
First, let me state that I am an anglophile. I watch almost exclusively British television, so I was eagerly awaiting the release of the Bridgerton television series. But given that it has become Netflix's biggest smash hit watched by 82 million households worldwide, I think it's fair to say that it's loved by all. And it's now been confirmed that Season 2 will start filming this Spring!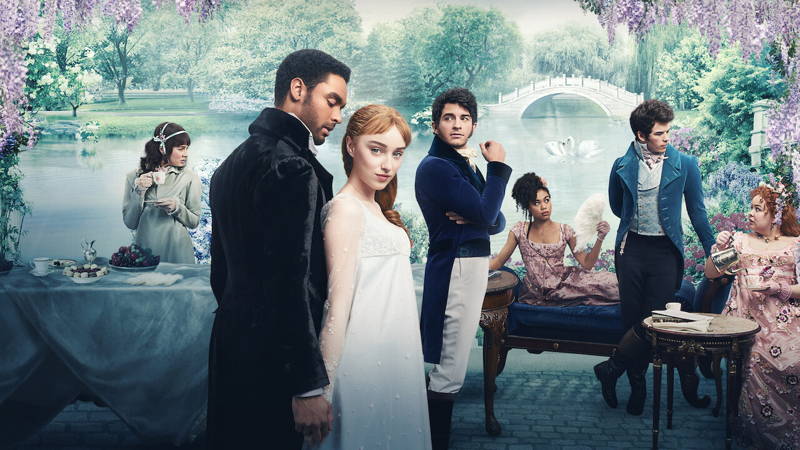 BRIDGERTON – A VISUAL DELIGHT
For those not familiar with the series, it's a Regency period drama based on Julia Quinn's bestselling novels. In Season 1, the romantic, yet scandalous, eight episodes follow two competing families, the Bridgertons and the Featheringtons, and their daughters as they make their debut in the competitive marriage market in the early 1800's. And so a global pop-culture phenomenon is born…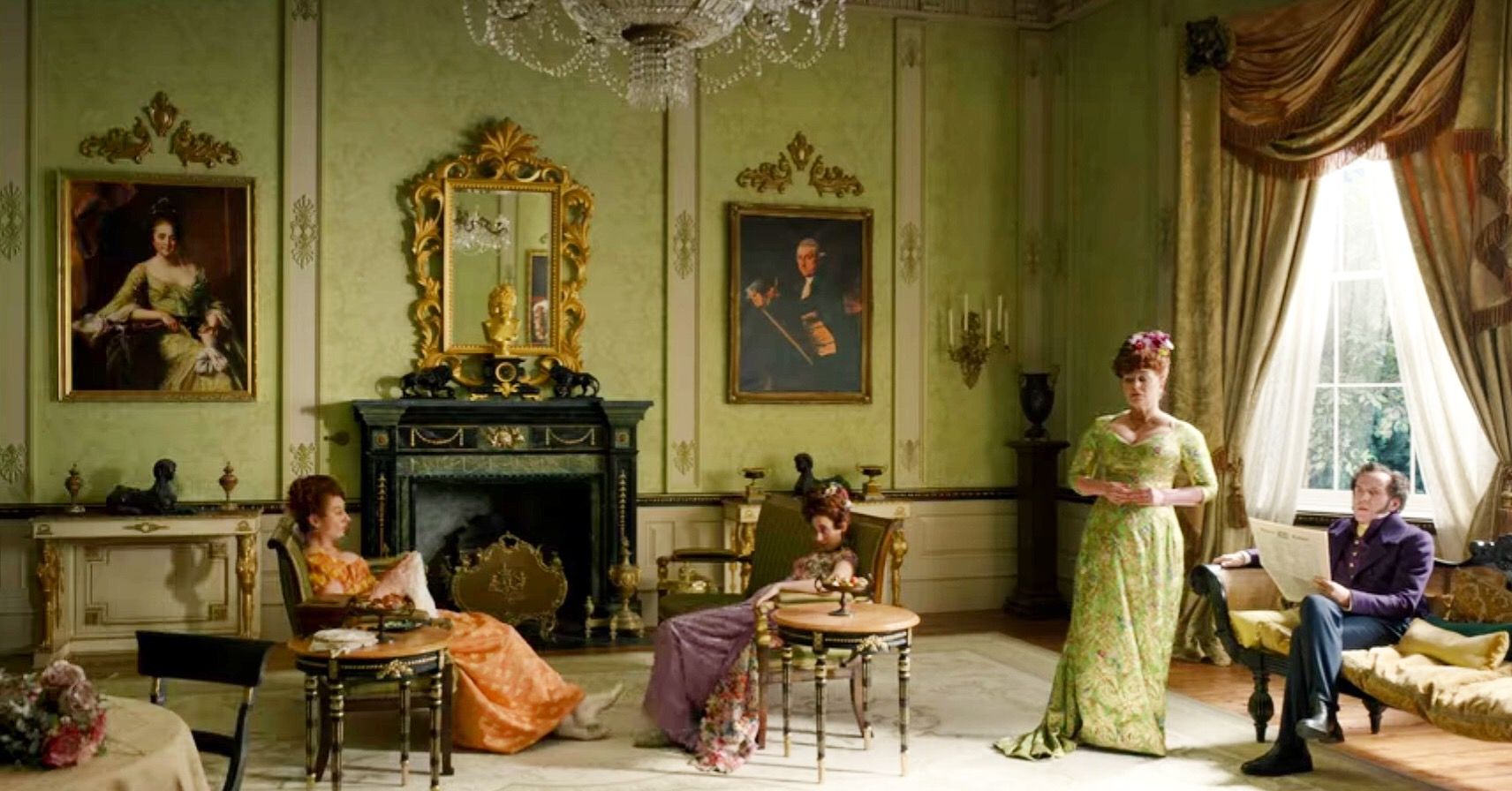 In watching Bridgerton, you can't help but take in all of the glorious and opulent eye candy of the costumes and set designs of the Regency era.
These days, Empire waist dresses aren't in fashion….although truthfully, my lockdown body would benefit from a dress that hides my belly! While I won't be donning a beautiful silk gown anytime soon, I am inspired by the Regency décor seen in Bridgerton.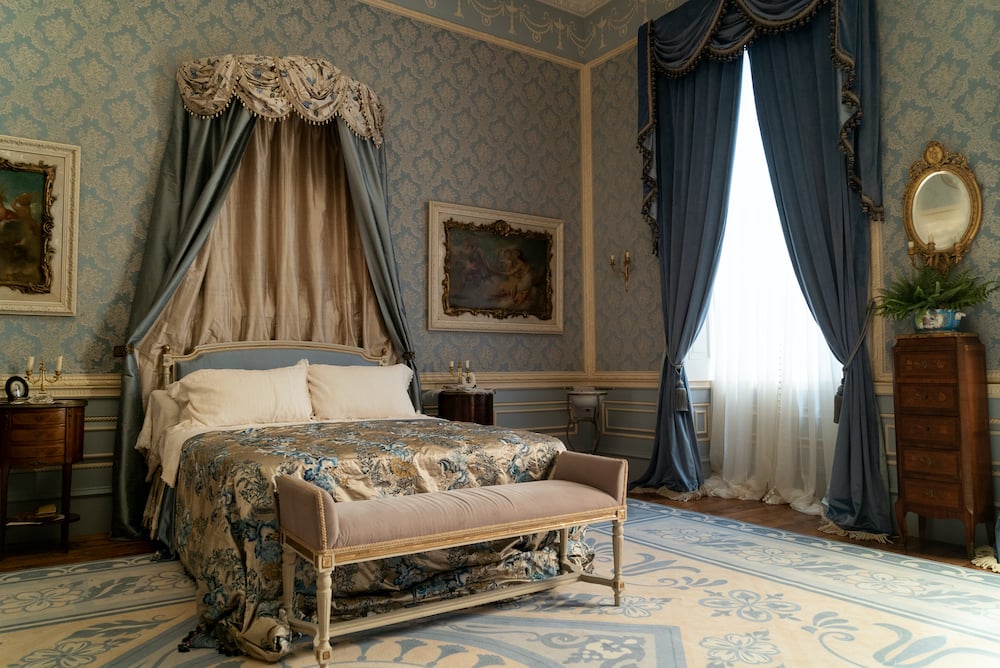 So what exactly is Regency décor?
THE REGENCY PERIOD – 1811 to 1820
The Regency period only lasted nine years when the Regent Prince George (later known as George IV) served as king when his father, George III, took ill. George IV represented glamor, elegance, culture and romantic liaisons. These then became the embodiment of the English Regency period (not to be confused with French Regency or even Hollywood Regency).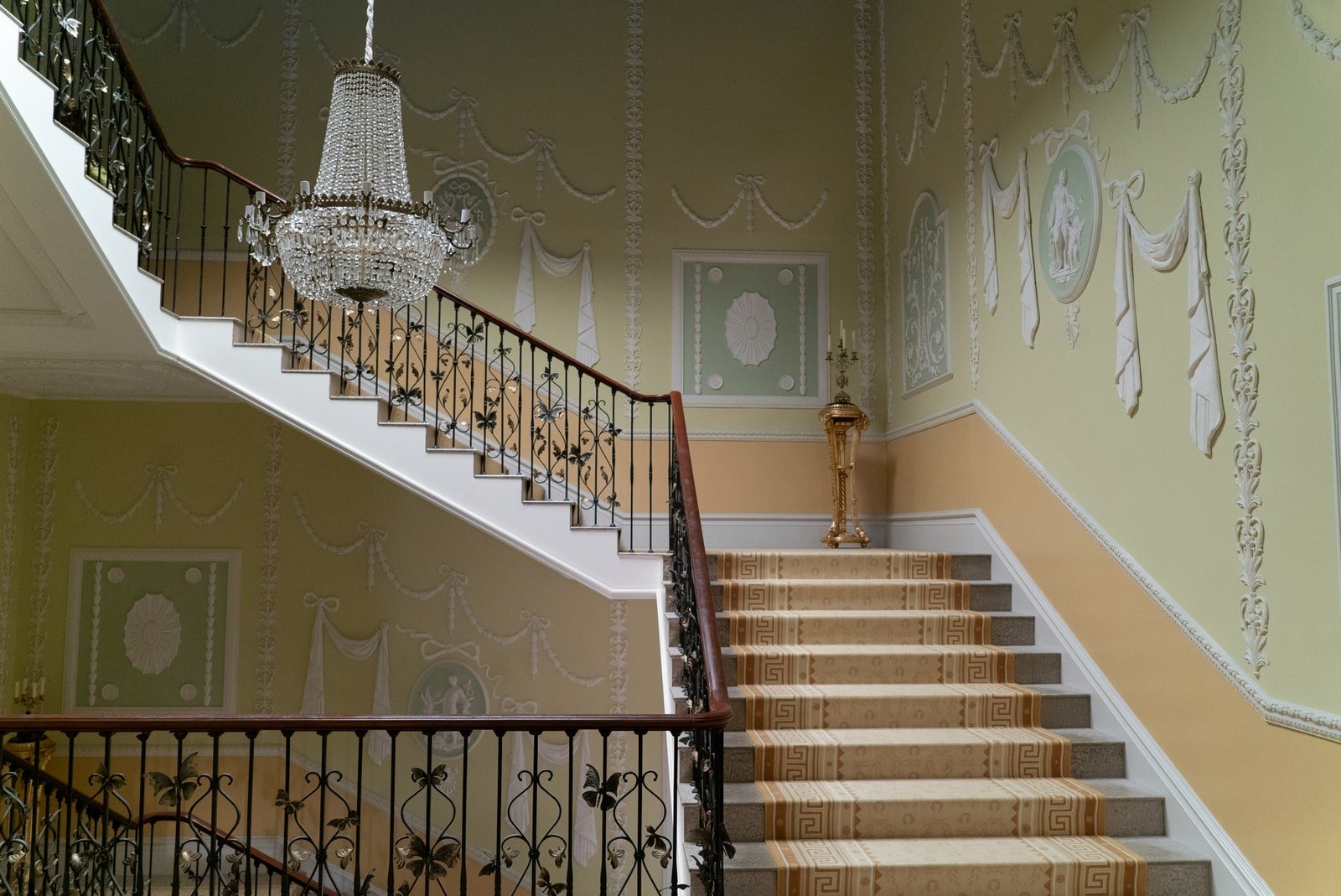 How does this translate to décor?
ENGLISH REGENCY STYLE
Regency style embodies a mix of Egyptian, Roman, and Greek culture. The style is intricate yet not overly-dainty. It's sturdy and exudes opulence and elegance. Examples include:
Furniture with straight lines and clean edges
Symmetrical and streamlined designs, in contrast to the ornate flourishes and carvings of the earlier French Regency furniture
Heavy, yet flowy drapery
Regal patterns on fabrics and wallpapers like damask, chintz, stripes, and chinoiserie
Architectural details like domes, columns and millwork
Elaborate chandeliers
Dark, heavy wood like mahogany, walnut and even rosewood
Paw-shaped feet on furniture, often with brass caps
Rosettes, laurel wreaths, acanthus leaves and lyres were used as embellishments
Saber shaped legs or legs with reeding
A bold mix of colors including rich reds and golds, layered with creams, light blues and pinks.
Here's a look at how to incorporate Bridgerton Regency décor into your home.
A MODERN-DAY USE OF REGENCY DECOR
If you read my predictions for the 2021 decorating trends, you'll know that Grandmillenial style is has arrived with the bang! While you could deck your entire house out like the set of Bridgerton, here are a few different ways to add just a touch of Regency and still maintain a modern-day home.
1. Incorporate Just A Few Pieces
Regency style is a mix of color, pattern, dark woods and shiny gold all mixed together. In modern-day homes, that might be a bit much for most.
Instead, pick just a few antique or antique-inspired items and mix them with contemporary pieces to create a modern-day twist on Regency.
This Etsy shop has a great example of how furnishing combinations affect the overall look! Below, these swag velvet curtains showcase a beautiful Regency-inspired dining room.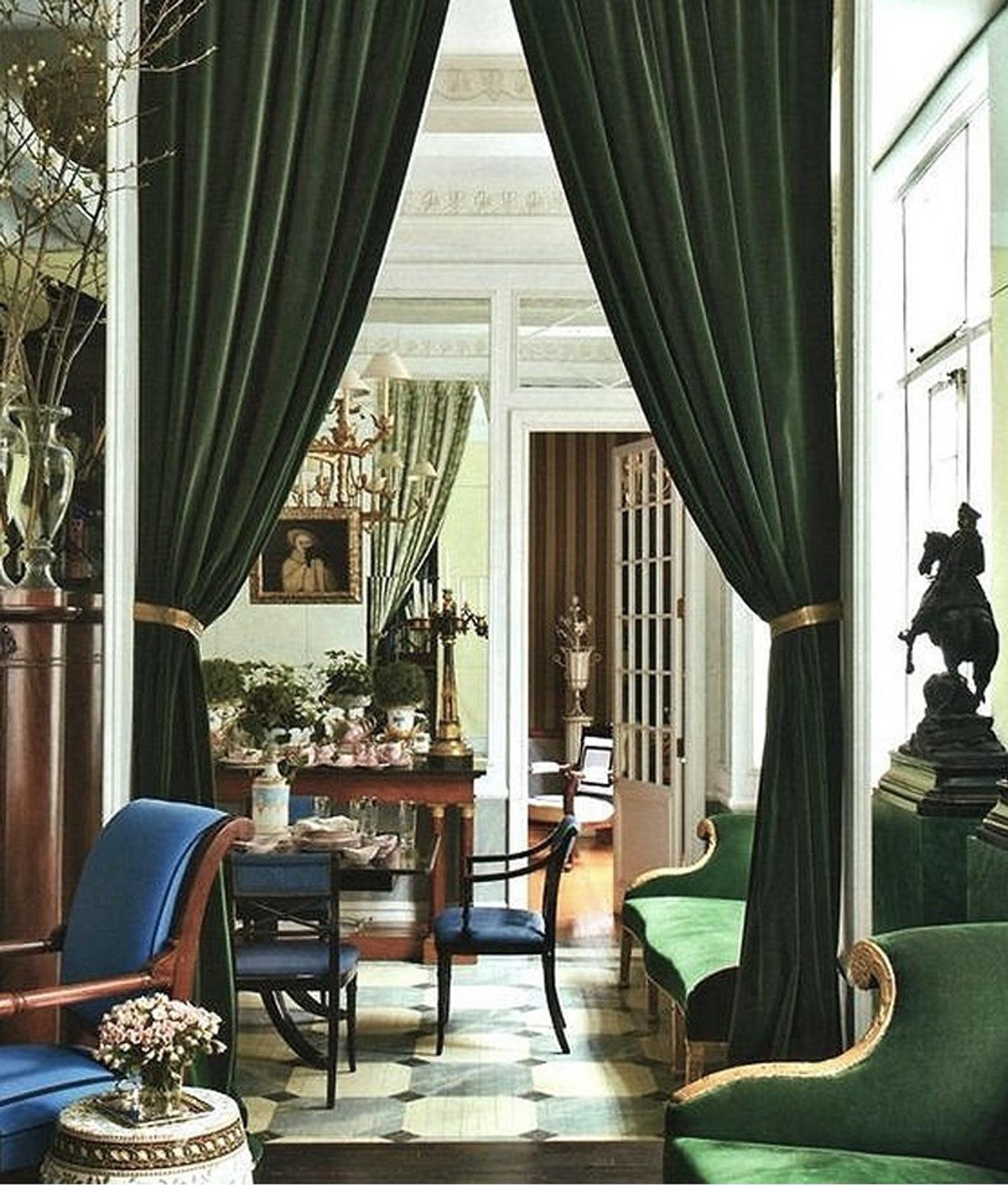 Yet when paired with transitional furnishings and set on a brass rod and rings, the same curtains take on a whole different look!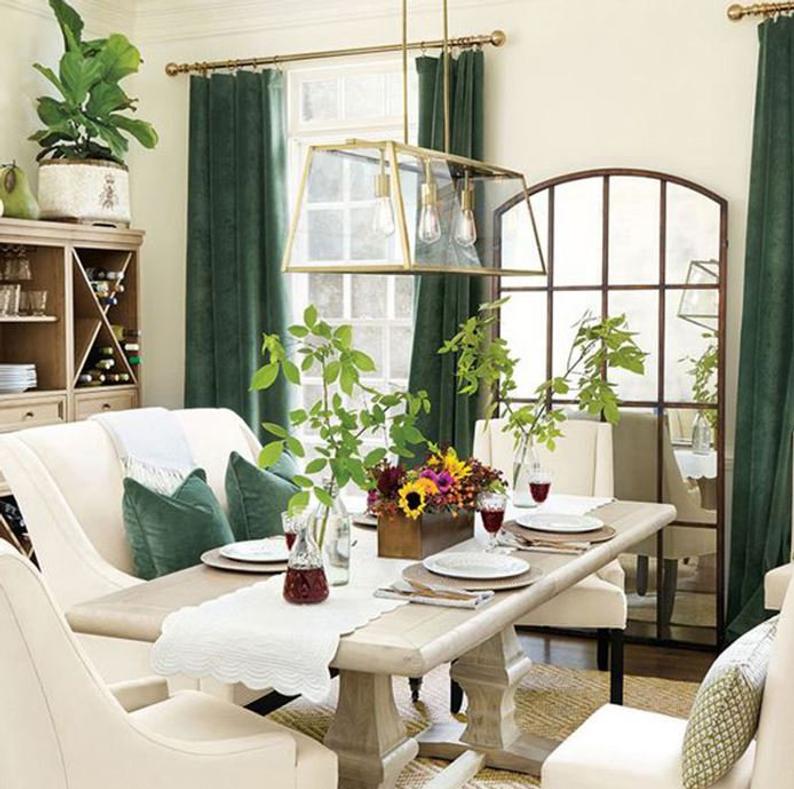 And yet here, the same curtains hang straight with contrasting walls for a and sleek furniture for modern look!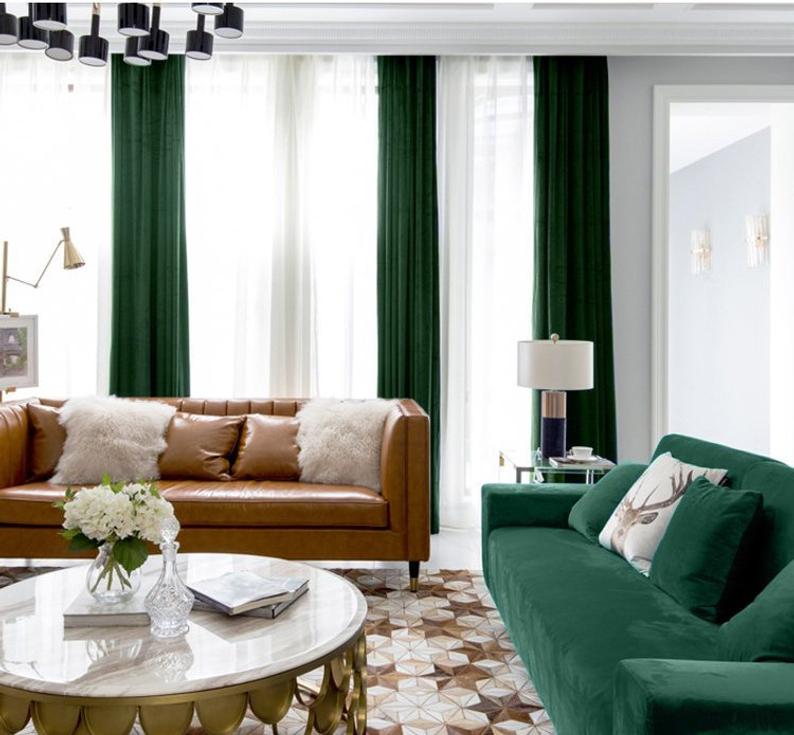 When adding Regency items to your home, remember, a little can go a long way!
2. Mix Darker Pieces with Lighter
For example, if you use dark furniture, surround it with lighter elements like floors and walls.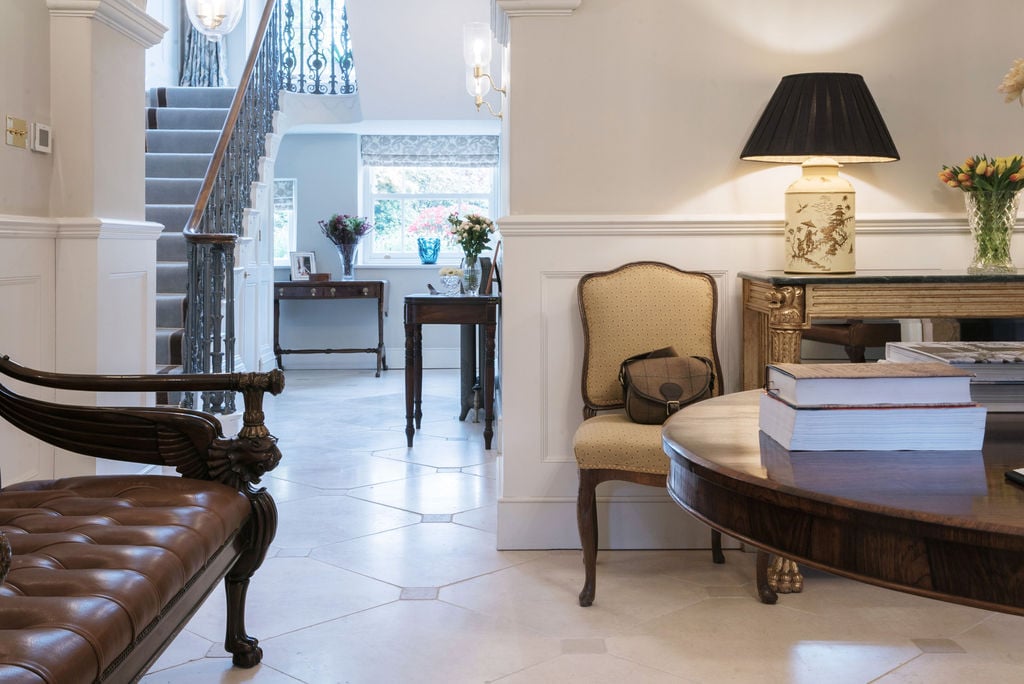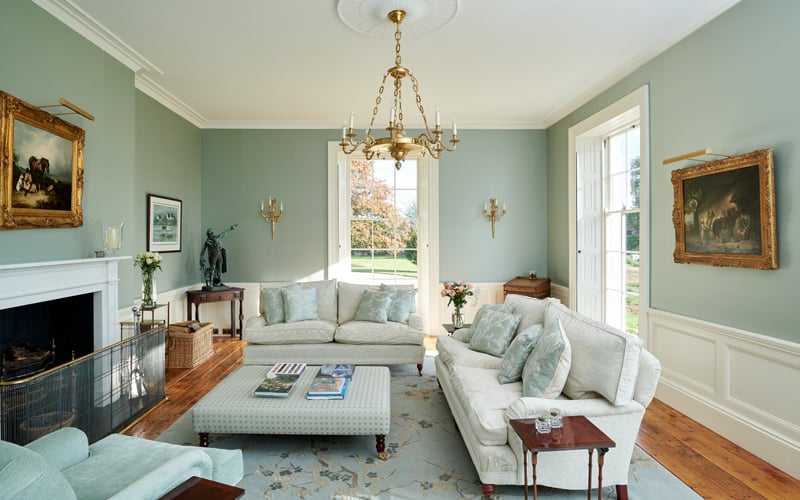 3. Pick Items Within a Complementary Color Palette
This gorgeous wallpaper looks perfectly at home thanks to the beautiful blue ceiling! Pairing complementary colors helps maintain consistency throughout the space.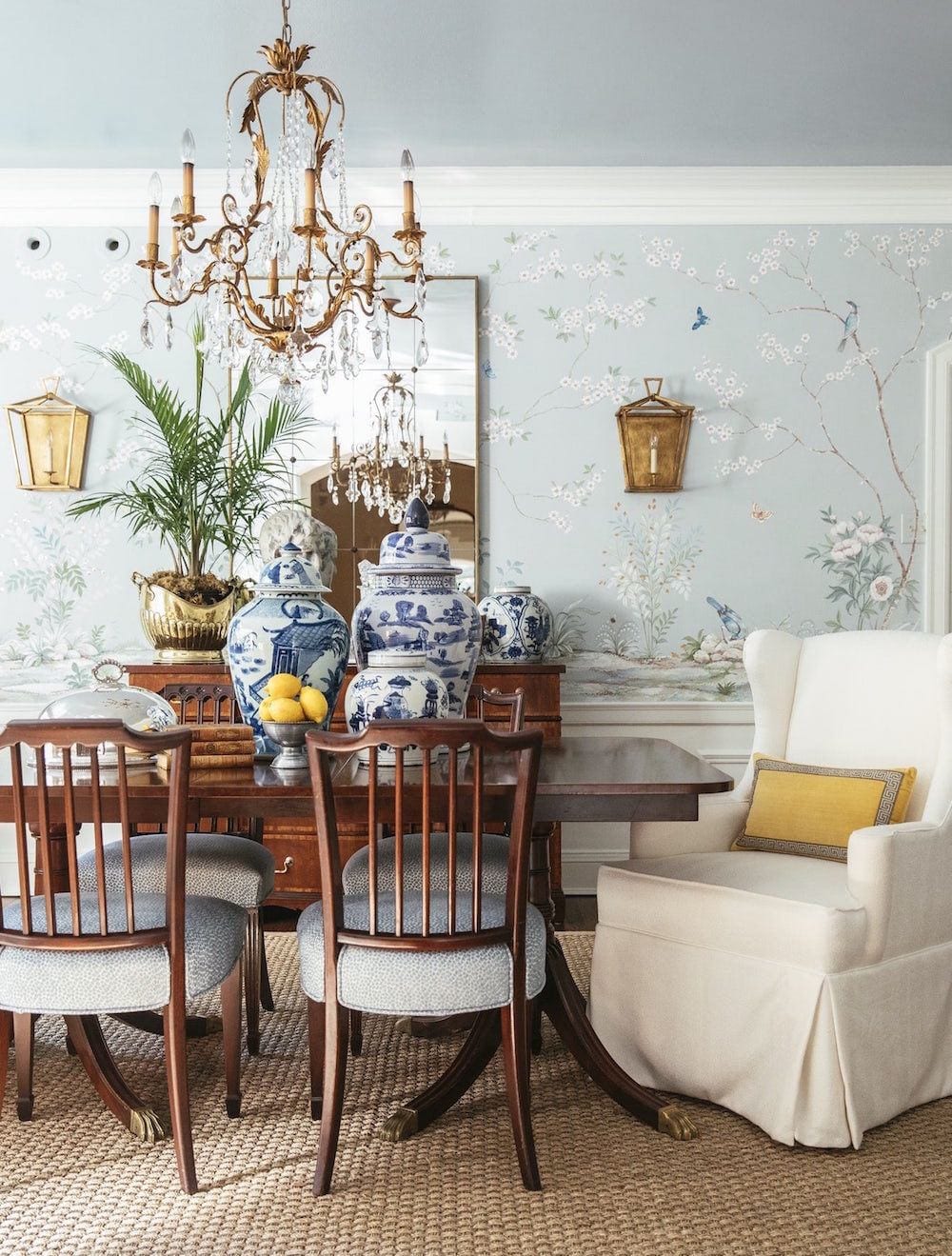 4. Tone Down the Color or Print
This is a gorgeous sofa, but the traditional Regency print and/or color might be too much…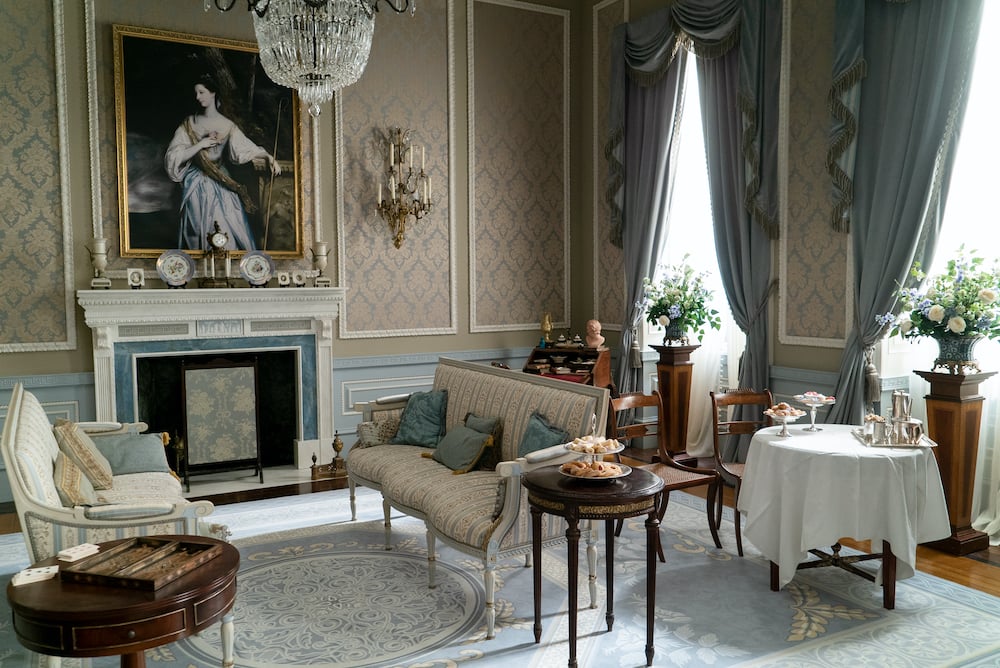 Here's a similar style with straight details and reeding, yet upholstered in gray for a better fit with modern-day homes.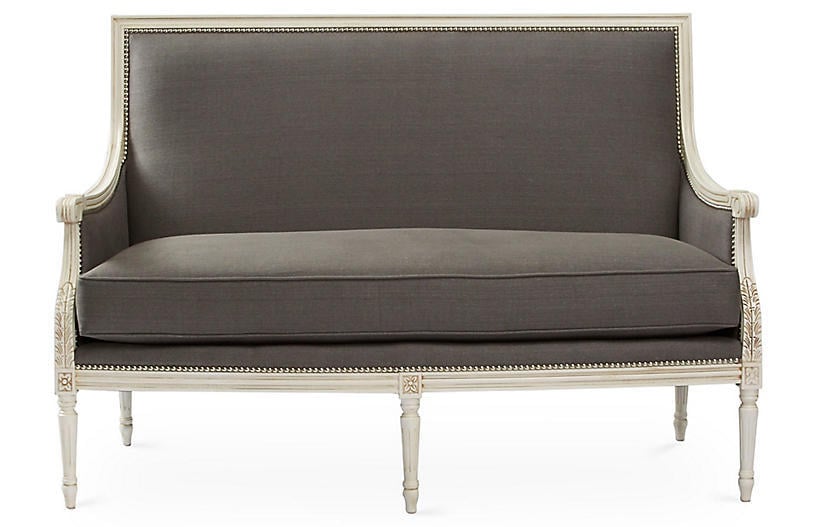 Regency period decorating might use a bold color for the damask wallpaper, but a beautiful neutral gives elegance to this bathroom without overwhelming it.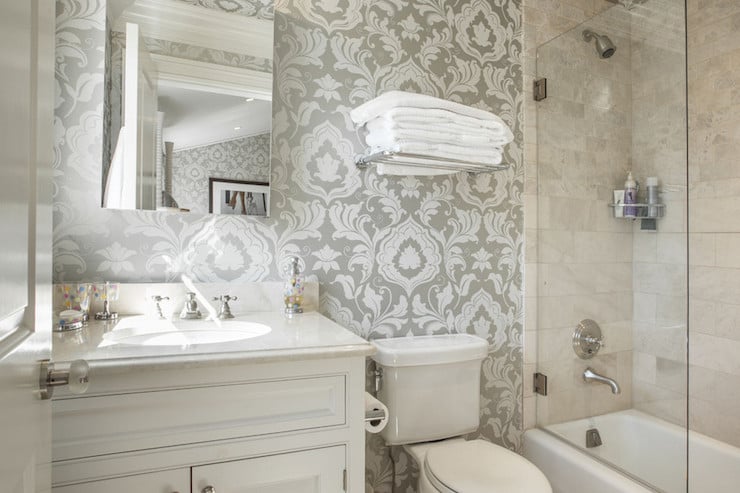 Taking a traditional Regency print and toning down the color, or taking a Regency color but eliminating the print, are both great options for giving a nod to Regency style but in a contemporary way.
5. Ensure the Scale is Right
Make sure the scale of your Regency décor fits within the scale of your room. Some Regency furniture pieces are on the smaller side and can look out of place with other elements in the room if the scale is not cohesive.
Here, a small table is balanced by the use of several small pictures hung as a collection.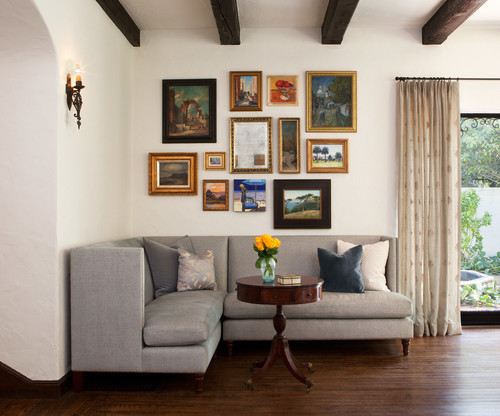 Below, where a fully wallpapered room might have overpowered the space, these wallpapered panels create a statement!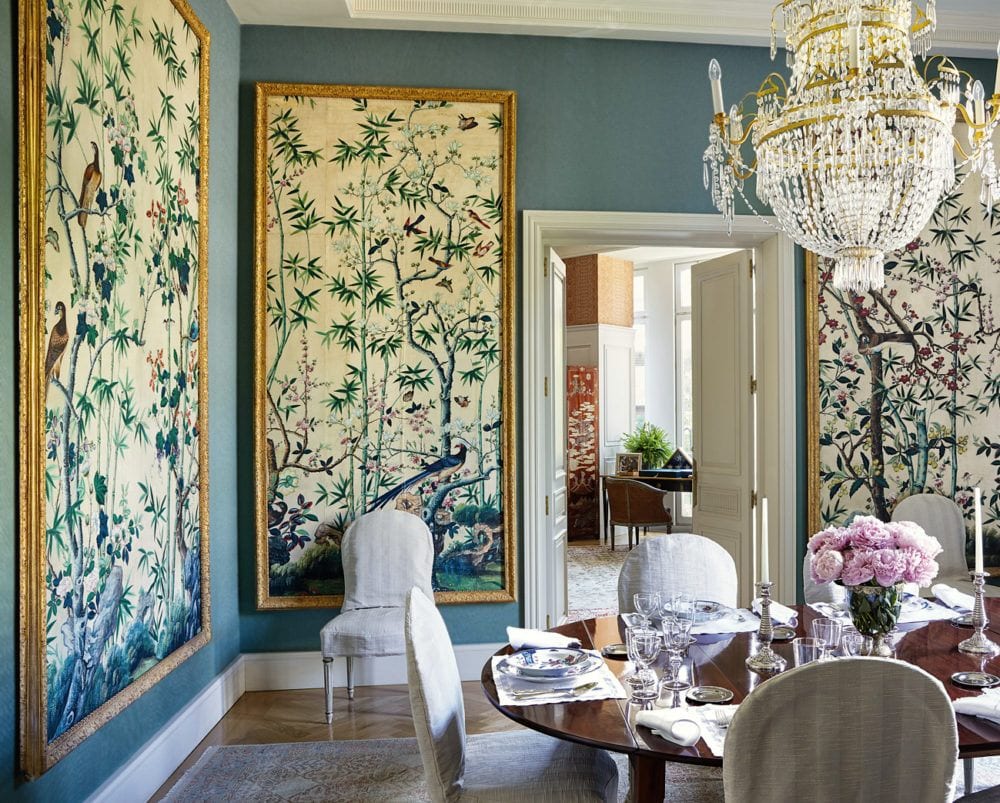 6. Use Opposite Styles with at Least One Similarity
You can mix two totally different styles together for a fantastic, collected look! If you do, though, make sure that they have at least one thing in common.
Below, a formal Regency dining table is paired with contemporary dining chairs that are topped with a similar wood.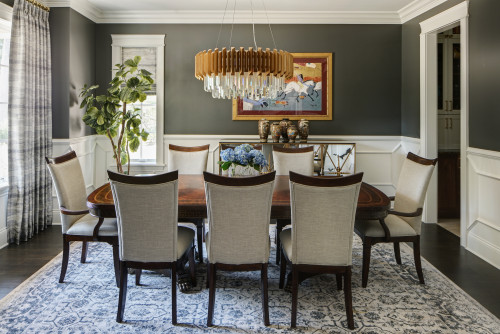 At first glance, you might think this showstopping mirror is completely out-of-place in this modern room. But notice how the use of gold runs throughout? And while there aren't any other ornate furnishings in the room, the moldings on the walls and plaster frieze are reminiscent of the Regency style of decorating and tie in beautifully with the carved details on the mirror!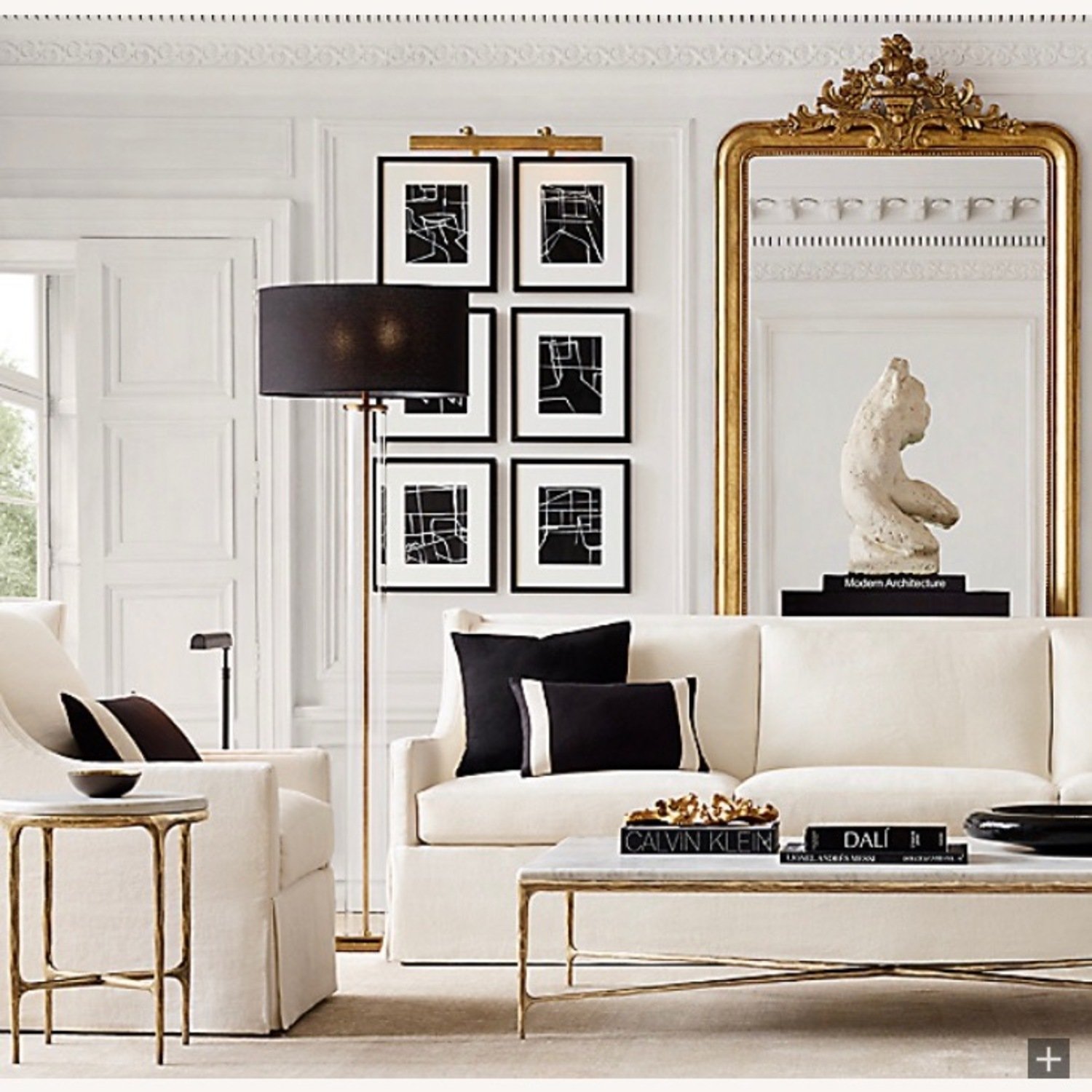 7. Add Architectural Detail
If the décor and furnishings of Regency style aren't really up your alley, you can add period details through architectural elements. While the Bridgerton homes boast an abundance of millwork, you can scale it back with a more simple approach to molding and trim on your walls. Or you can add applique's and onlays to your furniture!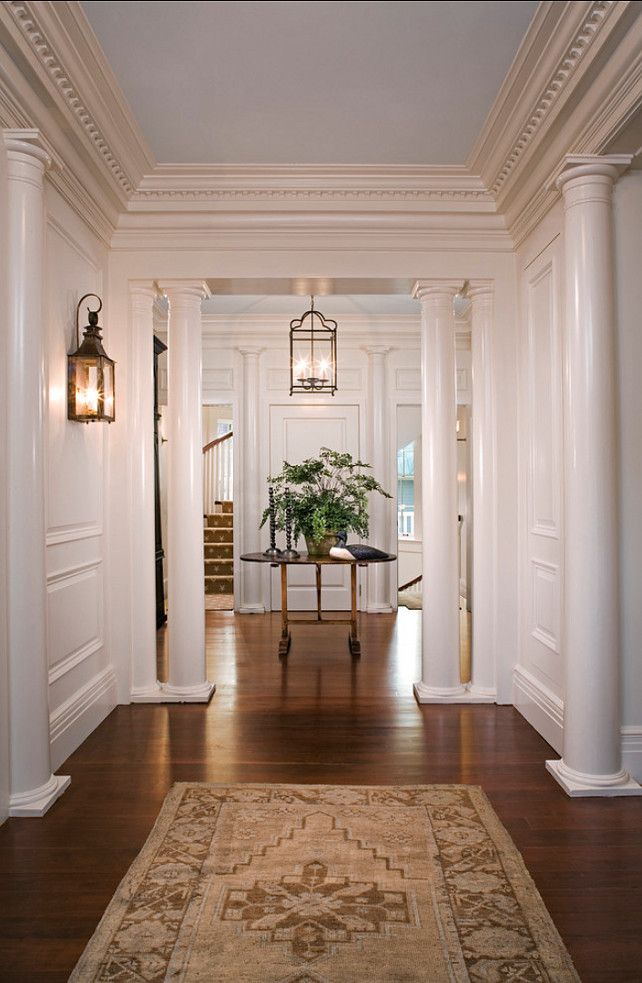 Or, forget these rules and go full Bridgerton!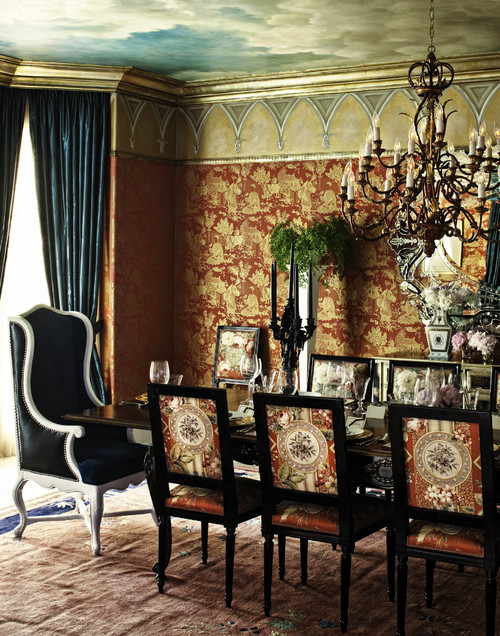 Photo by Woodson & Rummerfield's House of Design – Browse dining room ideas
REGENCY STYLE – SHOP THE LOOK
Are you ready to add a little Bridgerton decor to your home? Here are some fun finds to get you started! {This post contains affiliate links. You can read my full disclosure policy HERE}