If it's true that April showers bring May flowers, then it's never too early to think about how you might display those flowers! I was recently sorting through my stash of vases when I came across a baggie full of dusty, colored vase gems (remember those?). I am NOT a fan of colored vase gems, which got me thinking, if not vase gems, then what are good options for vase fillers?
My issue with colored gems is that they don't add anything to the beauty of a flower arrangement. In fact, in my opinion, they detract from it. Flowers have a natural beauty and you want to focus on the flowers, not on the clump of colored glass sitting at the bottom of the vase. And if you choose to use a vase filler, then you should think of the filler itself as an arrangement and ensure that it too is beautiful.
So what should you use instead of gems? Turn to your kitchen for inspiration! Citrus fruits make beautiful fillers for vases and help to make the entire display an arrangement, from the vase to the flowers.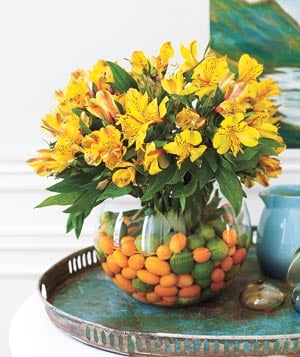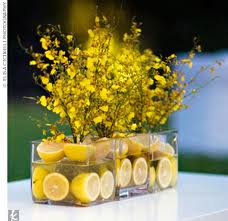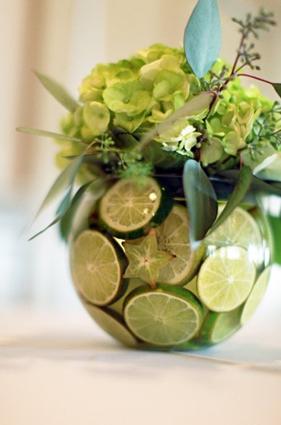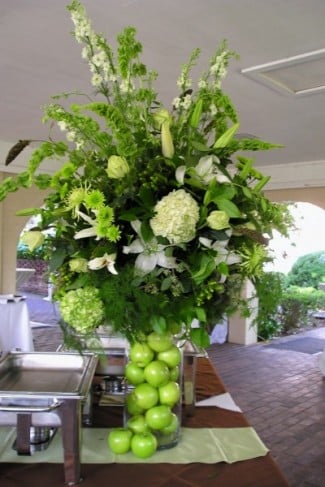 Apples are another good option as their natural colors work well with the flowers and their round shape adds interest.
Cranberries are also great for adding color to an arrangement.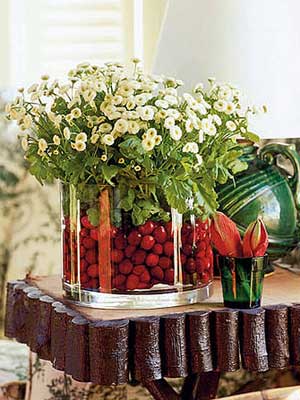 The key is to look for fruit that has a skin so that it is better protected from the water and doesn't disintegrate. Once, when I was young and newly married, I invited my grandparents over for Easter dinner. I desperately wanted my table to look nice, so at the last minute, I added some strawberries to my flower arrangement. Whoops! They looked beautiful for about the first hour, but by dessert, they were faded and mushy. Not quite the look I was going for….lesson learned!
If you don't want to use food in your vases, other natural elements can be just as beautiful. Consider rocks, sand or even seashells! If you do use these items, though, you might not want to fill the vase entirely, as they can become too heavy looking and outweigh the flower arrangement.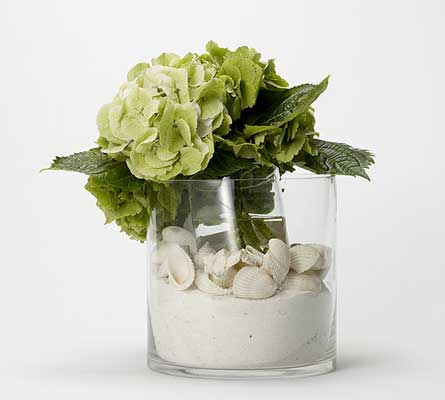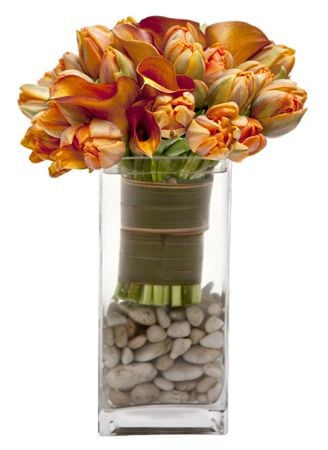 You can also use fun, colorful items in your vases, even if they cannot sit directly in water so long as you use the vase-within-a-vase method. Just put your flowers in a smaller vase filled with water and then put that inside of a larger vase. You can then fill the space between the two vases with anything decorative. Here, M&M's were used to create a colorful display!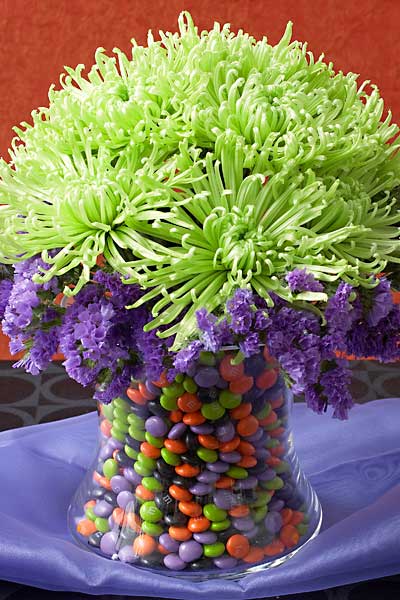 Can't find anything to add to a vase? Leave the vase empty and add a beautiful ribbon that matches your flowers for a touch of elegance.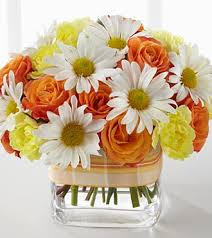 You don't necessarily need to throw away your glass gems; they can always be used to hold flowers upright in opaque vases! But this Spring, think about how you might utilize beautiful and natural vase fillers to create a dramatic display!

Join the Community
Let's keep in touch! Get exclusive artwork plus the latest news delivered directly to your Inbox!