I don't normally share work-in-progress photos with you, but I was so busy with house projects over the weekend that I didn't get a chance to write a post for today! So instead, I thought I'd share with you a few photos of what kept me so busy this weekend. Please forgive the photo quality – I was rushing around snapping these photos mid-morning!
To start, we were gone all day in Santa Cruz on Saturday for a surprise party. The weather the gorgeous and we had so much fun with friends and family, but by the time we got home, we were all exhausted, so no house or blog projects were accomplished on Saturday. Sunday started off with cleaning out the garage. Somehow, this seems like an ongoing process that is never finished, but I did manage to squeeze in a few other projects throughout the day. I finally got around to framing some of my grandmother's recipes that are meaningful to me. I found the frame on clearance at Michaels and hung it on the side panel of our oven. I like the combination of the rustic wooden frame and the linen matting.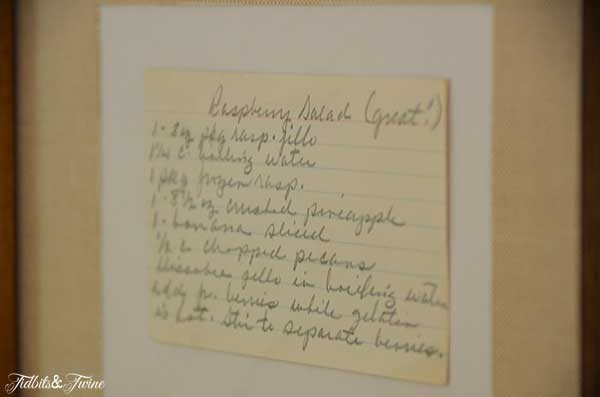 I also found the exact basket tray that I've been looking for to put in the entry to hold shoes! We are actually one of the only families that I know of that wears shoes in our home, but many of our guests are so used to removing their shoes that they do so automatically upon entering. Now our guests that prefer to remove their shoes finally have a spot to put them.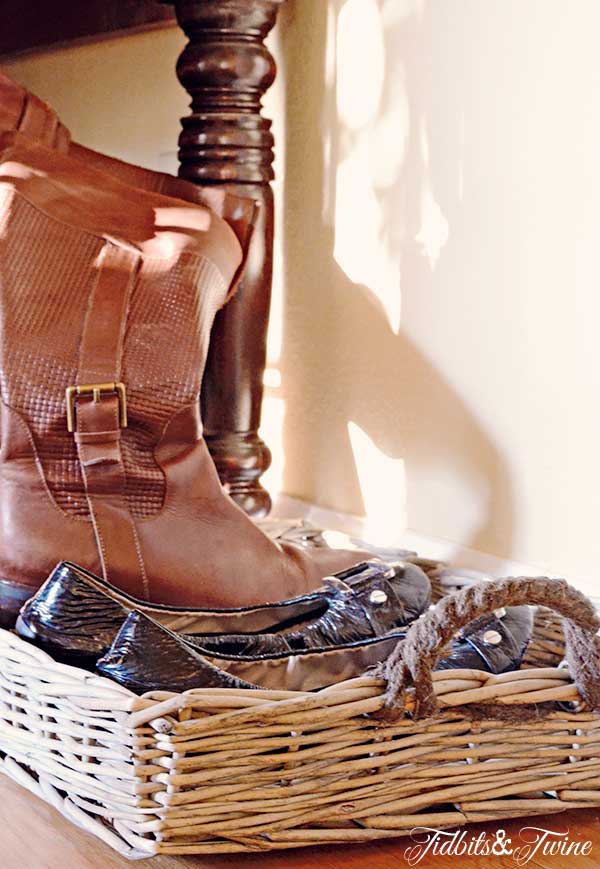 We also built a tree swing for the kids in the front yard. Thank goodness my husband is a Boy Scout den leader and knows how to make all sorts of fancy knots! This project was a big hit with the kids yesterday and my daughter even got dressed and ready early this morning so that she'd have time to swing before school. Here's a shot of her swinging just before we left this morning.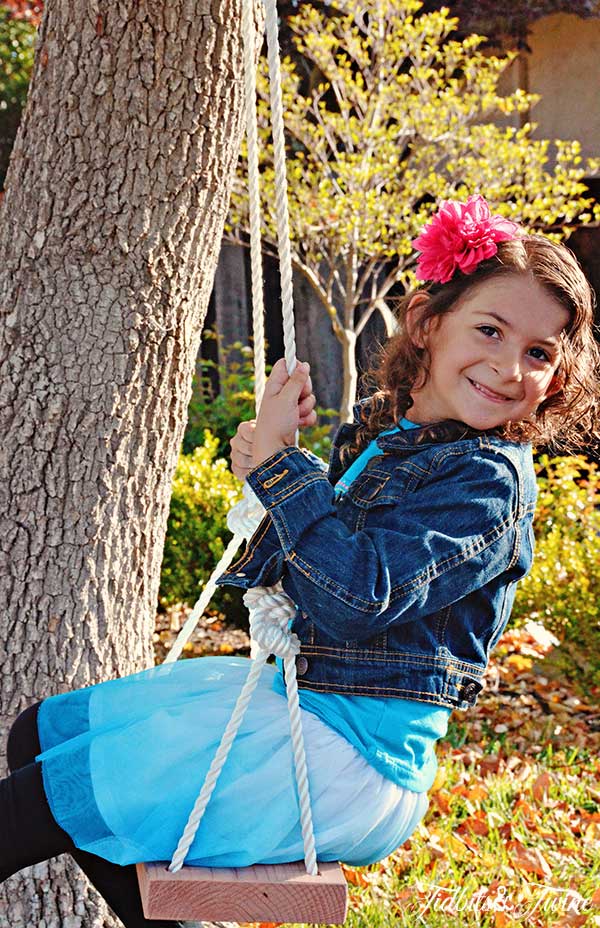 While at Home Depot getting the supplies for the swing, I also picked up a few plants for my front porch. I planted two white gardenias surrounded by some purple pansies and yellow superbells. It will take a while before the superbells start to trail over the sides of the pots, but it's early in the season yet.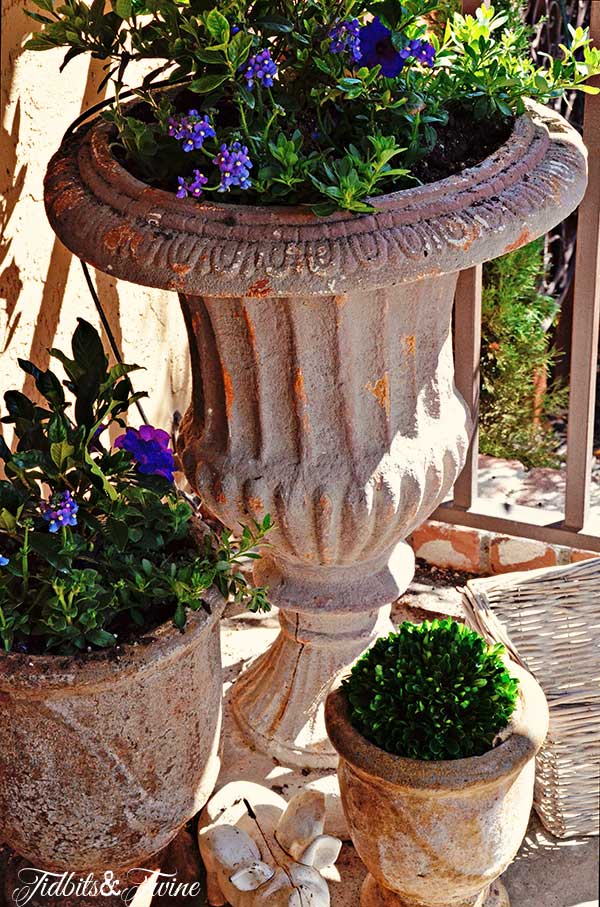 I also ordered some new curtains after discovering that the ones I've been wanting for my family room went on sale for Buy 1 Get 1 Free plus 15% off! I purchased the Park Avenue faux silk taffeta from Half Price Drapes. Affiliate link below.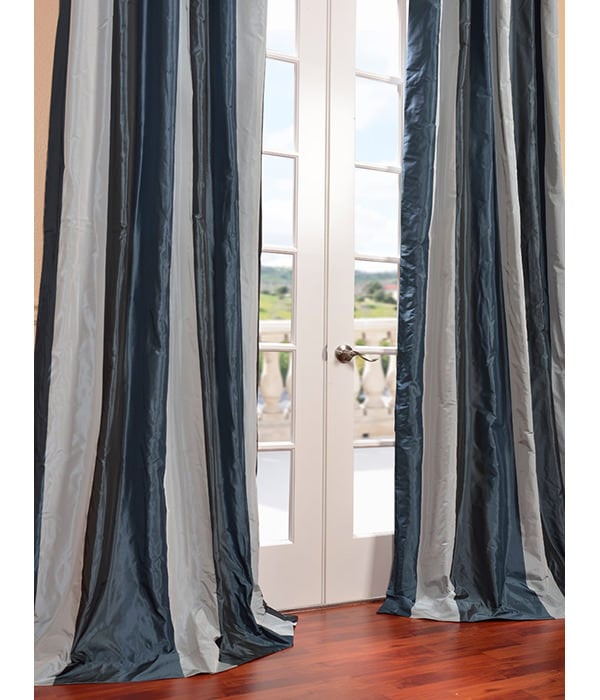 In the afternoon, I finished up a living room project I've been working on all week. You might recall that I'm slowly working to update my living room. My vision for my room looks like this: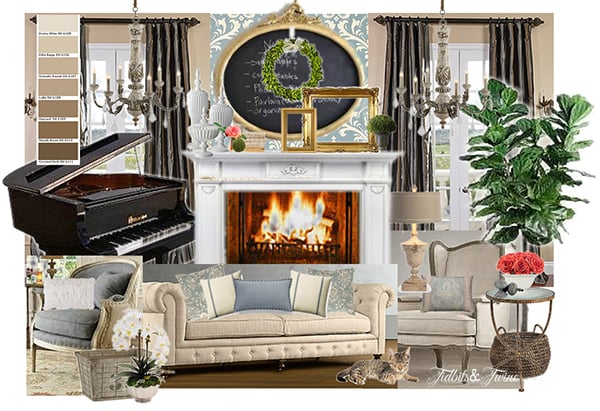 I found a gold framed painting during a recent trip to the antique faire that I knew would work as a chalkboard. I recently finished making the chalkboard and got it hung above the fireplace. My wedding photo was also in a gold frame, but it was too bright next to the antique frame, so I antiqued and embellished it a bit so that it would better coordinate. The mantel isn't decorated yet, so here's just a sneak peek. Tutorial for antiquing coming soon!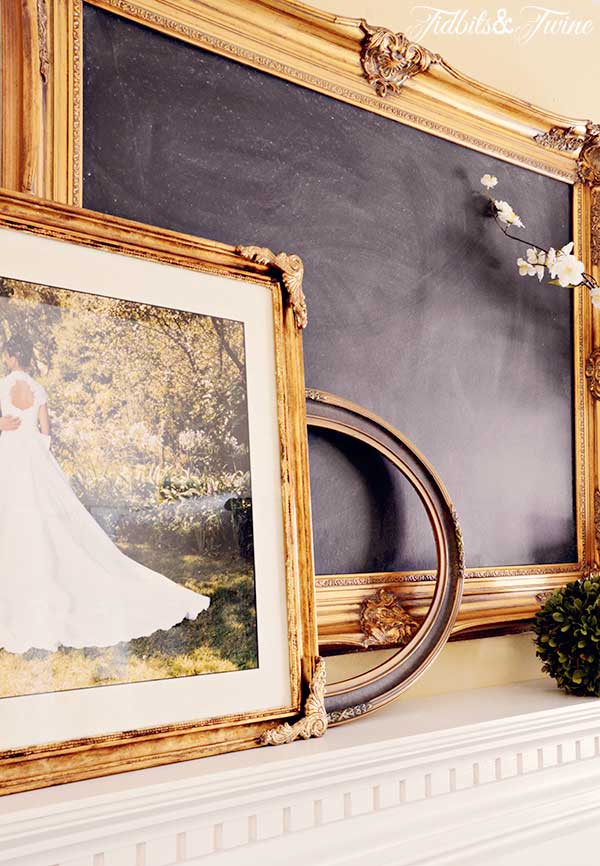 And just when I thought I was done for the day, I decided that I wanted to learn how to strip….furniture that is! Despite that I was supposed to drop my antique chairs off this week to be upholstered, I decided at the eleventh hour that I wanted to change the color of the wood. The antique chairs that were passed down to us from my in-laws have a reddish, mahogany stain on them.
I've never refinished furniture in my life, but started the process yesterday evening. I decided to try just the back legs of the chair first in case things went wrong. So far, I have stripped them, but haven't yet cleaned, sanded, or stained them. Here's a look at the early stages of the process.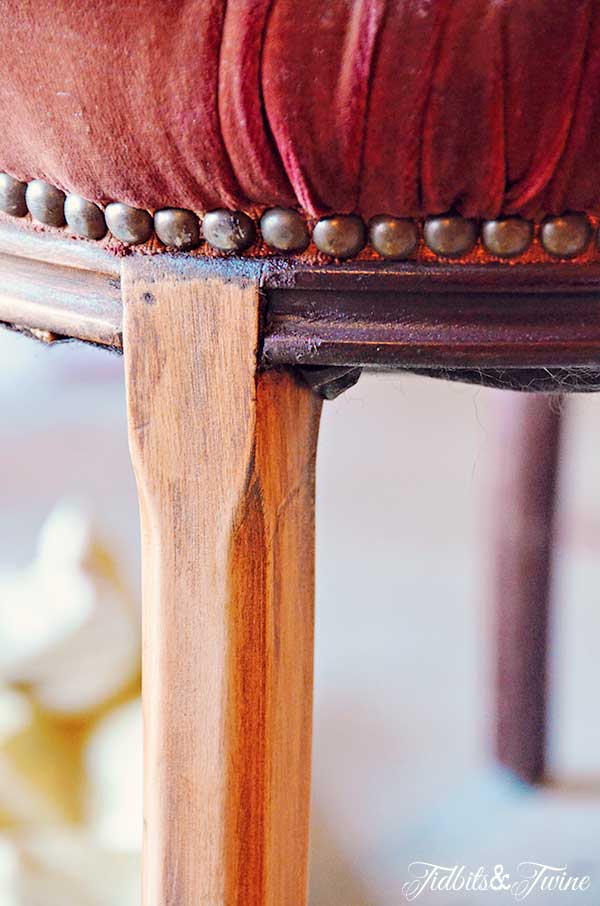 This week I'll need to finish up the chairs and continue to work on the living room. With any luck, I'll have some progress to show you later in the week!
Hope your week is off to a great start!


Would you like to receive my posts via email? Enter your email address below. You will instantly receive an email from FeedBurner and you will need to click the link to activate your subscription.
Join the Community
Let's keep in touch! Get exclusive artwork plus the latest news delivered directly to your Inbox!