I love styling my home, and then restyling, and then moving things around again and well…it's a never-ending process.  But no matter how many changes I make, there are a few basic things that I always try to do.  It really doesn't matter what decorating style I'm using at the time or what space I'm working in, because these are the basic steps that I follow every time, for every room.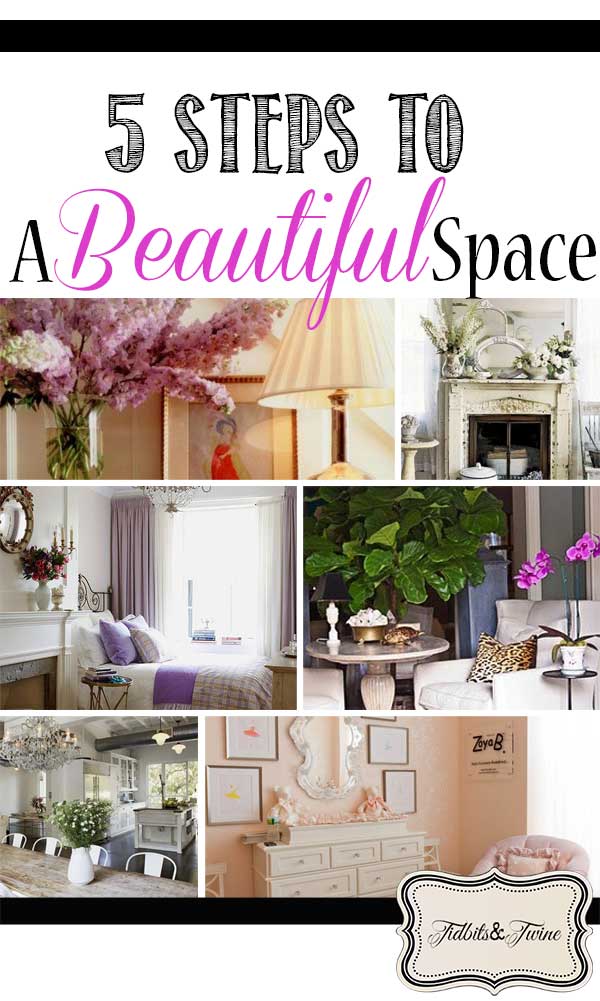 1.  Only Decorate with Things You Love
I know I've said this before but I really can't stress enough how important it is to surround yourself with things you truly love because it will help create a space that feels comfortable to you.  Never buy something because it's the right size, or the right color, or even just because it's on sale, unless you really love it.
Surround yourself with things that are an extension of you….everything else is just stuff.
2.  Create Layers
I believe in decorating throughout a space, as opposed to in a space.  Have you ever been in a room where all of the furniture was sitting in the center of the room with nothing on the perimeter?  If so, then you'll know that this often looks as if the furniture is just floating in the room!  Instead, I like to envision a space as having layers from the outside walls to the center of the room, with each layer utilized and somehow connected to the other.  This doesn't mean you have to decorate every single part of the room, but rather that you don't forget about any large areas and ensure that the room has dimension.  Lighting, textures, plants, and patterns can all be used to create layers in a room and add dimension.
Remember that a room is three-dimensional and should be decorated as such!
3.  Keep the Eye Moving
One thing that helps to keep people's eyes moving around the room is a concept known as rhythm.  Rhythm is what carries our eyes along at a steady pace and allows us to anticipate what comes next.  It's basically setting the expectations for the room so you can better understand what comes next.  If rhythm is interrupted, or if it isn't established, then our eyes stop scanning at a smooth pace and instead we look randomly around the room from one thing to the next in no particular order.  Not knowing what comes next can feel uncomfortable and jarring, which is why rhythm is important.
Rhythm can be established with a color theme that is used throughout a room, architectural lines that run throughout a room, or even an alternating pattern.  So as you mix an match styles, finishes, and colors, be sure to use them throughout the space for balance so that your eye can easily transition from one to the next.
In the image below, rhythm is established by the progression of picture frames as they move from the highest point to the lowest.  This progression helps move your eye along an established path.
4.  Use a Variety of Textures
For me, textures add to a room's sense of comfort and add a great deal of interest.  Imagine for a moment a doctor's office.  While there might be a lot of different materials used, they are likely to all have the same texture – smooth.  Alternatively, a room with a lot of texture can be cozy and inviting, even in the absence of color.  As you decorate, try to incorporate a variety of textures – both elegant and casual – so that you add dimension and interest.  Items that can add a lot of different textures include natural woven baskets, throws, chippy painted finishes, metallic accents, a variety of  wood finishes, glass and ceramics, and even patterned pillows, to name just a few.
5. Include Something Organic
I use a lot of flowers and greenery and think plants add comfort and a sense of freshness; it's blurring the lines between outdoors so that the space doesn't feel completely manufactured.  Greenery or flowers are always my first choice because they add a natural sense of color, but not everyone has a green thumb.  In this case, preserved boxwood, feathers, seashells, wood, aged paper, and even candlelight  can all help to make a space feel natural and homey.
There are of course many other decorating tips and trick available, and decorating preferences play into which ones will work for you, but these are five that I generally follow whenever I'm designing (or redesigning!) a space.


Would you like to receive my posts via email? Enter your email address below. You will instantly receive an email from FeedBurner and you will need to click the link to activate your subscription.