Some might think that simply leaning your wall decor is just a lazy person's way of getting out of hanging it. Wrong! Leaning and layering wall decor is a decorating trick that provides an interesting, casual look. But it takes skill so that the look comes of as intentional! Here are some expert tips to help you lean art and other wall decor like a pro!
This article will tell you the following and give examples:
Why to lean artwork
Tips for leaning artwork
Why layer your decor
Tips for layering
Why Lean Art?
There are several advantages to leaning artwork.
1. Provides Flexibility
Do you love to move stuff around your home? Or maybe you change your mind or your decorating style quite often? No matter the case, leaning your wall decor provides a great deal of flexibility in your design since you can easily change or move it.
You also have flexibility to showcase wall decor in areas that would otherwise not be easy, such as tiled or brick walls. For example, the entryway below is narrow with a vent of the floor. Artwork can be leaned against the wall to create an interesting scene that doesn't block the flow of traffic or air!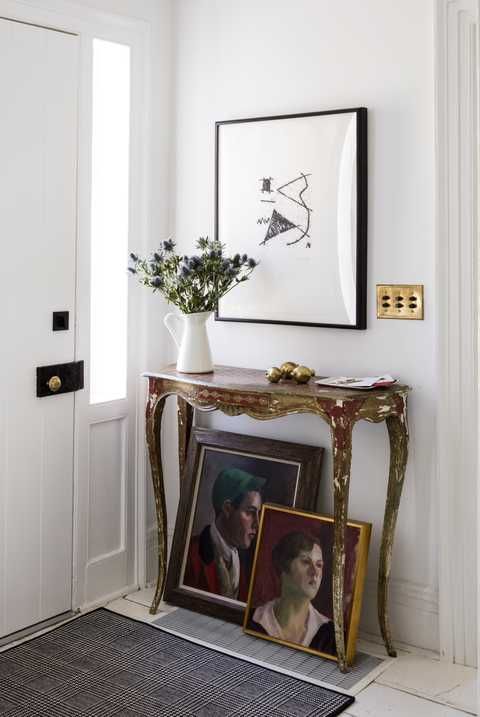 2. Is Damage Free
With no hammer and nail required, leaning your artwork doesn't damage your walls. This is especially a plus if you rent! As an added bonus, you never have to worry about whether something is level!!
3. Minimizes Glare
Sometimes overhead lights or light from windows causes a glare on artwork that can be avoided if the piece is leaning instead.
4. Gives a Cohesive Look
Leaning wall decor creates a connection with surface it is leaning on. Sometimes, it's important to create a connection so that the decor doesn't feel disjointed or floating.
The bulletin board below could have been hung on the wall, but then it would have look disconnected the the other artwork. Leaning keeps it casual and connects all of the elements together.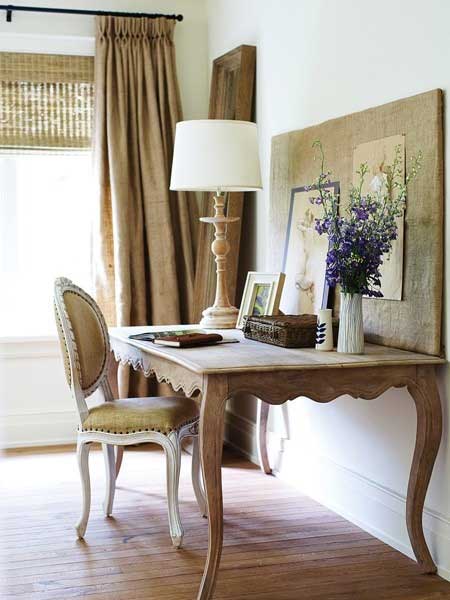 5. Provides the Perfect Reflection
With mirrors in particular, it's very important to take into account what will be reflected in them when choosing their location. No one wants to walk in and see a reflection of a hallway bathroom, right? If a reflection isn't what you want when hanging a mirror, consider leaning it instead so that you can get the perfect angle!
In my master bedroom, I chose to lean the mirror on my nightstand so that it could reflect the chandelier.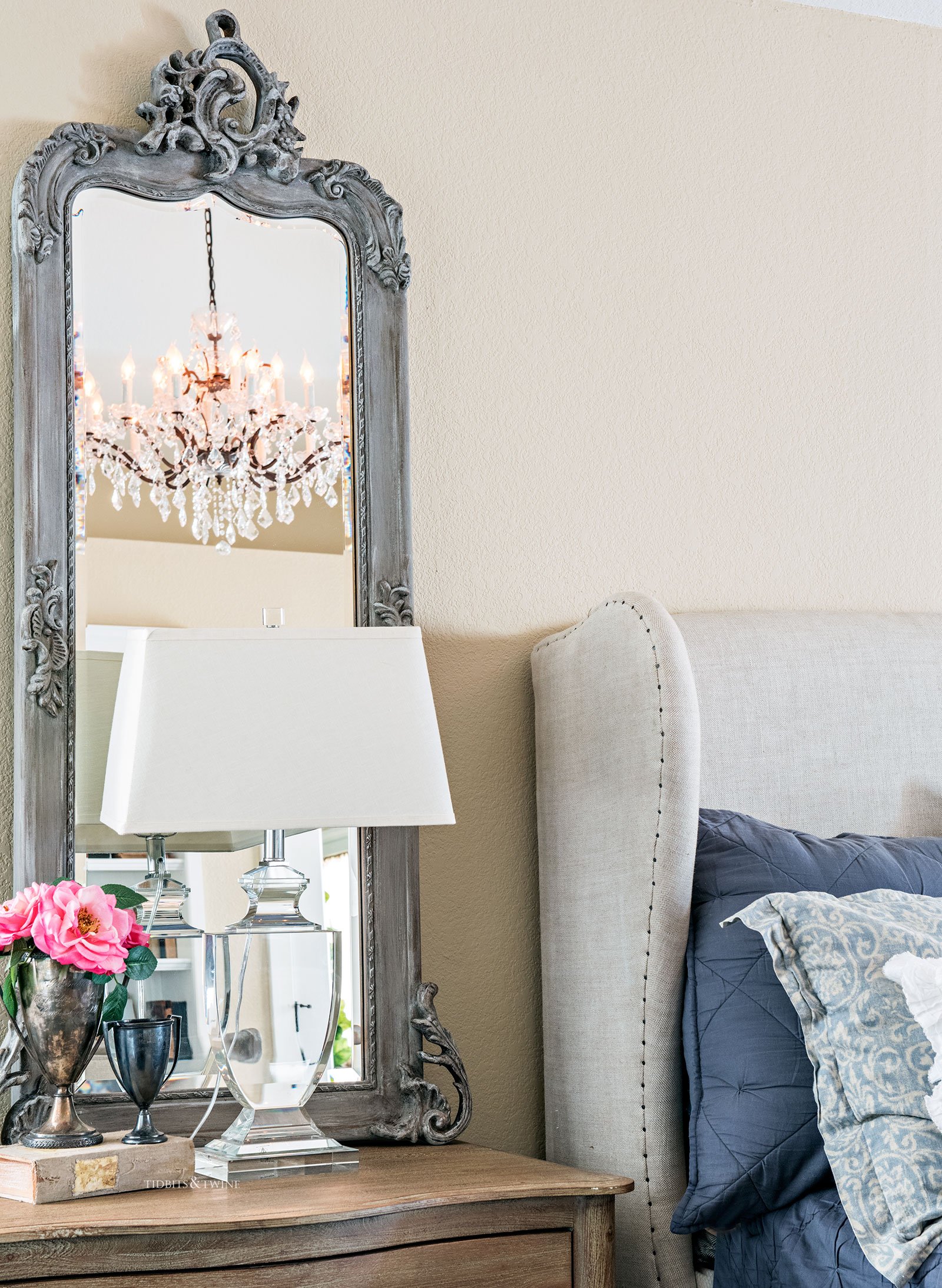 6. Evokes a Casual Style
But beyond the practical, leaning is also a less formal way of display objects in your home, which lends itself to my personal favorite decorating style, Casual Elegance. Leaning wall decor creates a casual, effortless look, regardless of how formal the actual pieces might be!
Look at this room below. Most of the objects are very formal, but look how the second mirror is casually leaning on the mantel to help offset some of the formality!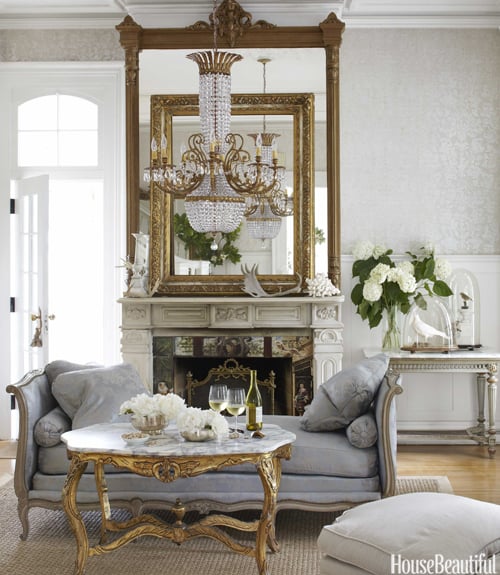 Tips for Leaning Your Wall Decor
Leaning works with all types of wall decor, from art, to mirrors to architectural elements, like shutters or even salvaged doors.
Try leaning things on your mantel, sofa table, entryway table, bookshelves or for large items, even on the floor.
Leaning is a great option for renters since it doesn't require anything permanent.
If you have a heavy object that is leaning and small kids in the home, you should consider doing a combination of leaning and wall mounted, where you attach the object to the wall at the top, with the bottom resting on a flat surface.
When leaning mirrors, always check what is being reflected in the mirror since the reflection essentially becomes the "art" in a mirror.
When leaning something on a slick surface, put something underneath the frame of the wall art to keep it from slipping. I like to use a small piece of rubber drawer liner because it keeps the object from slipping without damaging any of the surfaces.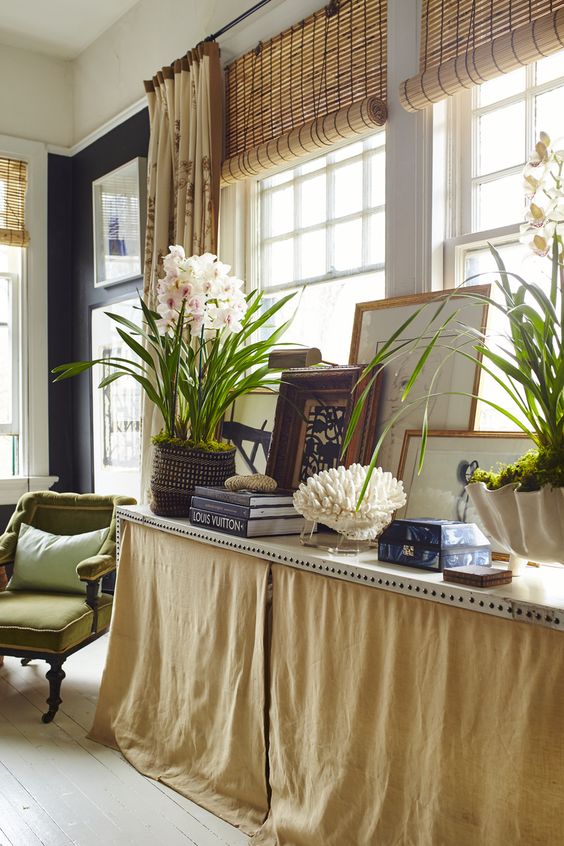 Why Layer Art?
1. Creates Interest
Provided you have the depth, adding in layers in front of your leaning object helps to create additional dimension and interest.
2. Looks Intentional
Layering also helps with creating an intentional look, as once multiple items are layered in, the object in the back looks more purposeful because it's part of a grouping.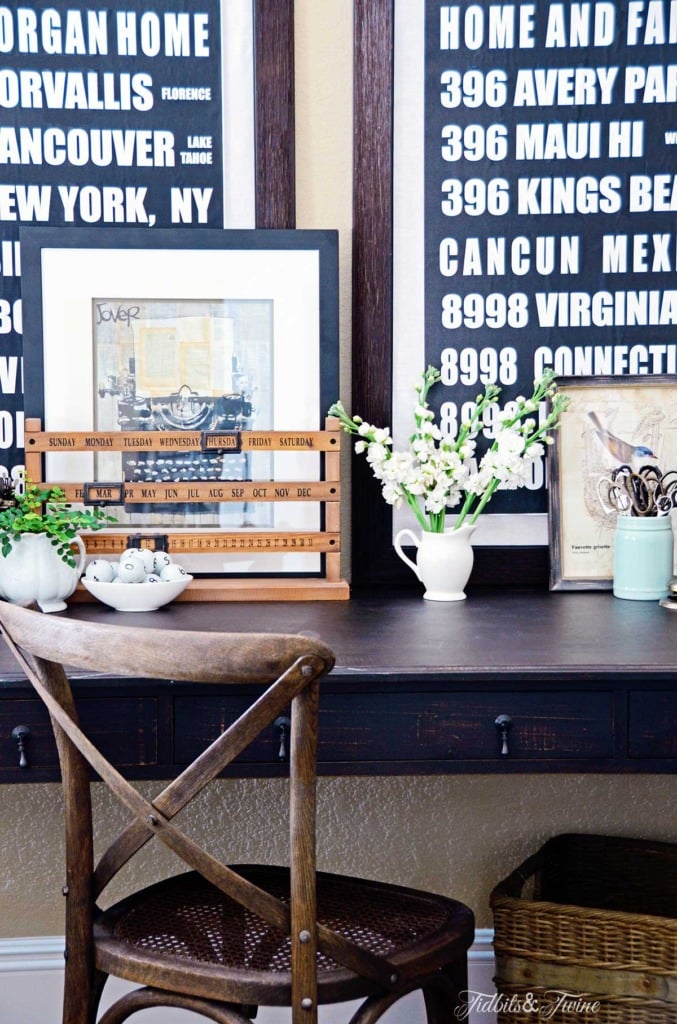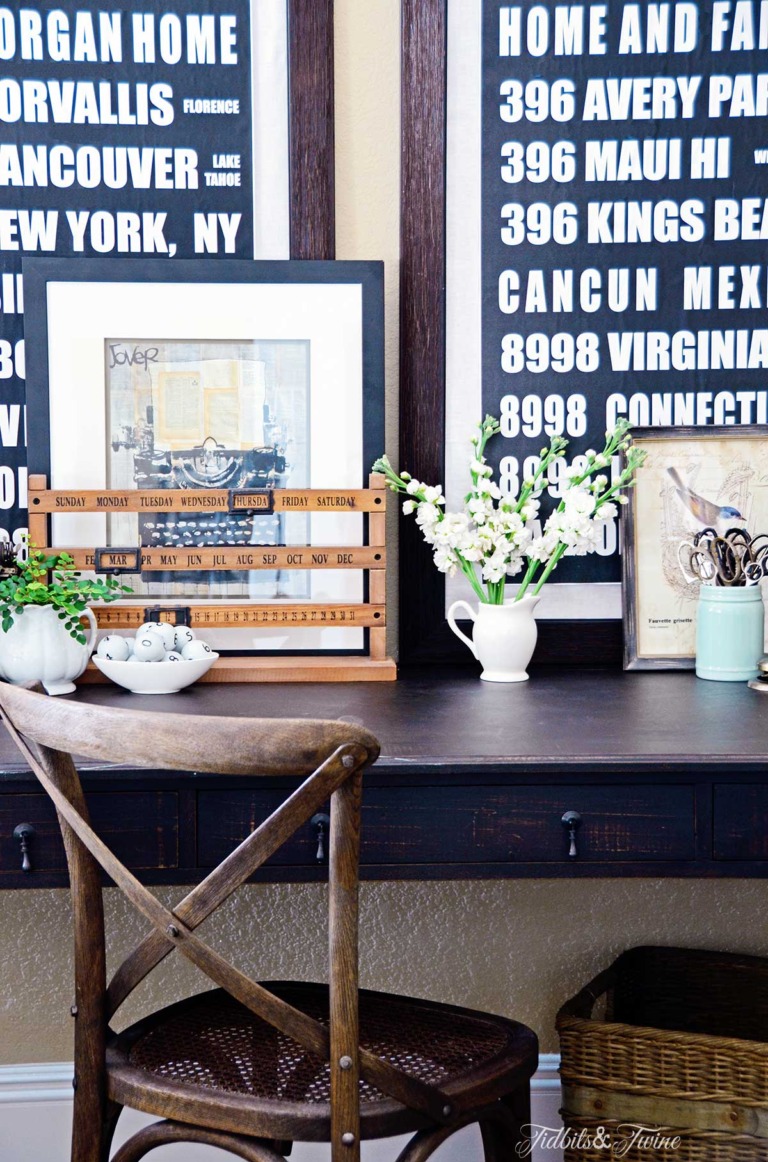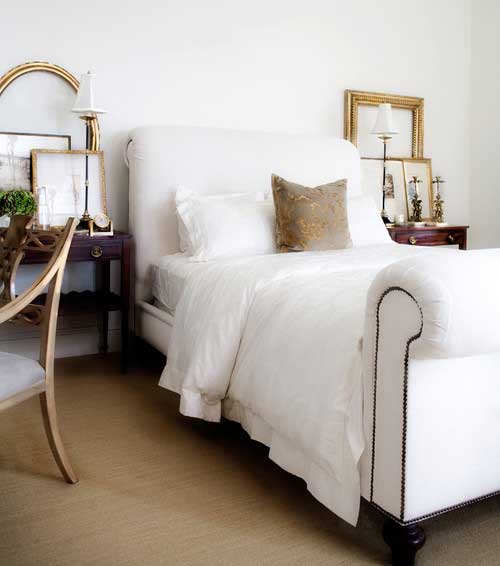 Tips for Layering
When layering your leaning objects, always put the largest object in the back, working forward with smaller objects.
Also when layering, slightly overlap one object to the next so that they feel like a cohesive unit, while still ensuring that each item is still visible.
Don't hesitate to mix and match shapes!
For a more traditional look, try using items all within the same color family or within the same tone. For a more contemporary or eclectic look, mix things up a bit!
For your final layer, add a completely different object, like a candlestick, plant, jewelry box, lamp, etc. Layering isn't just for frames!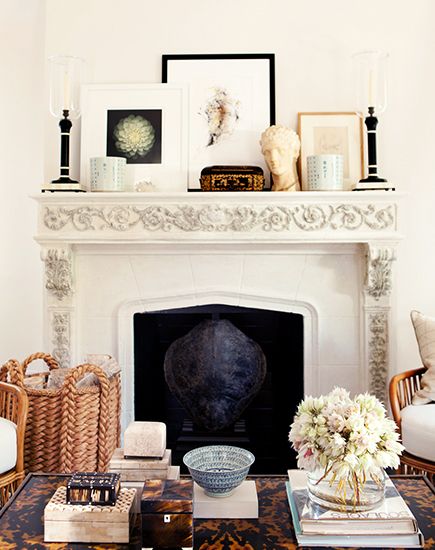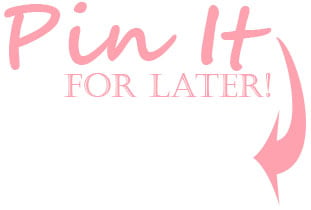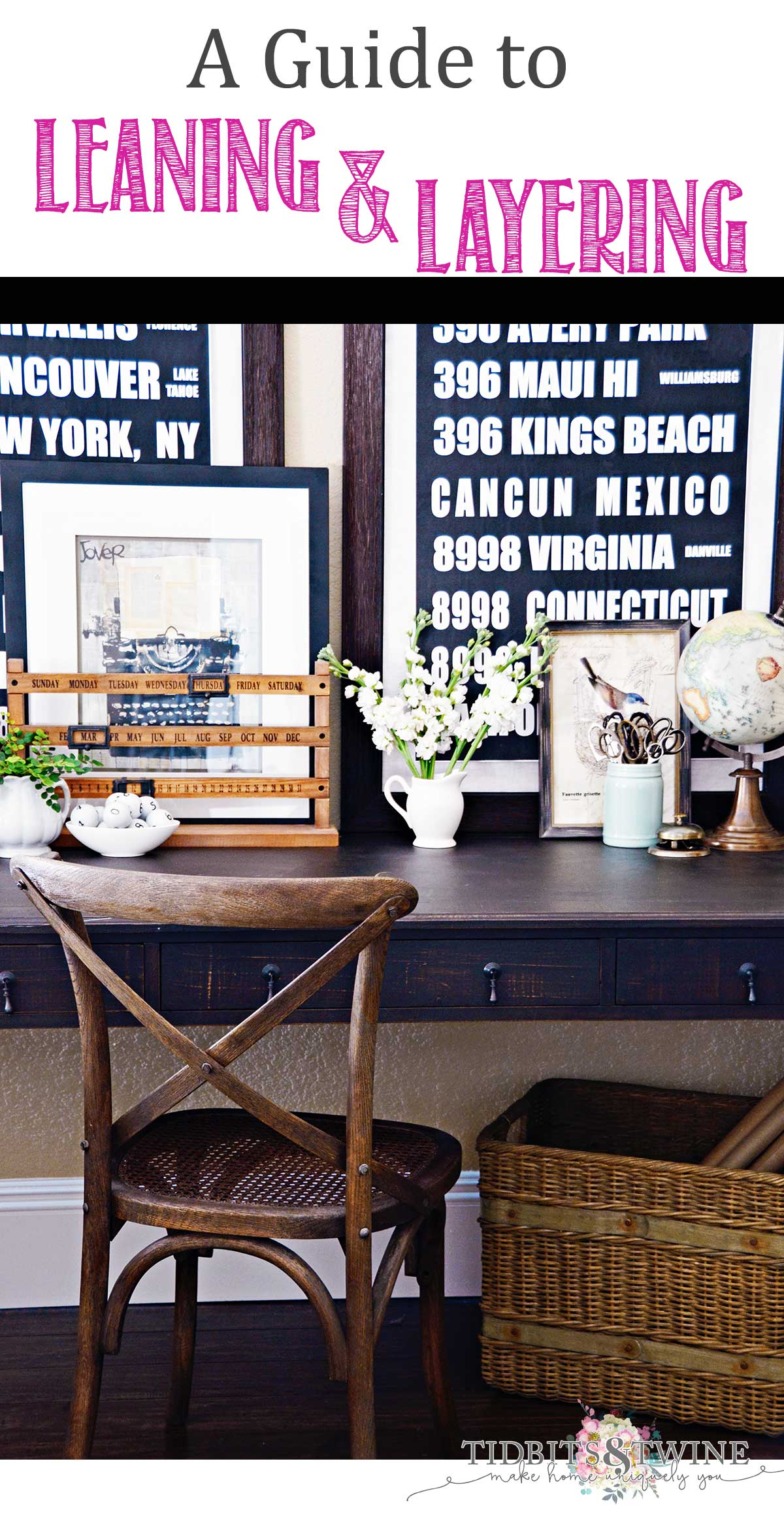 More Decorating Tips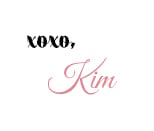 You might also enjoy this post!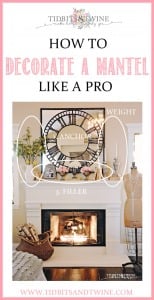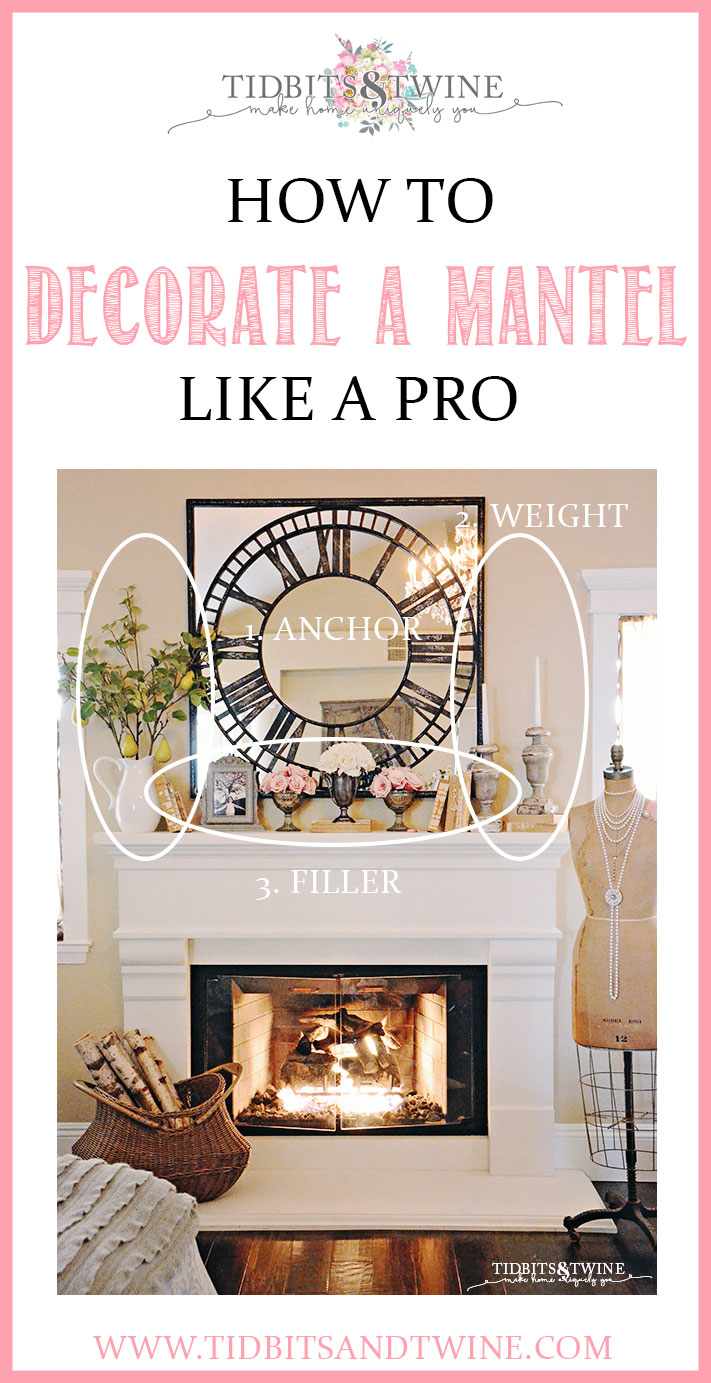 Join the Community
Let's keep in touch! Get exclusive artwork plus the latest news delivered directly to your Inbox!