The time has come. We remodeled our downstairs bathroom in 2015 and our master bathroom in 2019 and now we're ready for our 3rd and final bathroom remodel. The upstairs teen bathroom has a leak that can only be fixed by removing and replacing the tub. Unfortunately, newer tubs are not the same size as our old one, so in addition to a new tub, I'd need to patch or replace the flooring. But the cabinets don't really have any storage and my almost teenage daughter's stuff is spilling out all over the counter! While we're not quite ready to start the physical remodel just yet, I need to get ideas and pricing together. I created 6 different design boards with teen bathroom ideas and want to know which is your favorite!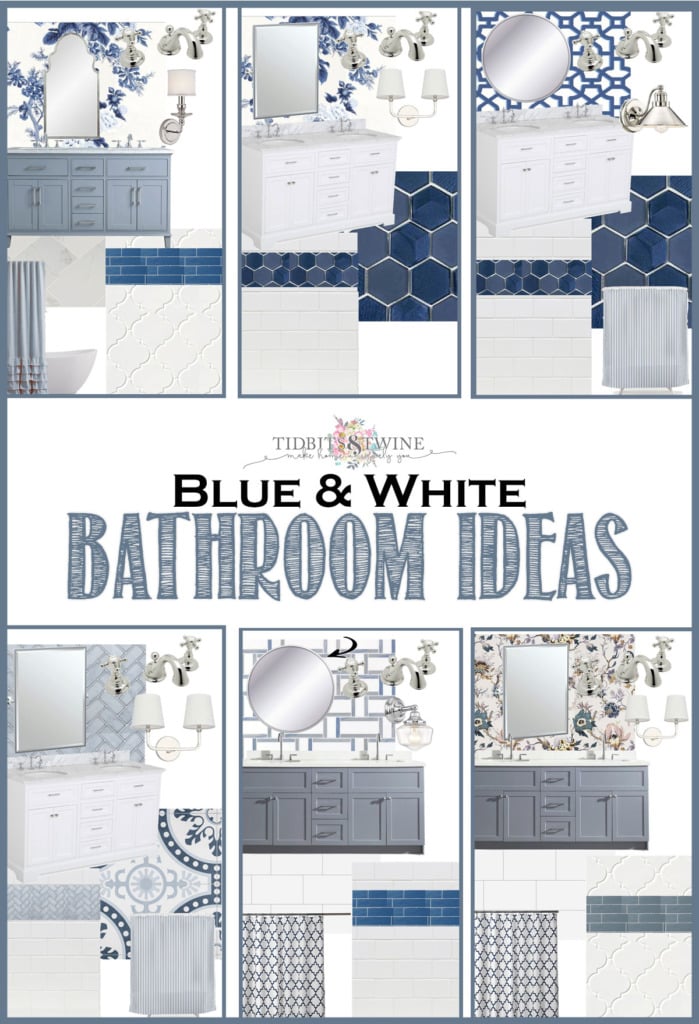 Budget Bathroom Remodel
I say "budget" but this isn't going to be something where a coat of paint can fix everything. Unfortunately, everything has to be ripped out, but I'm keeping the layout, plumbing, and electrical in place. I'm' also looking at cost-effective options since this is a kids bathroom. So while these aren't my dream bathroom ideas, they fit my aesthetic, needs, and most importantly, my budget.
Teen Bathroom Considerations
In this case, "kids" doesn't mean rubber duckies and cute frogs. My kids are teenagers, but trust me, they are still messy! Here's a list of my considerations for this remodel that influenced the 6 bathroom remodel ideas below:
Easy-to-Clean Surfaces
No natural materials that need to be sealed
Large floor tiles = Less grout to clean
Non-staining countertop, such as quartz
No glass enclosure on the shower/tub combo (since I know they won't squeege it!)
Clean lines on the cabinetry for easy dusting
Storage
More drawers than cabinets to help the kids stay organized
Linen tower for added closed storage
Colors
Keep consistent with the rest of the house (primarily blue and white)
Silver fixtures (we upgraded their faucets a few years and will reuse them)
Nothing too trendy, as the kids will be gone in five years and I don't want to remodel before resale
Design Boards: Teen Bathroom Ideas
Design Board #1: Sophisticated Elegance
I'm in love with the Pyne Hollyhock wallpaper design from Schumacher. Okay, so maybe it doesn't really look like a teenager's style, but I couldn't resist trying to find a way to incorporate it into my home!
5 DECORATING TIPS You Should Know!
Get my FREE 5-day email guide and join the 10,000 subscribers who already receive the weekly decorating tips and exclusive art!
To complement the wallpaper, I chose a blue gray vanity for color. In the shower, I selected a porcelain arabesque tile design because it's durable and easy to clean. For the same reason, I chose large, 12 x 24 porcelain tiles for the floor the mimic the look of carrara marble.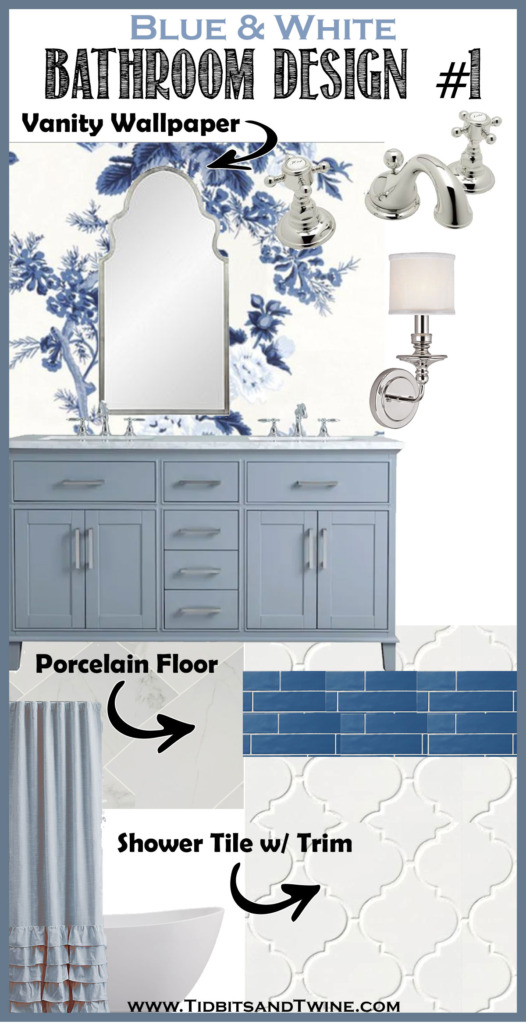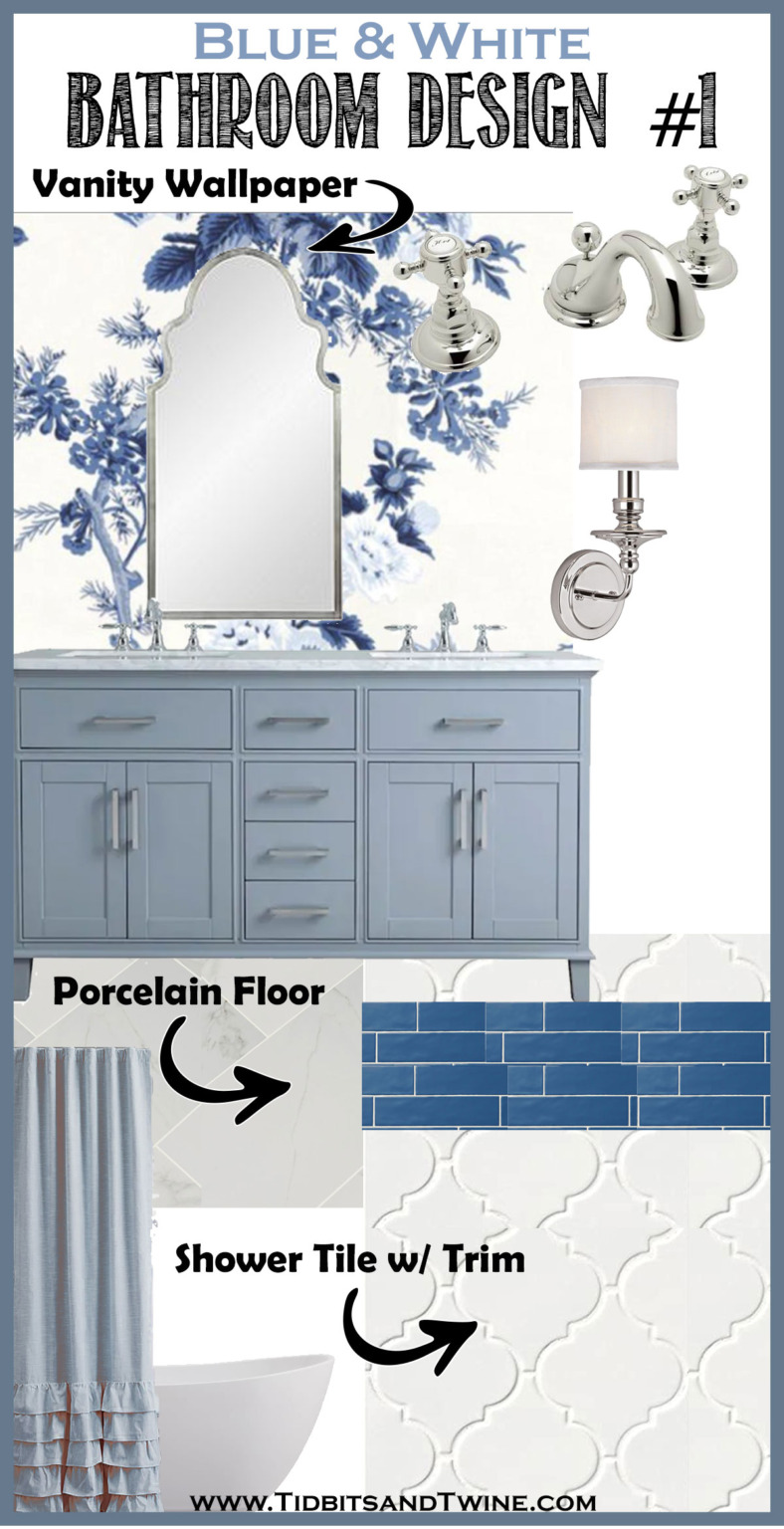 Design Board #2: Contemporary Elegance
For this design, I used the same elegant blue floral wallpaper, but juxtaposed it with a large hex floor for a more contemporary look. With a blue floor, I decided to swap out the vanity for a traditional white one. I also changed out the mirror and sconces for something slightly more contemporary than shown in Design Board #1.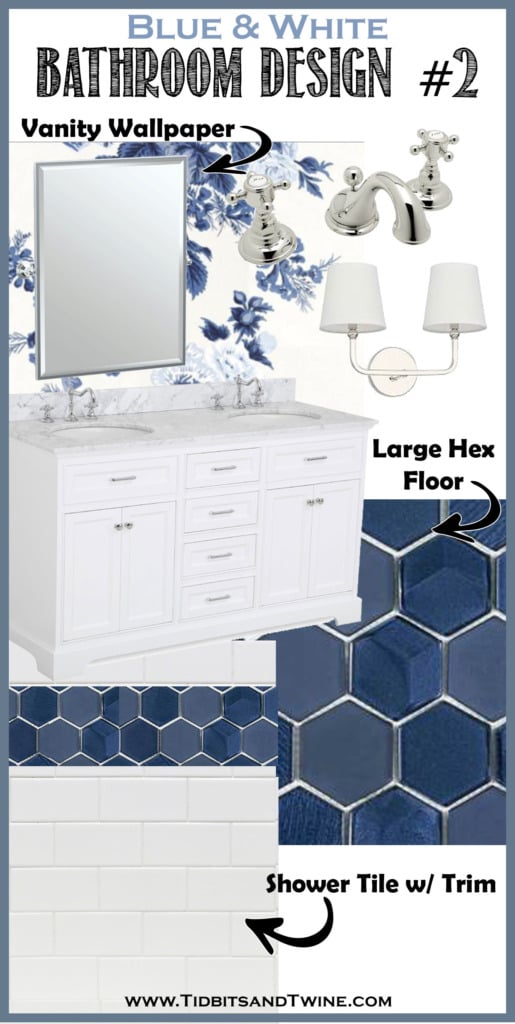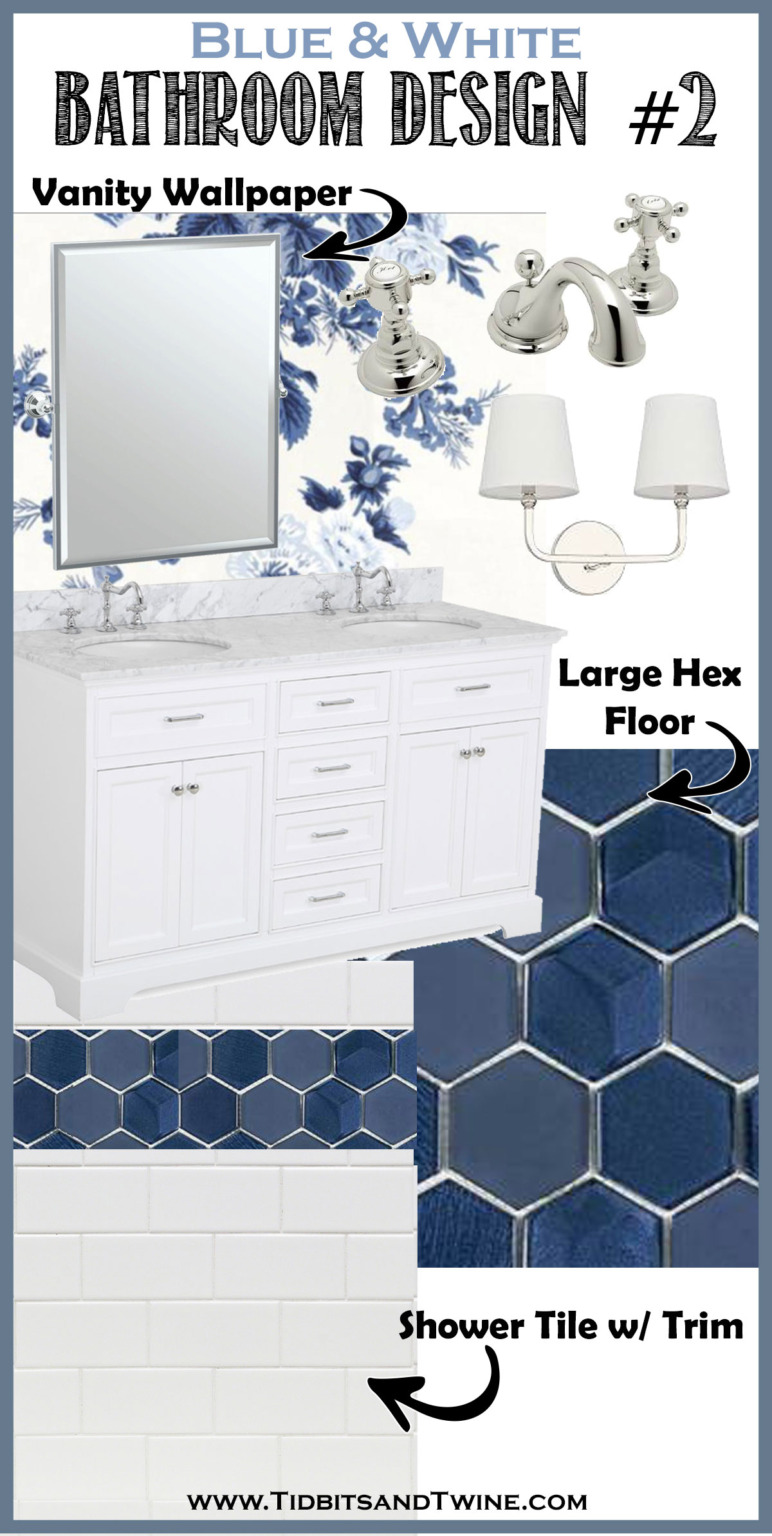 Design Board #3: Contemporary Color
Like most teenagers, my kids like the clean, contemporary look and they love color. Design #3 includes a different wallpaper that gives the whole room a fresh look. I added a round mirror to play off the wallpaper pattern and a more industrial style light fixture. This design has lots of clean lines!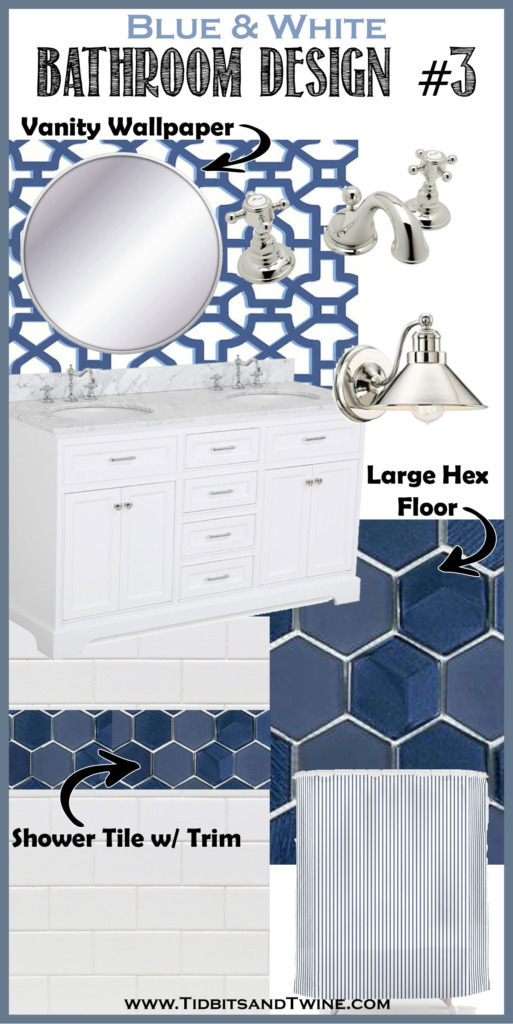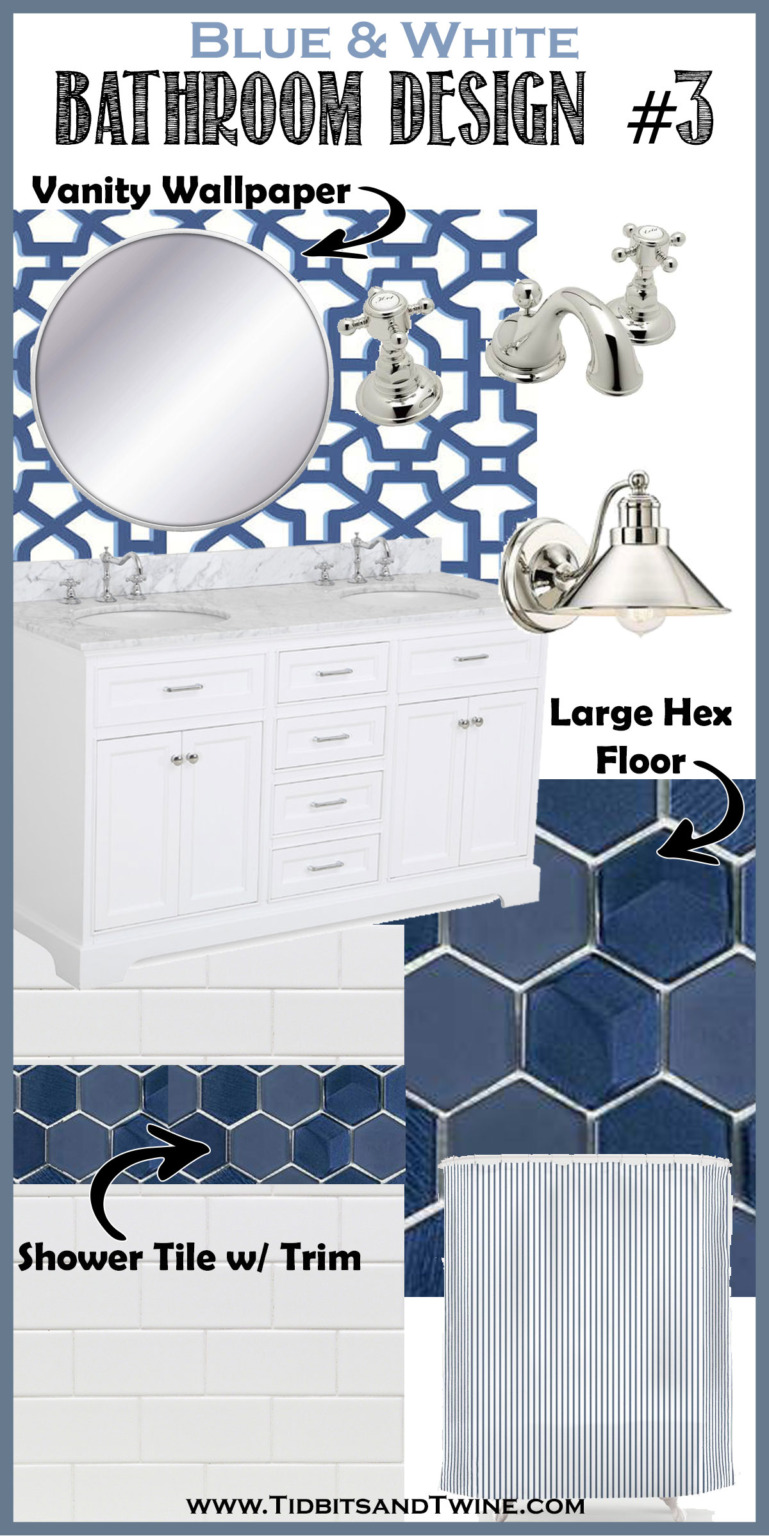 Design Board #4: Light and Bright Pattern
I took this design in an entirely different direction by using a lighter shade of blue. I came across these gorgeous 10×10 patterned floor tiles and thought they paired nicely with a herringbone backsplash. This design is very much in keeping with the rest of my home, but still has a bit of a contemporary vibe that might kids might like.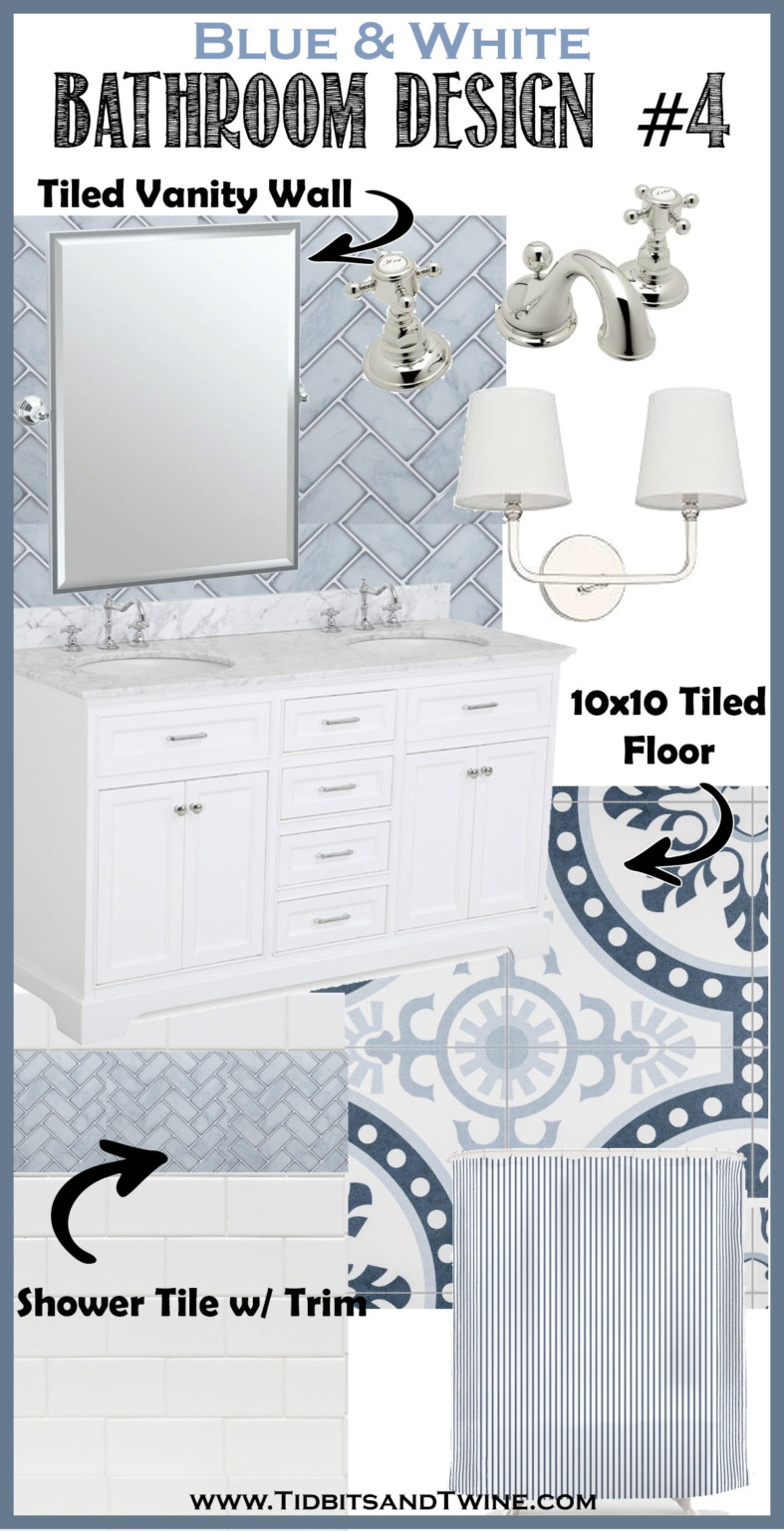 Design Board #5: Funky Modern Mix
I came across the fun gray and blue rectangular tile and couldn't pass up an opportunity to use it! I added a round mirror and a fun retro schoolhouse sconce to break up some of the straight lines. This design is light, bright, and a bit funky.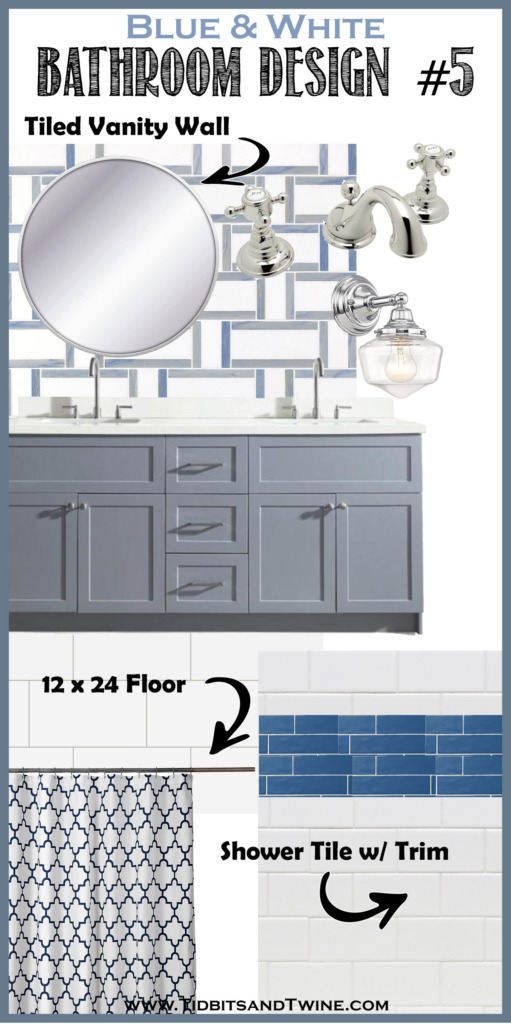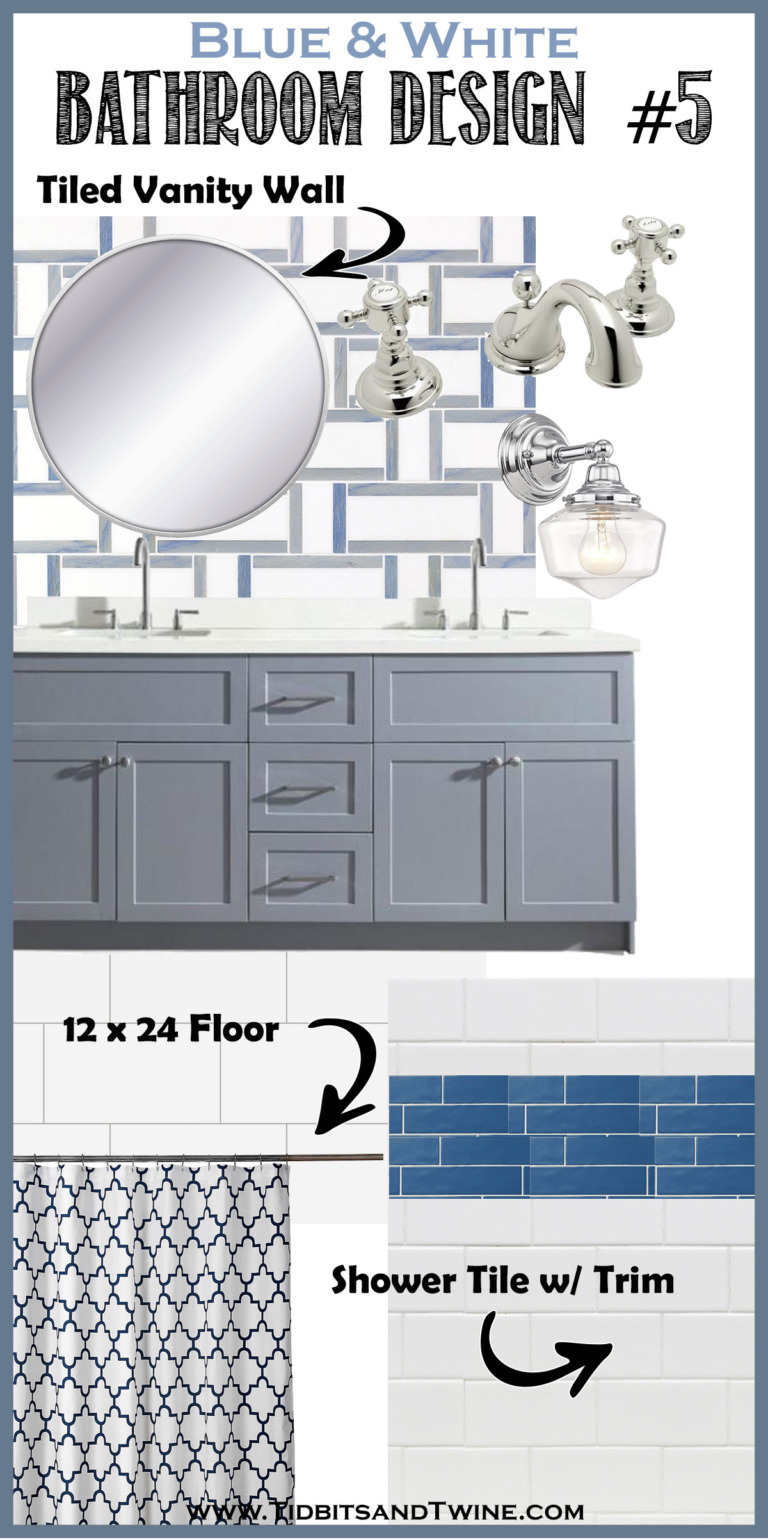 Design Board #6: Flirty and Feminine
I have loved this Artemis wallpaper from Anthropologie since I find saw it! I will tell you that I personally think it looks best when paired with a deep blue vanity and gold fixtures. Gold fixtures won't work for me, though, so I tested it out with chrome. I love the soft, muted colors of the wallpaper and all of the graceful lines in this design.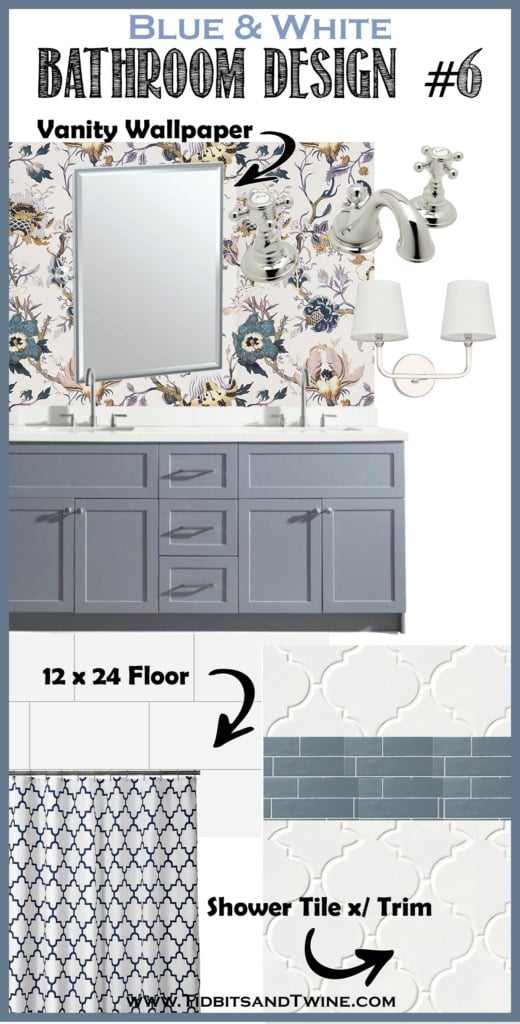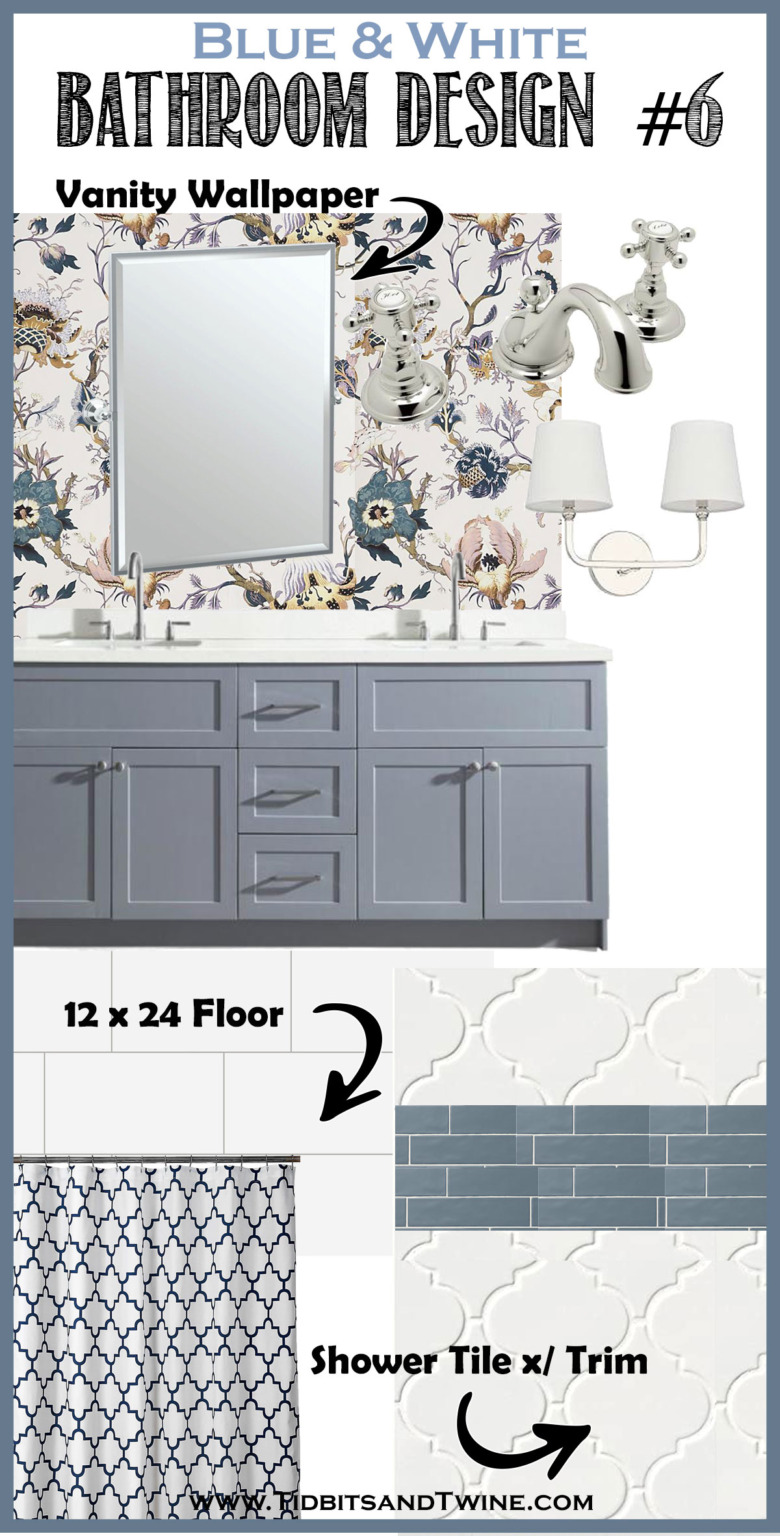 I have yet to price these options out and admittedly, a vanity wall with either wallpaper or tile might be entirely out of my budget (paint, anyone?). But I love the process of exploring and designing options and had so much fun putting these teen bathroom ideas together.
So the time has come, which of the bathroom design boards is your favorite? Vote below!

Loading ...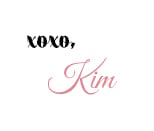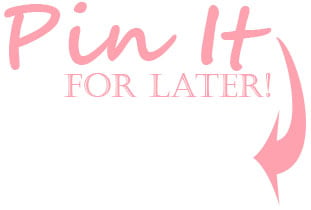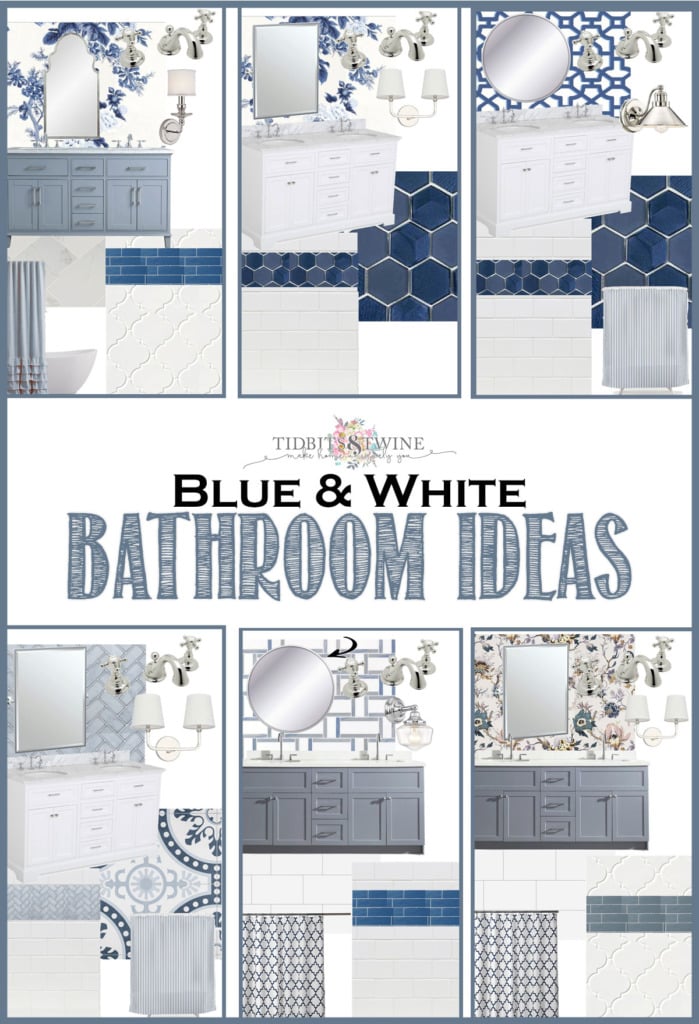 Join the Community
Let's keep in touch! Get exclusive artwork plus the latest news delivered directly to your Inbox!