I guess this is turning into fall decor week here at Tidbits&Twine! On Monday, I shared with you our Giving Thanks Tree, yesterday I showed you my fall tablescape and today, I'm sharing my kitchen with you.
One of the assignments from Hometalk was to talk about how I decorate my kitchen for fall. This is a topic that I love because my family spends about 80% of our time (when home) in the kitchen, so I like the space to feel cozy and warm. Adding just a touch of fall decorating is an easy way to accomplish this!
I've talked about decorating the kitchen before and so you might already know that I only like to decorate with items that are practical and that are a natural fit in the kitchen. In my own home, I tend to shy away from the traditional fall oranges and reds because they darken the room and just don't mix well with the color palette in my home. Instead, I opt for lighter or more muted fall colors.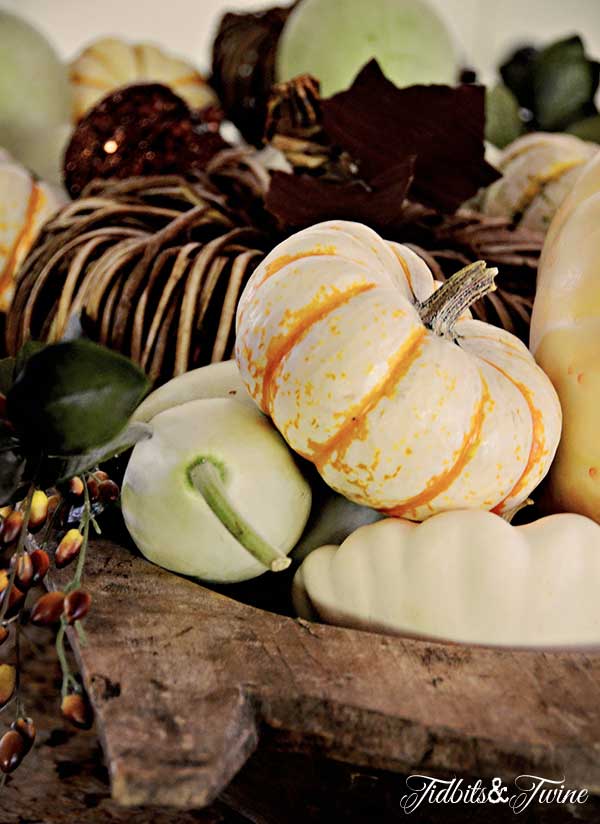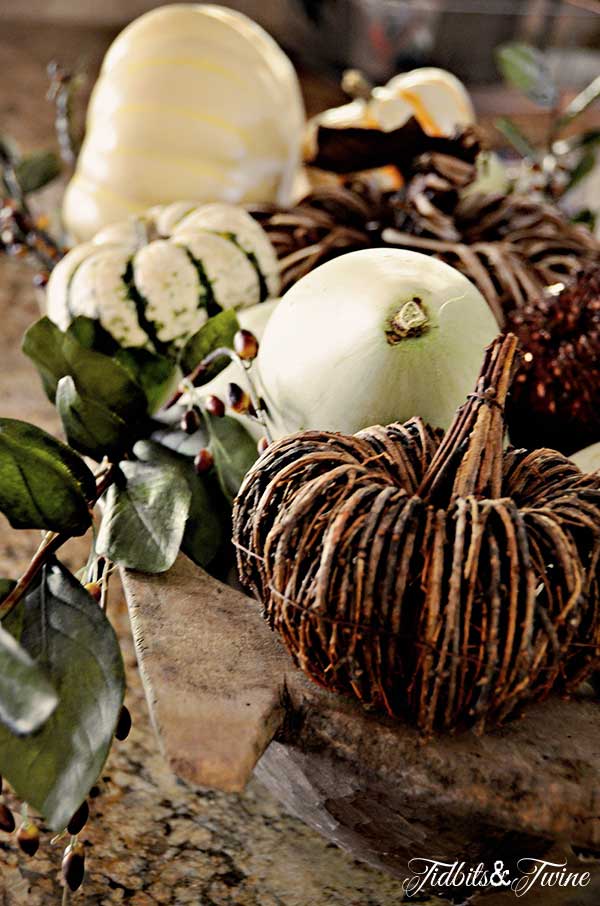 Luckily, I have a friend who grows the most amazing green and white gourds in her yard and when she has an abundance, she brings me some. This year, I filled up my dough bowl with an assortment of gourds and berries to create a display on my counter. The green and white gourds are from my friend's garden, but the others are from Safeway, so if you don't have access to home-grown gourds, just look at your local supermarket!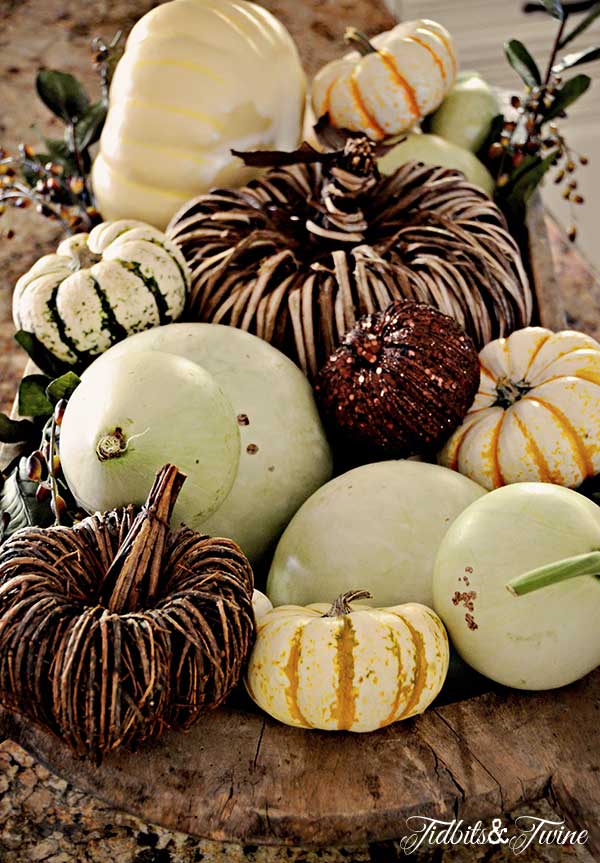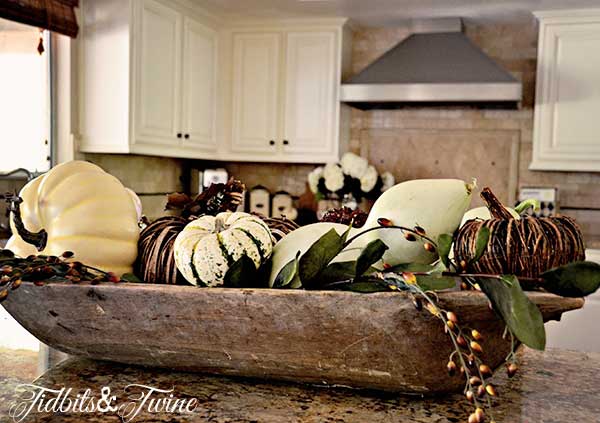 But I believe that the kitchen holds so many items that naturally have a fall feel to them that with a little digging through the cabinets and refrigerator, you can find everything you need to decorate your kitchen for fall without having to buy decor. Apples and pears can make beautiful fall displays, as can wooden kitchen items like spoons, rolling pins, cheese boards, and recipe boxes. I've discovered that my vintage scale is perfect for holding fall-colored fruit for the kids.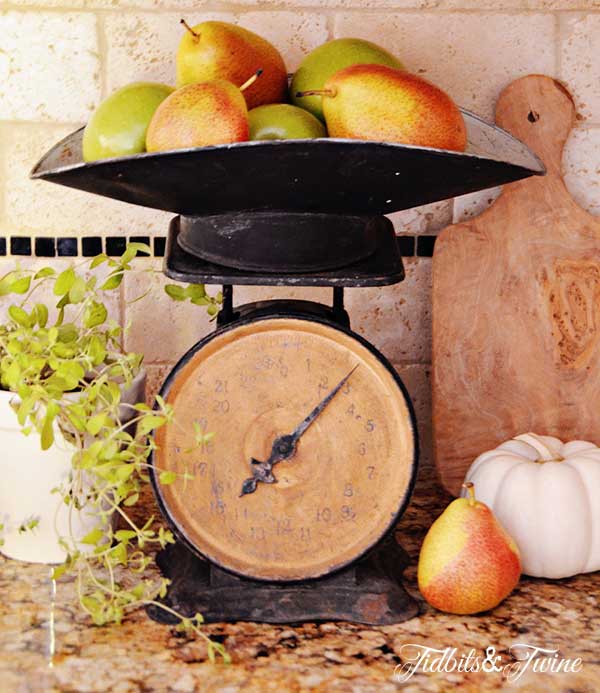 I also have some flowers and a small white pumpkin on the lazy Susan that sits on our table. I used a combination of orange roses with green berries because I love to mix warm and cool colors together in arrangements to create a bold statement.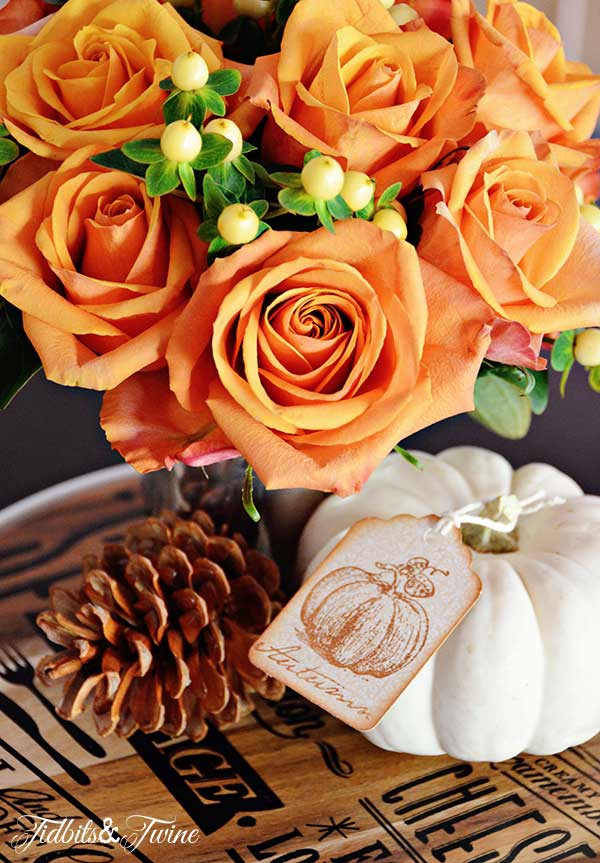 So as much as possible, I try to decorate for fall using elements that are a natural fit in the kitchen.
How do you decorate your kitchen for fall?

Sharing At: The Inspired Room
Would you like to receive my posts via email? Enter your email address below. You will instantly receive an email from FeedBurner and you will need to click the link to activate your subscription.
Join the Community
Let's keep in touch! Get exclusive artwork plus the latest news delivered directly to your Inbox!