As you might have read from my previous post about Decorating Trends for 2020, Classic Blue is Pantone's 2020 Color of the Year. Pantone states, "Instilling calm, confidence, and connection, this enduring blue hue highlights our desire for a dependable and stable foundation on which to build as we cross the threshold into a new era." Blue has always been popular in decorating, but this year, I've seen it more than ever! There are so may beautiful examples of this current trend that I wanted to share a few of my favorites with you and perhaps inspire you.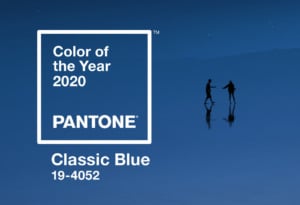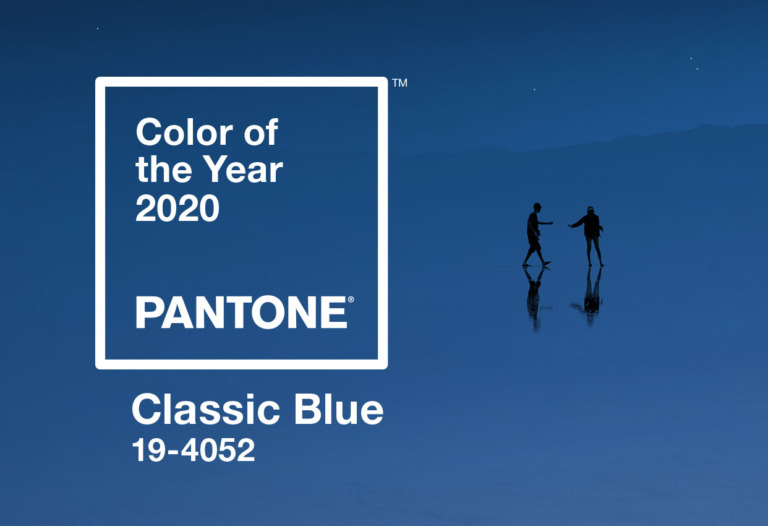 When you think about decorating with blue, you might find that you have some stereotypes. You might automatically think nautical. Or maybe you associate blue with a country look. Maybe something like this?
While yes, that is one style of decorating with blue, the current trend has a much different look! Decorating with blue can work whether your style is traditional, contemporary, nautical, french, and more.
What's different about the current trend is that it:
Utilizes prints are bigger and bolder

Uses deep shades of blue

Incorporates a lot of solid blue
In the Kitchen
If you're feeling bold, why not some gorgeous blue cabinets to liven up the space!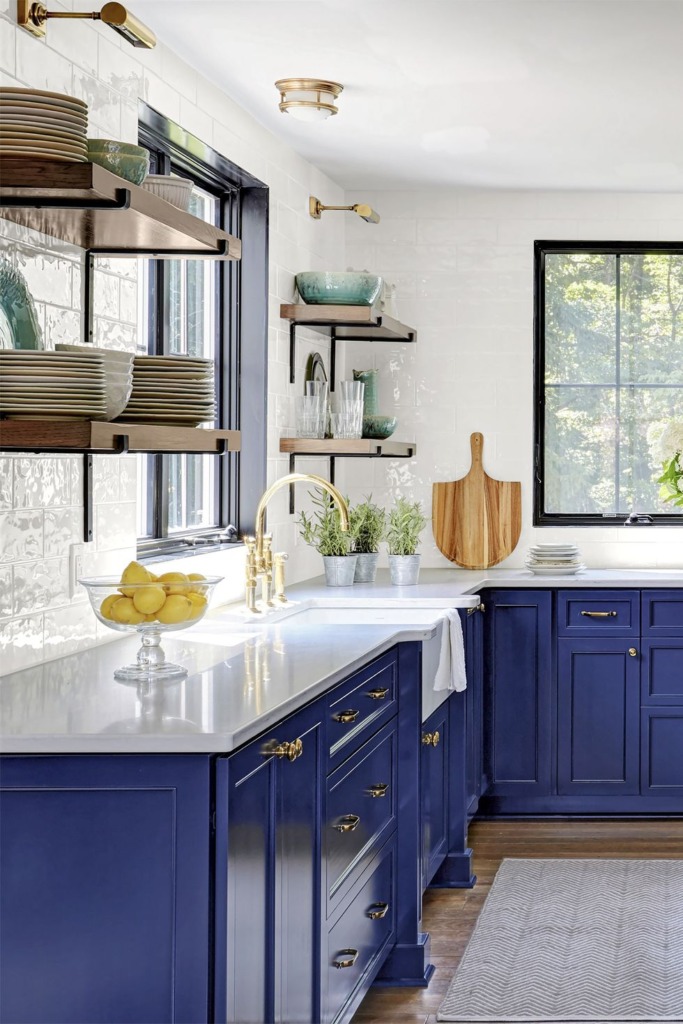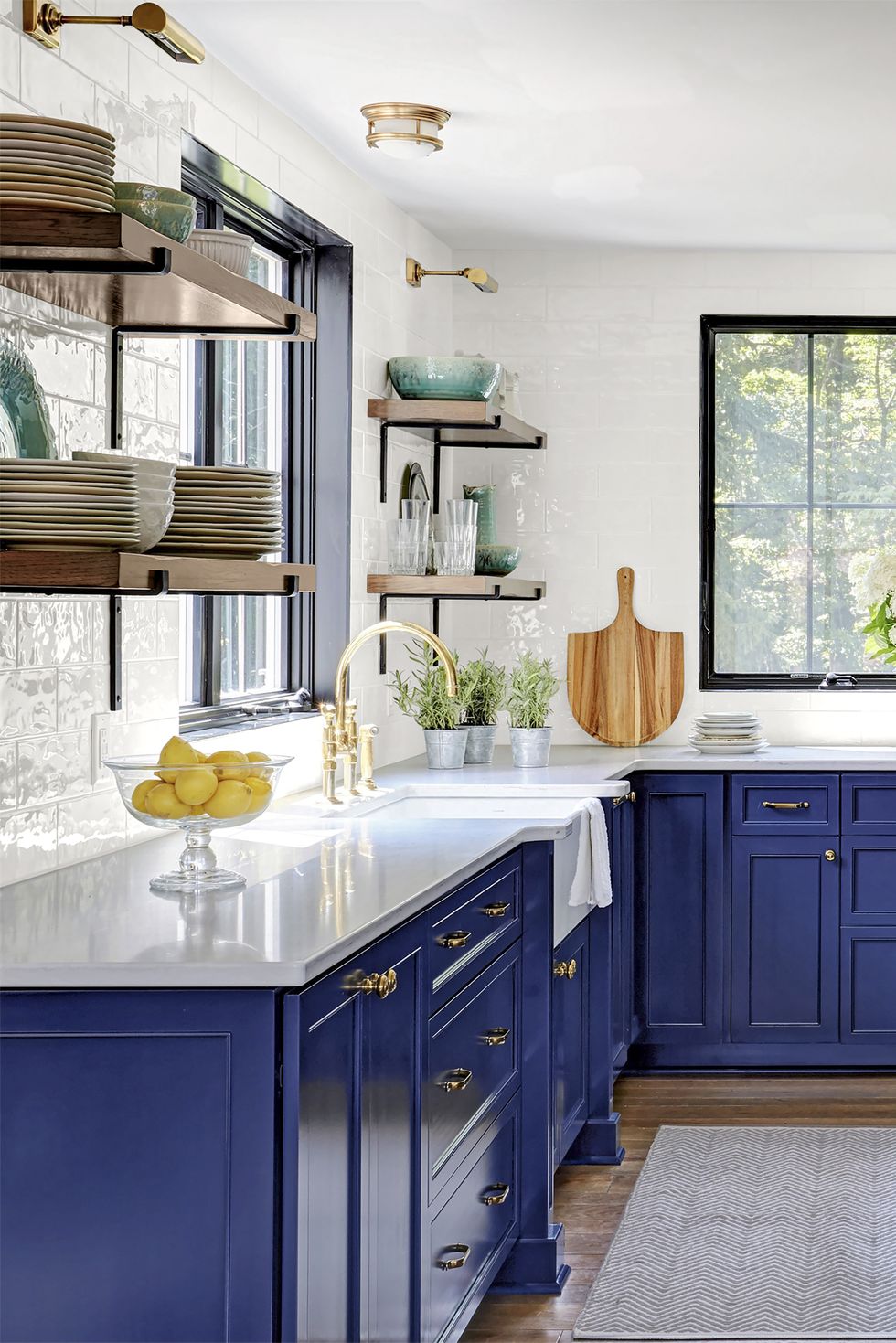 I am completely in love with the pop of blue in this kitchen. Notice that only the refrigerator, window, and oven range are blue, while the remainder of the kitchen are a crisp white.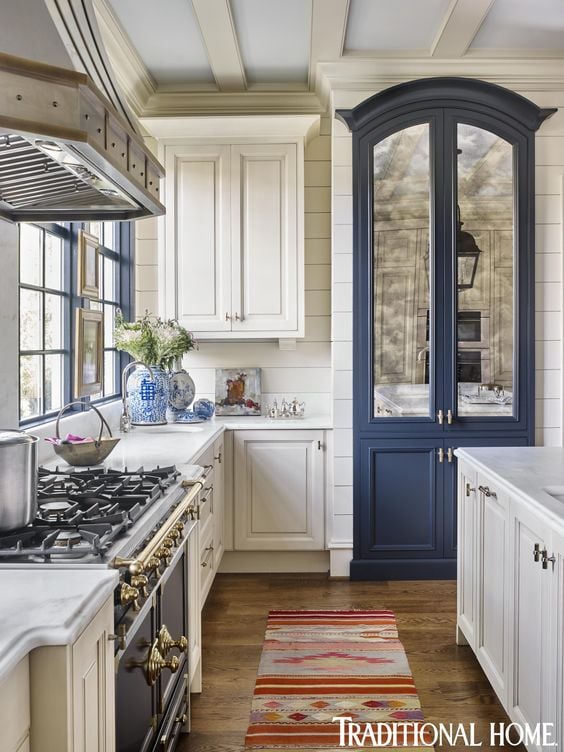 Below, a blue island is complemented by solid blue chairs and a bold print on the windows. Lots of woods and wicker add a lot of dimension and warmth to this otherwise, cool color palette.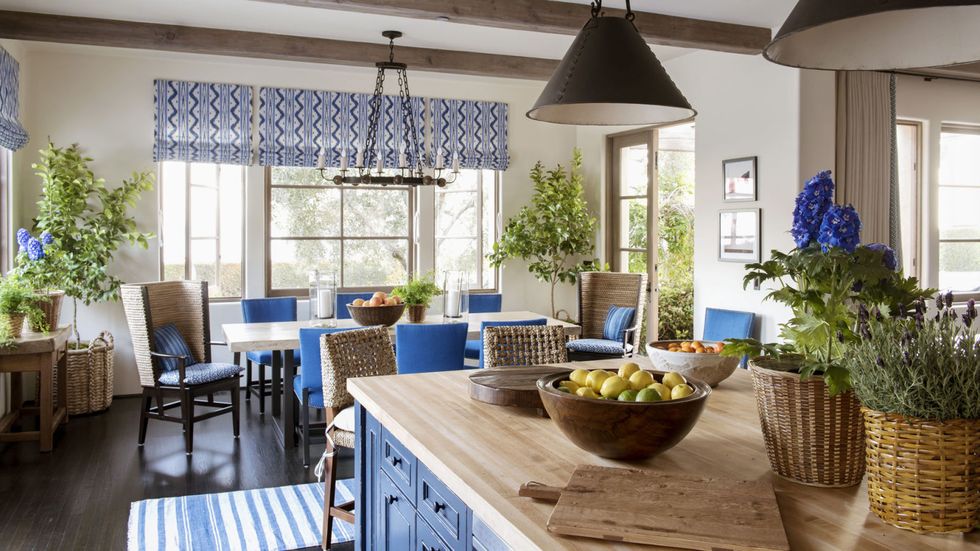 There is no missing these cabinets! They make quite a statement and what's interesting to me, is that the ceiling and trim are painted to match. The cabinets are painted Stiffkey Blue by Farrow & Ball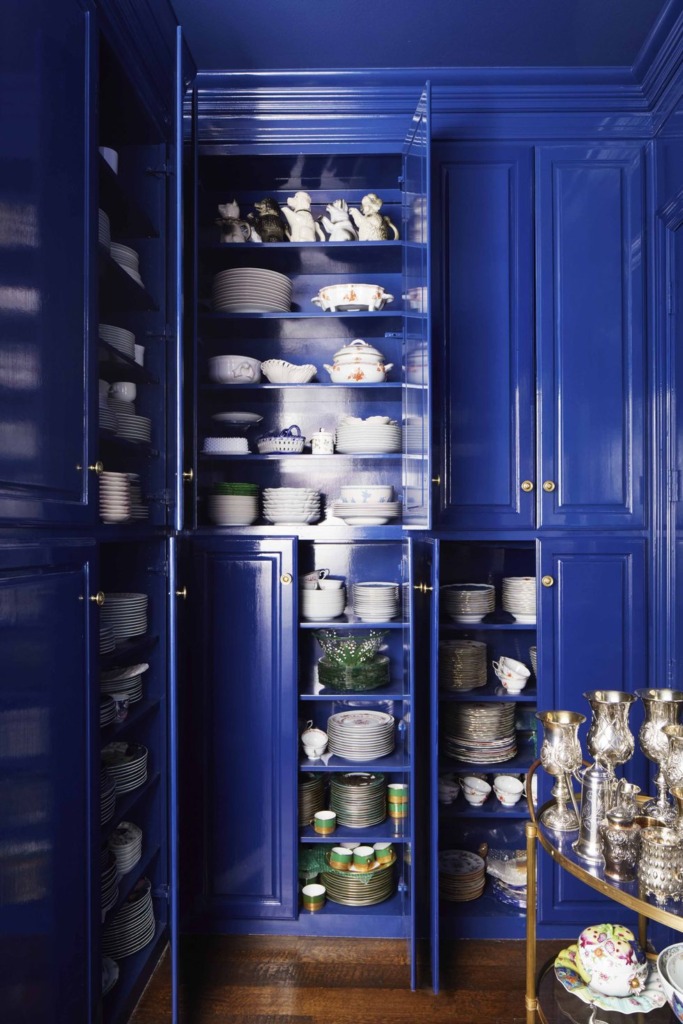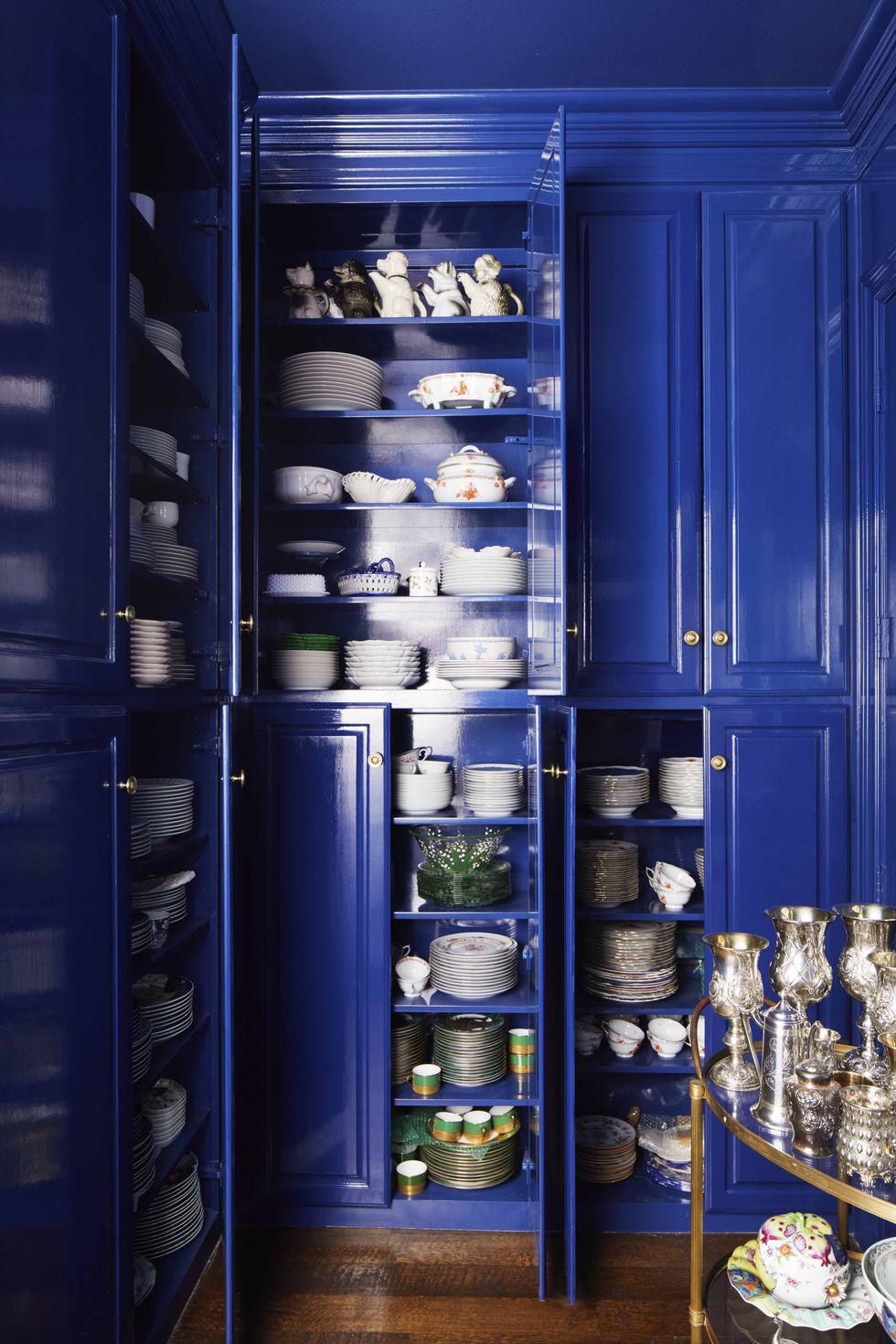 In the Living/Family Room
Blue and white stripes are often associated with a nautical feel, but that's not always the case! Below, stripes and geometrics help to liven up this otherwise neutral space. The overall result is light and airy. Note the juxtaposition of the rustic blue coffee table with the otherwise refined and traditional space.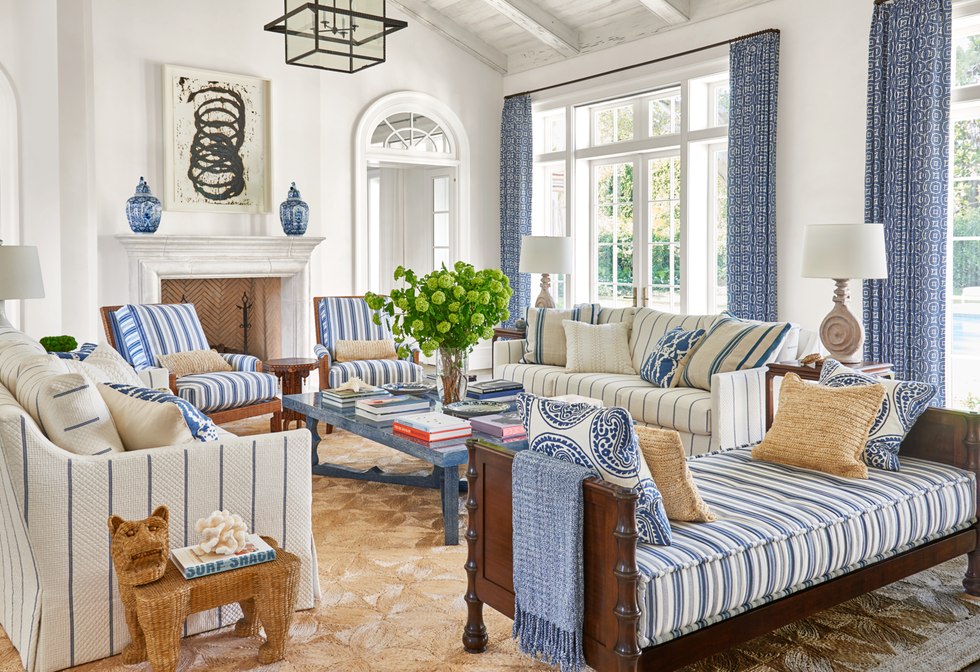 Below is another take on blue and white stripes to create a fresh feel. I love how the family room ties in with the kitchen through the use of the gorgeous blue bistro barstools in the kitchen.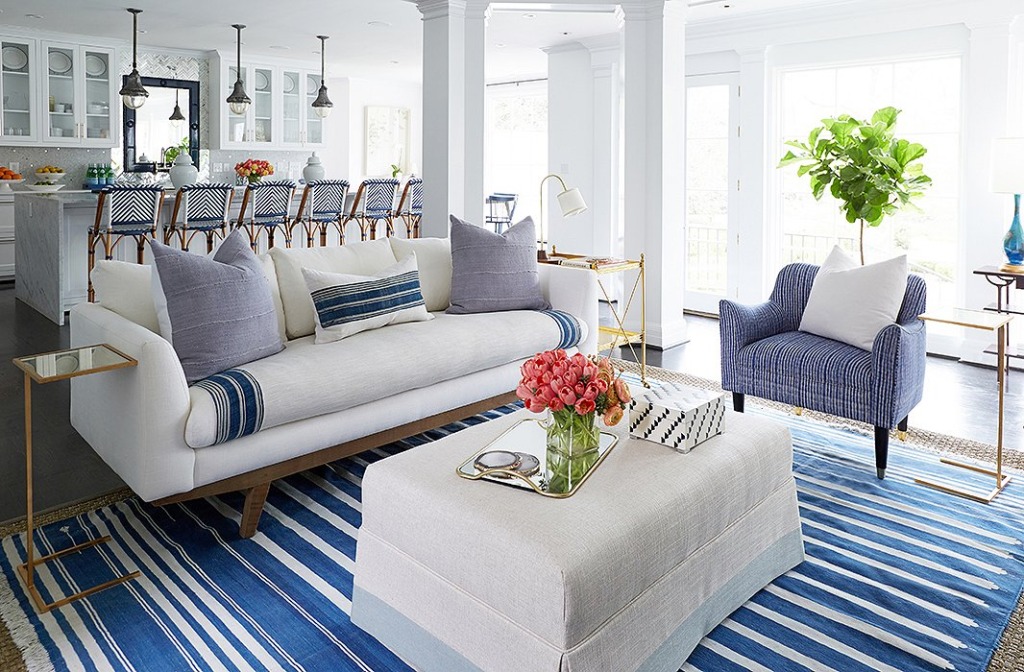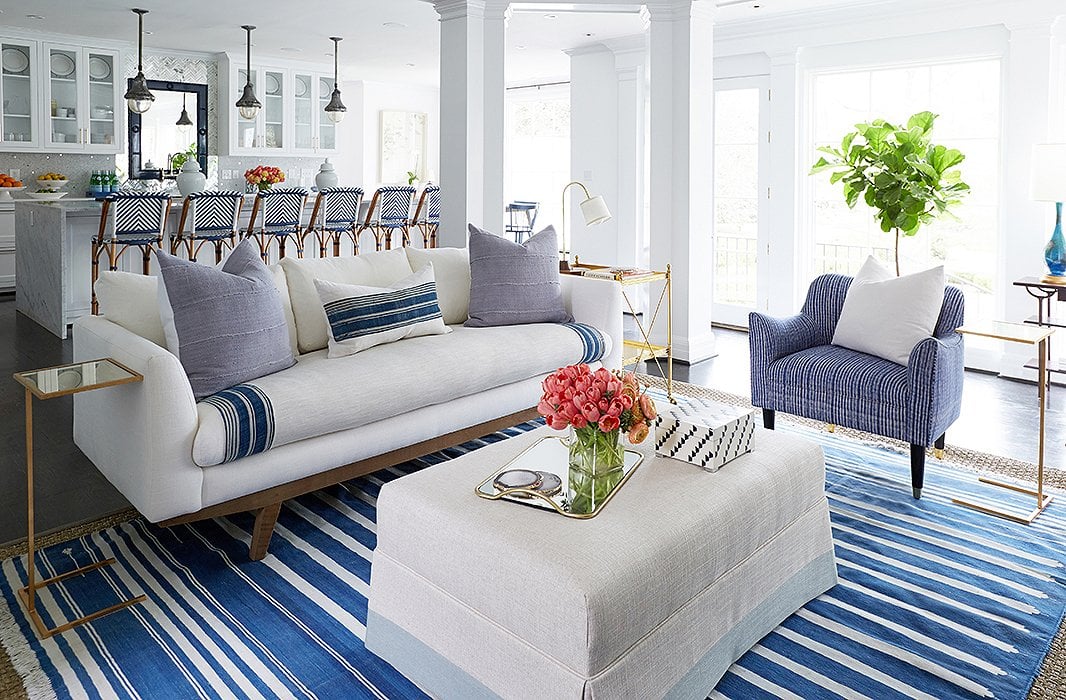 Dramatic sofas helps to balance out the white walls and ceilings in this room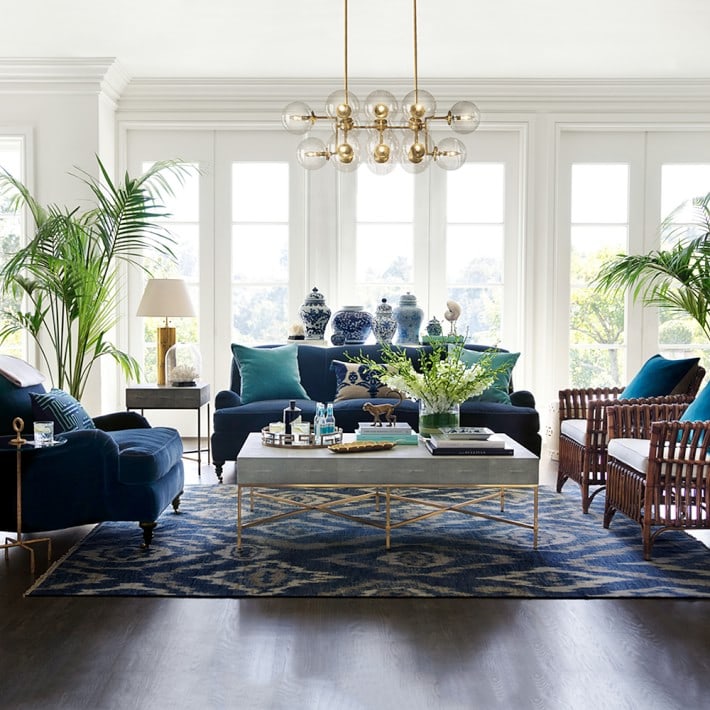 Since my personal decorating style leans toward French, I couldn't help but be drawn to this living room. It's the addition of that eye-catching wallpaper that really puts a contemporary spin on the traditional French blue decorating style.
In the Bedroom
In this bedroom, it's not just the blue that makes a bold statement. The mixing of patterns and the eclectic artwork all play off one another to create a sophisticated space.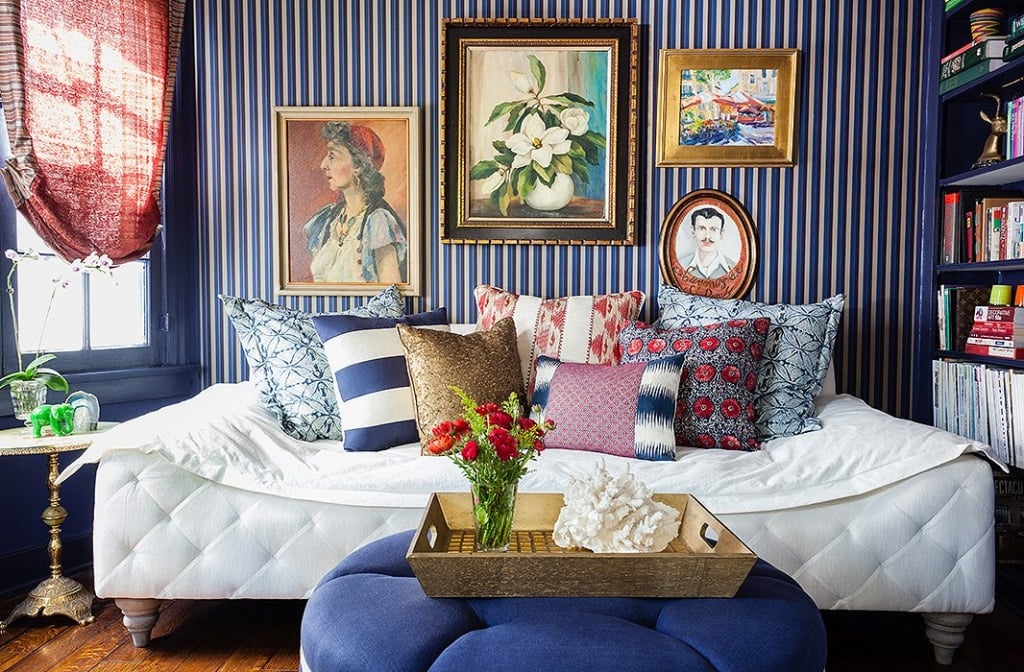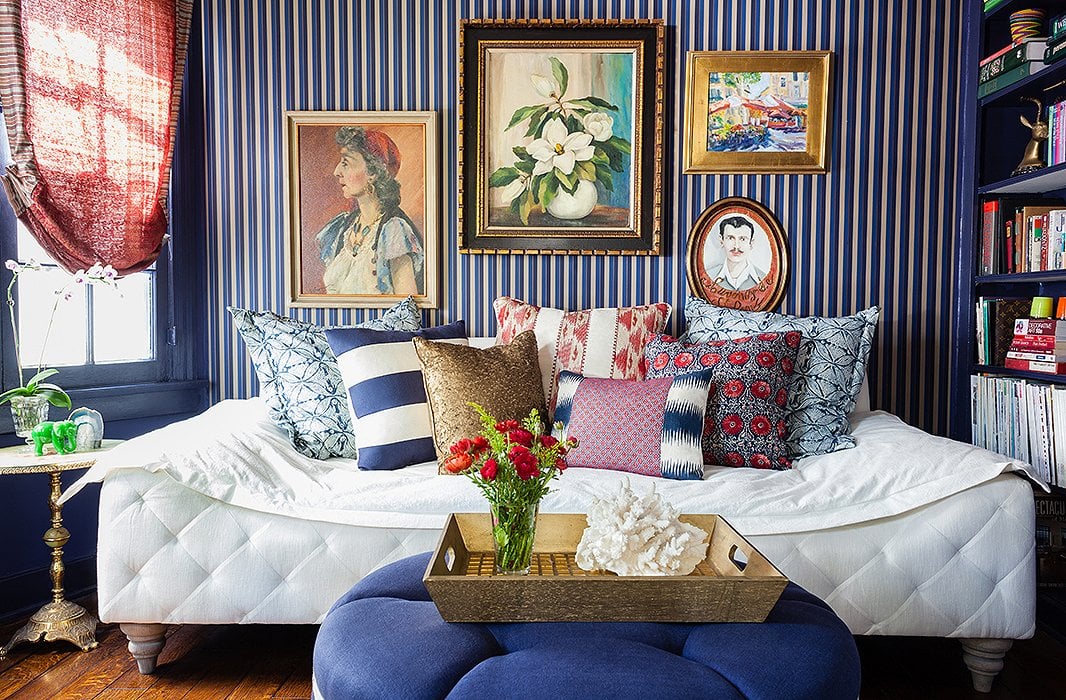 In the Dining Room
Blue velvet walls and high-gloss trim add sophistication and drama to this dining room. A silver ceiling helps bounce the light around and keep the room from feeling too dark and heavy.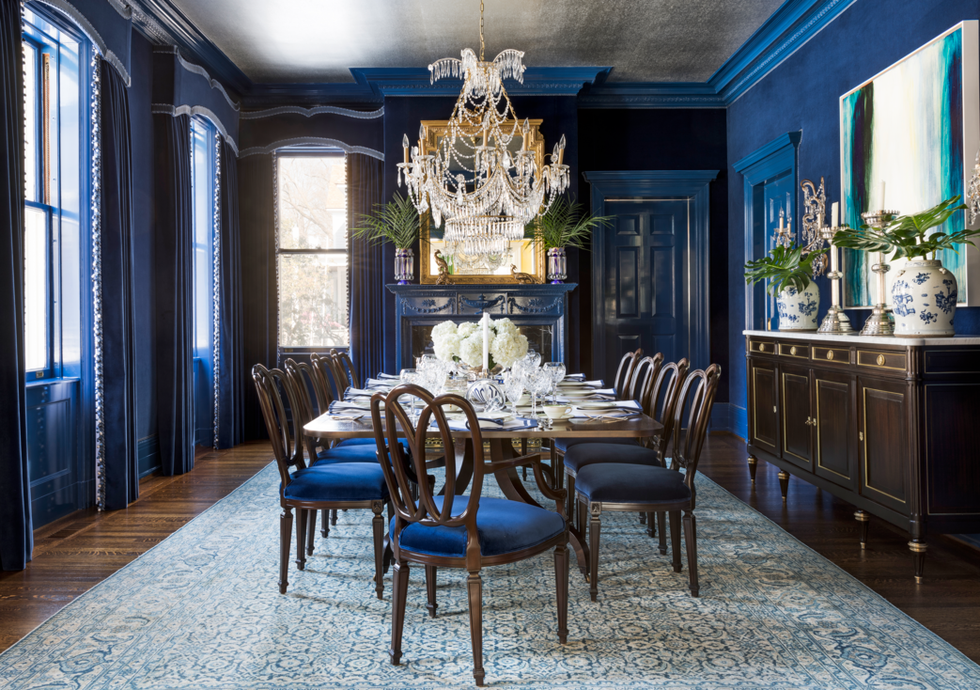 These bold blue walls really set off the crisp white in this dining room. The silver metalics and gray furniture keep the entire room in the cool tones.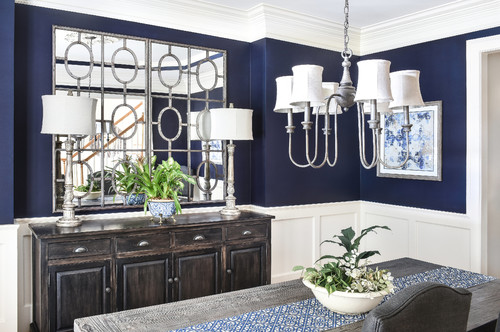 In the Bathroom
This bathroom takes traditional finishes such as marble floors, bombay furniture and gold accents, and pairs it with a bold geometic wallpaer for a modern twist on traditonal!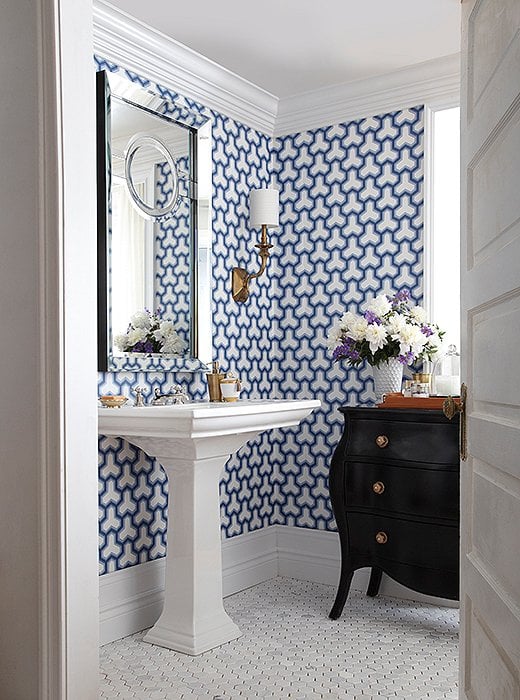 Outdoors
Painting your front door is a quick and easy update. Below, a traditional entryway is given a bold makeover with the addition of a beautiful, blue door!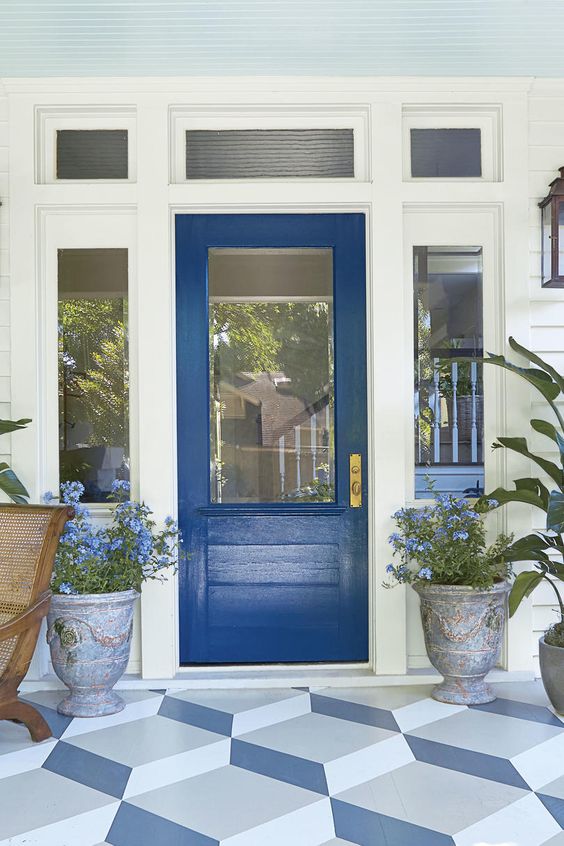 I've been using blue in my home for years, but am SUPER excited about some new digital artwork that I purchased. The artist created a second complementary piece for me that fingers crossed, will be perfect for my living room. I sent the art off to be printed…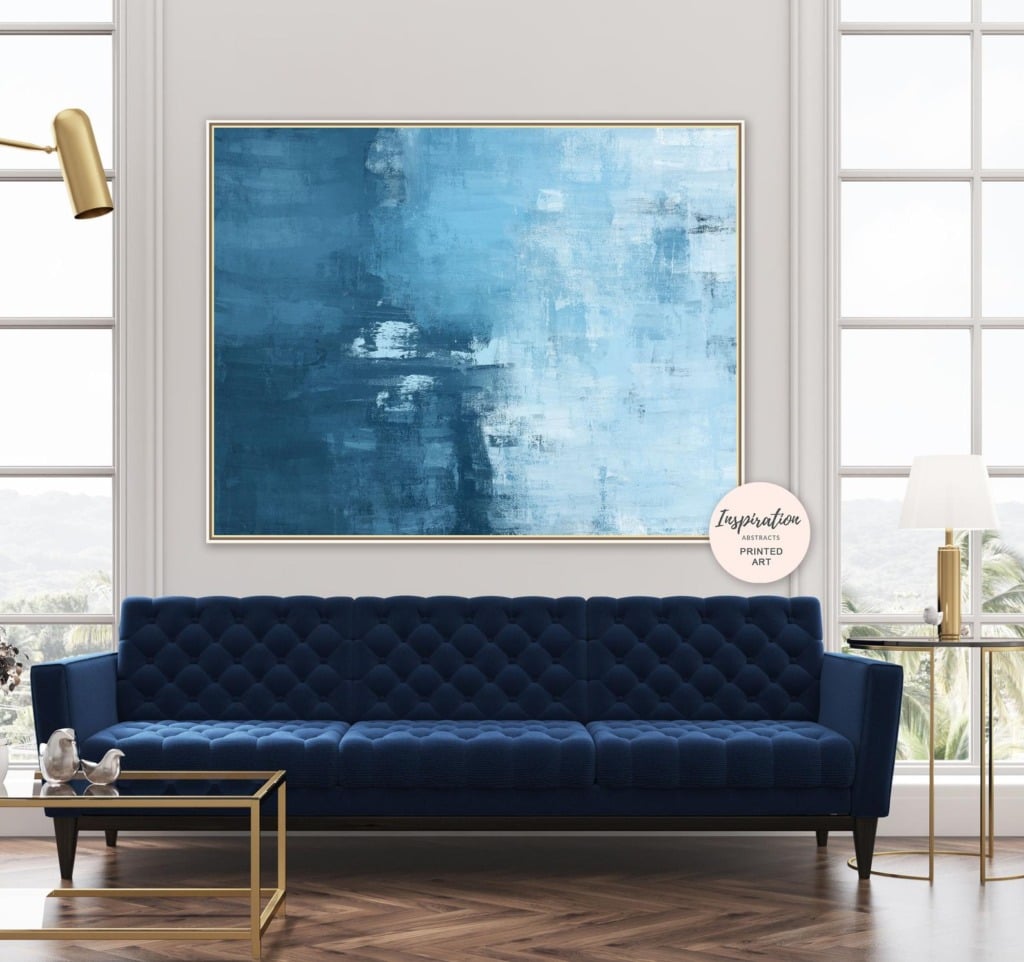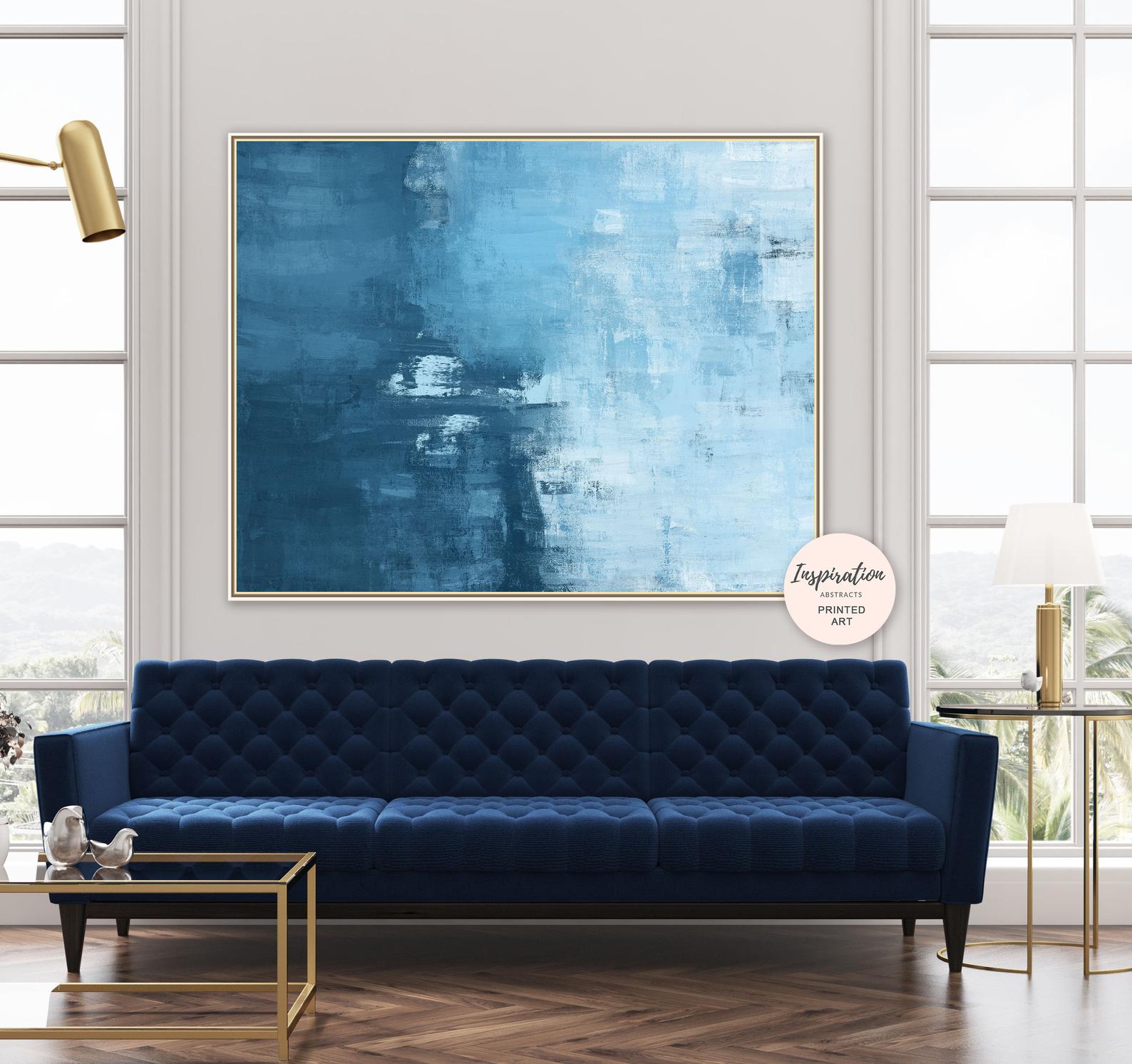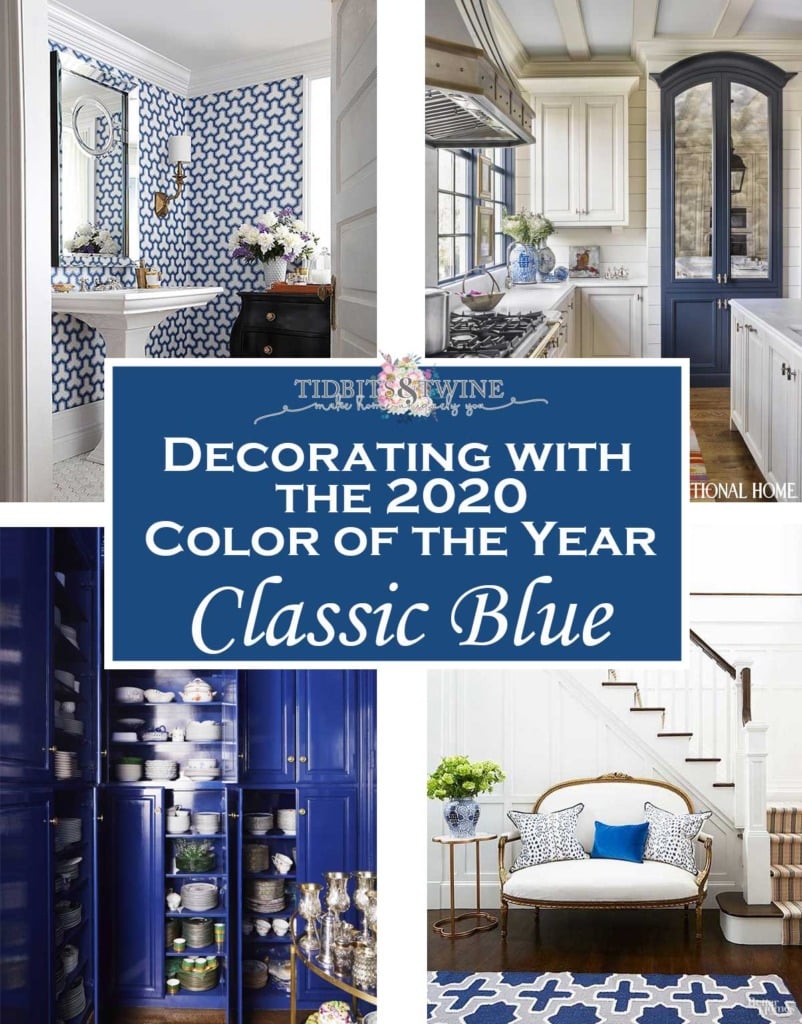 Personally, I love using blue in my home and often mix it up between a classic blue, and a more gray, French blue (you can take my Home Tour HERE}. Regardless of the shade, I always think that blue has a very tranquil and calming property.
So what do you think? Are you a fan of blue?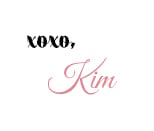 Join the Community
Let's keep in touch! Get exclusive artwork plus the latest news delivered directly to your Inbox!