I was so embarrassed the other day at the antique faire. I approached a vendor to ask the price of an item but realized as soon as I began to speak that I didn't know the name of it. Instead, I ended up pointing and saying, "that glass thing over there." I might as well just have worn a big button on my shirt that said, "Rookie!"
Even if you don't go to antique faires, it's still helpful to know the correct names of vintage items since many retailers, like Restoration Hardware and Pottery Barn, now sell either vintage or reproduction items. Googling "French mirror with decorations at the top" might give you the results you're looking for, but you'll have much better luck if you search trumeau mirror instead.
To help you become a more savvy shopper, here are the "official" names for some of the more popular European vintage items.
Grain Sack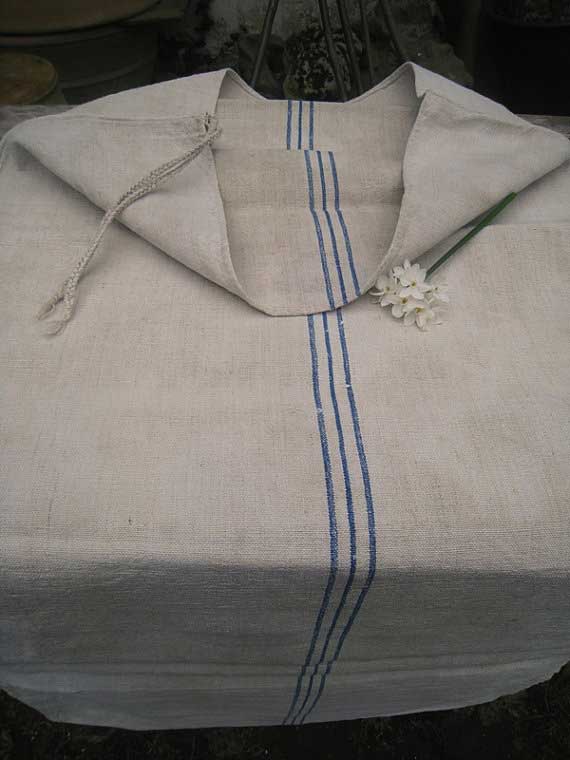 Grain sacks are sacks made from coarse material (often linen or burlap) that were used to store grain. Typically, grain sacks have either a graphic, letters, numbers or stripes on them in either blue, red or tan (although there are lots of other colors, too) . Some are made in the U.S., which are easier to find and thus, less expensive. Others come from Europe and while those are my favorite, they are more expensive. They are beautiful when used as decorative pillows, table runners, placemats or even as upholstery fabric.
Dough Bowl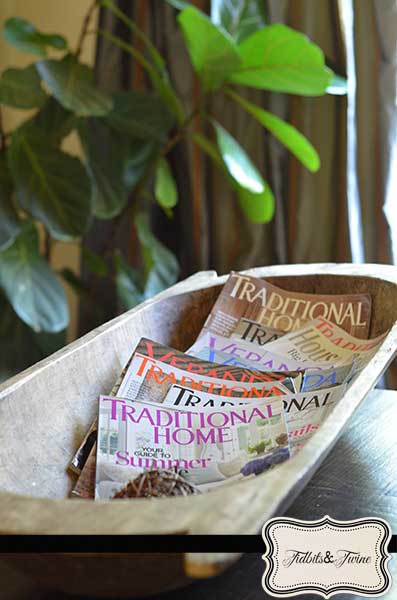 A dough bowl is a carved, wooden bowl that was once used for mixing dough. They can be round, rectangular or oblong and are now used for decorative purposes.
Oyster Basket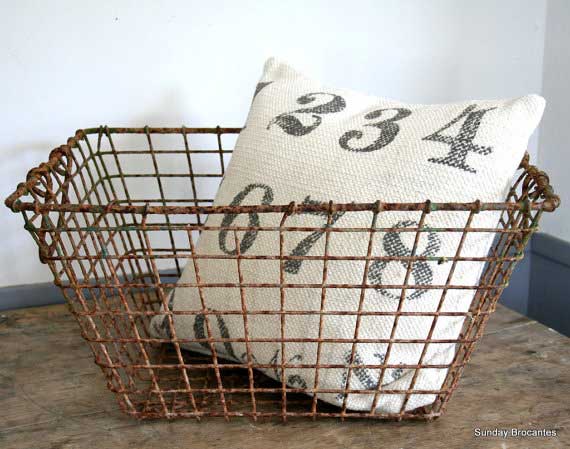 An oyster basket (or panier d'huitres) is what fisherman used to carry and present their oyster at market in France. Now these perfectly rusted and chippy baskets are used decoratively in homes. They work great for storing magazines and are beautiful when used to hold linens.
Demijohn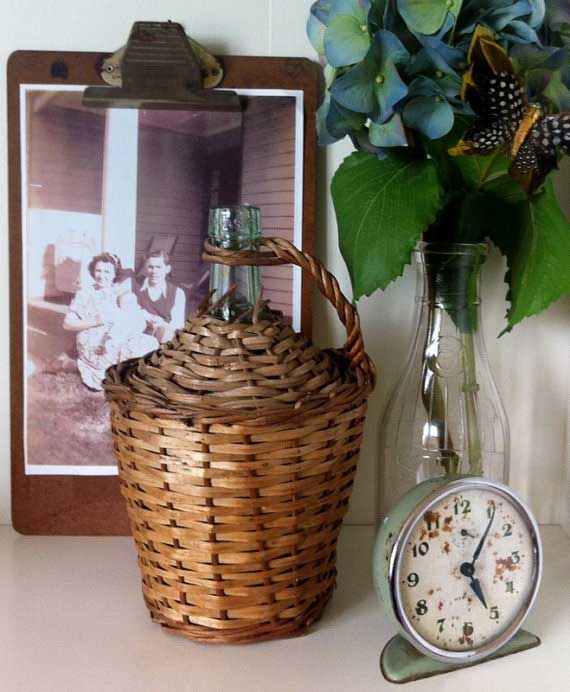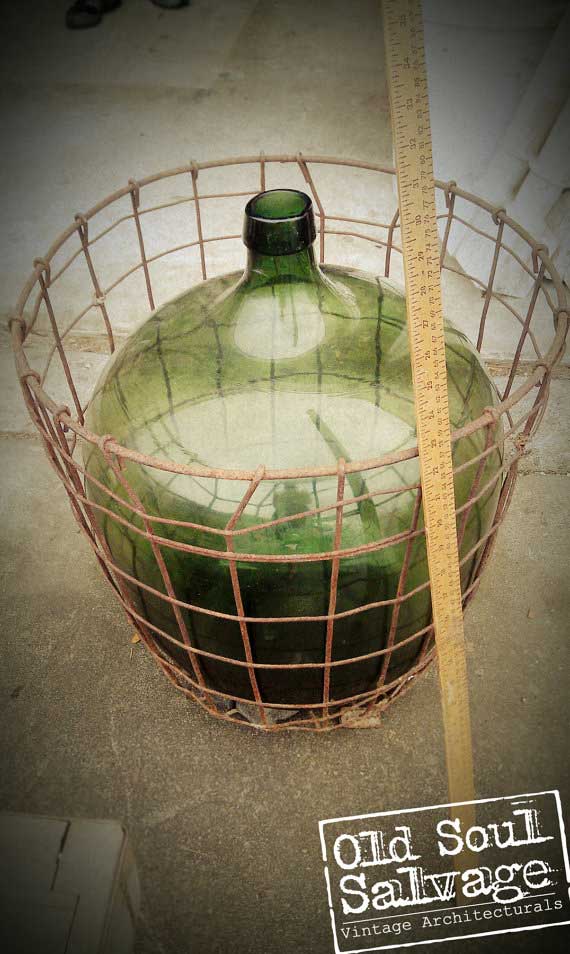 A demijohn (or carboy), refers to a glass vessel with a large body and small neck that was used for transporting liquids such as beer, mead and wine, and is enclosed in wickerwork. The word is derived from the French word dame-jeanne, which means "Lady Jane." The bottles can range in size from a small jug to over two feet tall (as pictured above) and are often either clear or green glass.
Trumeau Mirror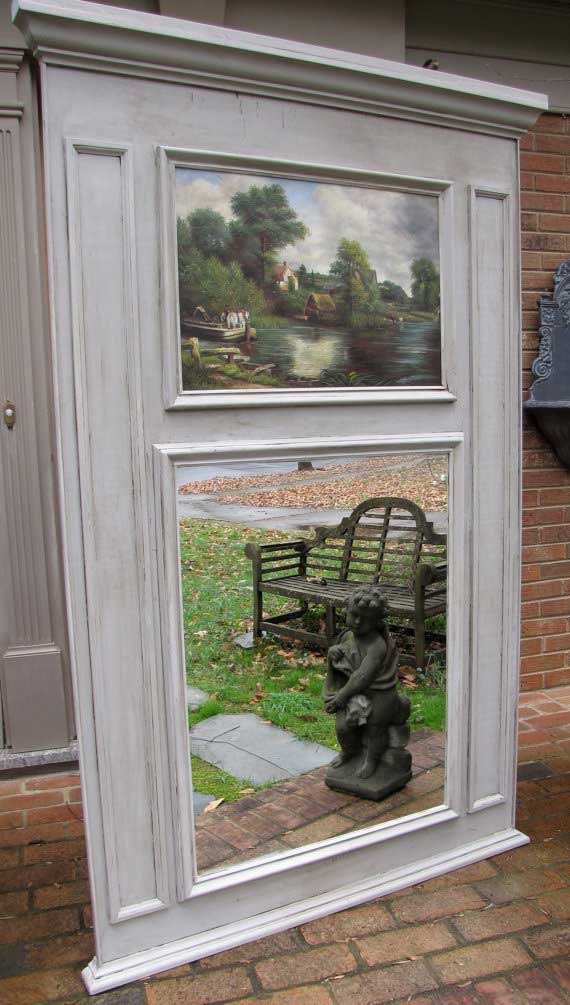 A trumeau mirror is a wall mirror originally manufactured in France in the 18th century. It takes its name from the French word trumeau (pronounced TRU-MOE), which designates the space between windows. In England it is normally known as a 'pier glass'. Trumeau mirrors were originally intended to hang on a wall between windows, providing a decorative element and bringing more light to the room. The mirror is almost always rectangular and sometimes includes a decorative portion at the top, with the mirror below it.
Glass Float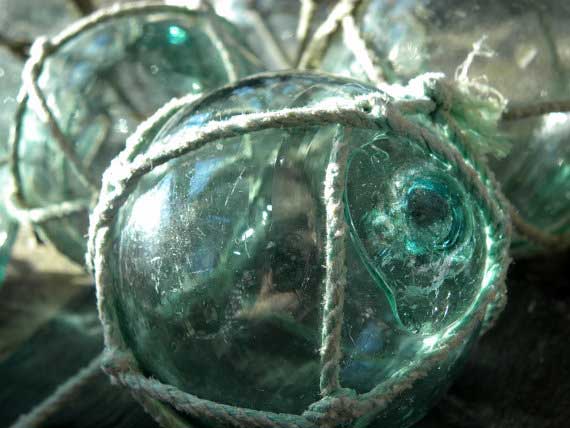 Glass floats originated in Norway in 1840 as a way of keeping fishing nets afloat. Today, most of the remaining floats are from Japan because it had a large deep sea fishing industry and made extensive use of the floats. Glass floats are no longer in use, but are still adrift in the Pacific and wash ashore to the delight of beachcombers and collectors.
Olive Basket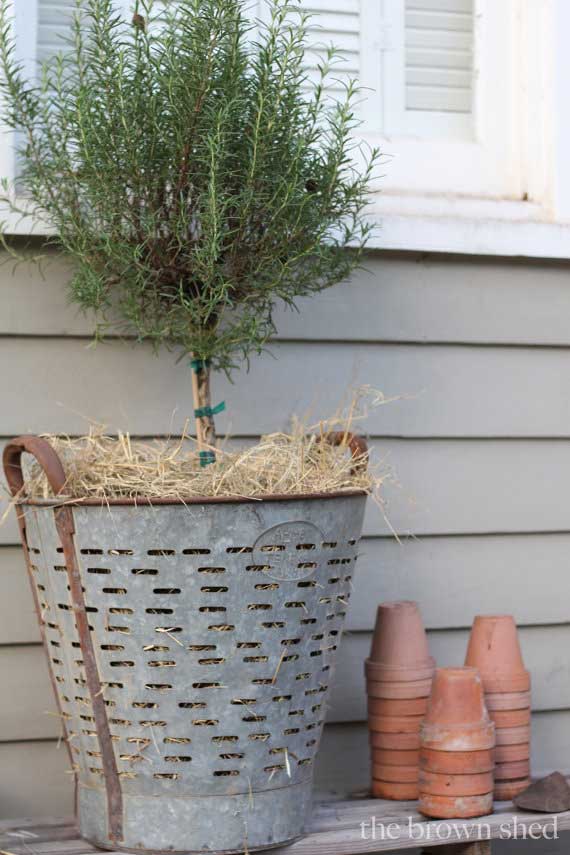 Once used during olive harvest for picking and washing the fruit, olive baskets are now used as decorative containers, either inside or out!
Cloche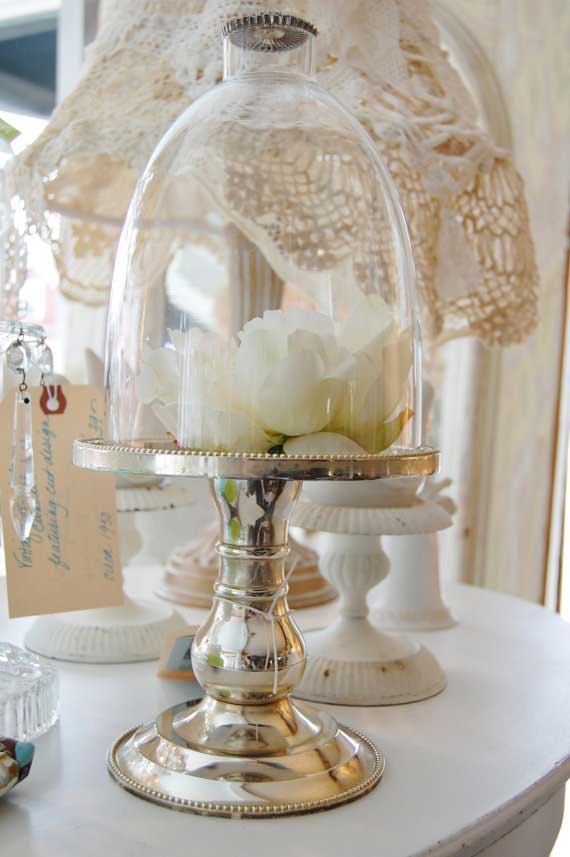 French for bell, a cloche (pronounced KLOHSH) is a small, translucent cover. Originally intended to protect plants from frost, today's use extends to using them for anything and everything. Cloches are wonderful in that they can help to make any ordinary object into a display. For more ideas on how to decorate with cloches, you can read the post, Crazy for Cloches!
Santos Dolls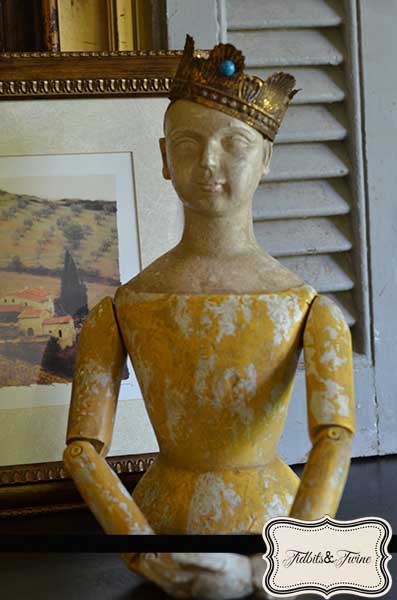 Originally started as copies of 17th century carvings by priests, Santos dolls take their name from the Spanish word for Saint, and are also known as Santons (French) and Santibelli (Italian). For more information on Santos dolls, you can read my other post, Decorating With Santos Dolls – Cool or Creepy?
Epergne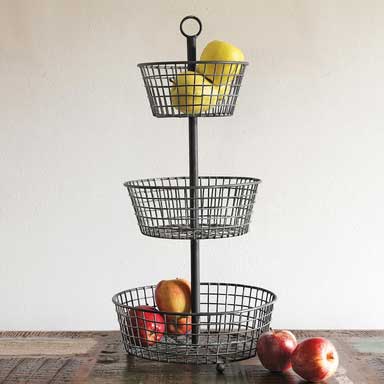 An epergne (rhymes with "a fern") is an ornamental stand or dish that is used as a centerpiece. It typically has a central bowl or basket that supports smaller baskets or dishes.
Did I miss any items that have unusual names? If so, let me know!

Join the Community
Let's keep in touch! Get exclusive artwork plus the latest news delivered directly to your Inbox!