Here's a holiday gift guide with more than 20 items specifically for HER. These is a fun list for any woman, no matter her age or interests. See the full list of gifts for her below.
My mom asks me for my Christmas list each year. This year, I gave her two lists! One specific to Home Décor, and this one: Gifts for Her. This list is a mix of practical and pretty and is appropriate for any age. Whether you're shopping for your sister, babysitter, mom, or even yourself, I think you'll find something on this list that fits the bill. Affiliate links included for your shopping convenience.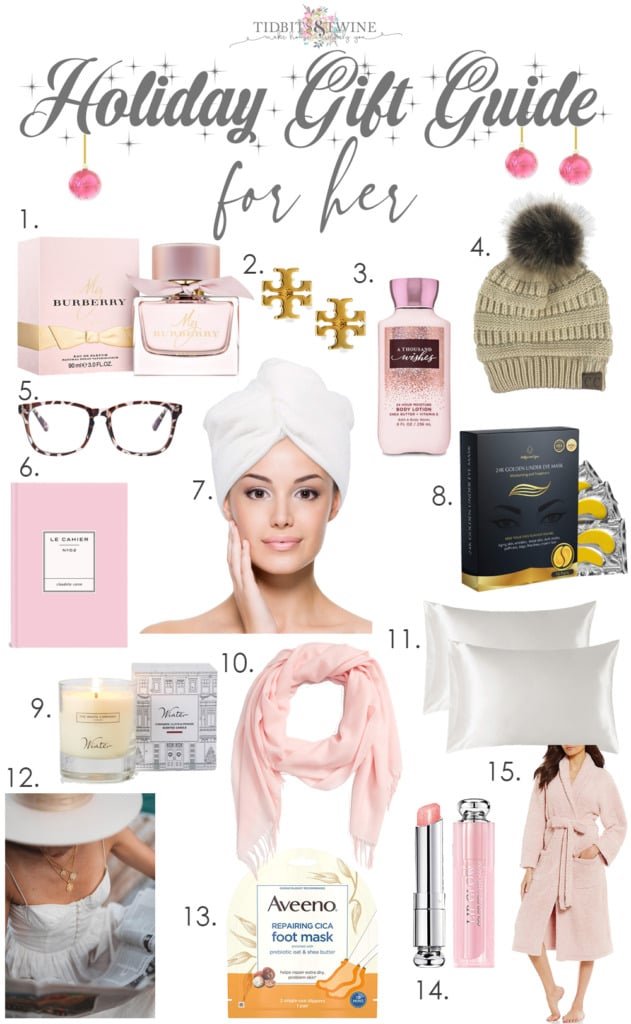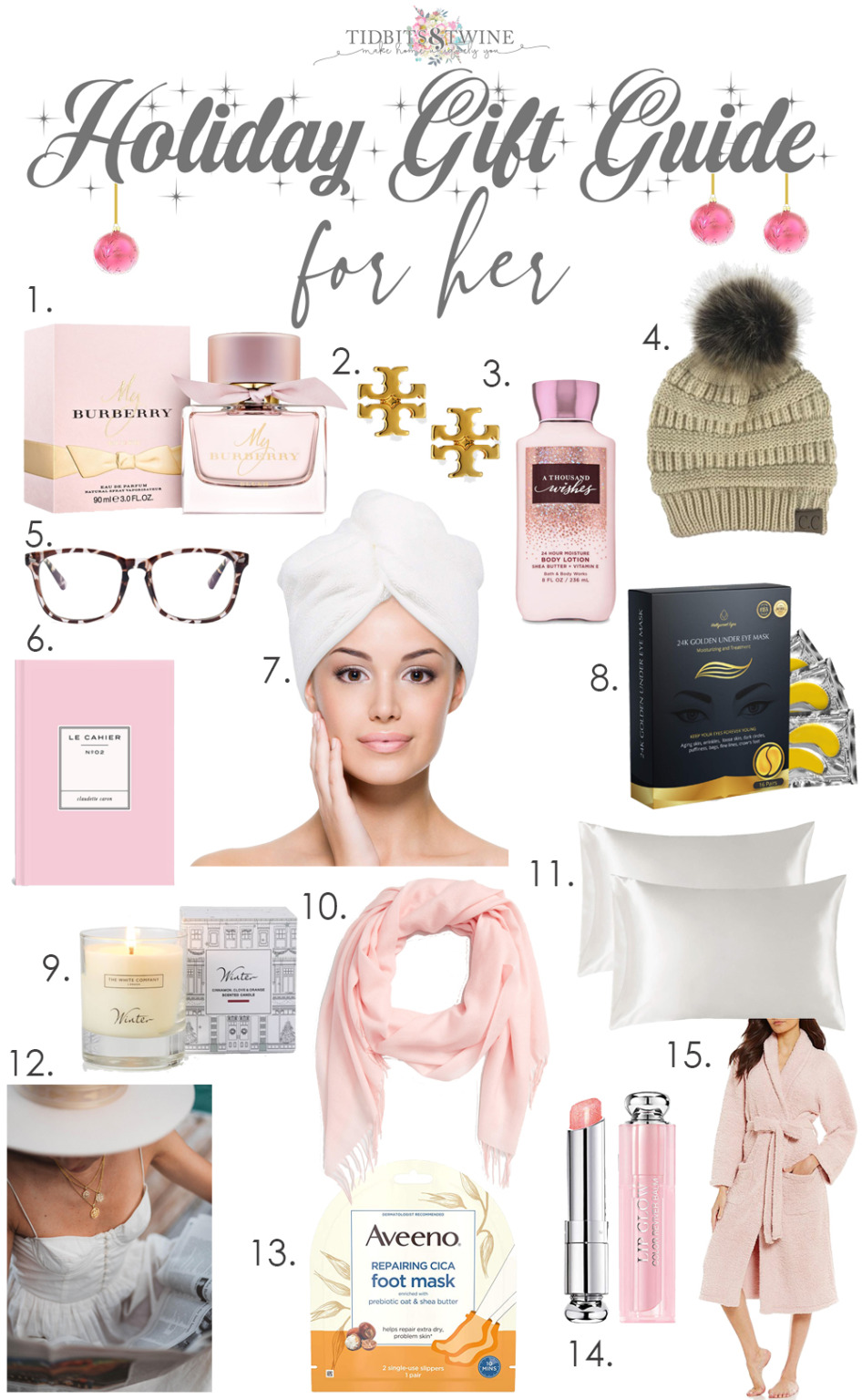 1. Heavenly Perfume: A friend of mine smelled so heavenly one day that I asked what perfume she was wearing. Burburry Blush is a light scent that smells fresh and feminine and is one of my go-to favorites!
2. Gold Earrings: These Tory Burch stud earrings are an understated classic. I am lucky to live near an outlet and got a great deal on my pair. These are my everyday earrings.
3. Body Lotion: The scent of A Thousand Wishes lotion is so amazing and it doesn't leave a sticky feeling. I borrowed this hand lotion from my friend last year and loved it so much I ran out an bought it straight away!
4. Warm Winter Hat: Stay warm this winter with a cozy hat. It has a faux fur pom on top and is fleece lined for warmth and comfort.
5. Blue light blocking glasses: These are a must if you're spending more time online these days! These cute frames are fashionable and with 4.5/5.0 stars and over 36k reviews, I think you'll be happy.
6. Writing journal: This is absolutely on my list! I don't actually journal in it, but I like to keep one handy for taking notes when I'm on the phone, writing grocery lists, making my To Do notes, etc. This one has a hard cover with lined paper – perfect!
7. Microfiber hair wrap towel: Just what I needed! The super absorbent material is perfect for getting a jumpstart on drying hair. The best part? There's a button in the back and a loop in the front so it stays securely in place! No more wobbly balancing act to keep the towel from falling off!
8. Say Goodbye to Wrinkles: These 24k eye patches are great to instantly reduce puffiness and fine lines. Each patch is infused with collagen and hyaluronic acid to improve the appearance of under eye skin. These aren't a permanent fix, but are perfect to use before a big event or pictures!
9. Beautiful Candle: I received a sample of this Winter scented candle as a free gift with a makeup purchase I made a year ago. It smelled so good that I kept it next to my bed for an entire year! It has a warm scent of cinnamon and cloves to make even the coldest day feel cozy!
10. Cashmere and wool scarf: This scarf is perfect Fall through Spring! It's tissue weight, meaning that it isn't big and bulky, but its fiber blend ensures that it still provides warmth.
11. Silky Pillowcase: Our family started using satin pillowcases many years ago and now that's all I like to sleep on! While they claim to help prevent wrinkles, we started using them to help with damaged hair. They stay cool and soft and are truly lovely to sleep on.
12. Gorgeous Necklace: This is a special one…a trio of layered necklaces that can be worn as a set, or worn individually! I love to wear layered necklaces with long sweaters for added interest while still keeping a classic look. These are made by a dear friend of mine so I know the quality and customer service are excellent!
13. Perfect Foot Mask: Don't let dry Winter feet get you down….or dry Summer feet for that matter! I am a huge fan of this set of Aveeno foot masks. You just simply slip the books on, wait, and take them off to reveal gorgeously hydrated and soft feet! 4.7/5.0 stars on Amazon!
14. No More Chapped Lips: No need for lipstick these days with masks but I'm always a fan of lip balm! This Dior Lip Glow is enriched with hydrating mango butter and is a perfect balance between lip color and lip care.
15. Barefoot Dreams Robe: This robe is known for being soft and cozy. This robe is a machine-washable microfiber that doesn't shrink or pill!
FULL LIST OF GIFTS FOR HER

When creating this list, I tried to think of items that I would love to receive, or things I would actually give loved ones as a gift. This is a mix of what someone might want, and what they might need! All of these items can be found online, making your holiday shopping even easier!
To see my holiday picks for the home, check out this article: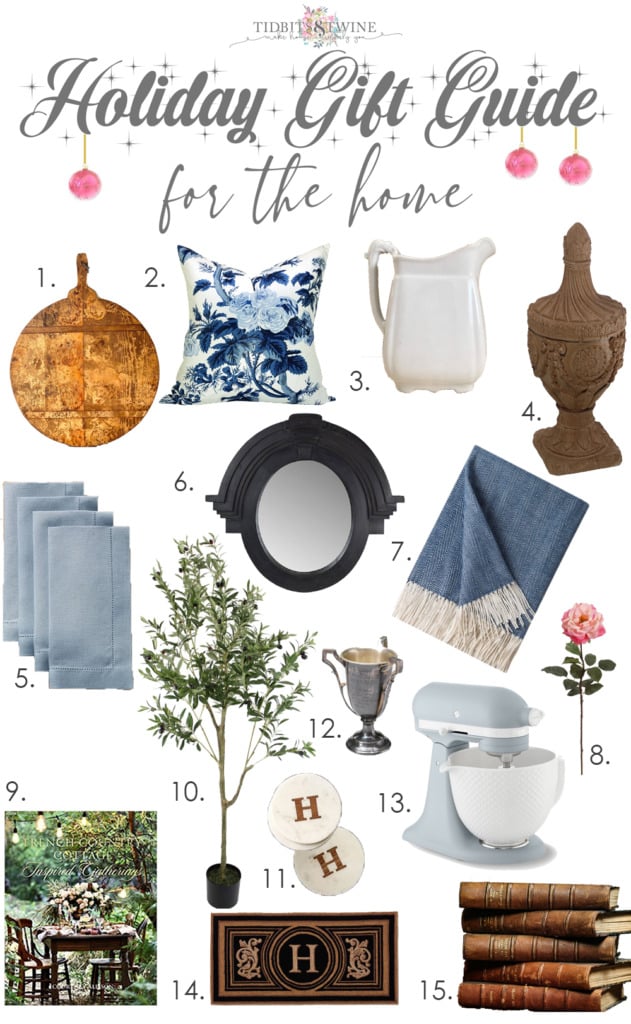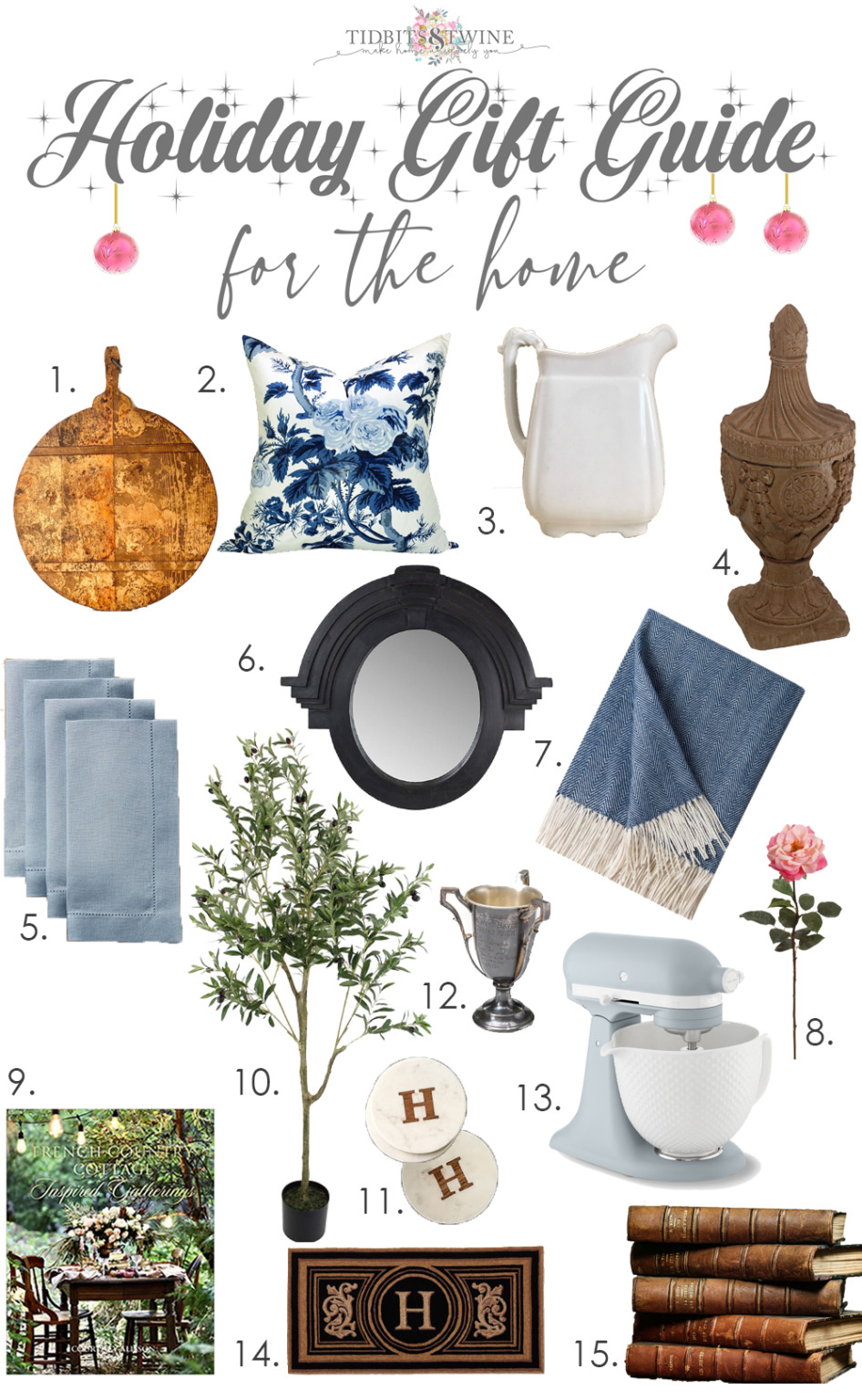 Have a wonderful Thanksgiving!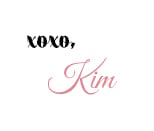 Join the Community
Let's keep in touch! Get exclusive artwork plus the latest news delivered directly to your Inbox!