*WARNING* This post contains tons of decorating eye candy showing some of the most beautiful and creative uses for ladders! I tried to limit the pictures but there were just too many great ideas to share with you. My apologies if this is visual overload, but I hope you'll enjoy the inspiration. :)
For those of you that follow me on Instagram, you know that I purchased an old picking (or orchard) ladder at the antique faire yesterday. (Side note, a picking ladder or orchard ladder is a tripod style of ladder that works well on uneven ground.)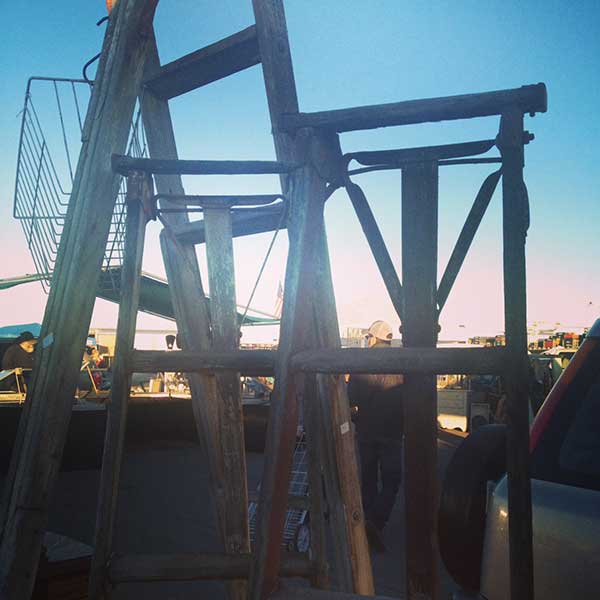 I have had a love affair with ladders for quite some time and in fact, had a leaning bamboo one in the corner of my living room for years. I bought my "new" ladder thinking that I knew exactly where I was going to put it, but once it was in place, I started having second thoughts. And so began my search for a new home for my ladder. I found so many amazing and creative uses for these old ladders and so today, wanted to share some of my favorites with you!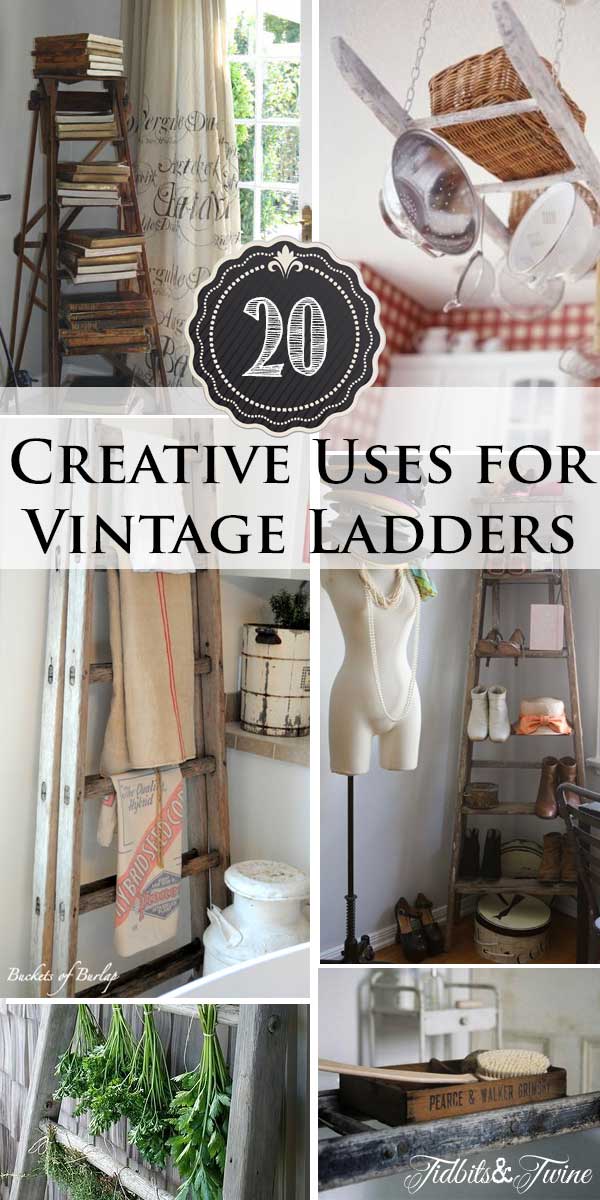 1. Kitchen Towels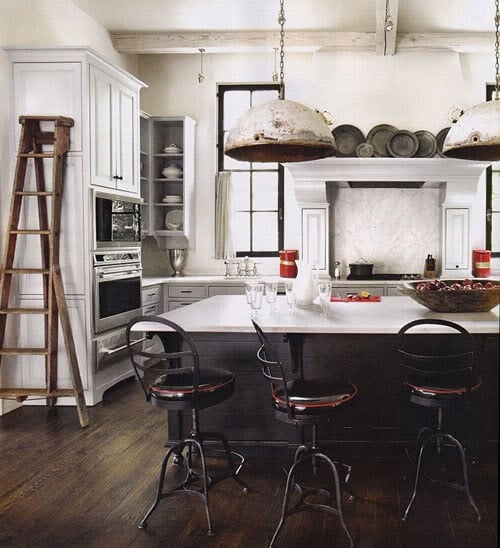 While I would love to have a kitchen large enough to place a giant vintage ladders without disrupting traffic flow as shown in the picture above, that's not going to happen in my home. Instead, I envision using my ladder to hold kitchen towels, which is both practical and decorative! I love this display from Buckets of Burlap!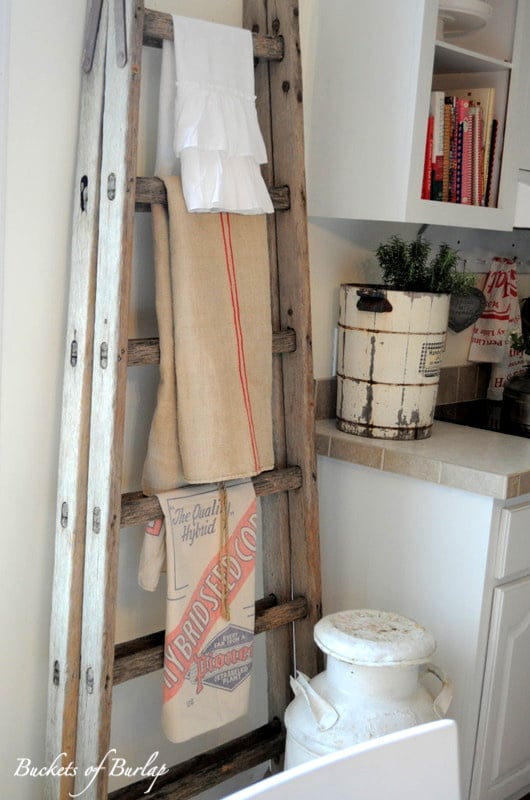 2. Pot Rack
While we're on the subject of the kitchen, an old ladder can be suspended from the ceiling to make an interesting pot rack!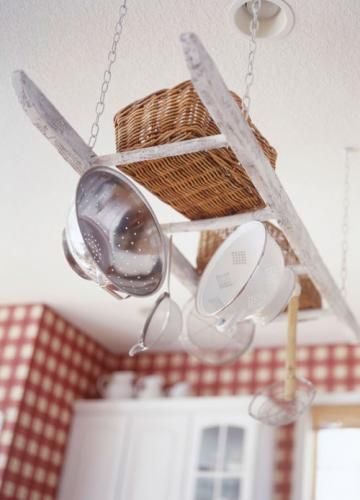 3. Dried Herbs/Flowers
Whether used indoor or out, the rungs of a ladder are great for drying herbs and other flowers!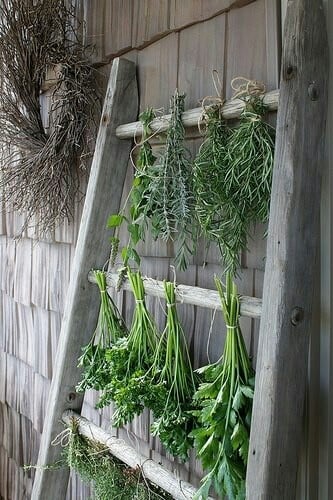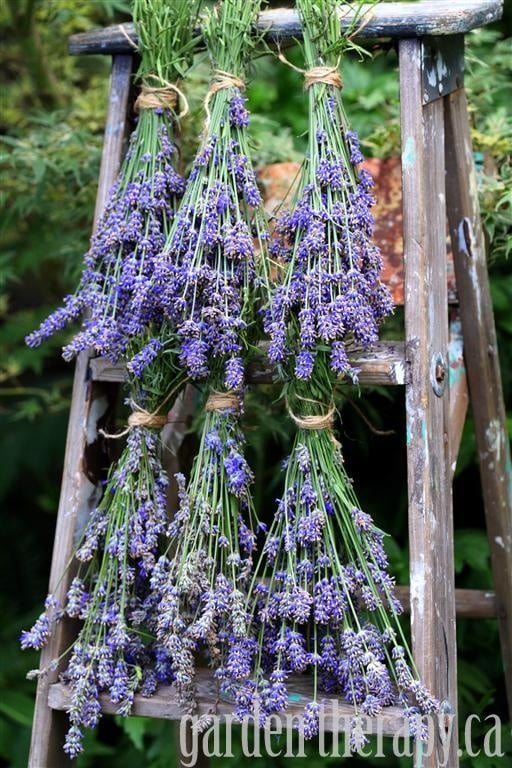 4. Dining Room
Have you ever considered adding a ladder to your dining room? Not only does it add height and interest, but provides open storage for runners and other linens.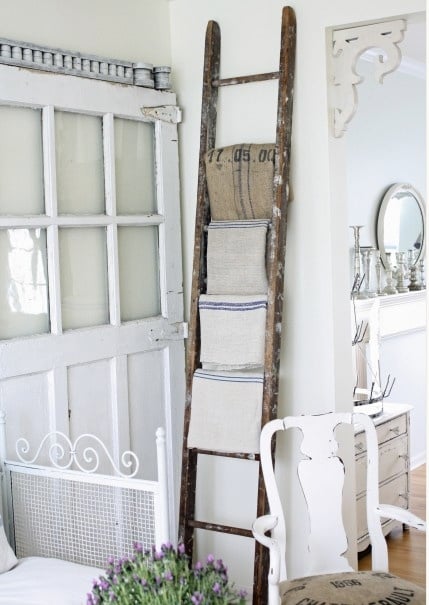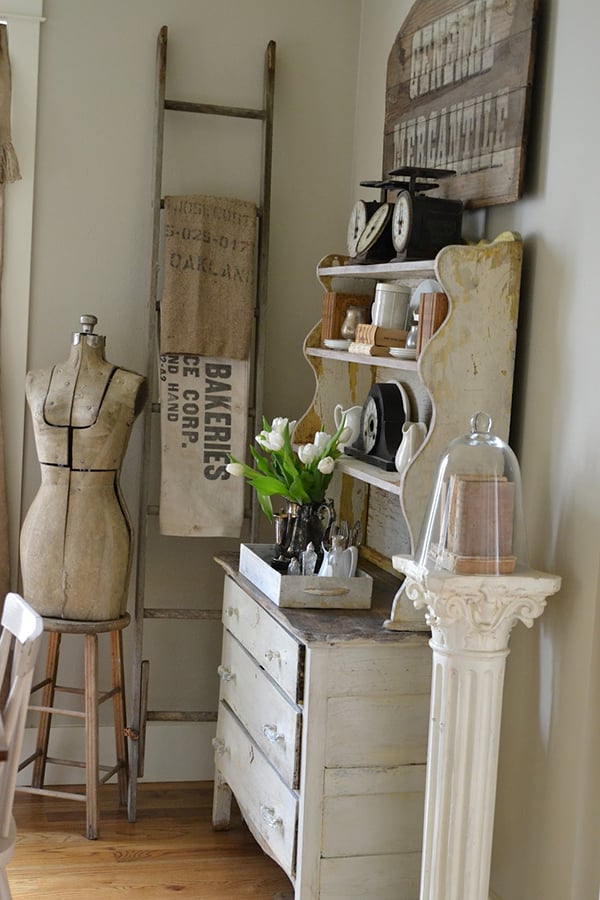 5. Wreath Display
What about hanging a wreath from a ladder? The contrast between green wreaths and ladders can be quite beautiful!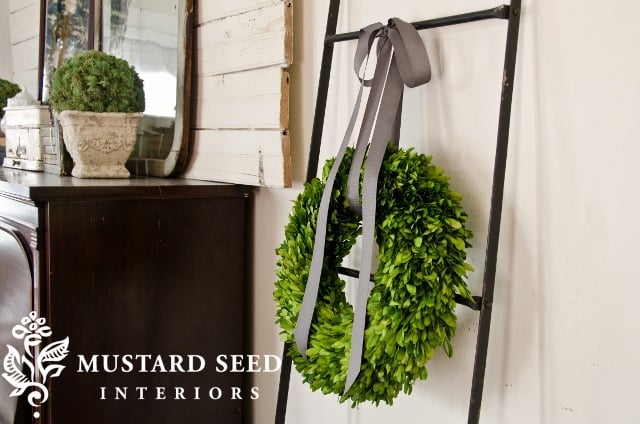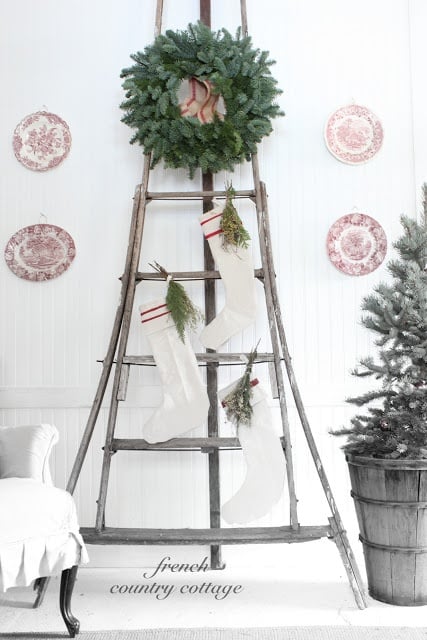 6. Book Shelf
Ladders can also work as narrow bookcases, providing decorative storage!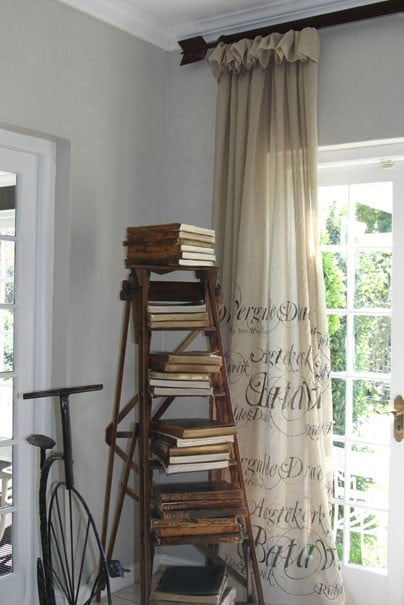 You could even mount it horizontally and use it as a bookshelf.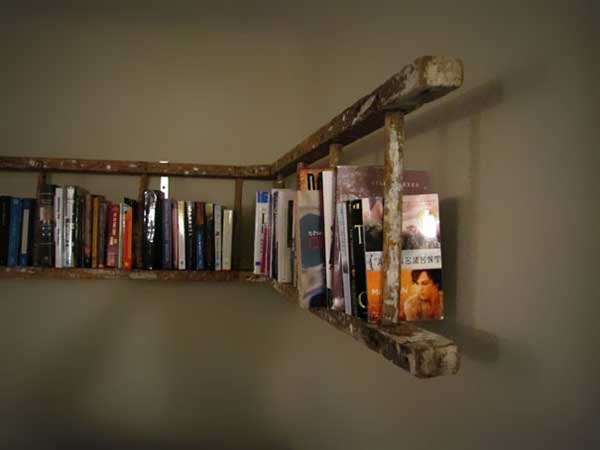 7. Magazine Rack
If the rungs are narrow, you can use an old ladder as a magazine rack, as done by The Lettered Cottage in this adorable guest bedroom!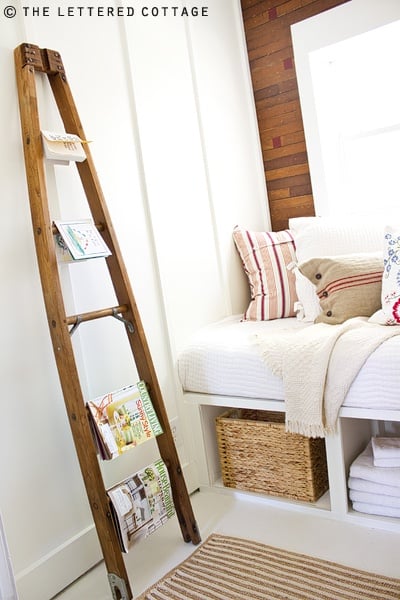 8. Display Shelving
Not only can you display books and magazines on ladders, but if the rungs are wide enough, you can also display decorative items using the rungs as open shelving. I love the contrast between the elegance of the glass bottles and the rustic wood in this display from Maria of Dreamy Whites!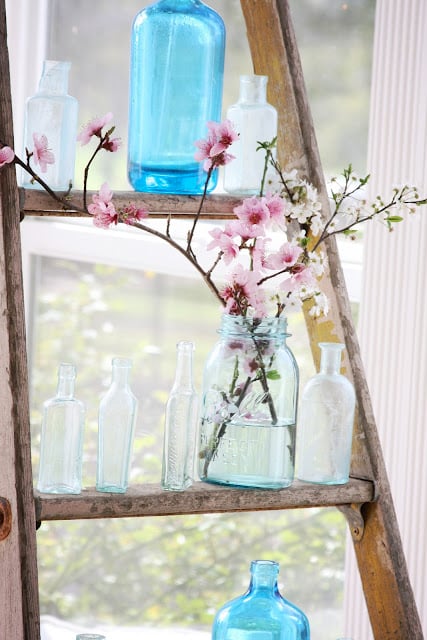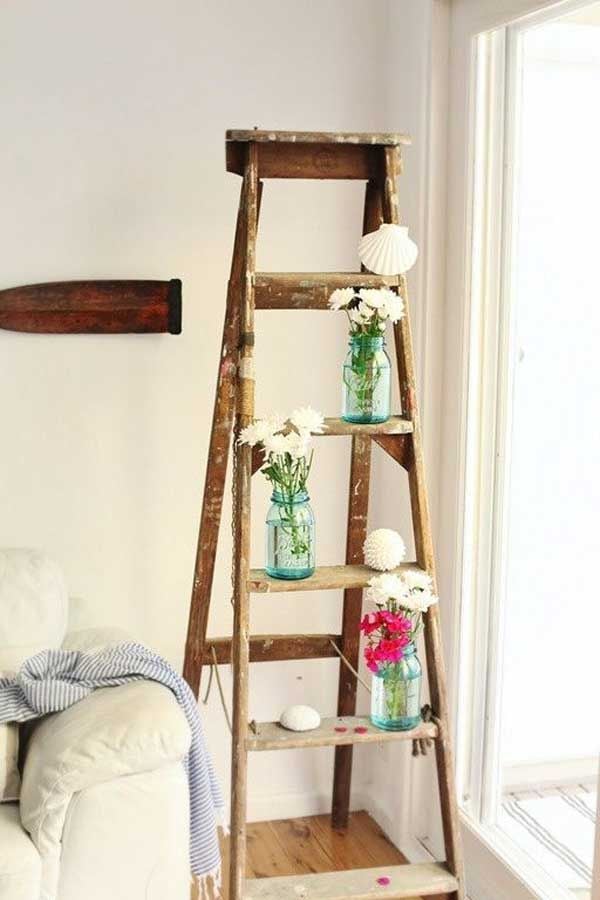 9. Shelving Units
If you use multiple ladders side-by-side, you can lay boards across the rungs to create your own custom shelving units! I saw this done quite a bit at the antique faire as a way to display items for sale.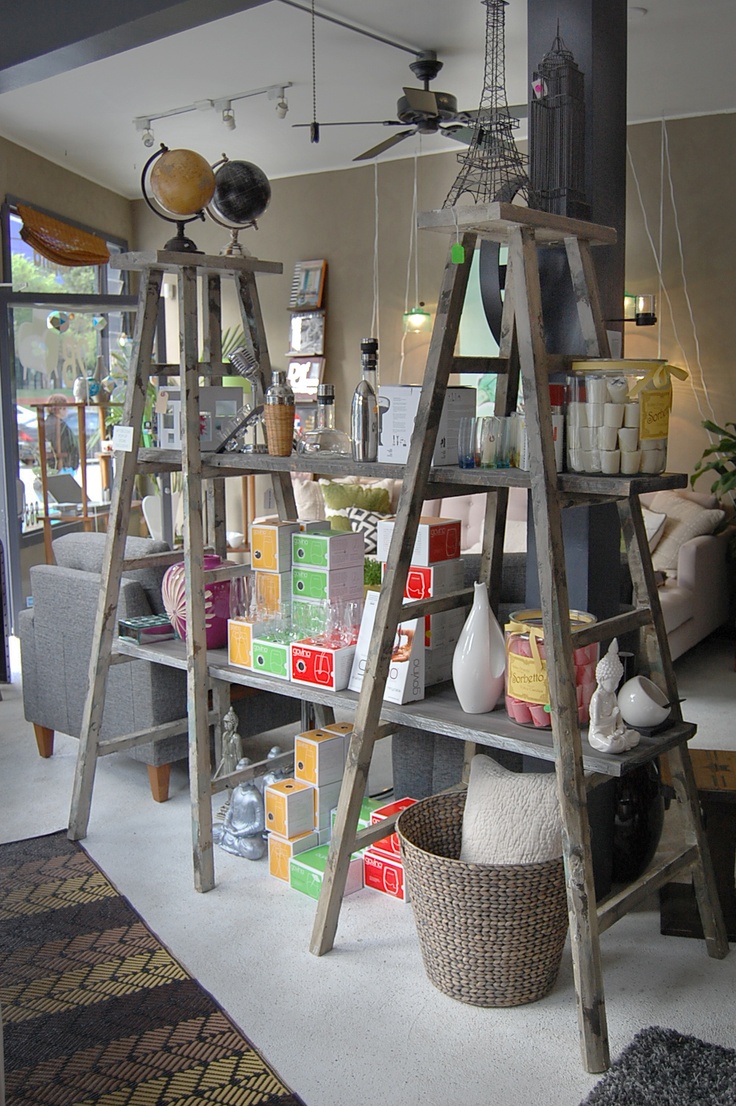 10. Nightstand
Short ladders can work as nightstands, holding everything from a bedside lamp to an alarm clock and reading books!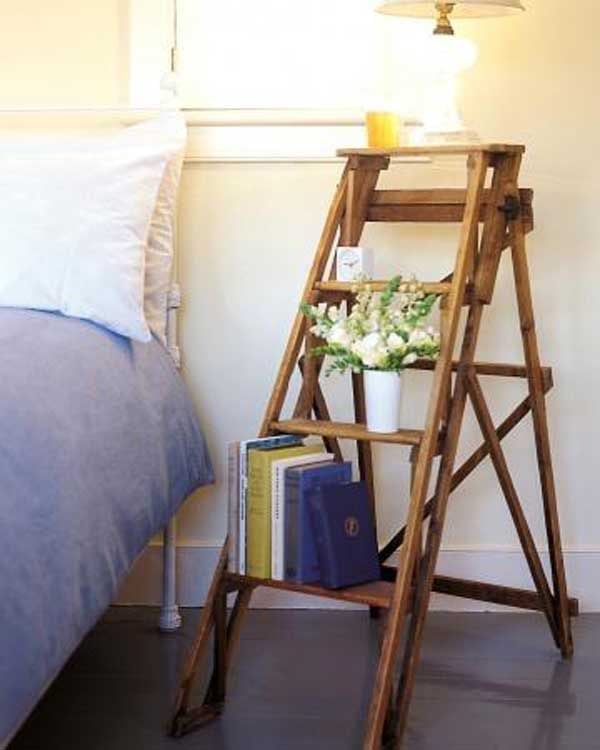 11. End Table
Short step ladders can also work as end tables in living spaces.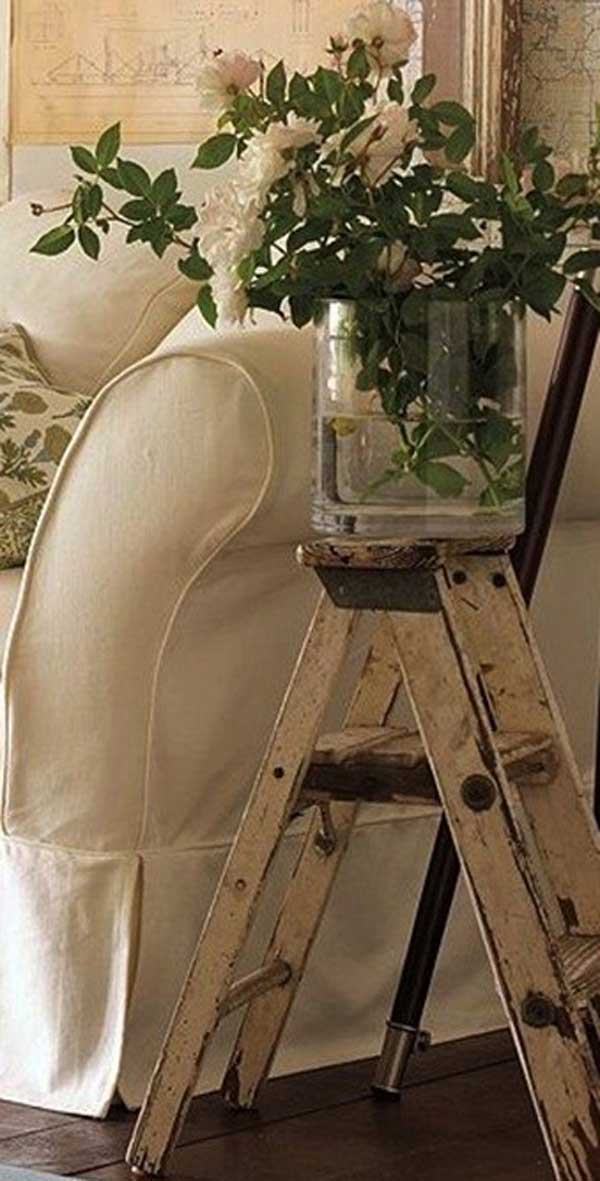 12. Quilt Rack
My mom is a quilter and I'll definitely be sharing this idea with her! And if quilts aren't your thing, you can also use a ladder to hold extra blankets in the guest bedroom.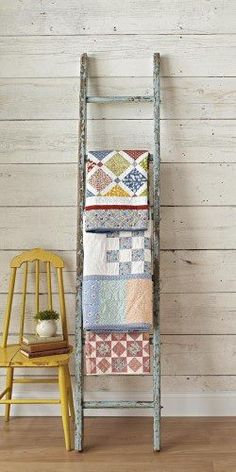 13. Bathroom Towel Rack
In the bathroom, ladders propped against the wall can serve to hold bath towels and hand towels.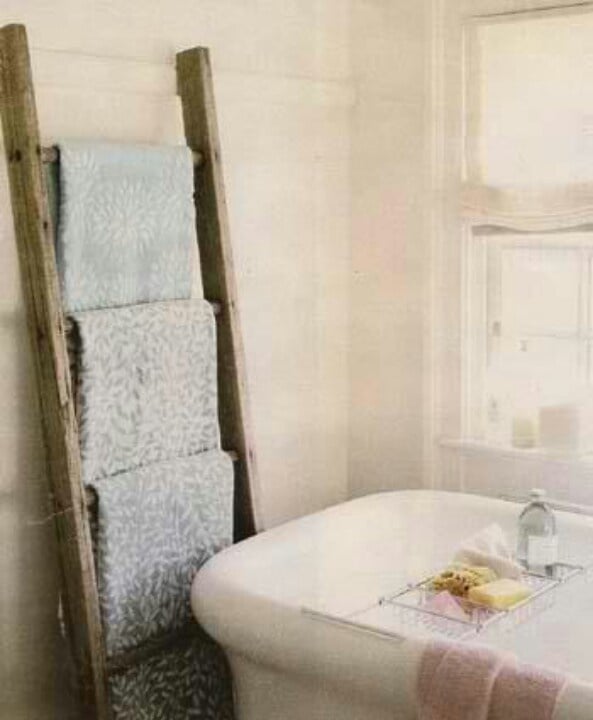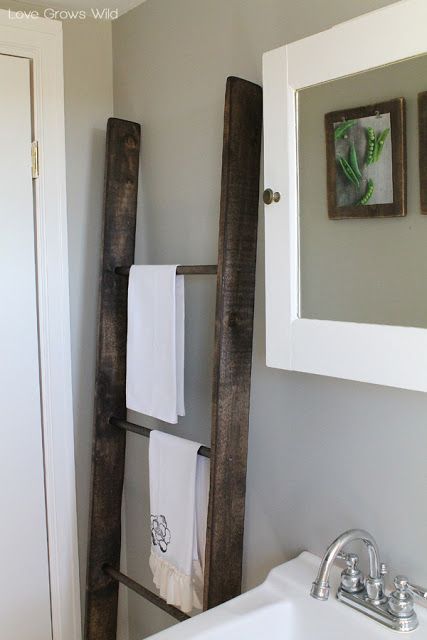 14. Toiletry Organizer
Small baskets hooked over the rugs also allow you to organize toiletries in small spaces (although granted, this photo certainly wasn't taken in a small space!)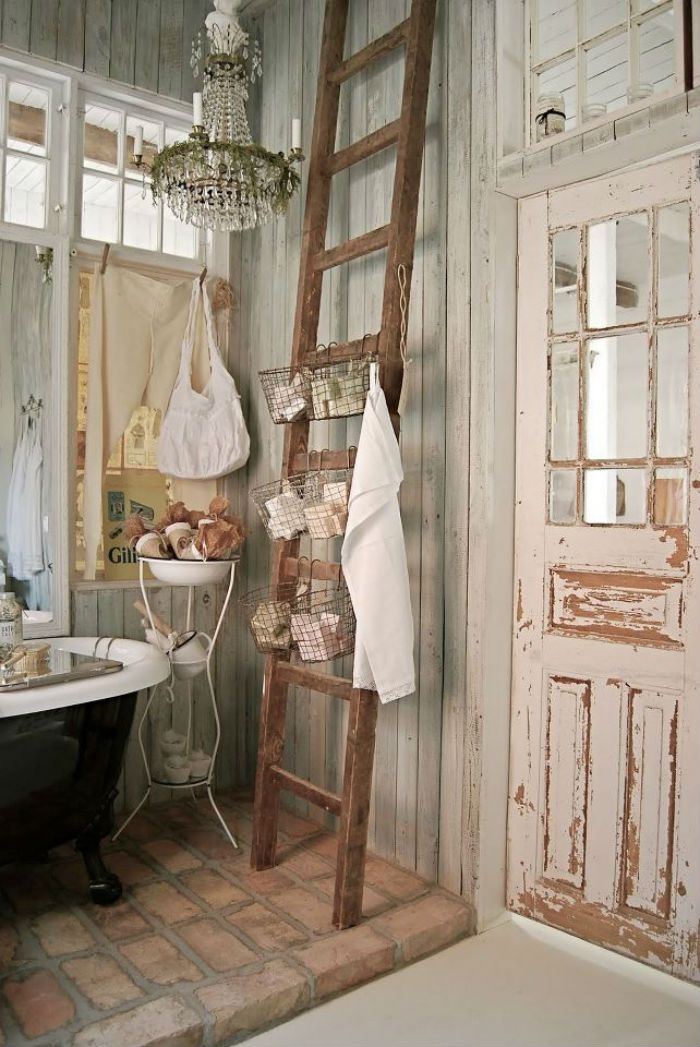 A shortened ladder can sit on top of a tub to create a bath caddy.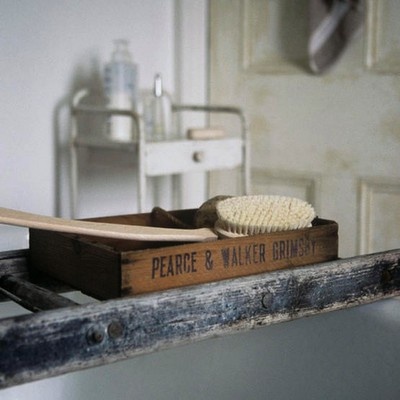 15. Closet Organizer
Whether you're organizing your shoes or laying out the next day's outfit, the rungs or a ladder can be quite useful!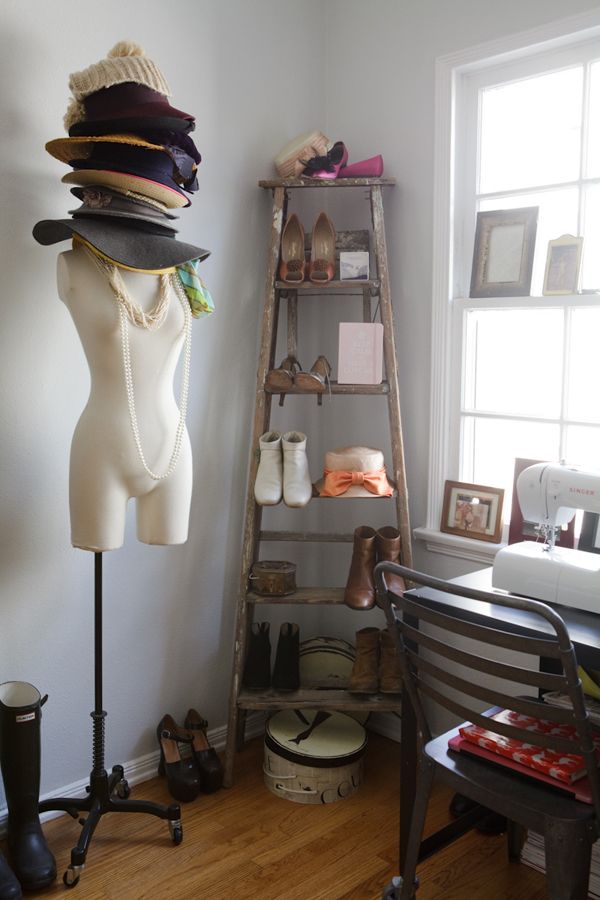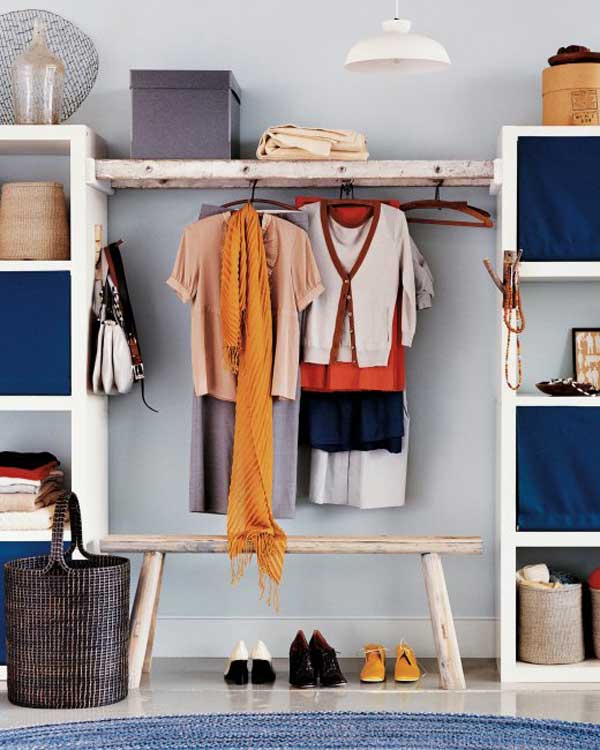 16. Laundry Room
Even the laundry room can use a little ladder love. As shown by Kelley of The Polished Pebble, you can suspend a ladder from the ceiling to hang laundry baskets or clothes for air drying.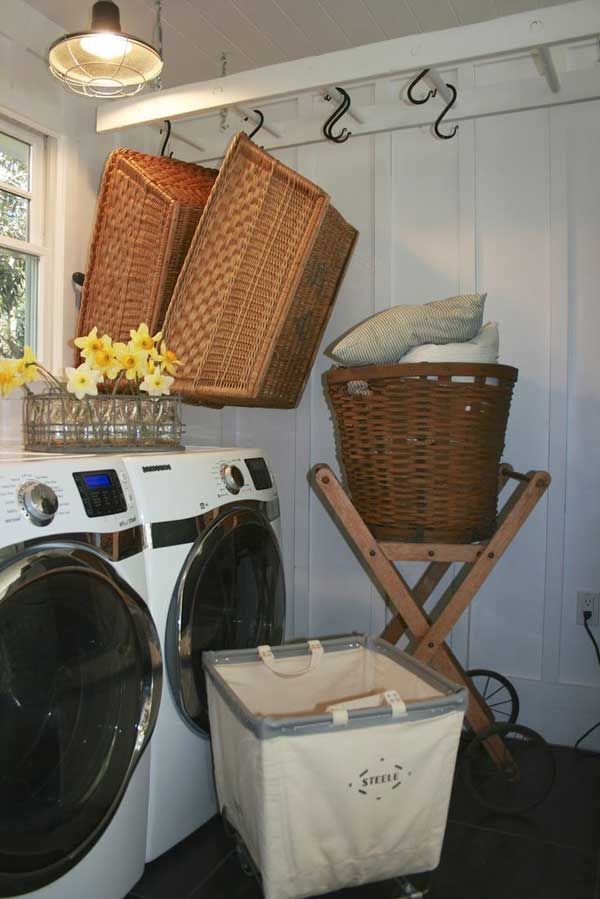 17. Chandelier Frame
A ladder suspended from a table makes a unique chandelier, whether displaying lanterns or even mason jars.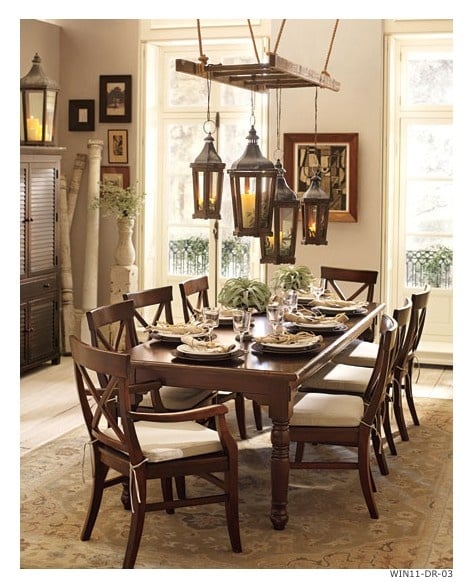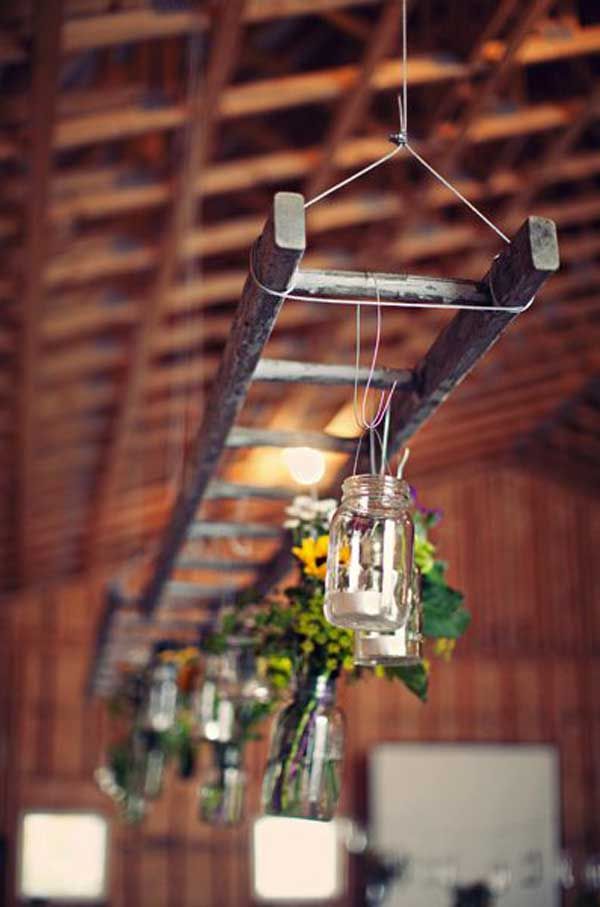 18. Christmas Ornaments
I know the holidays are over, but I couldn't leave out this cute idea to hang ornaments from the rungs of the ladder.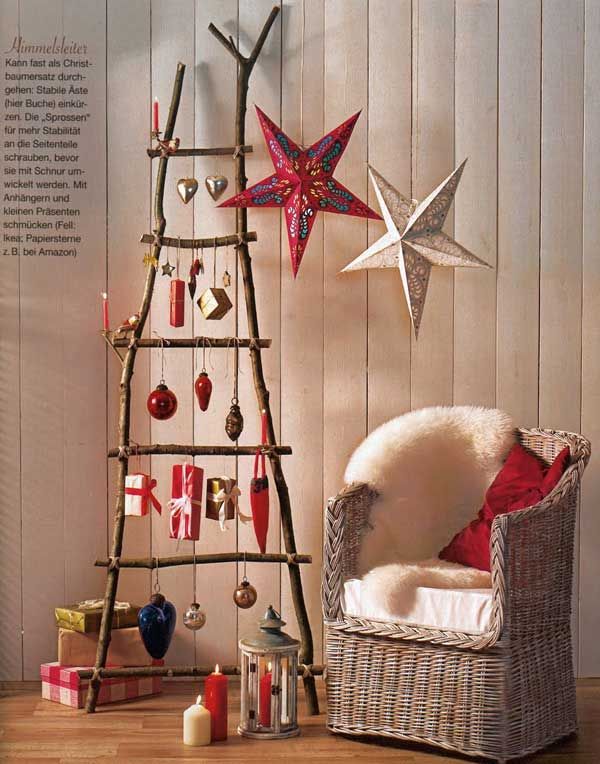 Or this great advent calendar from Carolyn of Desire Empire!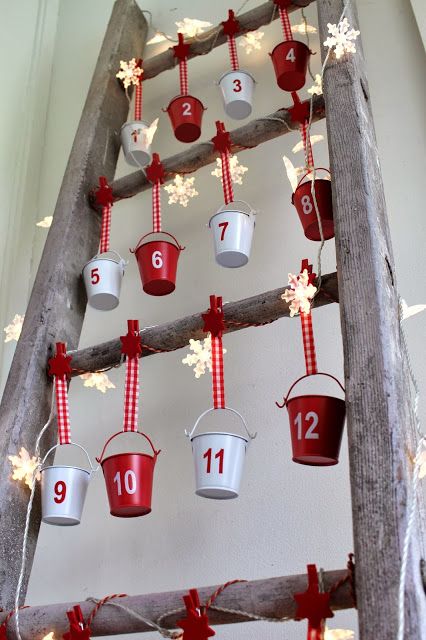 19. Photo Display
A little wired stretched from side to side and a few clothespins and you have a unique photo display! You could also swap out photos for Christmas cards in the winter.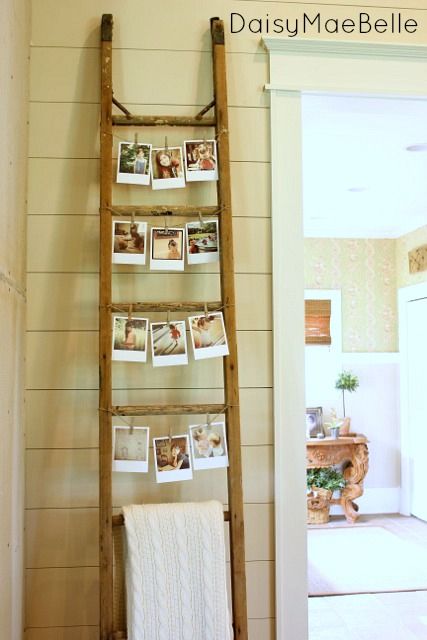 20. Outdoor Garden
And if you even grow tired of your ladder indoors, you can always tuck it away in your garden and let nature grow up around it.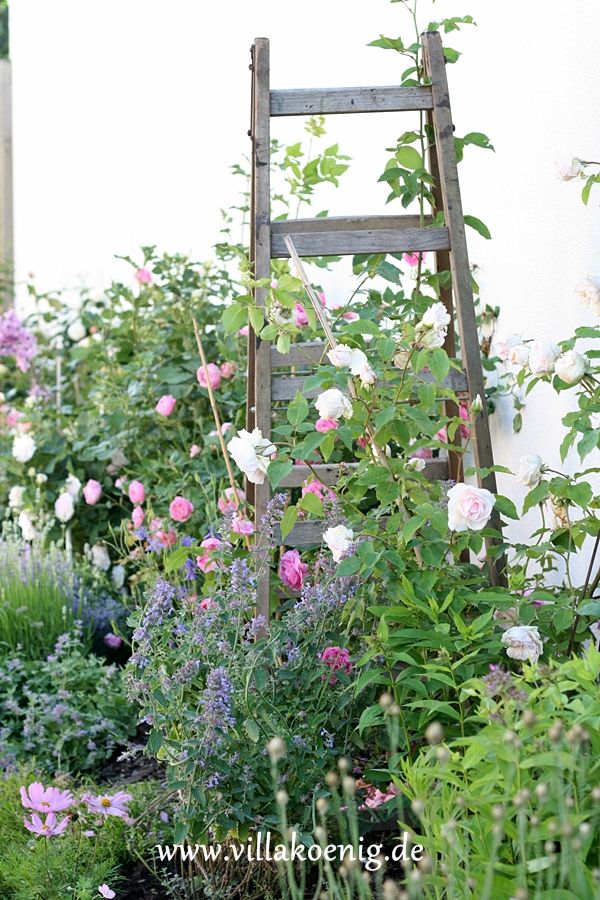 Whether your ladder is new or old, leaning, orchard or DIY, it doesn't matter because the function is in the shape!
Which of these ideas would you use in your home?

Join the Community
Let's keep in touch! Get exclusive artwork plus the latest news delivered directly to your Inbox!