First and foremost, let me be upfront with you about something. I have my own idea as to what it means to decorate the kitchen for Christmas. If you're expecting to see my kitchen filled with Santas, decorated miniature Christmas trees, ornaments galore, and nutcracker vignettes, I'm sorry to say that you'll be disappointed. Nonetheless, I hope you still enjoy the tour!
When it comes to decorating my kitchen, I tend to be very practical. I typically only like to use items that makes sense for a kitchen so that they blend into the room. Also, I hate to admit it, but I'm a horribly messy cook! And if it's not me making the mess, it's my two little munchkins. (Honestly, how is it that everything ends up covered in jelly?!) For that reason, I also only like to use items that can easily be cleaned or wiped down so that I don't have to worry about something being ruined by a food spill. I just don't have the patience to deal with getting grape jelly out of Santa's beard!
So my formula for decorating the kitchen for Christmas is quite simple – dig through the cabinets, pantry and refrigerator and pull out items that fit within a Christmas color scheme. That's it! Told you it was simple.
I typically use a lot of silver, white, and wood in my kitchen, so I added touches of red and green for a more festive look. And since I don't usually use red in my home, to me, red signifies Christmas. I added touches of red plaid ribbon throughout and traded out my usual kitchen towels for vintage red-striped ones.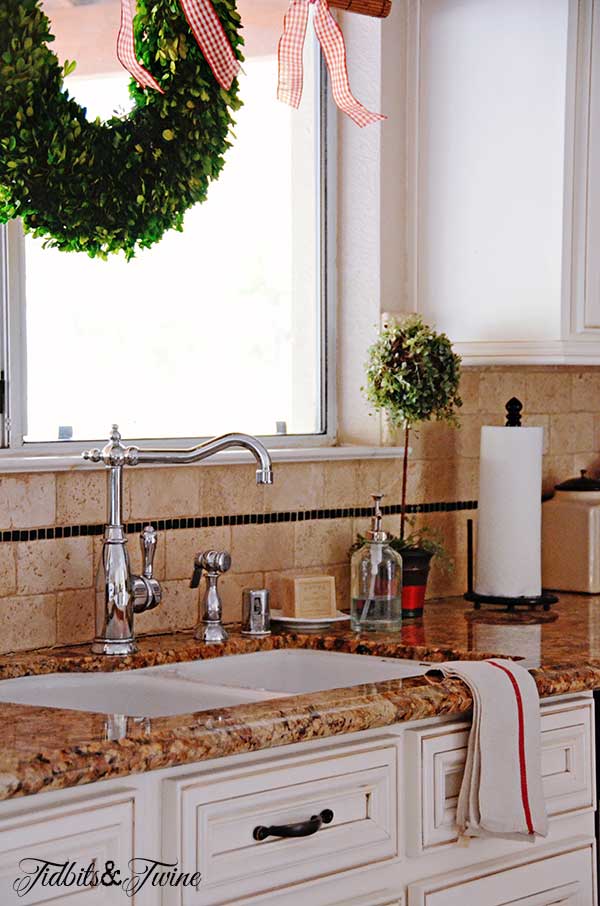 We always have apples on hand, so I selected a few based on their colors and placed them in a white bowl that I usually use for serving. A few winter nuts in a bowl and this corner of the kitchen is complete. (Oh! That's my "new" vintage bread board in the background! I'm in love with it!)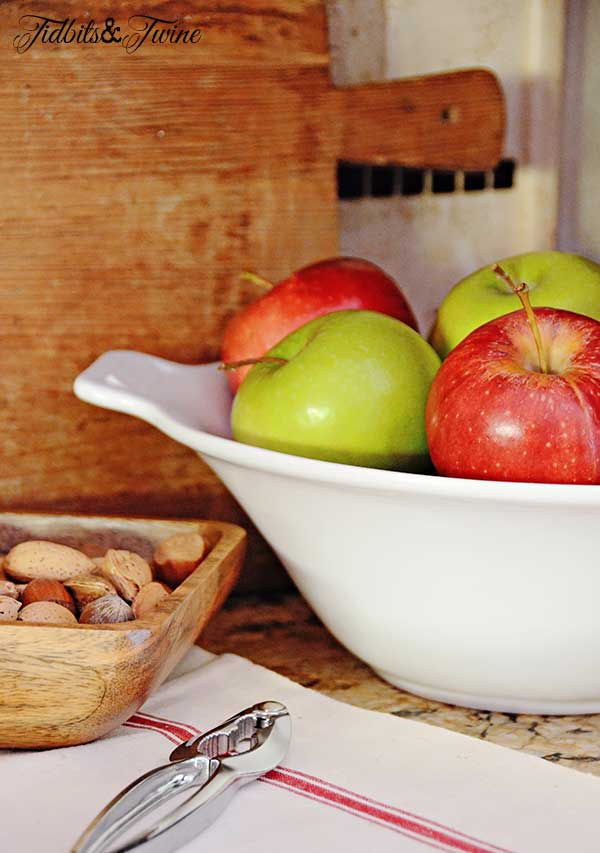 When not in use, I decided to display my ironstone salad plates on the counter, along with a few bottles of Pellegrino that were in the pantry so that I could continue the red and green theme around the room.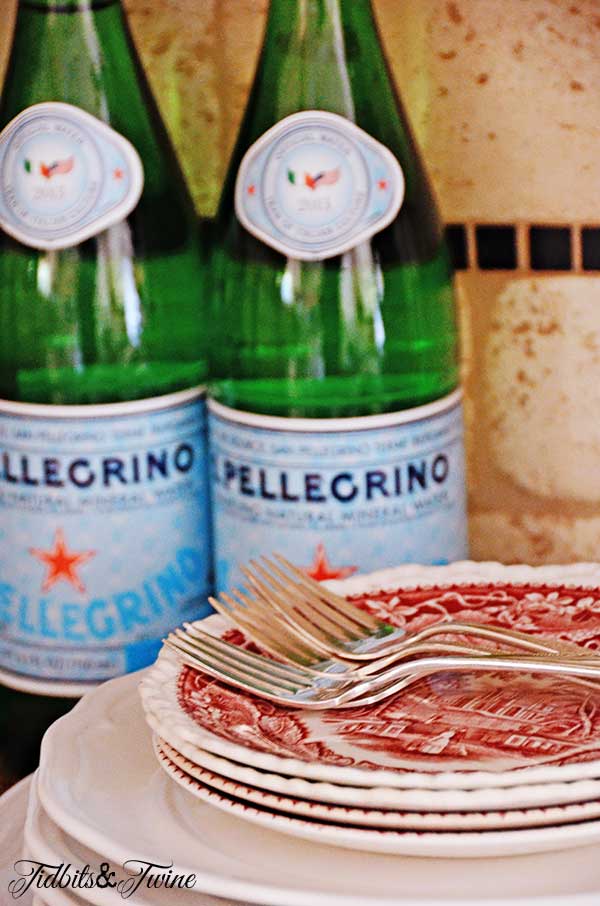 I am a big tea drinker and so have cups and tea supplies on the counter year-round, but for the holiday, I added a mason jar filled with fresh cranberries and a votive to the display. A sprig of fresh greenery tied with twine completed the look.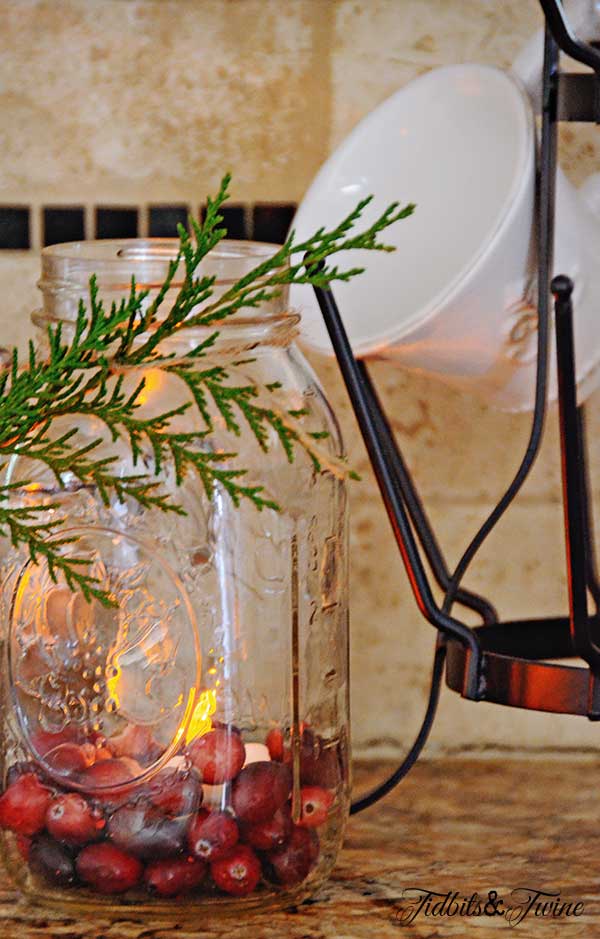 Lastly, I placed some extra greenery that I had in a rustic wooden box mixed with hydrangeas and pomegranates to create a display on the countertop.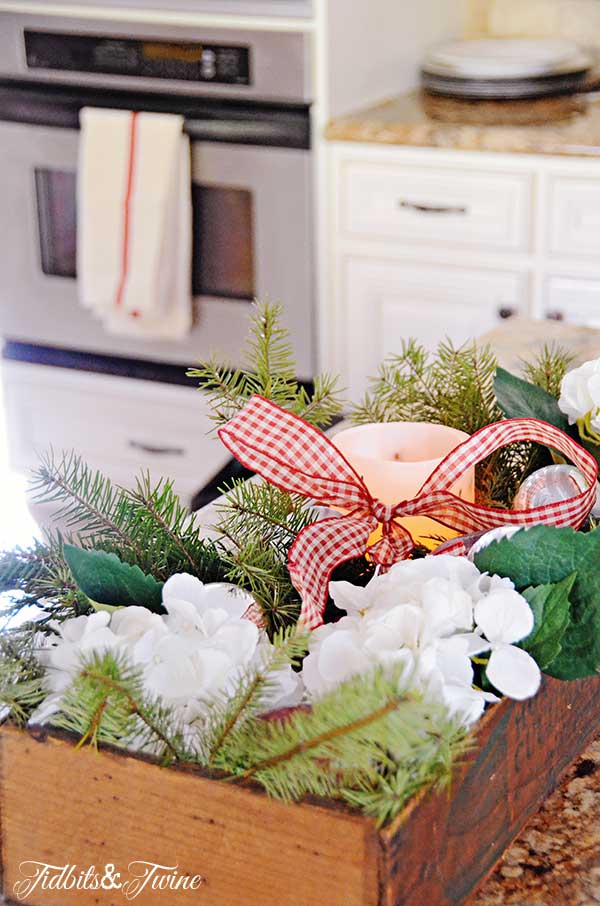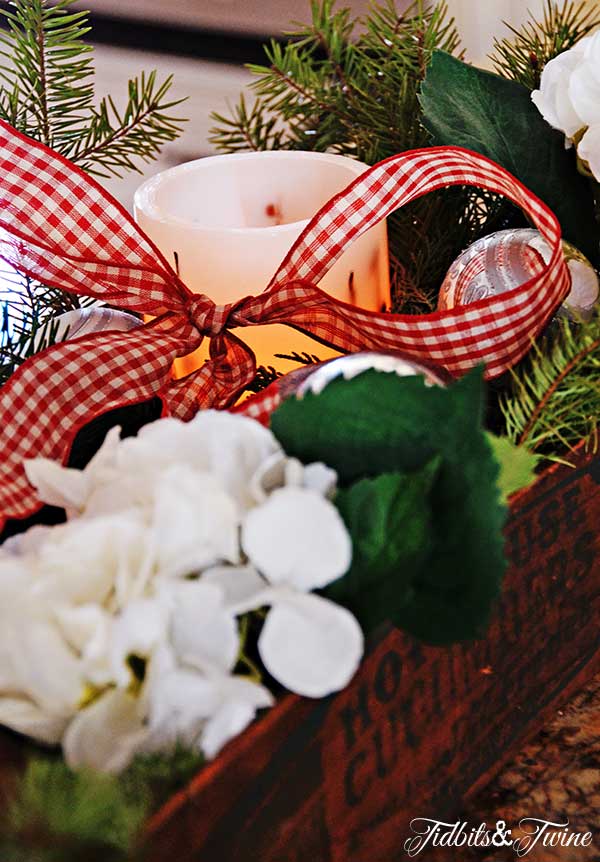 Actually, there are a couple of glass ornaments in this display, so I guess I did use a couple of traditional Christmas elements in my kitchen!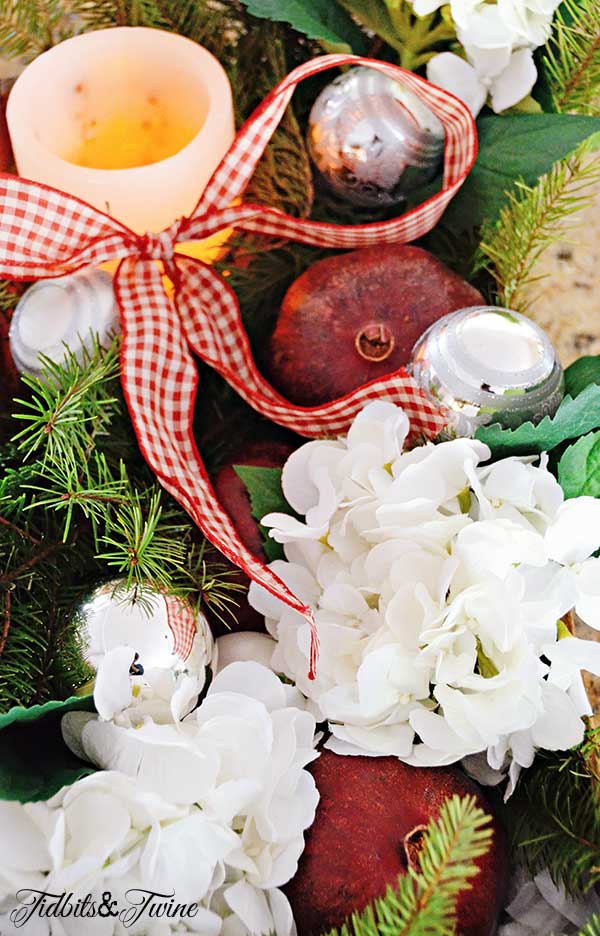 That's my holiday kitchen tour! While there isn't any traditional Christmas decor, I'm much more comfortable using traditional kitchen decor that is Christmas in color. For ideas on decorating the kitchen year-round, click here.

Sharing At:
Would you like to receive my posts via email? Enter your email address below. You will instantly receive an email from FeedBurner and you will need to click the link to activate your subscription.
Join the Community
Let's keep in touch! Get exclusive artwork plus the latest news delivered directly to your Inbox!