These gorgeous chairs are the next project on my To Do list!
A couple of years ago, my father-in-law came for a visit and brought with him two beautiful antique chairs that have been in his family for many years. He knew how much I've always loved these chairs, and when my in-laws no longer had a spot for them in their house, they gave them to me. So lucky!!!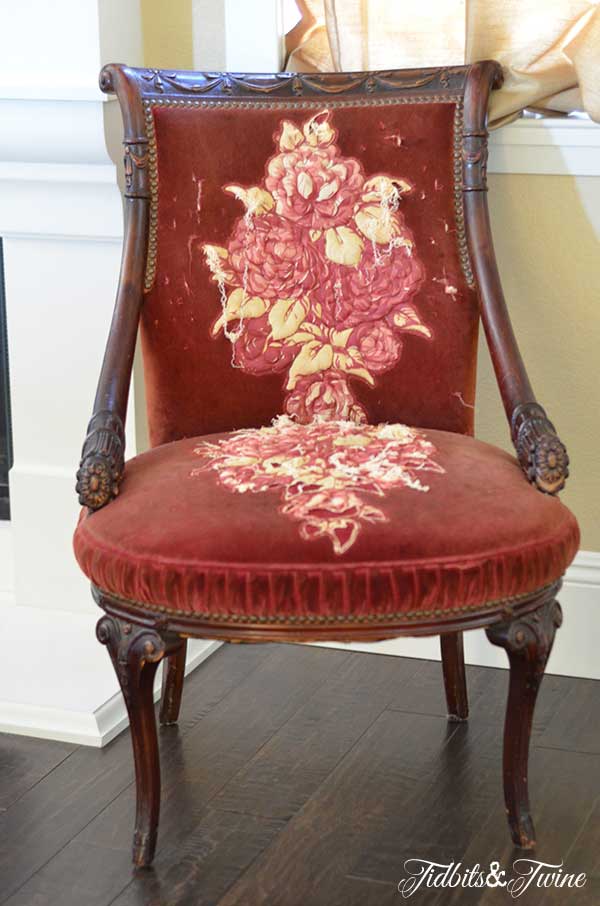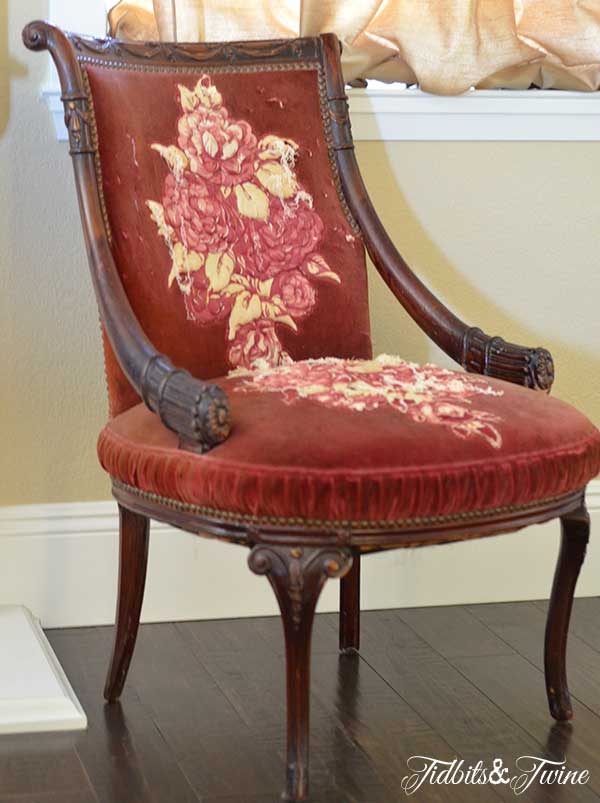 The chairs originally belonged to my husband's great-grandparents. They were then passed on to his grandmother, then his dad and now to us, so we are the fourth generation of owners. I absolutely LOVE everything about them! Not only are they the perfect size for my home, but they are incredibly comfortable. And take a look at these amazing details!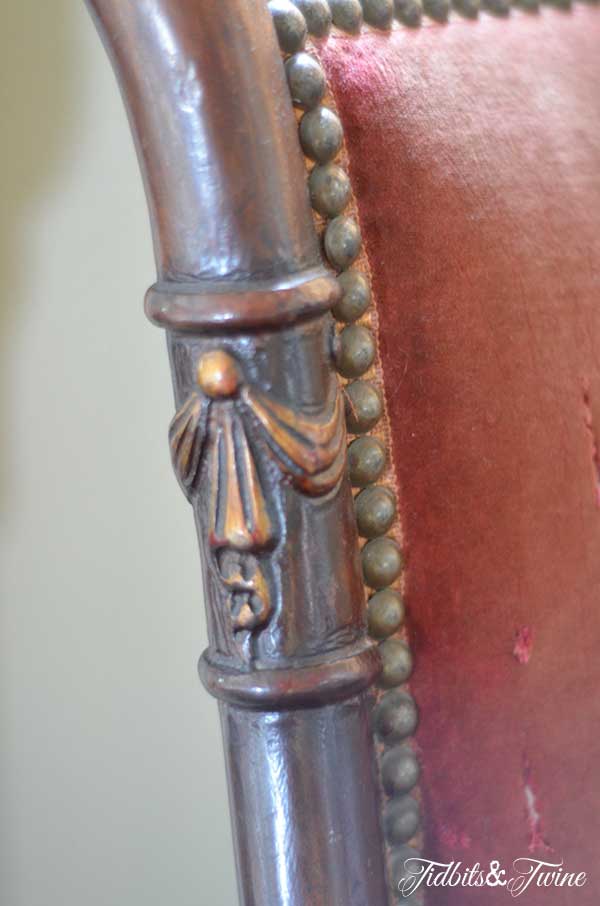 I've placed the chairs in various rooms of my home since I got them, but have finally decided to use them at the end of my bed. The kids sit in them while watching cartoons, I use them while I drink coffee every morning and catch up on the news. Unfortunately, my cat has also taken to them and hasn't been so kind. While the chairs were definitely "well-loved" when we got them, they are in a much greater state of disrepair now. Yikes!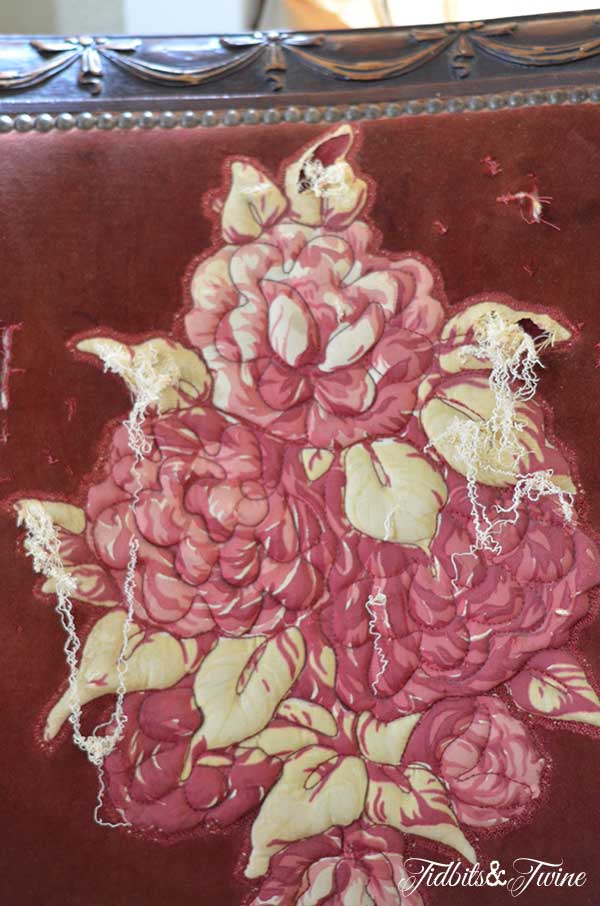 Now that I've finally decided on a home for them, I can get down to the business of reupholstering them. I don't plan on restoring them, but rather just fixing a few problem areas and reupholstering them in a kid-friendly fabric. While I know this should be a fun project for me, I've been putting it off for some time because I can't quite make my mind up as to what I want to do.
I found a fantastic fabric that is the perfect color and very durable, but somehow, reupholstering the entire chair in just one fabric seems too predictable. I had planned to do button tufting on the back, but truthfully, am still undecided even about this detail.
I also considered painting the wood black (since I love decorating with touches of black!), but ultimately, wanted to retain some of the chair's rustic charm. Plus, I think the wear on the wood better highlights some of the amazing carved details!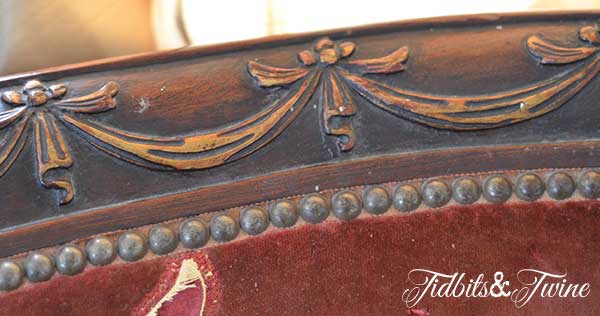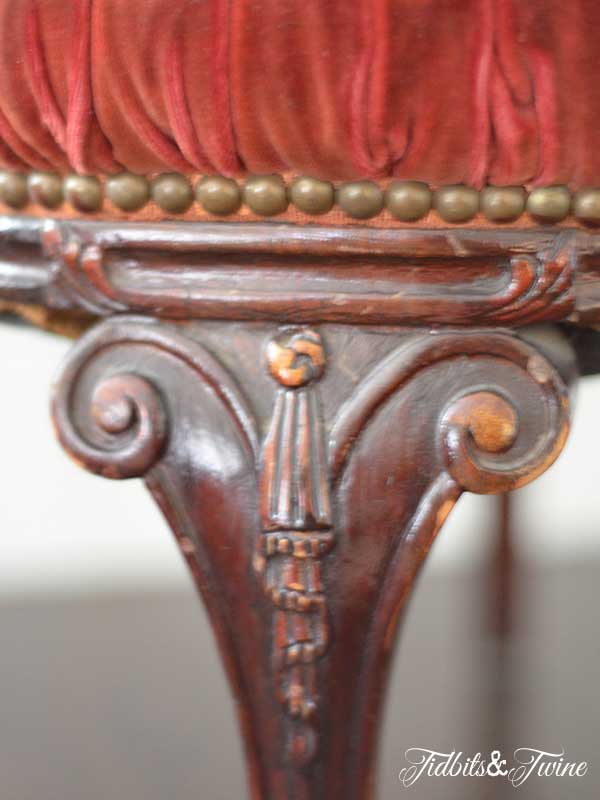 I've started pinning inspiration looks, though, so that I can get a better idea as to what I might want. It needs to fit in with my master bedroom's Casual Elegance look and I'm leaning toward velvet. Here are some of my inspiration images via Pinterest:
I love the contrast of the black frame with the light upholstery on this image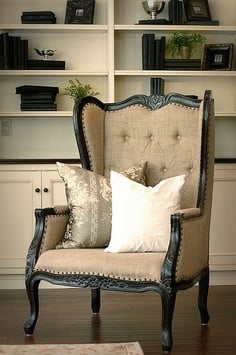 A beautiful button tufted, velvet chair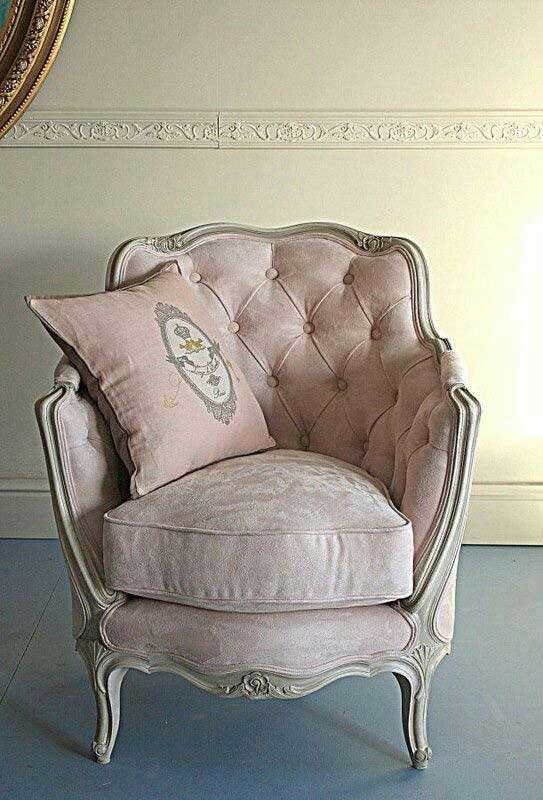 I love the use of a different fabric on the back. And did you notice the exposed tacks?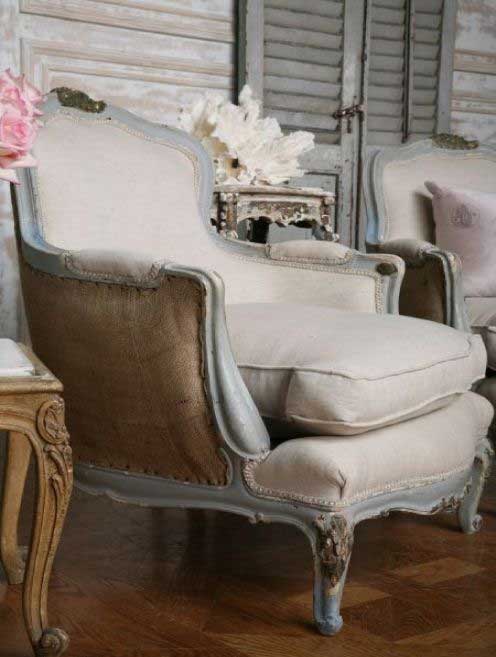 Or maybe I should use a contrasting fabric on the seat!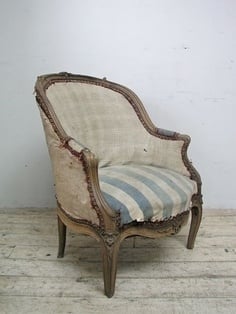 I'm considering swapping out the chair's current nail head trim for tacks. I know the upholsterer isn't too happy about this since he considers it an "unfinished" look. But to me, it's a bit of rustic charm.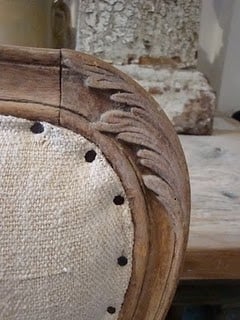 Once I feel I've decided on just the look I want, I'll take them over to the upholsterer. I'm really excited about the process because he said he'll learn a lot about the chairs once he starts to take them apart and I'm quite curious about their origin.
With any luck, I'll be doing a Before&After post sometime soon!

P.S. – To view more of my favorite French Chairs, follow my board on Pinterest!
Join the Community
Let's keep in touch! Get exclusive artwork plus the latest news delivered directly to your Inbox!