These are the best Bay Area antique stores that should be on your MUST-VISIT list! Whether you live in California or are planning a visit, these are my favorite stores for European antiques. From the North Bay to the South, plan a stop at one or all of these fantastic antique stores for some beautiful European finds at great prices.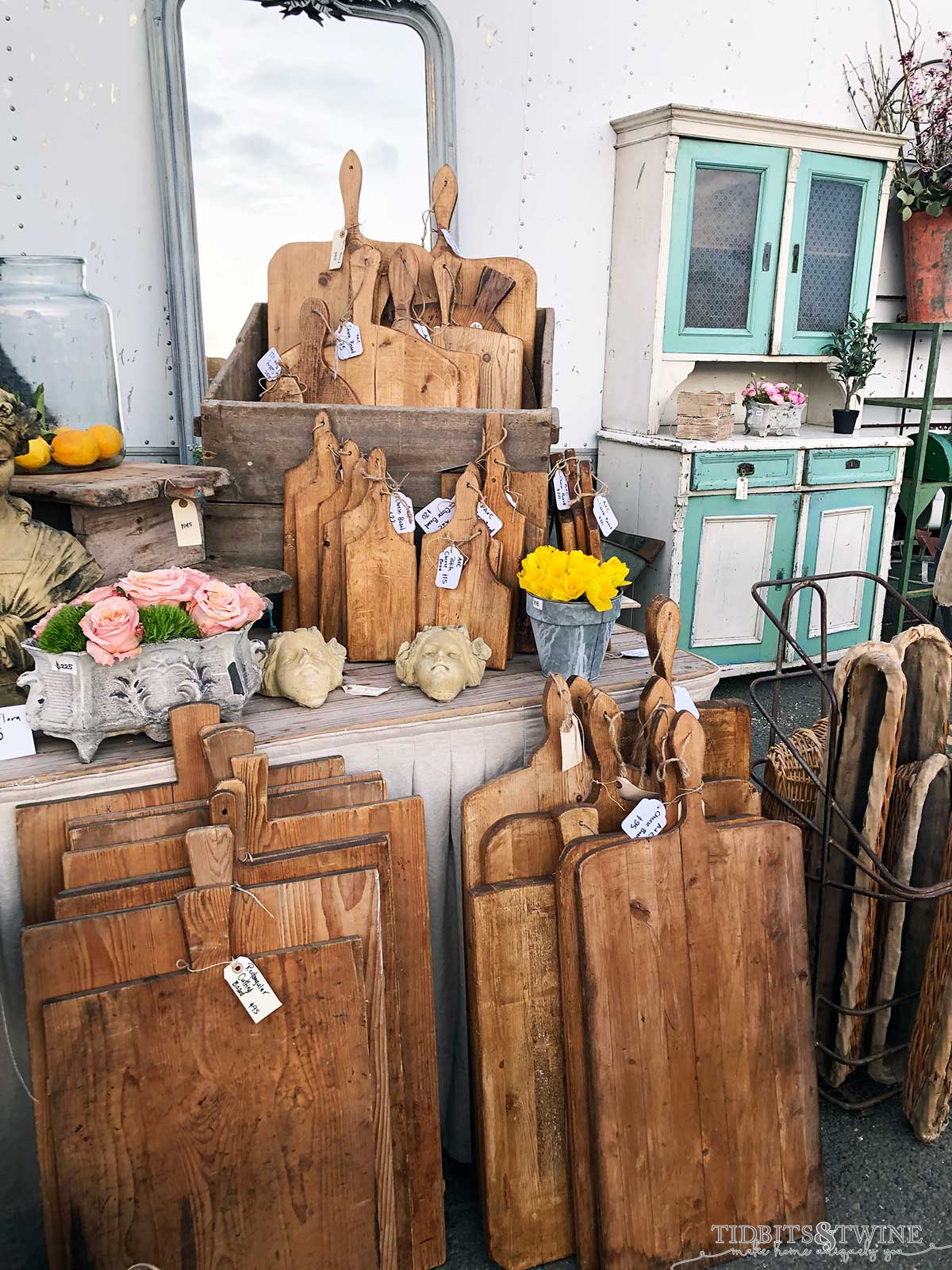 If you love decorating with antiques like I do, then you'll know that finding a great store while on vacation is a thrill! But there's nothing more disappointing than getting excited, stepping in, and then realizing that the store doesn't carry European antiques or that the prices are so high you feel you need to walk around with your hands in your pockets!
So if you're planning a trip, these are my personal favorites. I've spoken to all of these owners, shopped many times from them, and personally recommend them! Affiliate links included for your shopping convenience. You can read my full Disclosure Policy here.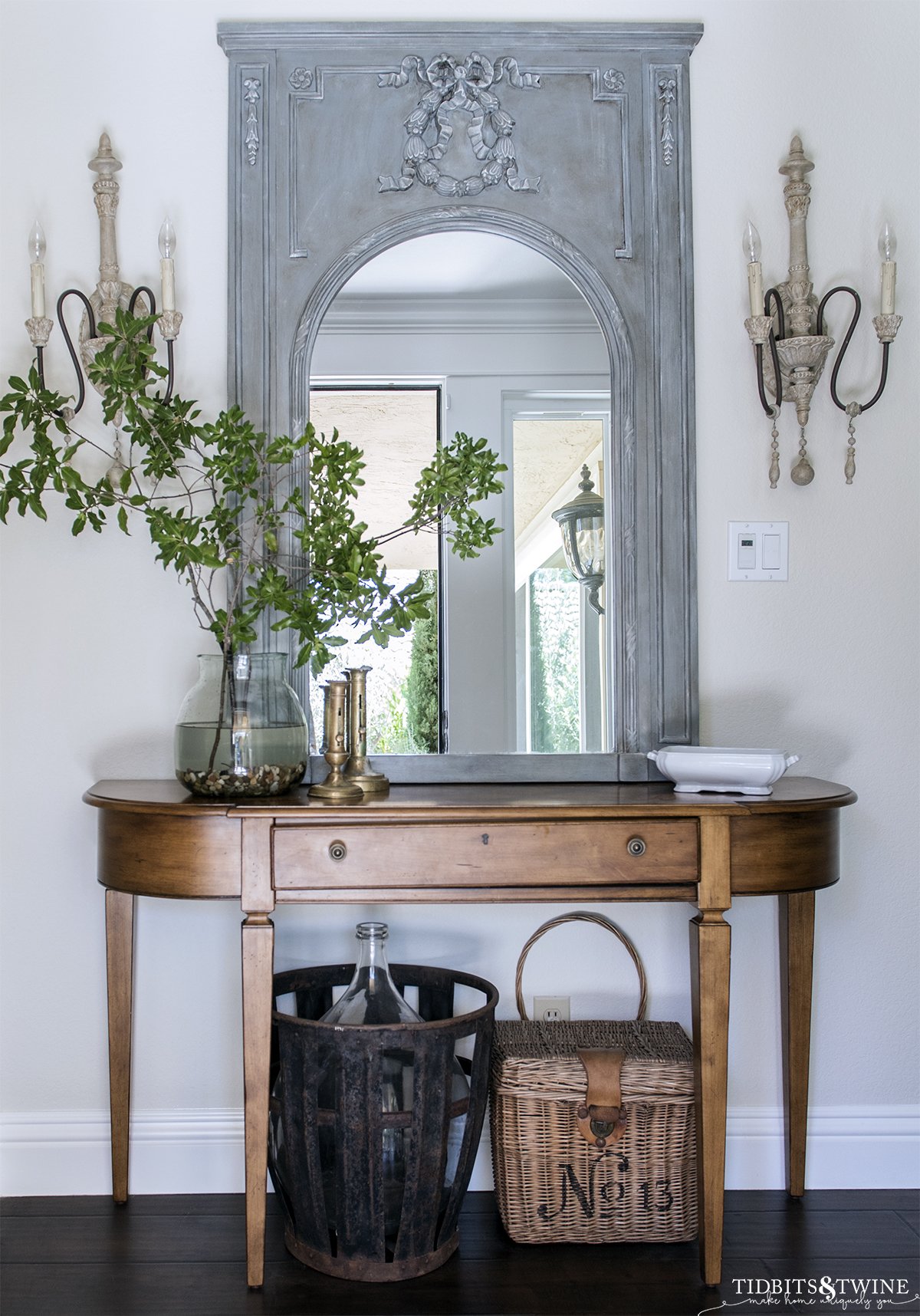 Let's talk European antiques. These are not the same as American or English antiques. And my favorite stores carry items that tend to be rustic yet elegant and include ironstone, dough bowls, demijohns, grain sacks, baskets, candlesticks, etc. These aren't the shi-shi high-end antique stores full of expensive goods, these are approachable, touchable stores with beautiful things at great prices.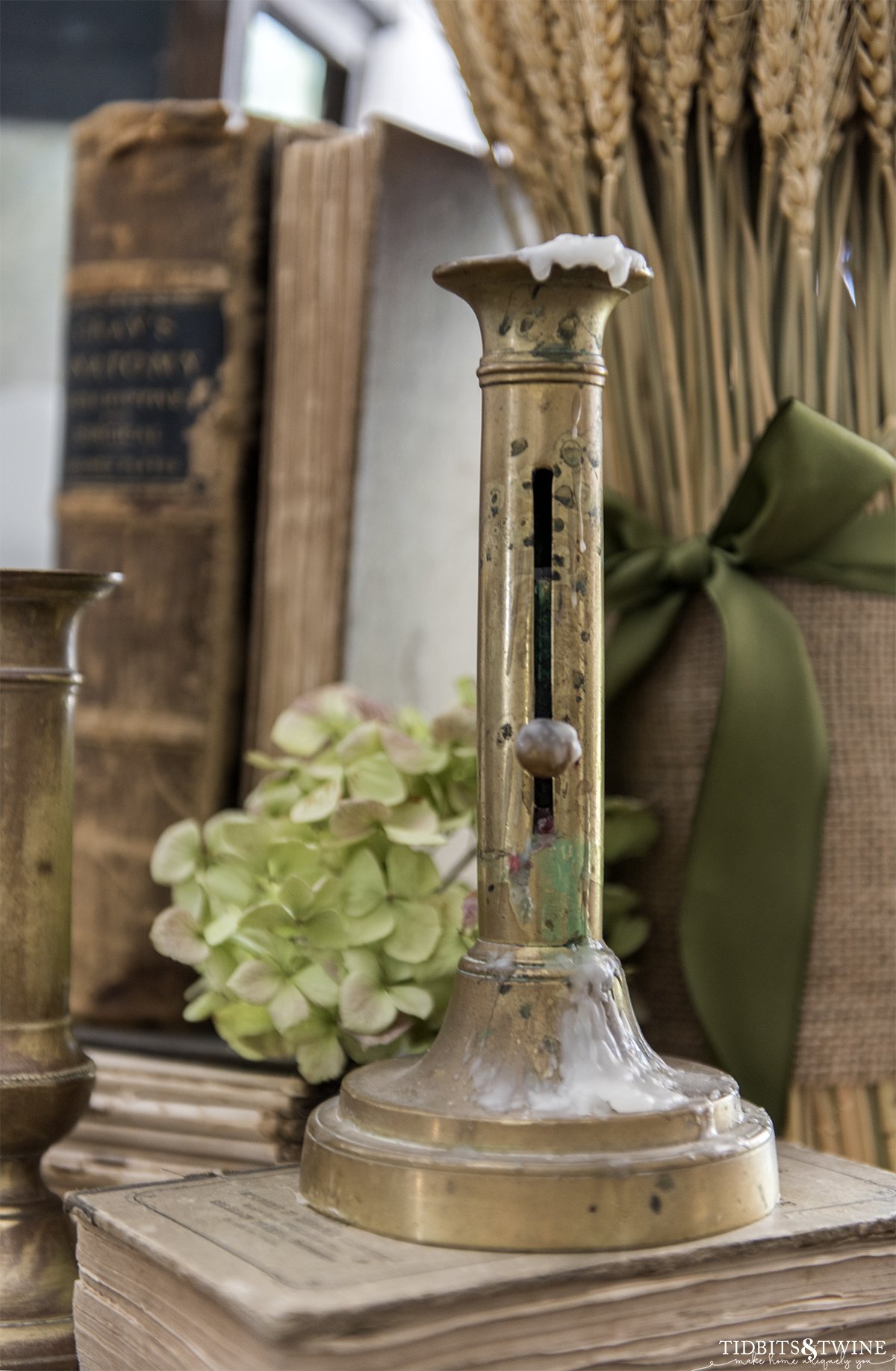 Many of these locations also carry gorgeous furniture pieces from tables to cabinets and even seating. Caveat…You just never know what you'll find at these locations. All of them shop overseas and then shop containers back a few times a year. Your best finds will come if you stop by just after they unload their containers because that's when they are fully stocked.
Does that mean you shouldn't go if they haven't recently had a container?
No, of course not! It's always fun to poke through and see what they have.
Where to Find the Best Bay Area Antique Stores
Here's a little map I put together for you showing each of these locations relative to each other and to San Francisco so that you can get your bearings. Details for each are below, in order of North to South.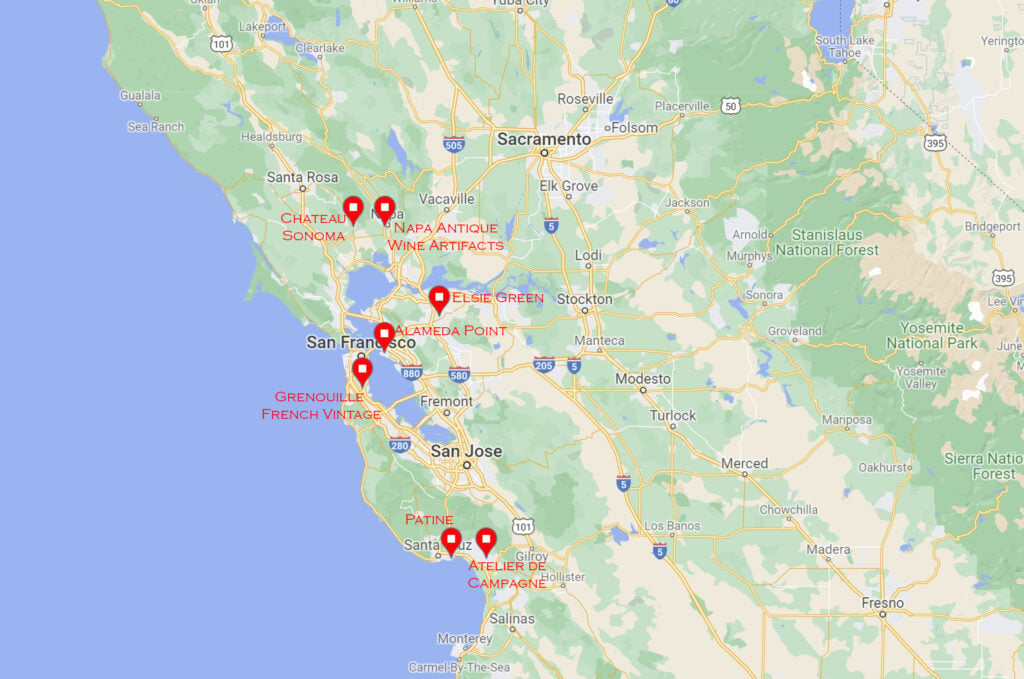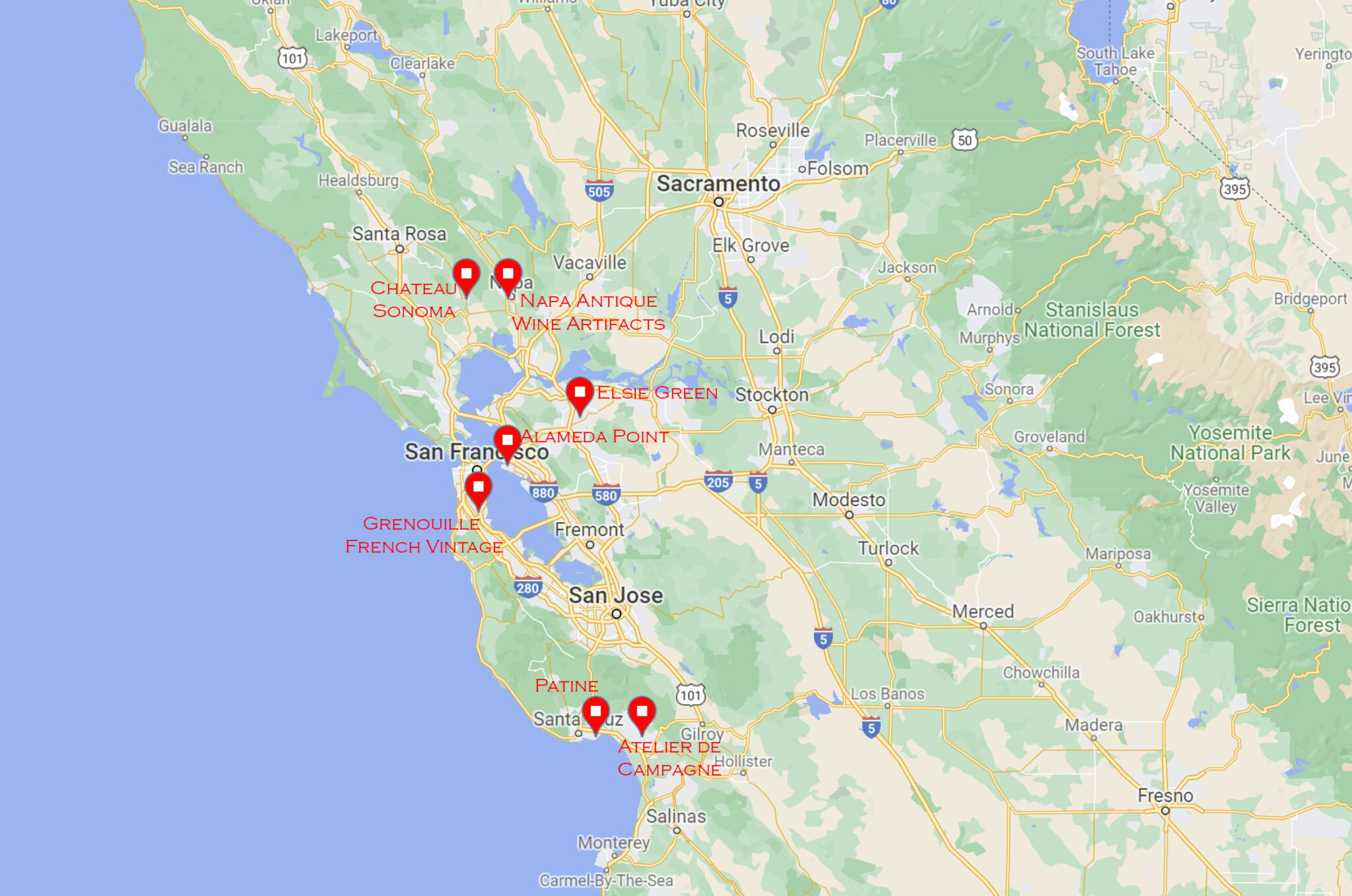 Pay attention to the contact info below, because only some of these stores have regular hours. The rest are by appointment only so don't plan on just showing up for an impromptu shopping spree! I've also listed examples of some of what each store carries or what they're known for, but it's not an exhaustive list.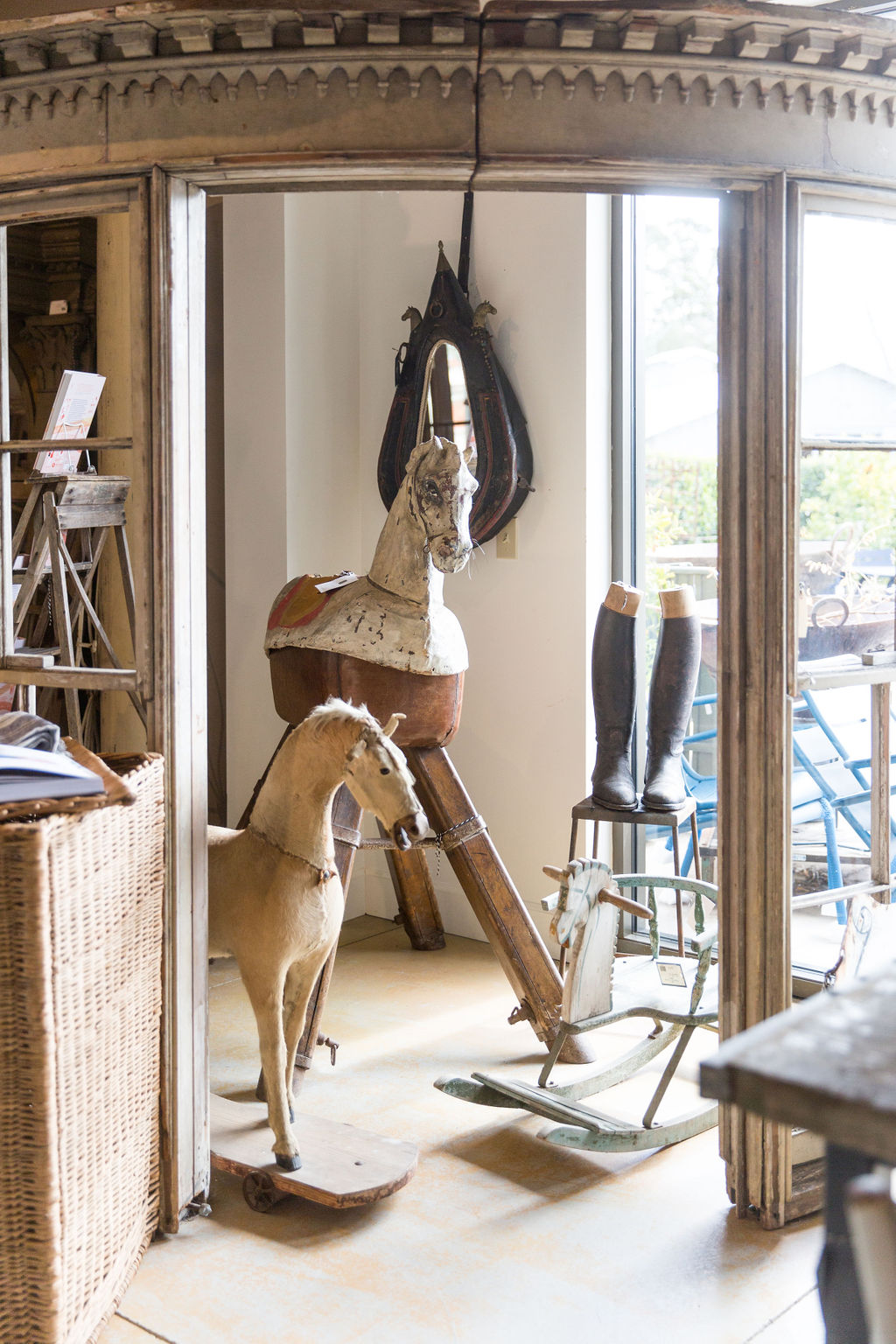 Chateau Sonoma
Contact Info:
Store Type:
Chateau Sonoma has a beautiful brick-and-mortar store right on Sonoma Square, as well as a second shop in Cornerstone. They also have a barn that holds inventory that doesn't fit inside the store, but the barn is open by appointment only. In addition, they have a wonderful online store for those who can't make it to Sonoma.
What You'll Find:
Here's what they have to say:
Inside our walls, you can expect to find French antiques and vintage pieces with a rich history, carefully sourced from all over the world. You'll find old pieces, given new life, and found objects that inspire stories and personal connection.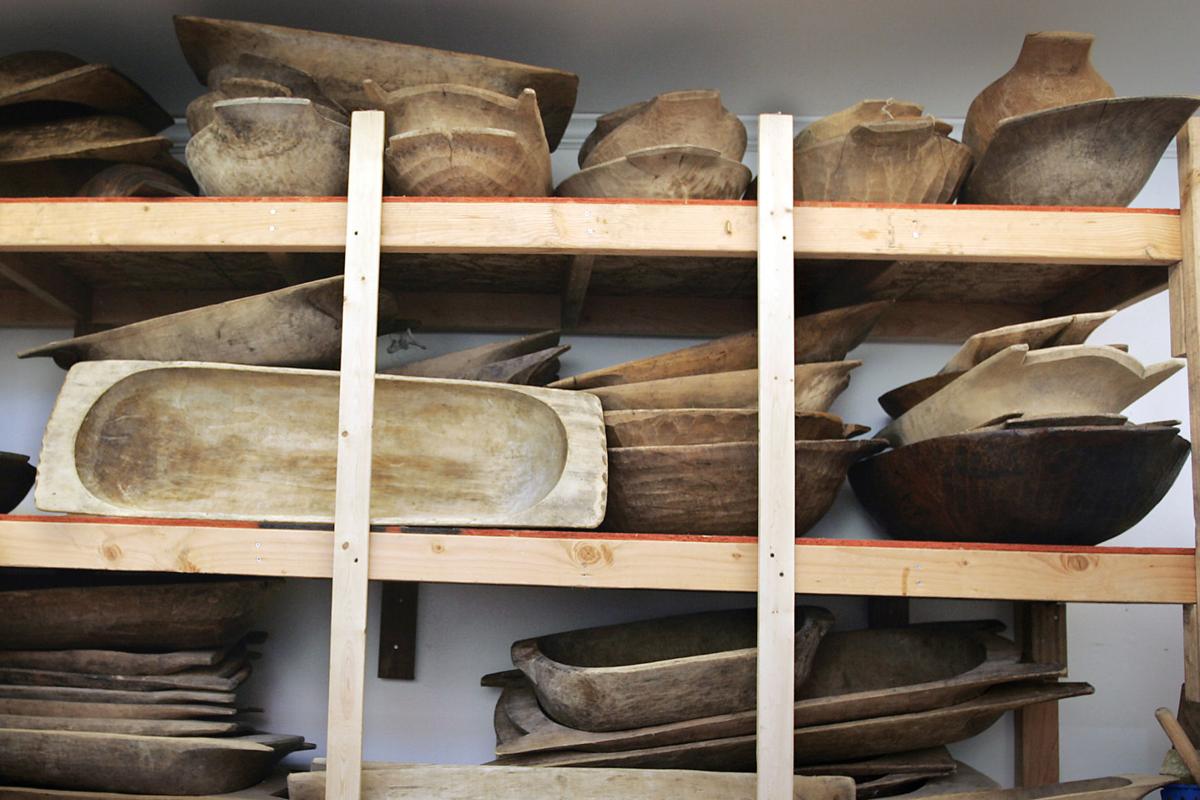 Napa Antique Wine Artifacts
Contact Info:
Location: Napa, CA
Phone: (775) 450-6781
Store Type:
Napa Antique Wine Artifacts is run by Chris, one of the friendliest people I've come across in the many years that I've been antiquing. You can tell he absolutely loves what he does and is excited to share his knowledge and passion with others!
Chris has a warehouse that is NOT open to the public on a regular basis, but he might just let you make an appointment if you give him a call or send a text; otherwise, you can find him at various antique events in the area, but always at Alameda Point.
Bonus: Chris offers antique buying trips through Eastern Europe! Be sure to ask him for details.
What You'll Find:
I've been lucky enough to visit Chris's warehouse a couple of times and I can honestly say that you just never know what you'll find. But Chris is well-known for always having dough bowls, grain sacks, demijohns, and baby bathtubs. He also has some great furniture pieces, lighting, and almost any antique you can think of related to wine! He has some French antiques, but primarily his items are from Eastern Europe.
Elsie Green
Contact Info:
Store Type:
Elsie Green is an amazing store run by the husband and wife team, Laurie and JP. They bring containers over from Europe and sell both online and at their brick-and-mortar stores. Laurie is well-known for creating gorgeous, eye-catching displays and Elsie Green always has beautiful product photos. You can pop in to shop during their regular business hours or catch them at Alameda Point.
What You'll Find:
In general, you'll always find beautiful vintage flatware, transferware, ironstone, and glassware. Elsie Green carries a lot of items related to kitchen and dining. They have a mix of antique and new items that look old. They also sell great furniture pieces; some are antique and some are new using reclaimed wood.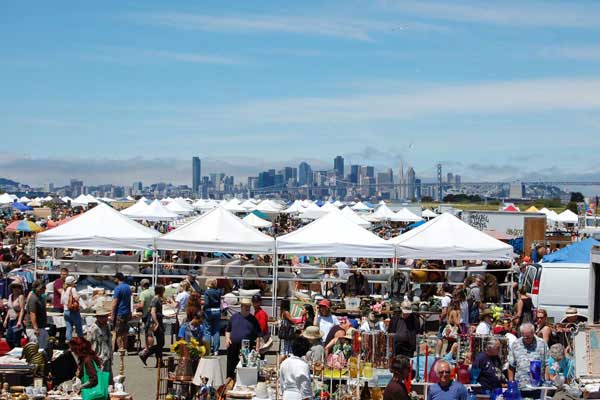 Alameda Point
Contact Info:
Address: 3900 Main St, Alameda, CA 94501
Store Type:
Alameda Point is an antique fair held on the first Sunday of every month! Gates open at 6:00 AM. You can buy your tickets online in advance or purchase them at the gate. Before you go, be sure to read my expert tips for shopping at antique fairs!
What You'll Find:
There are over 800 vendors that sell at Alameda Point. Some vendors are regulars and some you might see once and then never again. You honestly never know what you might find here but everything sold here is supposed to be at least 20 years old.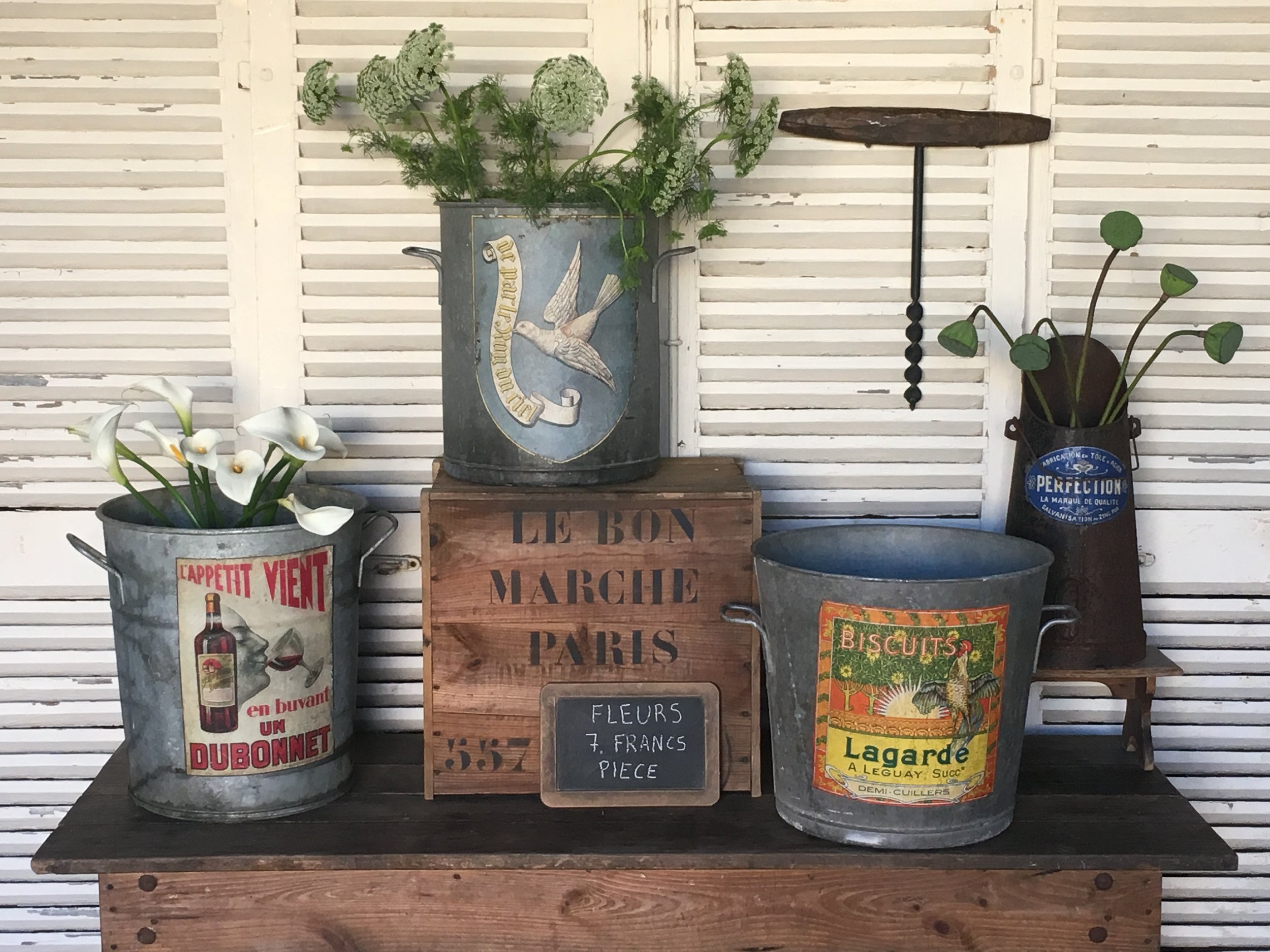 Grenouille French Vintage
Contact Info:
Address: 121 S Maple Avenue #11, South San Francisco CA 94080
Phone: (415) 948-0033
Store Type:
Coco and Fred, a dynamic brother and sister duo, are so enthusiastic about their business and if you love a French accent, you'll love chatting with them! They do have a shop but it is available by appointment only, so text them in advance! You can also find them at various antique shows throughout the area.
What You'll Find:
Their antiques are from France and they have a little bit of everything. I've purchased from them many times and they always have interesting French antiques, like andirons, books, bottles, buckets, tables, and chairs.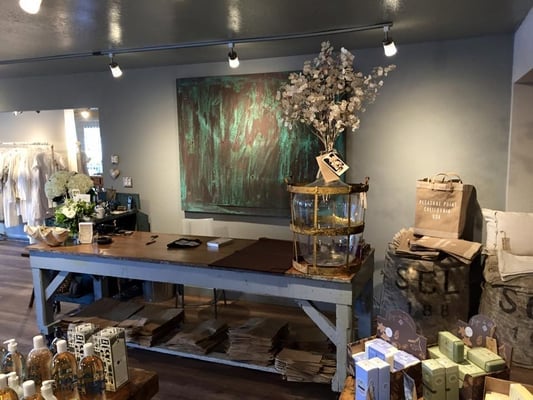 Patine/Euro-Linens
Contact Info:
Store Type:
Patine has an actual brick-and-mortar store located in Santa Cruz, open Tuesdays through Sundays, but also is a regular at Alameda Point. So, you can stop into their store during regular business hours or catch them at Alameda Point or other antique events.
What You'll Find:
Grain sacks, grain sacks, and more grain sacks! They also sell beautiful antique table linens, bed sheets, night shirts, and grain sack pillows. When I think of Patine, baskets, dough bowls, large demijohns, and bread paddles also come to mind! They have regular container sales and often invite another vendor to sell out of their parking lot.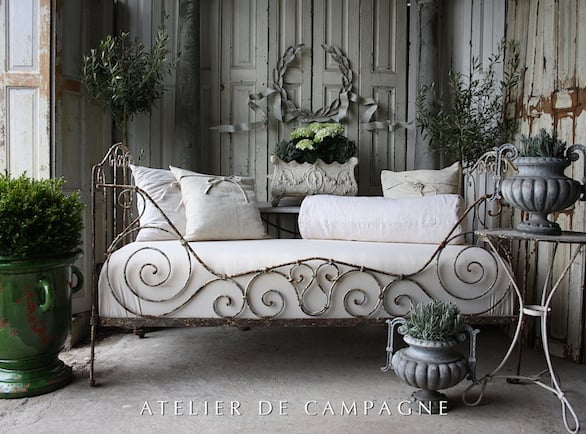 Atelier de Campagne
Contact Info:
Store Type:
They do NOT have a store but occasionally have a pop-up sale event at their home and also allow private appointments; otherwise, you have to catch them at one of their many events. They travel up and down the western U.S. for various shows. Plus, Trinidad and Johan are social media sensations with beautiful pics of their antiques, and of course, their sweet pup.
What You'll Find:
I'll be honest, compared to other vendors listed here, their items tend to be a little pricier; BUT, they sell antiques that are completely different than all of the others. They have goods you just won't find elsewhere, thus justifying the prices. They often have gorgeous trumeau and mansard mirrors, chandeliers, iron urns, baskets, and bread boards. Compared to other vendors, their items tend to be a bit more ornate and less industrial. They also have white dovecote nesting boxes that I'm obsessed with!
A shopping bonus is that the owners of these Bay Area antique stores all know one another and work together at events. So if you visit one and they don't have what you're looking for, just ask! They'll likely directly you exactly where to go to find what you're looking for.
More Decorating Ideas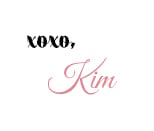 Join the Community
Let's keep in touch! Get exclusive artwork plus the latest news delivered directly to your Inbox!