Ghostly Greetings!
Now that it's officially fall, I feel I can finally talk about one of my favorite fall subjects – Halloween! I absolutely love Halloween and get really into it every year thanks to my neighbor whose love of the holiday is truly contagious!
I normally decorate only the outside of my home because that's the part that is visible to the kids who are trick-or-treating, but this year, I created a Halloween mantel as part of my fall discussion on Hometalk. I was inspired by an image I saw in the Pottery Barn catalog a couple of years ago and thought I could create something similar in my own home.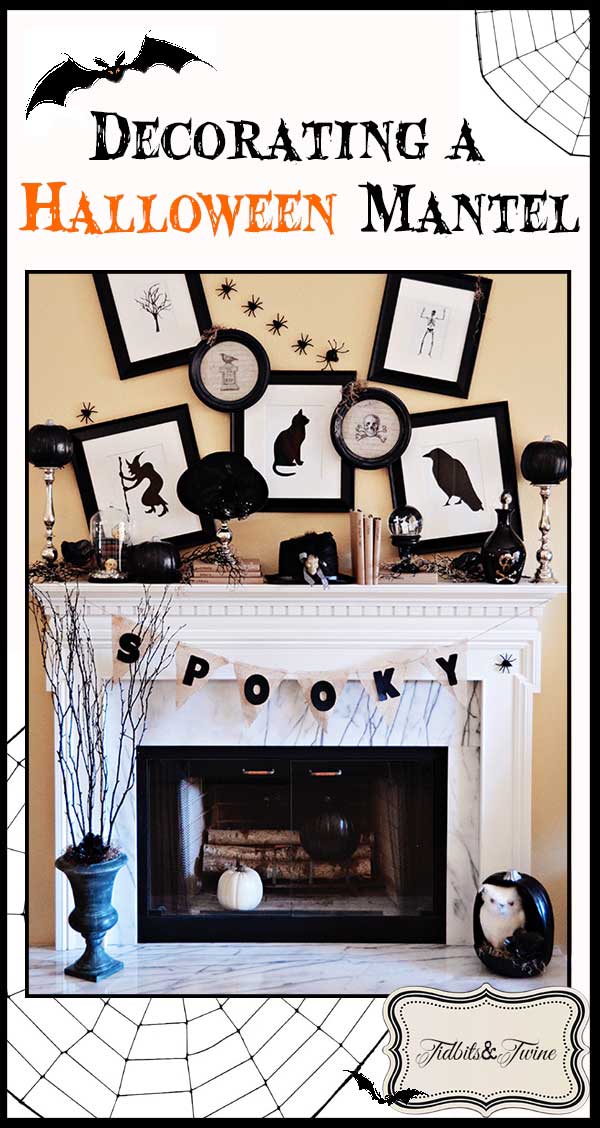 Now I am in no way sponsored by HomeGoods (although I wish I was because I love that store!), but I have to tell you, almost everything on this mantel is from the store and what's not from HomeGoods is from Michael's. I am all about affordable decorating! And at the bottom of this post, I'll give you some ideas as to how you create a similar Halloween mantel using less expensive items or objects you might already own, plus tips for recreating the look.
I started by taking the picture frames that were in my son's room and replacing the art with free Halloween-themed clipart that I found online. I sized each image to fit the frame and ta-da! Instant Halloween art! The perfectionist part of my personality was a little hesitant to hang the frames crooked, but once I got into it, it was fun! I ended up needing to put a small finishing nail at the bottom corner of each frame to help hold it crooked. Luckily, I was okay with putting the extra holes in my wall since the artwork that I normally have hanging above my fireplace is large and will cover the nail holes.
I added two round framed images and some black glittery spiders to complete the wall decor.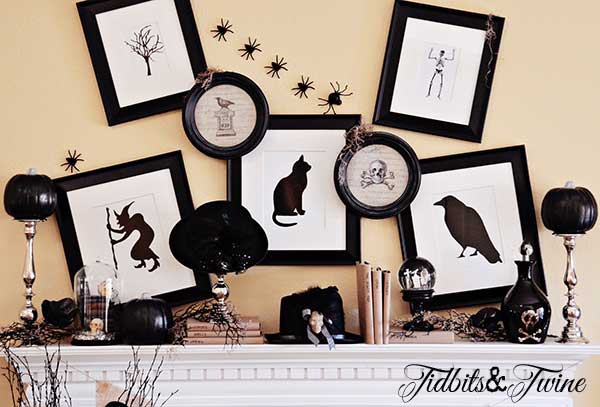 On top of the mantel, I used kraft paper stamped books as filler and as bases to add height to other objects. To learn how to make these books, you can visit my post here. The great thing about these books is that the covers aren't permanent and don't damage the books underneath, so you can use hardcover books you already own as themed displays.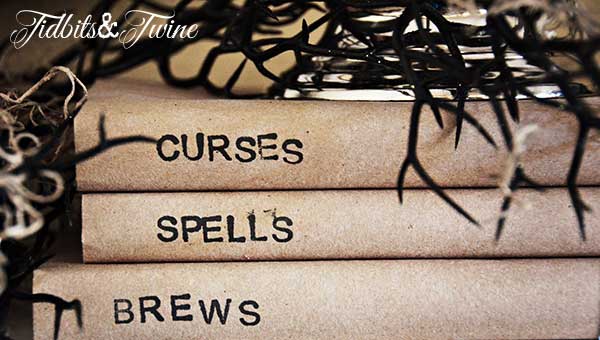 Alongside the books, I used a combination of craft pumpkins, black hats, silver candlesticks, black twigs that I draped with Spanish moss and a few pieces of Halloween decor. I placed everything at varying heights to add interest to the overall display. I'm in love with those hats!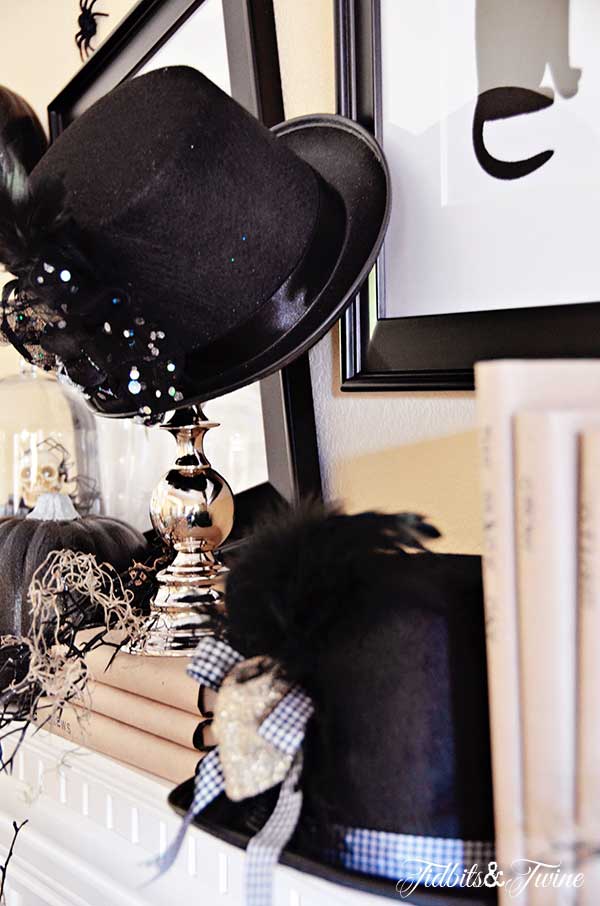 The craft pumpkins were originally white, so I spray painted them matte black and then painted a couple of coats of black glitter on top.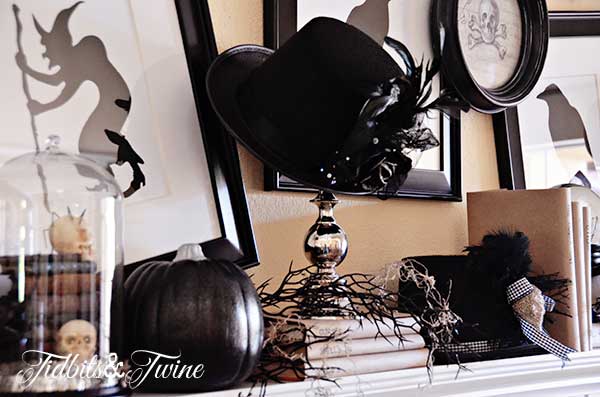 I made the burlap banner for my son's campout birthday party and reused it for the mantel. Since I used paper letters attached with glue dots for the birthday, I was able to remove the letters and replace them with the word "SPOOKY." I then placed one of the urns that I chalk painted at the base of the mantel with more black branches.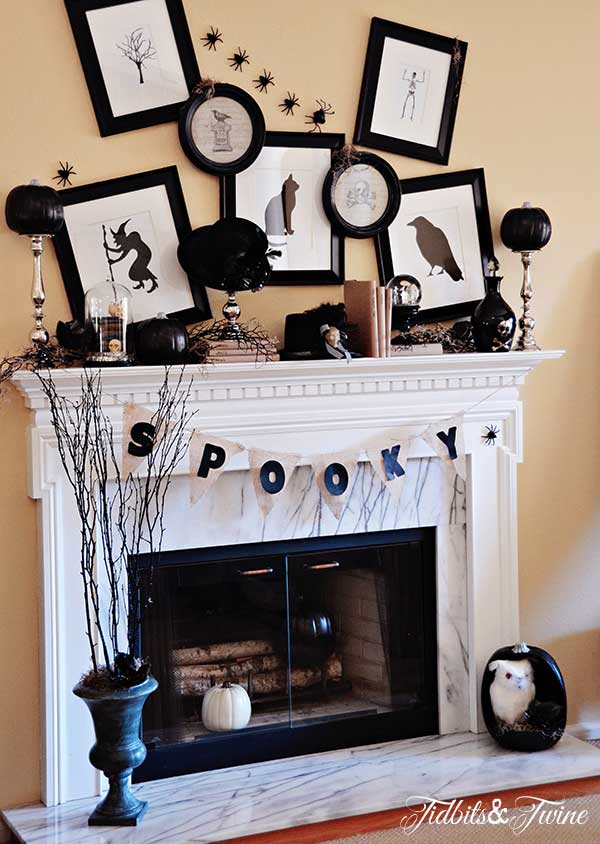 On the other side, I used a larger craft pumpkin that I painted created a cutout for a friendly owl.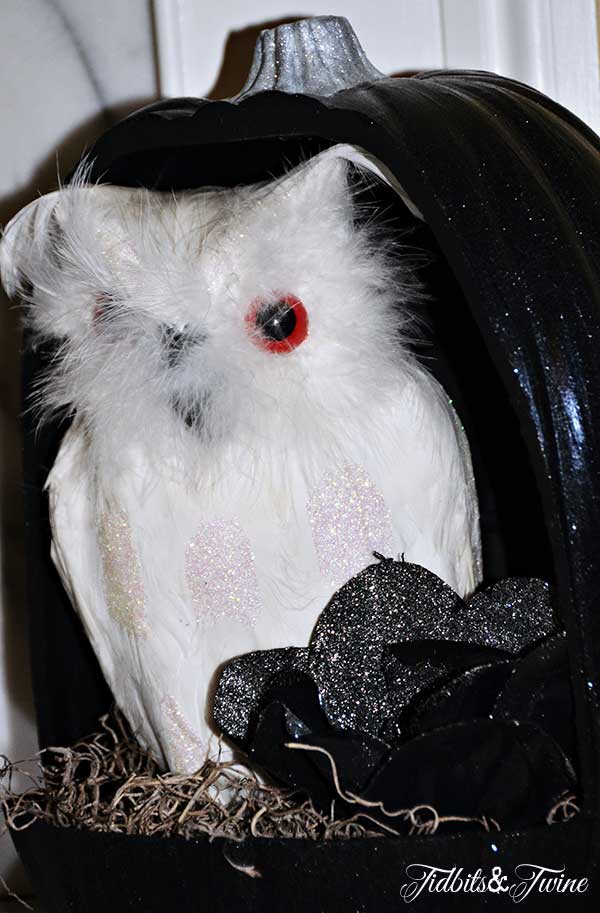 If you want to create a similar mantel but don't have Halloween decor, you can achieve the same look even with different elements. I do think that the consistent color scheme is key for this look, though, so pick 2-3 colors and stick with them throughout. I used black, white and silver, but you could also use orange and black, or orange and white, or even orange, black and white.
For the mantel decor, try using pillar candles and varying heights mixed with pumpkins. You can buy inexpensive pumpkins in your color scheme or paint them to match. You can also spray paint small branches and twigs to use as a natural garland that spans the entire mantel. The stamped books are super easy to make and if you don't have kraft paper, use a brown paper grocery bag (inside out).
Tips & Tidbits
Here are some additional tips if you want to create the look of this Halloween mantel:
Pick a color scheme and use it throughout. This will help to create a cohesive look even if you use many dissimilar items.
Start at the top and work your way down so that you can adjust your focal points as you go.
Use varying heights to create interest. The heights also help to create a triangle of movement where you focus is gradually taken from the top to the bottom in small increments. (For more on this, visit How to Decorate a Mantel.)
Repurpose what you already own! A candlestick doesn't always have to hold a candle. Try placing a pumpkin or a skull on top!
Given that it's fall, nature is the perfect place to find elements to use in mantel decor, even for a Halloween-themed mantel! Pinecones painted black, leaves dipped in glitter, branches, and gourds of all shapes are all elements that can make for a spooky-looking mantel.
Happy Haunting!

Sharing At:
French Country Cottage
A Stylish Interior
Would you like to receive my posts via email? Enter your email address below. You will instantly receive an email from FeedBurner and you will need to click the link to activate your subscription.
Join the Community
Let's keep in touch! Get exclusive artwork plus the latest news delivered directly to your Inbox!