Looking for an elegant tablescape for Christmas? This gold and white palette brings a sense of casual elegance with pops of greenery.
It's time for the first of my Christmas 2022 tours!
This holiday season I decided to embrace neutrals. In years past I always included a pop of unexpected color. But this year I went with green and white and touches of gold for the look of casual elegance.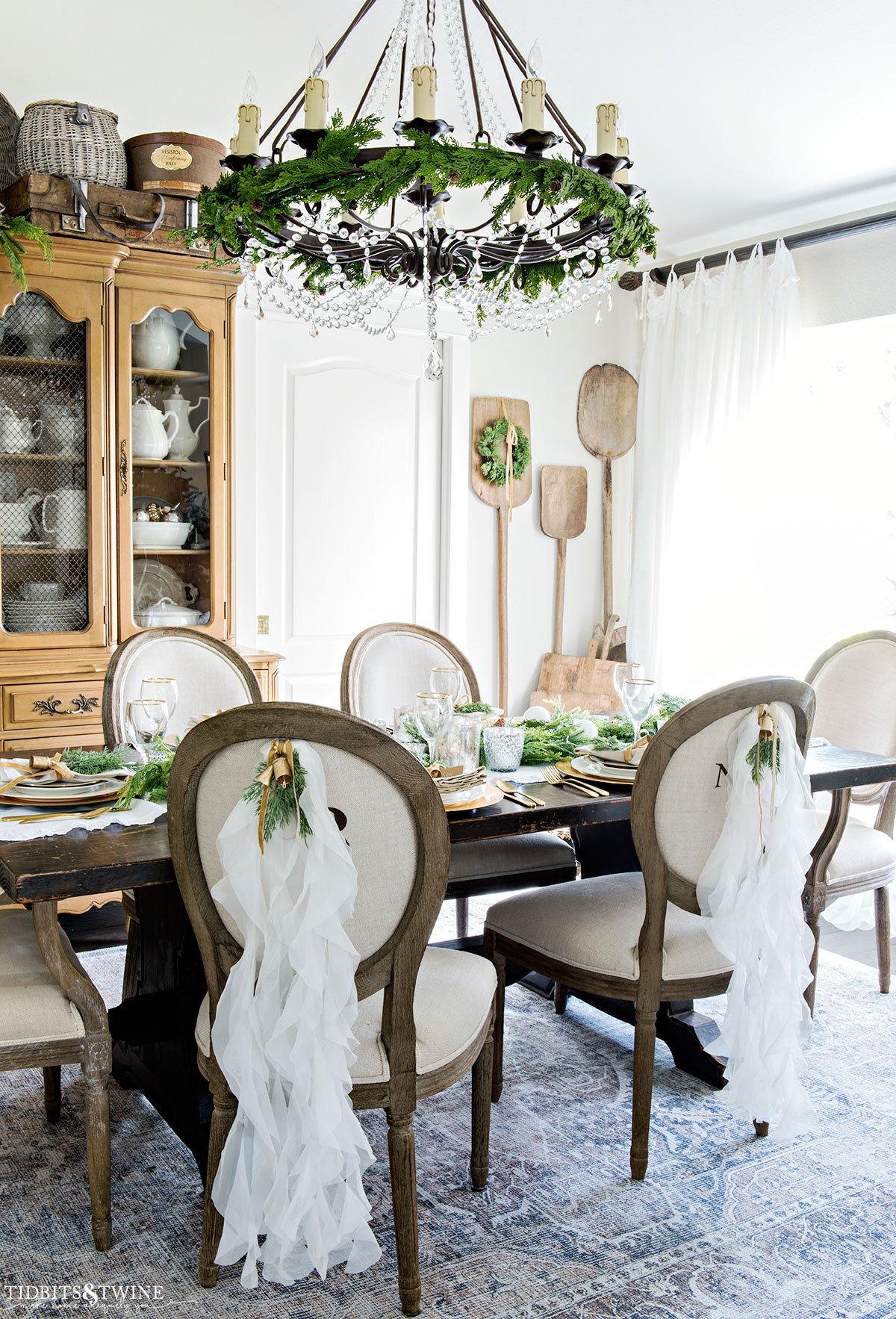 What you need to remember is that there's a difference between everyday table decor and a tablescape. And I don't just mean that one has place settings!
The difference is that with a tablescape, nothing on the table should obstruct guests' views. Who wants to spend the evening peering around a vase of flowers, or even a candlestick?
Table decor should either be under 12″ or over 30″ to ensure the line of eyesight isn't blocked.
Of course, low-profile tablescapes don't always photograph as well as showstopping tall ones. But today I wanted to share an idea with you that is simple and actually realistic for a sit down meal!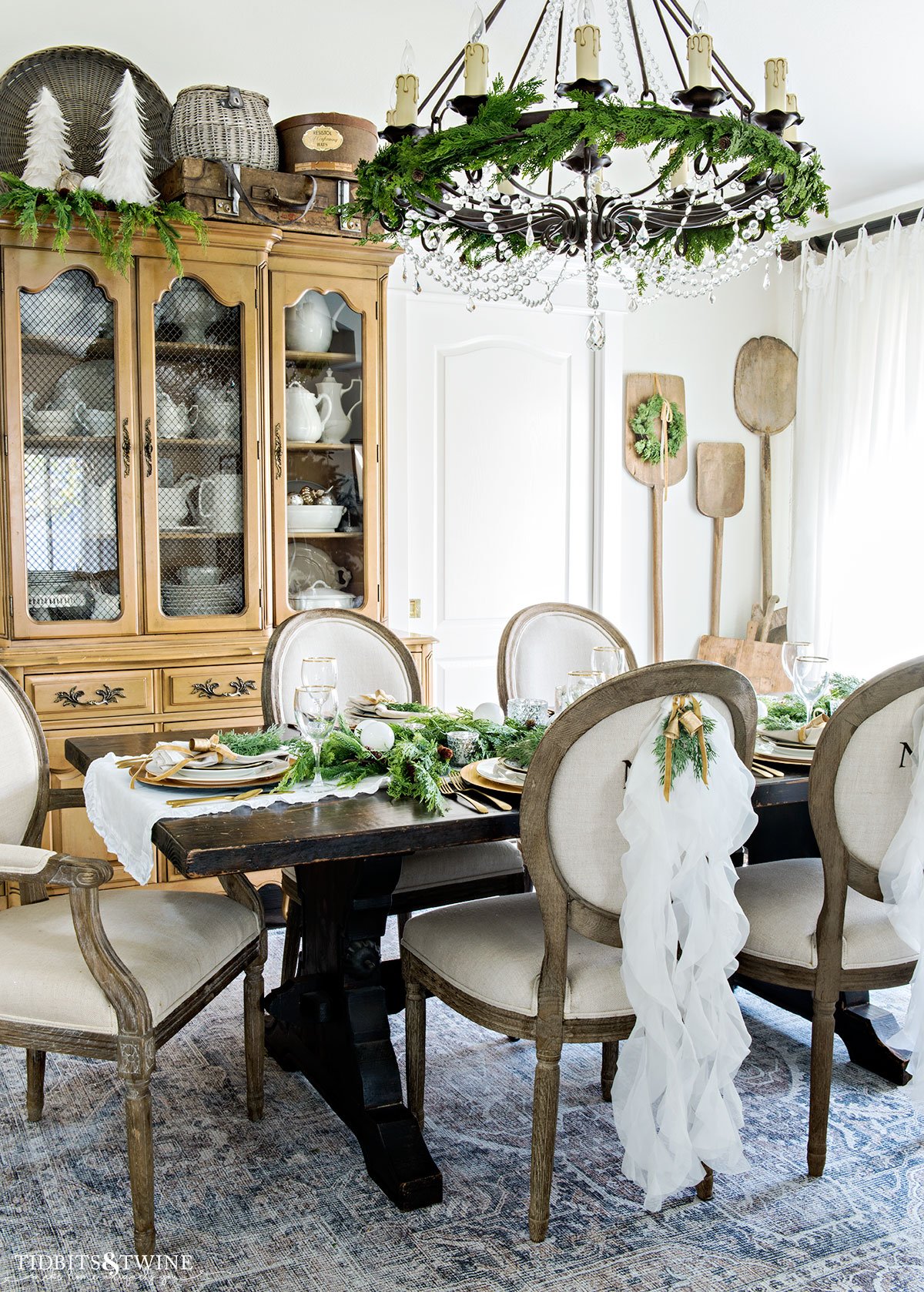 The Place Settings
I started with an idea for the place setting with the idea that I wanted to use gold, white and green.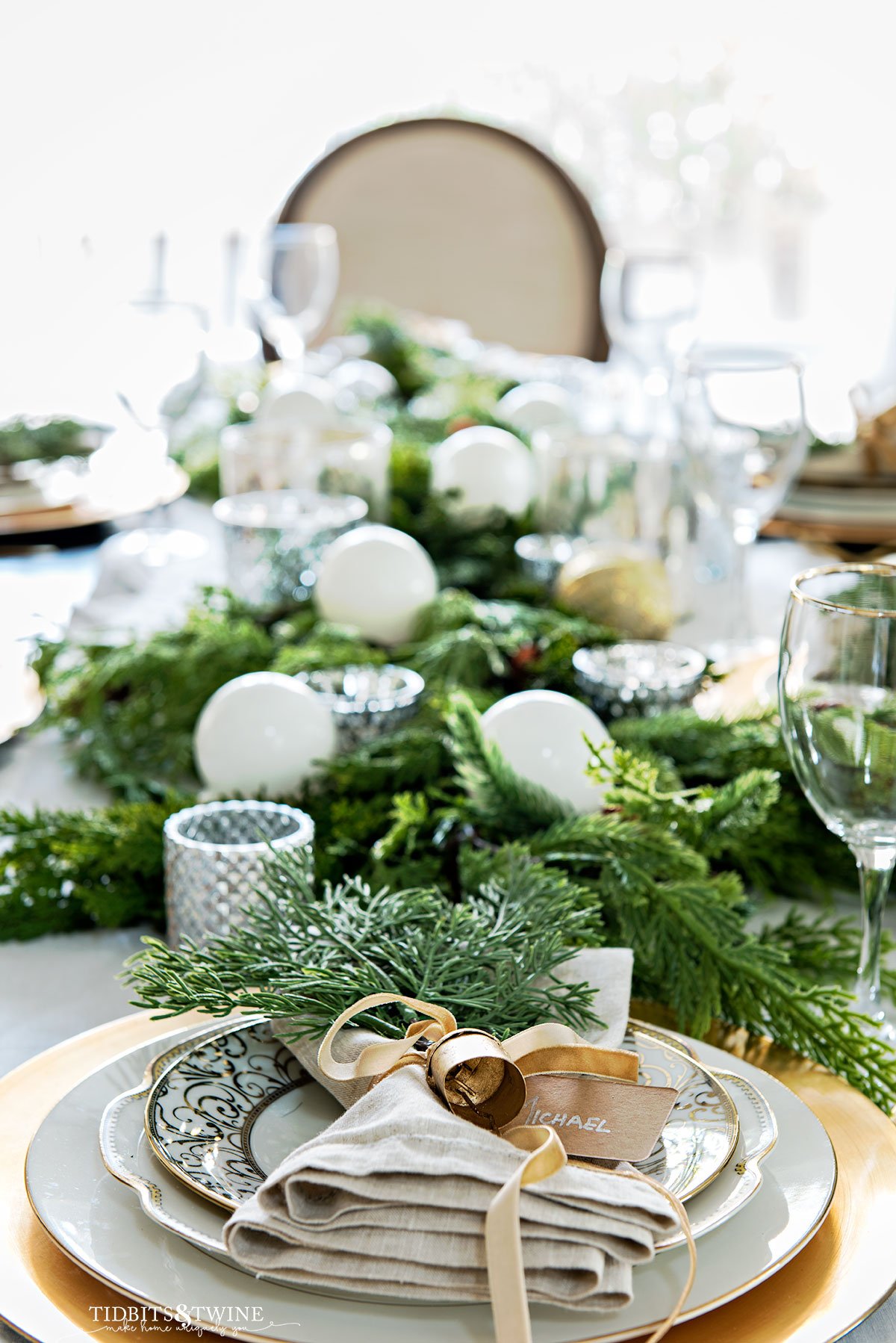 I found these cute gold and white bread plates at HomeGoods for just $3.99 each. I paired them with some heirloom Limoges salad plates that my mom handed down to me. Both of those sit on top of my inexpensive white plates with a gold rim.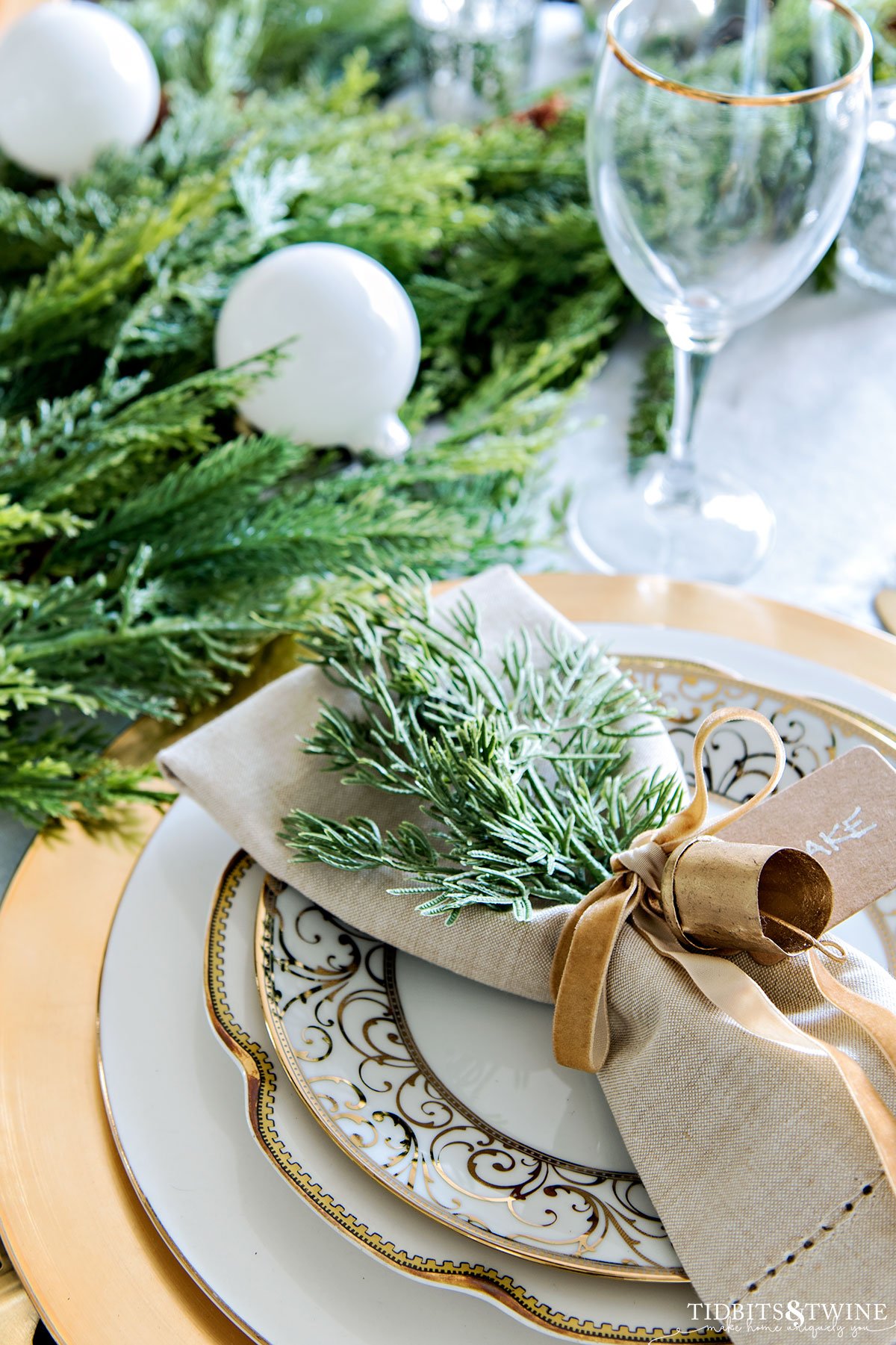 I opted for a casual linen hemstich napkin just to give the place setting a slightly less formal feel. Each napkin is tied with velvet ribbon and a single bell with a sprig of greenery. I opted to use faux greenery for my entire table because my cat likes to jump up and much on anything fresh I keep here, but fresh greens would be beautiful!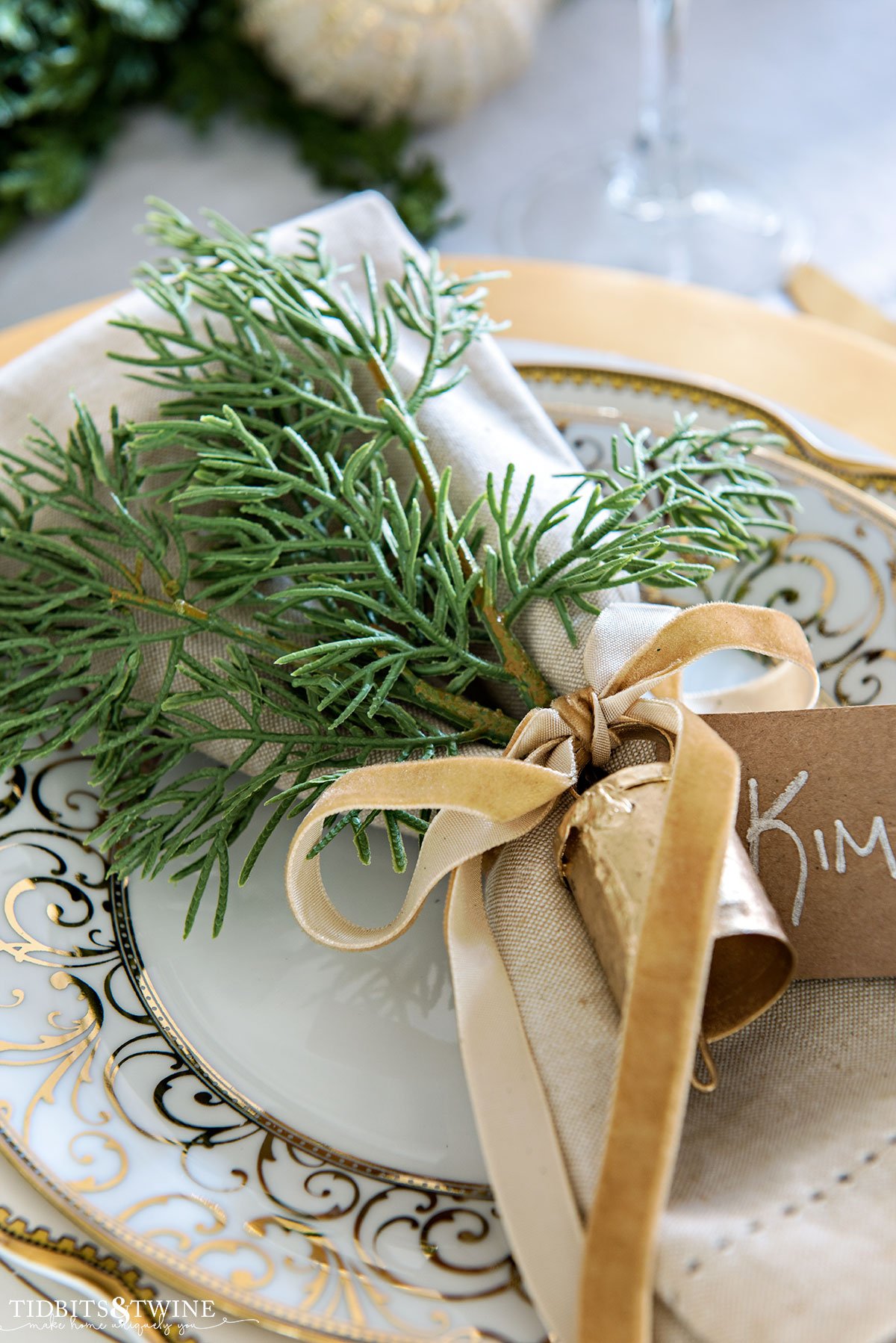 Table Centerpiece
In the center of the table, I used two different types of faux greenery to create almost a table runner of greens. I added small votives and ornaments sprinkled throughout for interest.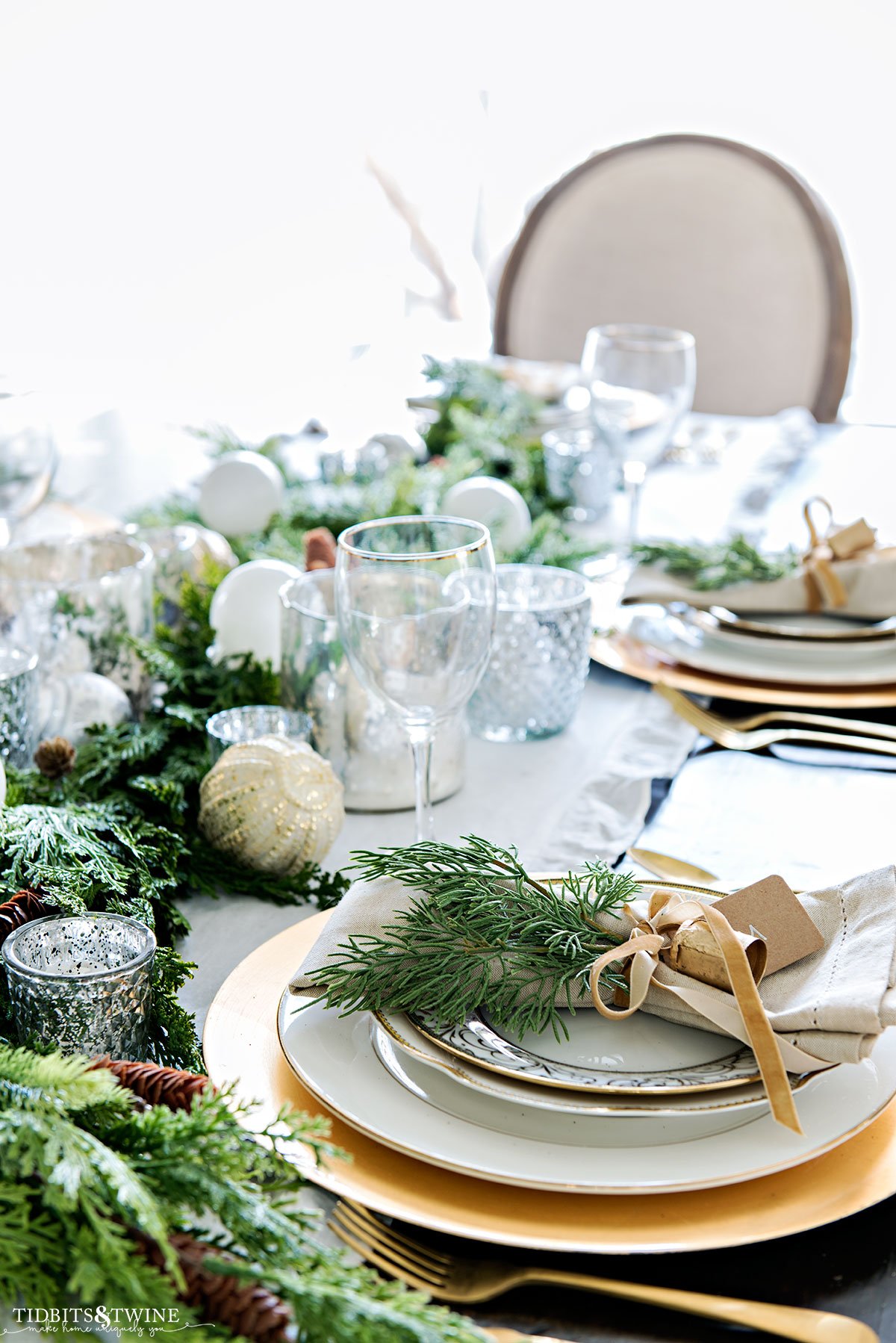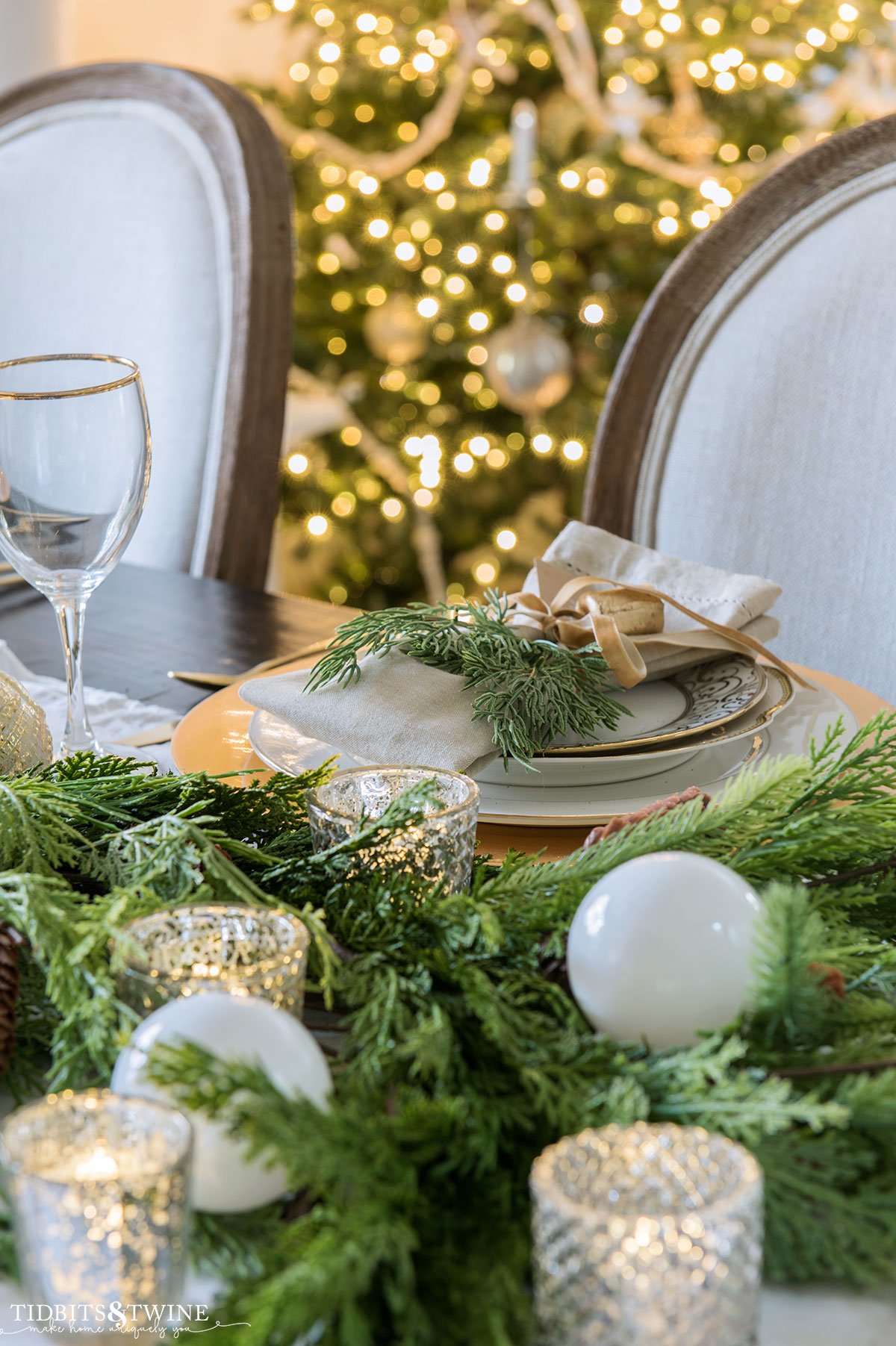 Christmas Dining Chairs
From there, I set about decorating the rest of the room. I pulled my white chair decorations out of storage and simply pinned the ruffle portion to the back of my chair. I added a ribbon, a piece of greenery, and a bell to tie in with the place setting.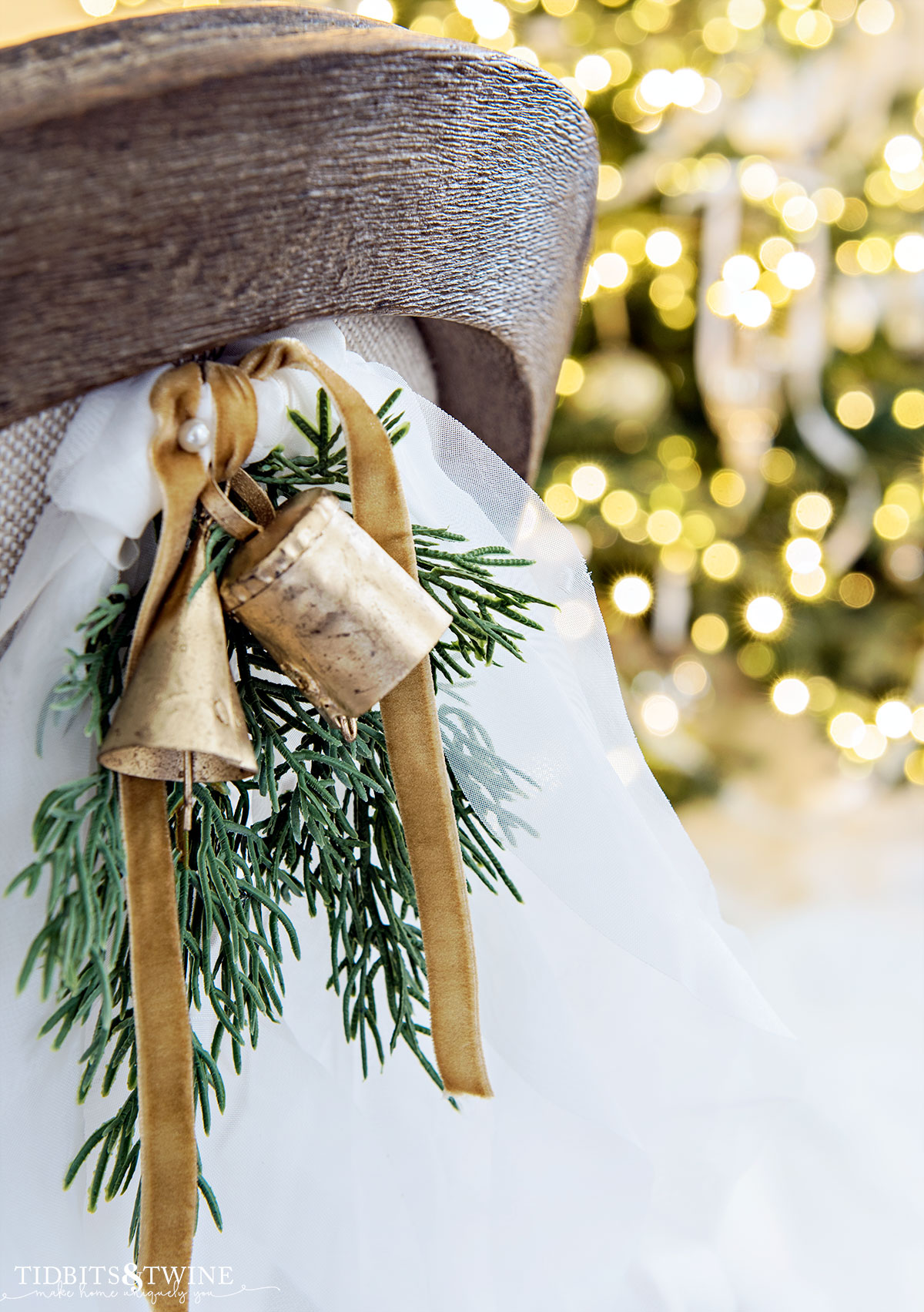 Christmas Dining Room Decor
I added some greenery and my favorite white feather trees to the top of the dining hutch. Inside, I added a few ornaments, but it's so full of white ironstone that there isn't a lot of room for decor!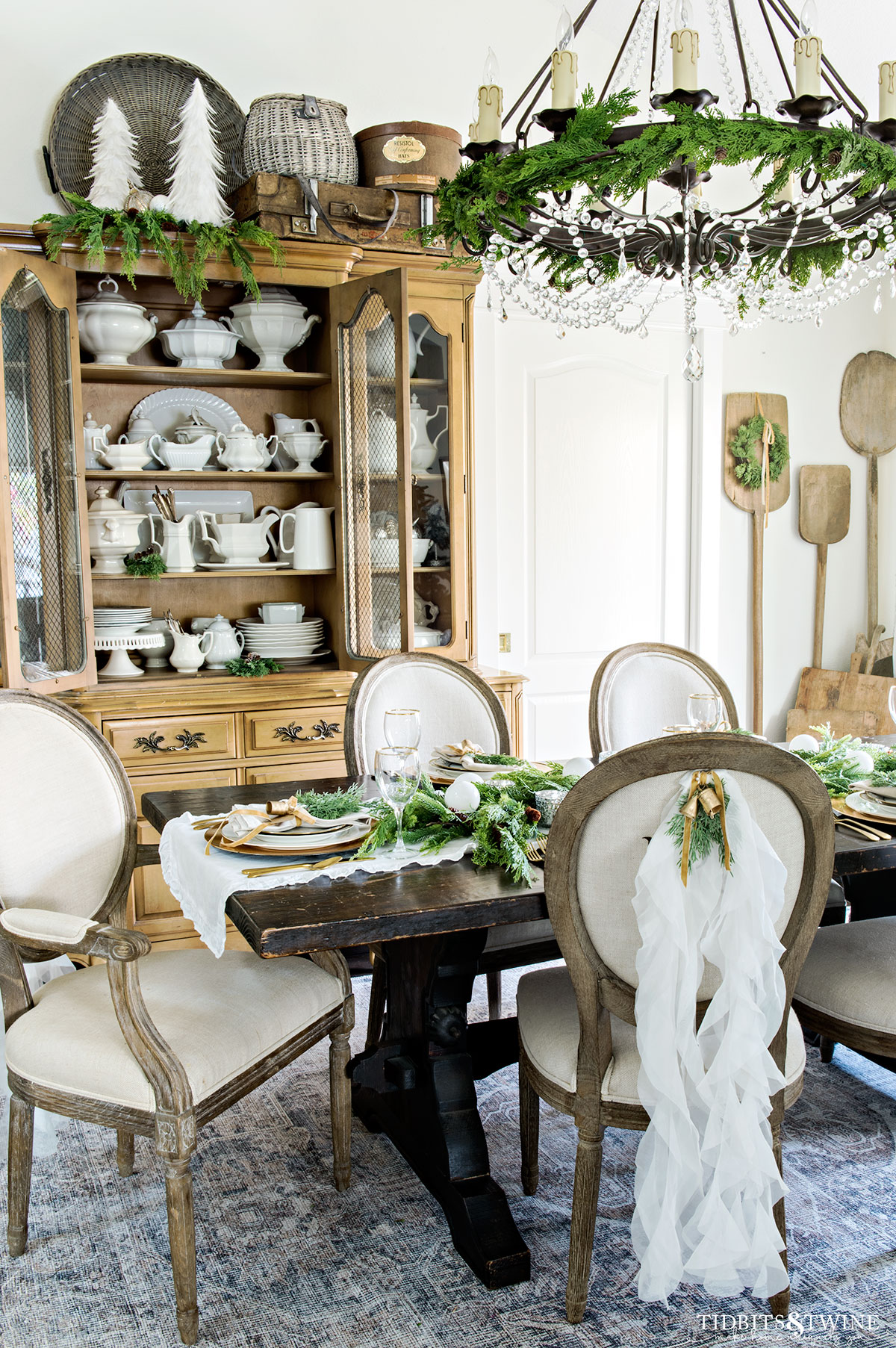 I did dress up the chandelier a bit with my favorite garland from Terrain.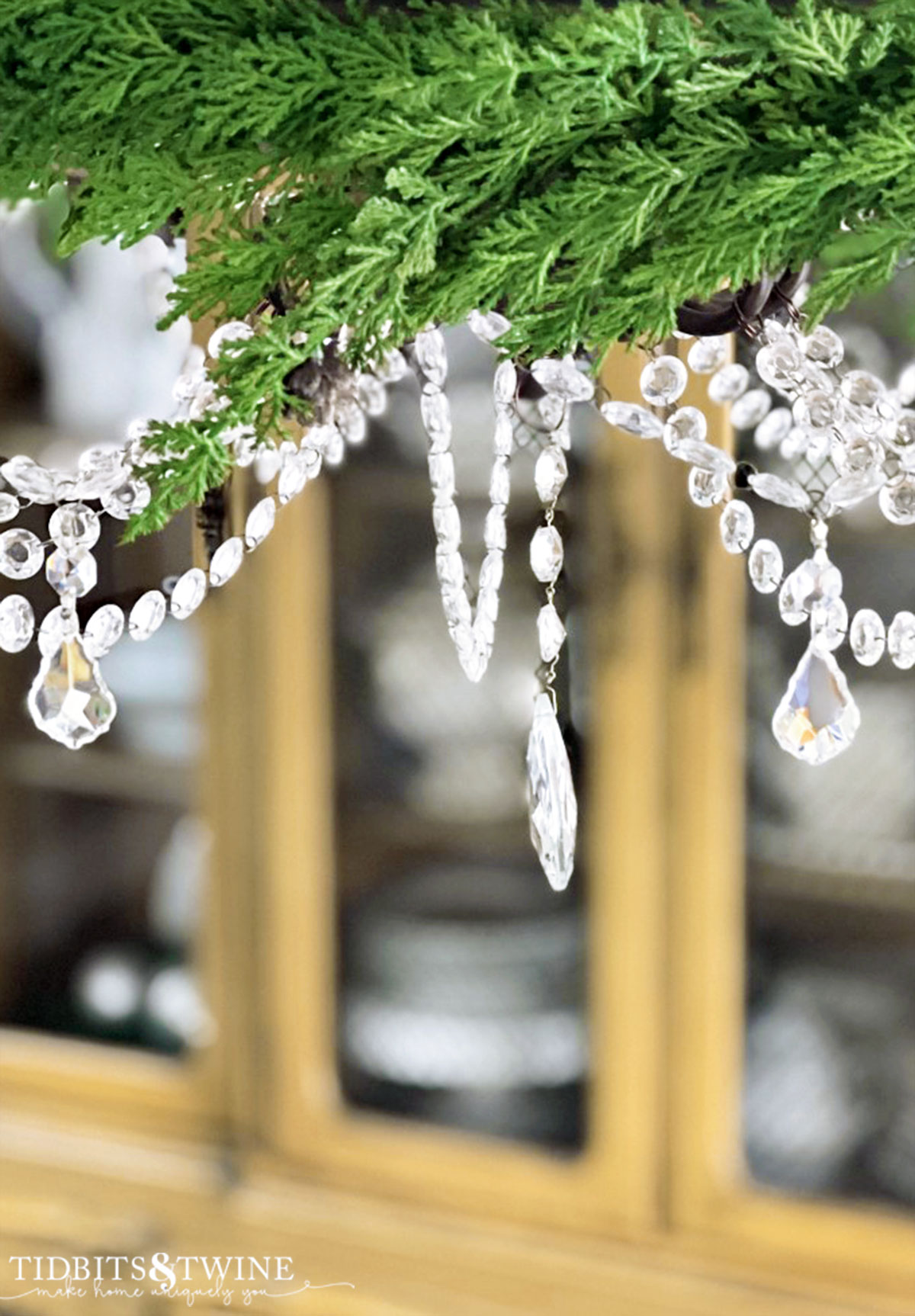 A simple wreath and a velvet bow added to my antique bread paddle were all that I did in the corner of the room.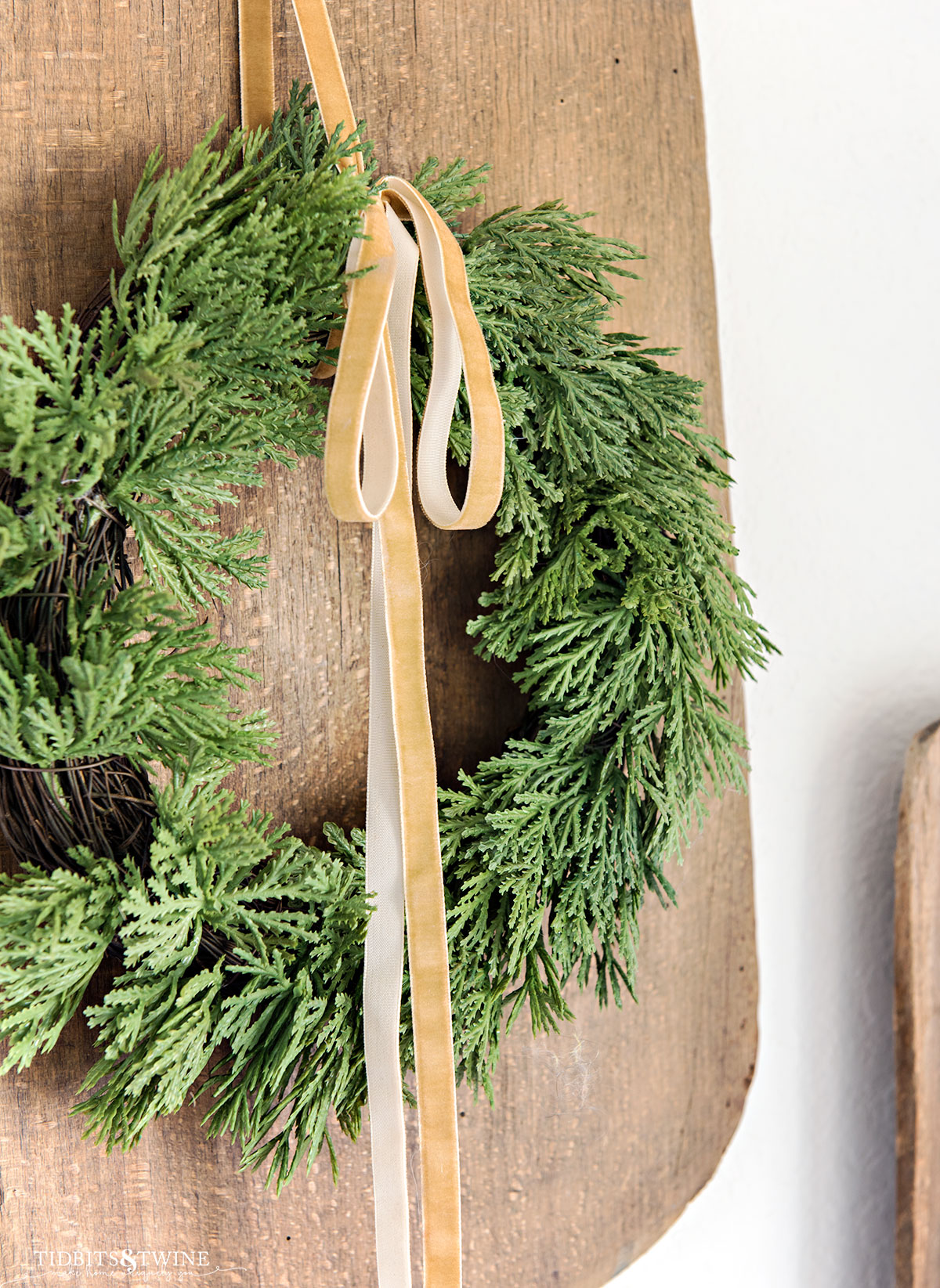 And that's it for my dining room tour!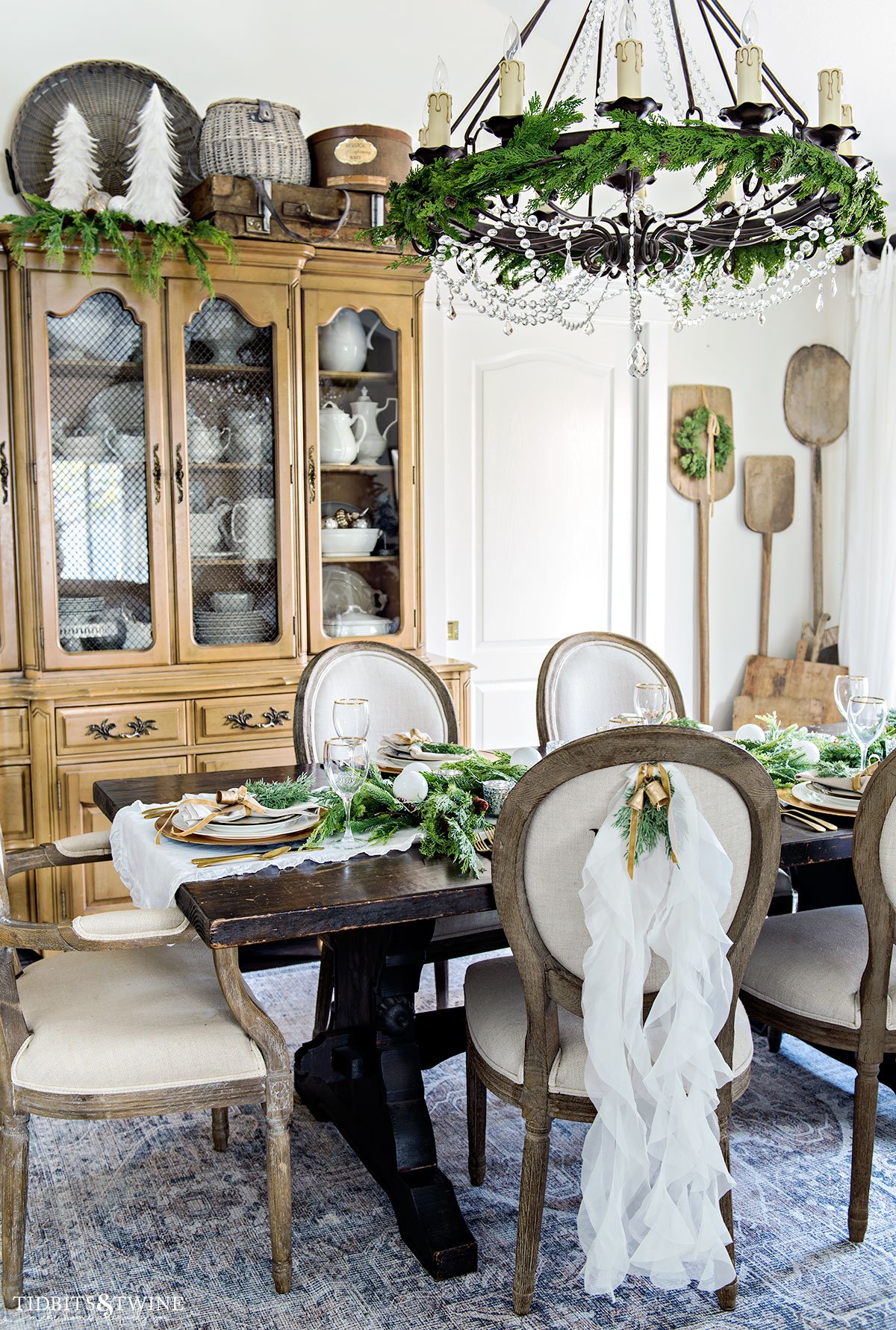 I hope this inspired your own holiday decorating. If you want to recreate this look, below are links to the items I used.

Join the Community
Let's keep in touch! Get exclusive artwork plus the latest news delivered directly to your Inbox!