My husband and I have recently been having a discussion as to whether we should mount our TV above the fireplace.  Believe it or not, I'm the one who's in favor of it and he is not!  But that got me to thinking about the war of the TVs and the two mindsets – those that like to flaunt that big screen TV and those that like to cover it up!  Given the advances in technology, TVs are no longer the eye sores they once were now that they are flatter with thinner frames and hidden buttons, but even so, sometimes we just want them out of sight.
So if a giant black rectangle isn't quite the focal point you had in mind for your room, here are several ways that you can cover up your TV!
1.  Art
When the TV is off, you can cover it with art!  There are a couple of ways that this can be done, including a fixed piece of art that lifts up or a flat canvas that retracts when the TV is in use.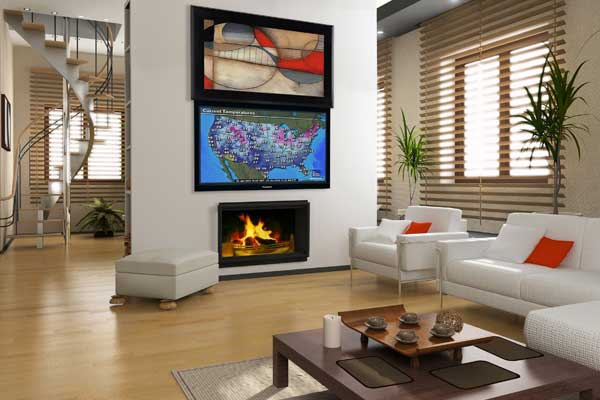 2.  Mirror
TVs can also be concealed behind two-way mirror and only show through the mirror when the TV is on.  A downside to using a two-way mirror, though, is that when the TV is off, the mirror isn't quite as reflective as a traditional mirror.  And when the TV is on, it is "behind" the glass so perhaps doesn't have quite as clear of a picture.  The Media Mirror, developed by Media Décor, is an adapted version of the two-way mirror that aims to resolve both of these issues.
3. Lift
TVs are popping up everywhere, literally!  You can hide your TV in your kitchen counter, buy TV cabinets from which the TV lifts up when in use or you can even get a lift that comes out from underneath your bed.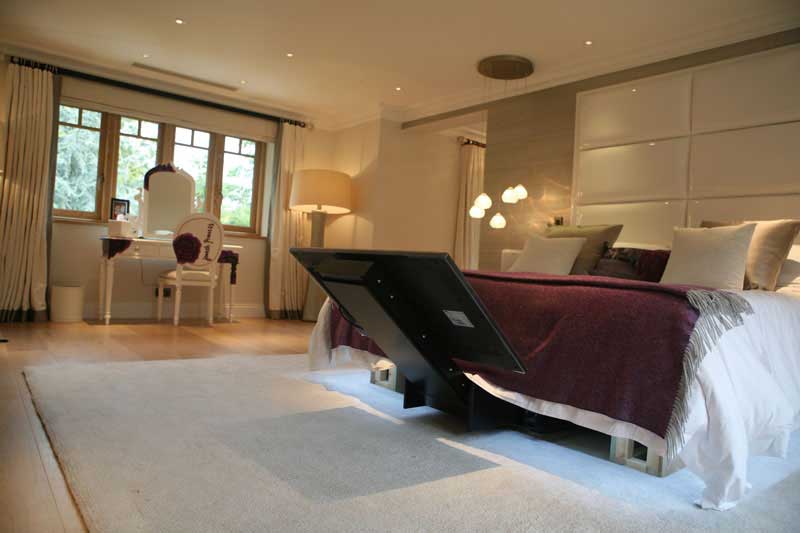 4. Cabinet Doors
If your TV is recessed into the wall a bit, decorative doors might be a good option, although you'll need to ensure that you have enough clearance on either side of your TV such that the doors can open easily.  If it's not recessed, you can still add doors but you'll first need to frame them so that the frame can go around the TV.
5.  Flip Out
No wall space to hang a TV?  No problem!  You can have it flip down from the ceiling!
6.  Pottery Barn
One of the (relatively) less expensive options for disguising your TV is from Pottery Barn, who offers two different options: the Mirror Cabinet Media Solution and the Riddling Rack.
7.  TV Frames/DIY
If hiding the TV completely isn't an option for you, an alternative is just to frame it to make it more attractive.  There are companies who specialize in custom framing for TVs, but this could also be a great DIY project.  And speaking of DIY projects, you could also take a series of frames and hinge them together to create your own hidden TV cabinet!