Learn creative and stylish ways to disguise your TV. Don't let that big black box detract from your interior design. Instead, hide your TV in plain sight!
Whether you're flipping through the glossy pages of home magazines or browsing gorgeous rooms on Instagram, there's one thing you'll almost never see: a television.
Despite modern advances with sleeker models, hidden buttons, and thinner frames, flat screen TVs are still an eyesore. And furniture is often oriented to face the TV, so everyone is always looking at it even if it's not on. And let's be honest, there's nothing about a shiny black rectangle that has someone say, "Oh, that's pretty!"
Of course, that doesn't mean you shouldn't have a TV! It just means that you might want to minimize its appearance or hide it altogether.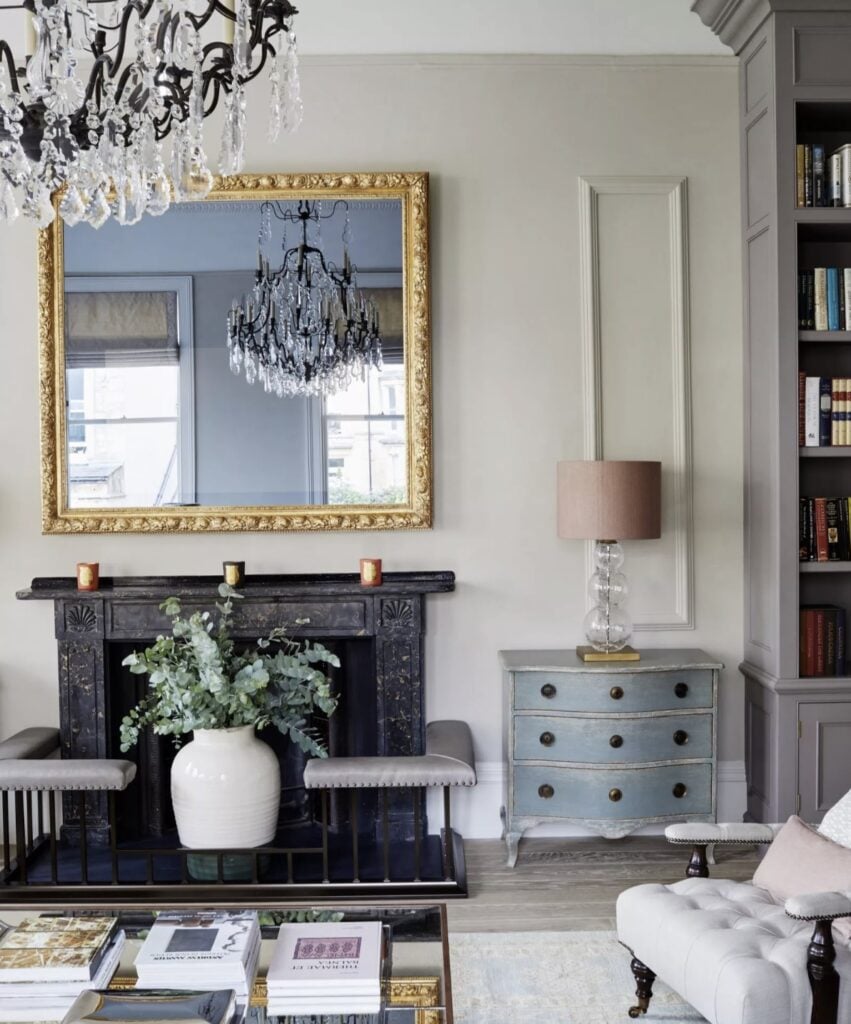 I've gathered up some of the best, most creative, ideas for hiding a TV to give you some inspiration for your own home. You can use the Table of Contents below to help you navigate.
How to Hide a TV in Plain Sight
It's possible to blend a TV right into a room's decor so that it doesn't just look like a big black box hanging on a wall or sitting on a console. So I've gathered up some stylish ways to hide a TV! From artwork, to cabinets, mirrors, and even special screens, these are some of the best ways to hide a TV in your home.
So if a giant black rectangle isn't quite the focal point you had in mind for your room, here are several ways that you can cover up your TV!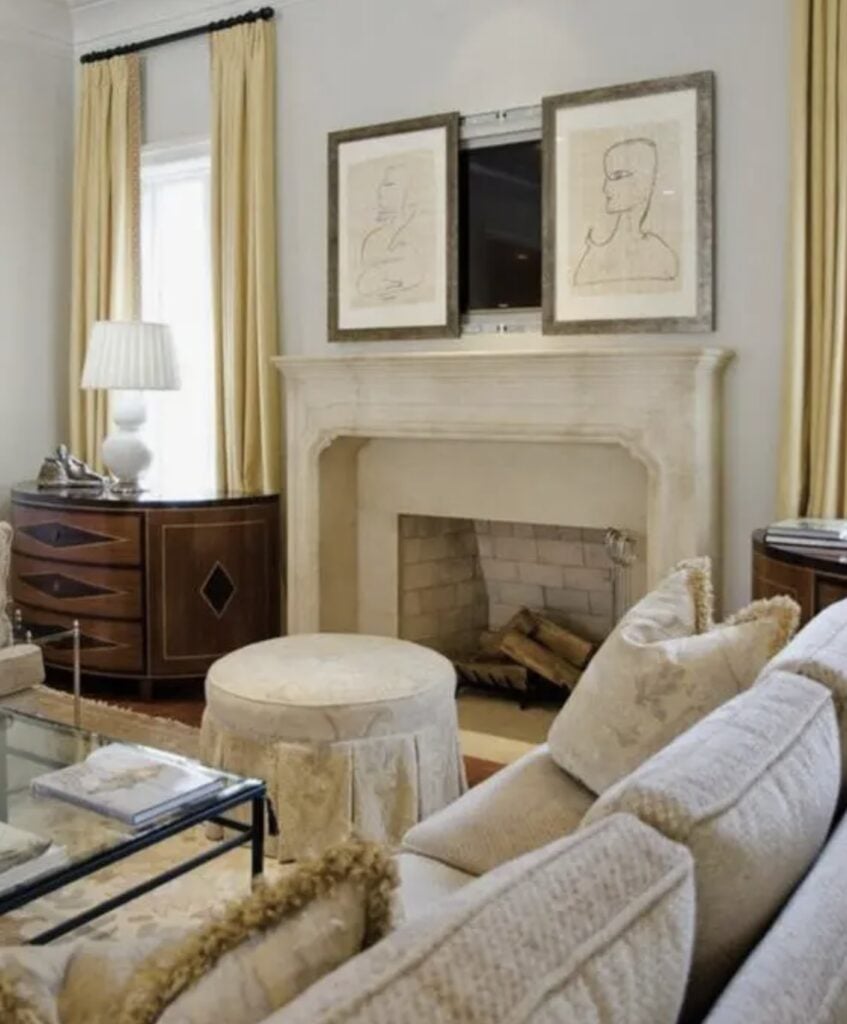 Invest in a Smart TV
A smart TV is one that has an integrated internet connection. One of the benefits is that you can then add digital art to your TV! When not in use, you can display art on the screen. Or you can even display a family photo or a slideshow of photos.
The Samsung Frame TV is one option that has this feature, but other TVs also have an art option. The benefit to the Frame TV, though, is that it's super thin and sits flat on the wall, truly mimicking a piece of art.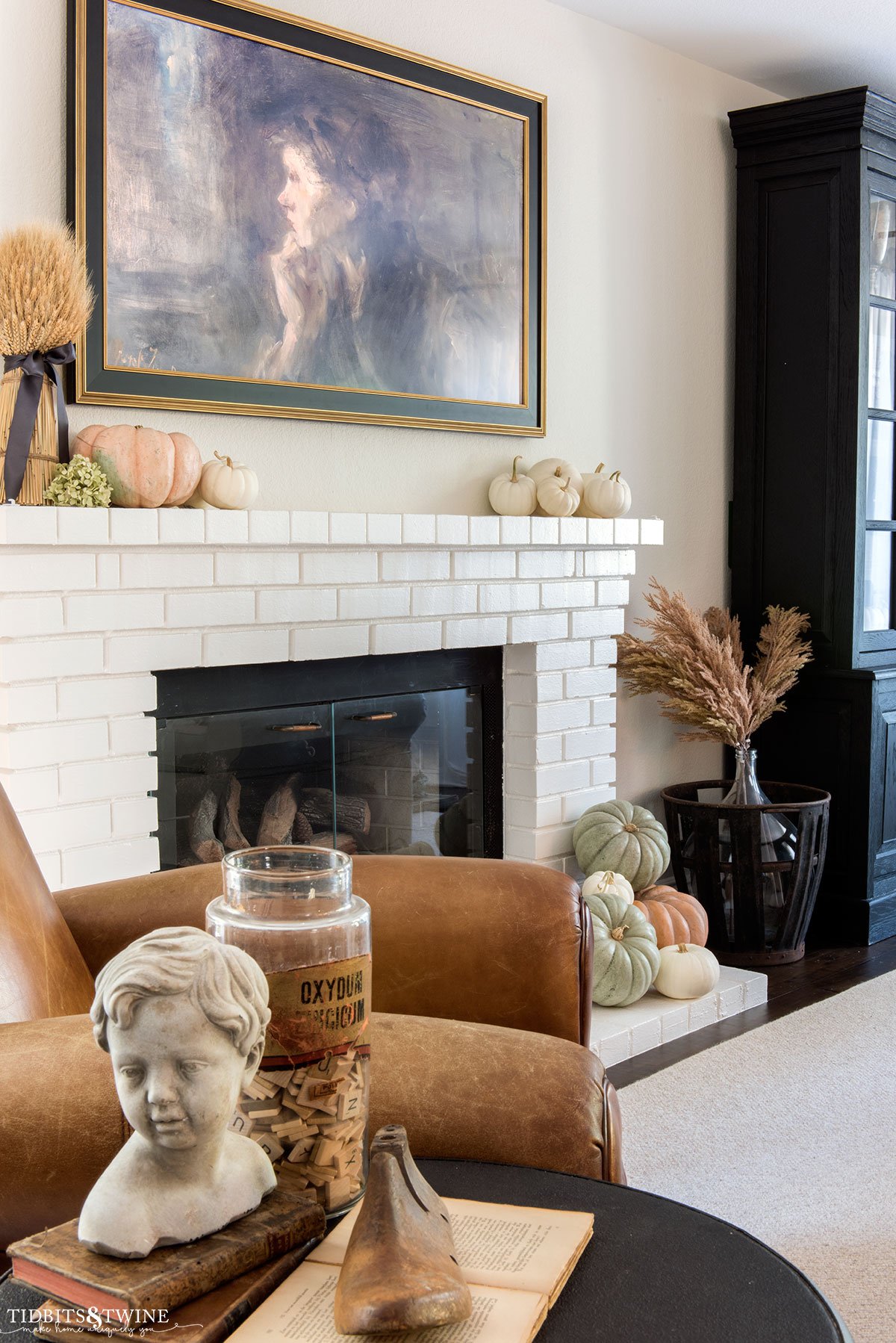 The Frame TV comes with a subscription to access Samsung's art database, but you can also buy individual images that are sized and ready-to-use on Etsy. Or you can just download my curated selections of FREE Fall and Winter TV art.
To make your Frame TV look even more like a framed picture, you can even get a decorative frame like I did for my TV! I purchased this from Deco TV Frames.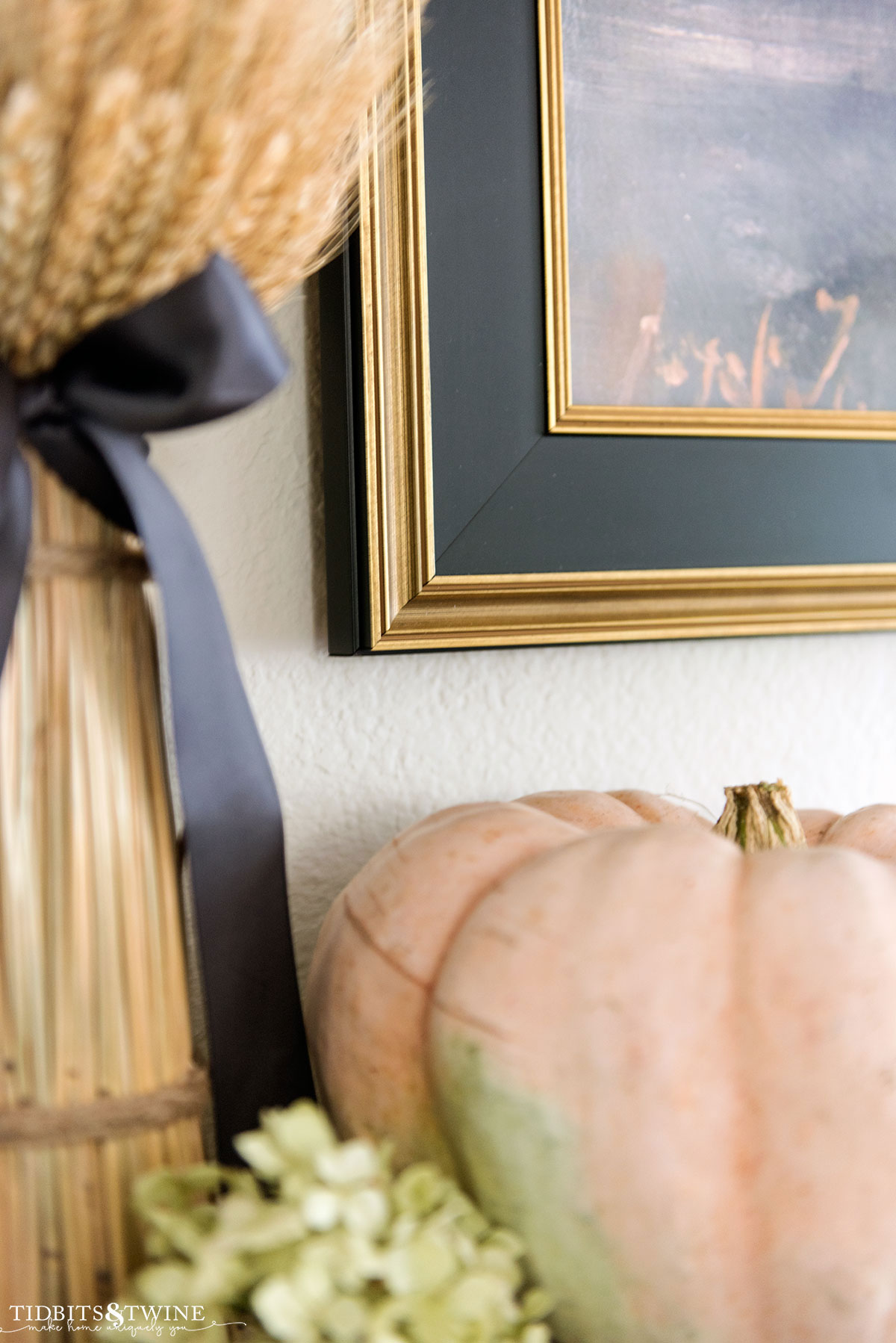 Cover Your TV with Art
When the TV is off, you can cover it with art! There are a couple of ways that this can be done, including a fixed piece of art that lifts up as a sliding panel, as shown below.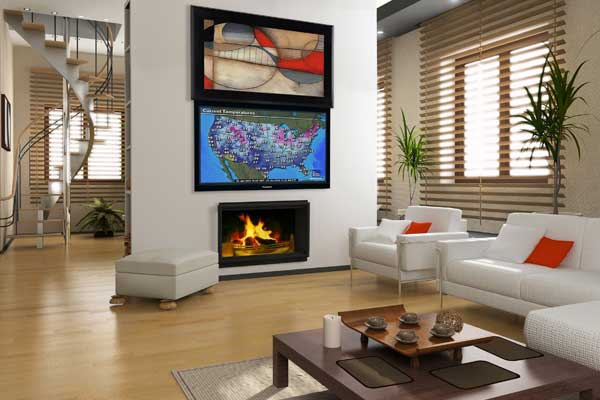 You can also purchase a flat canvas that retracts when the TV is in use. It's basically a motorized roller shade for a TV.
You can also create a folding screen with art on the front that you simply fold back when the TV is in use. This bi-fold art really gives you the best of both worlds!
Conceal it Behind a Mirror
Decorating with mirrors is one way to make a small room look bigger. So a mirror combined with a TV is a win-win!
One way is to conceal a TV is behind two-way mirror. This way, the TV will only show through the mirror when it's in use. When not in use, you just see a mirror.
A downside to using a two-way mirror, though, is that when the TV is off, the mirror isn't quite as reflective as a traditional mirror. And when the TV is on, it is "behind" the glass so perhaps doesn't have quite as clear of a picture. The Media Mirror, developed by Media Décor, is an adapted version of the two-way mirror that aims to resolve both of these issues.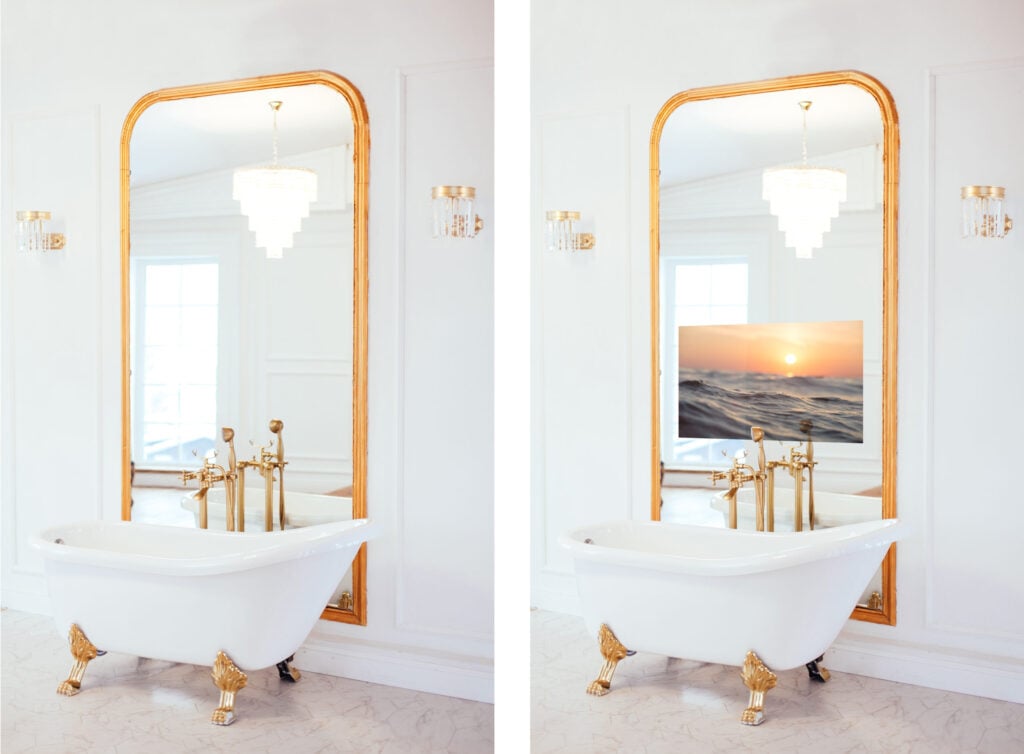 You can also use folding panels with mirrored fronts you simply open when you want to watch TV.
Install a TV Lift
TVs are popping up everywhere, literally! You can hide your TV in your kitchen counter, buy TV cabinets from which the TV lifts up when in use or you can even get a lift that comes out from underneath your bed.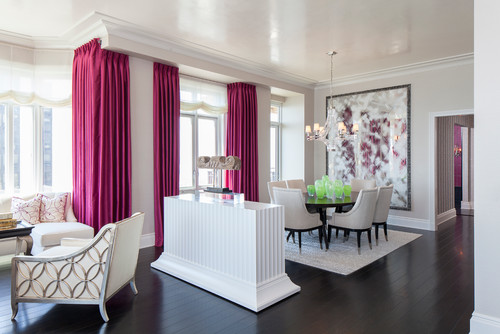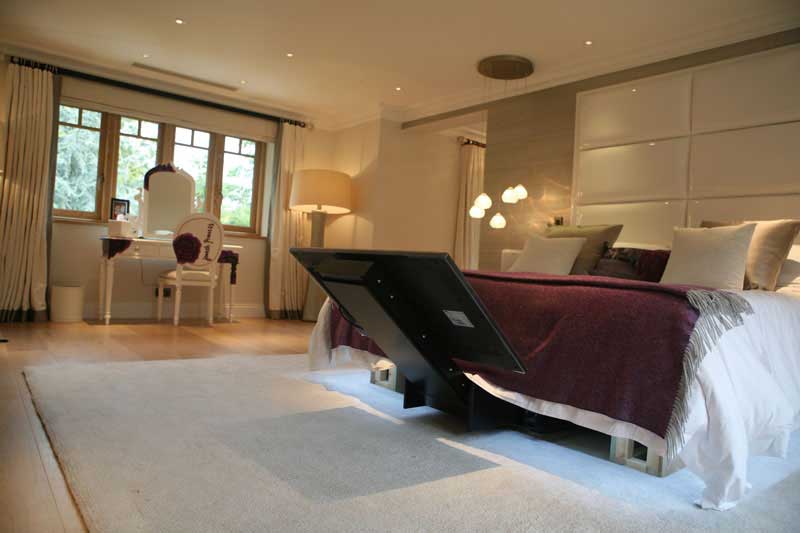 Add some Cabinet Doors
If your TV is recessed into the wall a bit, decorative doors might be a good option, although you'll need to ensure that you have enough clearance on either side of your TV such that the doors can open easily. If it's not recessed, you can still add doors but you'll first need to frame them so that the frame can go around the TV.
Below, a simple system of barn doors opens to reveal the TV behind!
Paint the Wall Dark
How can you make a black screen essentially disappear? By painting the wall behind it a dark shade, of course! While decorating with black can be dramatic and timeless, navy blue is a great option too. The dark wall will help the TV screen fade away!
Hide it in a Cabinet
One of the benefits to hiding your TV in a cabinet is that you get some extra storage out of it and it's an easy place to hide the cords, cables and components that go along with a TV.
Flip Out from the Ceiling
No wall space to hang a TV? No problem! You can have it flip down from the ceiling!
Surround it with Decor
This might be the easiest and least expensive solution when working with an existing TV. You can simply surround it with other decor so that the TV isn't the standalone item on the wall!
A gallery wall is one option, where you essentially treat your TV like a black picture. For this reason, it's best to incorporate a bit of black in your other wall decor for a cohesive feel.
If your TV is in a shelving unit, you can use decor to distract from the TV! The built-in storage of this entertainment center gives lots of options to display pieces that will keep your eye moving instead of focusing on the TV.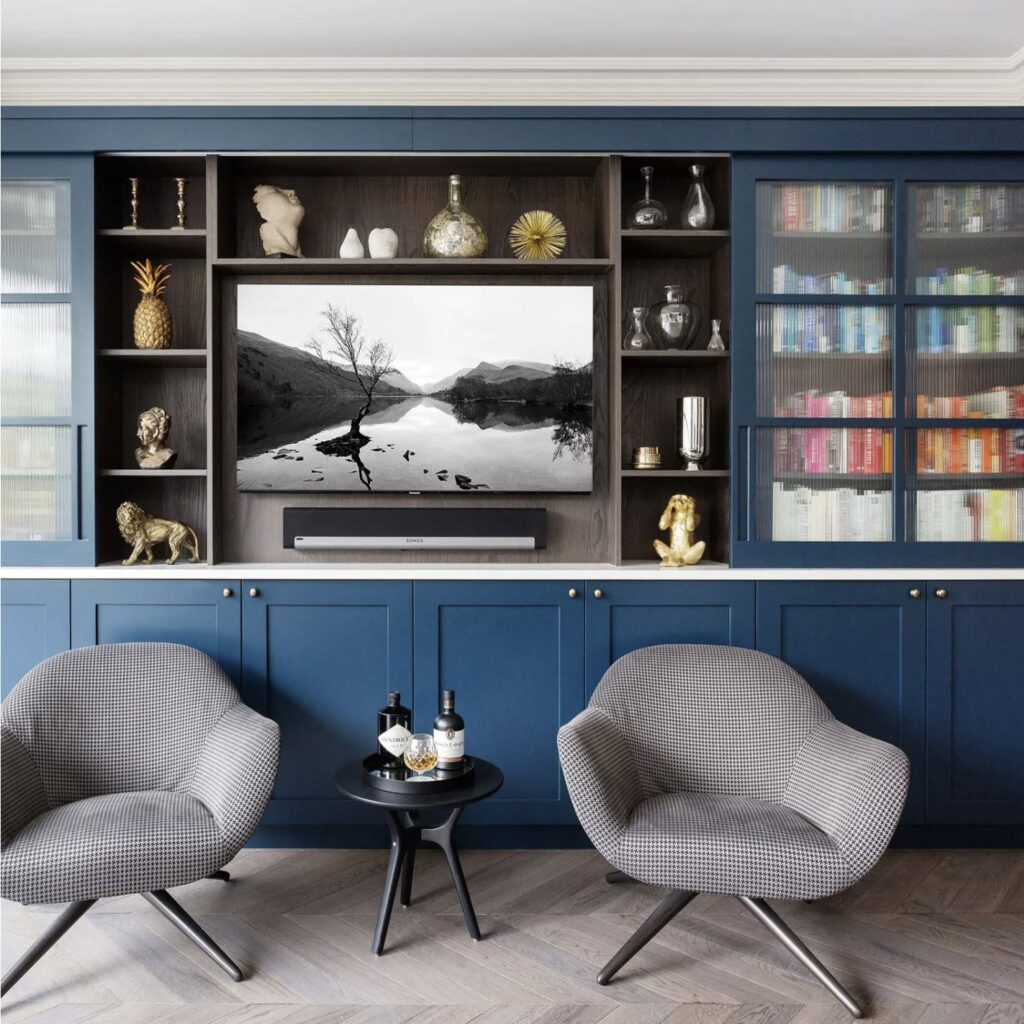 Try a Pull-Down Map
We're going old-school with this one! It's a relatively simple design but works perfectly!
Buy a TV Cover
If you have a wall-mounted television and you don't have space for a cabinet, there are wall-mount cabinets that you can purchase to decoratively hide your TV! You could even use these above a fireplace!
Ballard Designs sells two beautiful options.
You can also purchase relatively inexpensive fabric dust covers on Amazon that have artwork printed on them!
More Designer Secrets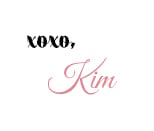 Join the Community
Let's keep in touch! Get exclusive artwork plus the latest news delivered directly to your Inbox!