Easy and affordable ideas to create a backyard oasis in any size space! These 10 luxury backyard ideas will upgrade your space without breaking the bank.
Spring and Summer always make me want to spruce up my backyard. I could spend hours pouring through magazines and Pinterest of gorgeous, luxurious gardens. Usually, though, none of the ideas I see are affordable on my budget.
I live in the California Bay Area. In my neighborhood, homes are built almost on top of one another and land is a premium. I could literally talk to my neighbor through my window to hers! But that doesn't mean I don't want my yard to be an oasis!
All yards, regardless of their size or location, can be a sanctuary and a beautiful space to relax. I've spent the last 10 years making small but impactful changes to my backyard that really elevate the design and add a touch of luxury.
Creating the Look of Luxury
I have a love of European design, you'll see that some of these ideas pull from European influences. So as you read through, think of the famous gardens you've seen or read about and think to what elements they include. While the ideas below might not be as grand, they can still be as beautiful.
These are all simple ideas that you can do with just a bit of work and some creative shopping.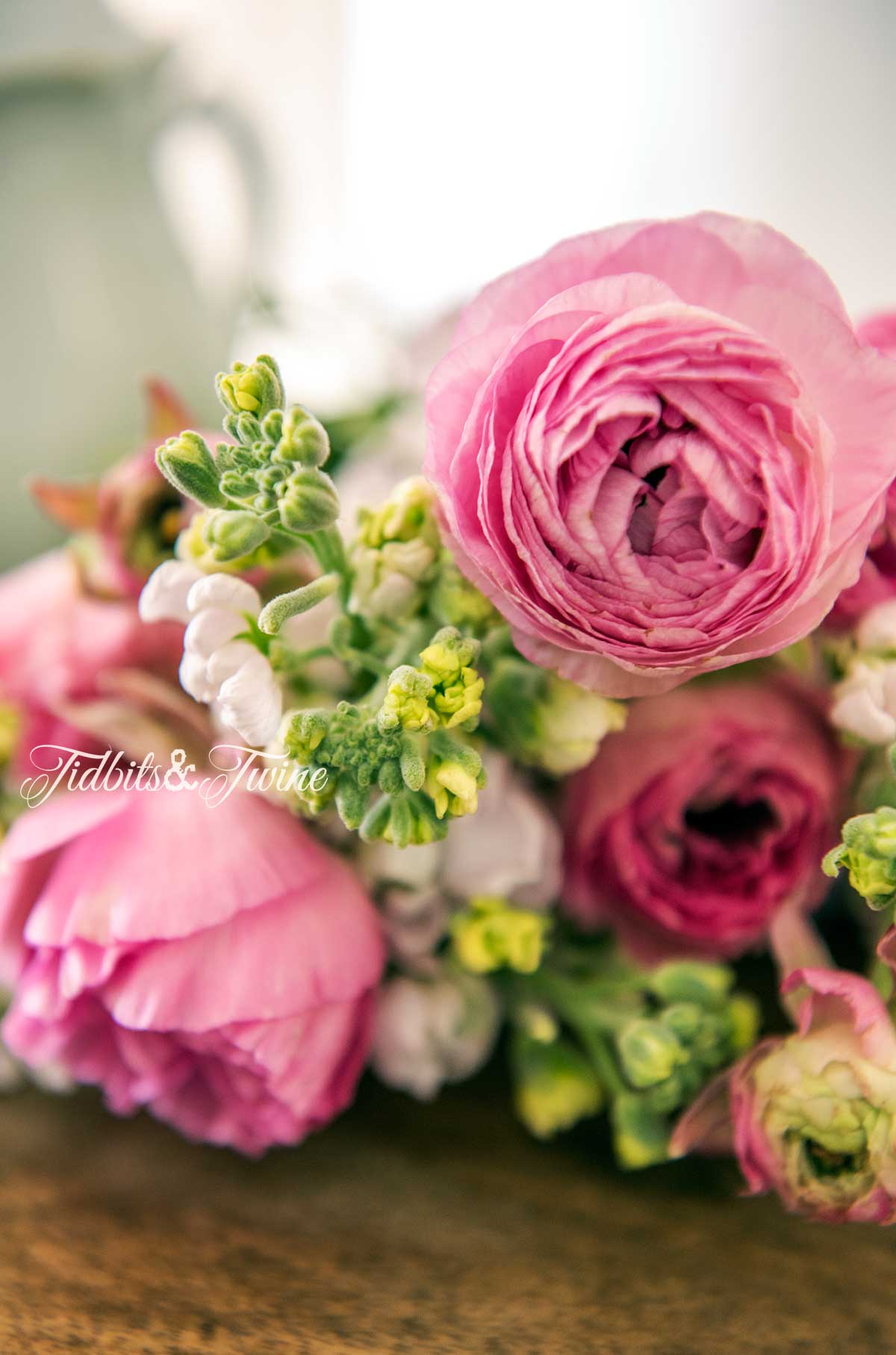 10 Ways to Add Backyard Luxury
Just as it's possible to update and upgrade the interior of your home without breaking the bank, it's possible to add a bit of glamour to your backyard while working within a budget. So today, I've rounded up my personal favorite affordable luxury backyard ideas.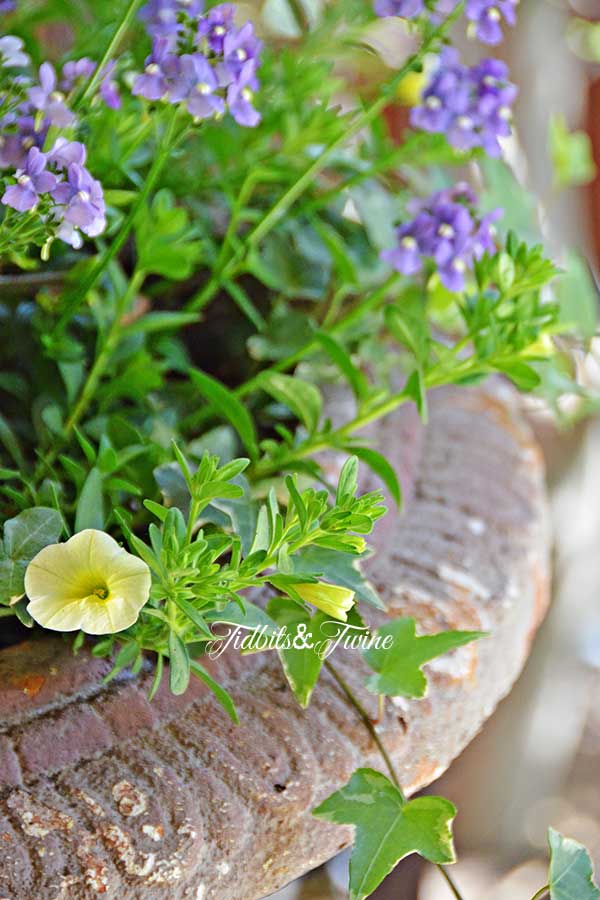 1. Water Feature
There are so many different types of water features available, from koi ponds, to large fountains, or even something as simple as a bird bath. The sound of water is known to be relaxing, but did you realize that running water can also drown out noise pollution?
Whether you use your water feature as a focal point or a small moment in the plantings, it will add just a touch of luxury to your yard.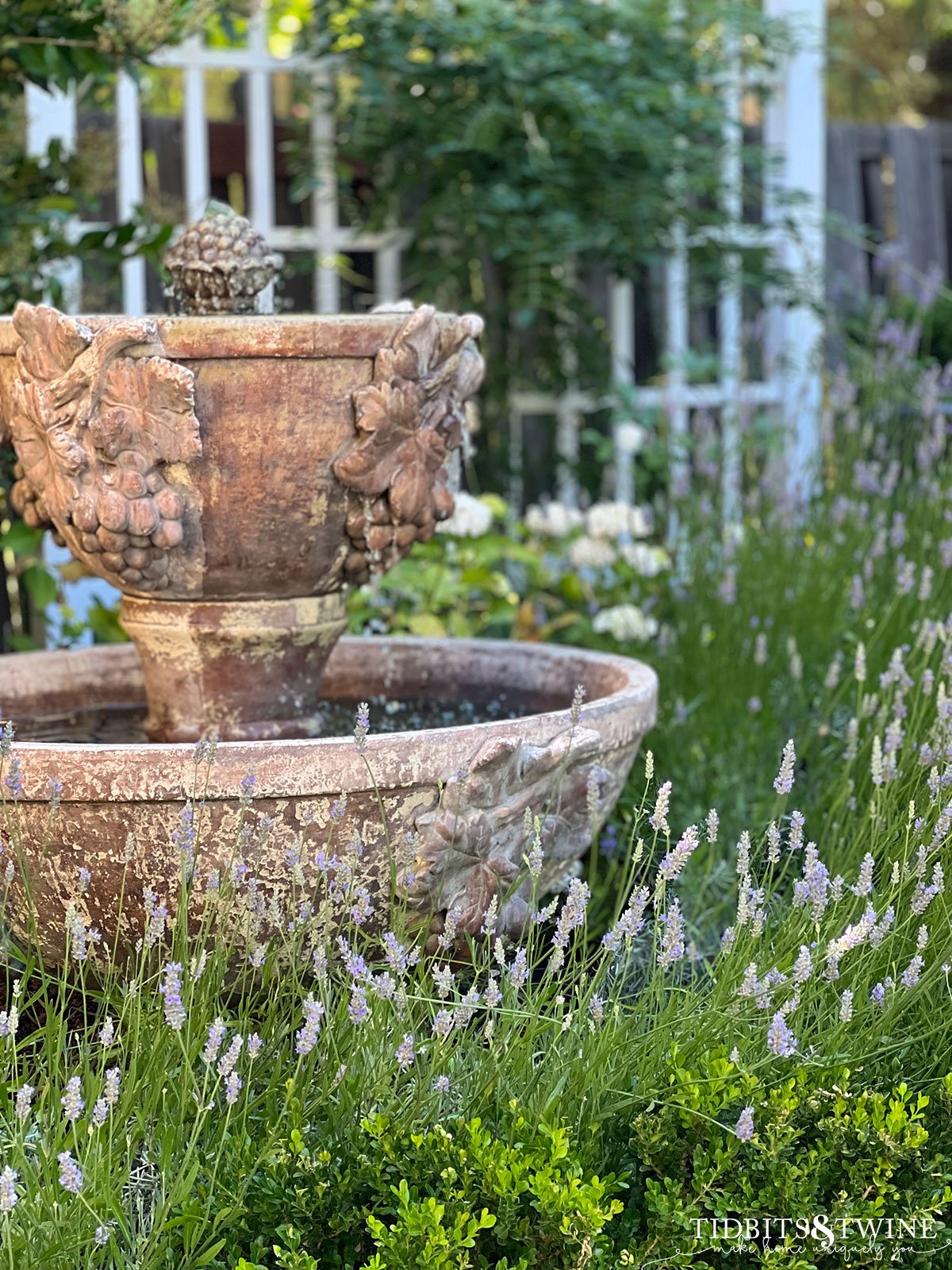 2. Fireplace
A large, built-in fireplace with a gas line is convenient, practical, and utterly gorgeous in a backyard….but oh so pricey! Thankfully, there are some great alternatives, both gas and wood-burning, that are more affordable, with a variety of styles and sizes to suit any decor or space limitation. So you can choose from a large fireplace that is a focal point, to a small and cozy fire pit!
3. Statement Lighting
House Lights
Houses typically come with some sort of outdoor light near the back door, but one of the easiest things you can do is upgrade your standard light for something that is more decorative!
Seating Area Lights
In addition, if you have a covered dining or sitting area that can accommodate an outdoor chandelier or hanging pendant, use that opportunity to create a statement with a beautiful light. Or try hanging lights, even solar powered one, to create a cozy nook with seating.
Landscape Lighting
Lastly, if you can't put in hardwired landscape lighting, consider solar lights! You can adjust the brightness depending on where you're using it, as well as adjust the angle.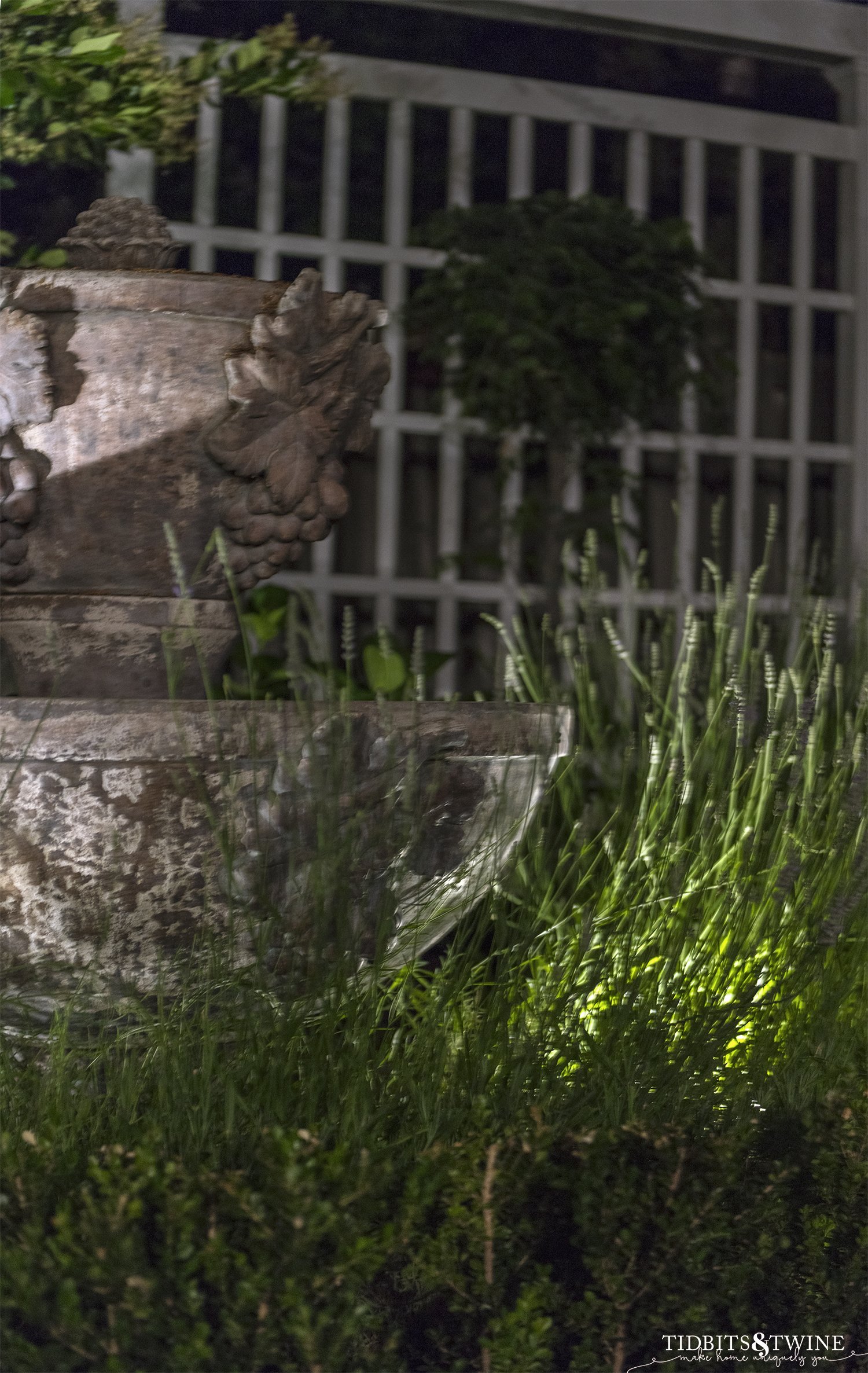 4. Trellis / Pergola
Luxurious backyards all have one thing in common – privacy! A trellis or pergola is an easy way to add some privacy to your yard. You can create a cozy corner in a large yard with a pergola, or block out nosy neighbors in a small yard with a trellis.
I purchased this trellis from Walmart and absolutely love it.
5. Underplanting
Planting low-growing plants underneath a tall one is known as underplanting. Underplanting potted trees or vines with trailing flowers or plants with variegated leaves is a beautiful way to add a luxurious look to your outdoor planters.
I'm obsessed with Million Bells, otherwise known as Calibrachoa. It grows well in my yard and tends to bloom year after year, despite the fact that it's an annual. I add purple and red Million Bells to almost every planter I have, including this one with a white Bower Vine!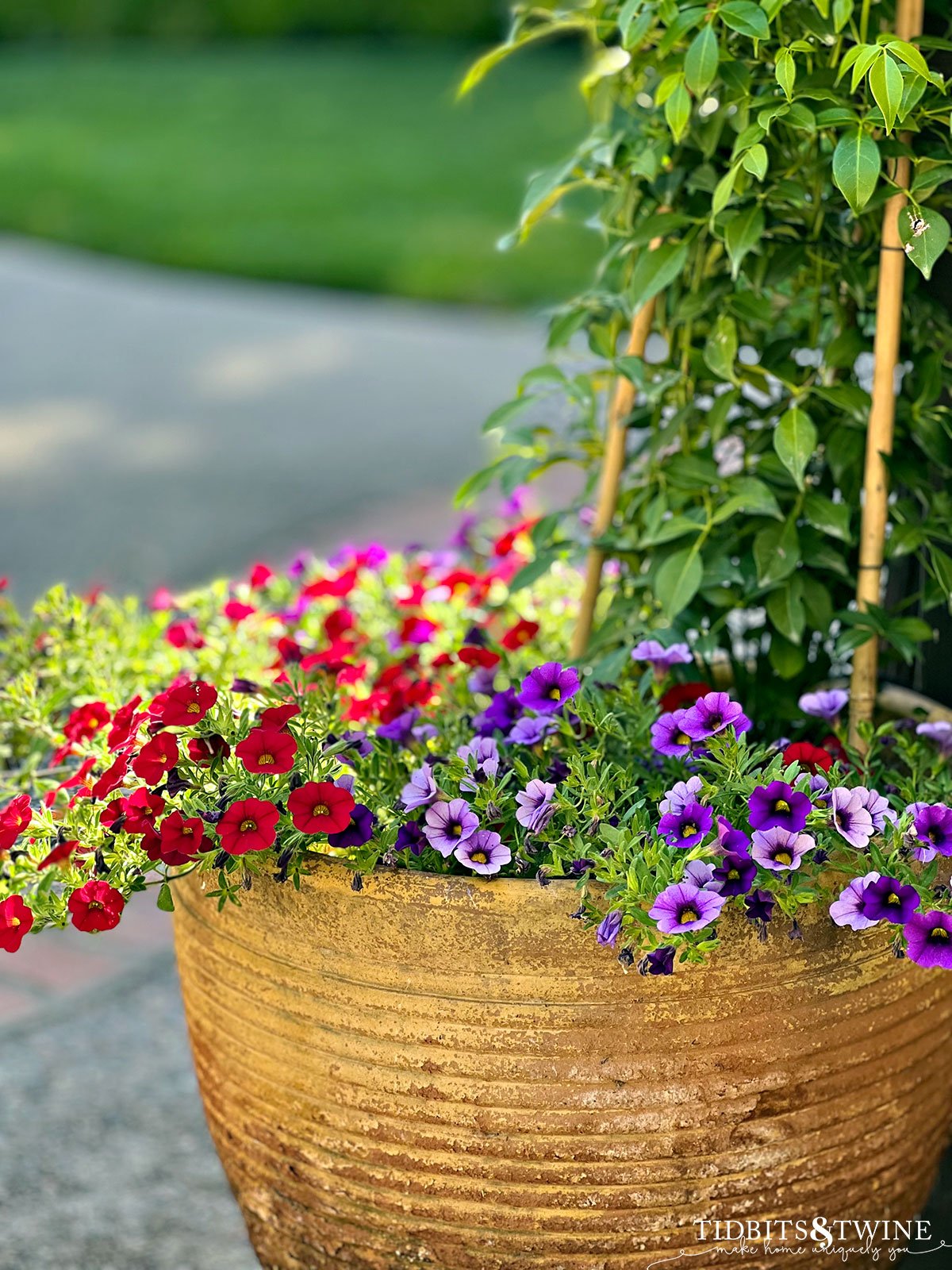 6. Decorative Pots
Speaking of pots, a beautiful contains can instantly spruce up your garden. You can use multiple of the same container to create a uniform look, or use a variety in a small grouping.
You can get ideas and see more French planters in my French Planter Style Guide.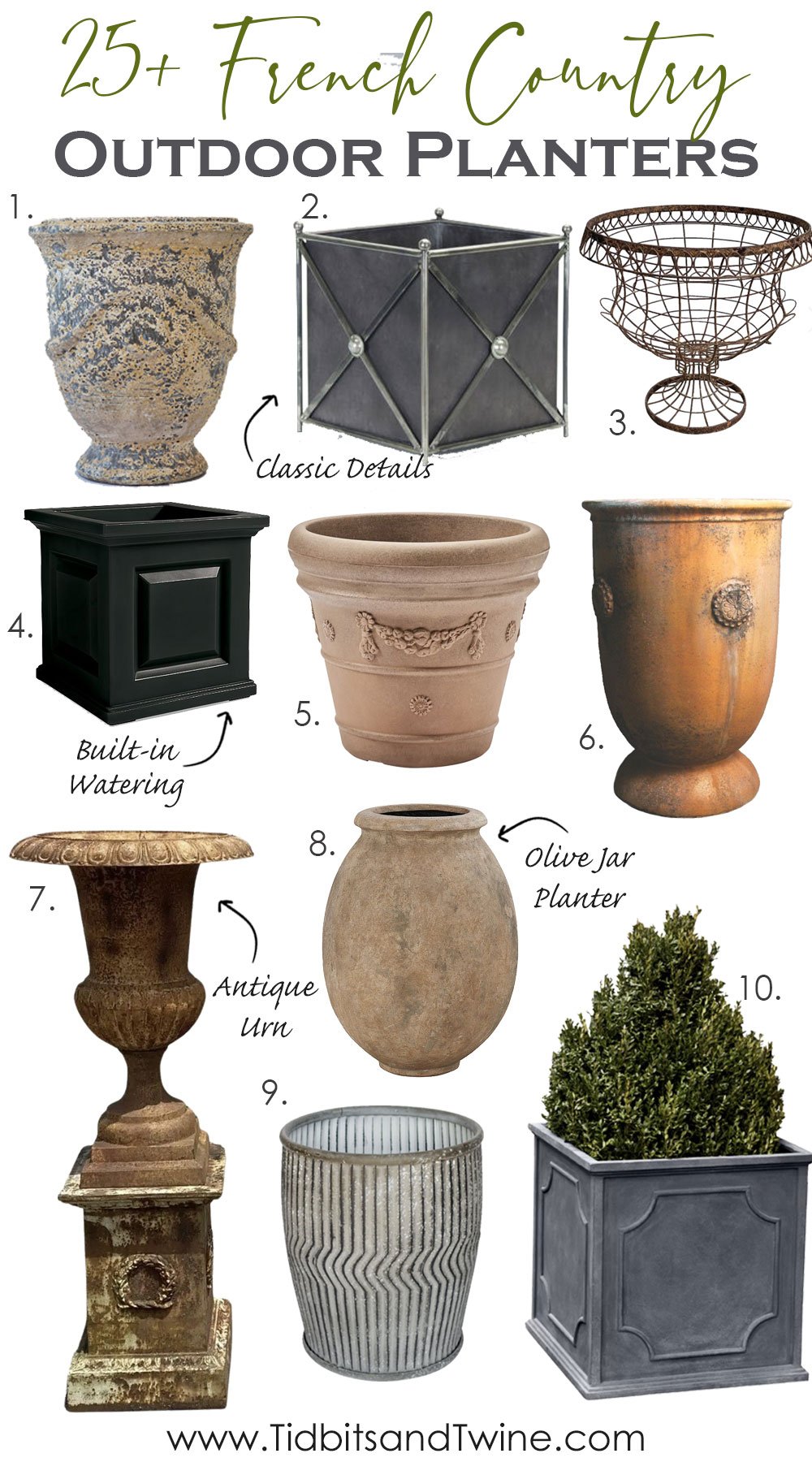 7. Shapely Shrubs
If you think of the gorgeous grounds of Chateau de Versailles, one thing that stands out are the shapely shrubs! Shrubs that are well-manicured give a high-end look of luxury. Boxwood easily lends itself to hedges or topiaries, of which my favorite is the Green Beauty.
For two years now I've had plans for my side yard that include standard Bay Laurels pruned into balls to keep them compact so they don't grow over the fence.
8. Exquisite Espalier
And related to shapely shrubs, I'm obsessed with espalier trees but have yet to find a spot for one in my yard.
Espalier, pronounced ee-spal-yay, is the art of training the woody plant growth of a fruit tree along a flat plane. This is a French word and dates back to the early Romans. It was often used for growing fruit trees along castle courtyard walls. Essentially, the tree is two-dimensional. It's perfect for small gardens and planting along fences, but I love it because of the sculptural shape!
Recently, I saw non-fruit trees trained in the same sculptural shape. While these aren't true espalier, they are great options for those that want the look of an espalier without the mess of fruit and a great way to create backyard luxury!.
9. Stylish Furniture
I'll be the first to admit, outdoor furniture is ridiculously expensive! But think of it as an investment. High-quality, comfortable outdoor furniture that holds up season after season makes a significant impact on the look of outdoor space. And speaking from experience, Sunbrella fabrics really do resist fade better than others.
My back porch has indoor dining furniture on it because our weather tends to be moderate year-round and the porch is covered.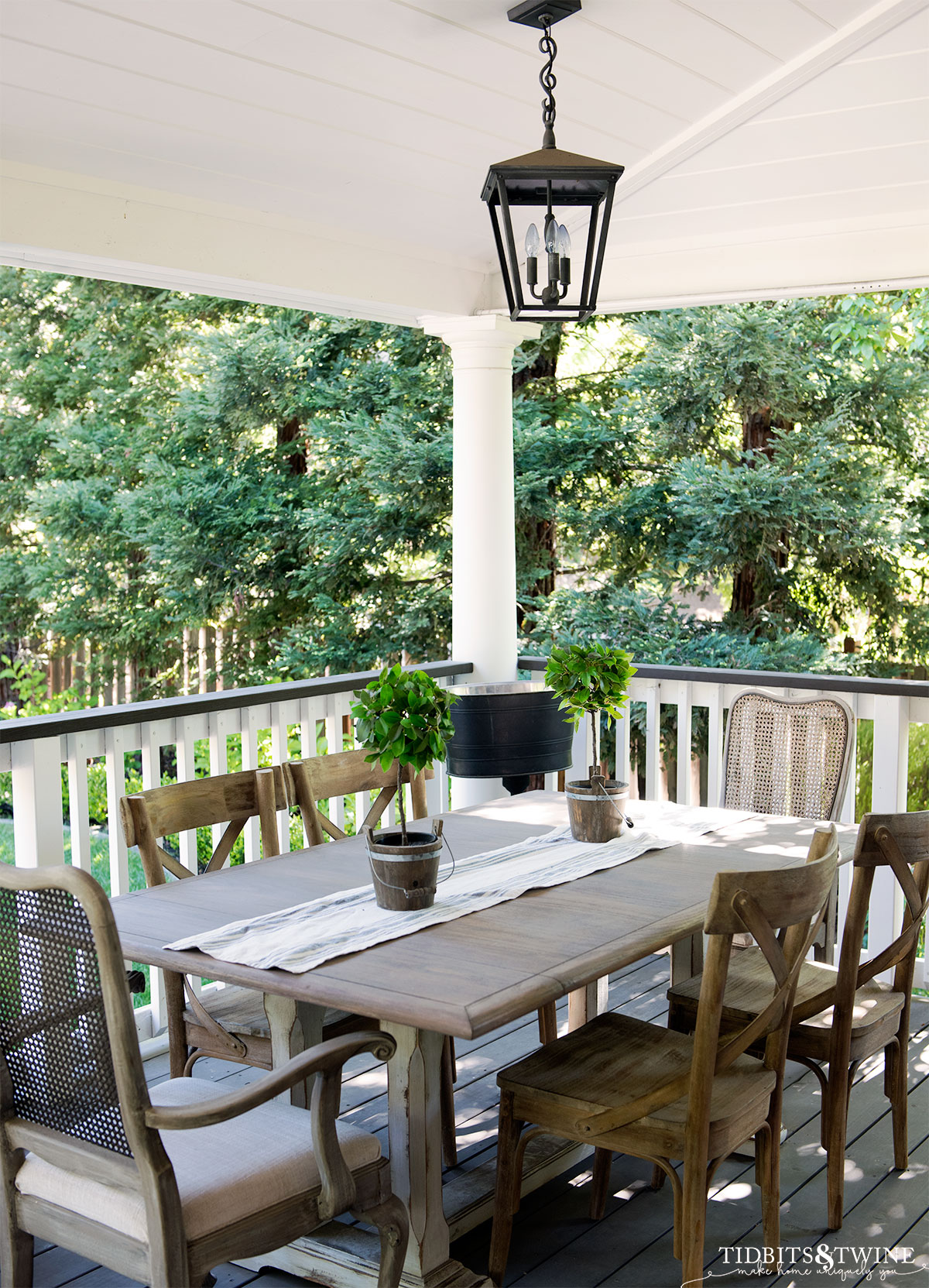 My outdoor sectional on my back porch is the Yorkshire collection from Grandin Road. It's currently unavailable, perhaps due to shipping issues or perhaps they no longer make it. Either way, the Stockholm seating collection from Grandin Road is similar.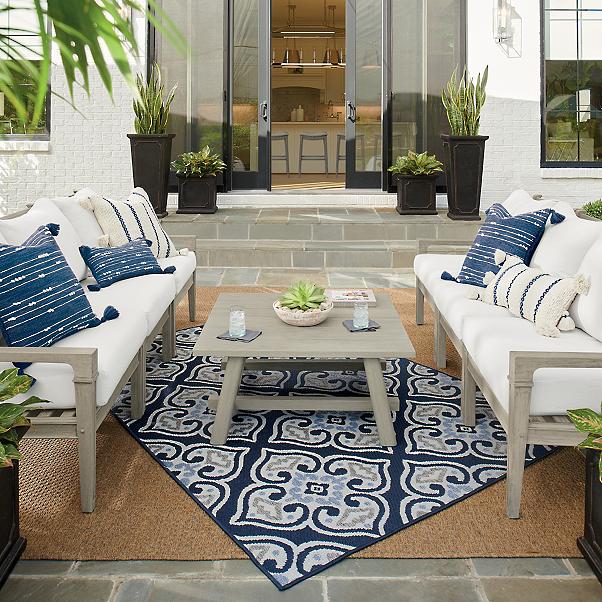 10. Crushed Gravel/Granite
When you picture a luxurious European garden, one thing that springs to mind are beautiful crushed gavel pathways known as parterre paths.
Even if you don't want to create a pathway, you can used crushed rock as mulch instead of using wood mulch. While it does cost more, it's more sustainable and helps to trap in moisture and prevent weeds.
Crushed gravel or granite creates a sophisticaed, polished look in a garden.
Join the Community
Let's keep in touch! Get exclusive artwork plus the latest news delivered directly to your Inbox!