My favorite storage solutions for every room of the home! Use these ideas with your existing cabinets and layout to keep yourself organized while looking stylish.
There are plenty of articles that talk about storage and organization ideas if you're remodeling. Yes, we'd all love those amazing corner cabinets that pulls out so that everything is accessible. Sure, I'd love a dedicated pullout for cooking essentials. Hidden paper towel storage? Great!
But not everyone has the latest and greatest in cabinetry. Some, myself included, have to try and stay organized with basic cabinets, standard closets, and regular drawers!
Thankfully, there are some great solutions available to help make the most of the space that you have. And today I'm sharing my favorite storage solutions that I use in my own home.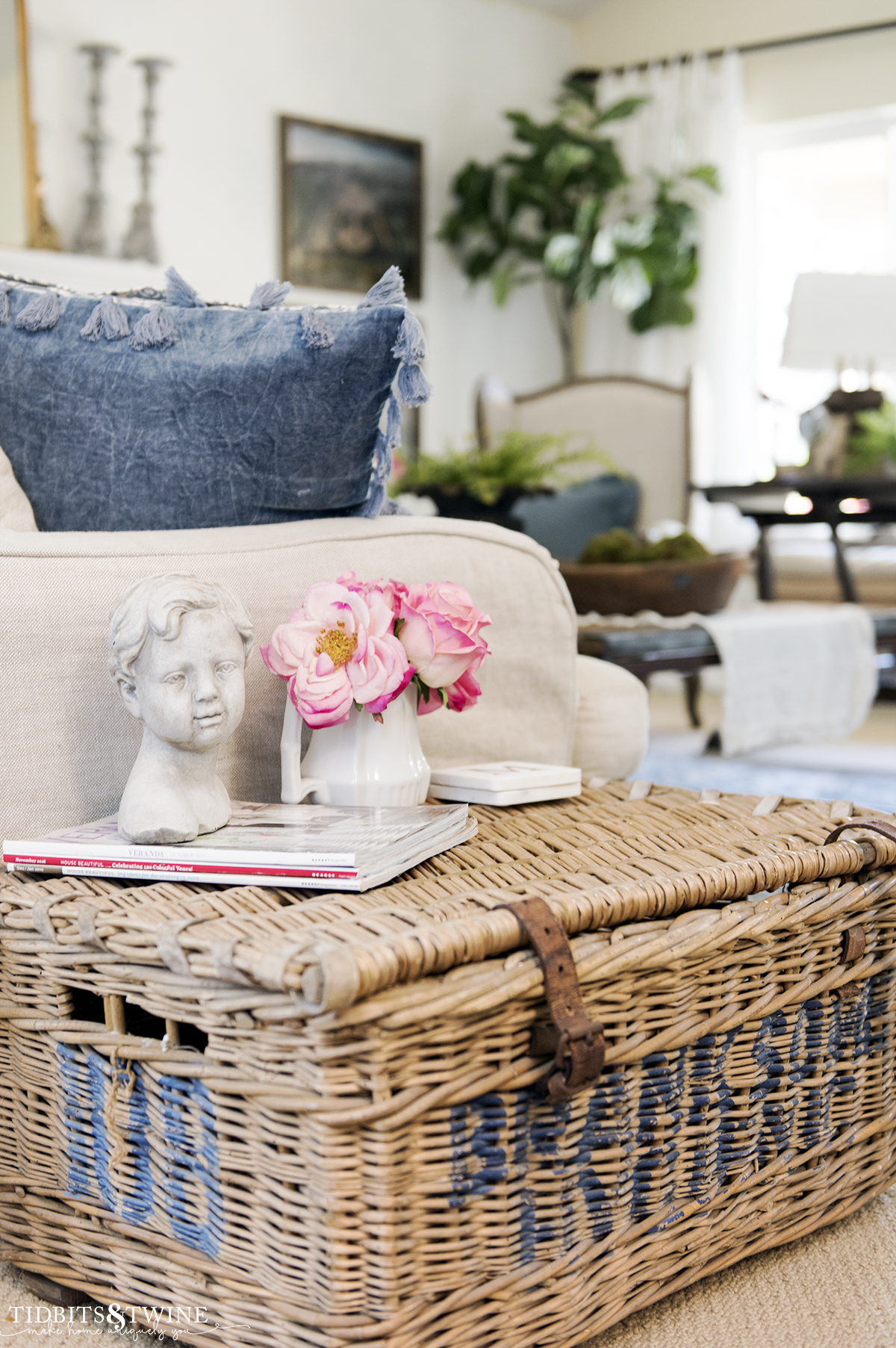 Storage Ideas for the Home
I live in California and did you know that in California, the majority of homes don't have basements? Mine included.
Plus, I live in the Bay Area, which means that my house is on a small plot of land. Too small for outdoor storage.
And the final nail in the storage coffin?
I don't have an attic. Well, that's not entirely true. I do have a small one above one room but the opening is barely big enough for a person, let alone a storage box or furniture!
So what all this means is that when it comes to storage, I have to get a bit creative. Over the years I've tried a lot of different solutions. Some I've loved. Others, not so much.
But today, I'm rounding up some of my favorites to share with you. I've broken the storage solutions out by room but you can find all of my favorite in my Amazon Storefront. You can use the Table of Contents below to skip to each section.
Storage Do's & Don'ts
Look for Square Containers – square containers are more space-efficient than round and will make the most use of your storage in the long-run.
Choose Stackable Options – flat tops allow smaller containers to be stacked one on top of the other
Always Label – I use chalk stickers in my cabinet but elsewhere, I love my Dymo Label Maker!
Look for Quality – It might be tempting to buy an inexpensive container of an unknown brand, but over time, they tend to crack or break. Invest in something that will last!
Only Store What You Need – Purge! Don't store things you won't ever use again because you're taking away space for things you actually need or want. Be sure to declutter before packing things away.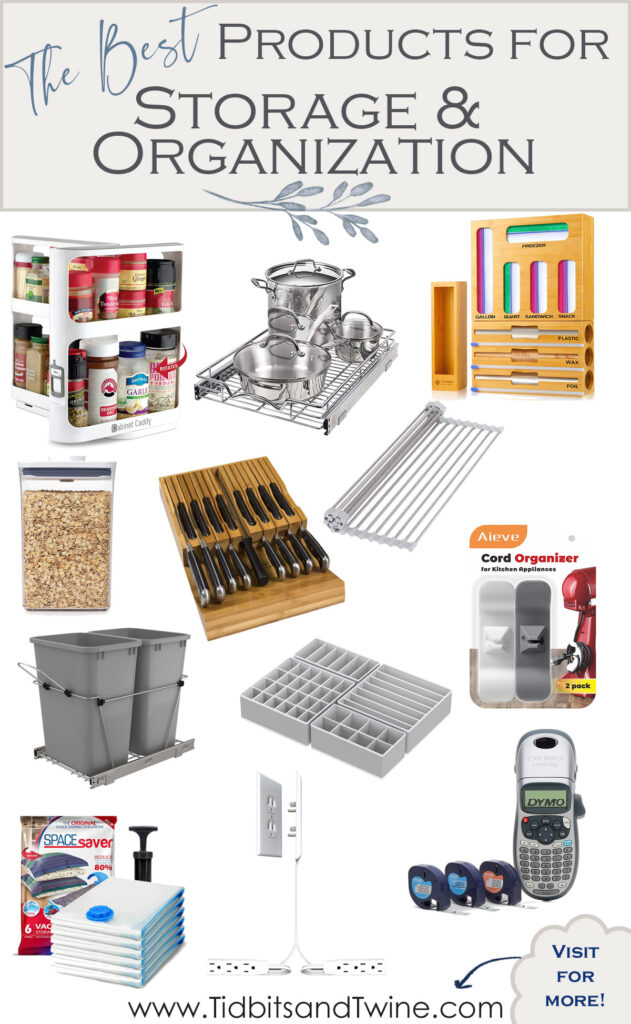 Baskets & Bins
The beauty of baskets is that you can have them on display while also serving as storage. I even love using a stack of vintage suitcases as a side table, which each one of them storing items that I don't need daily access to!
A lot of my storage is actually out in the open in baskets! You'll notice that just about every room in my home has a basket. They're stylish and a great way to keep your items contained.
Note: Be careful about using baskets in cupboards or cabinets because they aren't stackable and it's easy to make a mess of things you can't see!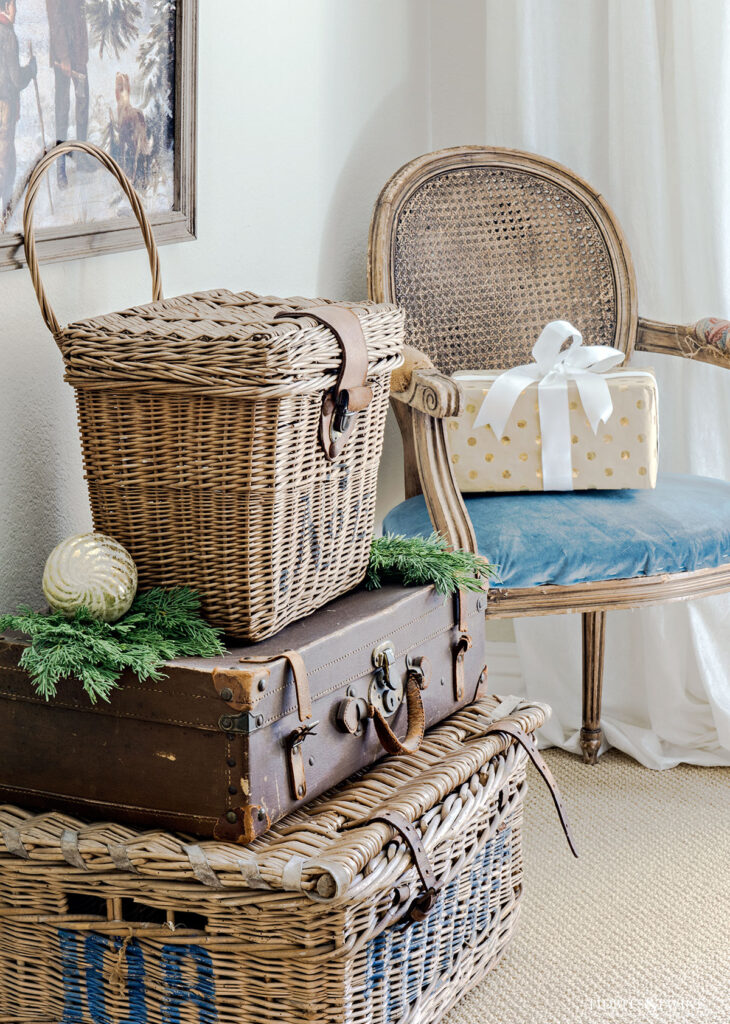 La Jolla Basket Dupes
The La Jolla baskets from Serena and Lily are very popular right now so I'm mentioning them separately. They have a graceful shape with a lid that can hide all sorts of things! These would be perfect for kid toys, dog accessories, throw blankets, etc.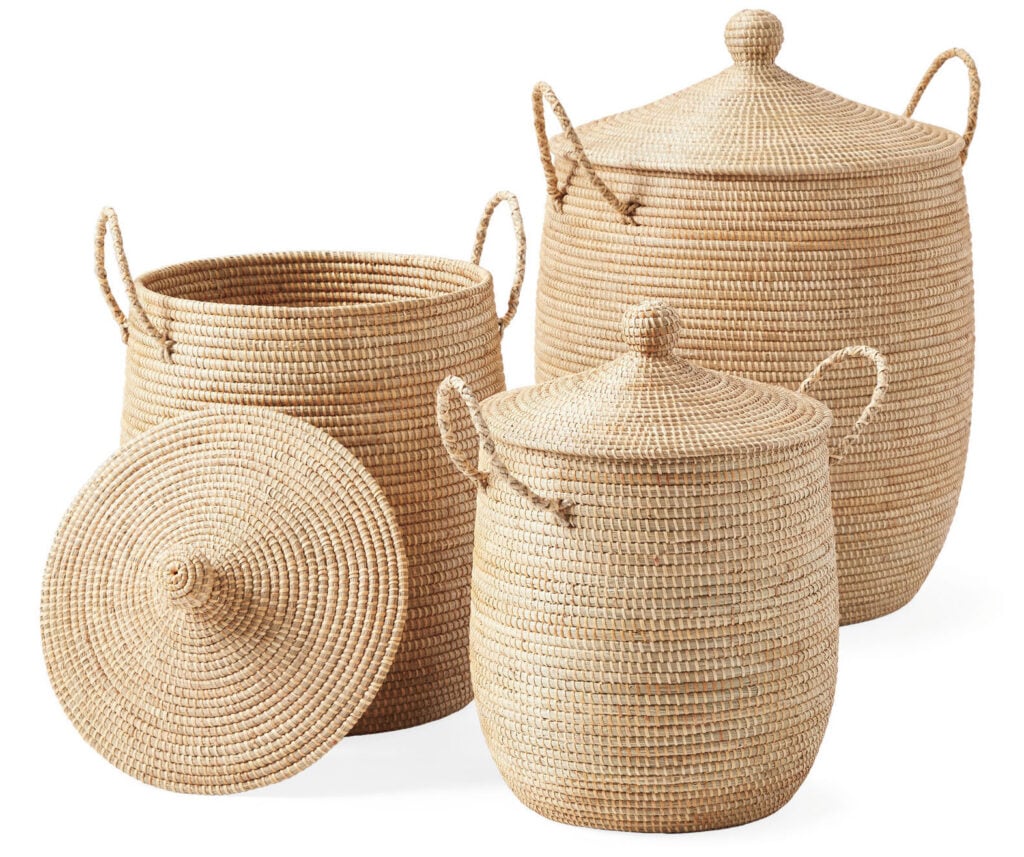 At the time of writing this, the La Jolla Baskets are on sale. But even then, they can be a bit pricey. Many companies have started replicating these baskets, though, since they are so popular. So here are some La Jolla Basket Dupes that might be a better fit for your budget.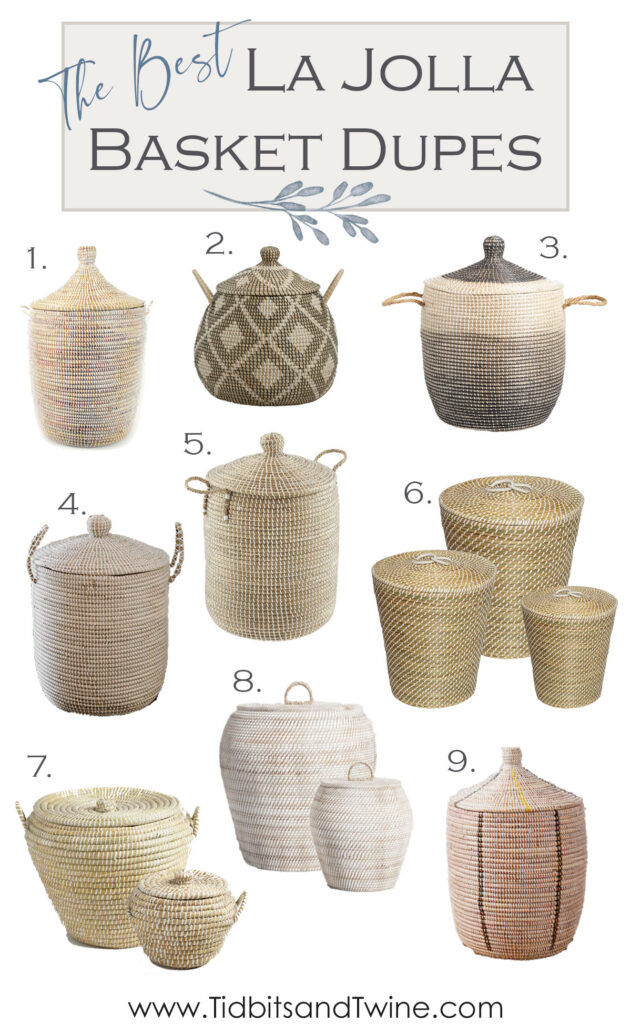 1.Tilda Basket – 2. Diamond Alegra Tote – 3. Amelia Ombre Basket – 4. Jolie Hamper – 5. White Seagrass Hamper – 6. Nesting Baskets – 7. Natural Seagrass Baskets – 8. Basket Set – 9. Graphic Millet Basket
Some of my other favorite baskets and bins are below!

Kitchen
It's amazing how many different organization and storage options there are for the kitchen! My kitchen is original to my home so it doesn't have any fancy bells and whistles. I've found some great solutions over the years, though!
I never loved having my knife block on my kitchen counter. They aren't particularly pretty to look at and it was taking up much-needed counter space. This in-drawer knife block is one of my favorite things! It does mean you have to dedicate an entire drawer to your knives, but it works perfectly and keeps my counters clear!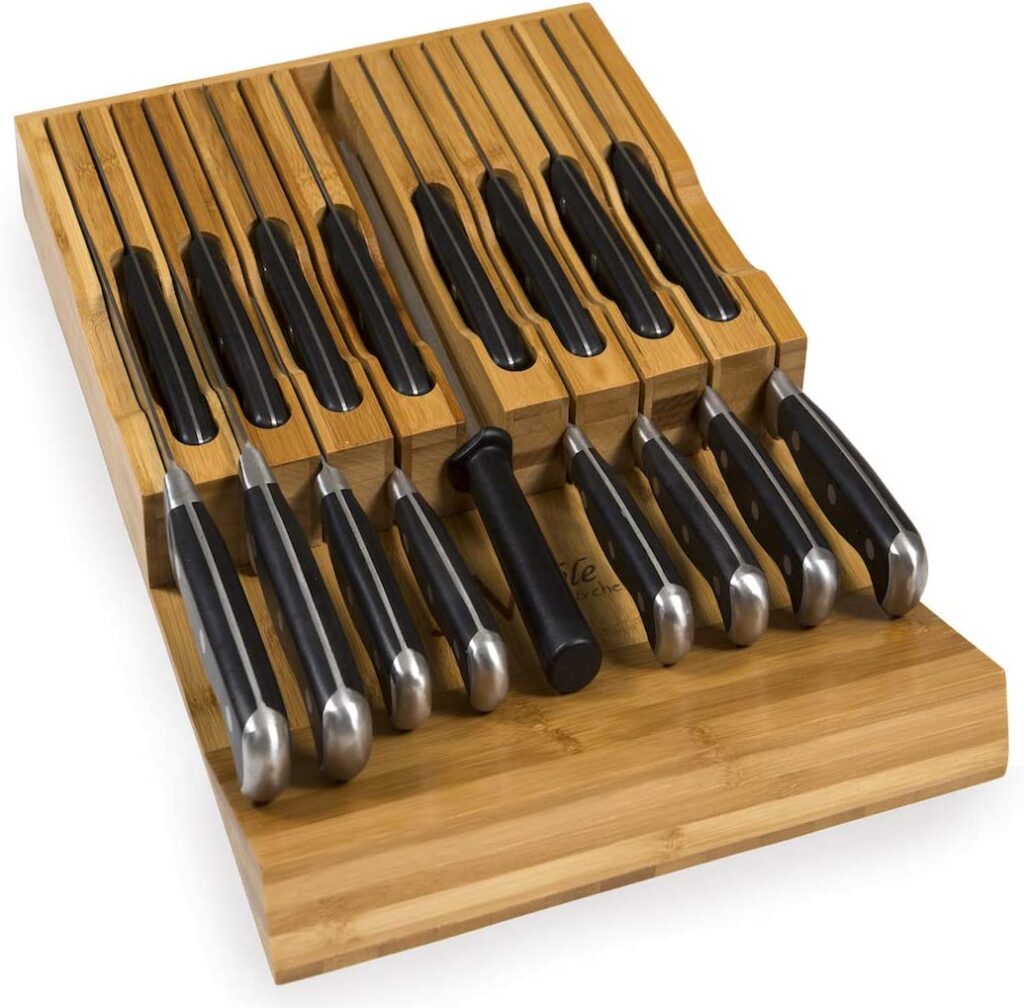 I've tried a few different brands and shapes, and OXO Good Grips containers are hands-down my favorite. I like the seal on the lid so that they remain airtight. Plus, they are square and stackable, so that's a plus for storing them in cabinets!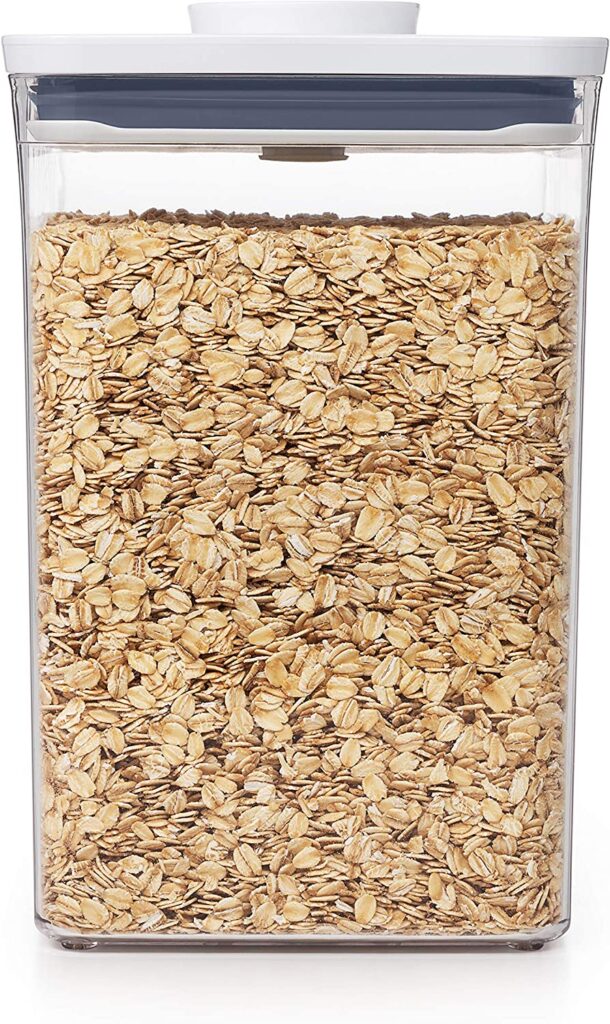 If you have a drawer dedicated to storage bags, foil, parchment paper, etc. you've inevitably experienced the problem of the boxes getting caught and the drawer getting stuck! This organizer is a handy way to keep everything contained. These come in various sizes and configuations depending on your needs.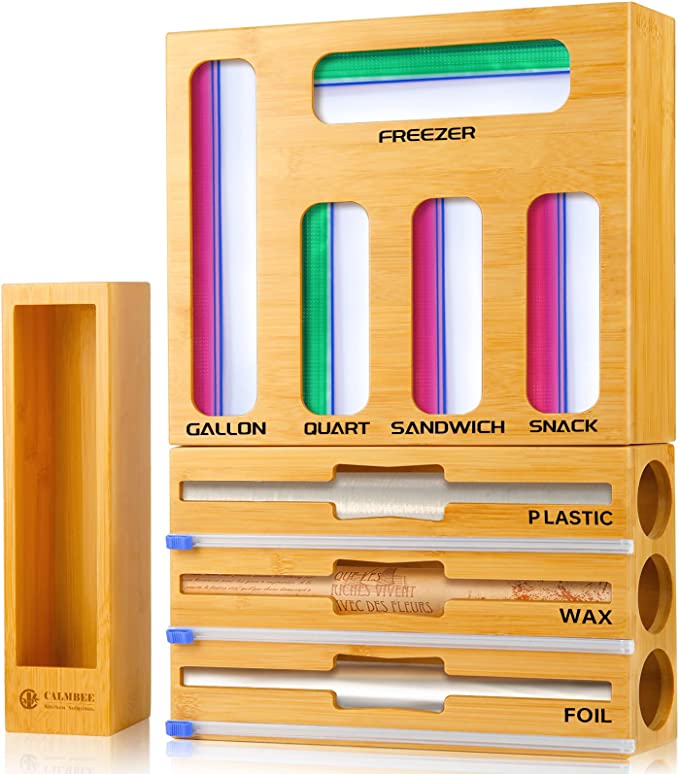 These little cord wraps might not look like much, but they work like a charm! Simple attach to any appliance to securly wrap the cord for storage. This brand works with high temperatures and can even be used on a slow cooker!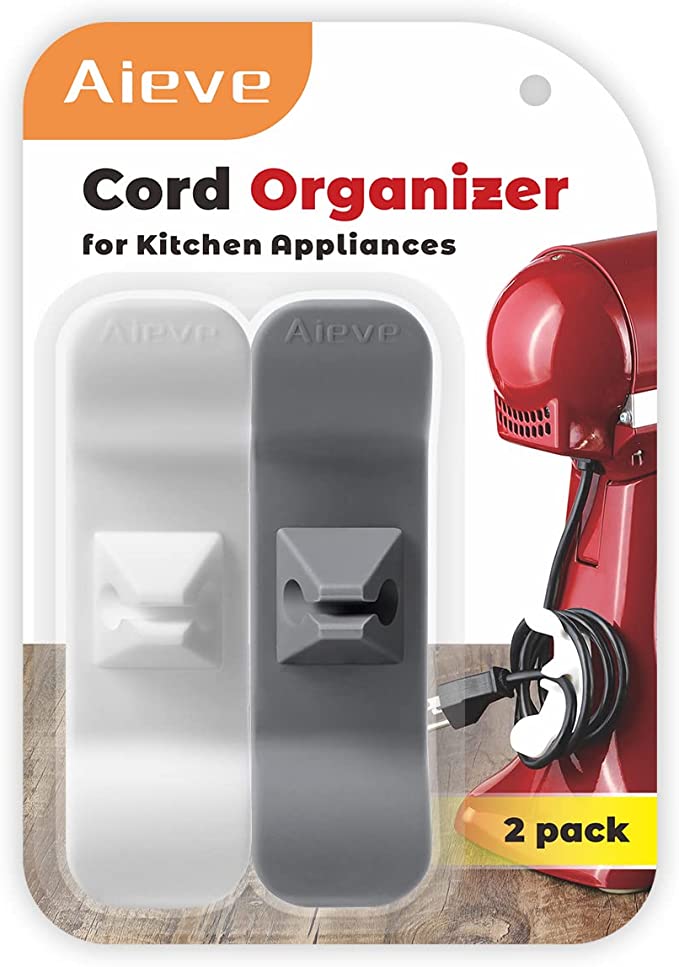 Newer cabinets have the options of adding pull out trays, but you can still add pull outs to existing cabinets! All you have to do is screw the shelving units to the inside of your cabinet and that's it! I have these in almost every cabinet in my kitchen. They come in a variety of sizes. I used them for my pots and pans, baking dishes, and even my recycling bins under the sink!
You can get pull out racks for your upper shelves to hold spices or everyday cooking items like oil, pepper, etc. As an alternative, you can organize your spices into a drawer. Now this is the one item that I don't actually own because I was able to store my spices in my pantry. But this spice rack has so many outstanding reviews that I didn't want to exclude if from my roundup!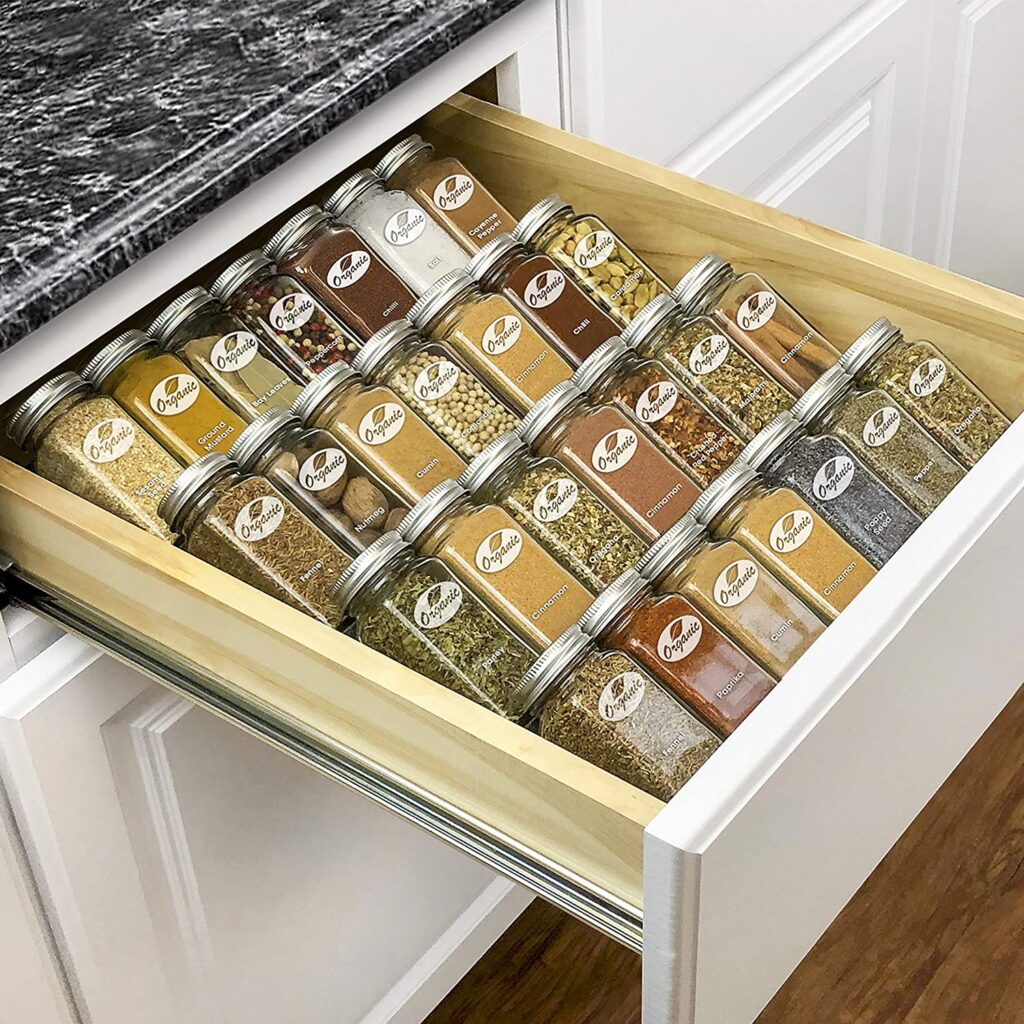 Of course, you'd need to get the spice jars that fit but they can be purchased in a set of 24 or 36 and come with labels and a funnel for filling.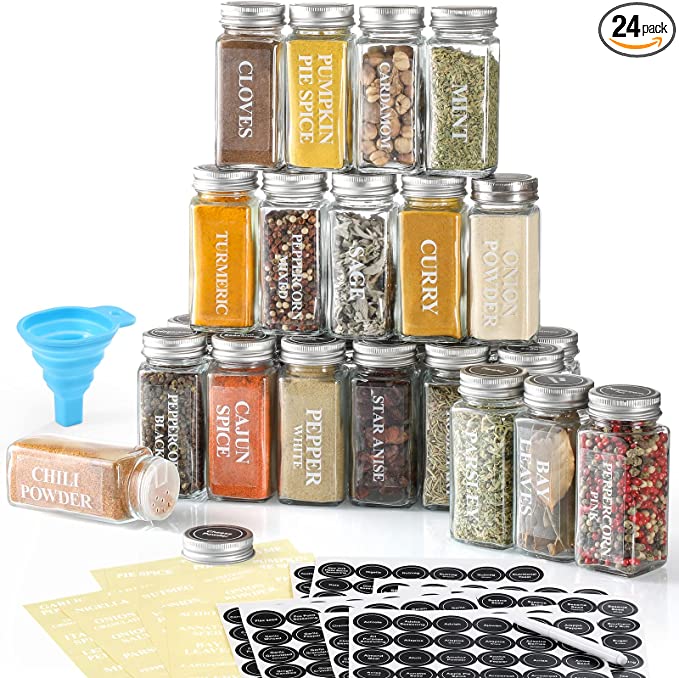 You can cut down on your countertop clutter with a roll-up dish rack. You simpy lay it over your sink to dry your dishes when needed, and put away when you're done! It can also be used as a cooling rack for pots and pans or baked goods. Anything that does double-duty is a win in my book!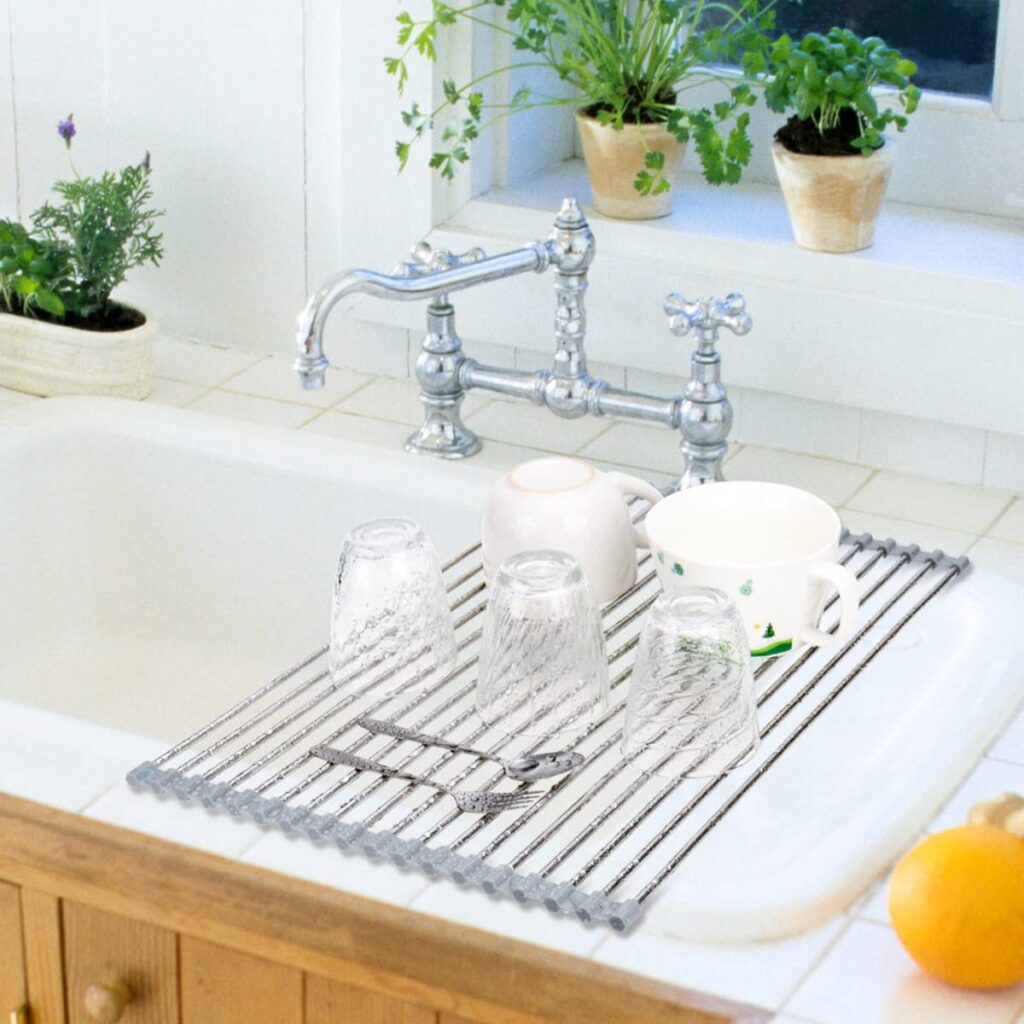 Allowing your sponge to dry out properly is important. And let's be honest. Sponges aren't particularly attractive. My solution to this was to place this suction cup basket inside my sink to hold the sponge out of sight but easily accessible.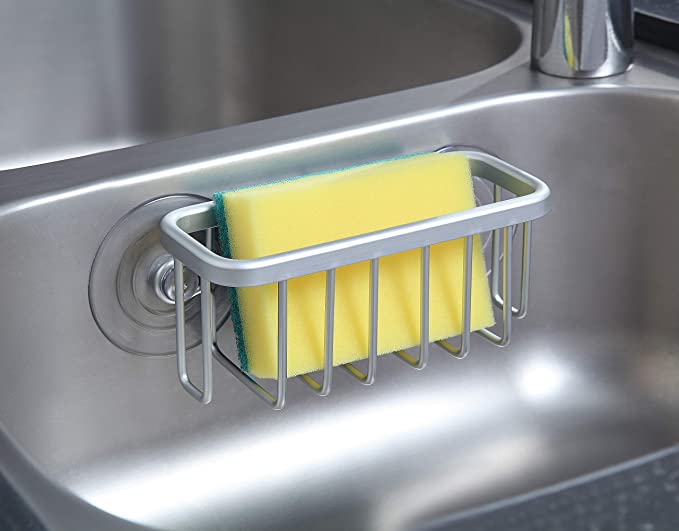 I keep my soap and scrubber in a little tray next to the sink. There are all types and styles you can choose from! I'm currently using a small white serving dish as my sink tray. These trays do fill up with water and soap over time, so if you don't buy one that drains into the sink, you'll need to wash it out periodically.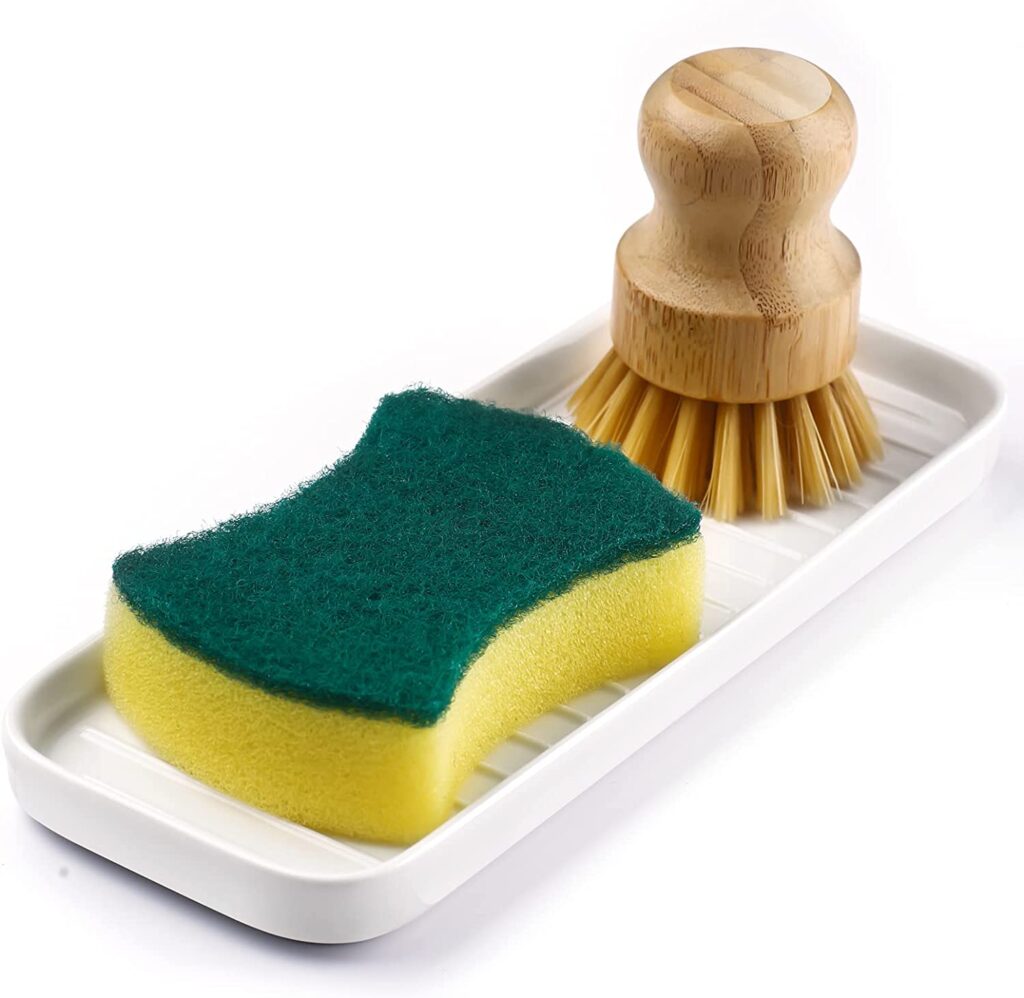 Closet
Whether you need to organize your linen closet or your clothing, here are a couple of handy items!
Who knew that the secret to saving space in the closet was to simply make the hanger slimmer? Such an easy solution but I swear it makes a difference! A few years ago I started to slowly transition away from traditional plastic or wooden hangers to these non-slip velvet slim hangers. The slim design really does mean that you can pack more in!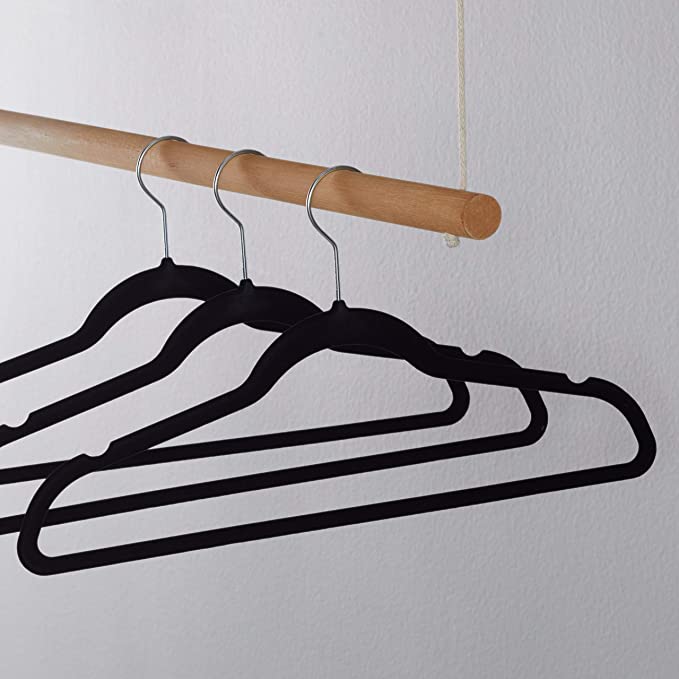 I use these vacuum storage bags for all of my comforters, blankets, and pillows that I have in the closet. Those items are so bulky and take up too much space. Over the years, I've decided that I could make better use of the space if I shrunk them all down for storage. What I like about these bags is that they come with a pump so you don't have to get your vacuum out for this project.
Whichever brand you choose, make sure it has good reviews for the seams and zipper closure. If either of those fail, air will make its way back into the bag and will defeat the whole point!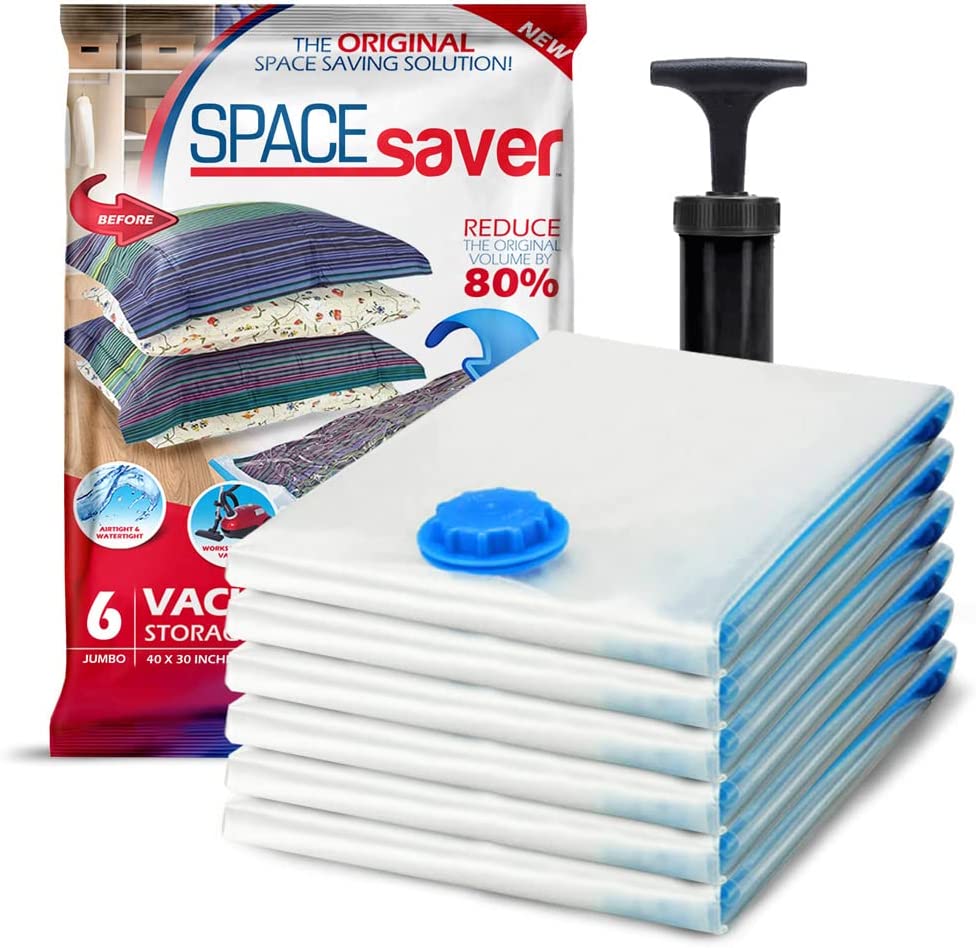 If you still need more space in your closet even after your slim hangers, you can try using the vertical space! I don't use these for pants, but instead use this vertical hanger for scarves. Either way, it's a creative use of space.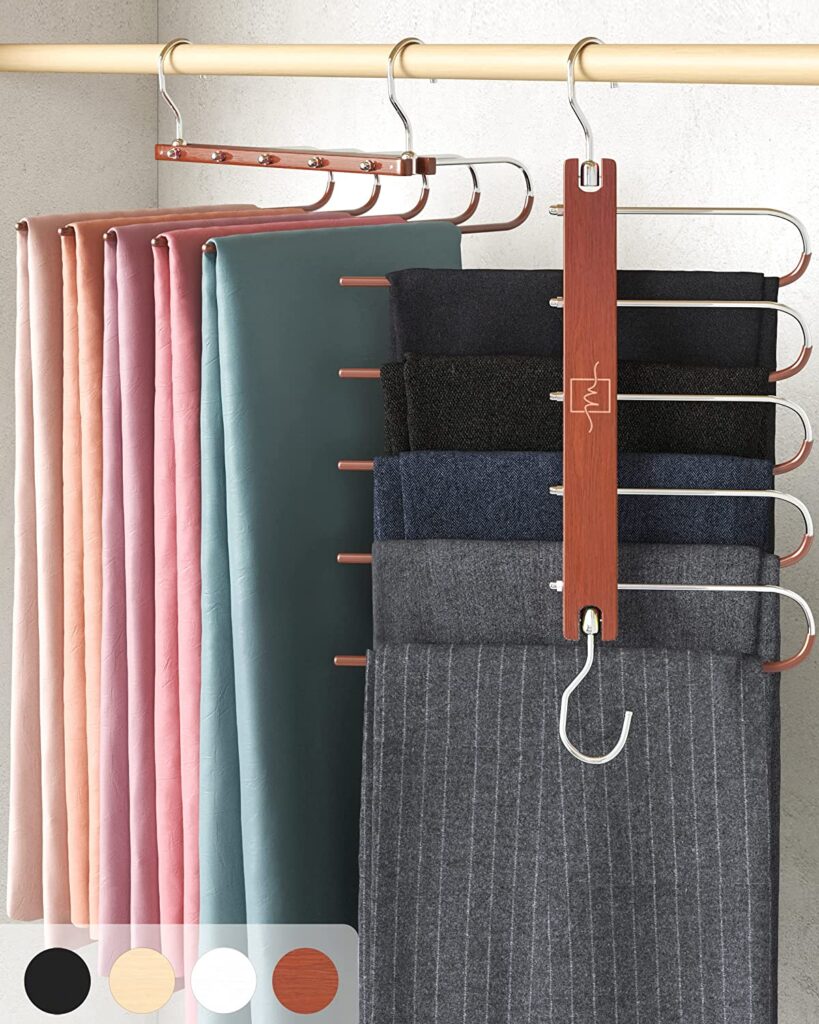 Laundry
I recently added an assortment of these 1 gallon storage jars to my laundry room. One holds my Unstoppables, one my dryer balls, and one my OxiClean. I don't recommend these if you intend to put them in a cabinet. For a cabinet, something square and stackable would be better suited. In my case, these are on top of my dryer, though, so they're decorative storage. I definitely prefer looking at these than the product's original packaging!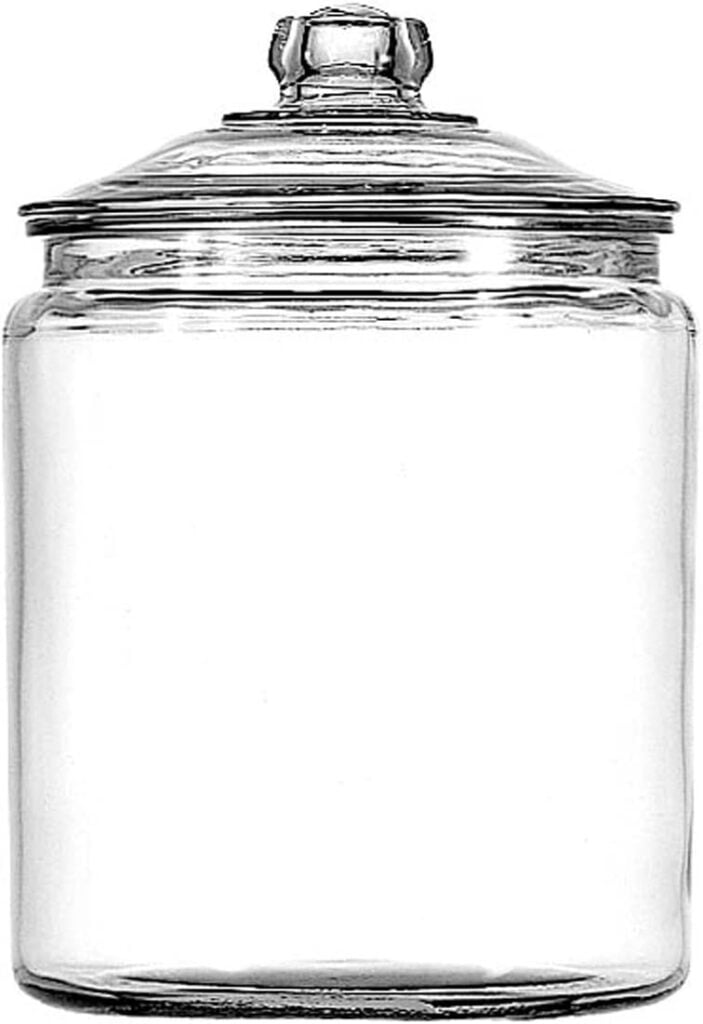 I purchased this particular utility cart because the dimensions fit between by dryer and my wall. Plus, the shelves have taller sides to ensure nothing falls off. This utility cart allows me to use the extra space next to the dryer. It's not wide enough to hold the 1 gallon jars, but does fit my 1/2 gallon ones, a small garbage can and a few other essentials.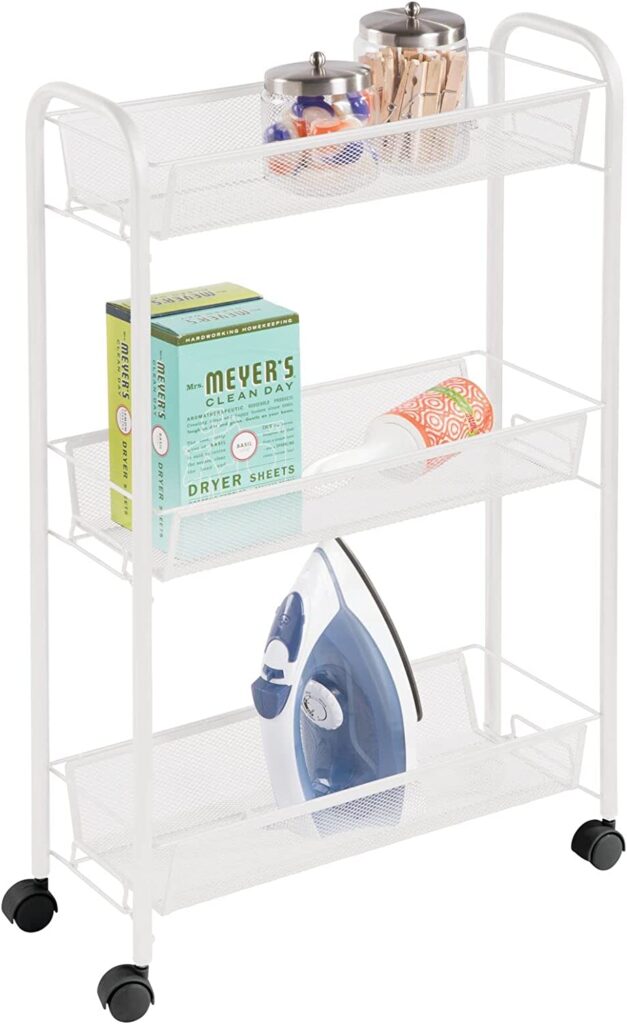 Please tell me I'm not the only one who's opened a closet door only to have the broom tip and hit me! Well, problem solved.
I wish I could share a pretty broom holder with you, but most are basic looking. I can't stress enough how much this has helped me, though! Mine holds my broom, my Bona mop, my Swiffer duster, and a small dustpan/hand broom.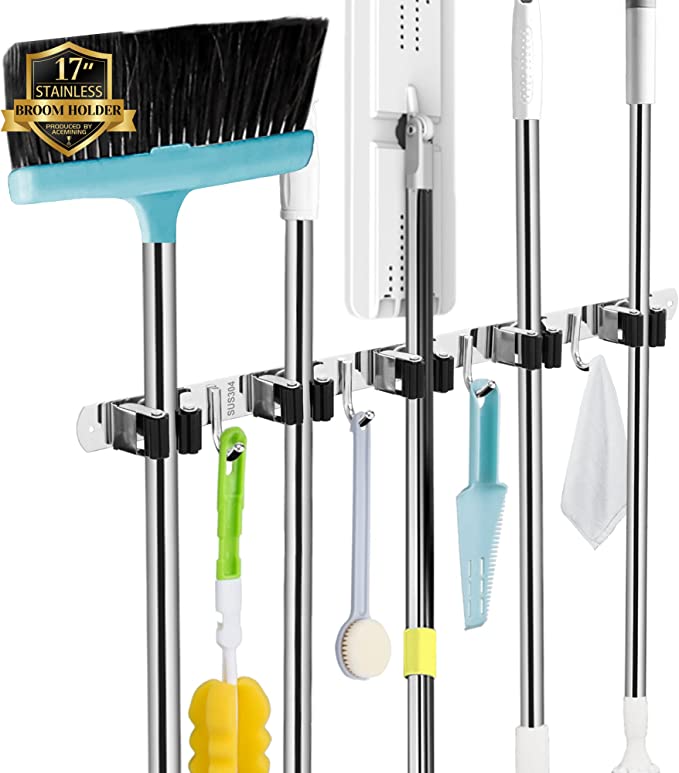 Bedroom & Bathroom
I'm fortunate that we were able to remodel our primary bathroom and create a lot of creative storage ideas. But I've still found a few items that are super useful to add to any bedroom or bathroom.
Often, our outlets are covered by the bed or nightstands, meaning that we can't push the furniture fully against the wall. I recently got this slip plug for my bedroom to solve my problem! This slip outlet cover has two power strips attached to it so that you can plug in everything you need by your bed.
These foldable fabric organizers are perfect for holding undergarments. They fold flat to store if you don't need all of the sizes, but are so handy for keeping everything organized in the drawer.
The picture shows this little cabinet caddy being using for spices, but I used mine for medicine in the bathroom. Each side slides out and swivels for easy access to your items!
I love, love, love my jewelry cloches that I got from Pottery Barn many years ago. They no longer sell these particular items, but Ballard Designs sells a similar jewelry tray.
Stackable? Check. Square? Check. These collapsible storage boxes are great for things like TV remotes, small toys, shoes, etc. I use mine for nail polish in the bathroom! I love that they come with label inserts.
Join the Community
Let's keep in touch! Get exclusive artwork plus the latest news delivered directly to your Inbox!