Wondering what size throw pillow you need and how to arrange them? I'm sharing my winning formula for arranging throw pillows on your sofa or sectional, plus tips for choosing the right size and style for a designer look.
Learn how to mix patterns and sizes of your throw pillows. Plus get tips for selecting the best inserts and the right sizes. If you're wondering what to buy and how to arrange your pillows, I've got you covered!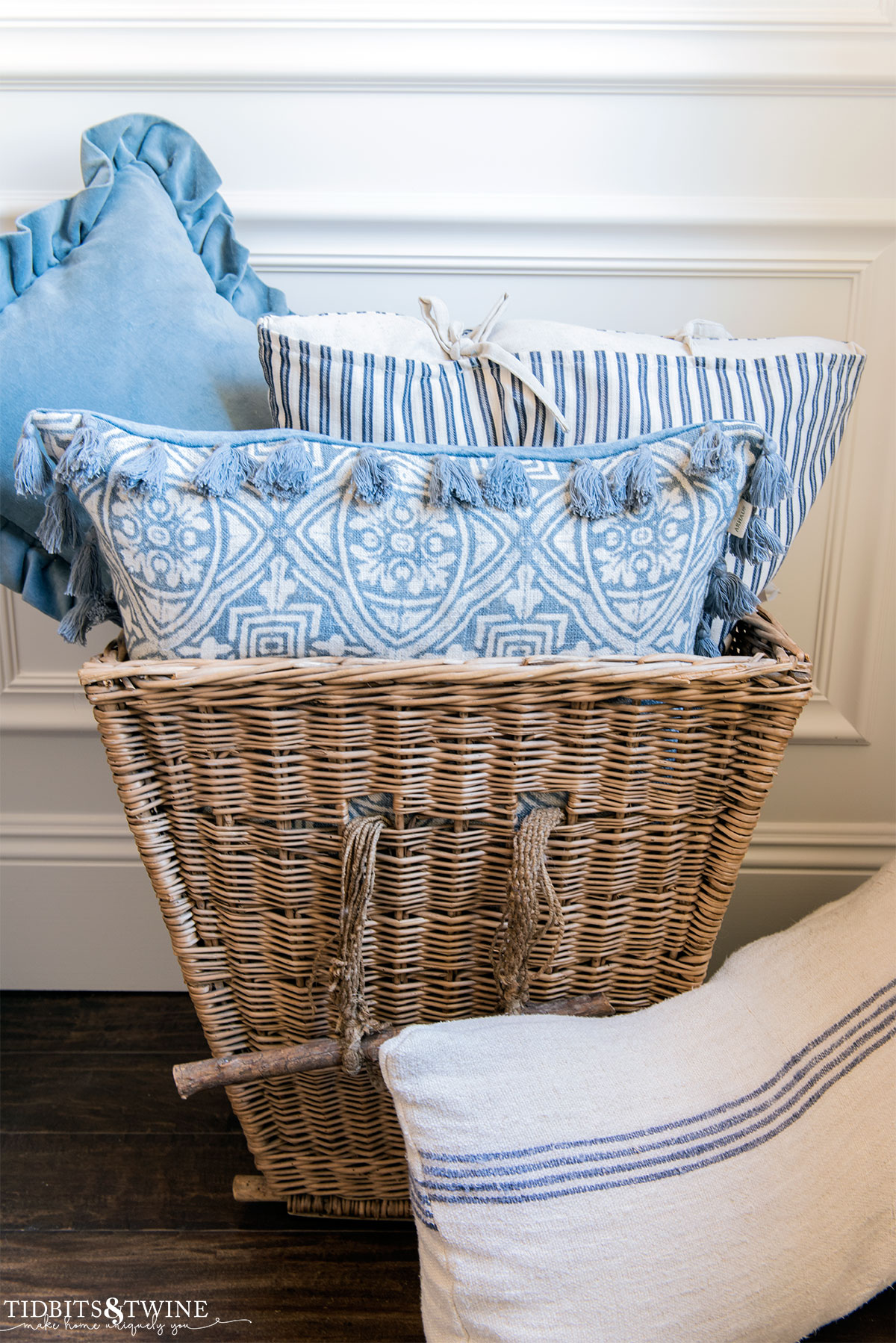 I love easy ideas to freshen up the look of the home without breaking the bank. In fact, I've dedicated several articles to this very topic! Like How to Shop Your Own Home and Howto Get a High-End Look for Less.
Throw pillows are a hard-working staple of designers everywhere. A new color or pattern for your couch pillows instantly gives your living room a new look!
So before you buy another pillow or get overwhelmed by the endless options available, use the Table of Contents below to find the right throw pillow sizes and arrangements for you!
4 Steps to Throw Pillow Sizes & Arrangements
While the fabric, color, and pattern are all important decisions, so is what insert you use and how you arrange them!
Adding pillows to your sofa adds color and texture, providing softness to your space. Plus, pillows help to personalize your space, taking a showroom sofa and really making it your own.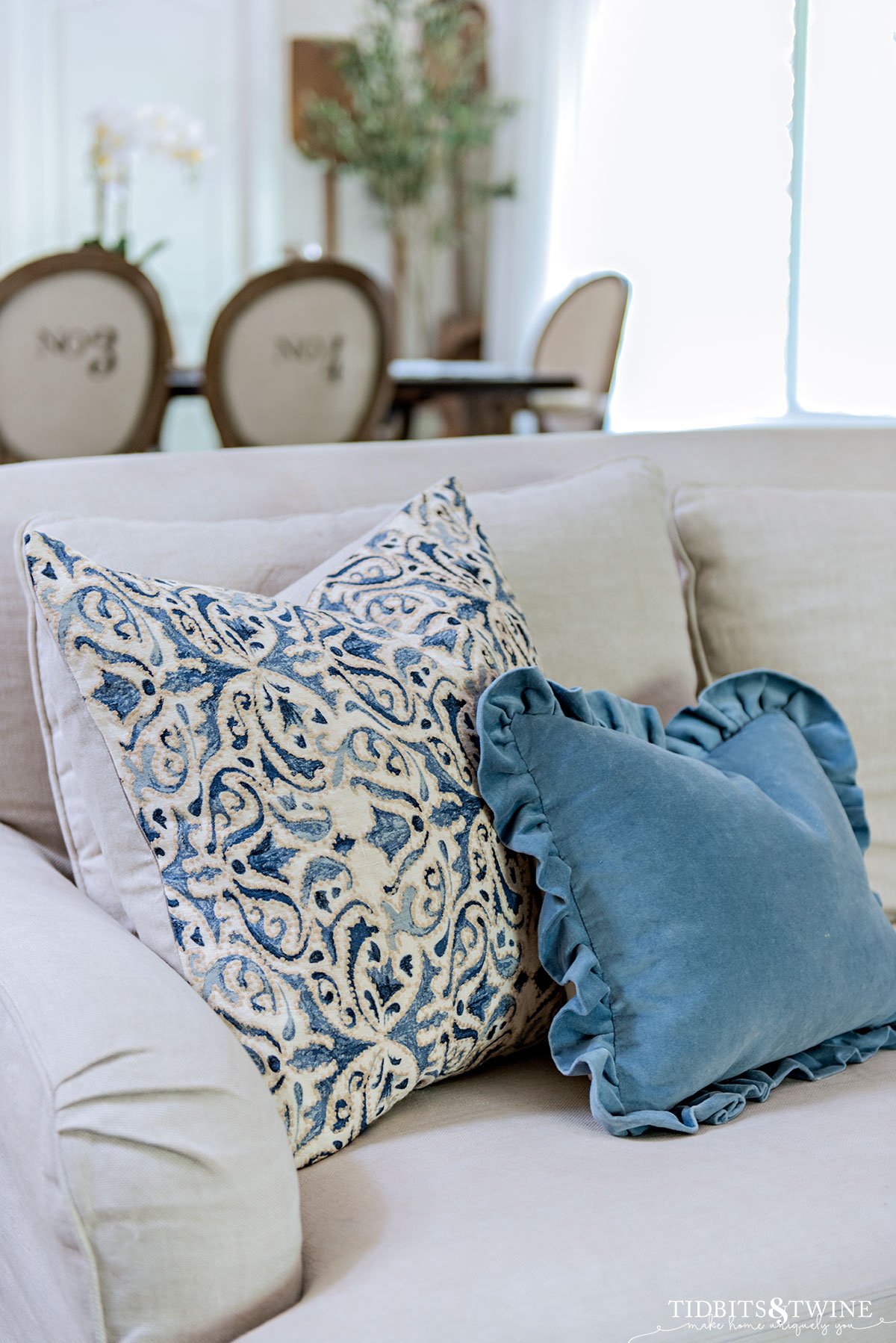 Select Your Insert Fill
There are three main types of fill for throw pillow inserts – polyester, down (including down/feather blends), and down alternative. If you really want a gorgeous, high-end look, splurge for the down blend.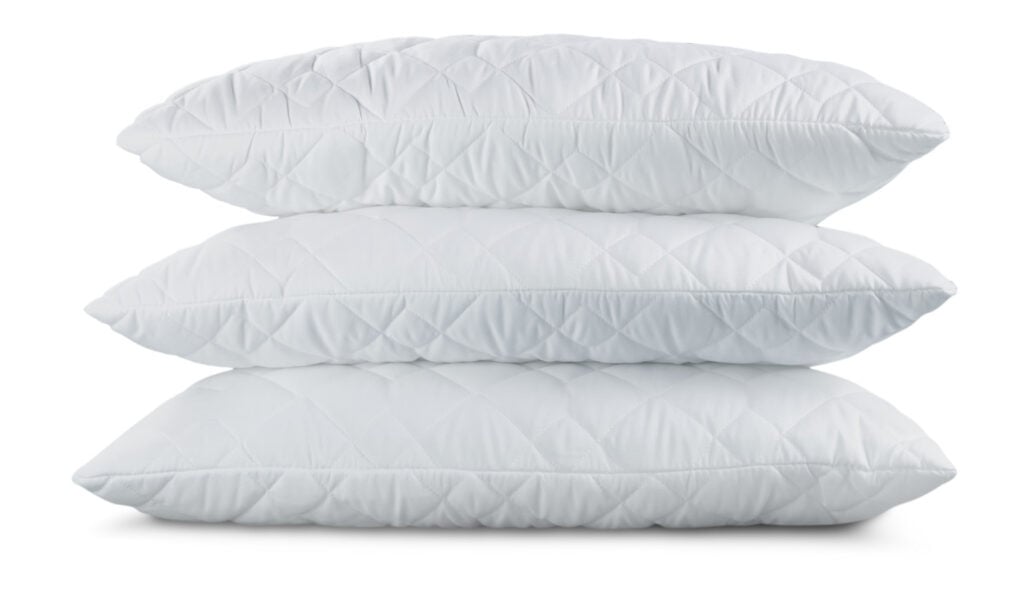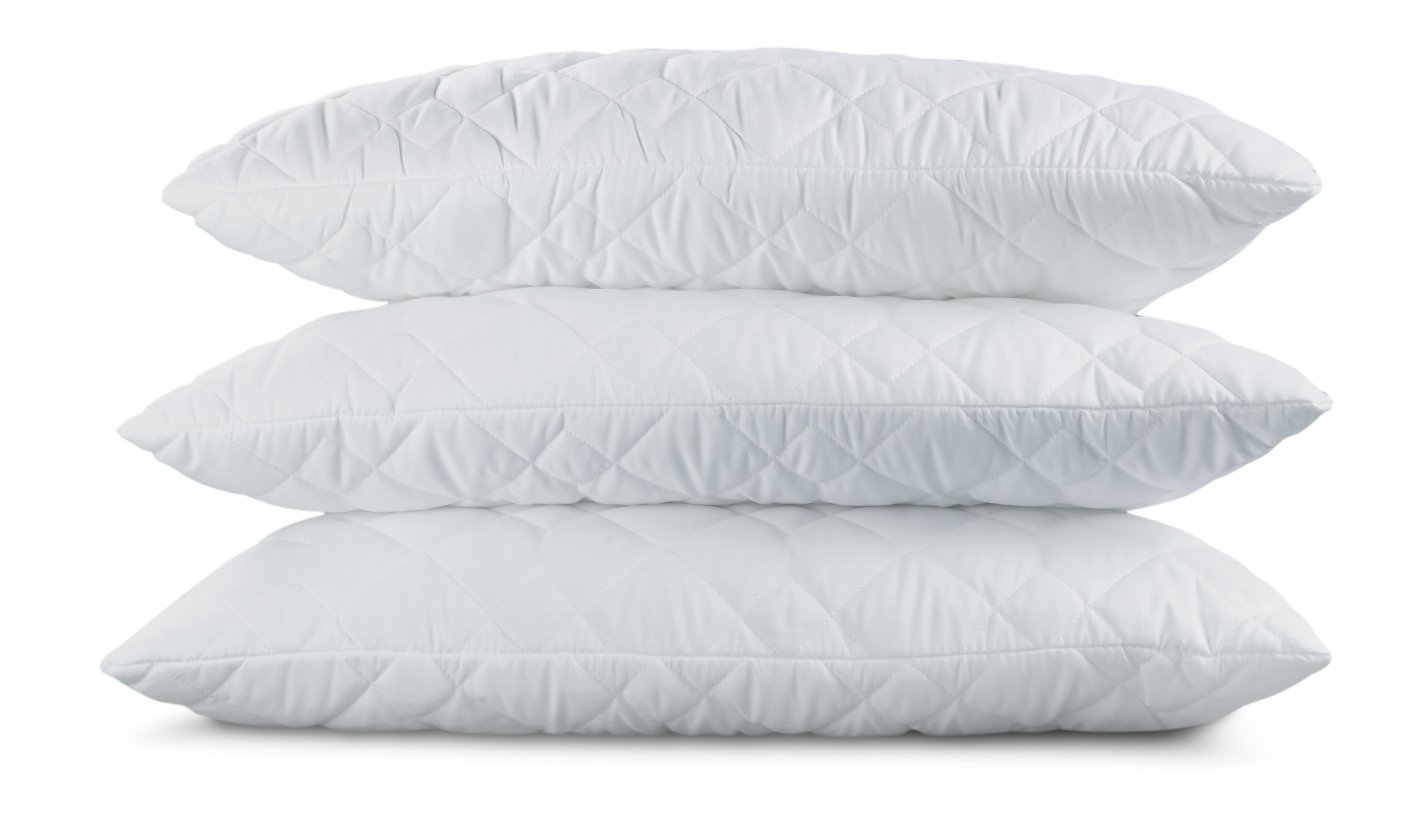 Polyester
Polyester inserts, also called polyfil, are man-made material. They are less expensive than down and stay full and retain their shape. Unfortunately, this means that they aren't maleable either! They are great for deep chairs or sofas that need additional back support, but not so great for decorative throw pillows. You'll find polyester-filled pillows are HomeGoods and Target.
Does this mean I don't own any? Of course not! Polyester inserts are perfectly fine for any pillow whose job is just to sit there are look pretty. Personally, I like them better as lumbar and bolster inserts because with these shapes and sizes, it's not as apparent that they are polyester.
Down Blend
For a full, luxurious look, opt for down or down blend inserts. Down blend means that it's a mix of down and feathers. These pillows fluff nicely and can be shaped for a more natural look. They are, of course, more expensive.
Down Alternative
If you have allergies, opt for a down alternative insert. What's confusing is that down alternative is actually still polyester. The difference is that instead of a spun polyester, it's clusters of polyester meant to mimic down.
Choose the Right Size
Yes, size matters! To get a nice, full look, the general rule-of-thumb is to choose an insert that is 2″ larger than your pillow cover. This really applies to pillows that are 18″ or larger. The smaller the pillows are, the less important it is to size up. The larger your pillow is, the more intentional you should be about sizing up.
For example, you can choose a 20″ insert for a pillow cover that is 18″. Or a 22″ insert for a 20″ pillow cover! For a 16″ pillow cover or even lumbers, you can choose a 16″ or 17″ insert.
Pillow Sizing Chart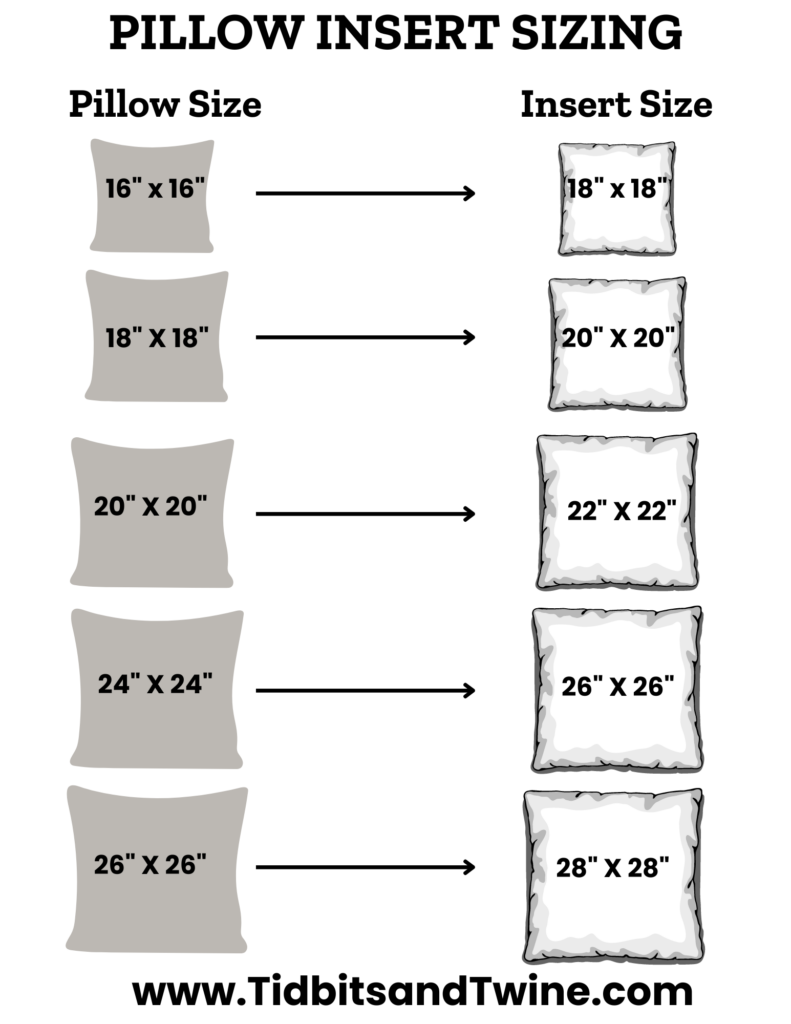 Standard sizes for inserts include 18×18, 20×20, 22×22, 24×24. Euro pillows are typically 26×26.
A couple of caveats: If you choose an insert that is unusually full, you won't need to size up because your pillow cover won't be able to accommodate the fullness.
Additionally, some Etsy vendors have made their pillow covers exactly to size. So if you purchase a cover from Etsy, be sure to ask the vendor what size insert they would recommend. Do you know how I learned? Yep, the hard way. My blue ruffle pillow is overstuffed.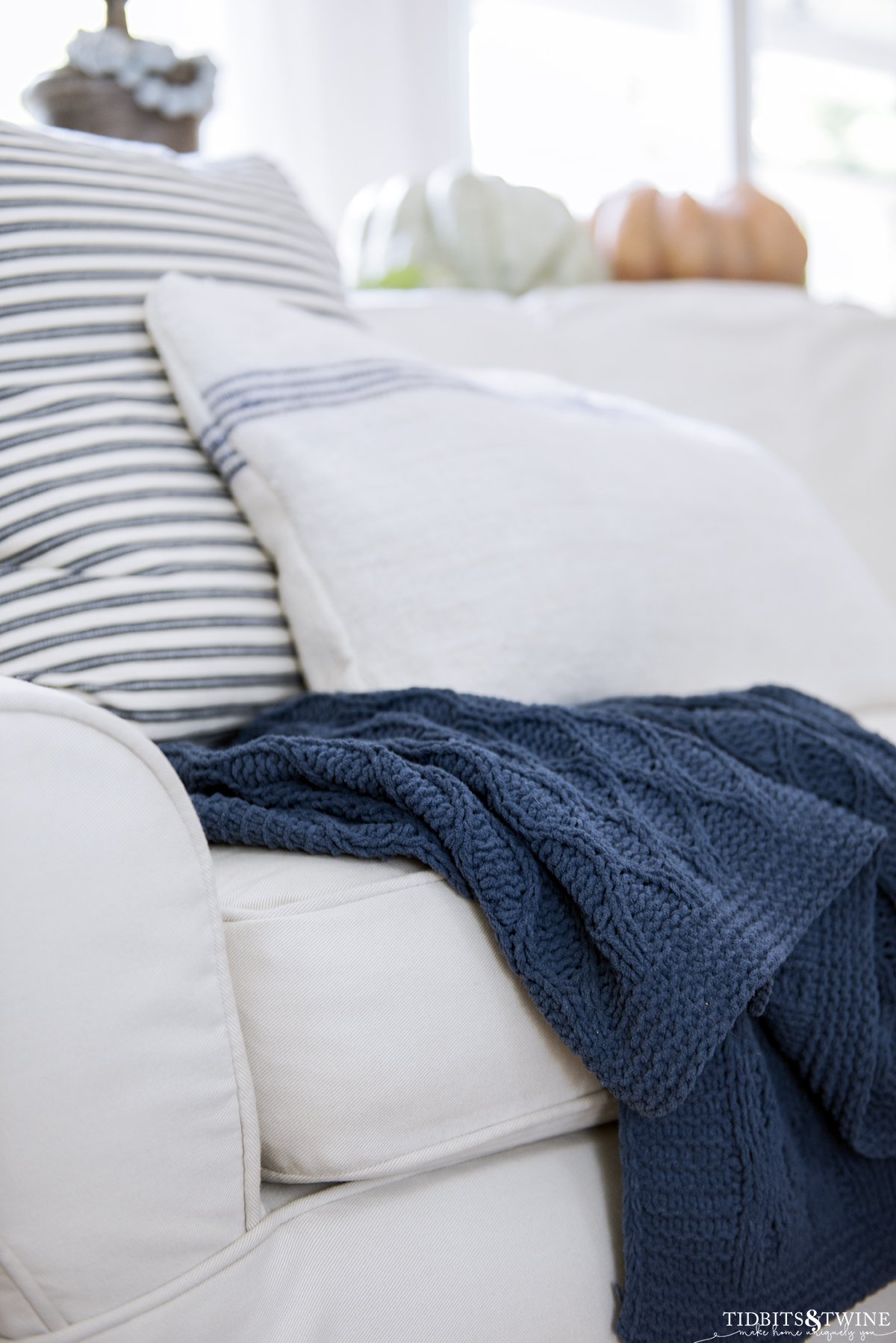 Throw Pillow Arrangement – The Winning Formula
This is my personal favorite arrangement for sofas and sectionals. And I'm basing this on the need for both pretty and practical.
We've all seen sofas stacked with lots of elegant, fluffy pillows and they're gorgeous, right?! But have you ever tried to sit on one of those sofas! The cushions have too many pillows and you end up perched at the edge, sitting on the only remaining sofa space left!
Personally, I like sofas with enough pillows to add character and style, but not so many that there's no space to sit or no place to move the pillows should you want to make more space for yourself.
Layer Your Pillows
As mentioned above, there are so many ways to group pillows on a sofa. But regardless of the number and size pillows you use, there's always one rule: Layer!
Layering your pillows means using a variety of sizes for interest. For a regular sofa, you really want three sizes of pillow: large, smaller, and lumber. If your sofa is short, skip the lumbar!
Sofa Throw Pillow Arrangement
While there's no one-true formula for arranging pillows on a sofa, I'm sharing what works best for me. My favorite pillow combination is to use a 22″ inch pillow (22″ pillow cover with a 24″ insert) on each end, with a 20″ pillow (20″ pillow cover with a 22″ insert) layered in front. I place a lumbar pillow in the center of the sofa.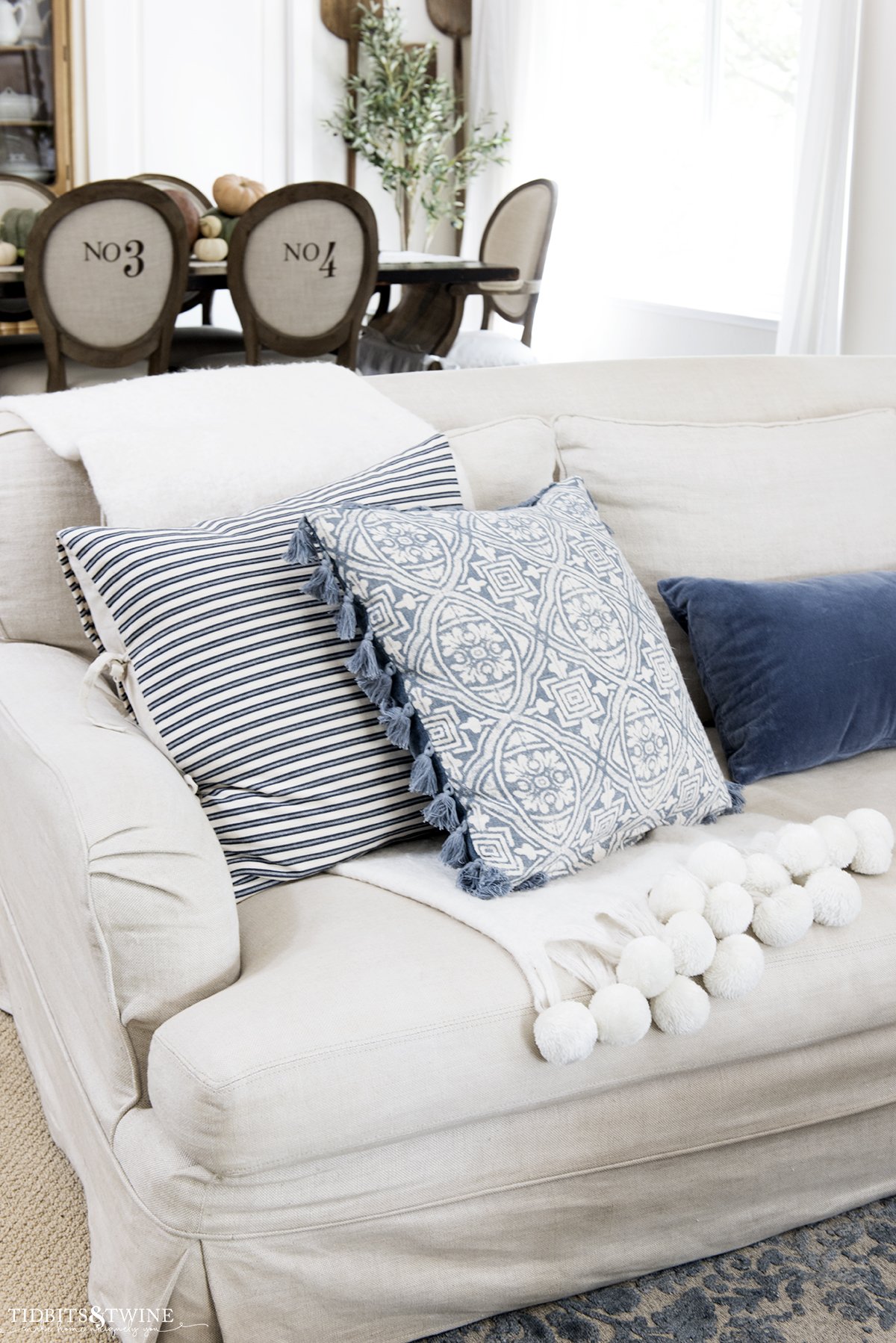 Now depending on the size of your sofa, you could do a 20″ pillow with an 18″ in front. Personally, I don't typically like 24″ pillows on the sides because I feel like they are too large in proportion to the sofa's arms.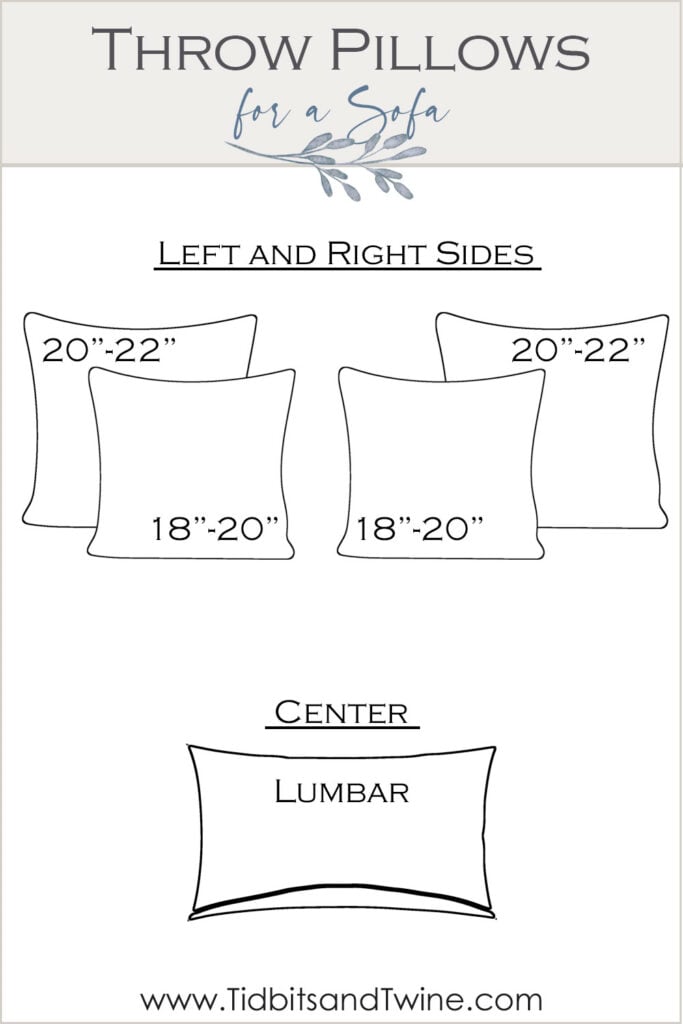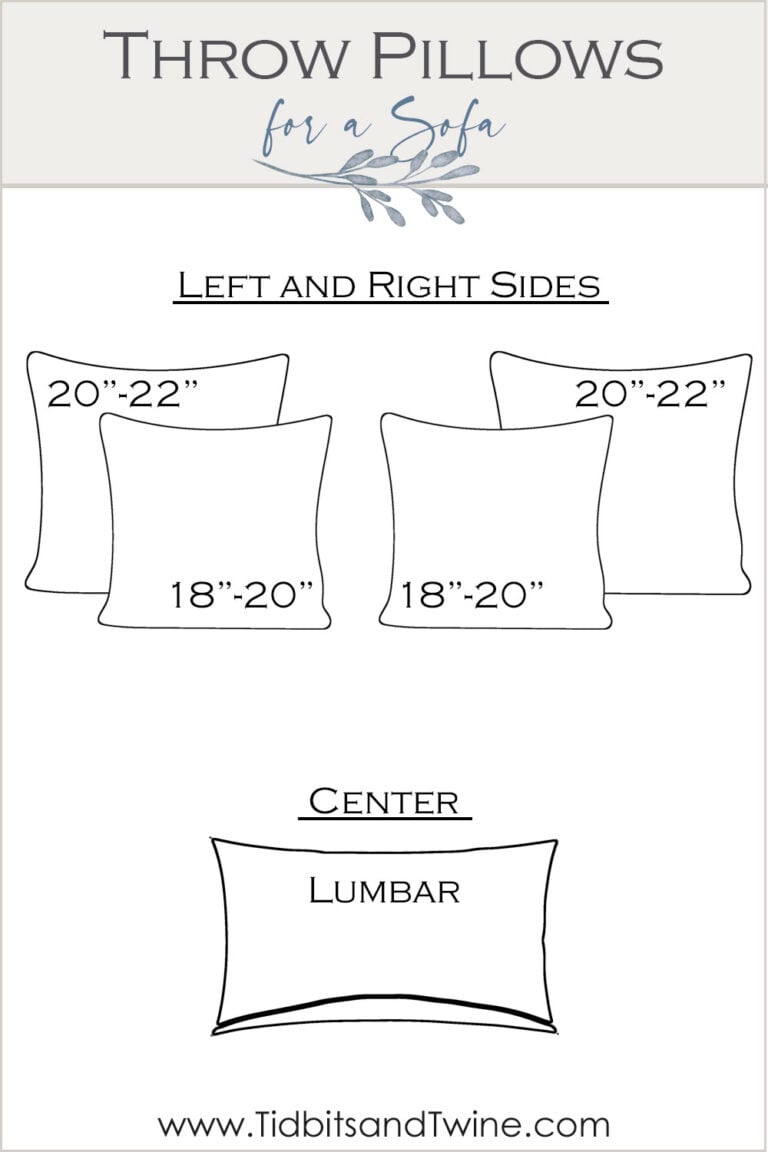 Tip: If a traditional, symmetrical arrangement isn't your style, try removing one of the smaller square pillows, and replacing it with a lumbar accent pillow. You can also use completely different patterns with no two being the same, so long as you stick to the basic rules of mixing patterns.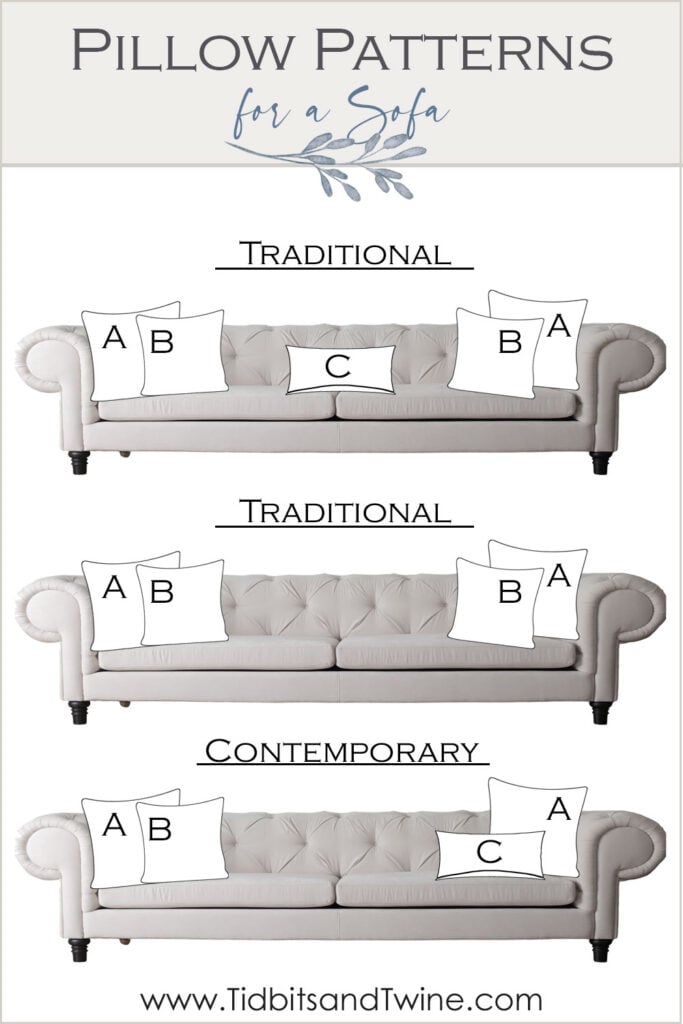 Throw Pillow Arrangement for a Sectional
For larger sofas like a sectional, I use the same basic arrangement that I do for the arms, but I change up the corner. For the corner, I use a nice large 24″ pillow in the back. I then layer one of the 22″ pillows in front of it (the same pillows that I use on the ends), and then add in a smaller lumbar.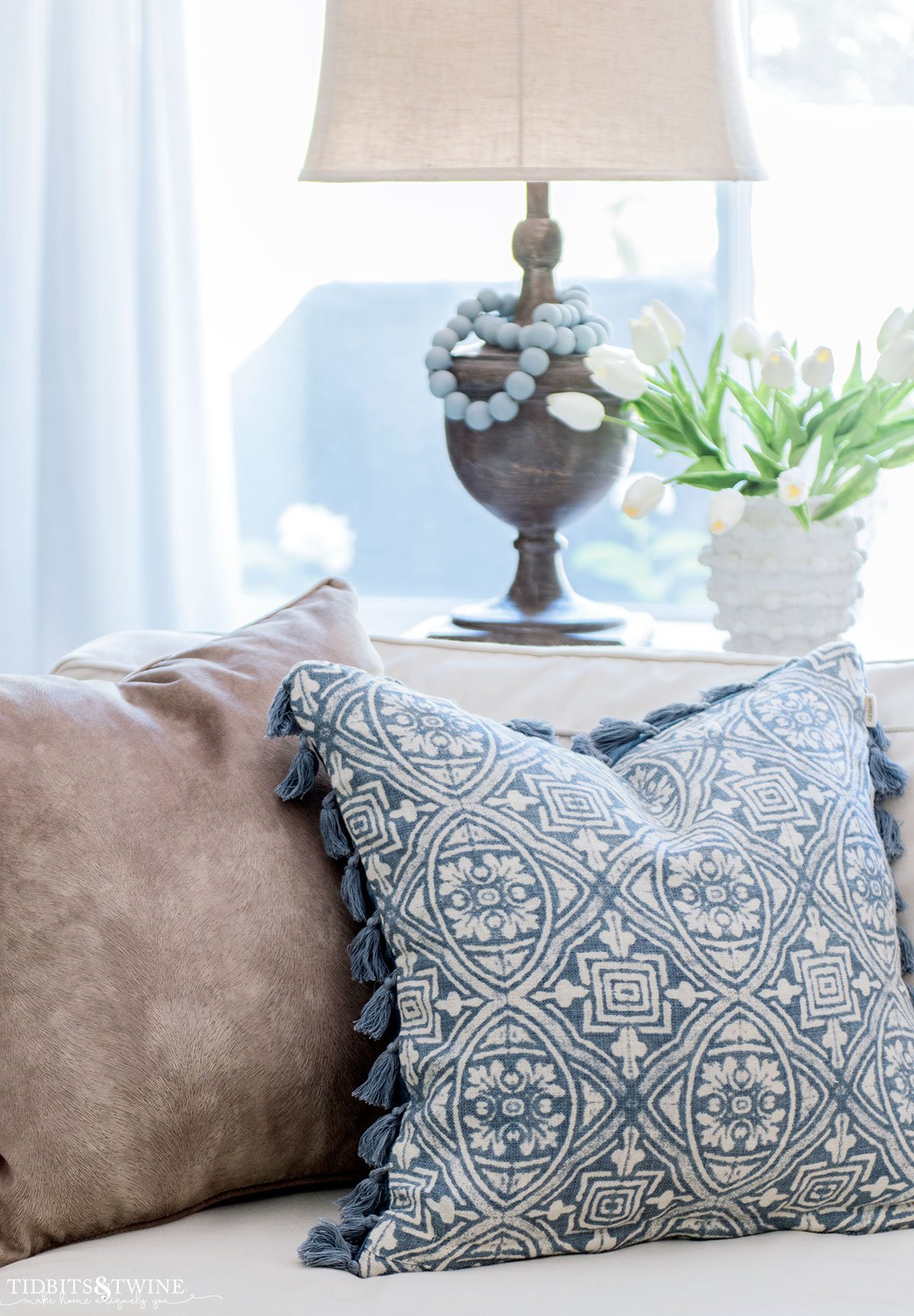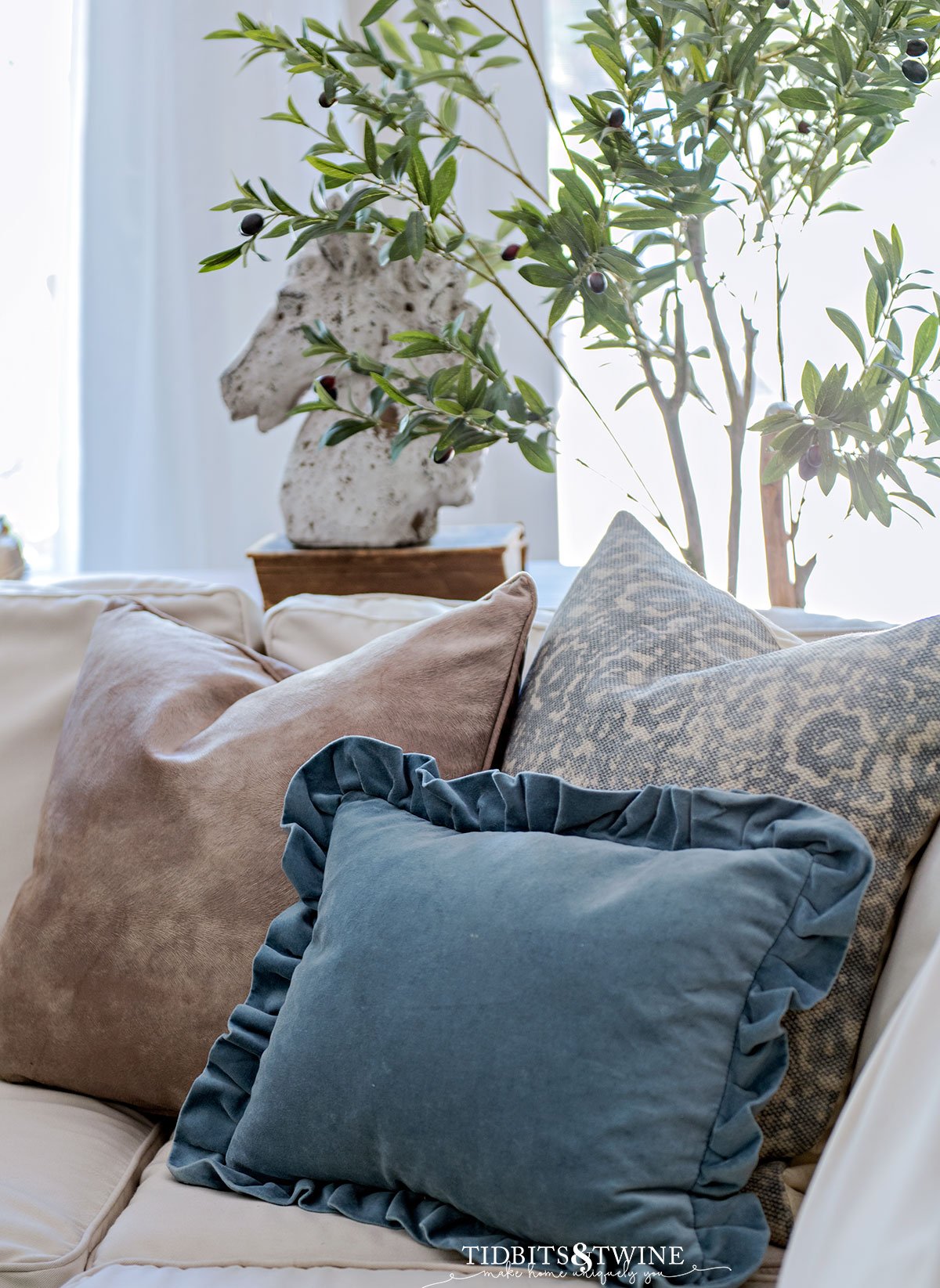 Here's a guide you can Pin for later showing the sizes and arrangements of pillows on a sectional sofa.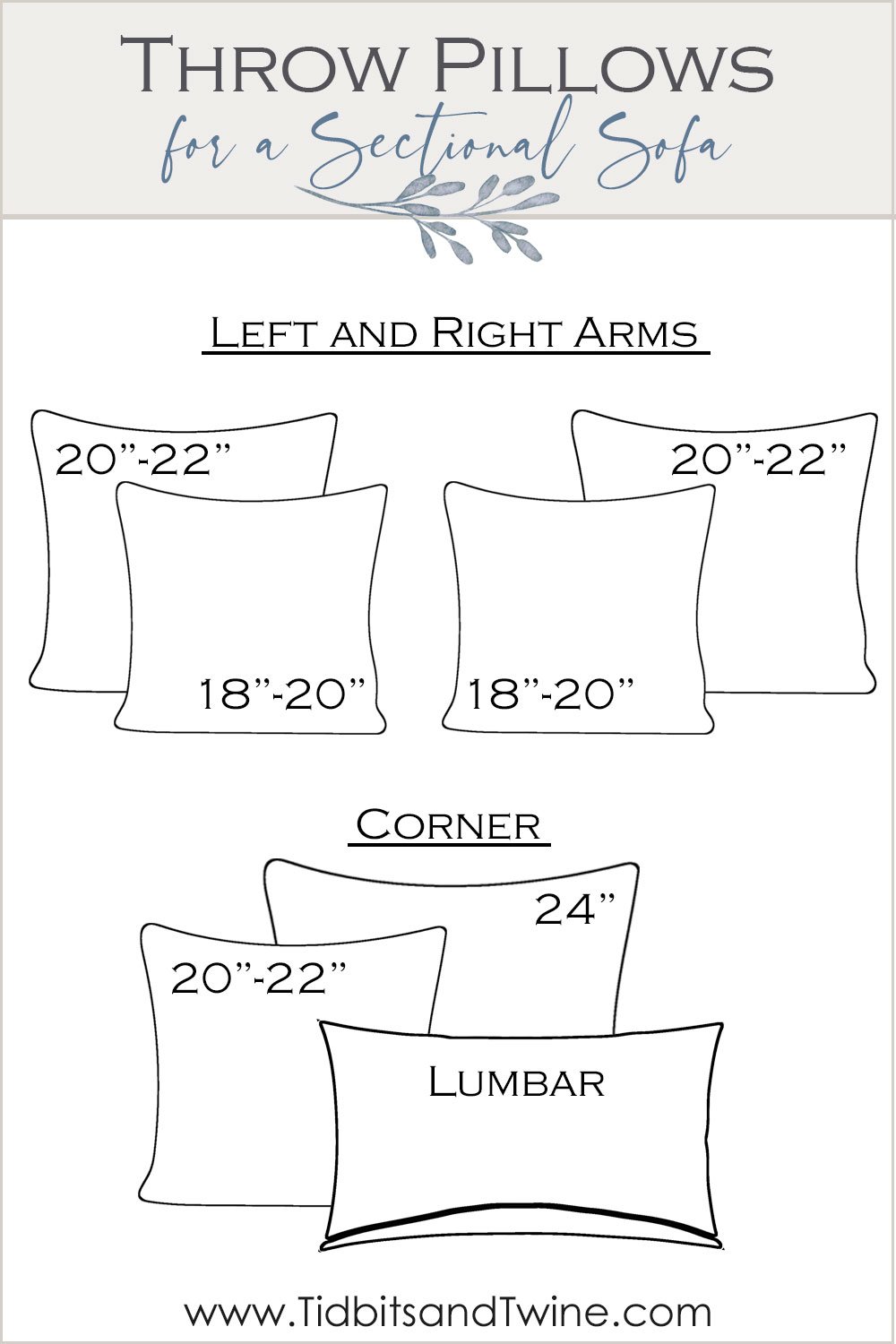 Just like with most "rules" in decorating this is a guideline and you can adjust according to your own personal preference and availability. For instance, you could use a 24″ pillow for the back or replace the small front with a short lumbar pillow.
I vary from my own formula at times just for a change, but I always find the arrangements above are my favorites.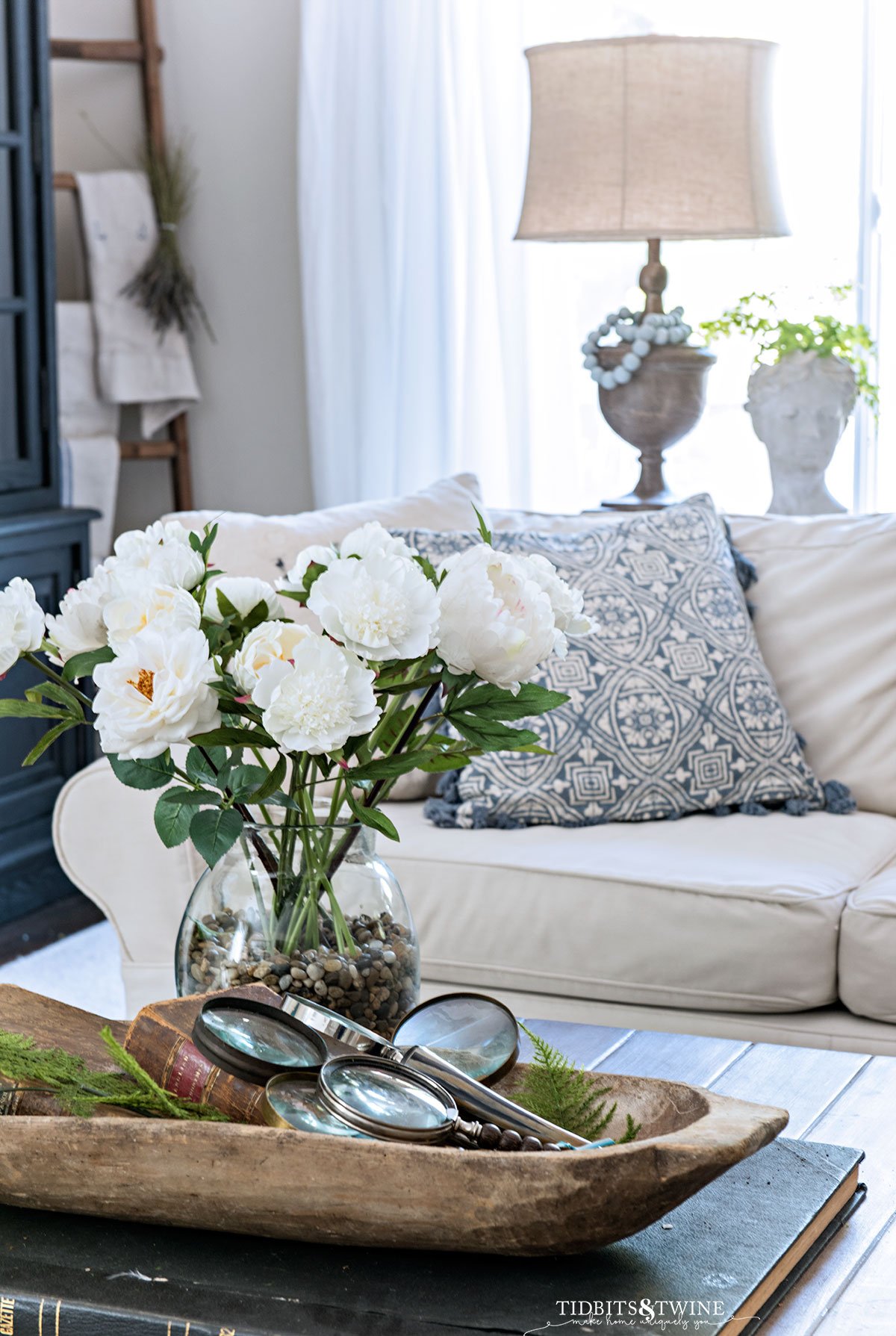 How to Create Perfect Pillow Combinations
I am a neutral-lover, so I like to play with texture more than color. But if you like color and pattern, you might enjoy my Guide to Mixing Patterns!
Texture includes using a variety of fabrics, like pairing linen with velvet, or cotton with leather. Finishing details like tassels, beads, flanges, and more go a long way to adding interest.
Pair two prints if you're comfortable mixing patterns
Otherwise, pair a print with a textured solid
If you choose two solids, make sure they have significantly different textures
I often use a print paired with a solid. Generally, my print is the front, smaller pillow because I think that's more interesting than having a solid pillow in front. But again, this is personal preference!
Once you've mastered your pillows, you can learn how to style your blankets in my Throw Blanket Styling Guide!
More Decorating Ideas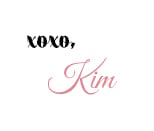 Join the Community
Let's keep in touch! Get exclusive artwork plus the latest news delivered directly to your Inbox!