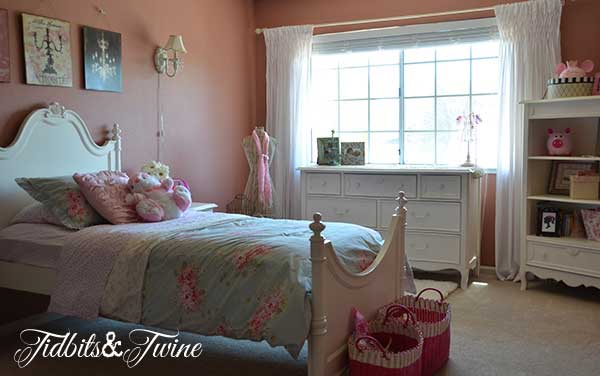 This week, my daughter and I decided to finally tackle her disaster of a room. You really can't imagine how messy it was. I would have taken a "Before" picture, but I'd be too embarrassed. My daughter is 5 years old and is a glam princess. She changes her clothes several times a day, but never manages to put anything away. And she loves, loves, loves puzzles! Walking through her room is an obstacle course of clothes and puzzles, and the occasional Barbie.
We spent hours…okay, who am I kidding….days cleaning her room, so I thought I'd better take some pictures now while it was clean just in case it doesn't look this way again for a while!
I painted her room before she was born and decided to go with girly pink. I thought I would quickly tire of the color if it was a bubble gum pink and so after many, many samples, finally decided on this color, which to me, is a bit more sophisticated. It's a very rich color, but not very bright. Over time, as we've transitioned from a baby room to a little girl's room, the color palette has changed a bit, but it's primarily pink, white, cream and black, with a pop of blue on her bed.
When you walk into her room, there's one long wall. When she was a baby and didn't have much furniture, we weren't sure how to fill this space and so divided it into three sections using trim that is painted white. The two outside sections are narrow and hold full-length mirrors, while the inside square has a display of her favorite pictures.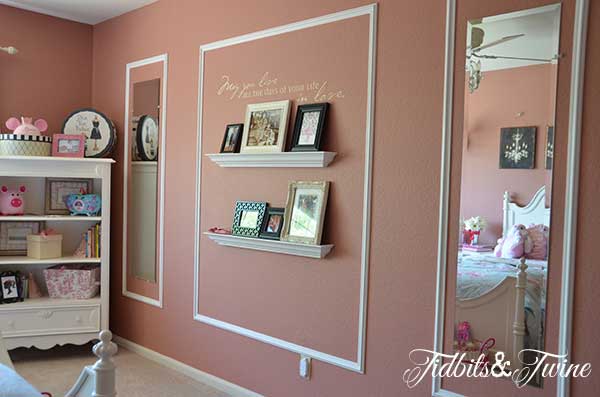 And I found this great vinyl decal with a beautiful quote and put it up in her room even before she was born.

"May you live all the days of your life in love"
Her bookcase is in the corner and holds an assortment of books, toys and pictures. I have decorative hat boxes on top that I actually use to store her hats (both Winter and Summer).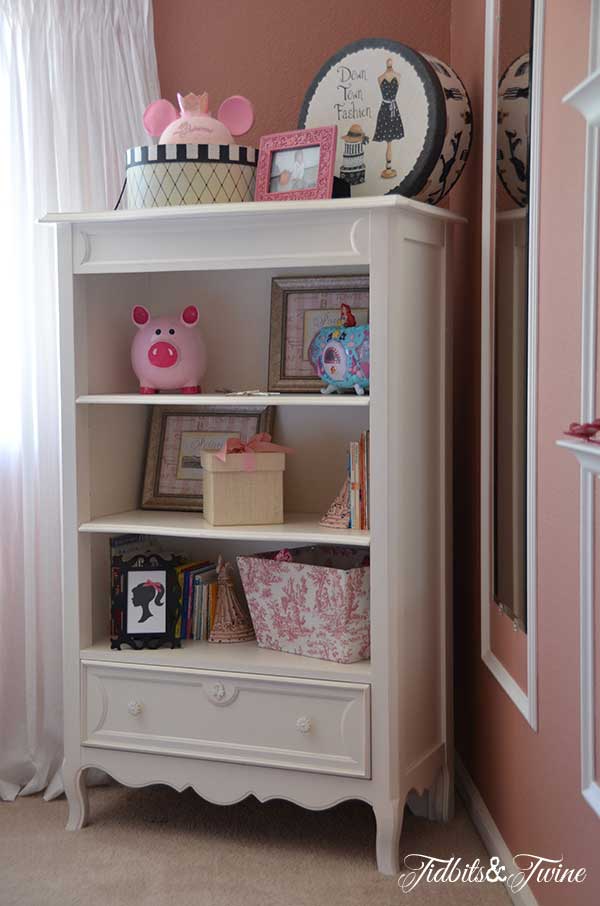 Her dresser is where she keeps most of her clothes because it's easier for her to put things away in drawers than it is for her to hang them. And she's crazy about her jewelry displays!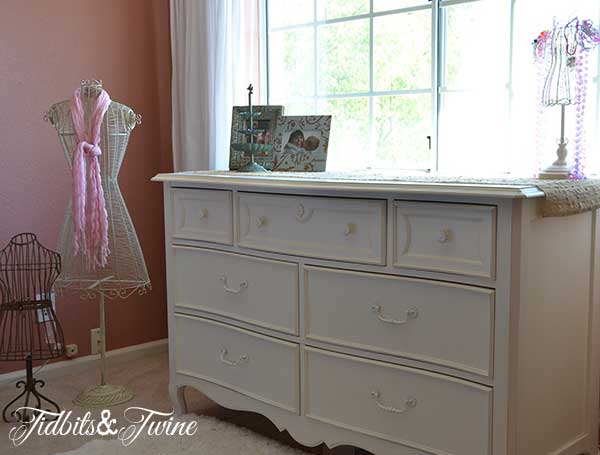 The two decorative dress forms in the corner really crack me up. My daughter dresses them almost every day. More often than not, I walk in to discover that they are dressed up in Disney princess costumes with various feather boas and hats as accessories!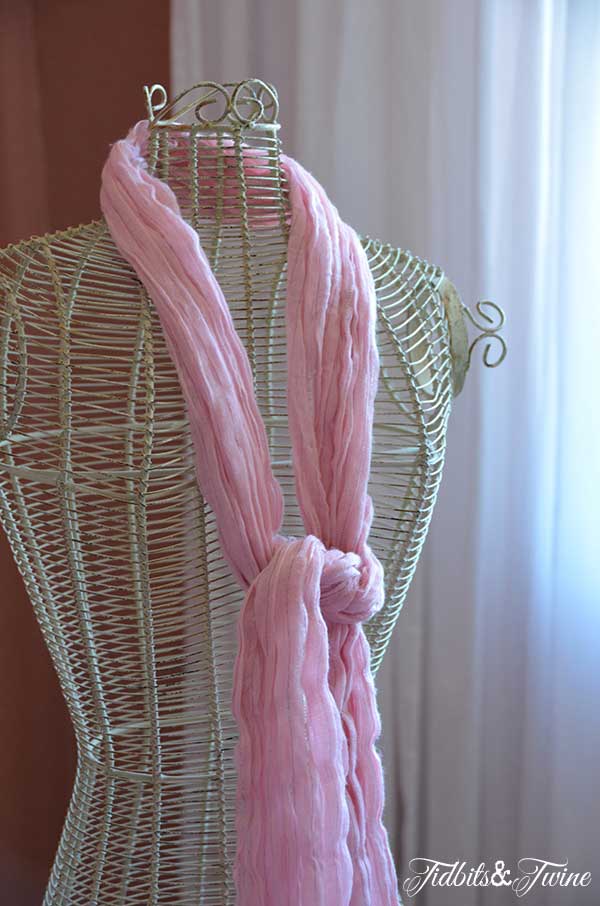 She likes to keep the pillows on her bed to a minimum, so we have just the basics. The bedding is Target's Simply Shabby Chic brand from Rachel Ashwell.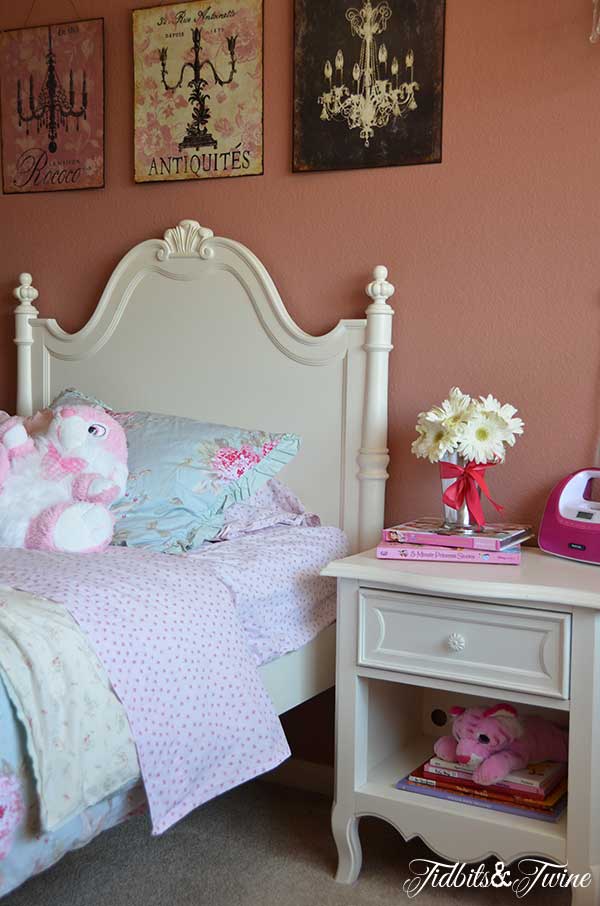 Okay, you caught me, the silver vase is definitely my doing… :)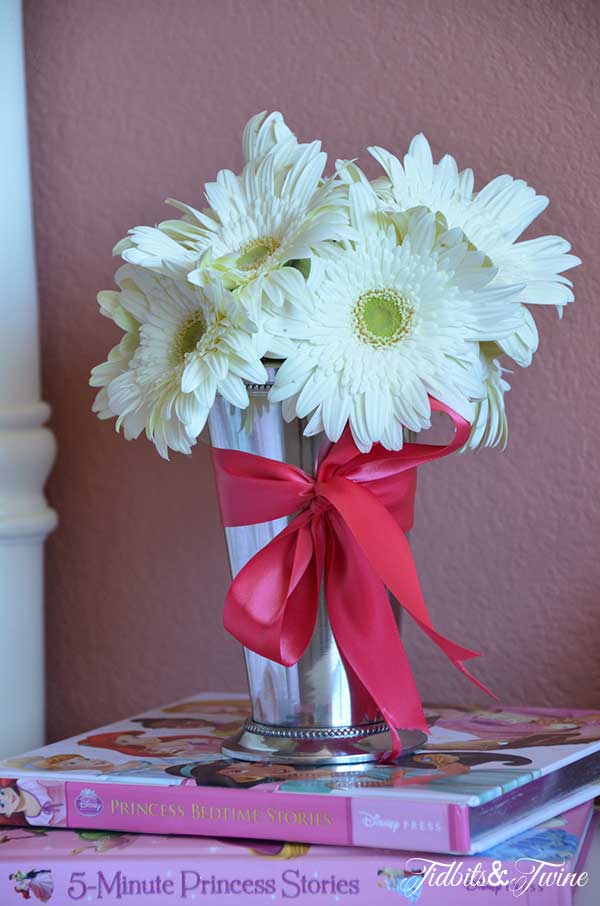 The three pieces of art that hang above her bed are made of metal and were originally intended as magnet boards. I'm currently using the fluer-de-lis magnets that they came with on my refrigerator, but it's nice that these wall hangings can serve a double-duty when the time comes. I used crystal drawer knobs to hang them. I live in earthquake country, though, and am paranoid about these falling on her head so everything is completely bolted to the wall! (As a side note, I used the same drawer knobs in her closet to hang her purses on as an alternative to hooks.)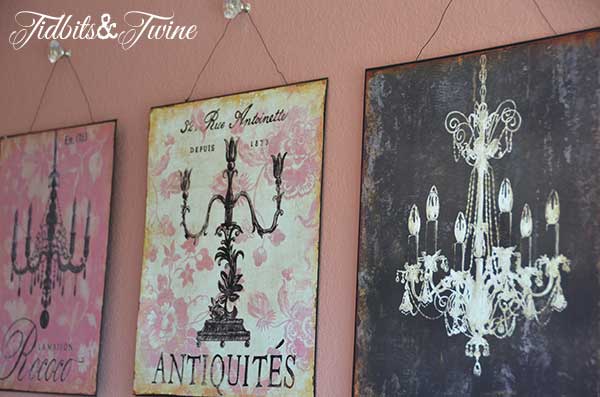 She has two cream and crystal sconces that flank her bed that she uses as a nightlight.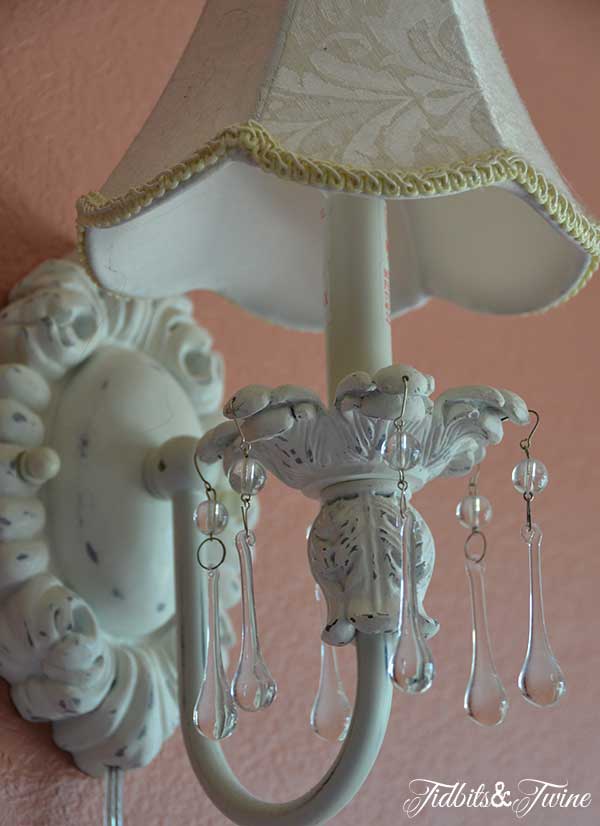 And she has a coordinating ceiling fan and chandelier. For the most part, I dislike the look of fans but her room gets warm and I liked the look of this fan and light combination.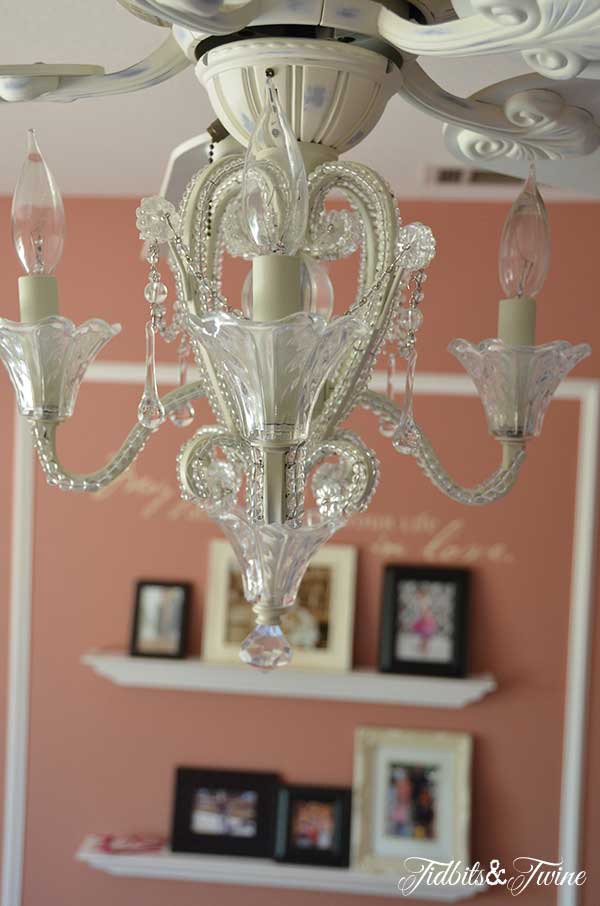 The other side of her bed holds collapsible storage bins with larger books, as well as her dollhouse, made by her great-grandpa. You can take a tour of her dollhouse by clicking here.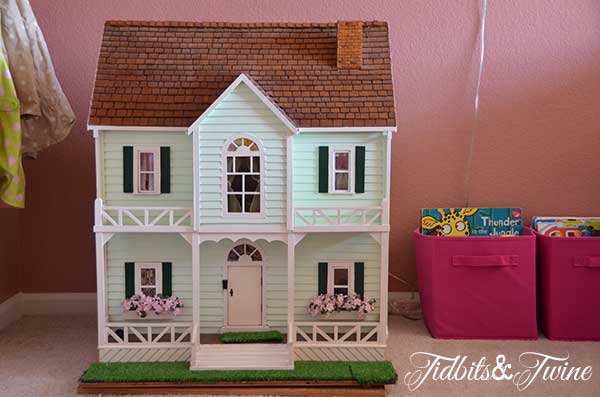 We keep her Winter coats on hooks by her dollhouse. And I just now realized that I must like polka dot coats! Lol!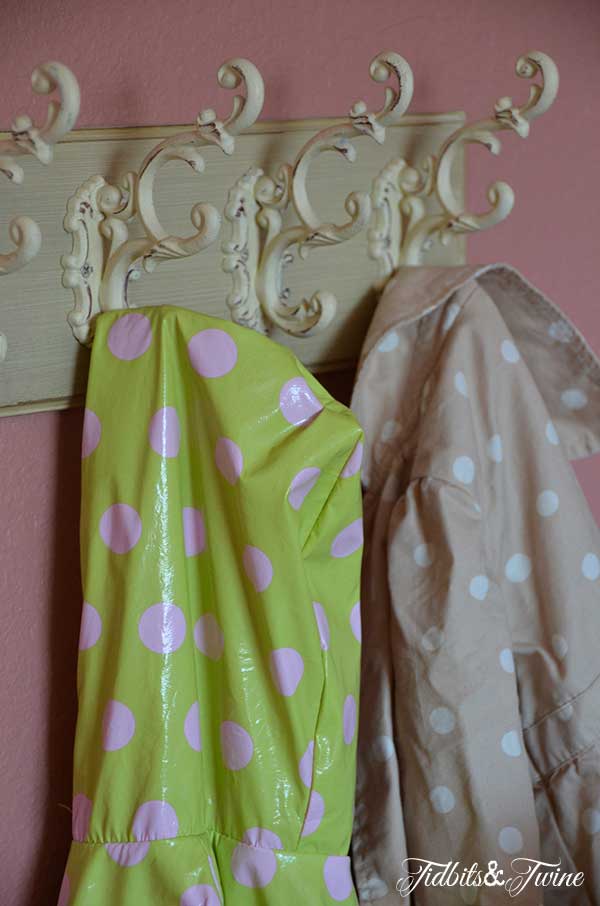 So that's her room! I'm hoping that the furniture will transition with her into her tween/teen years, but that remains to be seen. Hopefully, she won't want to change her room decor as often as she changes her outfits!

Join the Community
Let's keep in touch! Get exclusive artwork plus the latest news delivered directly to your Inbox!