As you might know from my Facebook posts recently, I am traveling this week! We had a family function to attend in Connecticut and so spent a few days there celebrating and reconnecting with friends and family. We had such a wonderful time! Connecticut's spring seems to be about a month behind California's and so plants were just starting to bud and bloom. I was fascinated with the Bleeding Hearts I saw in my sister-in-law's garden, though, and had to snap a quick photo with my iPhone!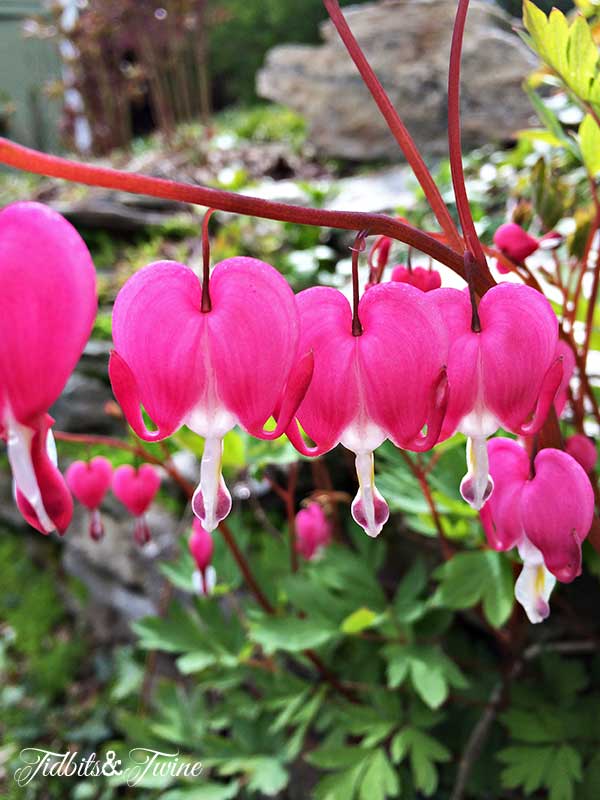 We have now just arrived in Virginia and this is the first time in days that I've been on the computer. So, two things:
1) I am *SO* sorry to those that have left comments to which I have not responded. As you might have realized, I make an effort to respond to every single comment left on my blog, but lately, I'm a bit behind! If you've left a comment recently, please know that I have read them all and promise I will write back. :)
2) I wrote today's post on the plane. It's sort-of about clothing, but really more about how creativity comes in many forms. We each have our own canvas and our own style and every one should be celebrated.
**********************************************************
We were recently preparing for a trip and about four days before we were scheduled to leave, it dawned on me that I really didn't have anything appropriate to bring on the trip with me. Most of the time at home, you'll find me in either a) yoga pants or b) pajamas. (Ironically, I've never done yoga.) In a state of desperation, I raced to the mall for some pants, a pair of shoes, and a few tops to bring on the trip. In the shoe department, the new sneakers I tried on felt like walking on clouds. Had it really been 6 years since I had purchased new shoes? Yes. The new jeans I found were nice, but I liked my old ones…until I looked more carefully at them in the dressing room and realized that the knees were completely discolored from kneeling down when I'm working on remodeling projects! Had it really been two years since I had bought a pair of pants? Yes. The same story played out as I shopped for shirts, a pair of flats, heels, and even a dress.
When it comes to clothing, I wear the same things again and again until they give out on me (or I no longer fit into them, which happens more frequently than I'd care to admit), but when it comes to home décor, I change things up, modify, rearrange, buy, sell and redo constantly. As you know, I believe that a house should work for you, and since I own way more décor than clothes, we recently turned our finished attic space that was being used as a walk-in closet into a storage room for my extra décor, and added a smaller wardrobe to the bathroom for clothing. (I know many of you are probably gasping right now. Not to worry! We retained everything for resale value so that the rooms could be used either way.)
So what's the difference between shopping for décor and shopping for clothes? Don't both reflect our personalities and individual styles? Aren't both fashion and decorating artistic expressions and creative outlets? I suppose the only difference is the canvas!
To me, my home is my canvas. The walls, the floor, the layout, the materials – they are all a part of my "painting" and I like to change them to reflect the seasons, my mood, and my tastes at any given time. When it comes to clothing….well, I just don't have the passion that I do for home decorating!
Perhaps I'll put a little more effort into my clothing choices moving forward so that my personal canvas reflects my personality in the same manner that my home does….but then again, I'm not sure….yoga pants are *so* comfortable!
So what's your canvas?

Would you like to receive my posts via email? Enter your email address below. You will instantly receive an email from FeedBurner and you will need to click the link to activate your subscription.
Join the Community
Let's keep in touch! Get exclusive artwork plus the latest news delivered directly to your Inbox!