The French Bergère is the ultimate piece of furniture. It is timeless and perfect in every way. Mention its name in an interior designer's presence, and they'll instantly swoon. But who made it and why are they so popular?
I refer to my decorating style as Casual Elegance. I love soft, feminine lines mixed with rustic, textural details. So it's no surprise that I love French Bergère accent chairs! They are classic, timeless, comfortable, and oh so beautiful.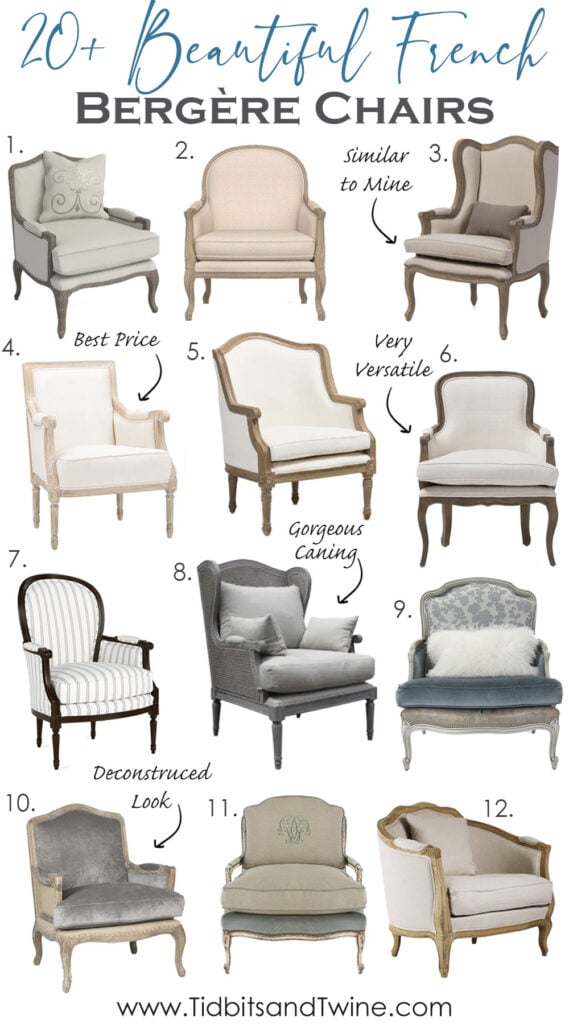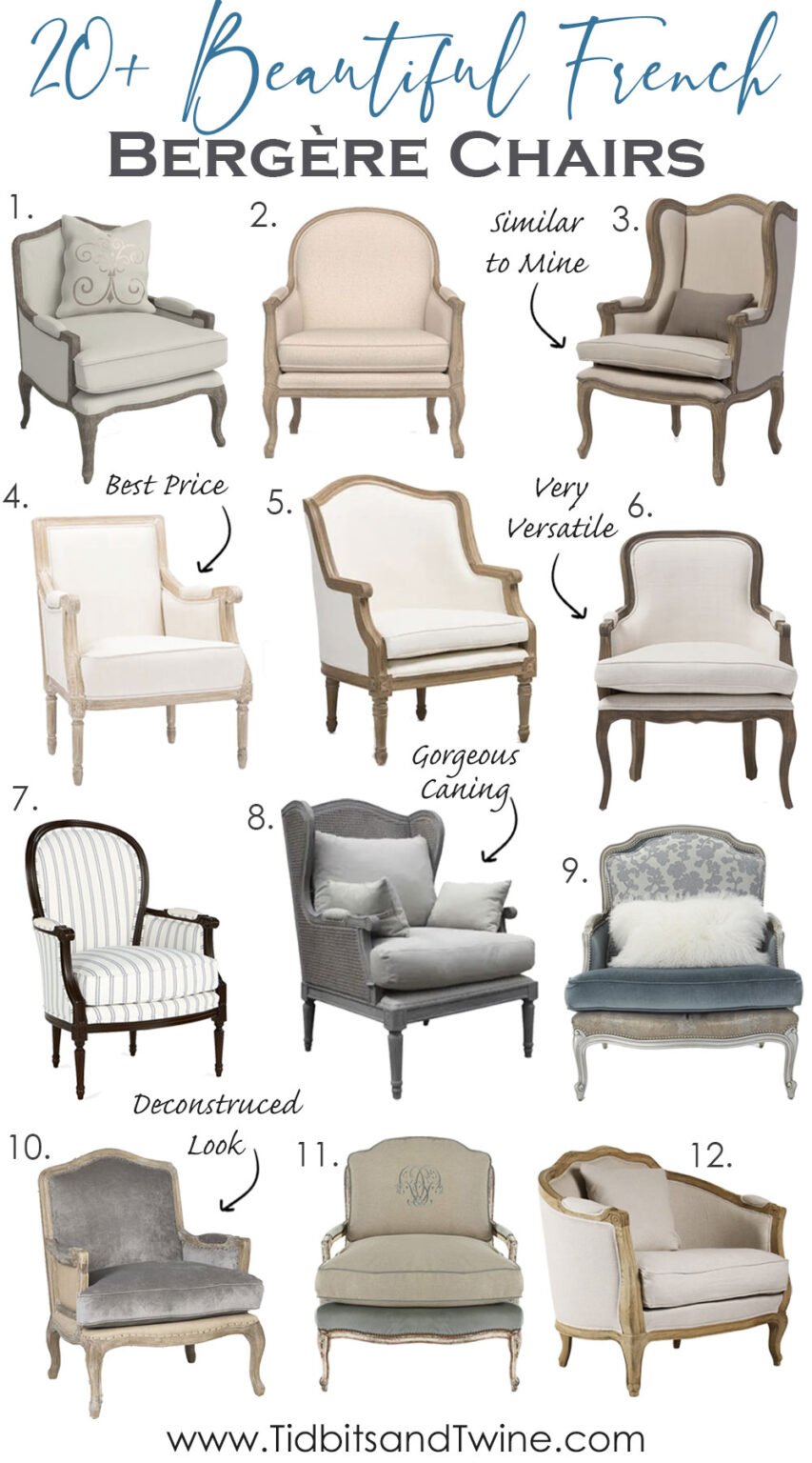 What is a Bergère Chair?
A Bergère (pronounced ber-jair) is a type of fautueil, or French armchair. The French Bergère chair made its debut in the late 17th century during Louis XIV's reign in France. While originally created with a heavy design, they simplified and evolved into lighter designs during later centuries.
A Bergère is designed for lounging in comfort, with a deeper, wider seat. The hardwood frame is usually stained, painted, or even gilded. It can have carved detailing or be left plain. The wood is typically beech, fruitwood, walnut or mahogany.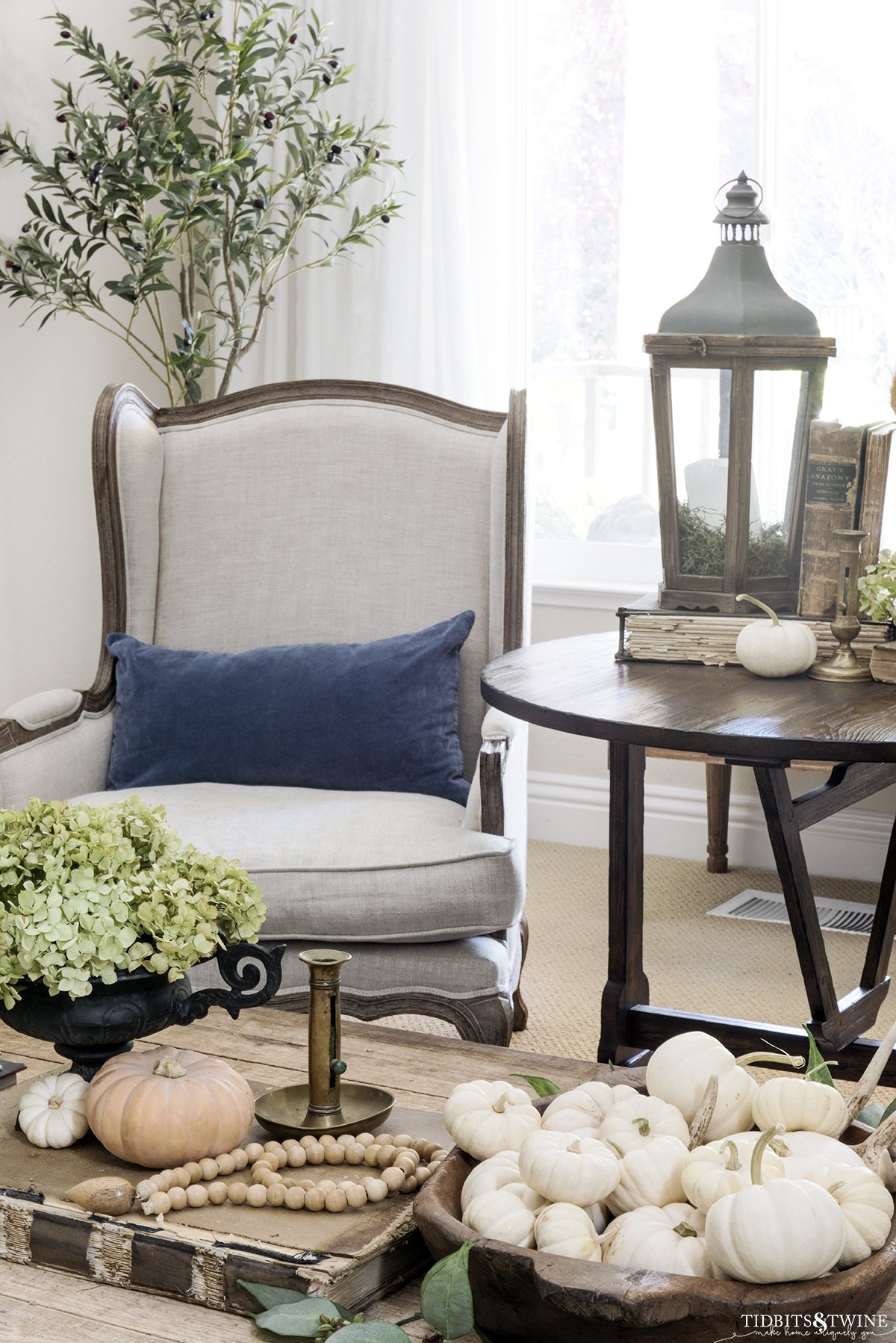 Antique Bergère chairs are often upholstered in beautiful fabrics like silk or velvet with some sort of pattern, maybe even a toile. Today's reproductions have much simpler upholstery like plain linen, exposed nail head trim, or even burlap. Some even have a deconstructed look!
I purchased my Bergère chairs several years ago from Restoration Hardware. But my chairs actually pull double-duty because they're also wingback chairs!
Wings were added to bergere chairs to shield one's face from the fire or cold drafts. They were also known as bergère confessionale because the wings hid the occupant from the eyes of others.
My pair of Bergère chairs lives in my living room, opposite my sofa. They are upholstered in a simple beige linen and have minimal carved details. The loose cushion is down-filled for extra comfort.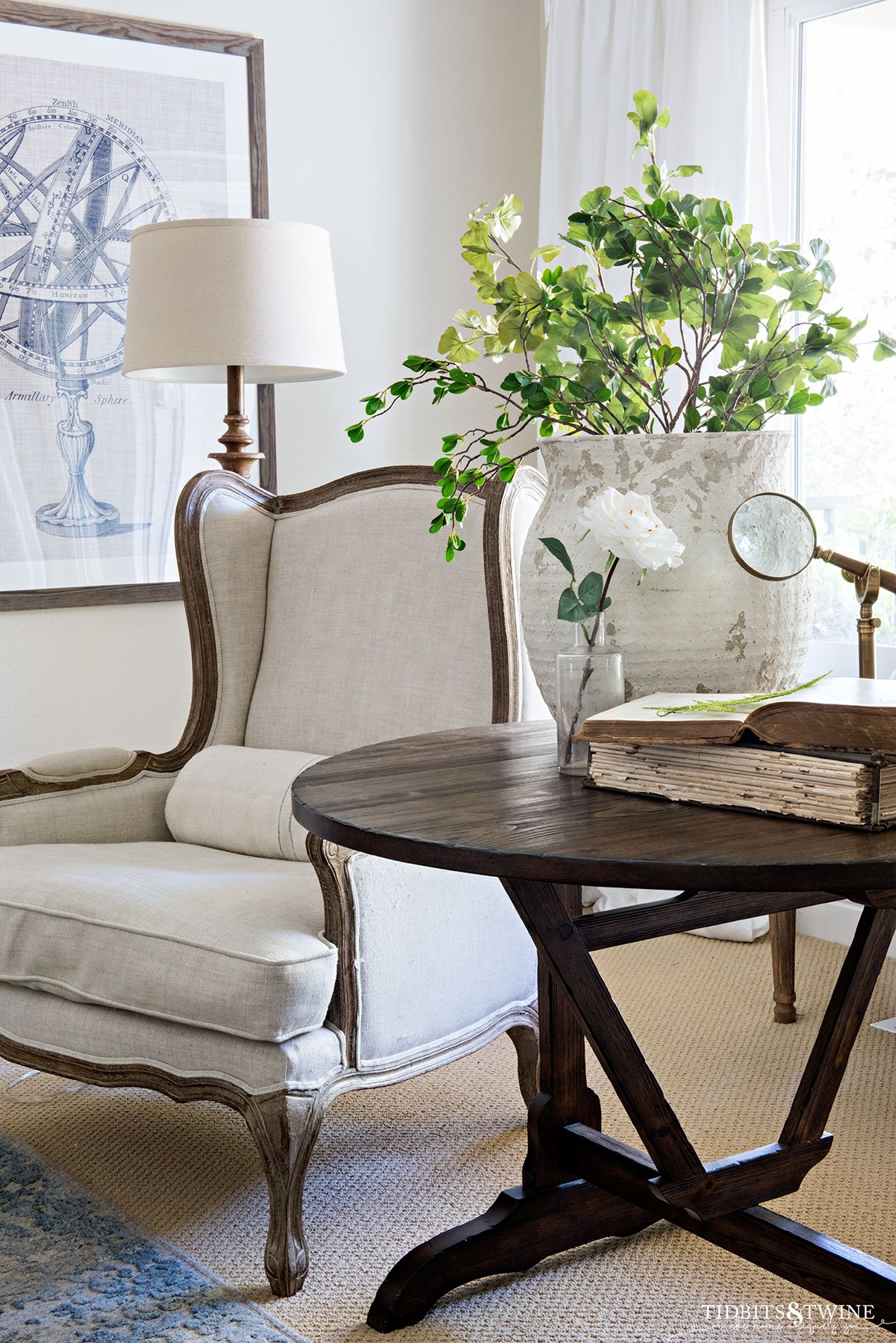 How to Tell if it's a Bergère
When trying to decide whether an accent chair is a Bergère, look for these key features:
Loose but tailored seat cushion
Exposed wood frames
Upholstered back and armrests
Closed upholstered (sometimes caned) panels between the seat and arms – this applies to antiques. Modern reproductions often have open arms.
3 Styles of Bergère Chairs
There are three main variations of chairs that you'll see within the antique Bergere family:
Bergère À La Reine
This style is easy to spot because the back has a straight, flat top. The top then slopes down to high armrests.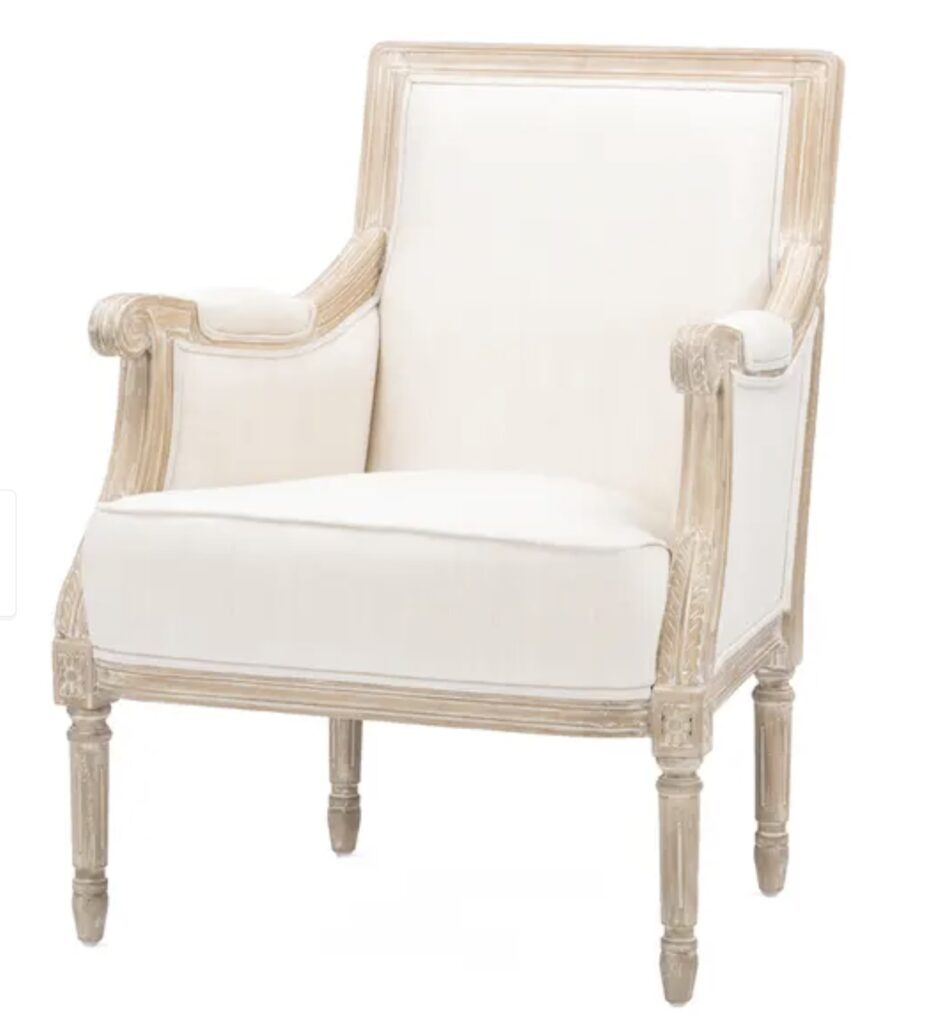 Bergère Cabriolet
This style features a concave, or coved, back that doesn't come up quite as high and is more indicative of Louis XV furniture.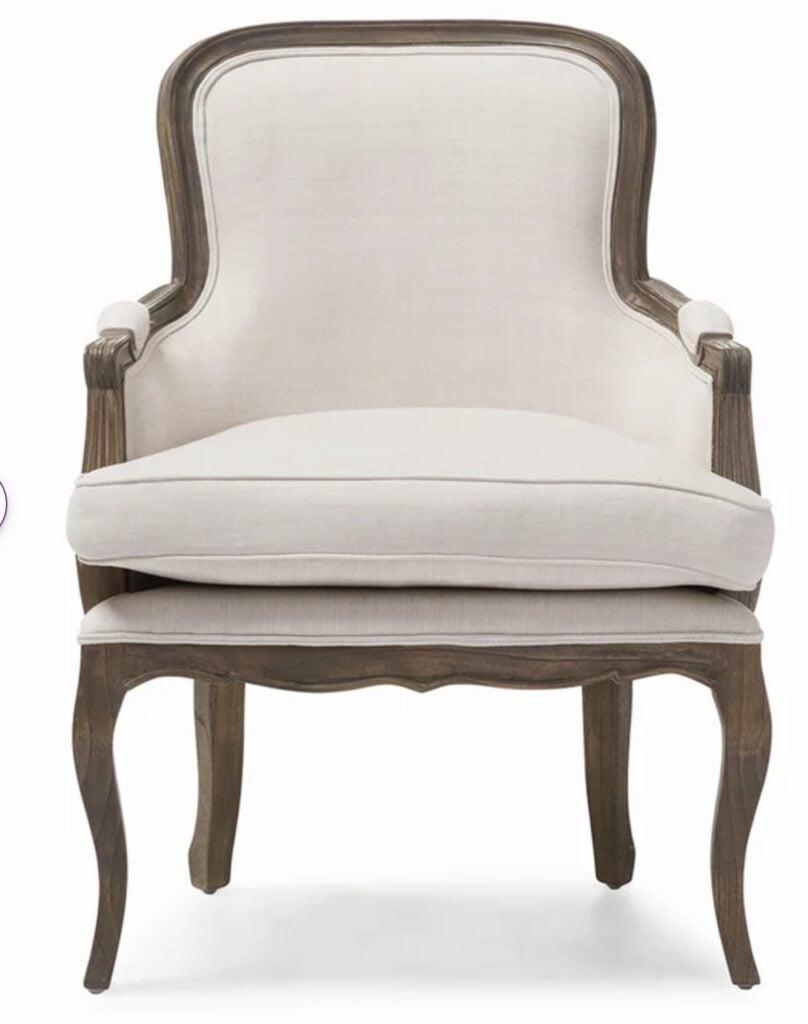 Bergère Marquise
The final style has a very low, coved back that swoops right into the armrests without a break.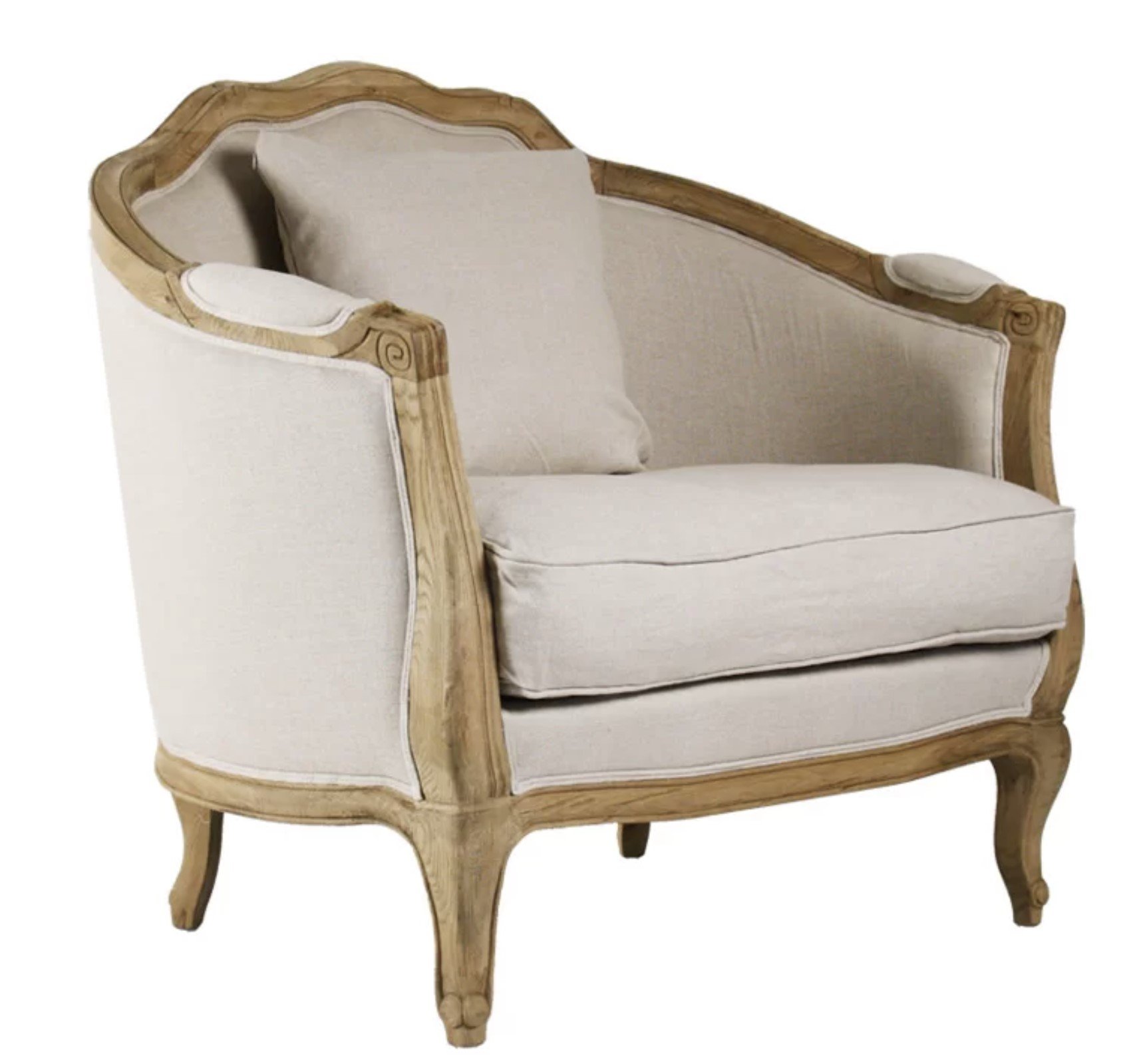 Bergère vs Fauteuil Chair
A fauteuil (pronounced foh-til in the U.S.) is a French armchair. While a Bergère is a fauteuil, the difference is that a bergere is deeper and wider, designed for comfort. Additionally, the space between the seat and arm of a Bergère is upholstered, while that of a standard fauteuil is open.
But, to make matters more confusing, modern-day Bergère chairs often have open arms. They're still deeper with a thick, loose seat cushion and exposed wood frames, but the armrests are open.
Are Bergere Chairs Comfortable?
They were designed for comfort! These chairs have a deeper seat so that you can really sit back and relax. I personally find the Cabriolet or Marquise styles more comfortable because of the curved backs.
What's also great about Bergere chairs is that they're meant to be moved around. So you can have them near a window during the day and then move them to the fireplace in the evening.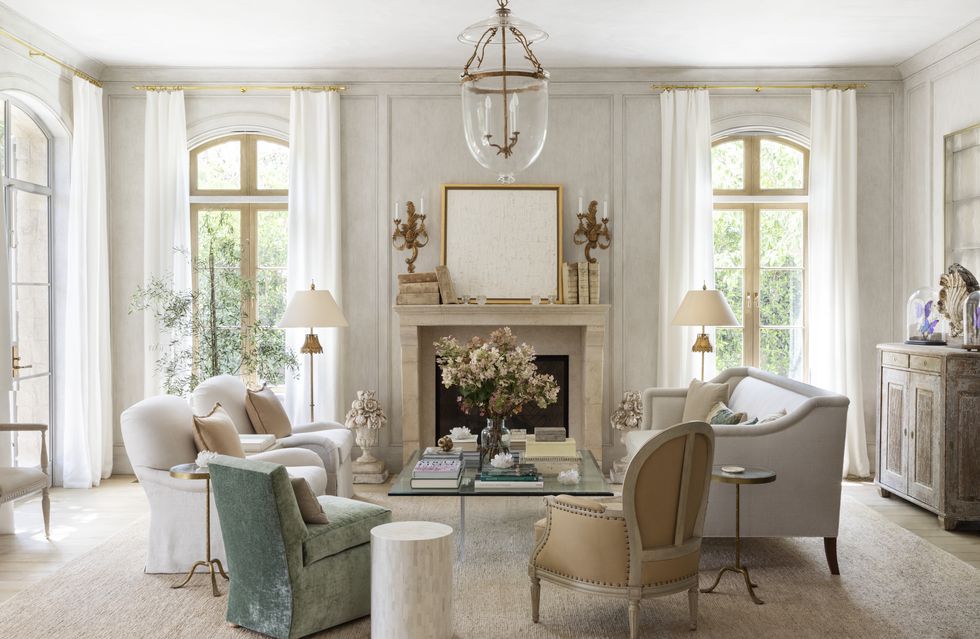 Decorating with Bergère Chairs – Why You'll Love a Bergère
Look at how perfect this seating area is with a pair of simple, white Bergère chairs. The lines are elegant and fit right into the surroundings, but they aren't so fussy that you'd be afraid to sit in them!
Loi Thai is one of my favorite designers due to his use of juxtaposition and neutral furnishings. These french chairs look perfect in this sunny spot, but they also seem like you could pull them up to the fireplace on a cold, winter day!
I love this beautiful antique chair paired with a contemporary soaking tub. As you can see, these chairs work well in pairs but are perfectly fine on their own!
Talk about juxtaposition! Look at these classic chairs reupholstered in a contemporary print.
Where to Buy Bergère Chairs
Thankfully, given their popularity, Bergère chairs are very easy to find these days. There's a huge variety in price points depending on the type of wood, detailing on the chairs, construction etc. so with some searching, you'll be able to find something in your price range.
Vintage or antique Bergère chairs will have character and charm. If you go this route, keep in mind that reupholstering a chair is quite expensive! Unless you plan to do it yourself, look for a chair whose upholstery is in good condition and that you like. Otherwise, factor the cost of reupholstering into your budget.
New Reproduction Bergère Chairs
If you don't have the time or money to find a true antique, I've rounded up some of my favorite new Bergère chairs for you! I've included a wide variety of prices and styles. These are all great options that will add a classic look to your home with a European flair.
My Favorite Bergere Chairs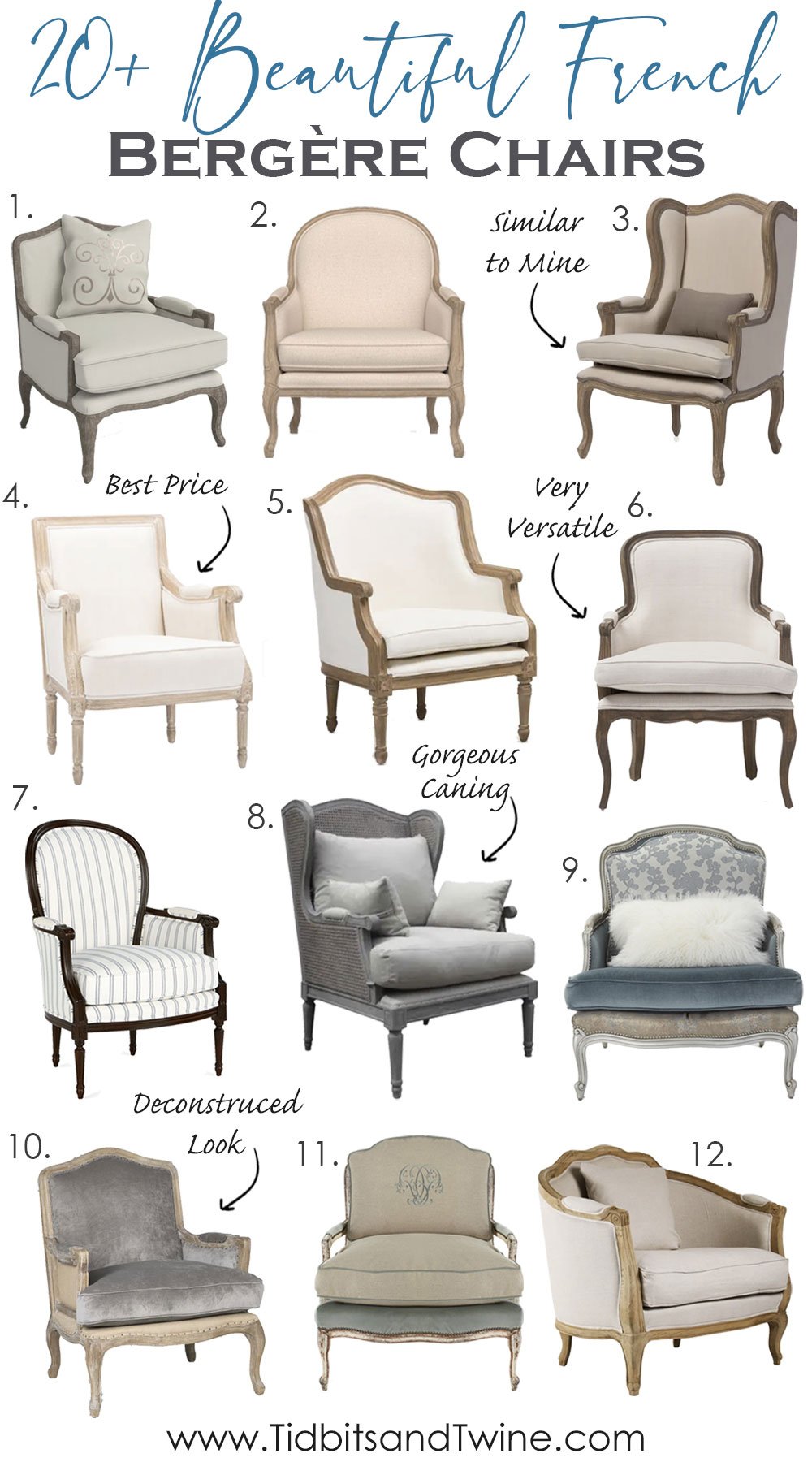 More Gorgeous French Chairs
If you look at the broader meaning of a Bergere, there are even more options to choose from!

More French Style Guides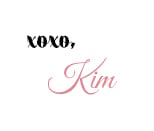 Join the Community
Let's keep in touch! Get exclusive artwork plus the latest news delivered directly to your Inbox!