Let's explore trestle tables! Find out why these timeless dining tables are excellent for large gatherings. Get resources for finding beautiful trestle tables at every price point and style.
The table is really the main anchor of any dining room. It has to be functional, but you'll enjoy it even more when it's beautiful and a style that matches your aesthetic. And trestle tables have been around for centuries. So let's explore what makes them so popular and why you'll love them.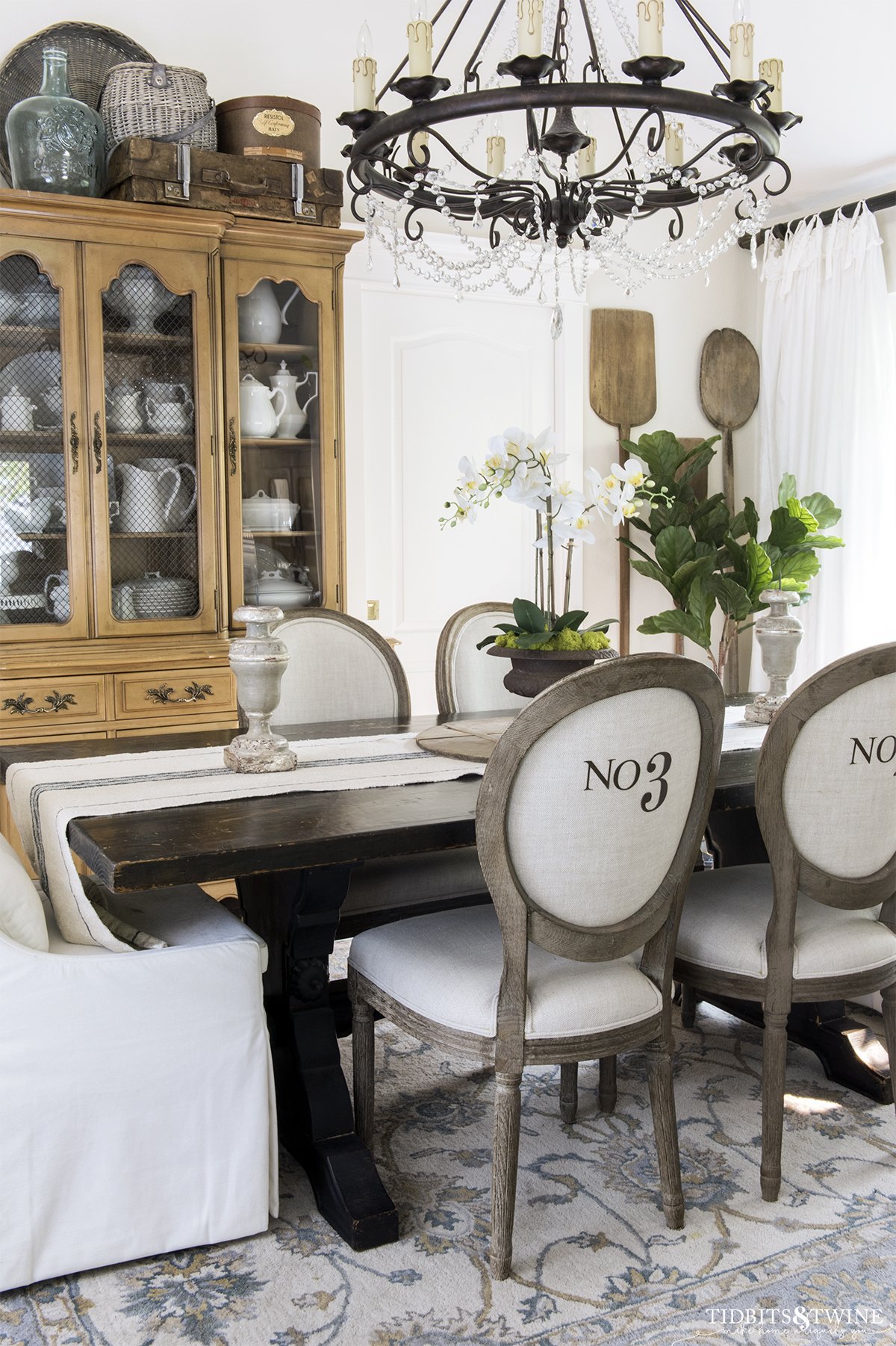 I love my dining room trestle table! I've considered replacing it a few different times because the stain is chipping off the top. Plus, I sometimes think I'd like an extension table. But this is the first piece of furniture that my husband and I purchased for our first home. And with all of the rearranging and redecorating I do, would you believe it's also the last piece of original furniture we have from our first home?!
In the end, I don't think I can part with this particular trestle table. We bought it at a consignment store and it's over 100 years old, so it has great history and is sturdy today as the day it was made! Instead of replacing it, I think I mind sand the top and refinish it.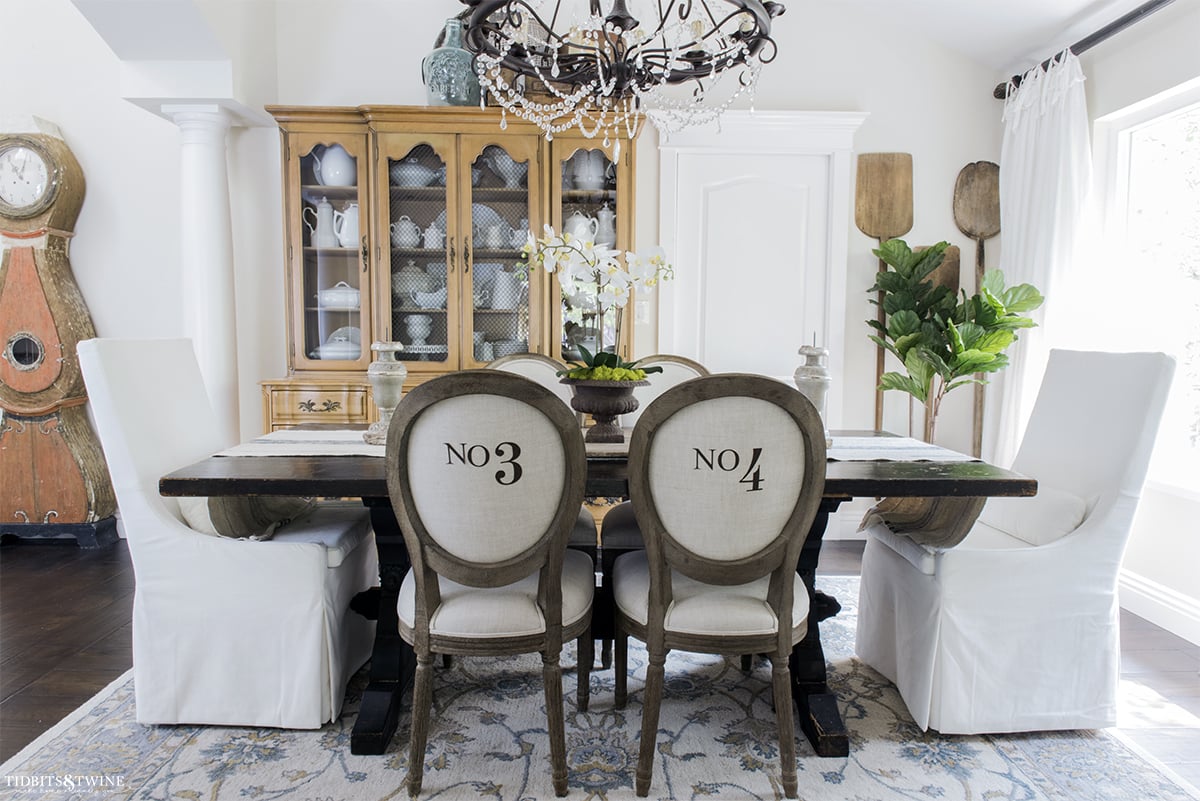 Over the years when I considered buying a new table, I did a lot of online window shopping. I love the process of searching and comparing items to find the perfect one!
Searching for furniture and decor can be a bit overwhelming, especially on the internet. There are so many options out there! That's why I create these style guides for you. My guides are here to help you narrow down selections that I think will appeal to you and help you with your own decision-making process.
So let's explore trestle tables and why you might consider one, look at the styles and features available, and help identify a budget!
You can use the Table of Contents below to easily navigate through this article.
What is a Trestle Table
Trestle tables have a long history, dating back to medieval times and perhaps even earlier! According to Fine Woodworking Magazine, they are the oldest tables documented in the Western world.
Originally, it was thought that these tables were built for their sturdiness and longevity, but also because they could be disassembled and moved to clear the room for other activities (like dancing). Many trestles and stretchers are formed as one piece. The stretcher on my table, on the other hand, can be removed from the trestles by sliding out.
Today, these tables are as popular as ever! What I noticed, though, is that not all manufacturers specifically identify this style as a trestle table. Some call it a pedestal table and others just don't specify at all.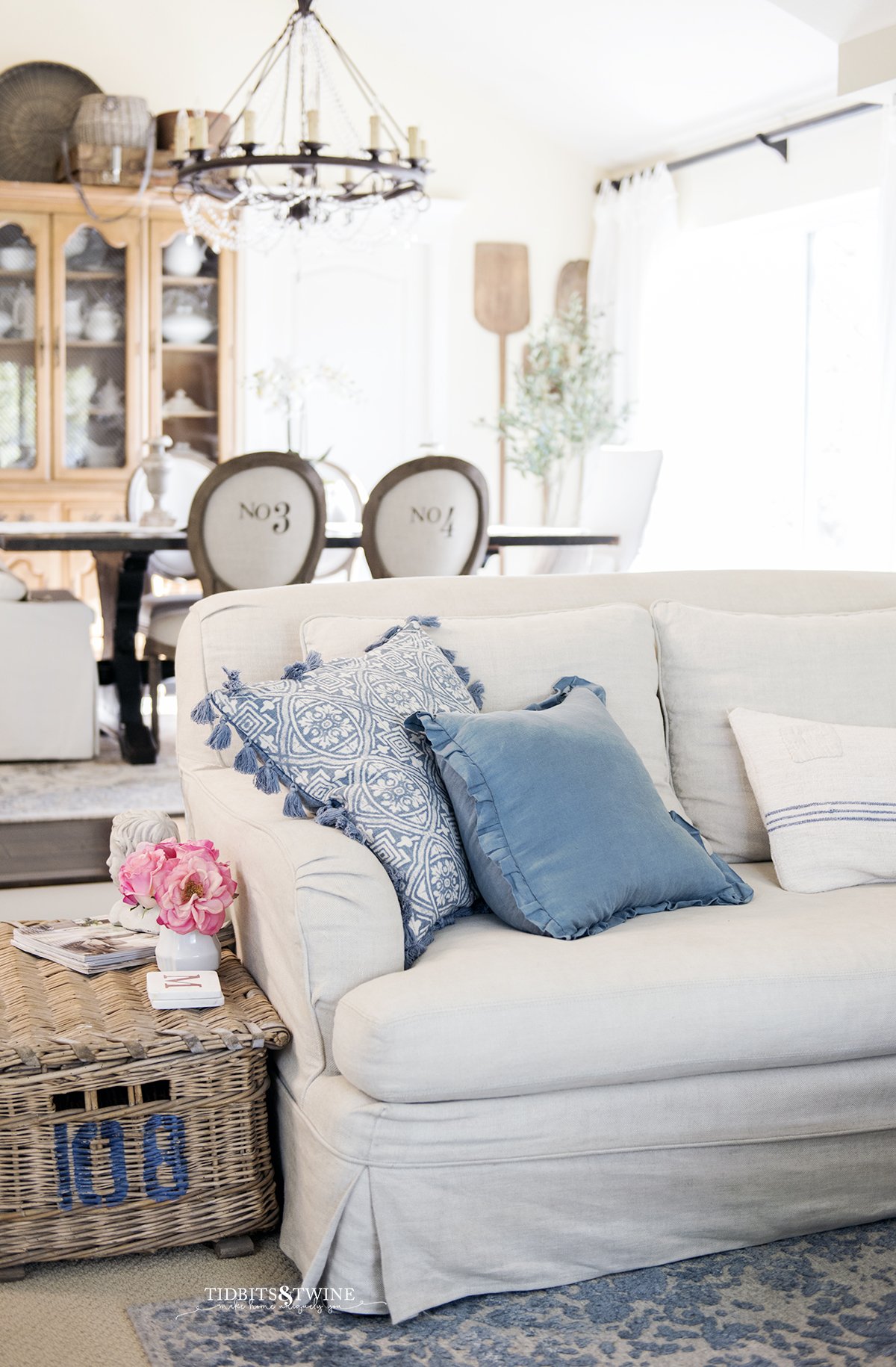 Why Consider a Trestle Table
A dining table is really more than just a place to eat. It's a place to gather, play games, indulge in conversations, and showcase your personal decorating style!
One difference between a trestle table and a regular four-legged table is that the trestle table has more of a showy base that makes a statement. The bases can be found in a wide variety of woods and painted finishes, from casual to ornate!
Pros of a Trestle Table
If I do ever replace my dining table, I want another trestle table because it's so comfortable for large gatherings and can easily squeeze a few more people in.
More legroom than a traditional table – no legs to bump into
Very sturdy
Perfect for a bench – guests and slide in and out on the sides without pushing the bench back because there's no leg to run into
Very stable and sturdy
Can have different finishes or colors on the top versus the base since they are separate pieces
The base is eye-catching and more impactful than a standard table
Cons of a Trestle Table
Have to move it in pieces
Can't stretch your legs out underneath the table without bumping the stretcher
The base requires dusting
The large base visually might not work well in a small space
How to Choose a Dining Table
Know how many people need to fit around the table. How many on an everyday basis? How many on special occasions?
What style best suits your home and your decorating style? Traditional, contemporary, french country and more are all available as trestle tables.
What material do you want for the tabletop? Solid wood is more durable than veneer but also more expensive. Glass is easy to clean but shows dust and fingerprints.
What shape best find your room? Rectangular or oval tables fit best in rectangular rooms. Square or round tables fit best in a square room.
Measure, measure, and measure again! If you're not sure of the size, use painter's tape on the floor to mark the dimensions.
Set your budget and stick to it. Shop around, wait for sales, and use these money-saving tricks to keep to your budget.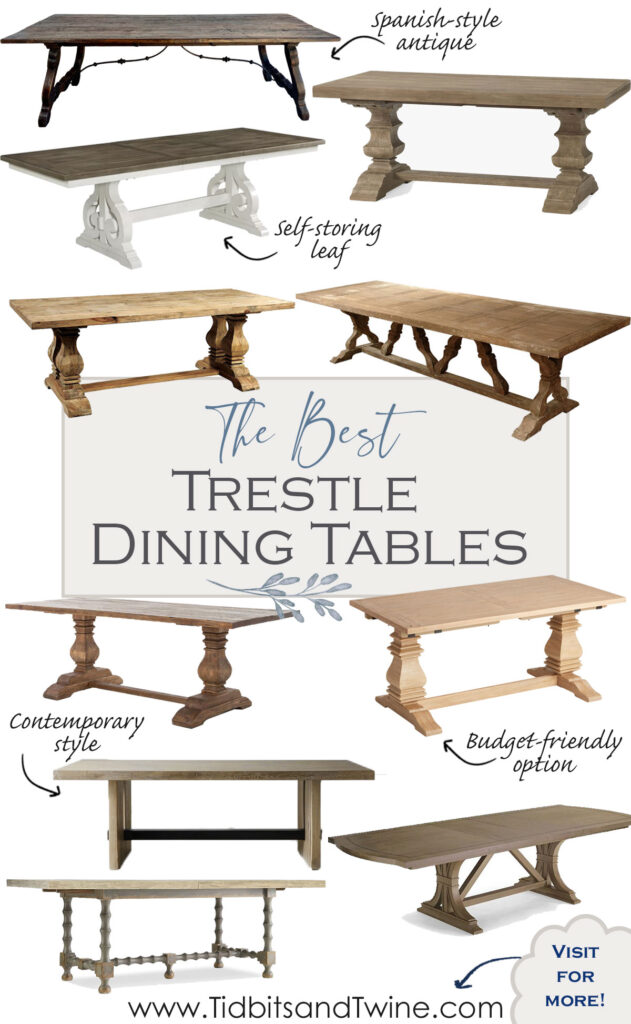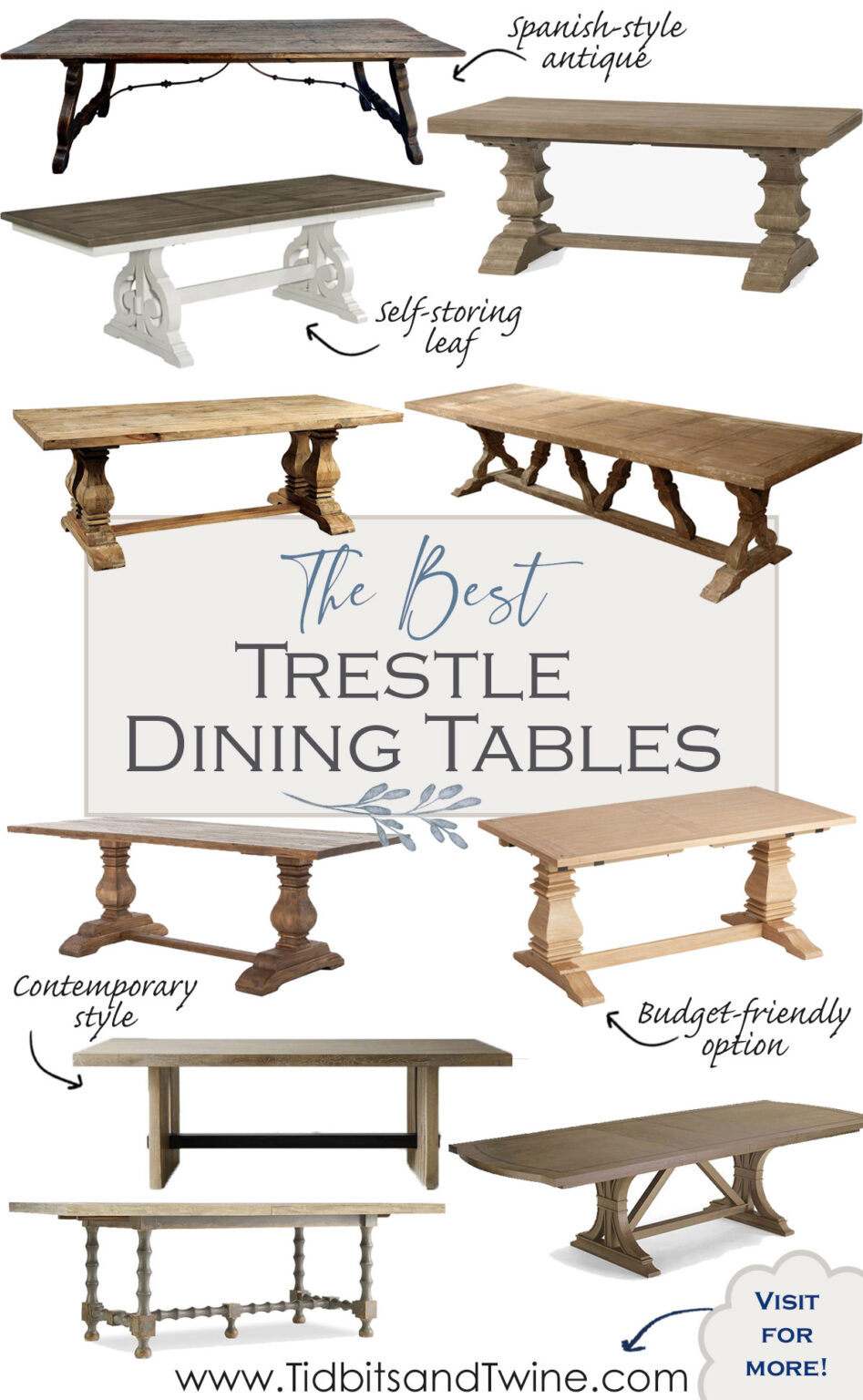 Beautiful Trestle Table Sources
I've rounded up some of my favorites in a variety of price points.
More Dining Room Inspiration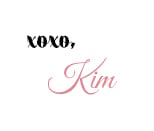 Join the Community
Let's keep in touch! Get exclusive artwork plus the latest news delivered directly to your Inbox!