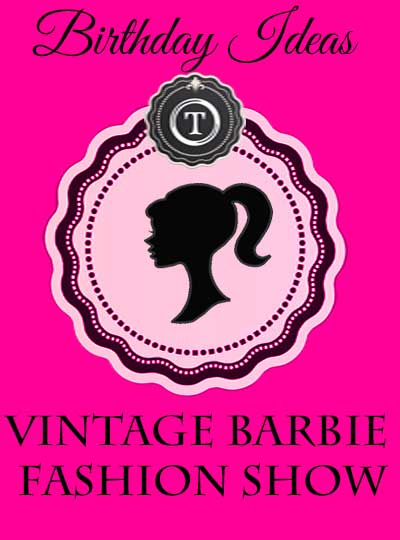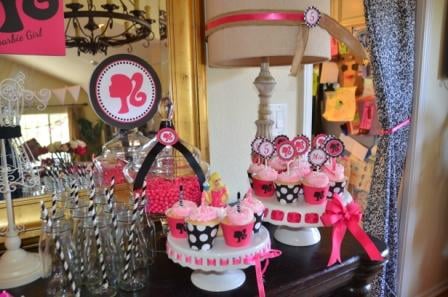 My daughter recently turned 5 and this girl loves to get glammed up! She also loves to play Barbie, so we decided to have a Vintage Barbie Fashion Show birthday party. There are so many great online resources for hosting a Barbie birthday but my favorites were:
Ultimately, I researched online and then used a combination of ideas to come up with my version of a Vintage Barbie Fashion Show. Here's what I did for my daughter's party:
5 DECORATING TIPS You Should Know!
Get my FREE 5-day email guide and join the 10,000 subscribers who already receive the weekly decorating tips and exclusive art!
Invitations: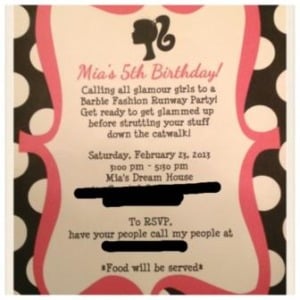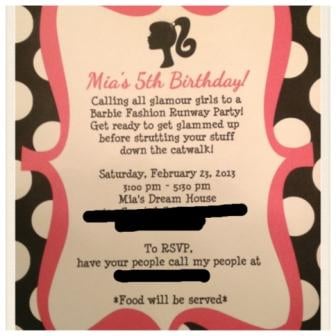 I purchased the Barbie Silhouette Dots and Hot Pink invitation from Party Paper Creations on Etsy. This was super easy and very fast! I then printed them on cardstock on my home printer and attached an adhesive crystal to the ponytail of each one just to give it a bit of dimension and sparkle! The wording I used was a follows:
Calling all glamour girls to a Barbie Fashion Runway Party! Get ready to get glammed up before strutting your stuff down the catwalk!
Day/Date, Time, Mia's Dream House, Address.
To RSVP, have your people call my people at (555) 555-5555. Food will be served.
Decor: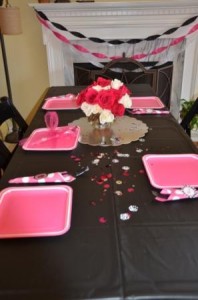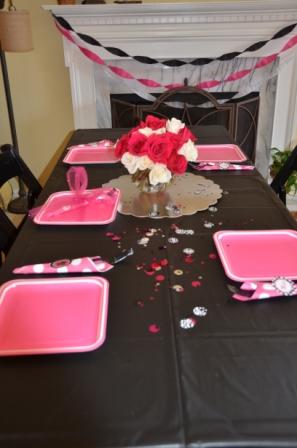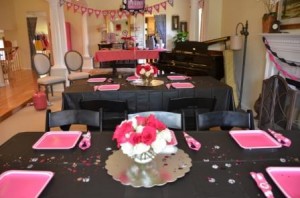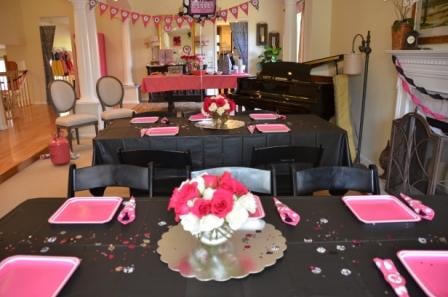 The color scheme was hot pink, black and white with a few pops of silver for a bit of glamour. I purchased printables from Party Paper Creations to match the invitations and used them to decorate inside and outside of the house. The tables were black with hot pink plates, black utensils, hot pink napkins, confetti and pink/white roses in round vases. On the buffet table, I used a hot pink tablecloth, white dishes, more roses, plus a black and white skirt I had made for a dress form that my daughter already had in her room. Additionally, black frames containing the black silhouette with a hot pink bow were scattered around the house. We had Barbie music playing out on the porch so that the girls would be excited upon their arrival and of course, plenty of balloons (some helium, some not so that the girls could play with them).
Food: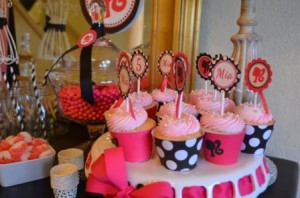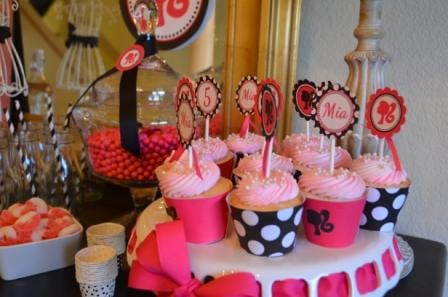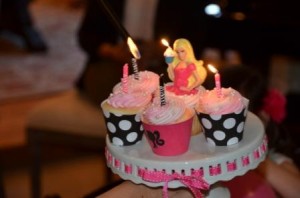 For themed food, I served strawberry milk and pink lemonade in vintage milk bottles with black and white striped paper straws. (Actually, they were Starbucks Frappuccio drink bottles from which I had removed the labels!). I also served a bowl of watermelon, purple grapes and strawberries, a platter of chicken nuggets, a tray of butter and jelly sandwiches cut into heart shapes and my daughter's favorite, Pirate Booty. For the parents, I served a platter with Italian sandwiches, mozzarella balls, marinated artichoke hearts and salami. Instead of cake we served cupcakes, eliminating the need to cut and serve each girl individually. I purchased white cupcakes with light pink frosting from Safeway and then added pearl sprinkles to each. I then finished each one with a cupcake topper and wrapper, both from Party Paper Creations.
Fashion Show: This is where it gets a bit crazy! For the fashion show, my daughter picked out the girls' outfits in advance, giving me time to write up a script for each girl as she walked the runway.
Script Example:
This girl's got spirit! Mia is a hot pink hottie in this sporty Barbie cheerleader outfit. With a pep in her step she walks the runway like she owns it! Hot pink satin trimmed with hints of blue and embellished with silver sequins give some shine to this sparkling girl. Look at those pom poms sway and she moves to the beat of her own drum! A little bit of sass mixed with attitude and personality make a real statement for this spirited girl! Let's give a shout out for our one and only birthday Barbie cheerleader!
Once the girls were dressed and ready, we applied decals to the nails and/or faces, let them choose accessories from various bins (i.e. purse bin, jewelry bin, prop bin) and lined them up! When it was their turn, each one stepped into the life-size Barbie box I had made and did her best Barbie fashion pose. She then strutted her stuff down the runway, stopping to pose in front of the step and repeat I had made. This gave parents an opportunity to photograph their little ones as they went by!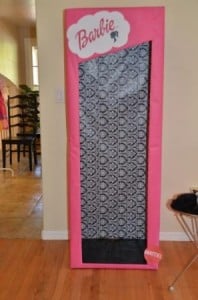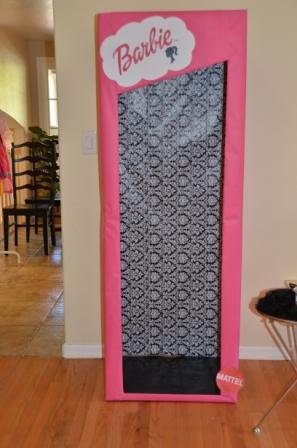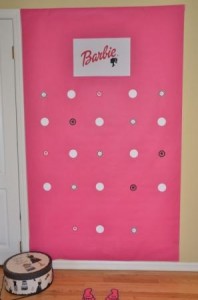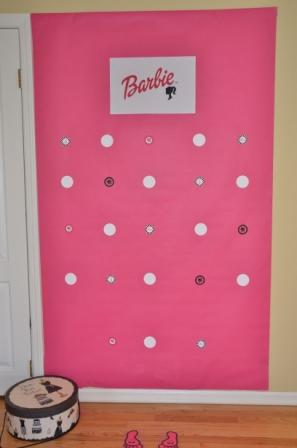 Barbie Box: I didn't have a box available that was the size I wanted, so I purchased two Shorty Wardrobe boxes from U-haul, stacked them on top of one another and duct taped them together. I then traced the area that I wanted to cut out and used a craft knife to make my cuts. It was then time to decorate the box! I purchased a roll of hot pink paper and wrapped the box like a package. For the back, I used black and white wrapping paper that I found in the dollar section at Target and on the bottom, I used strips of black duct tape (to keep the girls from slipping).
Step and Repeat: I used the same paper for the Step and Repeat that I had used for the Barbie box. I then printed out my Party Paper Creations cupcake toppers onto cardstock that had an adhesive backing. Instead of cutting them out with my 2″ scallop punch like I did for the cupcakes, I used a 2″ circle punch and lined them up randomly along the paper.
Games: Since the fashion show took up the majority of the time, I kept the other games fairly simple and straightforward.
Scavenger Hunt:
Upon arrival, each girl went on a scavenger hunt for hot pink chocolate coins around the house. When they found 6, they gave them to me and received a hand stamp and was then free to color Barbie coloring pages I printed from the internet. The coins then went into their goodie bags for later. The scavenger hunt is a great way to start the party because it gives those who have arrived something to do but stalls a bit while waiting for everyone to arrive!
Pin the Bow on Barbie: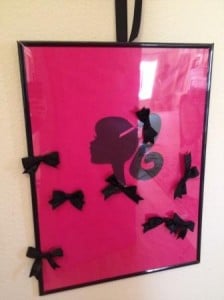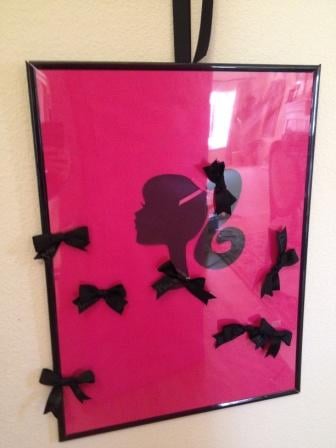 For this game, I printed a silhouette image as large as I could on 81/2″ x 11″ paper, carefully cut around it and then taped it to hot pink craft paper. I then cut the craft paper to fit into a small poster frame and then used ribbon to hang it at the right height for the girls. I made bows from black ribbon, writing each girl's name on one bow and placed double-sided tape on the back. Each girl was then given her bow and blindfolded before attempting to place the bow on Barbie's ponytail.
Freeze Dance:
We played a few rounds of Freeze Dance to help get their wiggles out and this turned out to be a big hit! We first played following a set of rules in which whomever moved after the music stopped had to leave the game and enter the cheering section (a cheering section was easier for the girls to handle at this age rather than telling them they were "out").
Barbie Phone:
Before getting the girls ready to eat, I needed to get them settled down a bit and so lined them up seated on the floor for a good ol' fashioned game of telephone! We started out with a very easy phrase and gradually made them a bit harder. This was a tough one for the girls!
Goodie Bags: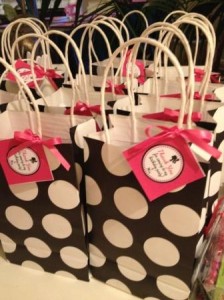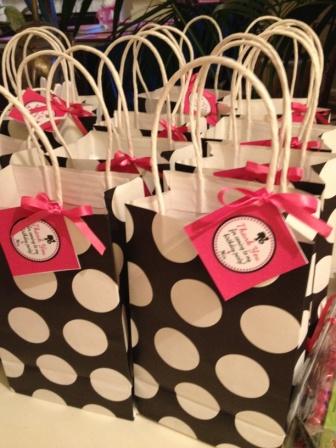 I purchased black and white polka dot bags from Party City and then filled them with items I found at either the Dollar Store or the dollar section at Target. I included long satin evening gloves in either hot pink or white, long silver bead necklaces, lip gloss, pink and/or white candy (including the chocolate coins from the scavenger hunt) and small wands. Each bag included the thank you printable I received from Party Paper Creations tied to the bag with a hot pink satin ribbon.

Join the Community
Let's keep in touch! Get exclusive artwork plus the latest news delivered directly to your Inbox!