I have a secret. One that as a home decor blogger I feel a bit guilty about, but by sharing it today, I'm hoping it will help others of you who might feel the same way I do.
Okay here goes.
I loathe coffee tables.
Cue the gasps! Cue the horror! Just kidding…
Alright, admittedly this isn't a big deal in the grand scheme of life, but for someone like me, who loves all things decorating, I really do feel a little guilty about my hatred of coffee tables. The thing is, so many of them are uninspiring and so often, they become an afterthought in a room. They just look like sad little boxes or circles placed in front of a sofa and never given a second thought. I walk through a home decor store and ooh and aah over every pillow, lamp and chair in sight. And then I see a coffee table and I think, "Yep. Looks like a coffee table" and keep on moving. But as I continue to work on my never-ending living room makeover, I really need to find a coffee table that I love. So today, I rounded up my favorites – the 10 best coffee tables. These tables are a bit more inspiring and a lot more interesting and can enhance a room's design, instead of just taking up space.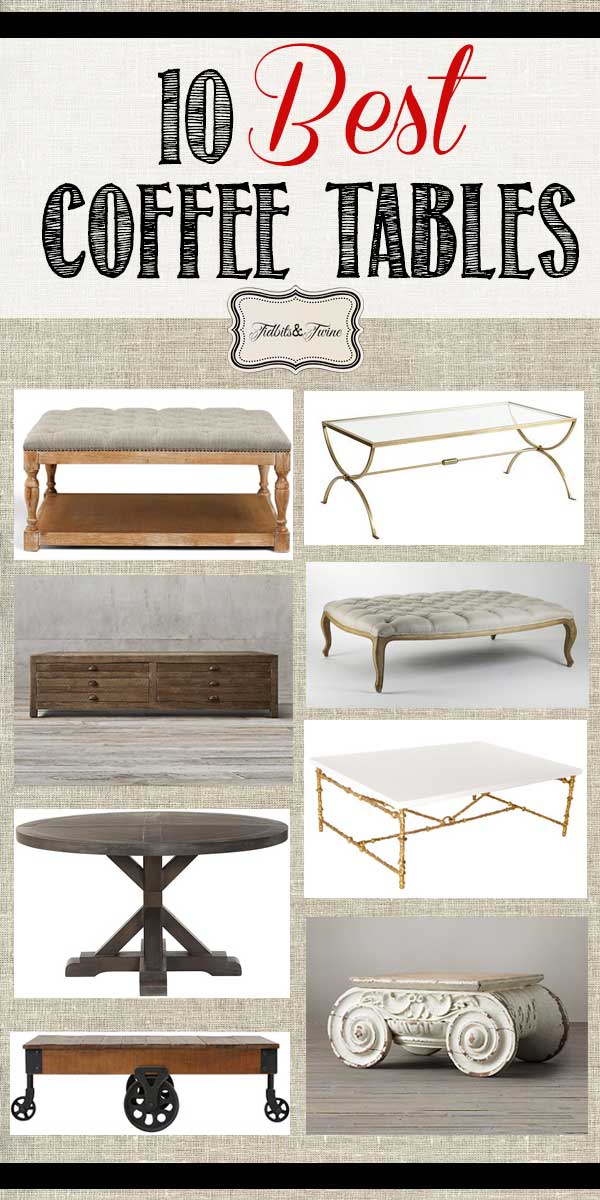 This is my current obsession and at the top of my list for my living room. I love the juxtaposition of the graceful style and the weathered wood.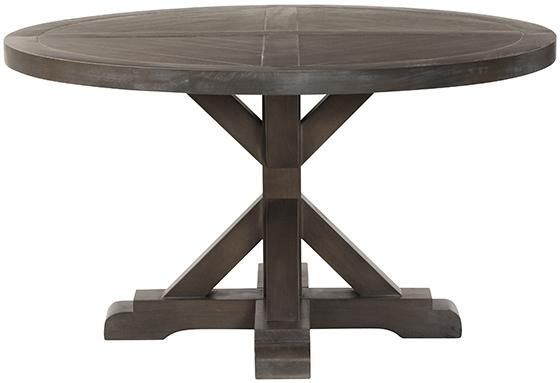 Plus, this table reminds me of the antique wine tasting table that Lisa Luby Ryan has in her home.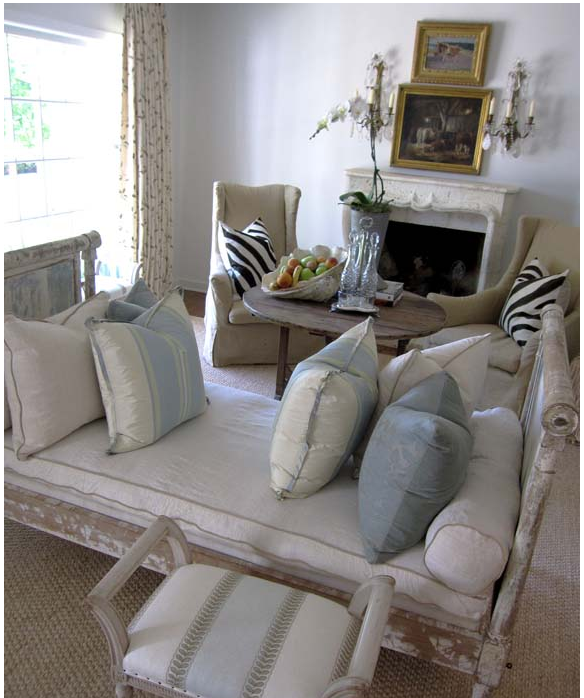 2. London Coffee Table – Ballard Designs

To me, it's the hourglass-shaped base of the table that makes this antique brass and glass table different from the others – it's not just four legs and a top. This is an elegant and timeless style that works well in a more formal living space or bedroom.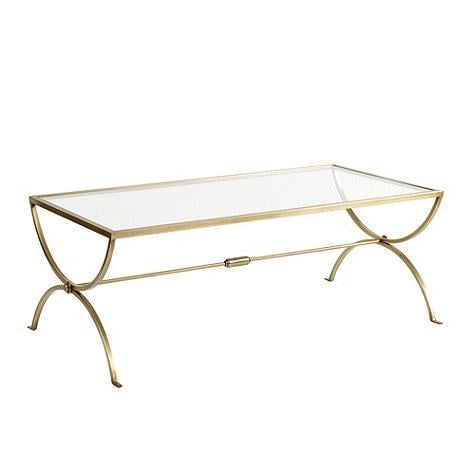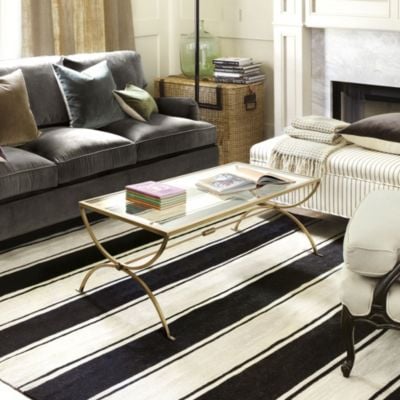 I love it when old, utilitarian items are given a new life and a new purpose! This coffee table was adapted from flat files used in architectural firms and artist studios alike where it's long, shallow drawers were used to house plans, prints, and maps.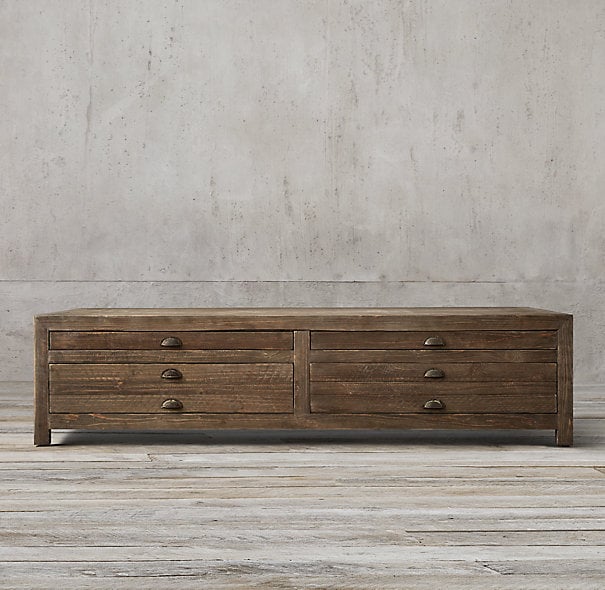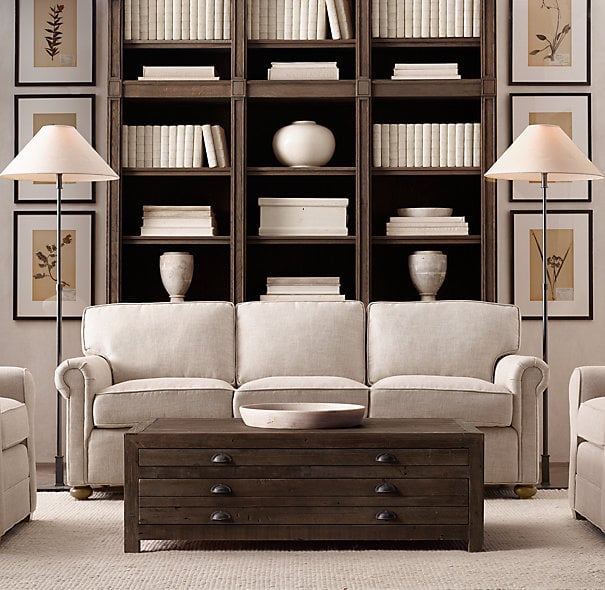 I've posted before about my love of a tufted ottoman and if fact, was sure that it would be my new living room piece at one time. Since then, I've been toying with the idea of a tufted sofa instead and so my search for the perfect coffee table has continued. But I do love the versatility of a tufted ottoman.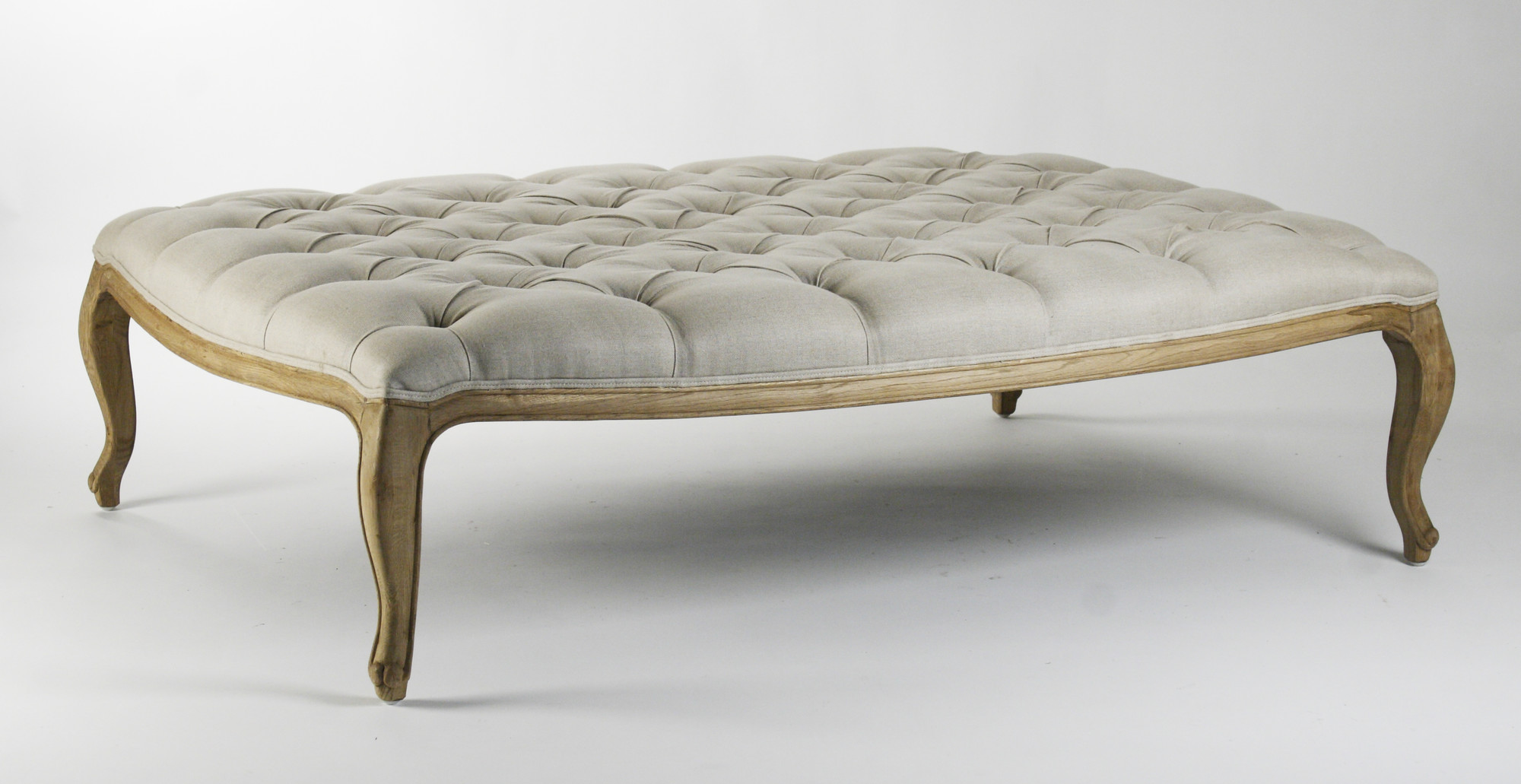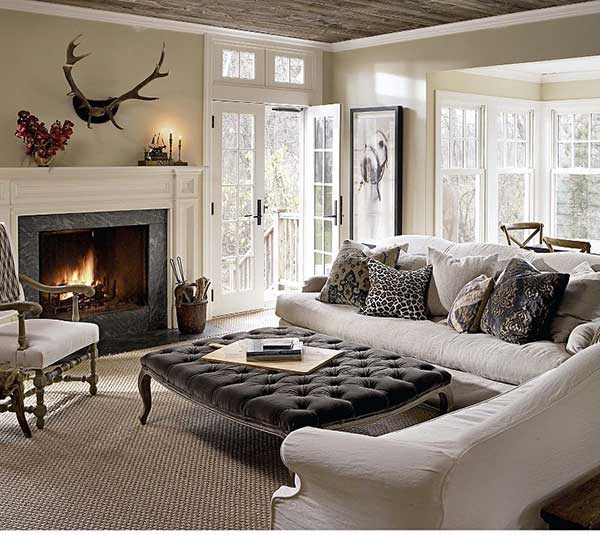 5. Sanibel Coffee Trunk – Soft Surroundings
Baskets add so much texture and interest to a space and this one had me as soon as I learned that it was modeled after French traverlers' trunks of the 19th century. While it is very versatile and offers extra storage, you do have to be cautious about what you place on top, as the woven material is uneven and may not be a suitable base for some types of decor.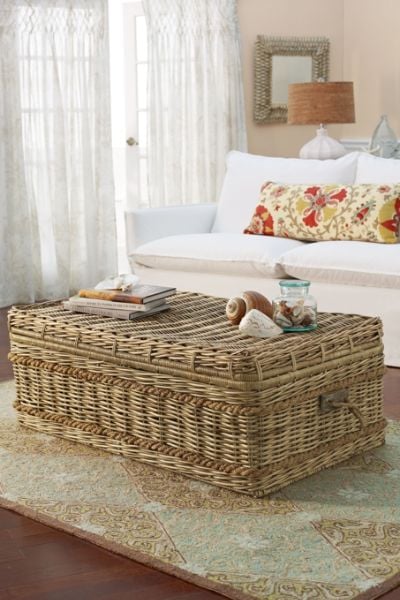 This replica Ionic Capital is derived from 1 of the 3 orders of classical Greek architectural dating to the 5th century BC. The smaller scale allows for use in a sitting area or in a larger space when combined with a second one.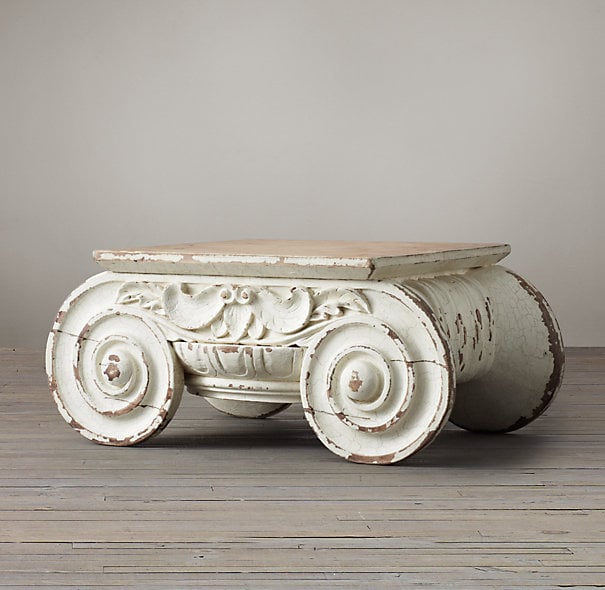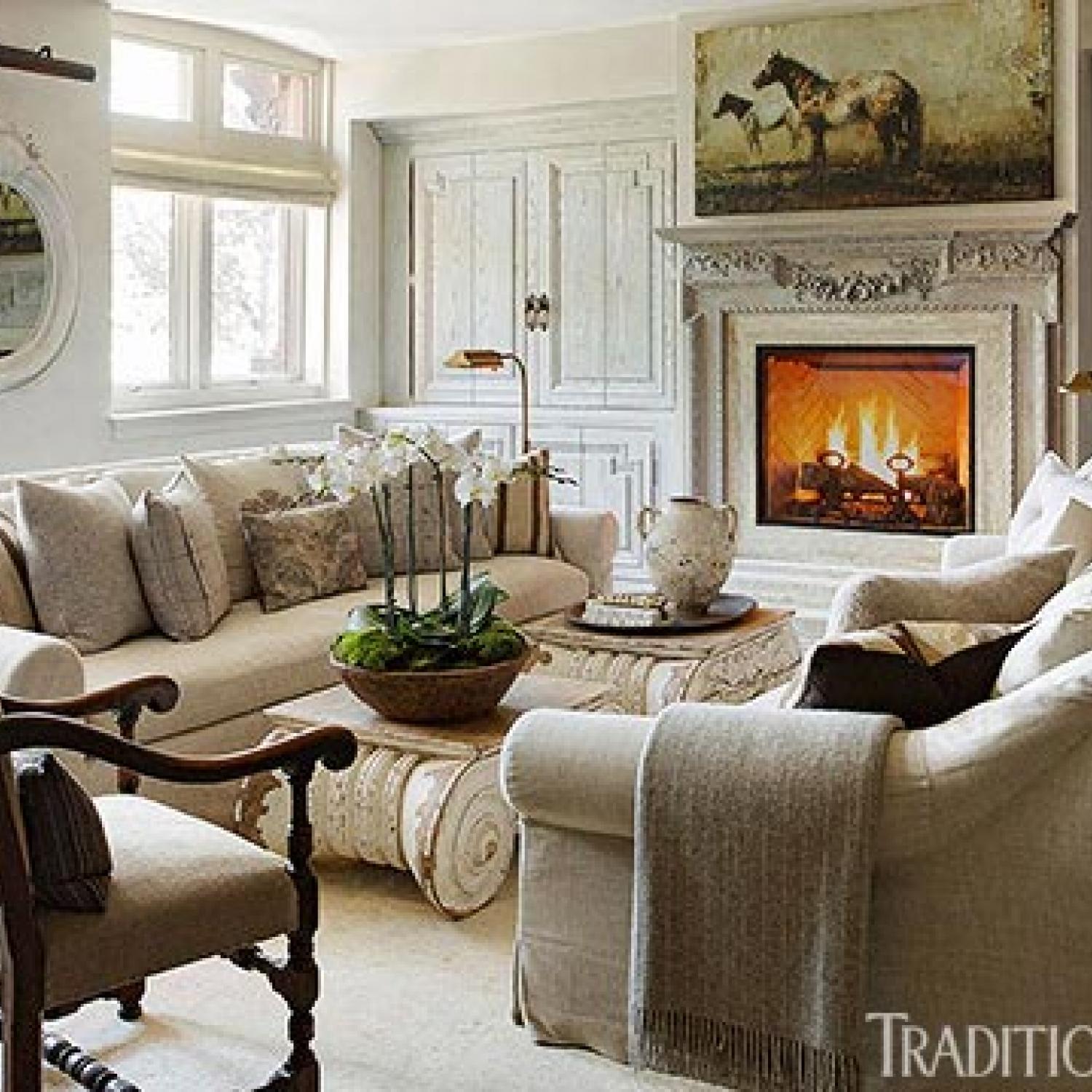 7. Diego Cocktail Table – Layla Grace
A twist on the traditional gold coffee table, the Diego is a transitional piece that mixes a traditional antiqued gold spindle frame with a contemporary resin top.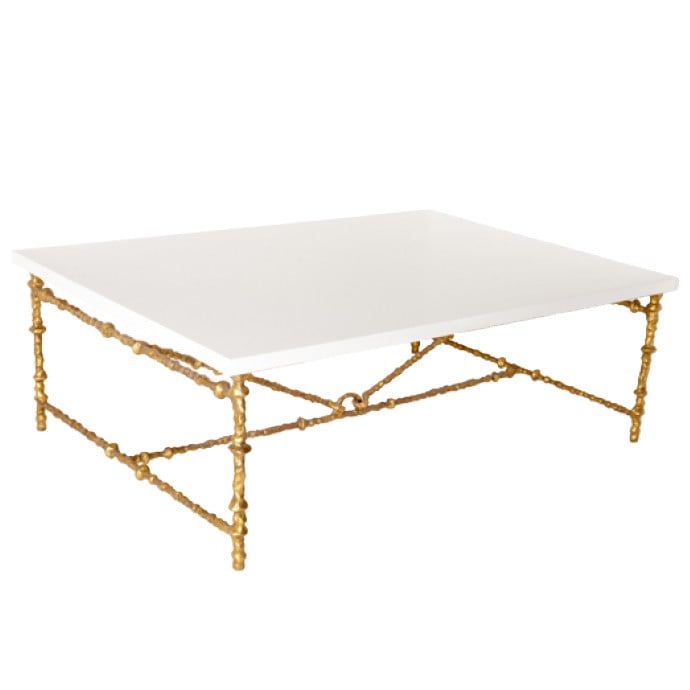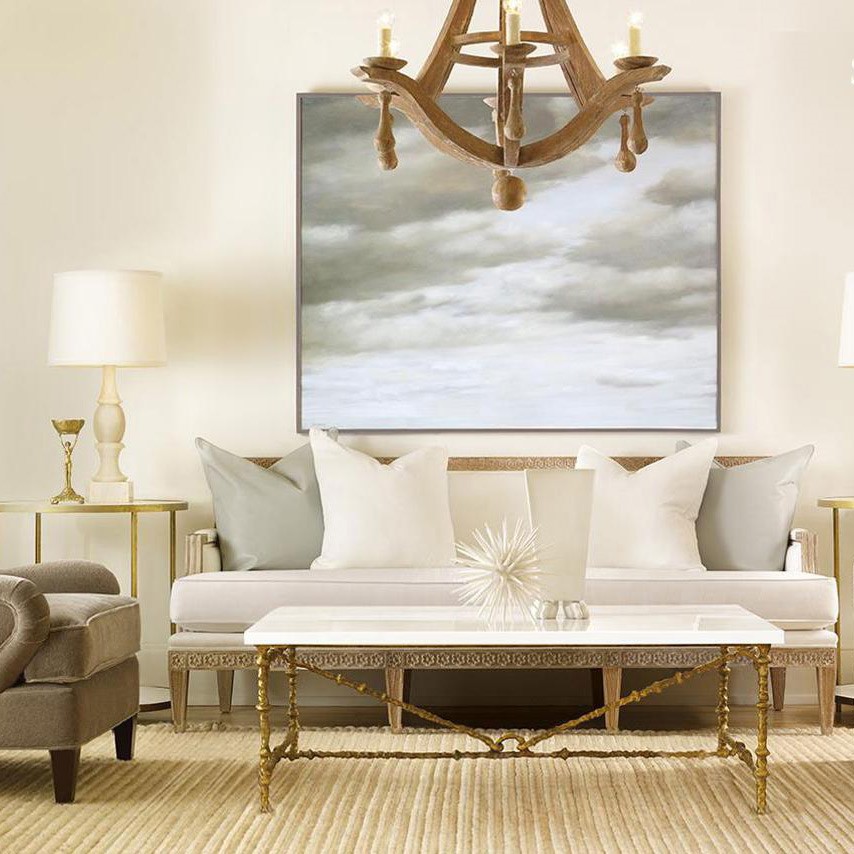 8. Cassandra Upholstered Storage Ottoman – Pottery Barn
This is a slight variation on the standard tufted ottoman in that it has a shelf underneath the bench to provide additional storage. The shelf helps to give this piece the look of a table, versus just a bench.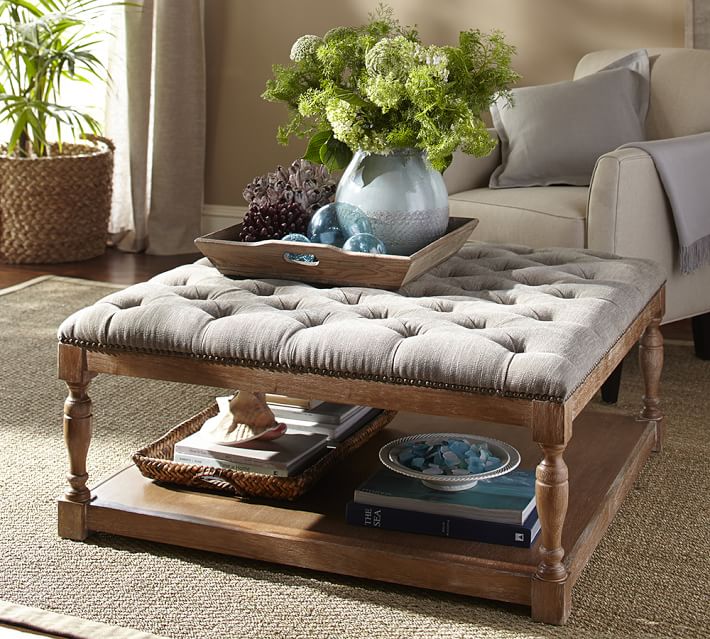 This is a great choice if you want to add a touch of industrial to your room!

Use them with cottage style or industrial, or mix them with contemporary for an eclectic look.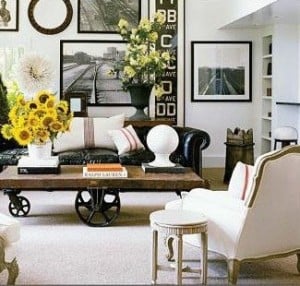 10. Reclaimed Doors – DIY
Old and unused doors that have been repurposed into a coffee table always make for interesting conversation. There are some great tutorials on how to make your own, like here and here.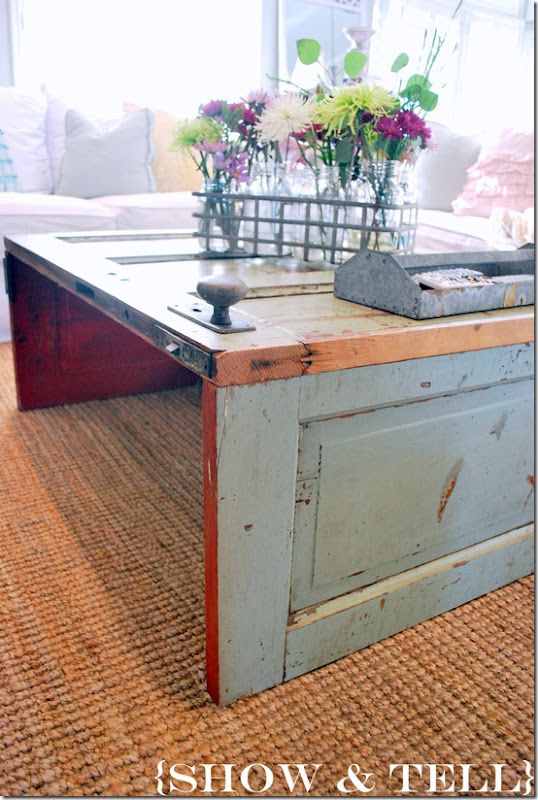 When choosing a coffee table, be sure to take into account your room's style, as well as how you plan to use your table. Also, keep scale and dimensions in mind so that it seems proportionate to other furnishings.
So, do you have a favorite?

Join the Community
Let's keep in touch! Get exclusive artwork plus the latest news delivered directly to your Inbox!