Learn how to make a small room look bigger with these 12 tips! From paint selection to furniture, decor, and even lighting, these 12 tips are guaranteed to make your small room look bigger!
Most of us have at least one space in our homes we wish were bigger. And while small spaces can often feel cozy, if we're trying to make them functional for day-to-day living, it's easy to over-stuff, over-clutter, and overrun them to the point that they feel cramped!
If you've ever lived in a small space, you know that every inch counts. You have to measure, plan, organize, and really think about each and everything you bring into the space. But a small room doesn't mean that you have to love a minimalist style! No matter what style you love, there are a few tricks that can fool your eyes and mind into thinking your space is bigger, brighter, and roomier!
Thankfully, there are some easy ways to make your room feel bigger by visually tricking the eye.
So I've rounded up my favorite 12 designer secrets to give the illusion of more space and am sharing them with you today!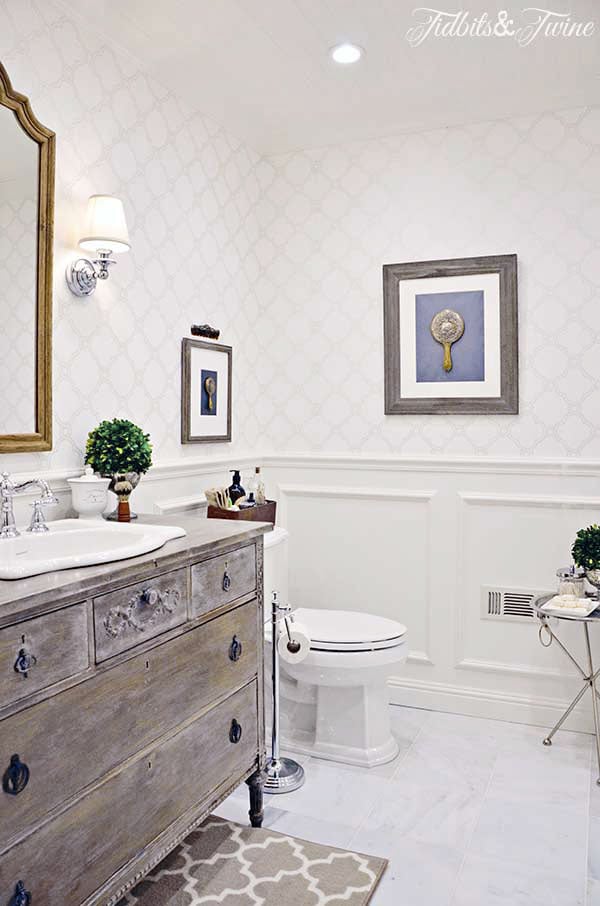 How to Make a Small Room Look Bigger
While Pinterest and magazines provide great inspiration for home decorating, often these homes are ginormous with ample room for furniture and decor! Given that not everyone's home is quite so grandiose, small spaces require a few unique approaches and tricks in order to create a beautiful space. And even large homes can have some small rooms!
When dealing with a small room, the primary focus tends to be practical over pretty. And if you love decorating, that just won't work!
If you're looking for some practical, simple tips to decorate a small space, this is the post for you! Whether you're tackling a small room, an apartment, or even a smaller-sized home, the goal is to maximize your square footage while giving the illusion that the space is larger than it actually is.
1. Pick a Lighter Palette
This tip is a bit controversial because sometimes, dark colors create a cozy and unique feeling in a small room. As a general rule of thumb, though, dark colors tend to make a space feel smaller. This is because dark colors absorb light and thus, tend to look heavier.
Conversely, light colors reflect light and tend to look bright and airy. So if you want your room to feel larger, opt for light or bright colors, both on the walls, doors, and trim. Your paint sheen can also help a bit! Avoid flat or matte if you want to create sheen that helps to bounce light around the room.
When choosing your wall and furniture color, choose a light color palette to help the room feel brighter. You can always bring in darker or bolder colors in your accent pieces and even your rug. If you want to add a darker color, consider using it on the floor as a rug, or in accent pieces like pillows or art.
You can check out my favorite 8 warm whites for the home.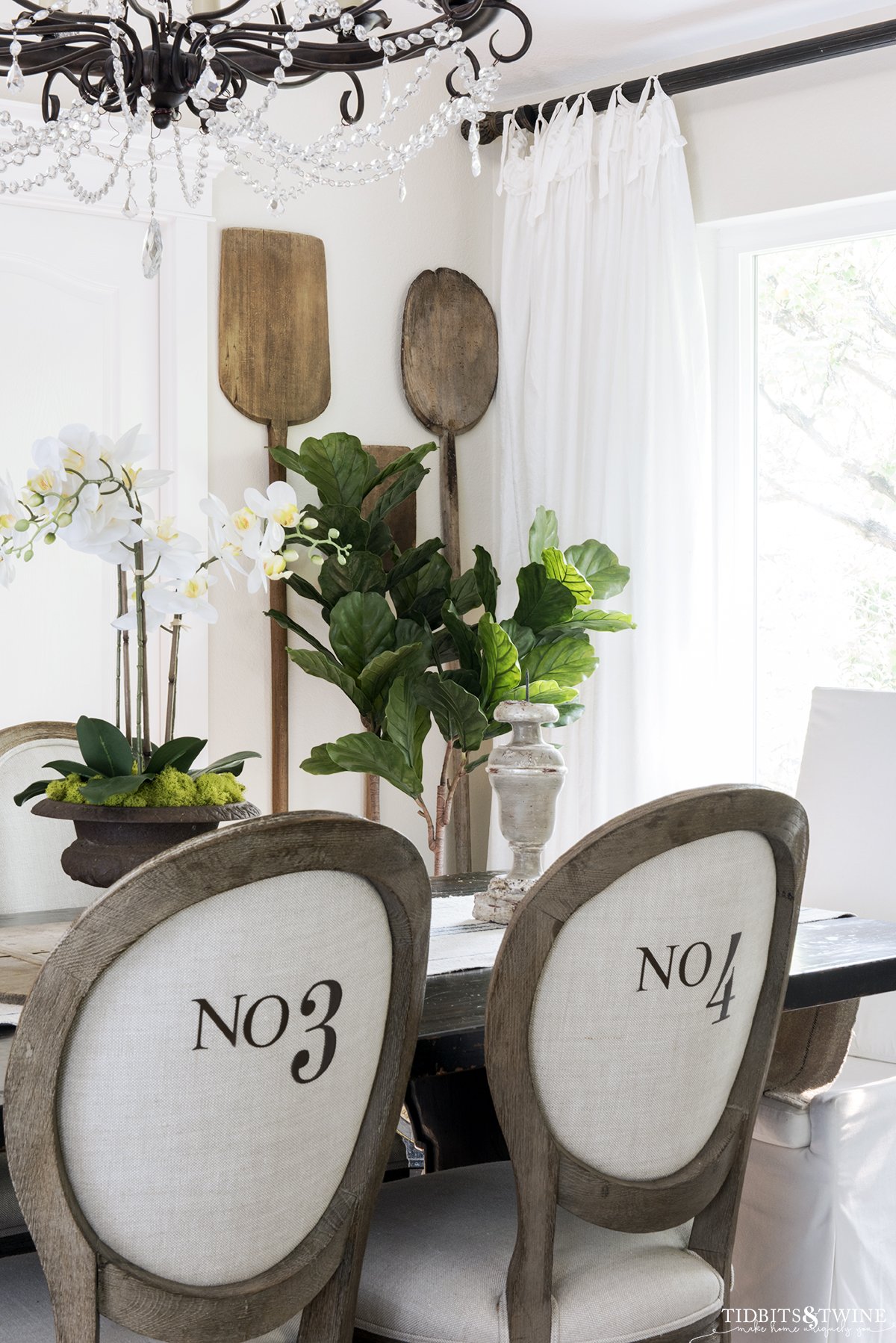 2. Pull Furniture Away from the Walls
This tip will obviously depend on the size of your room, and actually, applies to spaces of all sizes, not just small spaces. Instead of placing your sofa directly against a wall, pull it out, even if it's just a couple of inches to add depth to your small living room.
The idea is that if you line all of your furniture up against the walls, you're simply outlining the shape of your room and emphasizing its size, whether large or small. If your space is big enough to allow, pull the furniture away from the walls to create a grouping in the center of the room. This way, your eye will focus on the grouping and not the dimensions of the walls themselves.
3. Take Advantage of Windows
If your space is small, covering up the windows with window treatments will only make it appear smaller because you're blocking the much-needed natural light!
The more natural light that flows into a room, the brighter it looks and thus, the bigger it feels. Does this mean you should forego window treatments? No! It just means you should be strategic.
If you want privacy, consider blinds or shutters. If curtains are more your style, make sure you hang them properly!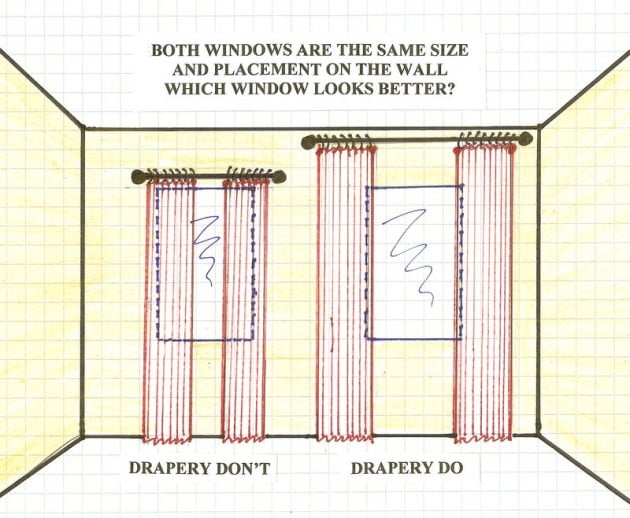 Let the light shine in…and make your windows appear larger at the same time! Hang your curtain rod just below the ceiling or crown to give the illusion of a taller window.
When open, have the edge of your drapes overlap your window frame by about 1″-2″ to make the window seem wider. Doing so will create a visual frame around the window that tricks the eye into thinking the window is larger than it actually is!
4. Use Mirrors to Reflect More Light
Using mirrors to bounce light around the room will not only brighten darker areas but also create a reflection that mimics a larger space.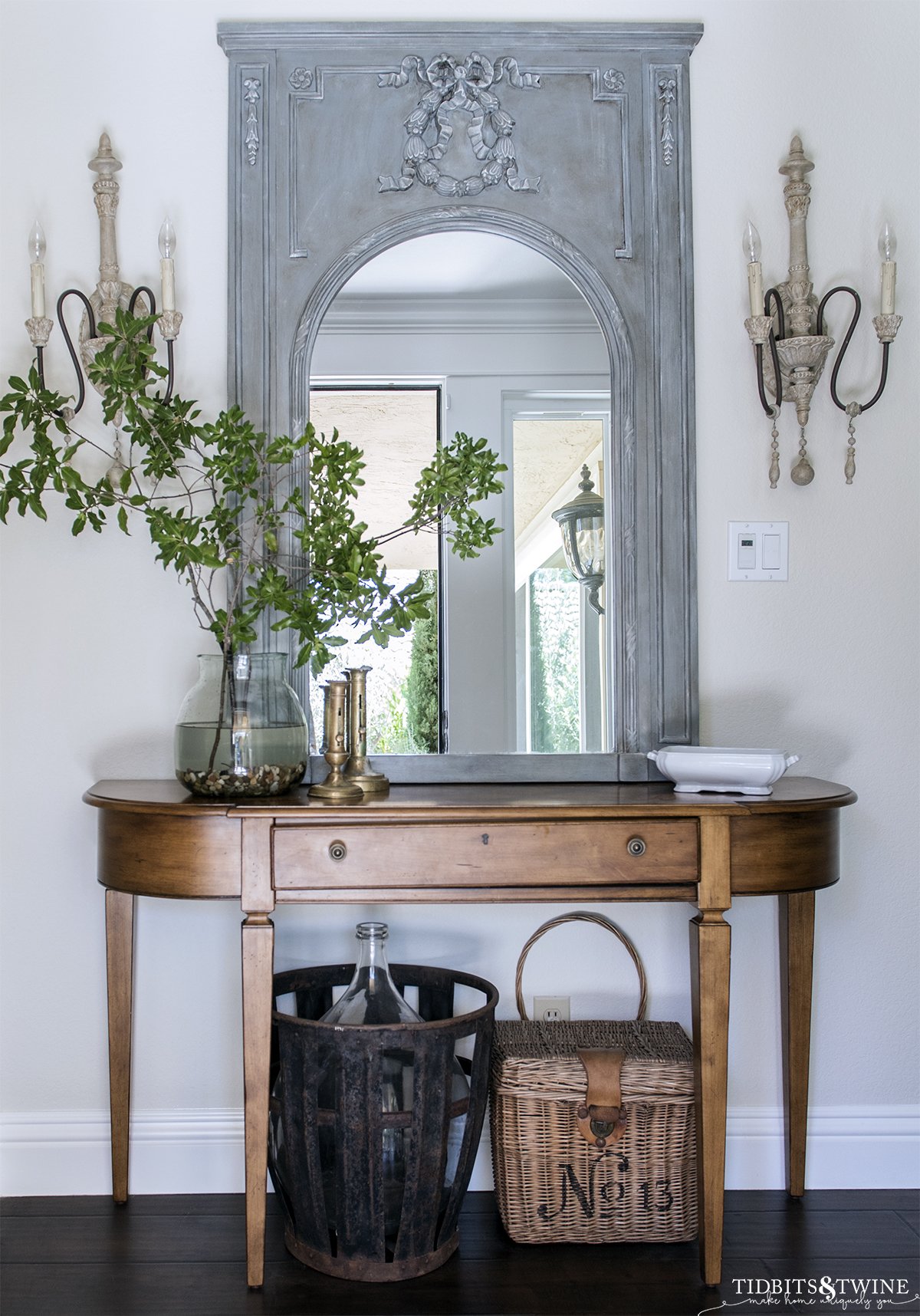 5. Use Lamps Throughout
Similar to the use of mirrors, having lamps spread throughout a room balances out the light and helps the room appear bigger and brighter.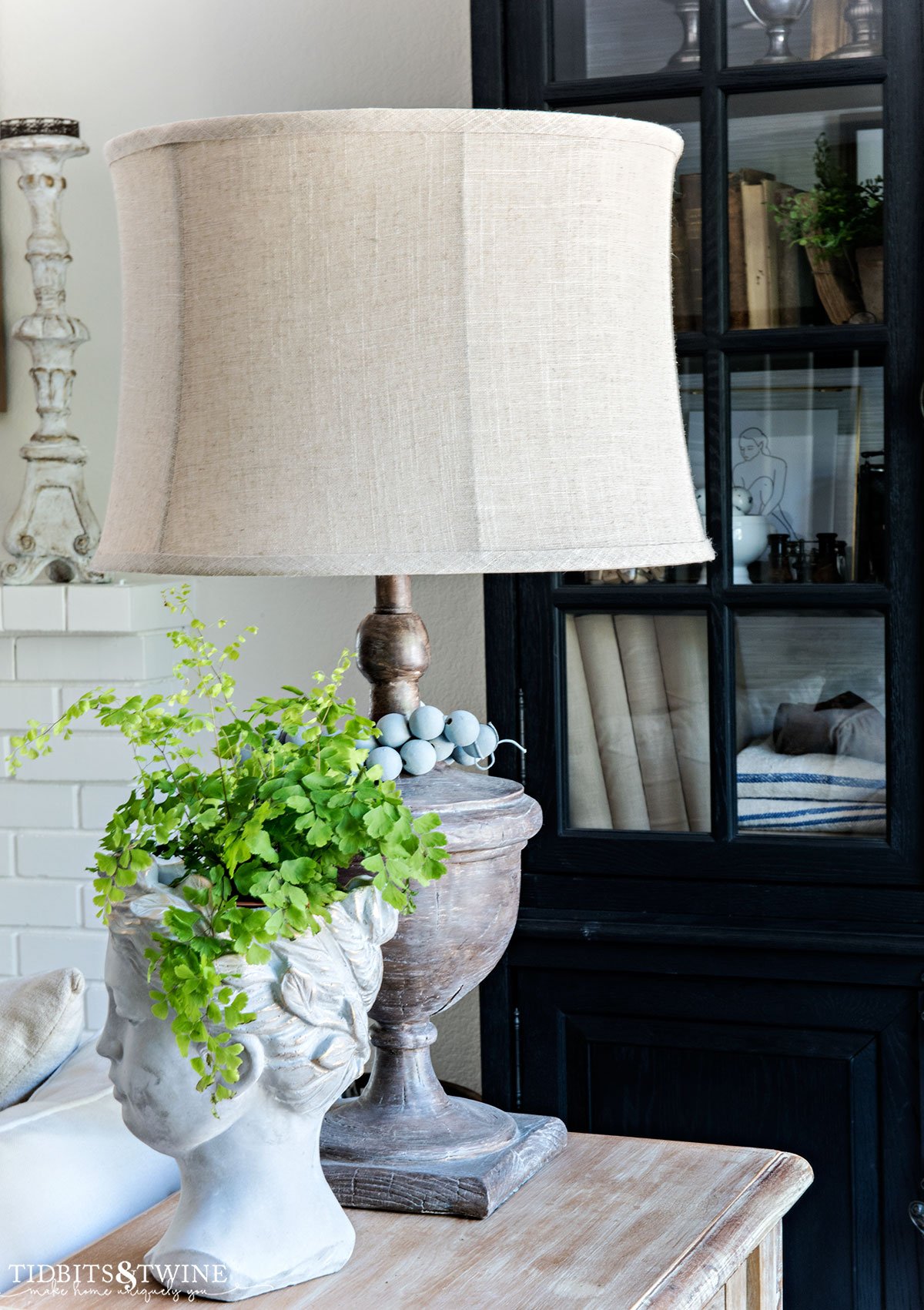 6. Create Height
With a confined space, it's important to help draw the eye upward to give the illusion of height. There are many different ways you can do this, including tall curtains, vertical wall stripes, vertical planked walls, murals on the ceiling, or even a fabulous ceiling fixture that causes someone to look up and take notice!
My downstairs bathroom is small with no natural light, so using a unique ceiling painted in bright white helped the space feel bigger and taller!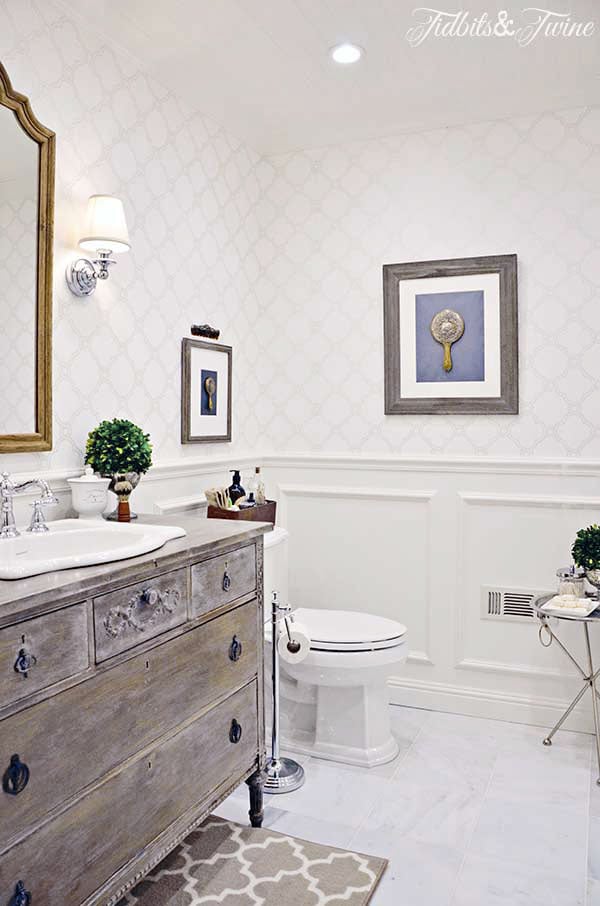 7. Clear Away the Clutter
Even if you aren't short on space, it's always good to look around and evaluate what you have on display in a room. Because over time, we tend to add but not remove, so every once in a while, edit, edit, edit!
In a small space in particular, though, look for functional furniture that can pull double-duty or has built-in storage space. For example, you can replace a bedside table with a writing desk to create a small home office. Or create extra seating with a window bench that also has storage.
Also look for decorative, hidden storage options like ottomans or benches that can hold blankets. I'm personally a huge fan of baskets because they are both decorative and practical! Floating shelves are another great option because they act as storage without taking up precious floor space.
Another way to declutter? Use a few large accessories instead of multiple small ones. In general, larger, fewer decor items look less cluttered than multiple, small ones.
The same is true when it comes to wall decor. Instead of a gallery wall with lots of smaller frames, consider using one large scale art.
Evaluate everything you bring into the home to ensure it falls into one of two categories: useful or meaningful.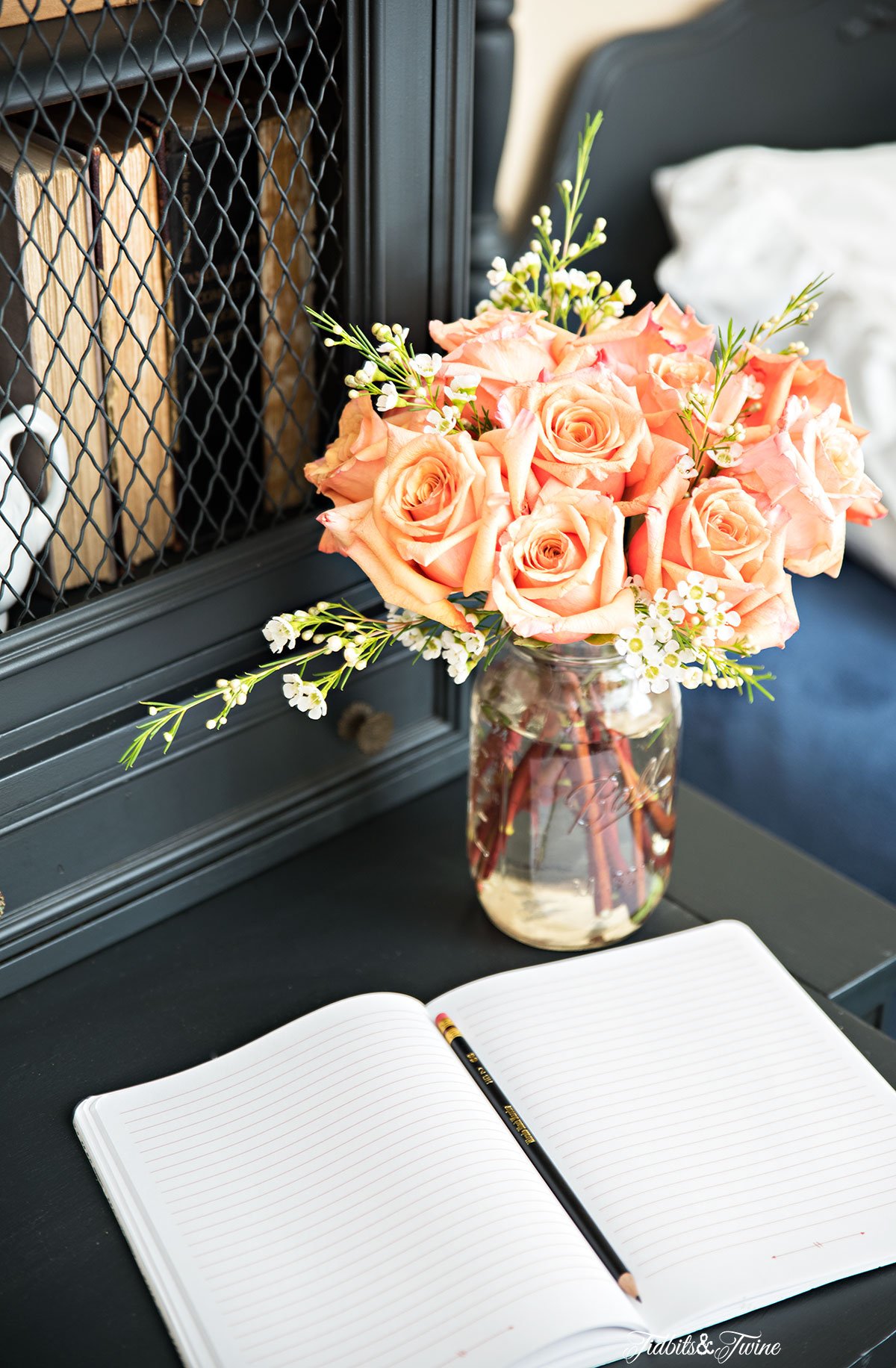 8. Use Properly Scaled Furniture
Choosing the right size furnishings is a bit like Goldilocks – not too big, not too small, but just right. Too big and the room will feel cramped. Too small and now everything will look small!
With a smaller space, it's important that the scale of your furniture be proportionate to the room itself. Avoid overstuffed, large-scale pieces of furniture that take up a lot of visual space, not to mention floor space.
Now, this doesn't mean you should find super small-scaled furnishing either. If your furniture is too small for the room, it can actually make your space look smaller! Instead, opt for furnishings that are proportionate to the space. Proportion is the key.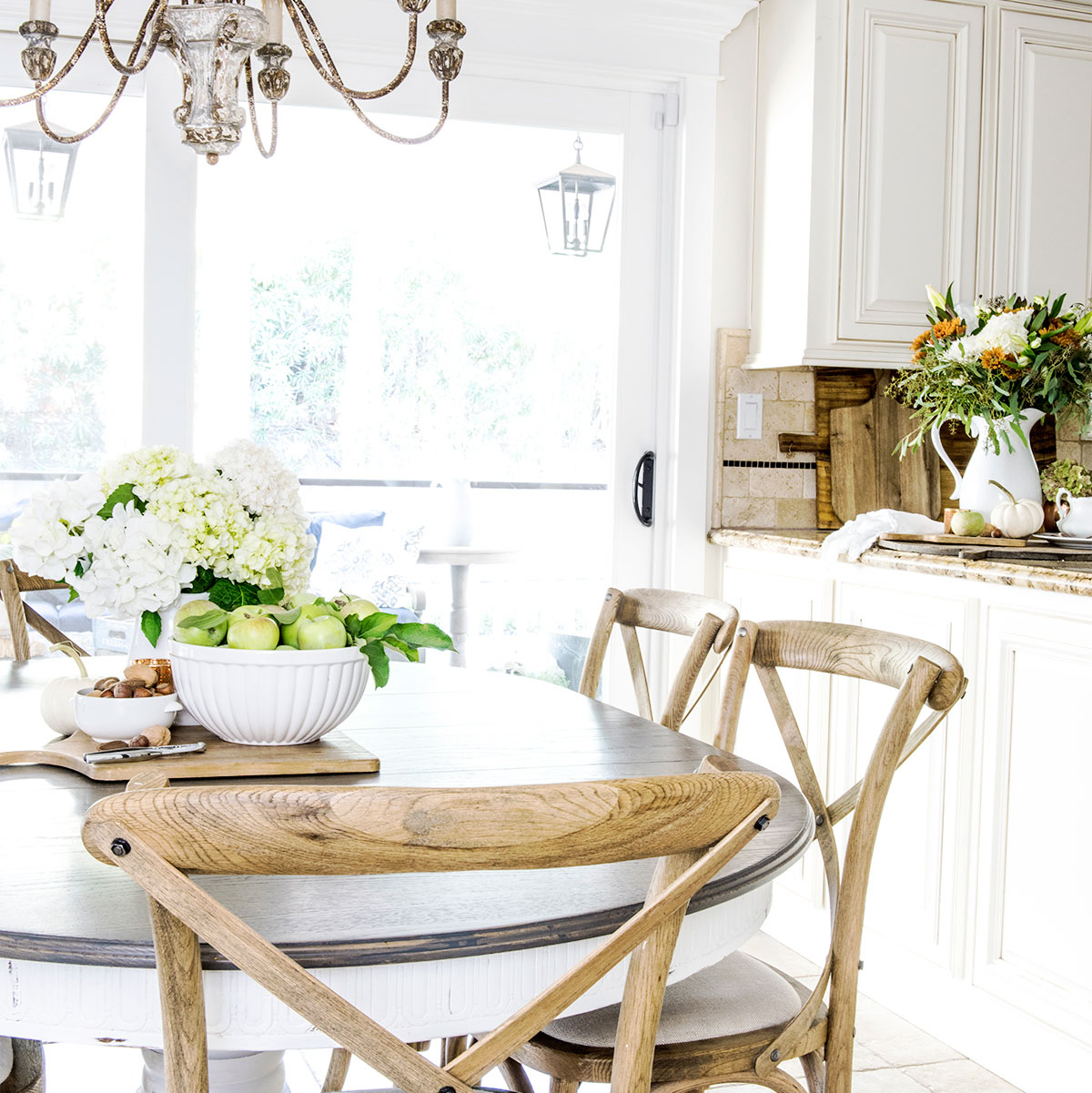 9. Look for Legs
When looking for furniture for a small space, consider furniture with legs because it takes up less visual weight. The legs allow you to see underneath and therefore, don't completely disrupt your line of sight.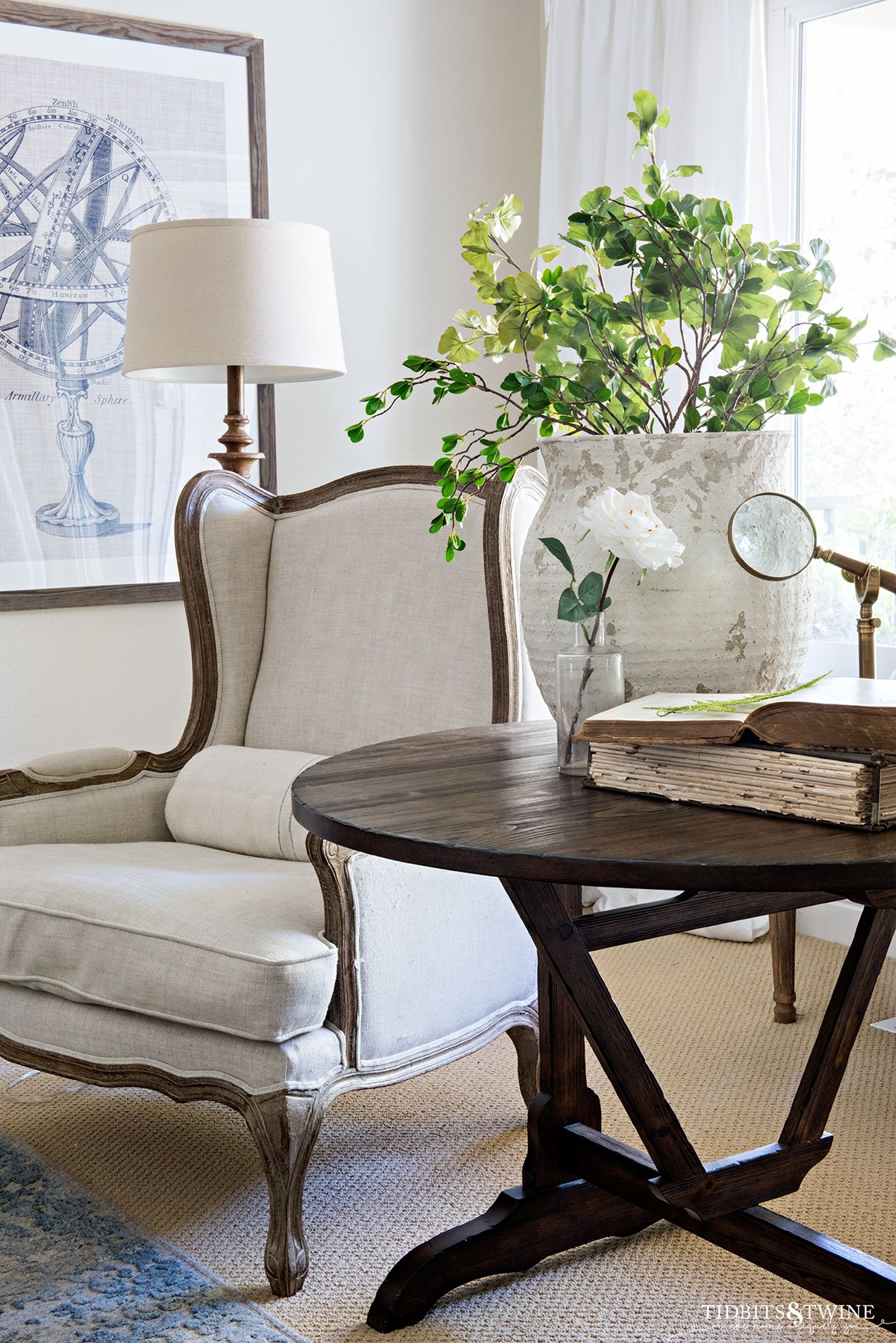 11. CARRY ACCENT COLORS THROUGHOUT
To help carry your eye around the room, be sure to use your accent color throughout. This allows you to take in the view of the entire space, not just a portion of it, which often happens if the use of an accent color is limited to just one area. A consistent color scheme is a great way to trick the eye into thinking a space is larger than it is.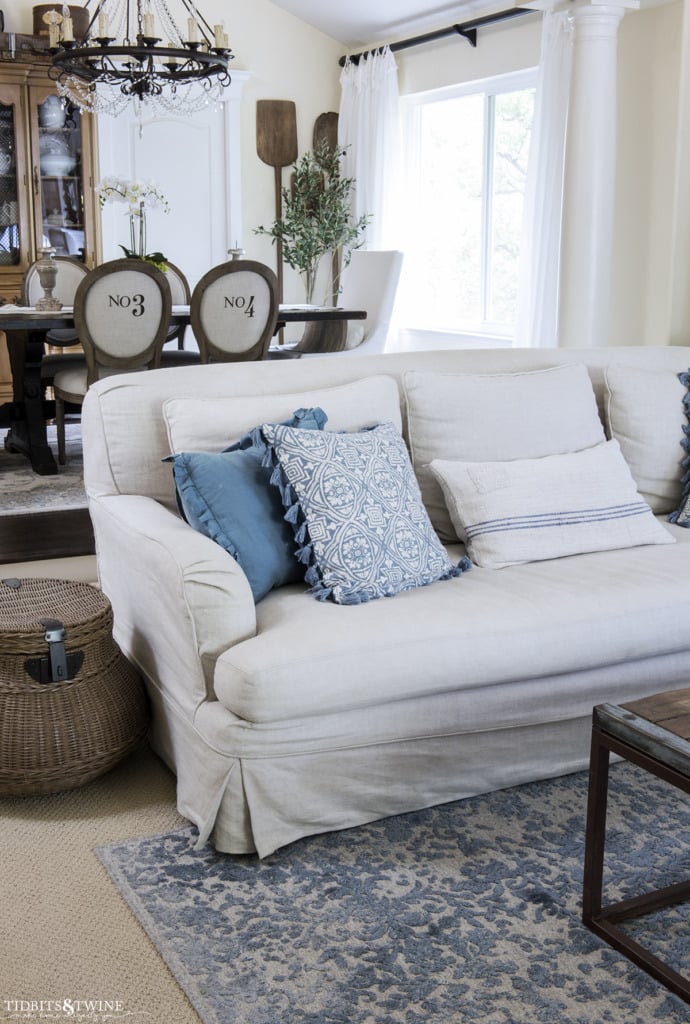 12. MIND YOUR TRAFFIC FLOW
Oftentimes, furniture arranged such that the room is blocked off upon entering gives the feeling that the room is confined. This is also true if the arrangement of the furniture doesn't provide clear paths for walking. Give thought to traffic flow in a room and adjust your layout accordingly. Here's a handy Decorating Measurement Guide that tells you how much space for walkways, area rugs, etc.Also, be mindful that you don't include so much furniture in a room such that it feels crowded.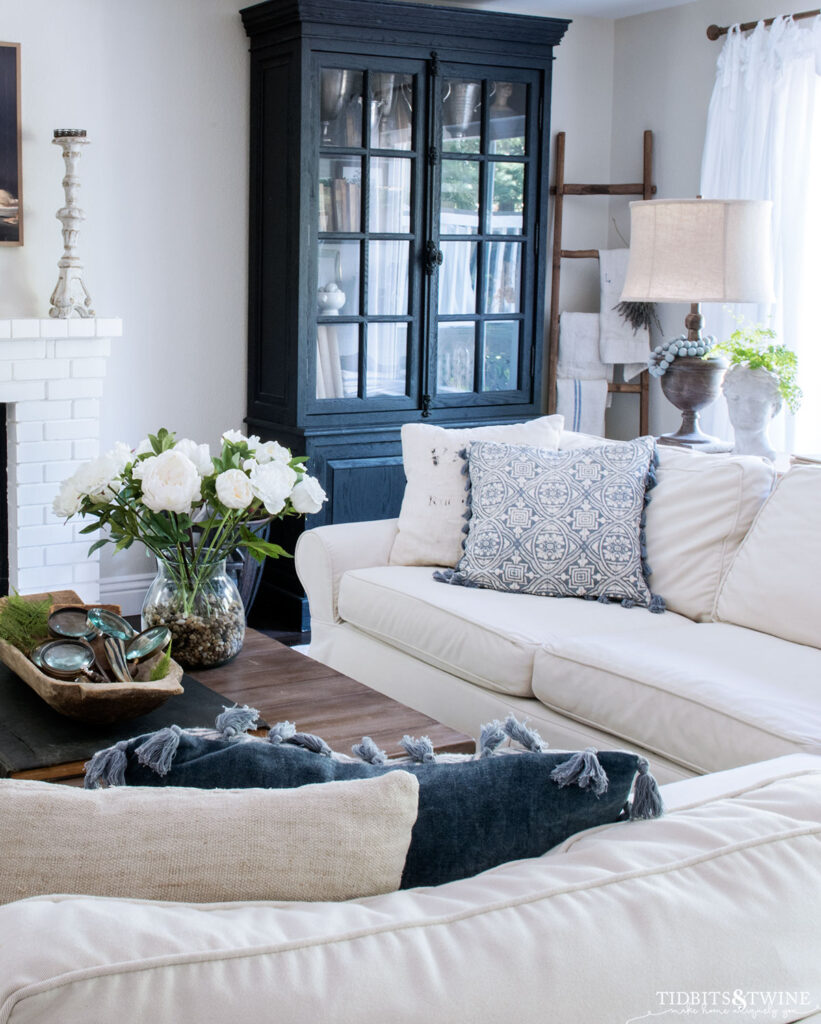 A final thought…..as with every tips or rule-of-thumb I write about, there are always exceptions! And at the end of the day, it's your home and it should be what YOU want, even if you don't follow the rules!
There are lots of other tricks, but these are my tried-and-true favorites. If you have others, leave them in the comments below!
Join the Community
Let's keep in touch! Get exclusive artwork plus the latest news delivered directly to your Inbox!