If you've been reading my blog for some time, you know I love vintage grain sacks.  I love the neutral color and the heavy texture.  I love that they are stamped, dated and decorated.  And I love the idea of taking something that was used years ago for a utilitarian purpose and transforming it into something else!  I've posted before with information about what a grain sack is, so today, I'm going to focus on how you can incorporate them into your home.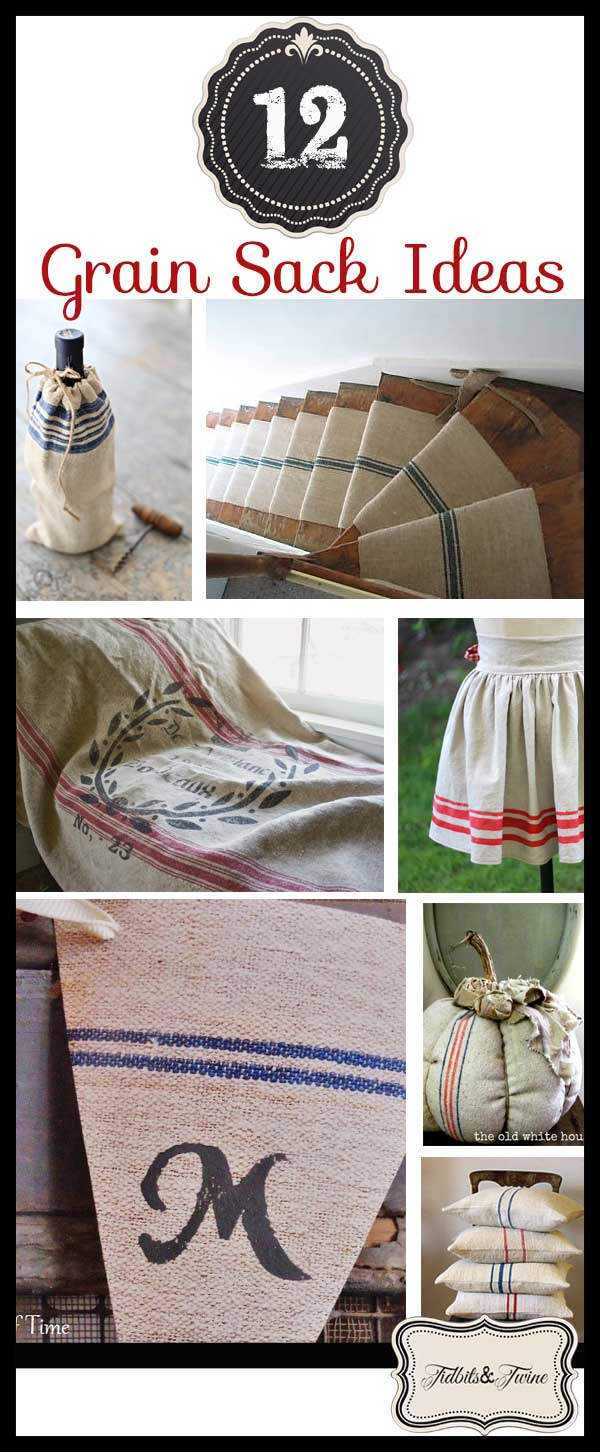 1. Upholstery
One of my favorite ways to use a grain sack is for upholstery projects.  Miss Mustard Seed always has some of my favorite grain sack pieces, like this beautiful chair below.
2. Pillows
You can quickly update a sofa with a bit of vintage texture with the addition of some throw pillows.
3. Tote
You can also take a little grain sack on the go with a tote or purse!
4. Wine Bag
Aren't these cute?  Along with a bottle of wine, these would make a beautiful hostess gift.  You can make one out of a vintage grain sack or you can head over to Dreamy Whites to purchase one online.
5. Table Runner
I love the look of grain sacks used as table runners!  You can create one from a vintage sack, but you can also find new runners whose design has been inspired by the look of grain sacks.
6.  Stair Runner
Amazing, right?!
You can actually purchase this antique grain sack by the yard via Loodylady on eBay, which is great if your project requires long, continuous lengths.
 7. Throw
This beautiful throw from Lucketts isn't made from an actual grain sack, but the design was inspired by one and the look is just gorgeous.  So whether you use it to keep you warm during chilly Fall evenings or as a tablecloth for a brunch with friends, it will withstand the everyday use.
8.  Pumpkin
As we head into Fall, these grain sack pumpkins can add a lot of character and charm to your decor.
9. Window Valance
This is one project I've been thinking about trying, but instead of a grain sack, I might try using a drop cloth and painting it to resemble a grain sack.
10. Lamp Shade
Kathleen at Musings from a French Cottage has a great tutorial on how to make these lamp shades inspired by grain sacks.  Can you believe these are actually drop cloths painted to look like grain sacks?!
11. Banner
You could make a banner out of a grain sack, or you can use these amazing grain sack printable textures shared by Angie over at Knick of Time.
 12. Apron
I love how feminine this apron from Justine at Sew Country Chic looks.  And I was amazed to learn that this isn't made from an actual grain sack!  Head over to her tutorial to see how she made it.
As you might know, I currently only own one grain sack.  But trust me when I say that I plan to add to this collection!
Whenever I'm at a flea market or antique fair, I always keep my eyes open for grain sacks.  But my everyday source is Etsy and I look regularly to see what is available.  One of my favorite shops for grain sacks is Antique Linen Store. And I'll definitely keep Loodylady in mind for long lengths!
So whether you use vintage grain sacks, reproduction fabric or just a design inspired by a grain sack, there are tons of fun projects to tackle.