Don't have a green thumb? Don't worry! Here are the best fake plants that look real to keep your home looking fresh and alive. From a faux fiddle leaf fig tree to a cute little fern, these are the most realistic fake plants.
I LOVE using large houseplants to fill an empty corner, but I inevitably kill live plants. And smaller houseplants are great but then, of course, they require maintenance (yes, I mean watering).
So I love an artificial plant! Talk about low maintenance!
But I hate (and I mean loathe) the cheap, plastic-looking ones that you can spot as fakes from a mile away! You know the ones I'm talking about. The ones that look faded, or whose shiny plastic leaves make you want to break out your sunglasses, or whose leaves stick out at unnatural angles! That's a dead giveaway! I'm even particular about the way that the leaves attach to branches and whether stems are bendable.
So what I'm saying is I'm pretty specific about what I like and what I don't. Luckily, I've done the research (and the buying) for you! These are my all-time favorites when it comes to the best fake plants out there. I actually own and use these in my own home!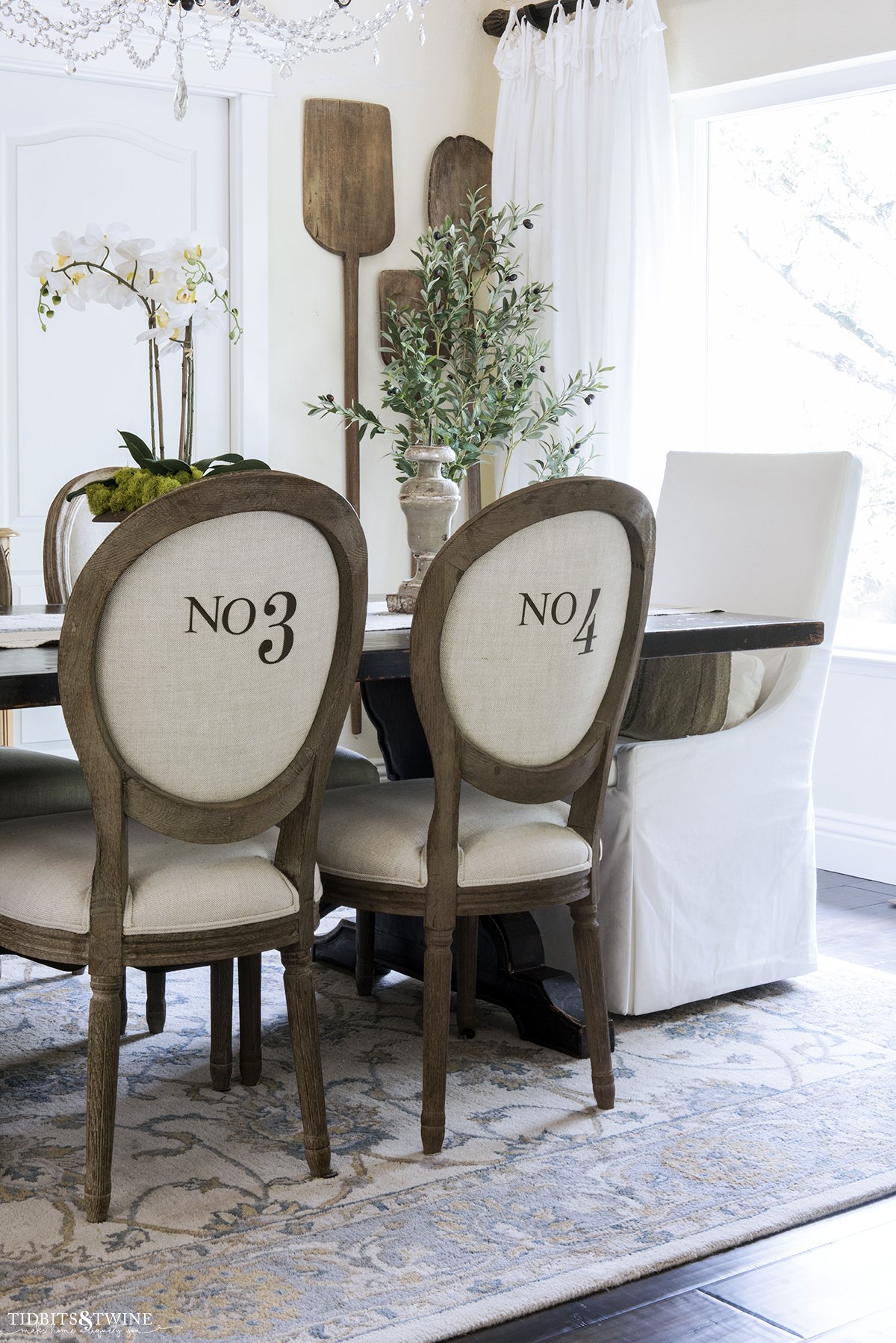 Affiliate links provided for your shopping convenience. You can read my full disclosure policy here.
The Best Fake Plants that Look Real!
Yes, there are so many benefits to having real plants in your home. But sometimes, it just isn't possible. So what are the benefits of faux plants? Well, you don't have to worry about lighting because you can put them anywhere! You also aren't limited by traditional pots or planters. I find myself drawn to using a basket on several occasions for the added texture. Plus fake plants are durable and will last you for years to come, so they are a worthwhile investment!
This artificial fiddle leaf fig tree in my living room is seriously the best-looking one I've come across. The faux foliage doesn't have that fake shiny look and all of the branches are bendable. Even the trunk of the tree looks and feels good.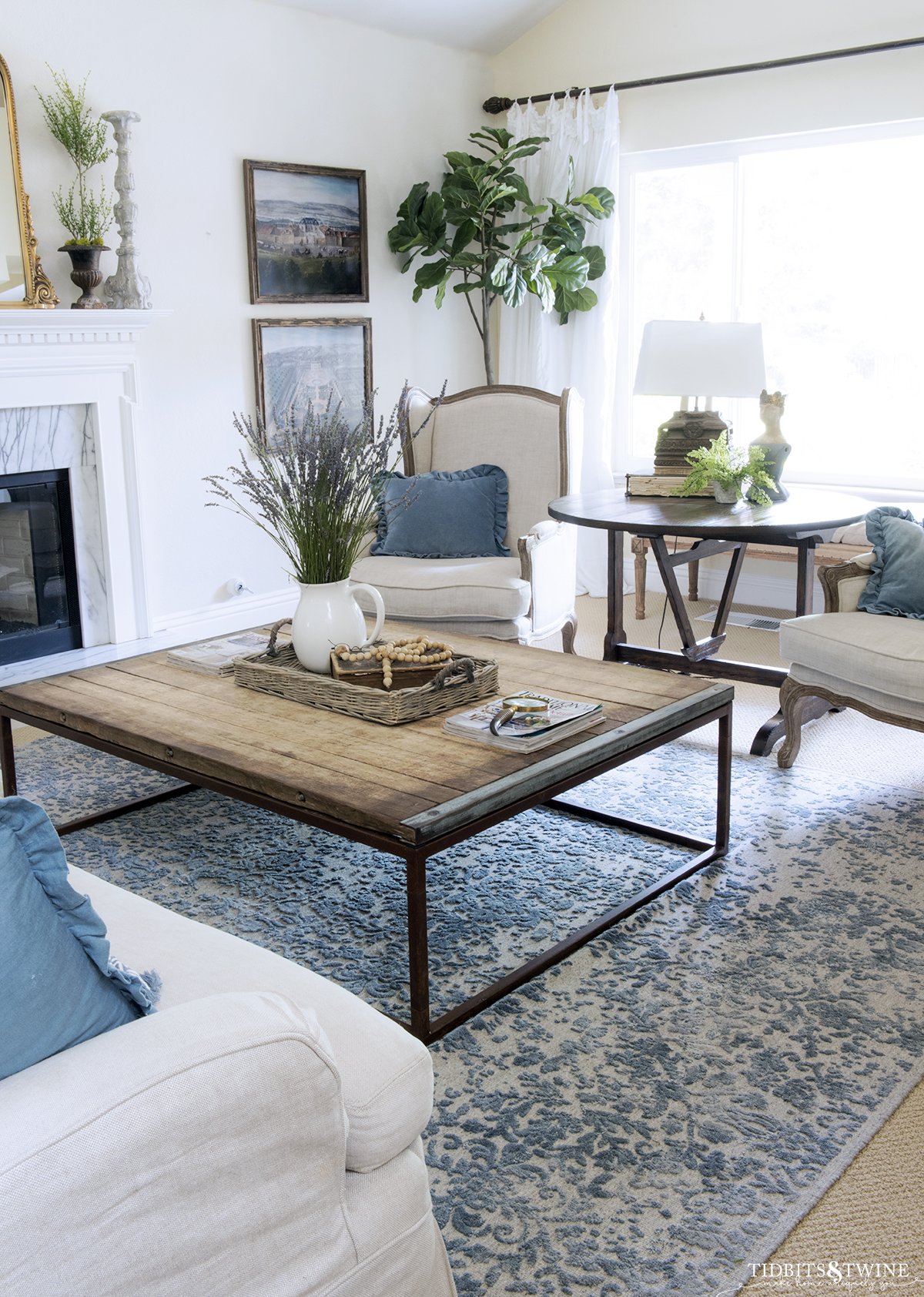 It comes in a weighted black pot but you can't just throw that in the corner or on a table and call it good. No, you need to secure it in a planter or ceramic pot so that it looks real! Luckily, I've written a step-by-step tutorial for how to secure artificial plants in a pot!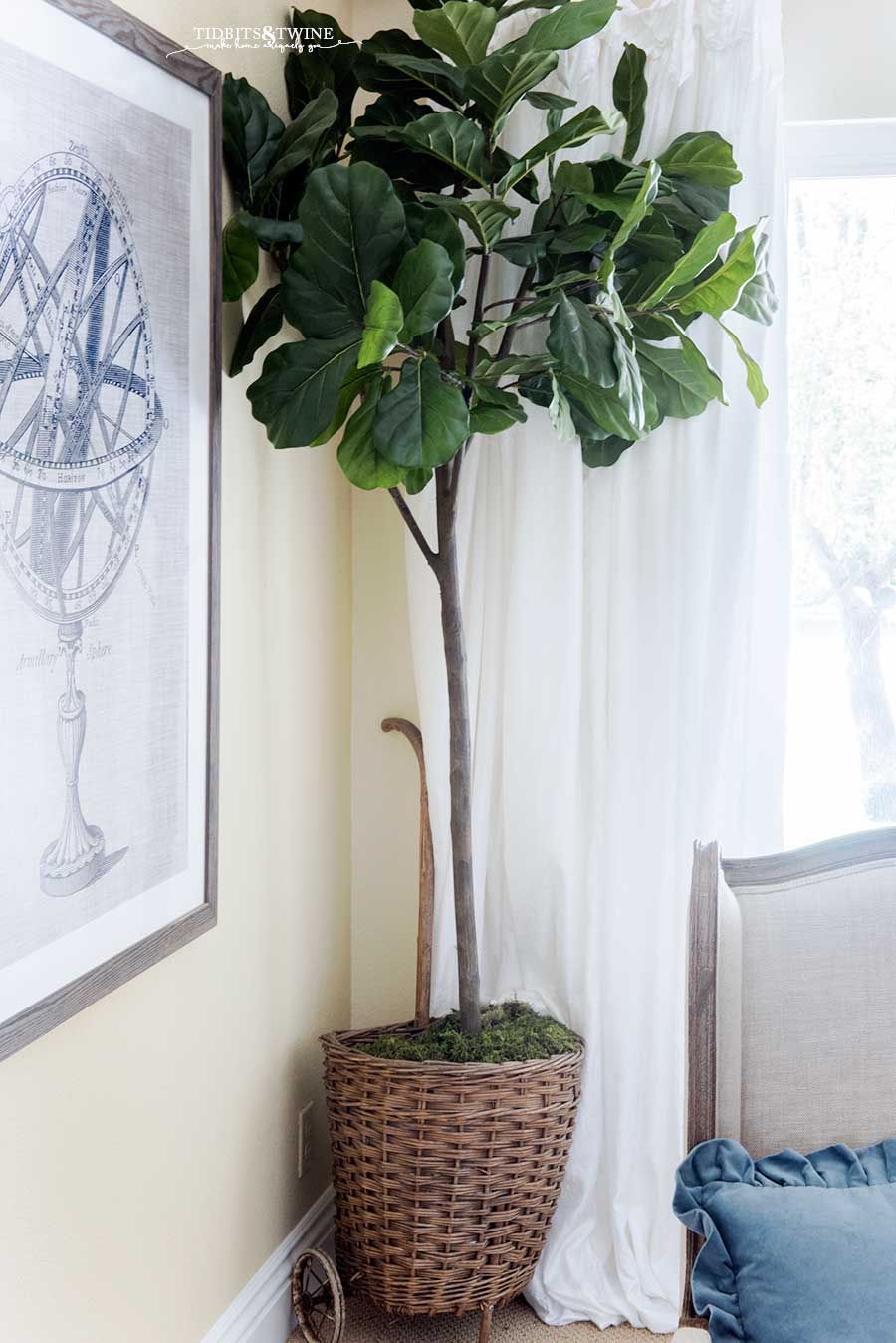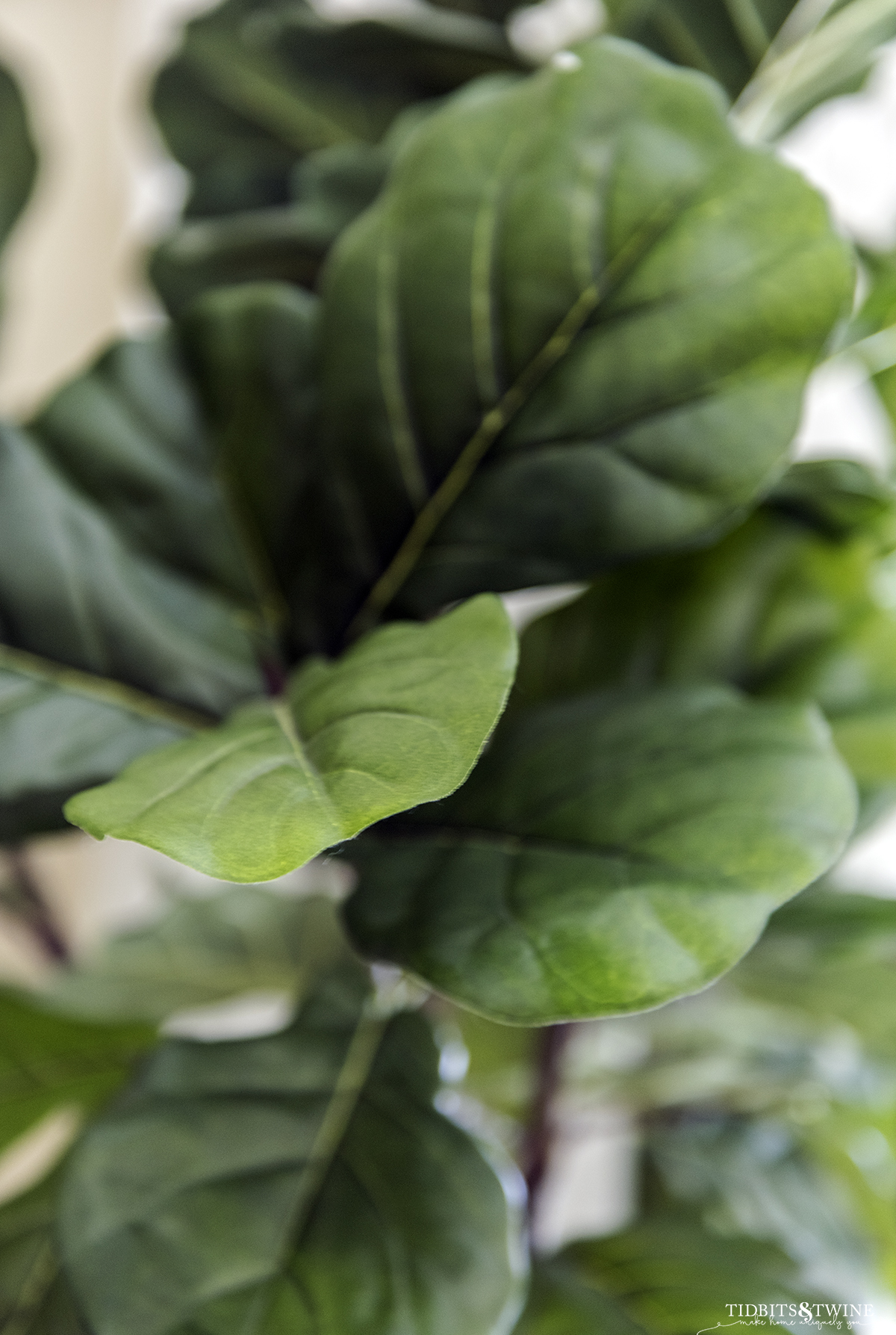 PROS: At $180 (from World Market), this faux version is much less than others the same size that don't look as good! Plus the leaves have realistic coloring and veining, with no obvious leaf attachments. The trunk is very realistic looking and the leaves are wired and so can be shaped.
CONS: The leaves have a silk feel to them that isn't 100% natural.
These are the newest addition to my home and really only made this list because of price.
I love myrtle topiary trees but seem to lack the skill to maintain real ones. Potted faux ones are quite expensive so I purchased artificial topiary tree stems and just put them in an urn with some floral foam. They come in a pack of 6, so maybe split the cost with 2 other friends and you'll have a pair for just $28!
While they're no Loi Thai topiaries, they are the best my house is going to get. (I'll wait while you look up Loi's topiaries)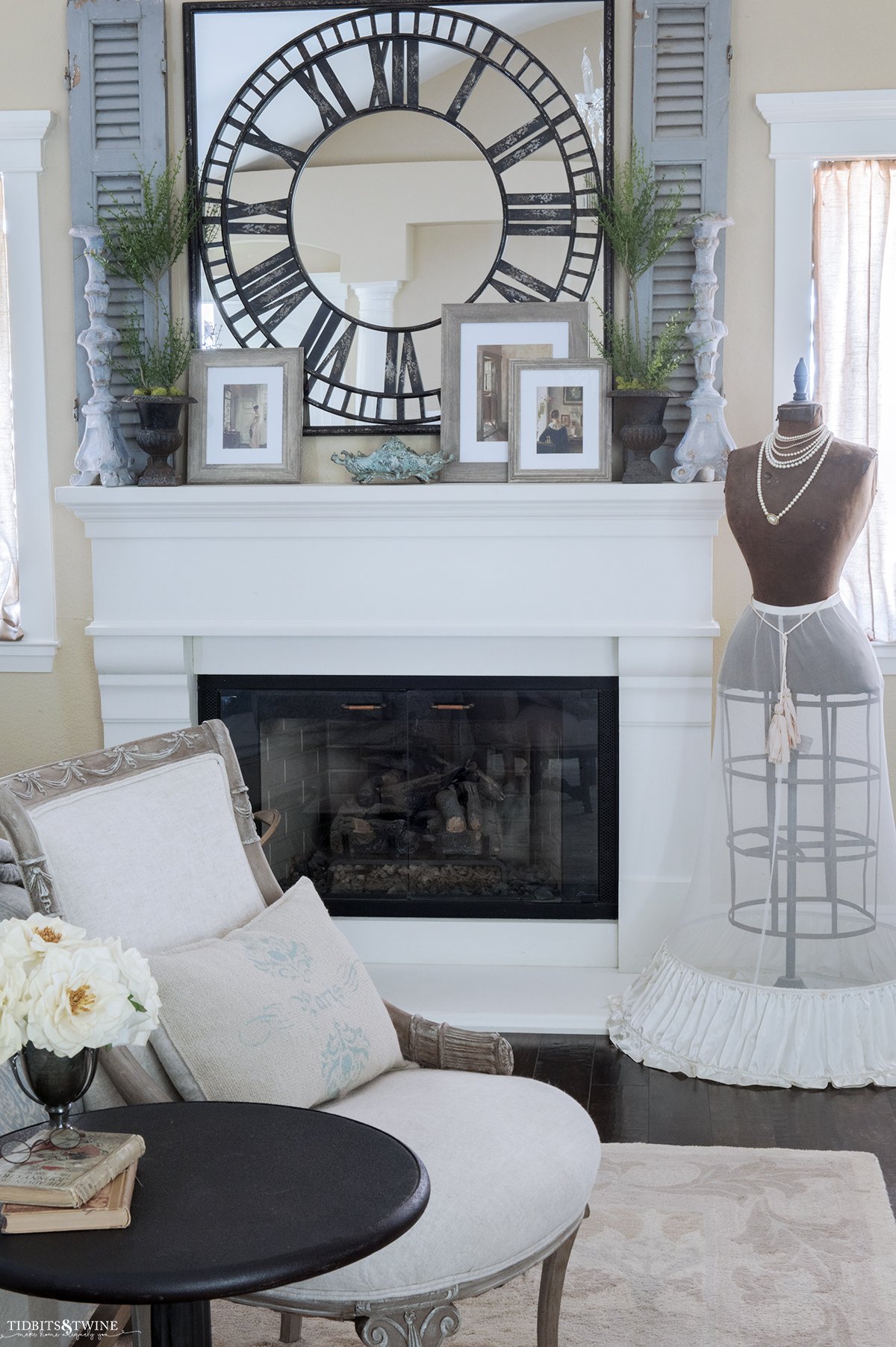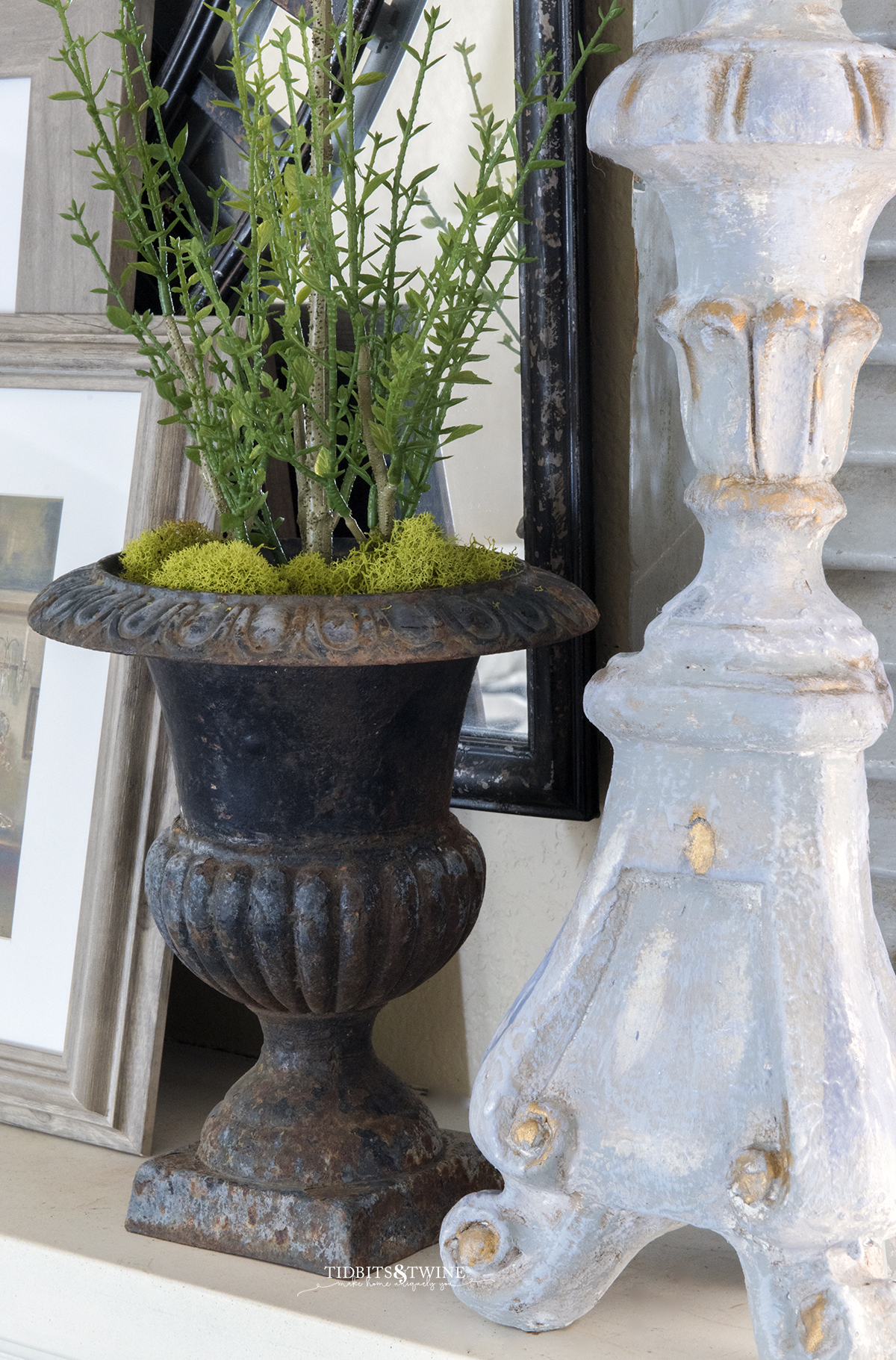 PROS: Only $14 per stem, although you do have to buy six. Much less expensive than potted topiary trees of this same size. The leaves are delicate and the branches can be shaped and the main stem looks good, but overall, they look best from a distance.
CONS: Up close, they are obviously plastic.
Let's talk about this little fern. It's actually just a little $12.99 bush that can be put in any container. I usually don't like these little inexpensive picks, but this one looks so good even up close! Plus, you can bend all of the leaves to make it look realistic for its container so it's a great pop of color for your interior.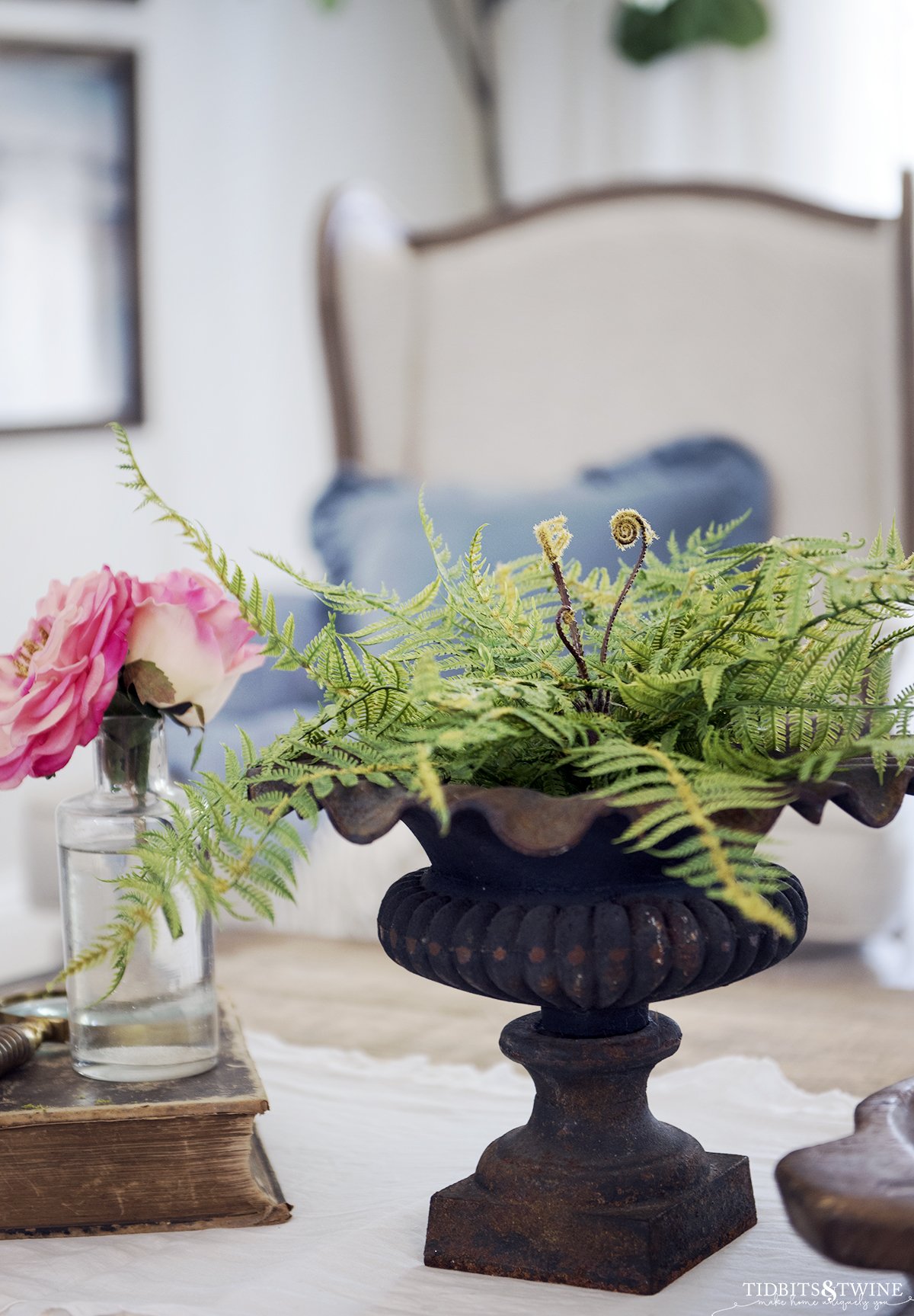 PROS: It's only $12 and every branch can be shaped via its wired leaves. It looks very realistic, even up close!
CONS: Doesn't come in a container, so you'll need your own.
The coloring and leaf attachment on this artificial tree makes it the best one I've come across yet! Not to mention how great this trunk looks…it's realistic, not plastic-looking.
I have the 6 ft version, but you can see pictures that others have uploaded of the 4′ in the reviews on the product page.
(And yes, there's that little fern again!)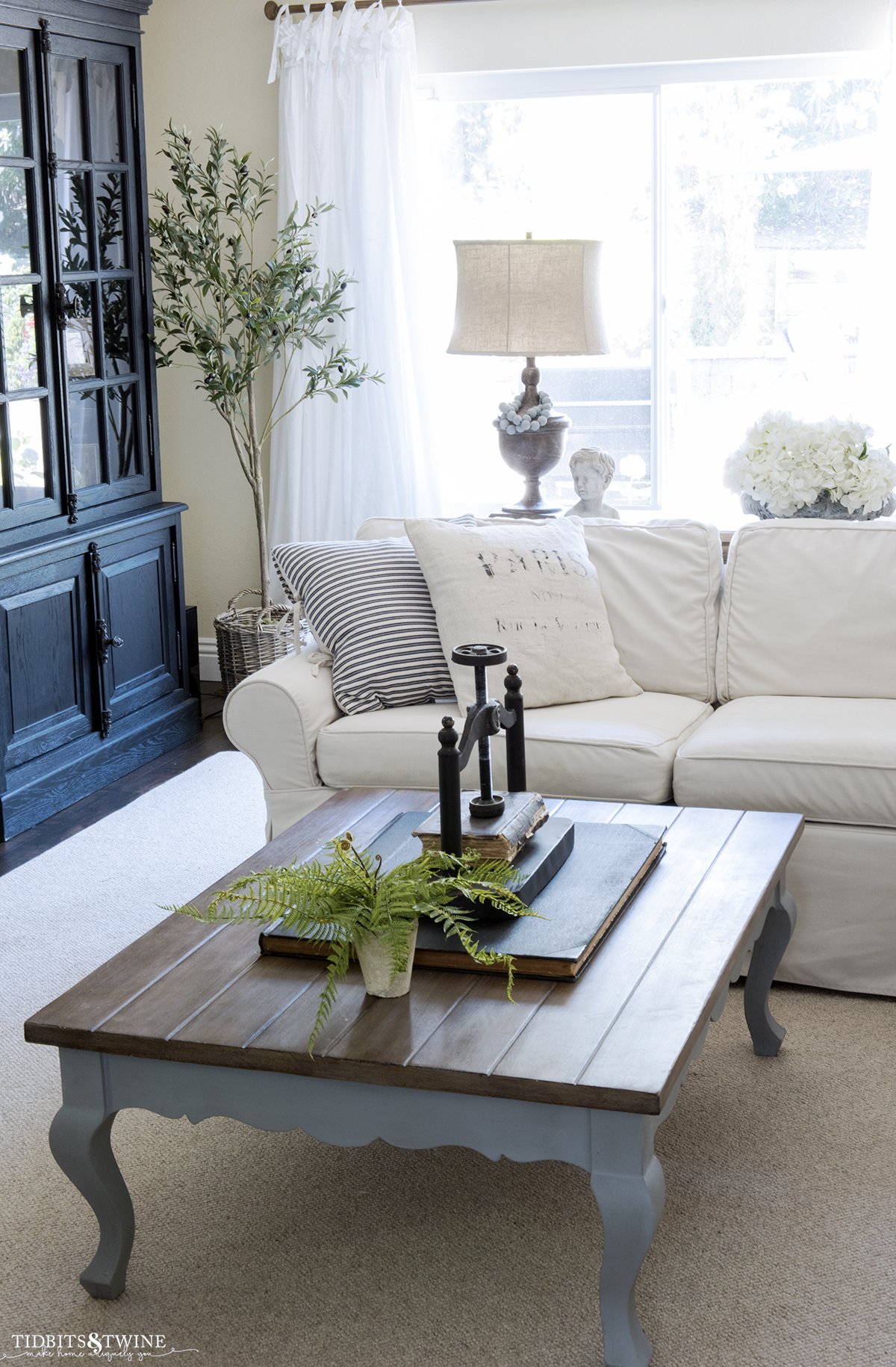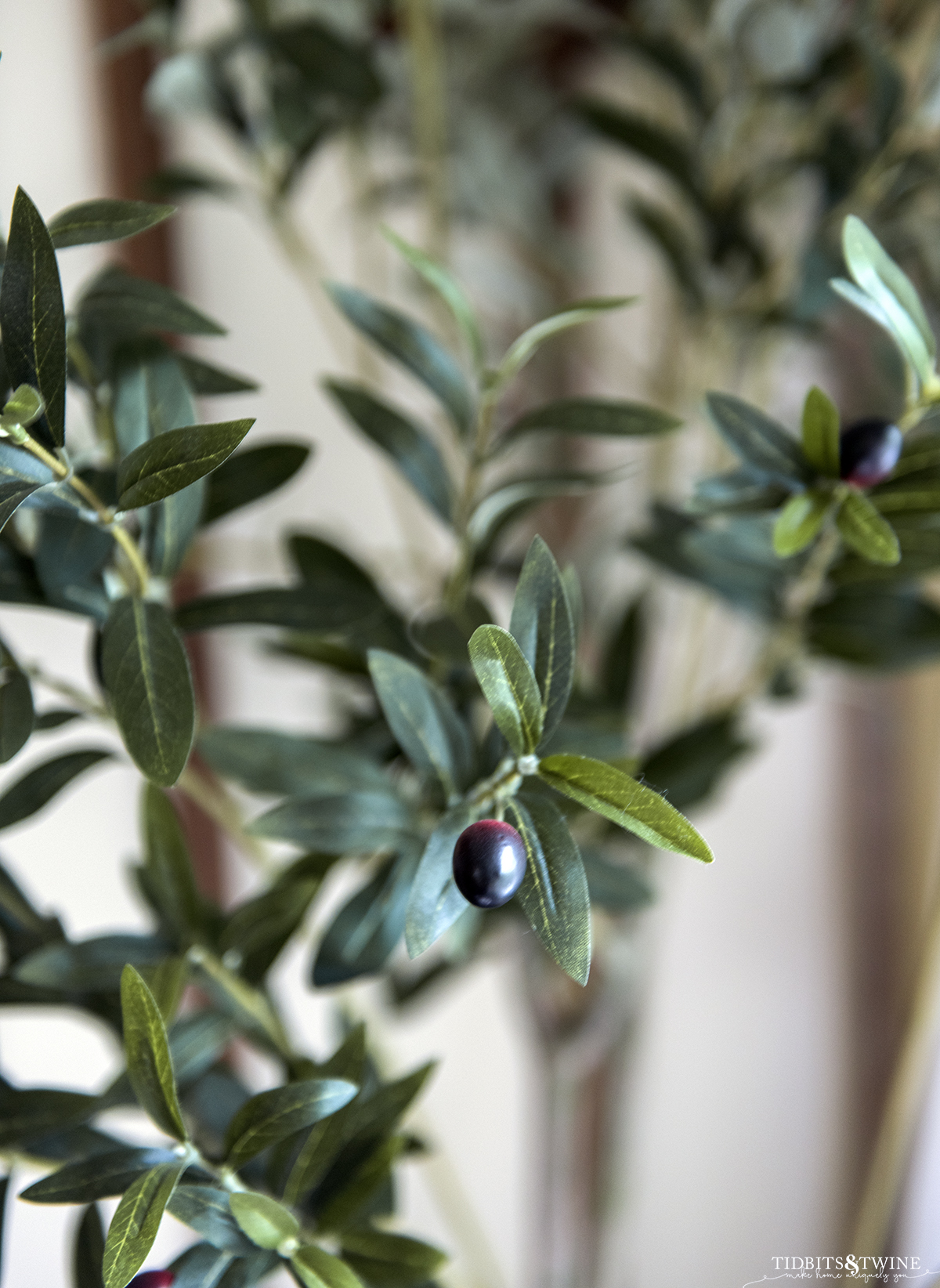 PROS: The leaf coloring is good and it has a great shape. The main trunk looks very realistic. The olives can simply be pulled off if you don't want them.
CONS: The smaller branches don't have the same bark appearance as the main trunk, but they're mostly covered by leaves and so not noticeable until up close.
I have two of these faux potted house plants. The first Calathea I purchased for a fortune from Pottery Barn because I loved how realistic it looked. Recently, though, I found that Michael's is selling the exact same one and it's on clearance for $8.99!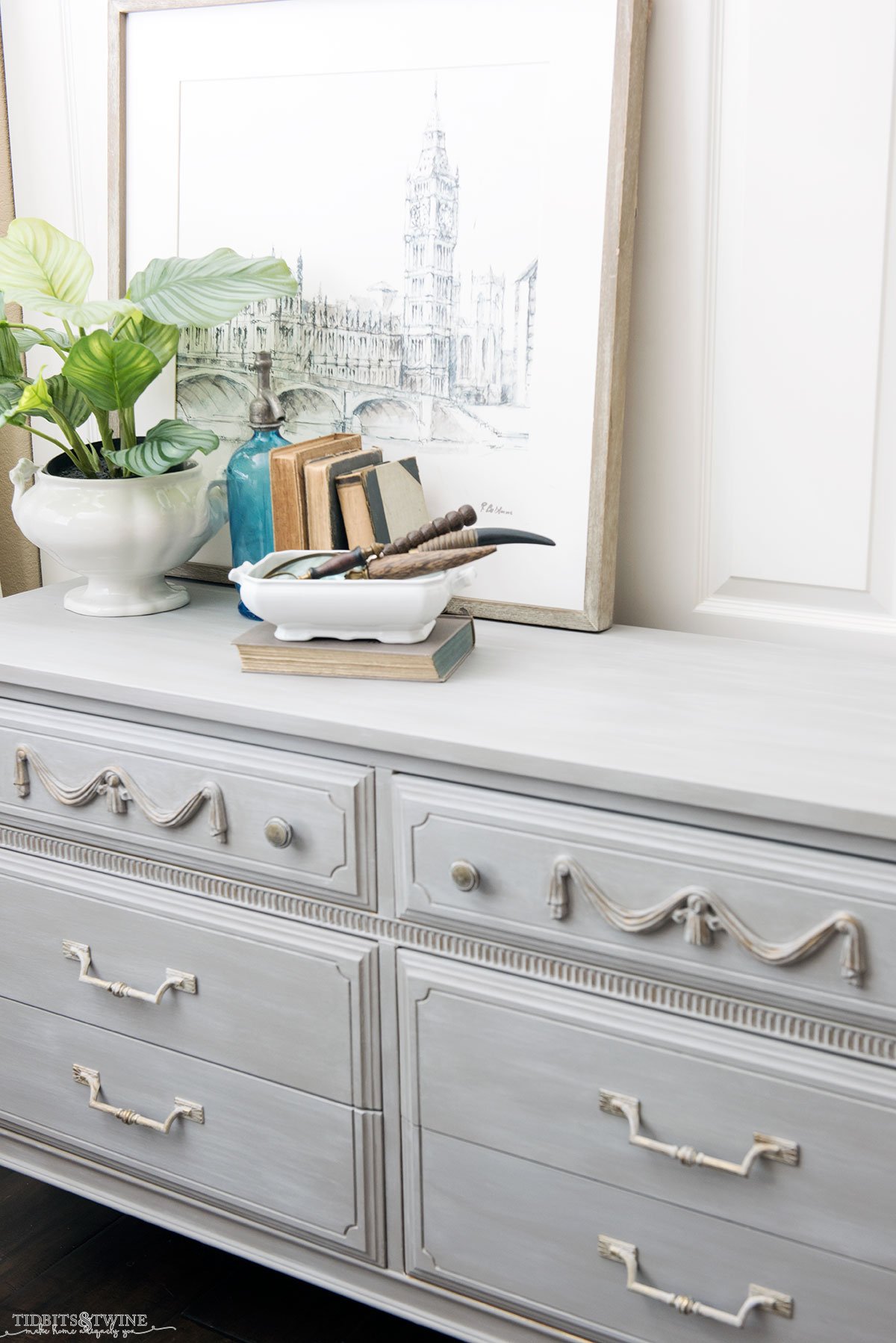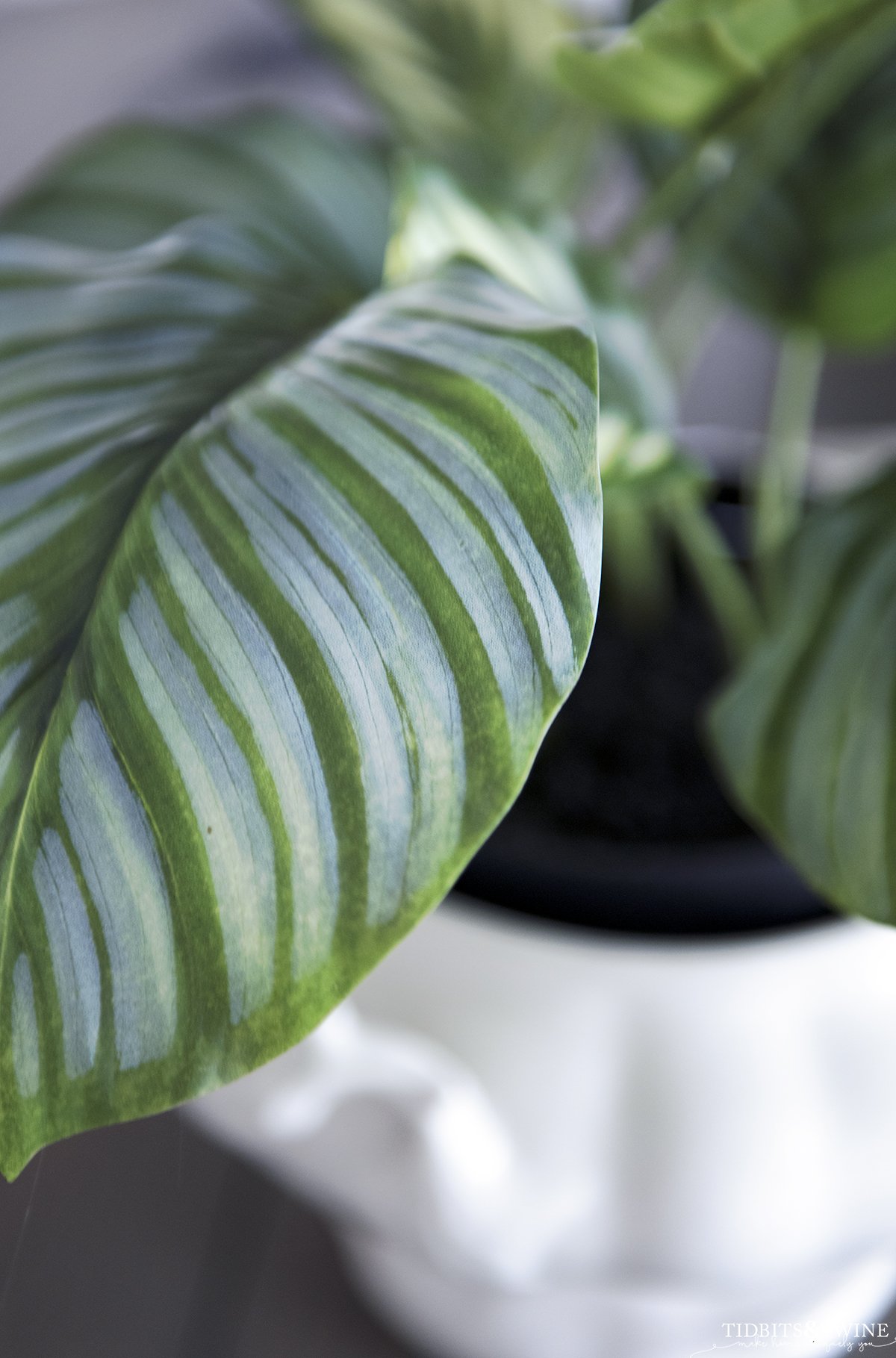 PROS: At just $8.99 for an 18″ potted plant, you can't beat the price! And the leaves look AND feel completely natural!
CONS: Ummmm…it's on Clearance and so probably won't be around for much longer?
The color variation on the leaves of these faux ginkgo stems from West Elm makes these look more realistic than others I've seen. They come as single stems (I have two) and I just put them in a vase or container for a pop of green.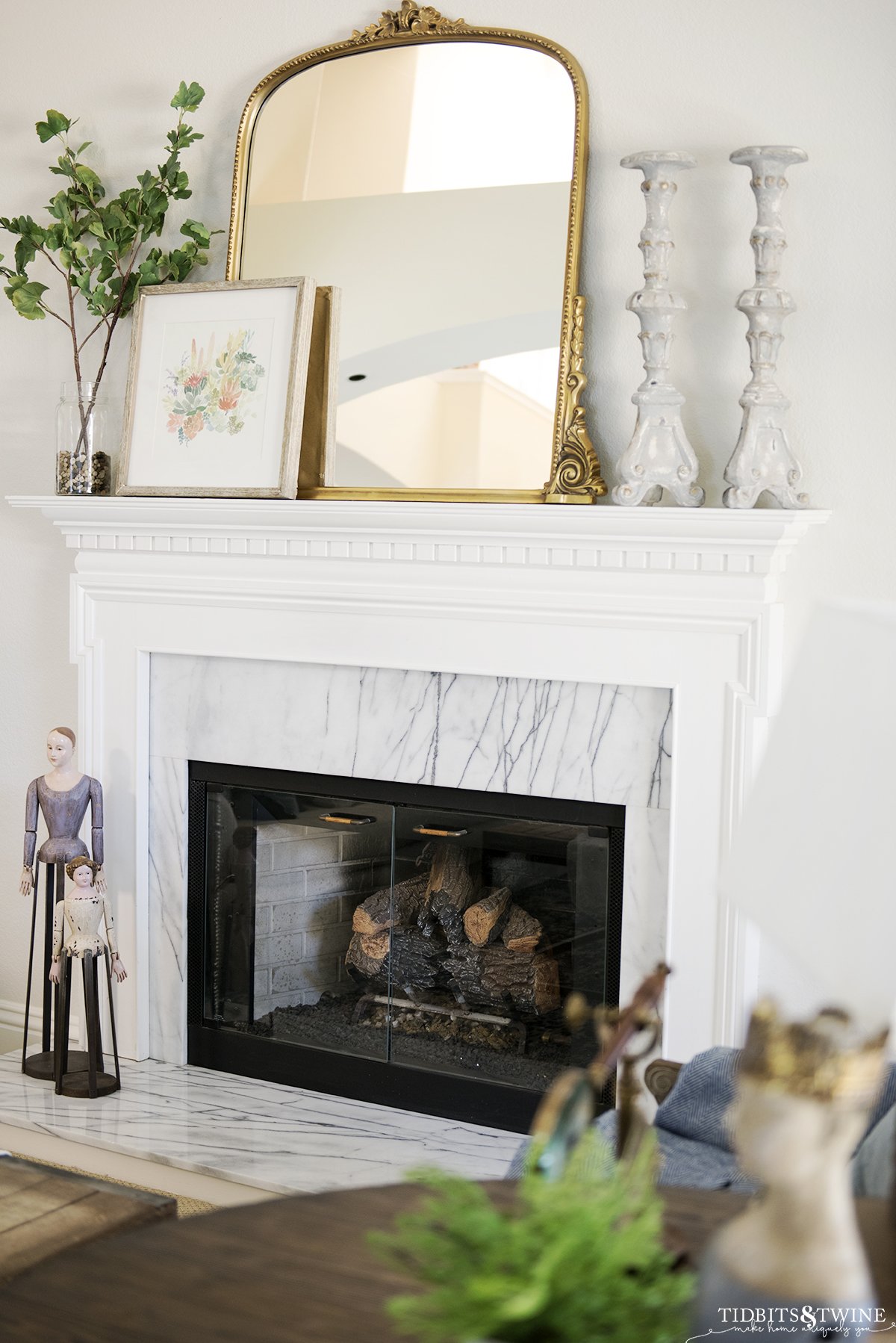 Do you see how the edges of some leaves have a yellowish color to them?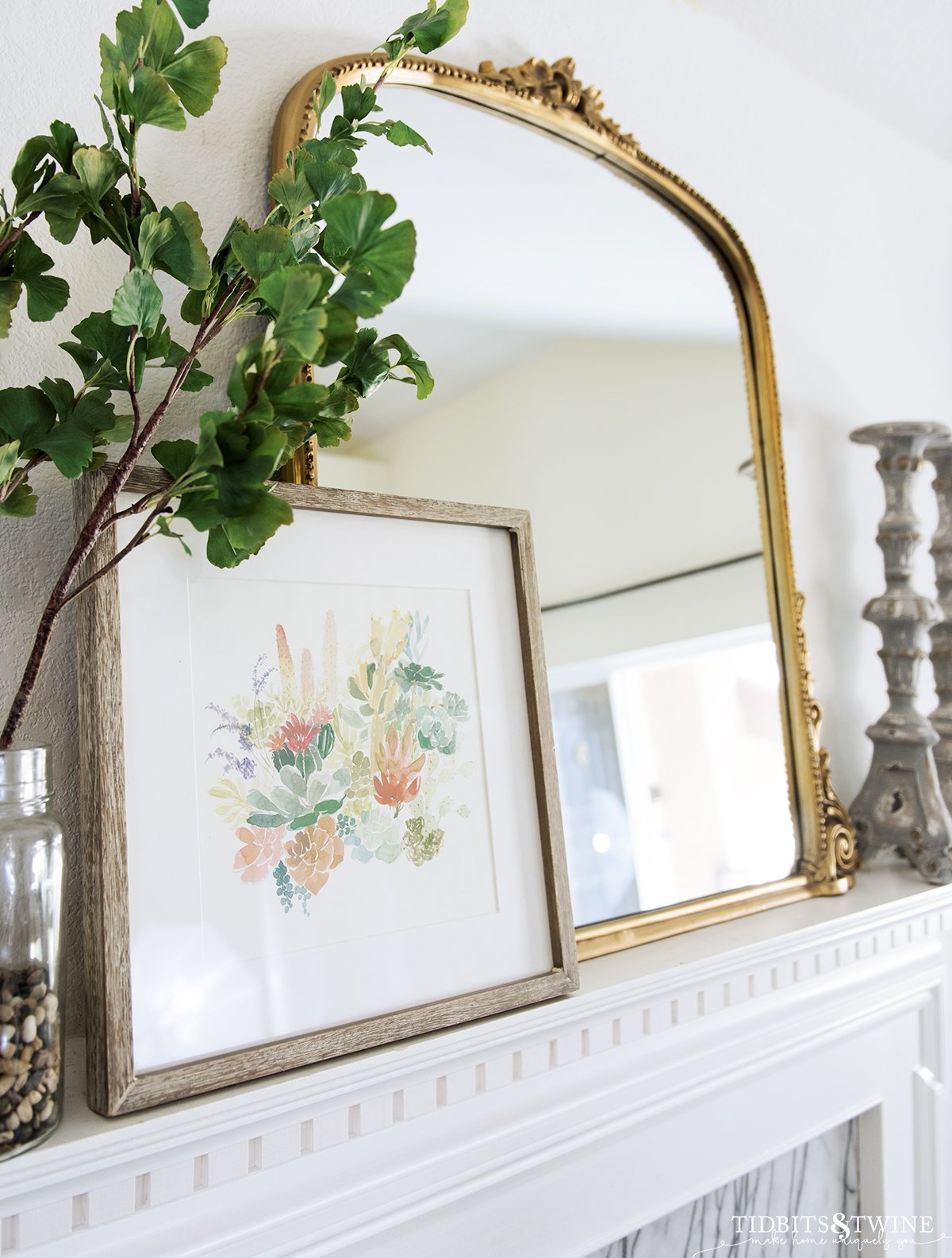 PROS: The leaf coloring and veining look really nice and the leaves feel good as well. The leaf attachments are very subtle and the stem has a realistic look.
CONS: The leaves themselves are not wired, just the branches.
Faux Bird of Paradise
I've updated this post to include my latest plastic plant love….this Bird of Paradise! I purchased the 6ft version from Amazon, which has 13 different stems.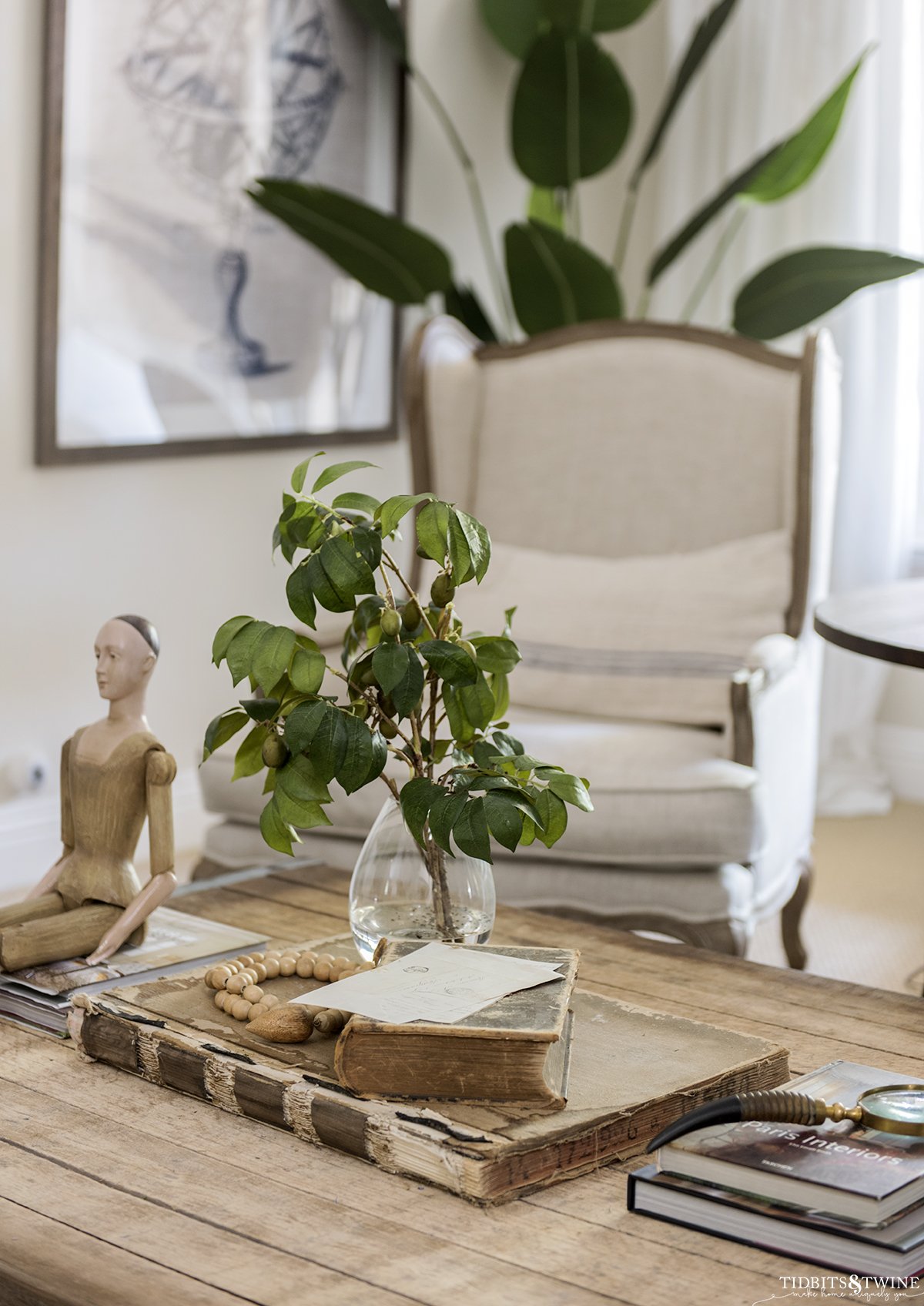 PROS: The leaves have a realistic color and texture, and even have rips in some of the leaves just like their live counterparts. The fronds are all bendable and are sturdy enough to be moved around without breaking.
CONS: The plant comes in a box with some of the leaves removed for transport. It takes some muscle to push the leaves on far enough to close the separation between the stem and the leaf.
Best Preserved Moss
Okay, this isn't a plant, but all fake plants are going to need some moss or lichen to fill the base. My current favorite faux greenery is Reindeer Moss because it seems to hold color better than sheet moss. It's available in this chartreuse or a regular green.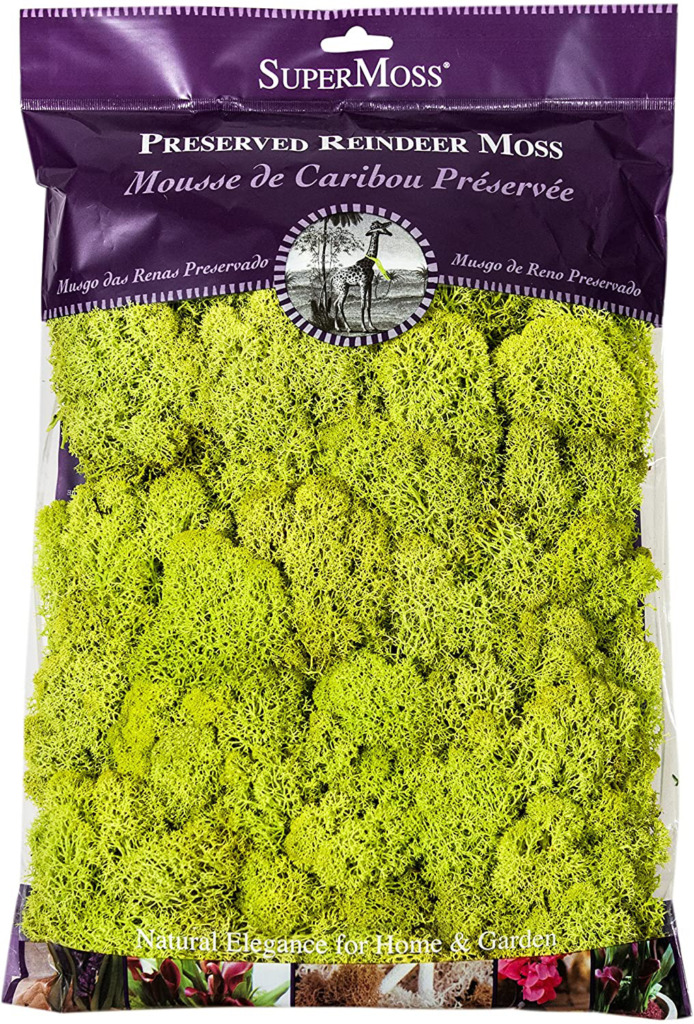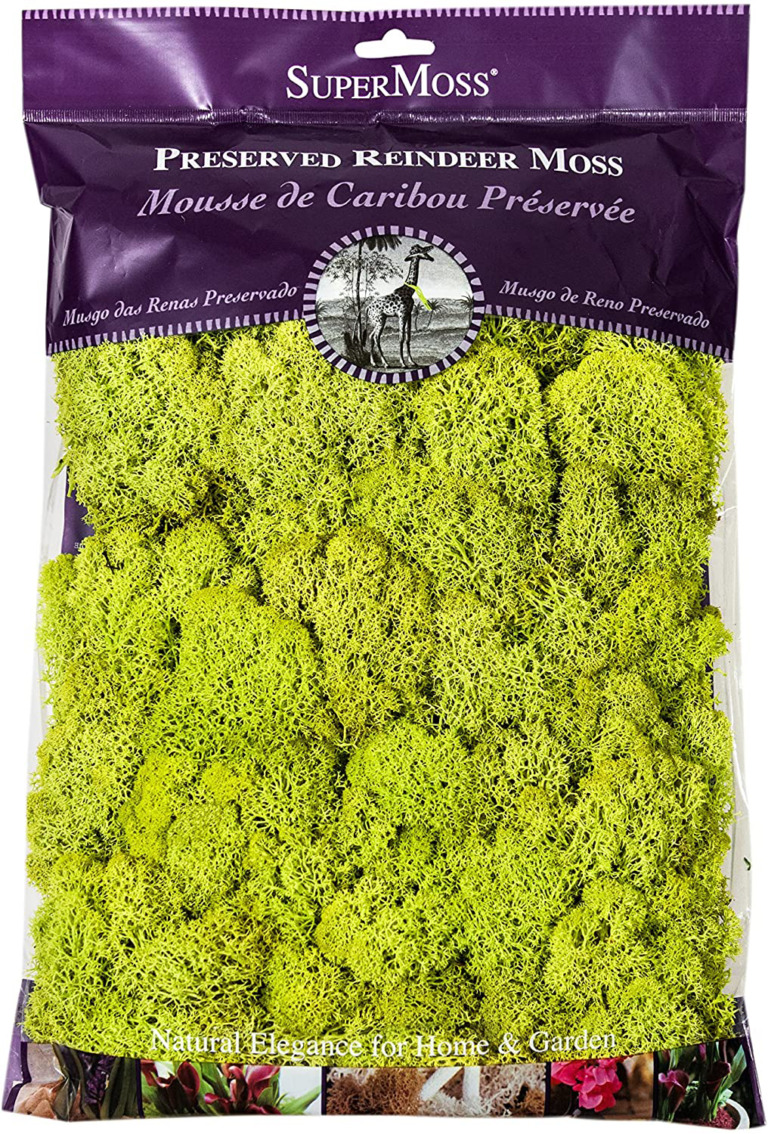 Final Thoughts
So, are fake plants tacky? No! But make sure you get a quality plant that looks realistic. You'll also need to keep it dusted because nothing says "fake" like a plant covered in dust! And of course, don't forget to pot your silk plant using either dirt or moss to help ensure it looks as realistic as possible.
I hope you like some of these and if you own a faux plant that you love, please let me know! I'm always on the hunt for more, especially fake succulents!
You might also enjoy learning about my curated list of the best fake flowers available!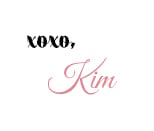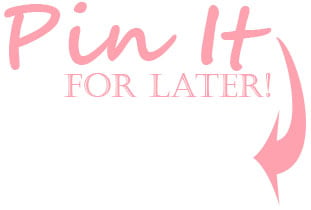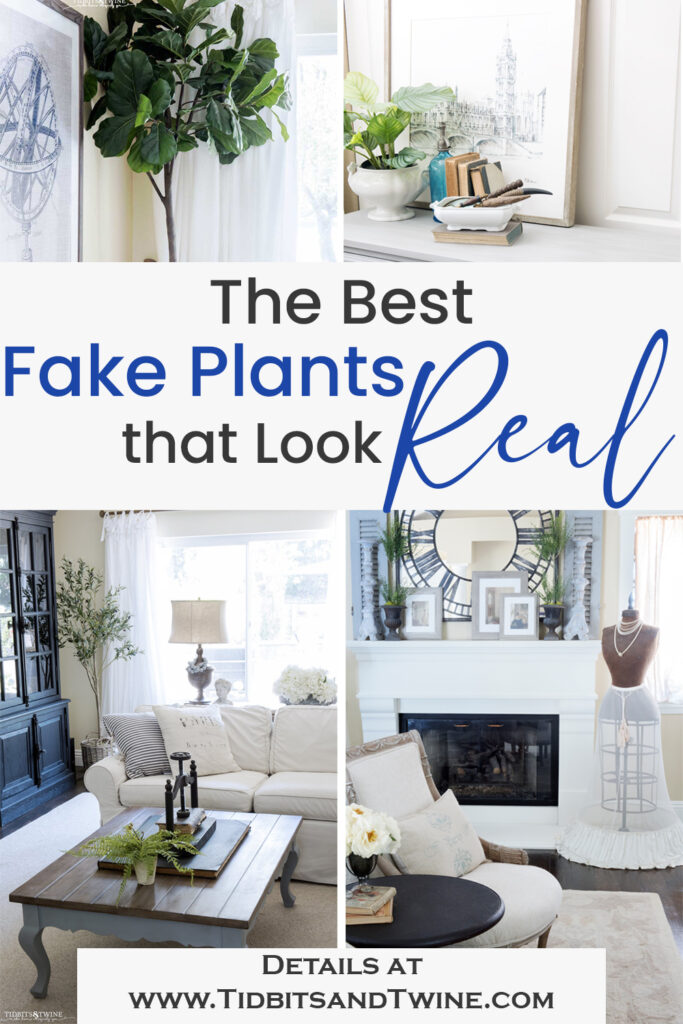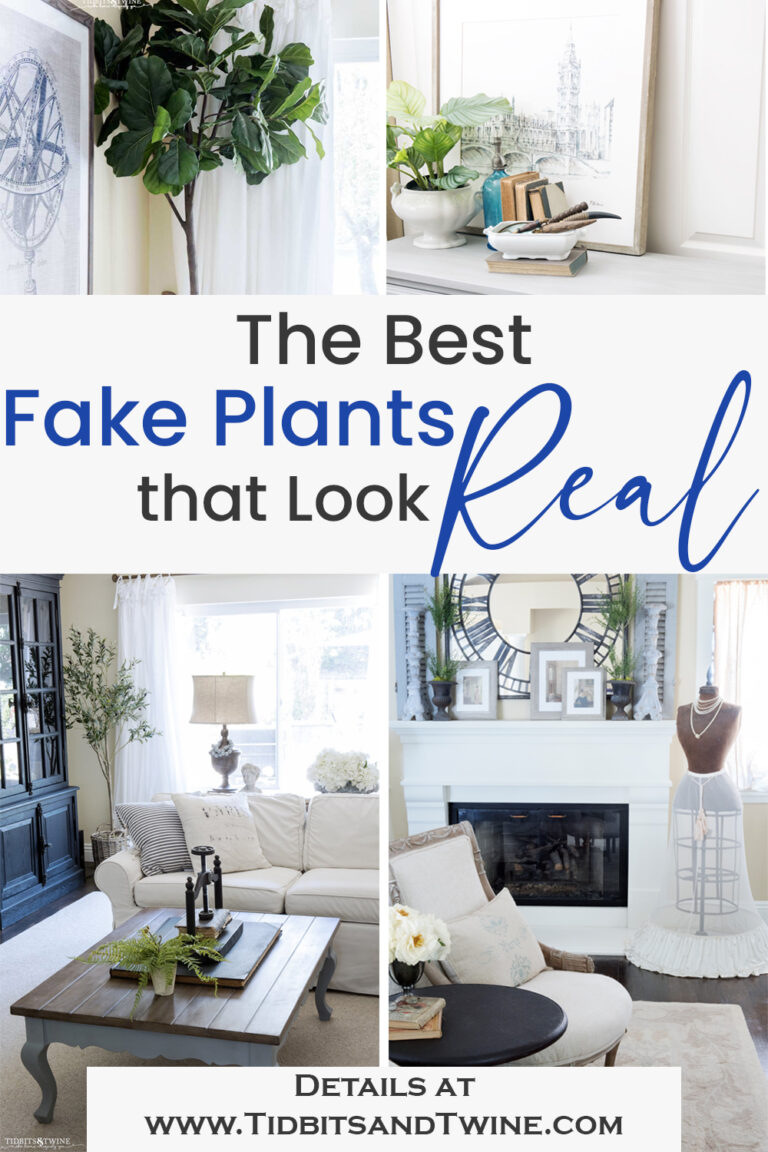 Join the Community
Let's keep in touch! Get exclusive artwork plus the latest news delivered directly to your Inbox!