There's no need to sacrifice beauty just because you want a ceiling fan! I've picked out the best fandeliers to help you beat the heat while looking beautiful.
Many homeowners love a ceiling fan for all the right reasons. The feeling of cool air and the whirring sound of fan blades are great for sleeping! Not to mention, fans cut down on your air conditioning bill.
But let's be honest, they aren't exactly pretty to look at. Most of them have a two-dimensional look to them and are just big blades. And those that do have lights seem to have them as an afterthought and they aren't particularly pretty.
And don't even get me started on what they look like after some use and no dusting!
Luckily, there's a new kid in town!
Meet the fandelier. They're all the rage right now.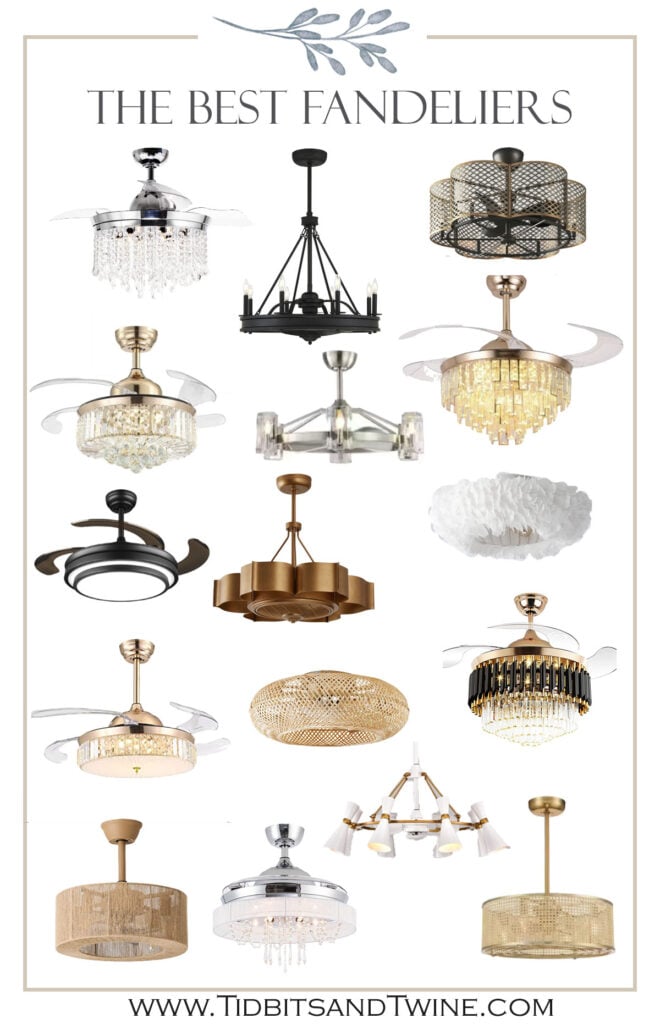 What is a Fandelier
It's where fan and chandeliers collide! A fandelier has the appearance of a regular chandelier but the convenience of a ceiling fan.
The term hasn't quite caught on with everyone, though. So while you'll sometimes see them listed as fandeliers, you might still need to search for traditional terms like "Fan light"
Fandeliers have really taken off in popularity thanks to social media. Admittedly, I think many manufactuers are a little slow to the game, so there are as many options available just yet as I'd like…and they are tricky to find because retailers don't always name them the same way! So I've done the work for you and have rounded up the most beautiful fandeliers I could find.
Types of Fandeliers
There are two different types of fandeliers currently available. There are ones that look only like a chandelier until the fan is turned on. Then, retractable blades pop out and spring into hypnotic action! There are also fandeliers where the fan is fully incorporated into the light fixture making it look like one cohesive, decorative unit. I've included both types in my roundup.
Where to Use a Fandelier
Unlike traditional ceiling fans with long blades, fandeliers tend to have smaller blades and smaller motors. Regular ceiling fans that are fan first and the light is an afterthought, while fandeliers are equal part fan and light. As such, they're best suited for smaller rooms like bedrooms, home offices, home gyms, nurseries, etc. They also work quite well in living rooms, dining rooms and dens that are on the smaller side or that aren't part of an open floorplan.
Overall, fandeliers provide a stylish and functional lighting and air circulation solution, combining the best of both worlds in a single fixture.
The Best Fandeliers
These are my top pics for fandeliers. Some are very formal with crystal and brass. I can envision these in a home office or even walk-in closet! Some of my other choices are quite casual and could be used in a smaller living room, den or even an entryway. Plus I have a wide range of prices to fit every budget.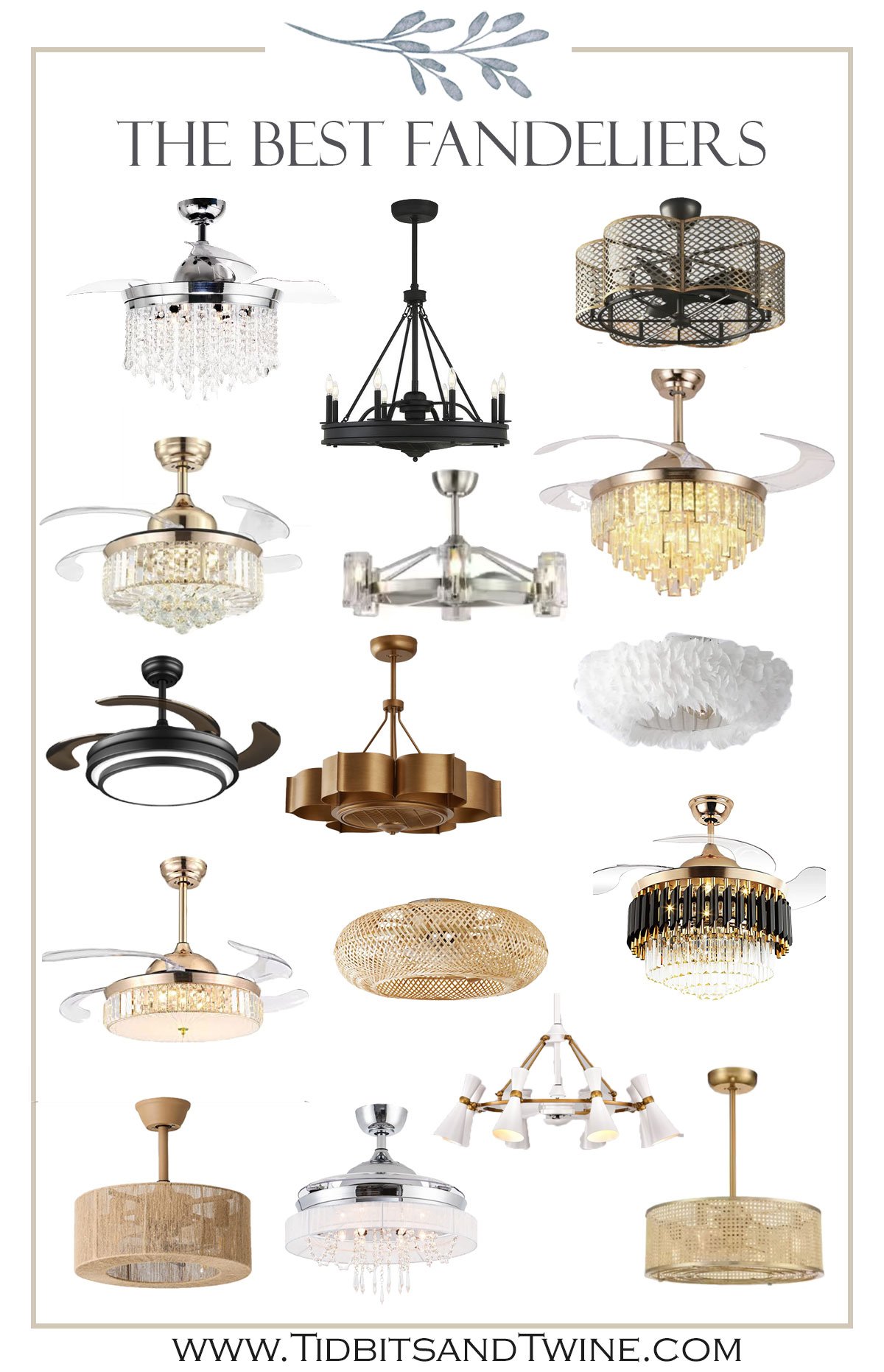 1 – 2 – 3 – 4 – 5 – 6 – 7 – 8 – 9 – 10 – 11 – 12 – 13 – 14 – 15 – 16
(Left to right, top to bottom)
Additional Tips & Tidbits
If having a remote control is important, be sure to check before buying
Not all fandeliers have a reversible motor, so be sure to check
In warmer months, the fan should rotate counterclockwise to send a breeze downward. In cooler months, it should rotate clockwise to pull the cool air up, which will push the warmer air down.
Be sure to check if there are variable speed settings
Always check the wattage of your light fixture! If you're not sure how many light bulbs you need, you can check here
More Decorating Tips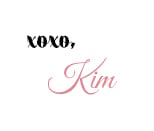 Join the Community
Let's keep in touch! Get exclusive artwork plus the latest news delivered directly to your Inbox!