Wondering what size your coffee table should be? This guide to coffee table dimensions will give you all the information you need to choose the right size coffee table for your space.
You've been searching forever for a coffee table you love. You've finally found the one! It's beautiful, just your style, and the price is perfect! You bring it home and…something doesn't look right! How can this be? Well, you might have bought the wrong size coffee table for your living room.
Choosing a coffee table is like the Goldilocks rule. Too big and you can't get around it easily. Too small and it looks like it's shrunk. The key is to find one that's just the right size!
5 DECORATING TIPS You Should Know!
Get my FREE 5-day email guide and join the 10,000 subscribers who already receive the weekly decorating tips and exclusive art!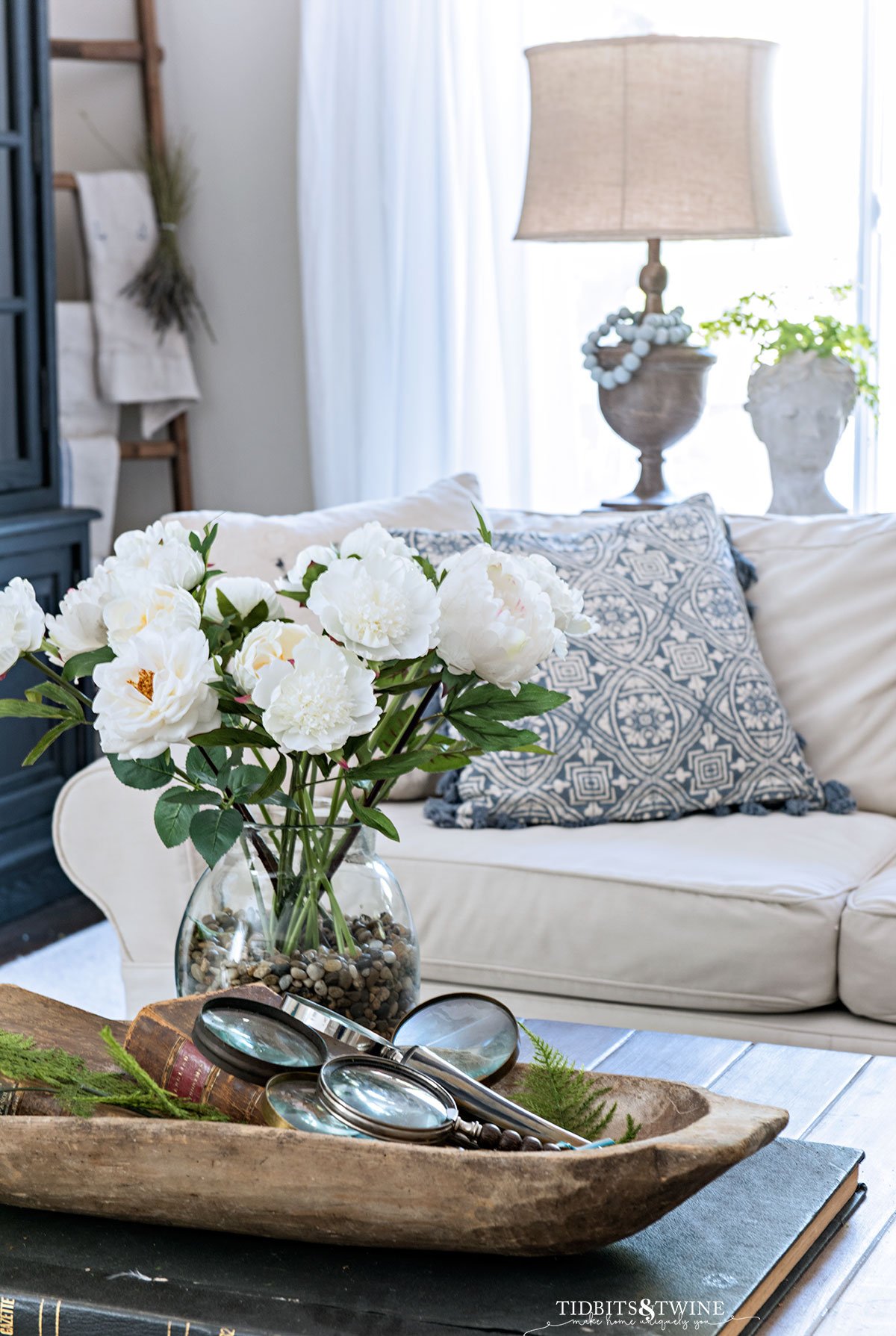 I've been sharing style guides and measurement tips with you for some time now. My goal is to take some of the work and stress out of decorating so that you can relax and enjoy the fun part!
In my style guides, you can find my curated collections of favorite furniture pieces, lighting finds, and even accessories! My recent coffee table style guide made me realize that I haven't yet done measurement tips for coffee tables.
I hope this guide helps you find the perfect coffee table size for your space!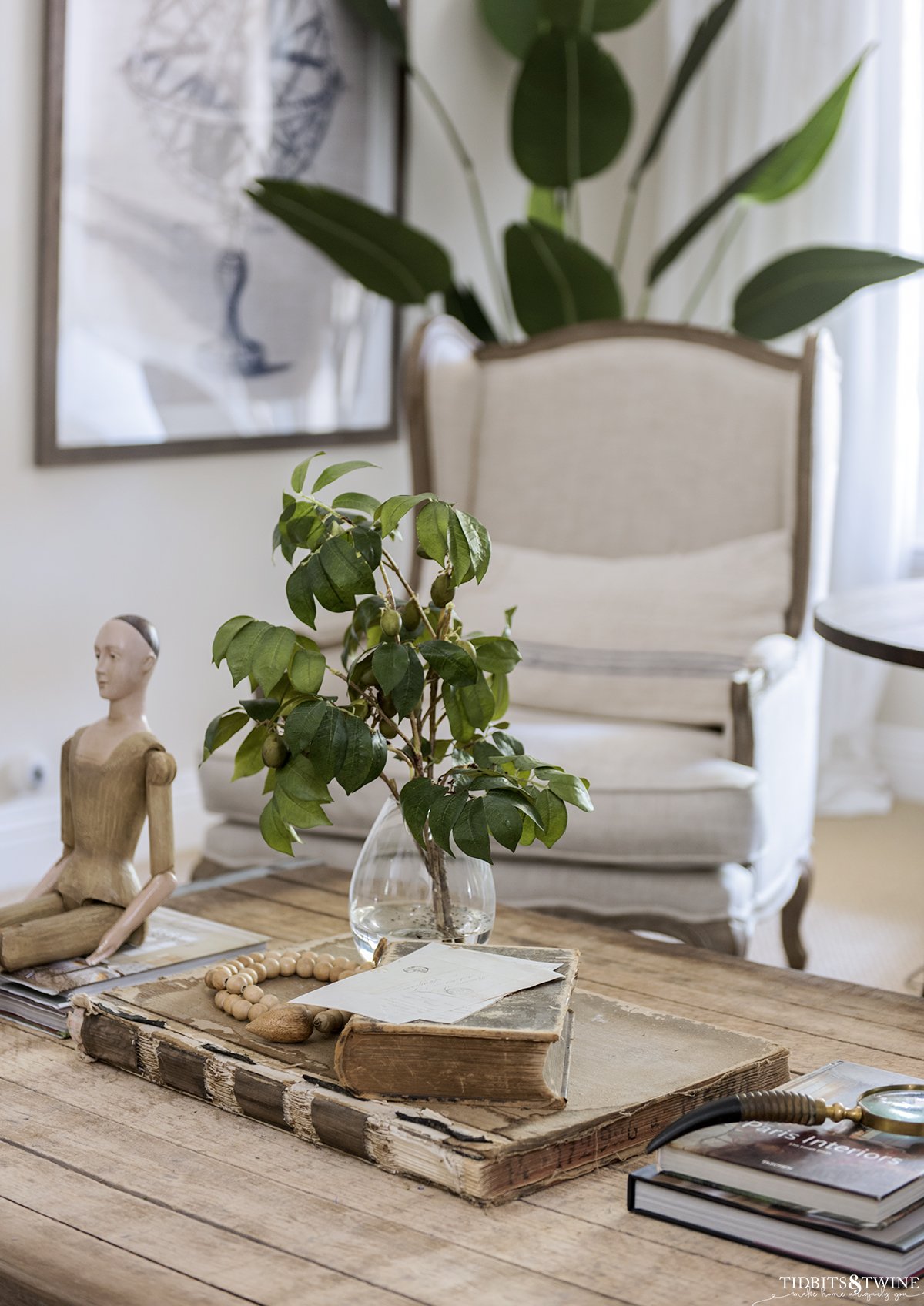 Coffee Table Dimensions
Before you being your search for a coffee table, you first need to measure your existing furniture and the layout of your room! Knowing your existing measurements will help you determine the perfect size for your new coffee table. Finding the right size means both the right height, length, and width. You can use the guidelines below to figure out each and determine the perfect size of your coffee table!
Coffee Table Height
There is no one perfect height for all coffee tables! Why? Because the "right" height actually depends on your furniture. Specifically, your sofa and chairs. Coffee tables should be lower than your seating, not taller. When they are taller, they tend to be jarring to the eye.
To find the right height for your space, measure the distance from the floor to the top of your sofa cushions. From there, select a table that is about 1″-2″ lower than your sofa seat height. This height will provide an overall appearance that works well in the room and that is also comfortable for reaching objects on the table. It will also allow you to put your feet up if that's allowed in your house!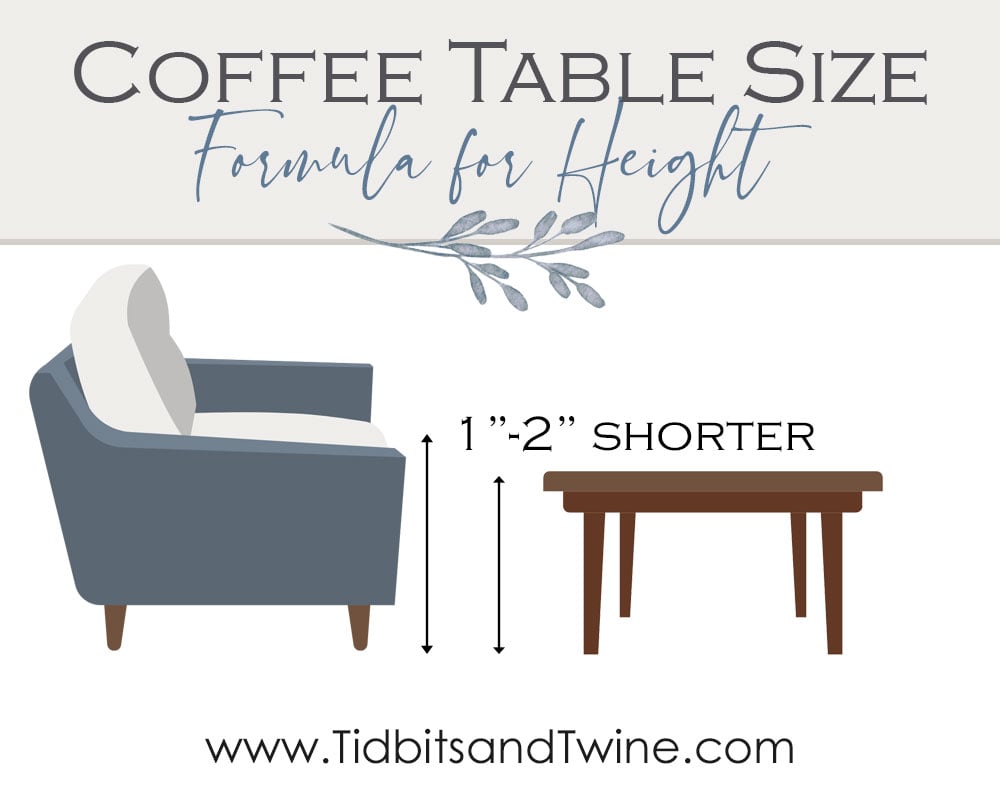 Coffee Table Length
Much like the ideal height, the ideal length depends on your furnishings. In general, your coffee table should be about 2/3 the length of your sofa.
If you have a sectional or sofa with a chaise, it should be two-thirds the length of the horizontal part of your sofa.
The two-thirds rule will help to keep your coffee table looking proportional to the seating elements in the room.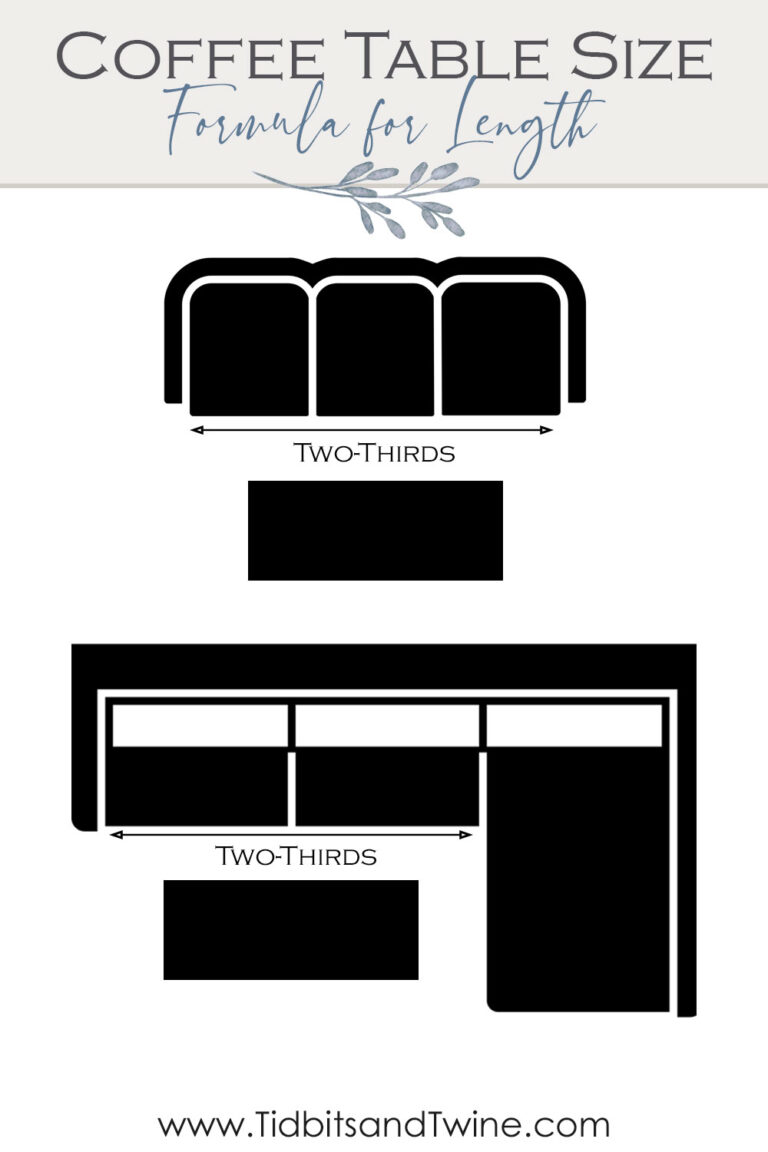 Coffee Table Width
You want to be able to walk comfortably around your coffee table, so as you determine the length and width, make sure to leave walking space. Trust me, your guests don't want to slink sideways by the sides of the table to their seat!
Between the coffee table and other pieces of furniture, like a bookcase, TV stand, or fireplace, leave about 30″ of space.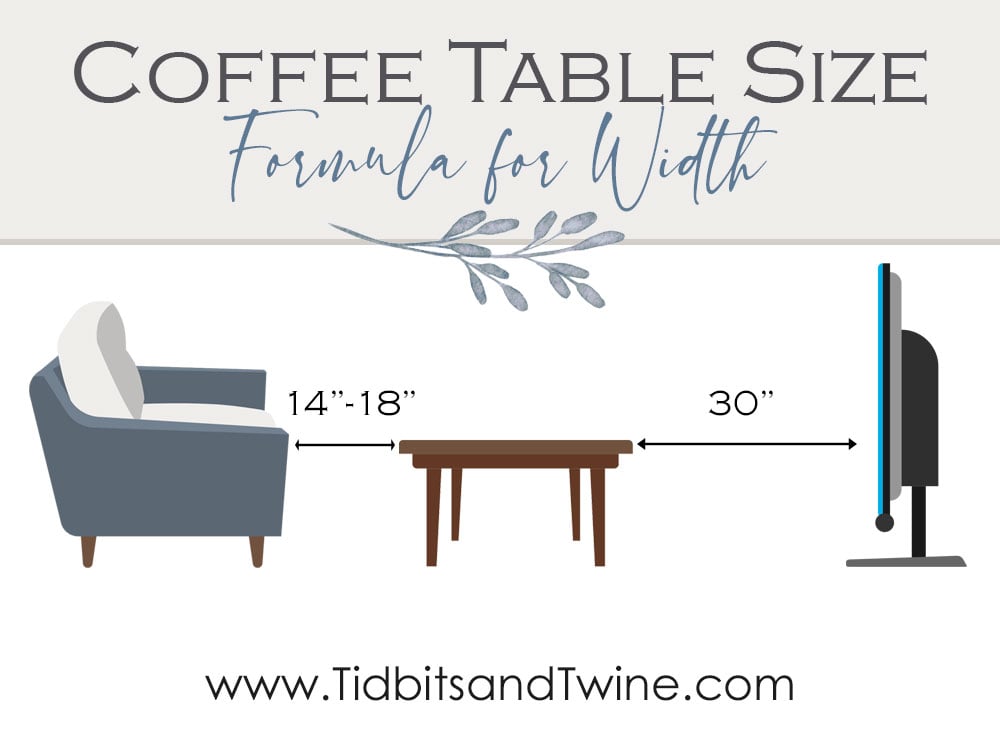 Frequently Asked Questions
What's the standard height of a coffee table?
There's a big range in the height of coffee tables because they have to accommodate all different sizes of sofas! The standard height for a coffee table is anywhere from 12″ to 24″, but most fall within 16″ to 18″.
How much walking space is needed?
You need about 14″-18″ of space to comfortably walk between a sofa and a coffee table. This also allows you to still be able to easily reach items on the coffee table while seated.
What if my coffee table is higher than my sofa?
If the coffee table of your dreams is taller than your sofa, don't despair! While not ideal, you can get by with a taller table so long as it is no more than 2″ taller than your seat cushions.
More Decorating Tips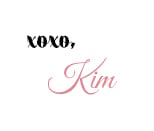 Join the Community
Let's keep in touch! Get exclusive artwork plus the latest news delivered directly to your Inbox!