We all know that balance is important when riding a bike, or walking, or just about any physical activity for that matter.  But did you know that balance is also an important element in decorating your home?  Without even realizing it, we look for – and expect – balance in the world around us.  If you've ever walked into a space and just felt that something was "off" it could be that the room was out of balance.
In interior design, there are three ways to achieve balance: symmetrical (formal) balance, asymmetrical (informal) balance, and radial balance.  My personal favorite of these three is informal balance because it creates equilibrium while using different elements, which to me, creates a more interesting space.
Informal balance is created by things that feel alike but don't look alike
To create asymmetrical balance, you need to take into account the visual weight of various objects in order to decide whether they can balance one another.  The visual weight of an object is affected by its color, texture, size, and shape.  You can apply informal balance in your home in large spaces, such as through furniture arrangement, or in small vignettes, like on buffets, mantels and bookcases.  Informal balance even applies to wall galleries!
Here, informal balance is achieved in the room through the placement of two chairs opposite one large sofa.
In the photo below, the beverage dispenser on the right is bigger than the cloche on the left, but the pumpkins under the cloche add visual weight, thus balancing the two sides.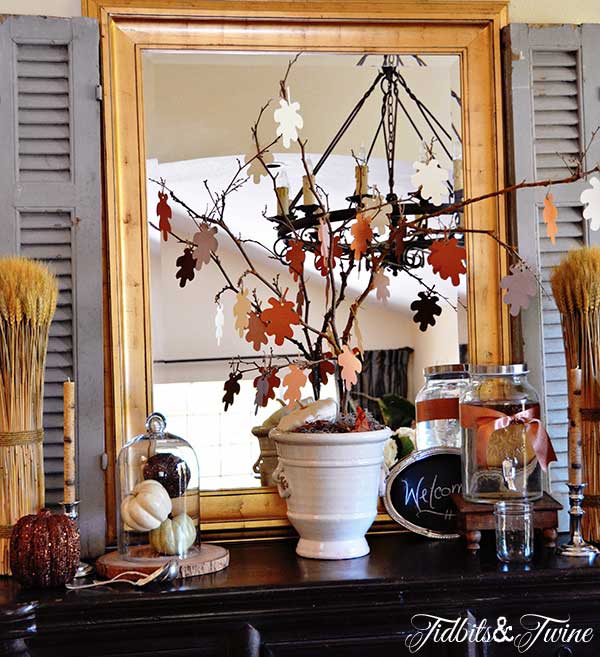 Here, the sides of this bookcase are not identical, but the weight, color and texture feels balanced.
Even this wall gallery feels balanced despite the fact that no two images – or frames – are alike.
Why is it important to learn how to create informal balance?  Well sometimes, it might be that you want to create this look, but other times, it might be a look you use based on necessity.  For example, what if you only have one table lamp and want to use it on the side of the sofa but the other side feels empty?  Or if you have two hurricane candle holders flanking your mantel but then accidentally break one (which I did this weekend!)?  Even if you only have one item – not a pair – you can still find a way to use it so long as you can find another object whose visual weight can balance it.
Here are some other photos of asymmetrical balance.  Can you spot the differences?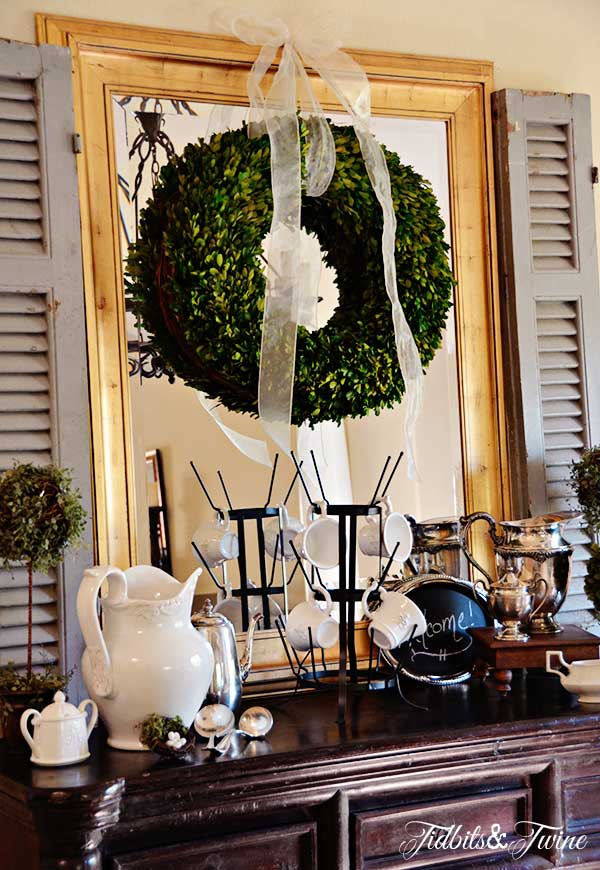 There are certain rooms in my home that I prefer symmetrical balance, such as in my living room, which has a more formal feel, but otherwise, I find informal balance much more interesting.  It's not something that has a formula, nor is it something that necessarily looks balanced, but rather something that has to be worked at to decide if it feels balanced.

Would you like to receive my posts via email? Enter your email address below. You will instantly receive an email from FeedBurner and you will need to click the link to activate your subscription.