A look at current kitchen trends from paint colors to materials and more! Create an updated and stylish kitchen with the latest things that are trending now!
In preparation for my upcoming kitchen remodel, I've been spending a ridiculous amount of time looking for kitchen inspiration. Like "I'm embarrassed to tell you how much time" kind of time. Pinterest, Instagram, The Expert, Magazines, and catalogs – these are all great resources when looking for design inspiration!
For me, looking at inspiration is a great way of identifying what I like, and equally important, what I don't like! What's in, what's out, what's trendy, what's timeless, etc.
If something is trendy, I don't automatically love it or hate it. I really try to just be open to new ideas! After all, decorating is a journey. My style today isn't the same as my style five years ago because it continues to evolve as I evolve. And I'm okay with that!
What I don't want though, is to choose something that will be dated in five years. Or that I'll regret.
Having an uh-oh moment is my biggest fear!
With all that being said, there are a few things that I've noticed trending in kitchen designs lately that I thought you might enjoy. I made a big list of things that I saw repeatedly during my research and then culled that list down into something that was more accessible to the average homeowner.
There are lots of current kitchen trends happening right now, but not all of them apply to the average homeowner who might be looking to update an existing kitchen or even remodel.
Like cute little cutouts in kitchen cabinetry. Okay, that might be trending right now but do I really think that the average homeowner will ask for that? No. Not really.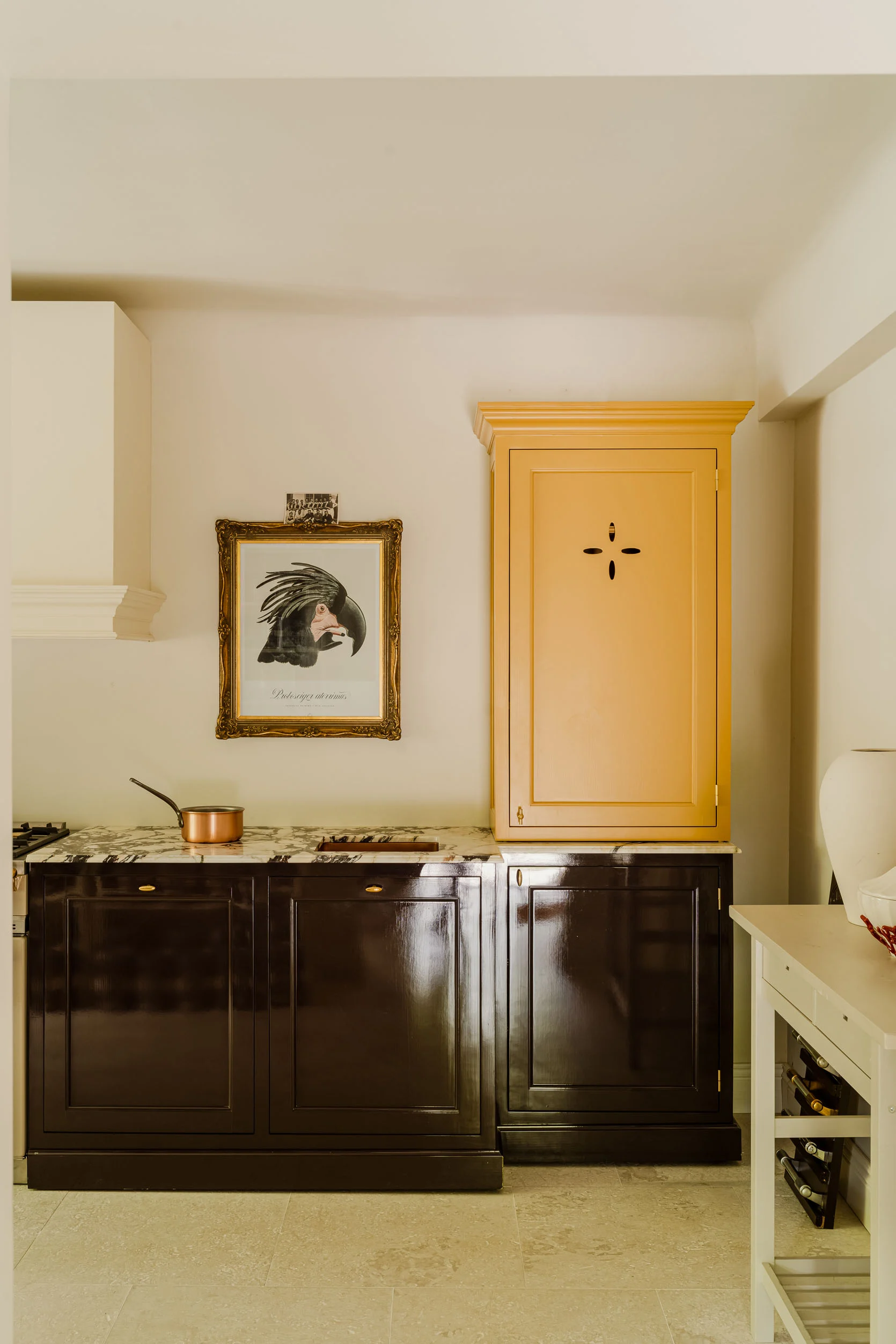 Open shelving. Is it still trending? Yes. Do I personally think it will continue to last? No, with the exception of one type listed below. So open shelving isn't on this list.
Instead, I've made a list of current kitchen trends that apply to the average homeowner and will add a bespoke look to your kitchen with a touch of luxury.
Current Kitchen Trends
Current trends don't necessarily mean that they're new this year or even last. It just means that they are still current and in style! If you want to see specifically what's new for 2023, you can read my post on 2023 Design Trends.
Dark Moody Colors
The use of moody colors in the kitchen is a relatively new trend. And to be honest, I'm not sure how timeless this one will be but I've included it on the list because it's a great alternative to traditional white or stained cabinetry.
Using deep, rich hues on cabinetry is trending right now and a great way to create an impactful and unique look in the kitchen. Typically, these cabinets use nature-inspired colors like green, blues, or even saffron.
Statement Lighting
At one time kitchens had fluorescent lights. Then we moved to recessed lights and small pendants. But today's kitchens have some outstanding statement lights that reflect the style of the kitchen as a whole!
Backsplash Ledge
I'm including this in the list because it is trending, but also because I have a bit of a personal obsession with the countertop ledge. I love an old-world European vibe and this is it!
Many homeowners are removing some of the traditional upper cabinets that flank a range hood and are instead, using a ledge. The ledge is typically made from the same material as the countertop and backsplash and is roughly 18″ up the wall.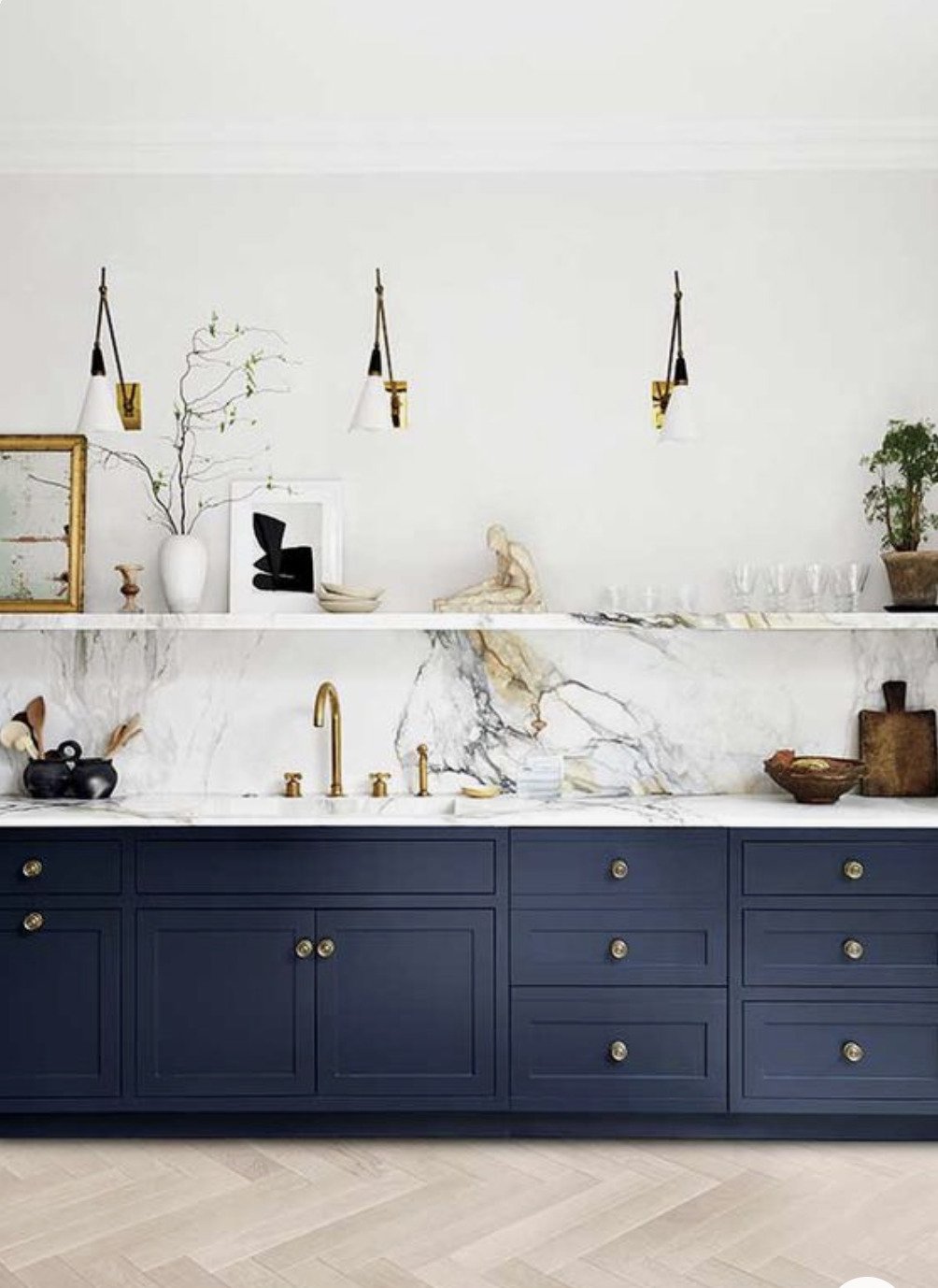 This ledge is used to display artwork or flowers, but also to keep widely used items within arm's reach, like oil or salt.
Table Lamps
You might not have ever considered adding a table lamp to your kitchen, but perhaps it's time! While kitchens were once purely functional with tons of overhead task lighting, these spaces are becoming a bit more decorative. As part of that, there's a trend of including a small table lamp on the countertop.
Not only does this lamp add another lighting dimension, but it helps soften the space and adds a bit of charm. Most people just place the lamp near an outlet, but there are rechargeable lightbulbs and rechargeable lamps available so you can really put a small table lamp anywhere that works for your space!
Brass
Brass in the kitchen has been trending for a few years now and honestly, it's timeless. As I've mentioned before, this isn't the 80's super shiny brass finish that looked like it was painted on. Today's brass has a lot more depth of color, especially if you use unlacquered brass.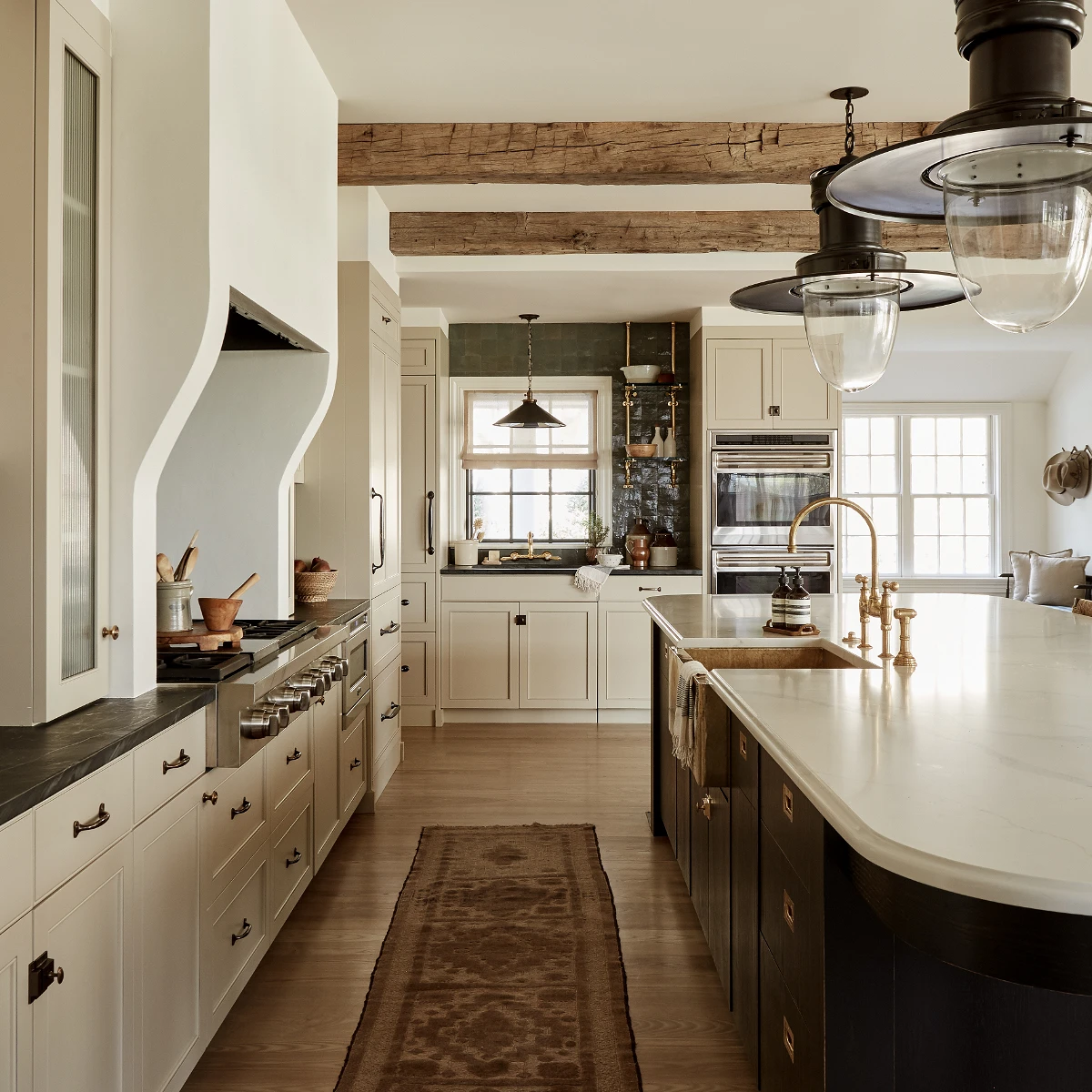 Mixed Metals
With mixed metals and warm finishes trending in kitchens right now, brass is still a very popular option. And if you just want to dip your toe in the trend, you can just update your cabinet hardware but leave your other fixtures and faucets in another finish. This mixed metal look is perfectly acceptable!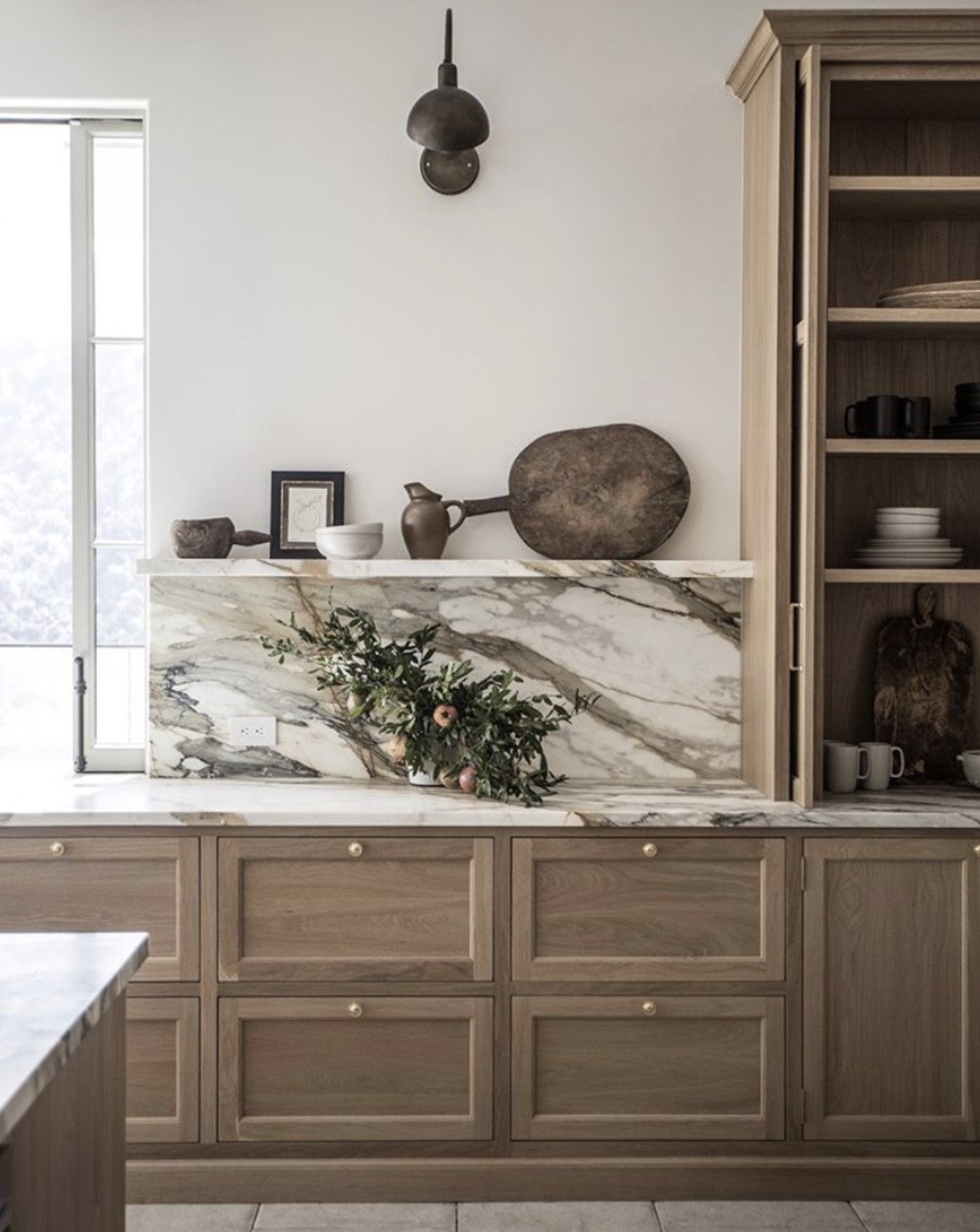 Quartz, Quartzite and Porcelain
In the early 2000's, granite was the countertop du jour. These days, you're more likely to see homeowners choose marble, quartz, quartzite or porcelain.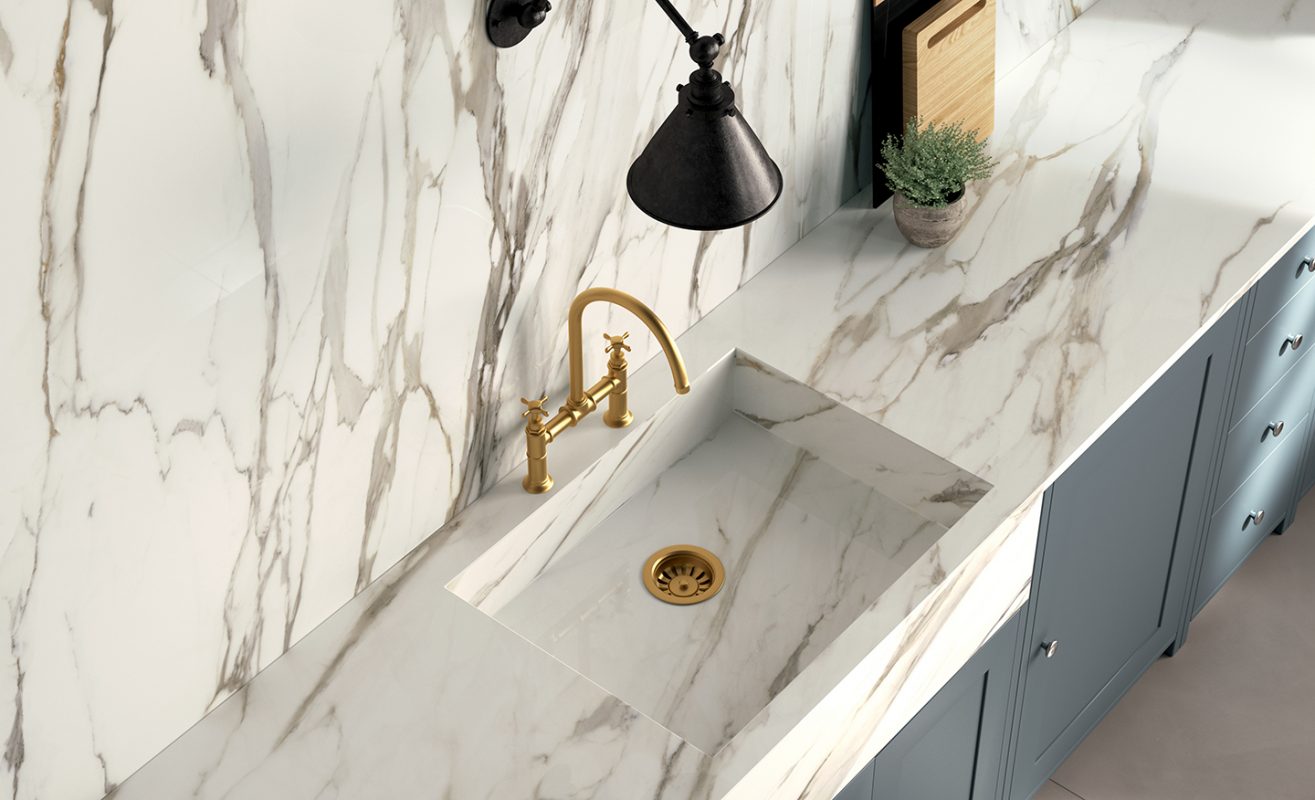 Most granites have a speckled appearance and current trends favor a striated appearance, meaning veining, not speckles. Marble is usually the aspirational look, but the cost and maintenance are a turnoff for many. Instead, they turn to quartz (manmade), quartzite (natural), or porcelain (manmade).
And remember, you aren't limited to just one color! You can have your perimeter countertop and your island be two different materials. If you go this route, opt for one that is more solid and one that has pattern/movement so that they complement one another.
Inset Cabinets
Inset cabinets are very popular right now. And why not? They're beautiful! All of the top designers utilize inset cabinets in their work and the results are stunning.
But inset cabinets do come with some drawbacks, so you have to do what's best for your budget, storage, and overall needs.
You can learn more about Inset vs Overlay Cabinets in my guide.
Fluted Islands & Details
Fluted details are trending in general right now and while sometimes furniture trends don't extend to the kitchen, this one does! You'll see fluted details on islands or cabinet doors and this detailing gives a unique, luxurious look to the cabinetry. Standard semi-custom cabinet manufacturers haven't yet picked this detail up, but you can find it in custom cabinetry. The closest you can find in semi-custom is beadboard, but it's not quite the same…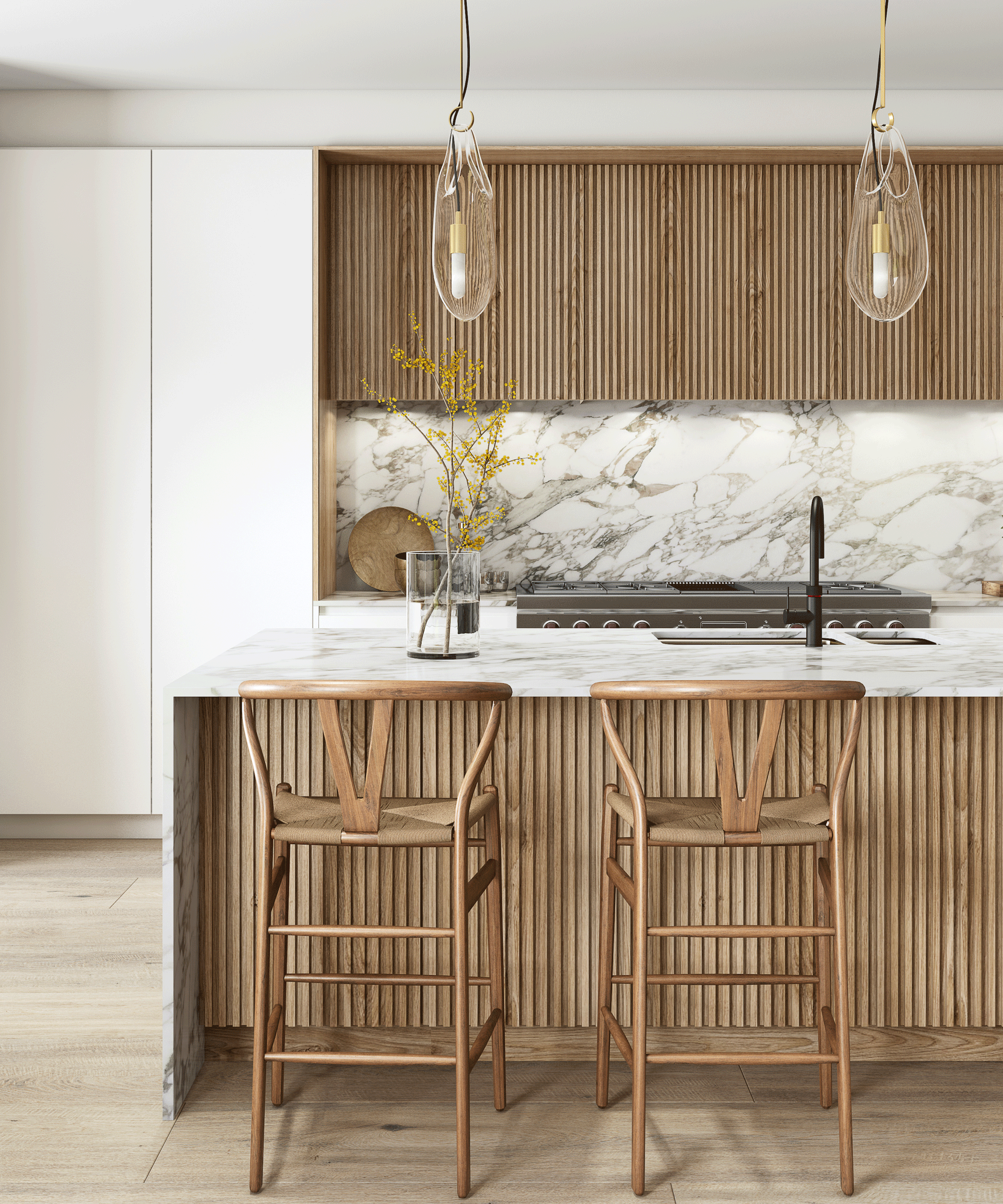 Fluting has also become quite popular for glass cabinet inserts. Of course, it's not called fluting when referring to glass, it's called Reeded Glass.
Statement Appliances
Manufacturers are starting to pay more attention to how an appliance looks, not just to how it functions. For this reason, statement appliances are being used in kitchens as beautiful focal points, just like a fireplace or piece of artwork would be used in another room.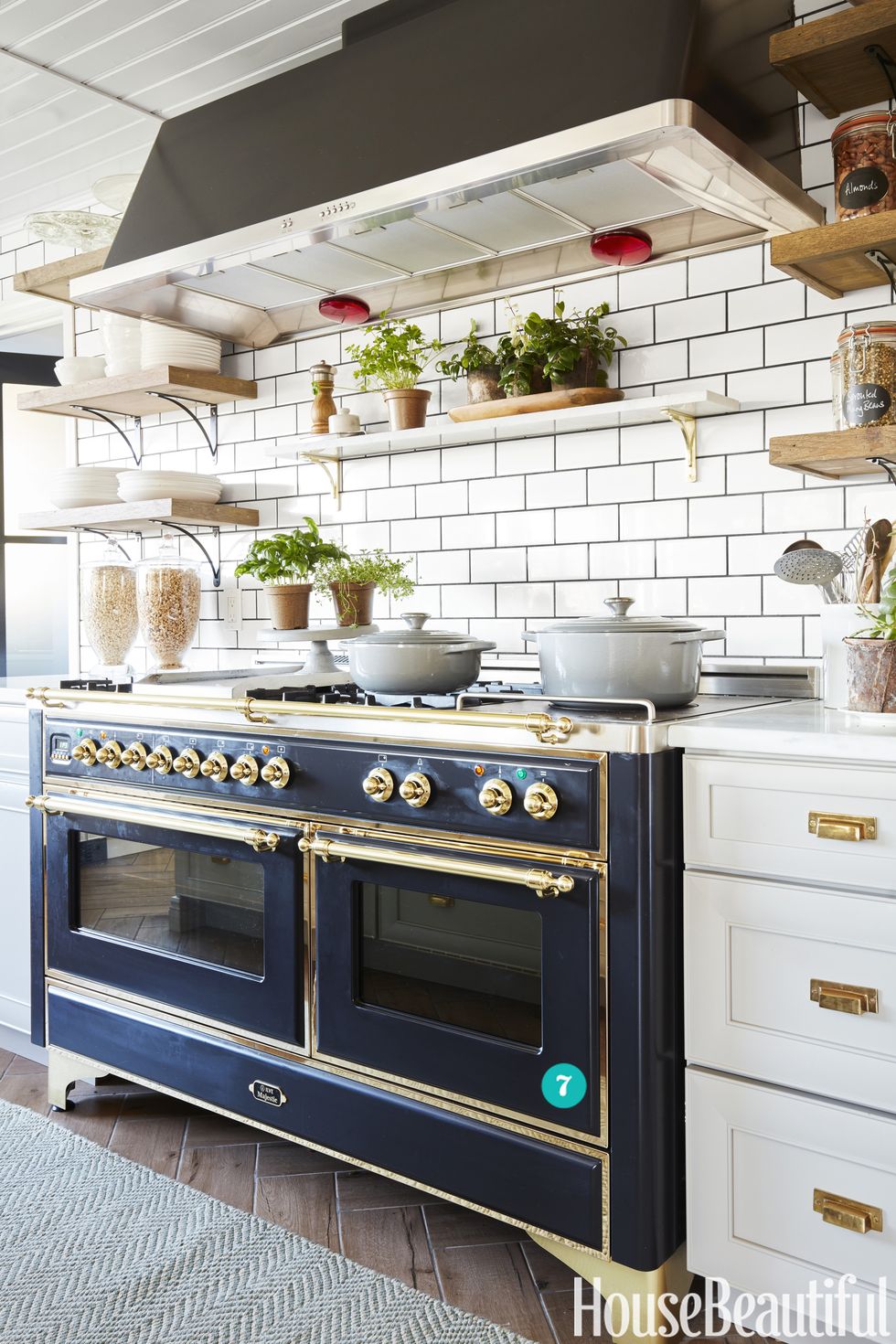 Combination Cabinets – Stain and Paint
This isn't a new trend, but I'd be remiss if I didn't mention it. This timeless look includes utilizing a combination of painted and stained cabinets. Usually, one finish is selected for the perimeter cabinets and another for the island. Lately, though, I've noticed some different combinations that include maybe one statement upper cabinet that is a different finish than all of the others.
What's great about this look is that is breaks up the monotony of kitchen cabinets. Plus, if your cabinets are white, a stained island is a great way to warm up the space!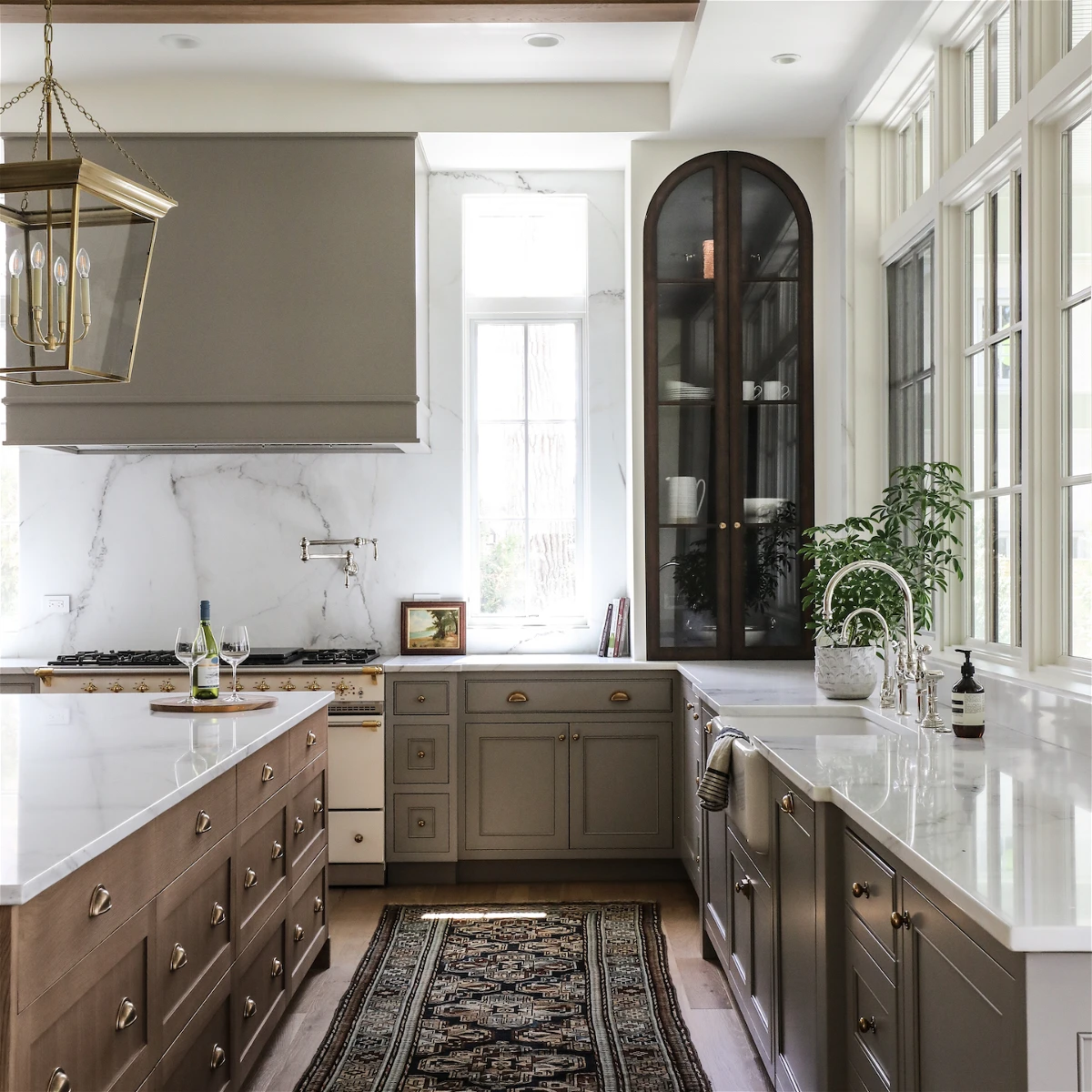 Join the Community
Let's keep in touch! Get exclusive artwork plus the latest news delivered directly to your Inbox!