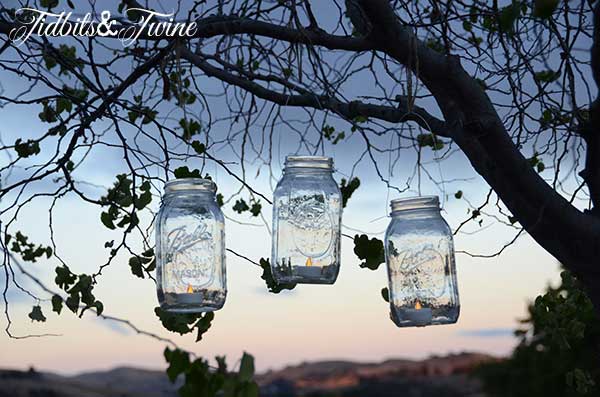 It's teacher appreciation gift time…again! This time, it's for my daughter's three preschool teachers. Can you believe her school isn't out for the summer yet?
Since I had recently purchased a box of Mason Jars, I thought I'd try and make a gift for her teachers using the jars. I had seen these cute manicure sets on Pinterest and since her teachers are young and fashionable, I decided to make them each a Mason Jar Manicure Kit. But why stop there? I realized that if I just added some wire and a candle, the Mason Jar could also be used as a hanging candle holder. Yay! Two gifts in one!
5 DECORATING TIPS You Should Know!
Get my FREE 5-day email guide and join the 10,000 subscribers who already receive the weekly decorating tips and exclusive art!
Mason Jar Manicure Kit AND Lantern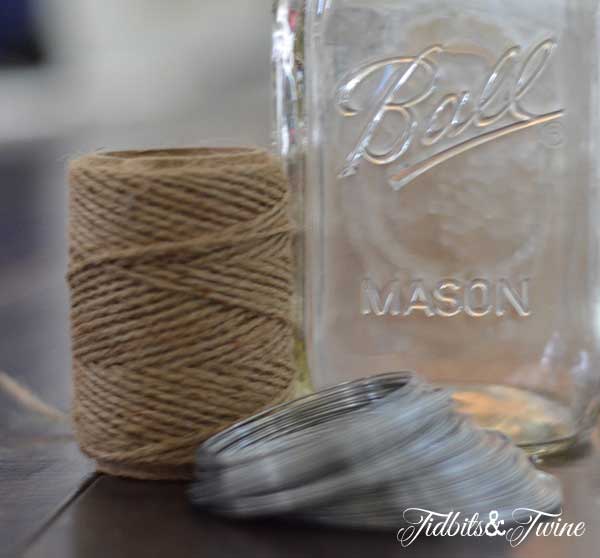 I gathered my twine, wire and Mason Jars together. Then at the last minute, I decided to add a metal rimmed tag (left over from my Memory Jar project), some ribbon and a piece of scrap fabric (left over from my Restoration Hardware book cover knock-off project).
First, I traced around the lid on the fabric.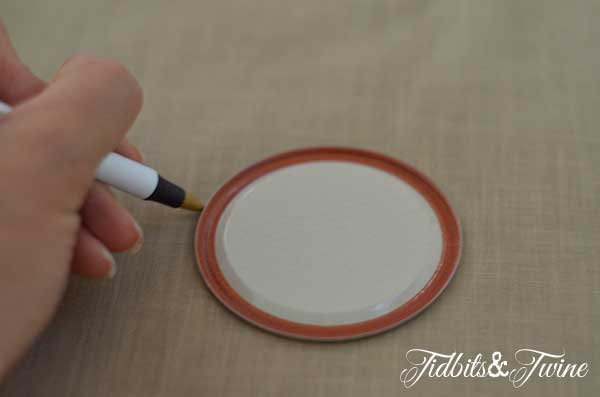 After cutting out the circle, I used glue dots to adhere the fabric to the top of the lid just to give it a more decorative look.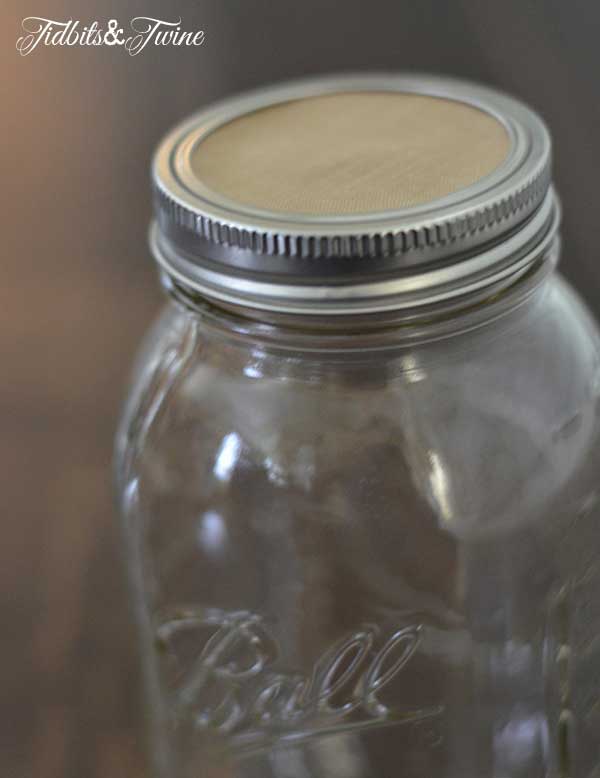 Next, I wrapped the wire around the rim of the jar (making sure that it was underneath the lip and secured tightly) and then created a handle for hanging. Tip: Use a heavier gauge wire than what is shown here. I used what I had on hand, but wish it was a bit less pliable.
The last step was to add all of the items to the jar. I purchased everything except the colored nail polish at The Dollar Tree. I thought these items were super cute and very economical considering I have three gifts to make. With the money I saved on the supplies, I splurged on the polish and bought Essie, which is my favorite brand.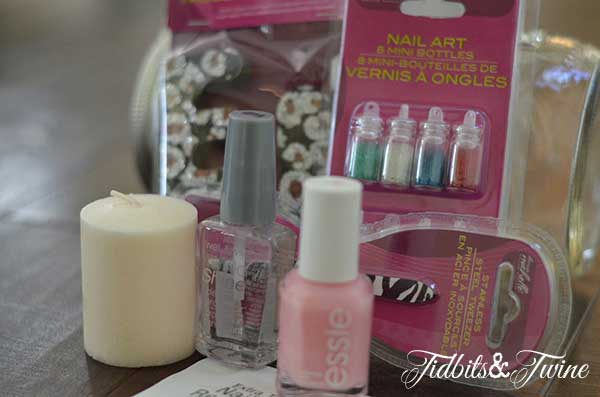 I took everything out of the packages so that it would better fit. I ended up putting the small bottles of nail art into tissue paper and tying it with twine. A few cotton balls and Q-tips for filler and the gift was ready to go!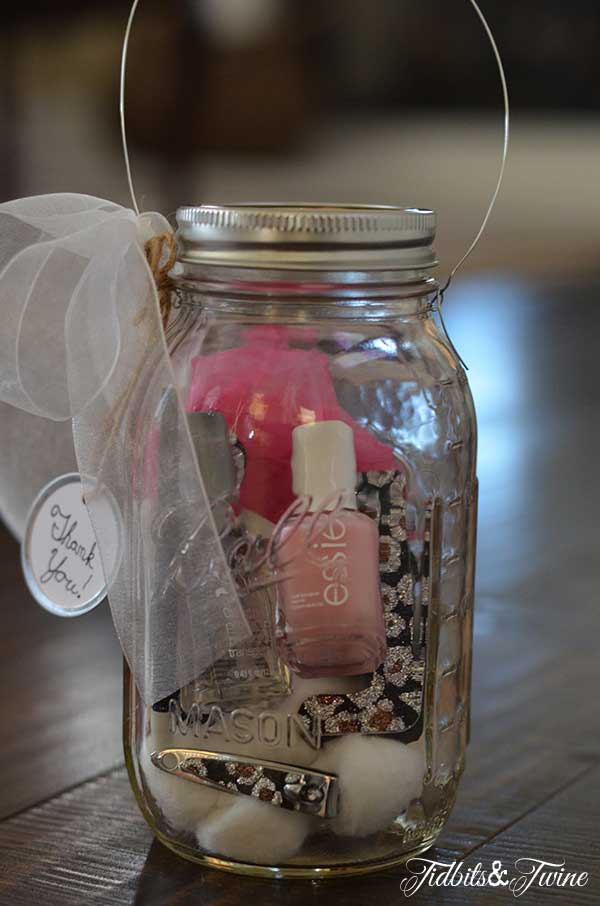 So by day, it's a Mason Jar Manicure Kit, but at night, it magically transforms into this hanging lantern!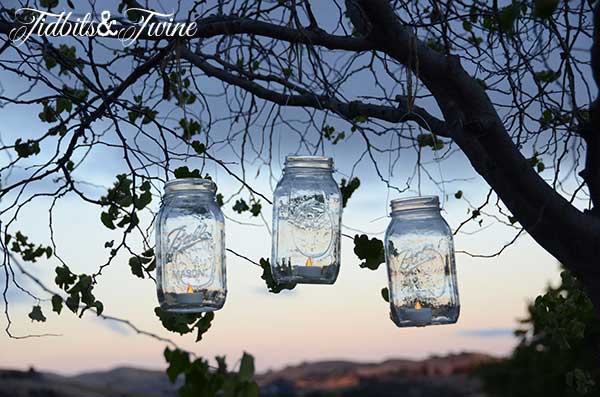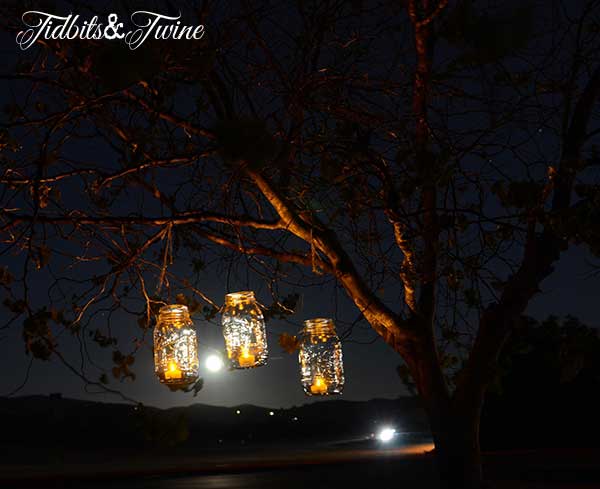 DIY Project Recap
Supplies:
Here's a recap of what I used to make this gift, as well as the specifics of what I included in the manicure kit:
Mason Jar
Twine
Wire
Scrap Fabric
Glue Dots
Candle
Nail Polish
Top Coat
Emery Board
Nail Clippers
8 Small Bottles of Nail Art
Tweezers
Toe Separator
Cuticle Stick
Cotton Balls & Q-Tips
Difficulty:
Total Time:
Total Cost:
About $13-$14 (this includes the more expensive nail polish)
Fingers crossed that they like their gifts! NOW summer can officially begin for us!

Linking up at:
Join the Community
Let's keep in touch! Get exclusive artwork plus the latest news delivered directly to your Inbox!