For those of you following me on Facebook, you know that last Sunday, my husband and I were up at 4 AM getting ready to attend the Alameda Point Antiques Faire. With the event starting at 6 AM, we had to use flashlights to find our way through rows and rows of vendors, but it was worth it. We had a great time and I found a few items that I am so excited to share with you!
First, let me give a say a big thank you to my hubby for being my shopping buddy, especially so early in the morning! The weather was gorgeous with clear blue skies and sunshine, but unfortunately, we didn't check the temperature before we left the house. Despite the fact that he was wearing thermals, my poor husband was freezing cold and at one point, decided to wear my newly purchased grain sack table runner as a scarf! I'm sure this look will soon be spotted on the runways of Paris! :)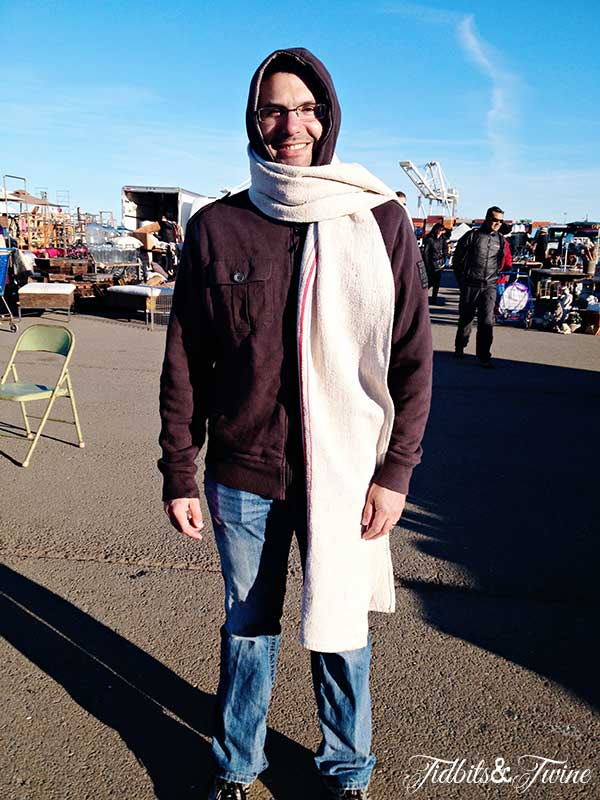 And speaking of grain sacks, I saw these grain sack Christmas stockings that I thought would be a beautiful addition to my mantel.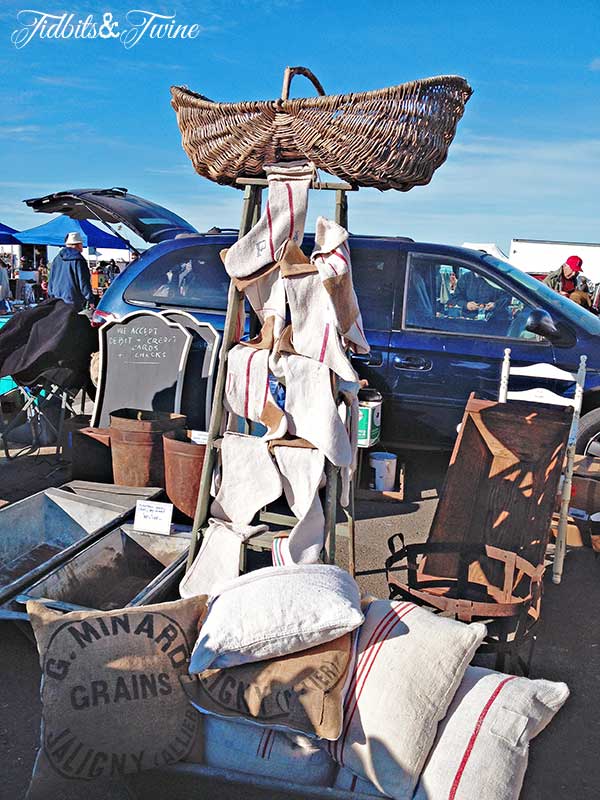 Overall, I didn't see as many holiday decorations as I had hoped, but one thing that was in abundance this month, were rocking horses. While they aren't specifically a holiday item, they always look great as part of a Christmas vignette. Here are some of the vintage beauties that I saw. The pig is my personal favorite. :)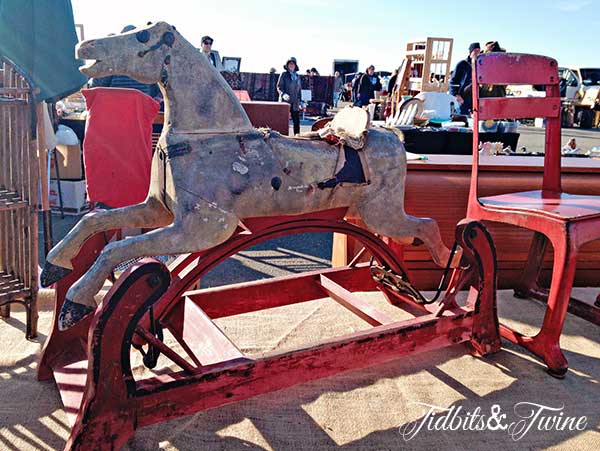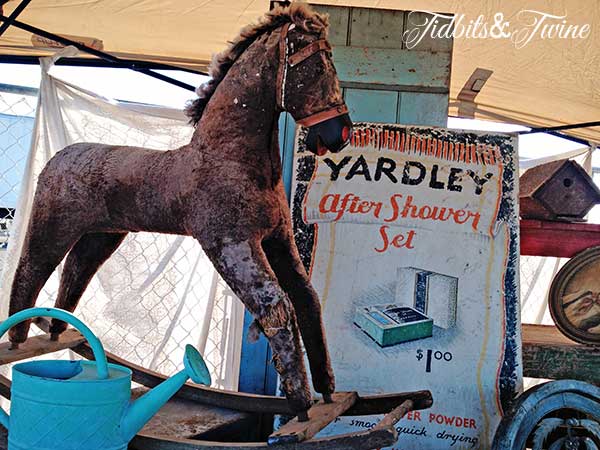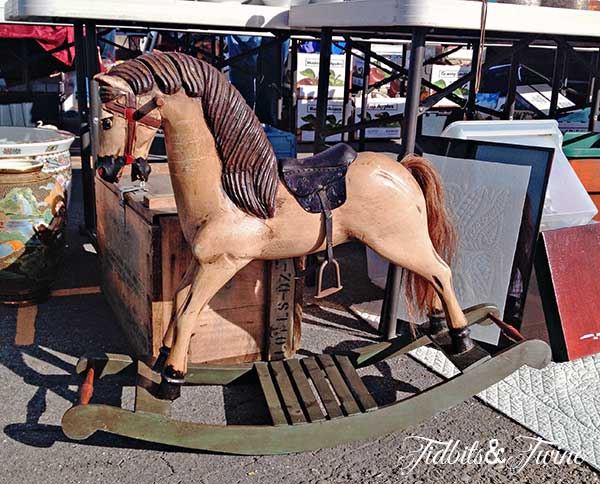 I also saw quite a few interesting wreaths, like these magnolia, antler and fall feather ones!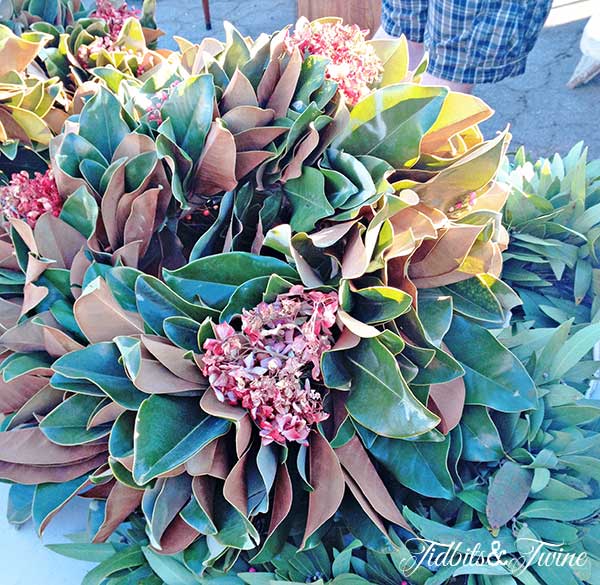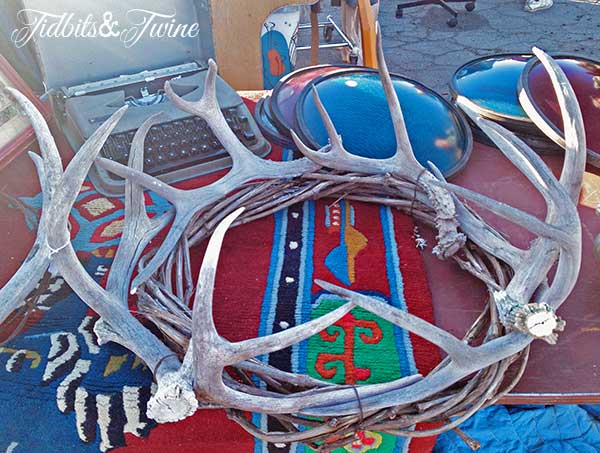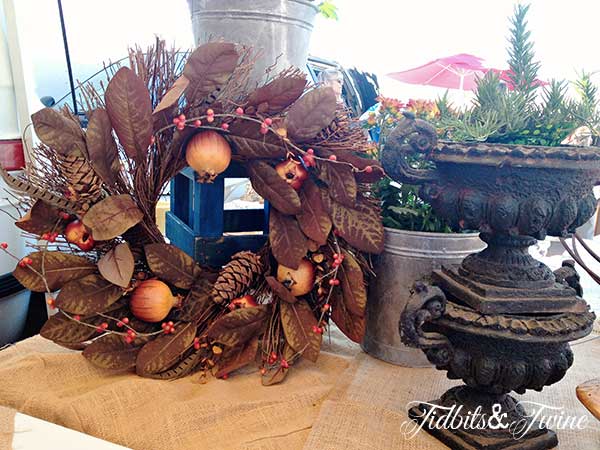 And if you've ever wondered what to do with vintage jewelry, I thought this idea for turning it into a framed art Christmas tree was so creative!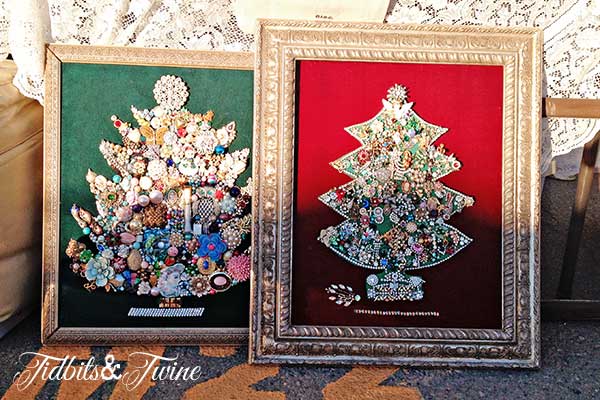 I saw a few other pieces and displays that I just loved and wanted to share with you, like this gorgeous French basket.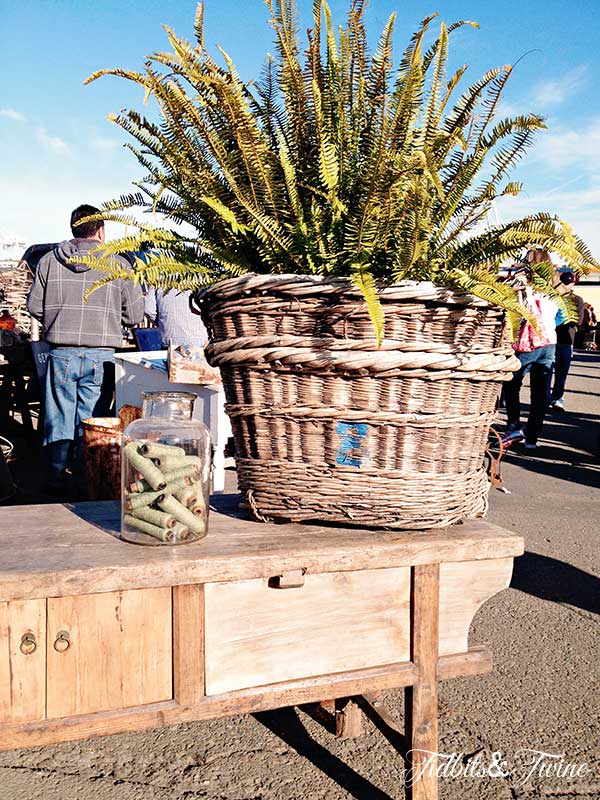 I also thought that this display of vintage books was beautiful.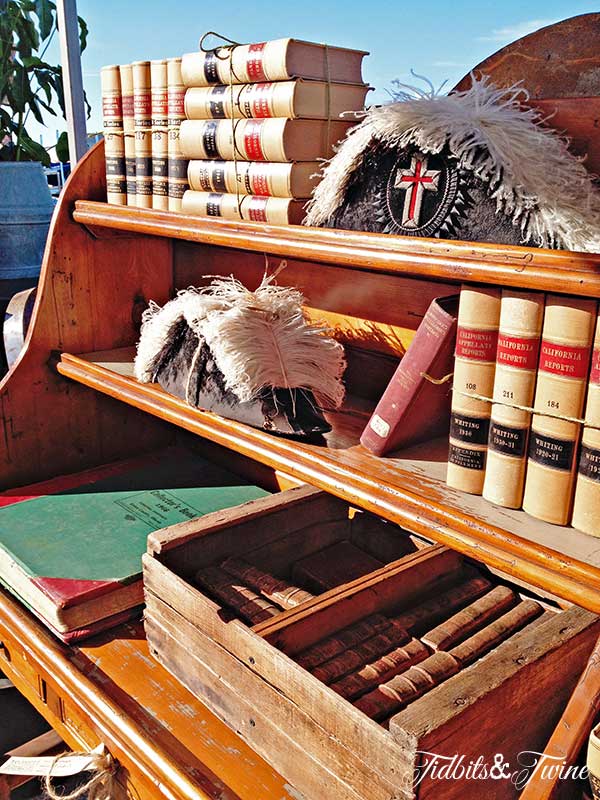 And Elsie Green had another amazing table display featuring vegetables this month….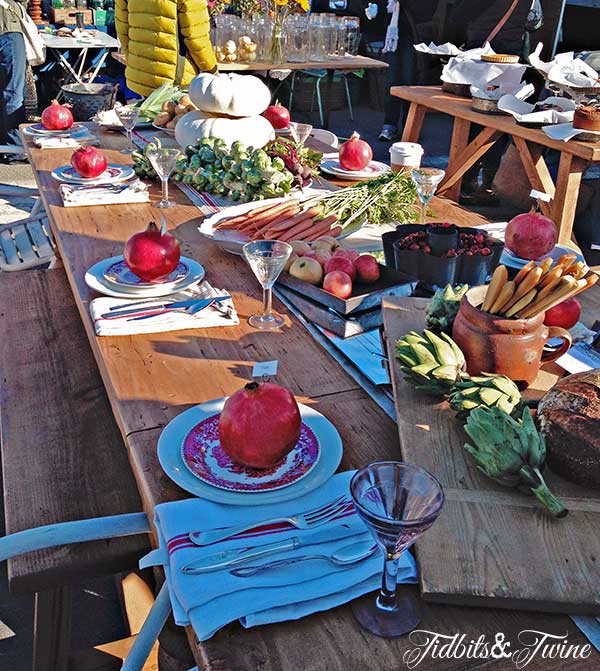 …plus a huge assortment of olive buckets and oyster baskets.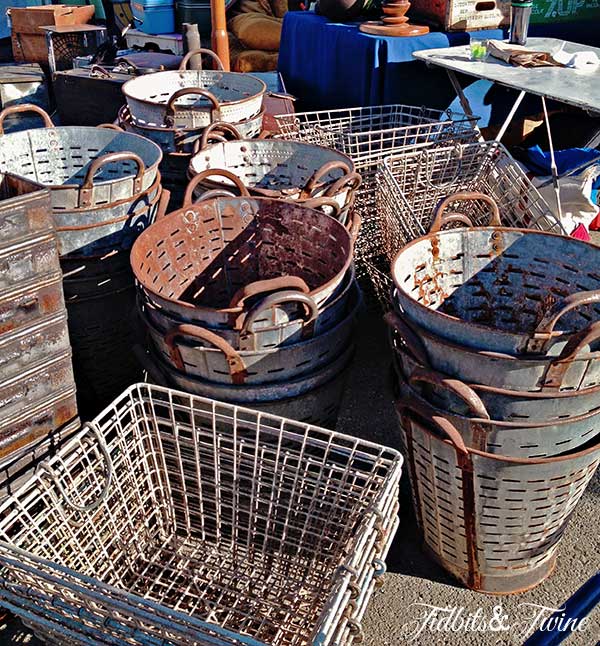 I am also in love with these oversized letters, but unfortunately, have no place to put them in my home.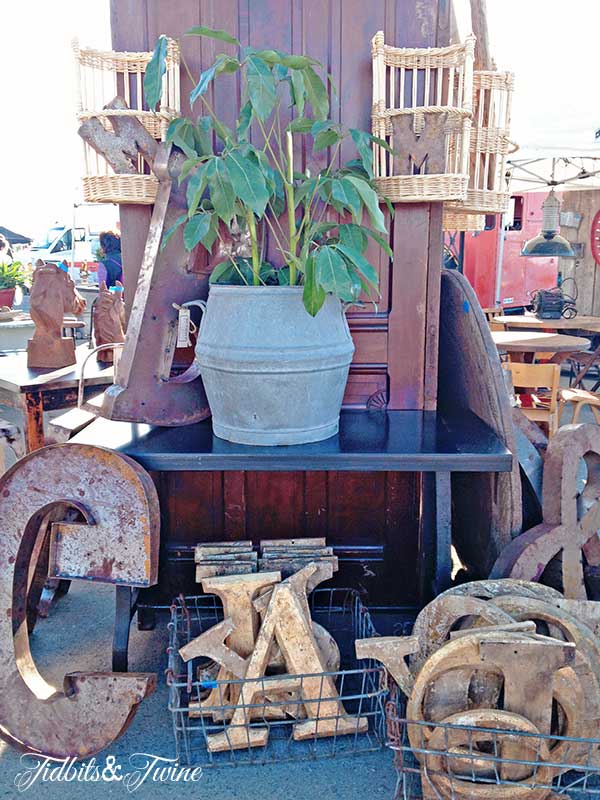 And would you believe that this set of vintage ironstone dinnerware was only $55 for the set? In hindsight, I'm wishing I had purchased it, but because it was missing a few pieces, I didn't.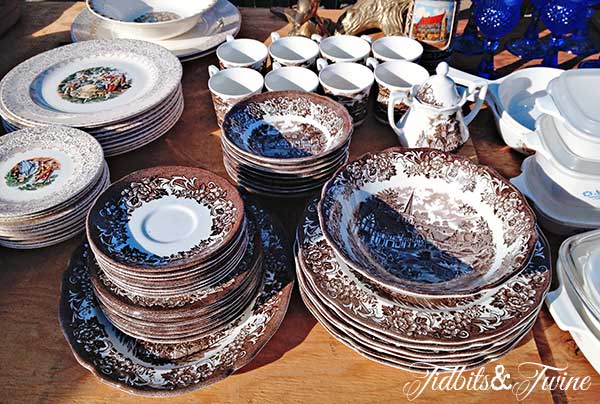 But the ironstone that I am most excited about is the soup tureen that I purchased! I've been searching for some time for a set that has all four pieces and is in good condition and was thrilled to find this one.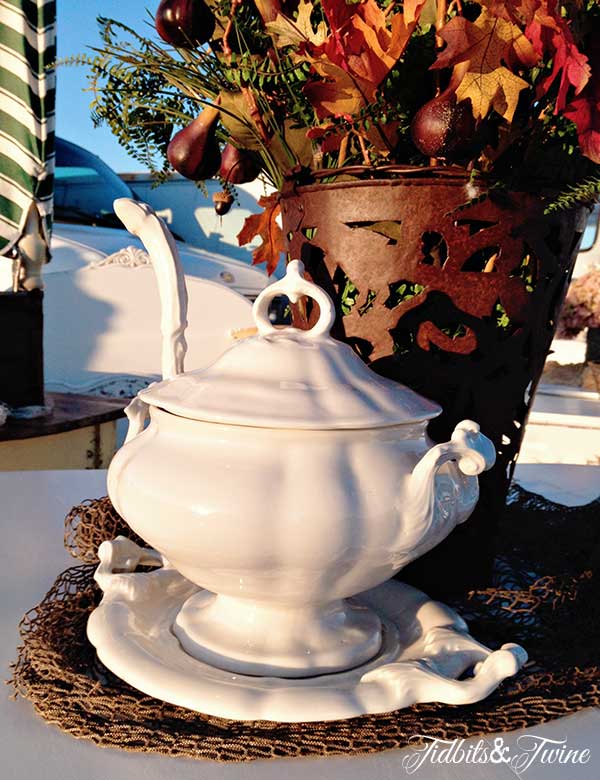 I love going to the antique faire, not just because I find some amazing pieces at great prices, but also to see the creative ways that vendors display their items or repurpose them. The inspiration I get from attending is priceless!

Would you like to receive my posts via email? Enter your email address below. You will instantly receive an email from FeedBurner and you will need to click the link to activate your subscription.
Join the Community
Let's keep in touch! Get exclusive artwork plus the latest news delivered directly to your Inbox!