If you've looked at new homes recently, you might realize that homes don't necessarily have formal living rooms anymore, but more often, home offices, libraries, or playrooms which are better suited to modern living. My house, however, was built in the 80's so I still have a formal living room just as you enter through the front door.
In the past, I've shown you glimpses of this room, but never the room in its entirety. Why? Well because it wasn't really furnished! I had new wingback chairs that I loved, but still had my husband's old college coffee table and an old love seat that my cat had completely destroyed. I actually listed it on Craigslist in the pet section as a scratching post. Yes, I really did. And thankfully, there was a lady locally who needed a scratching post for her cat and was happy to take it off my hands!
But I digress…..one day over the summer while browsing the consignment store, my heart actually skipped a beat. Could it be? A Restoration Hardware sofa in the exact length I needed? Yes, it was! And as a bonus, it was upholstered in Belgian Linen Sand which is the same fabric as my wingback chairs that are in the room! And if that weren't enough, it was an amazing bargain price! Needless to say, the sofa came home with me that day and my old loveseat went up on Craigslist.
You might recall that I had made myself a design board for the living room some time ago. Here's a look at what my plan was.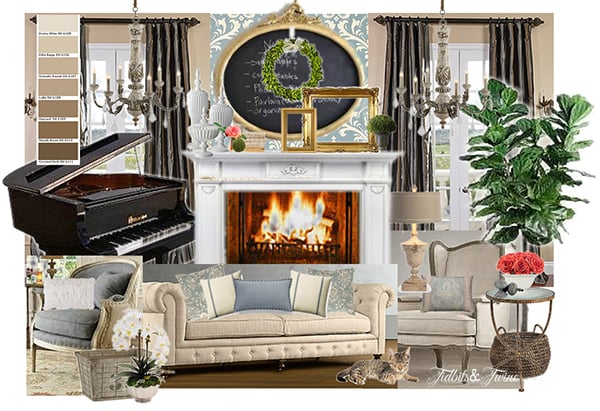 The new paint and lighting proved to be out of my budget but I was able to create a scaled-down version of my vision: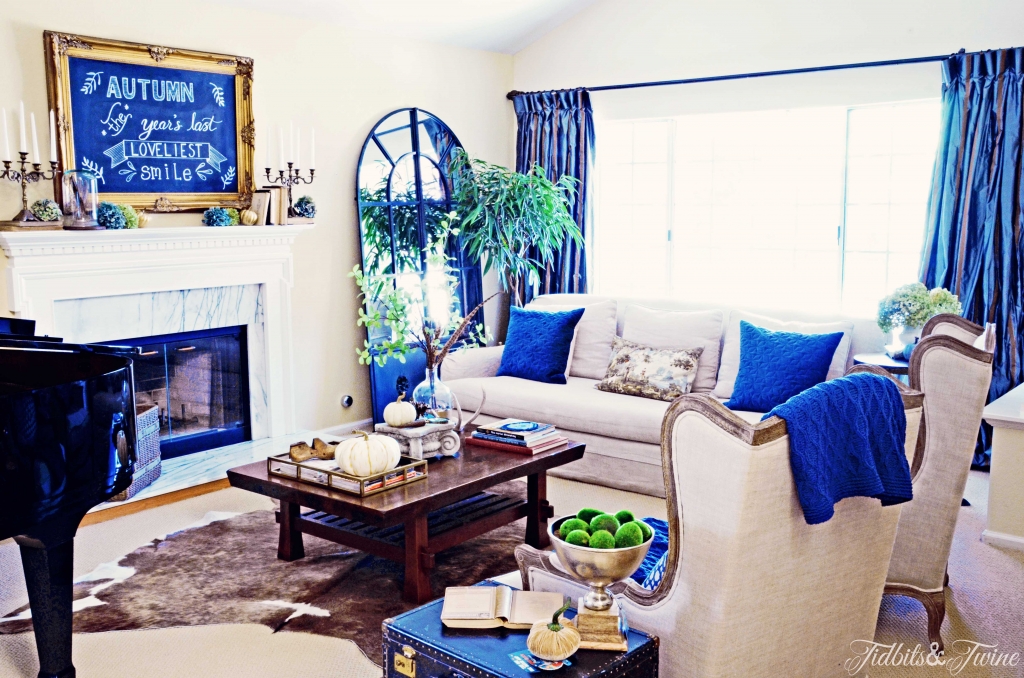 The sofa I found at the consignment shop wasn't the tufted Kensington I had originally wanted, but I am super happy with the what I ended up with, which is the Belgian Classic Roll Arm. I accented it with two down-filled blue pillows I found at HomeGoods and an accent pillow that my mom made for me from some fabric I picked up at Jo-Ann Fabrics.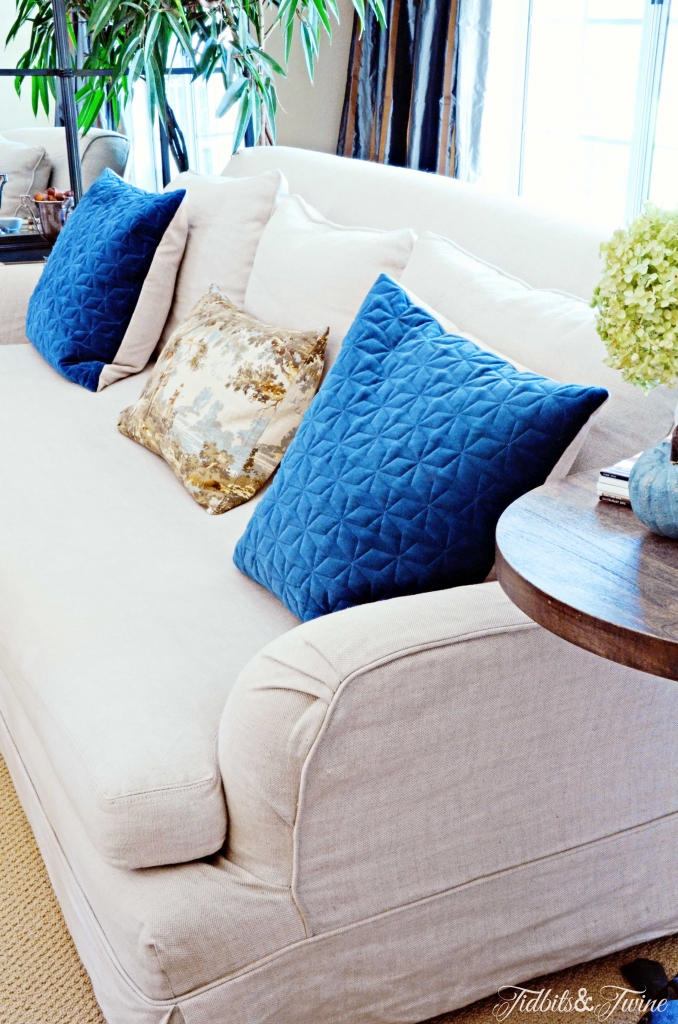 The room is currently decorated for Fall in preparation for the Fall Home Tour that is happening this week, but as you can tell, I opted to go with muted blues and greens instead of traditional Fall colors. While I've used traditional Fall colors in the past, I always find that I can't wait to take them down because I tire quickly of the colors since they are not my usual color palette. So this year, I decided to stick with my color palette and relay more heavily on textures to create a Fall look, including dried hydrangeas, pumpkins in white, grayish-blue, and gold, feathers, acorns, and antlers.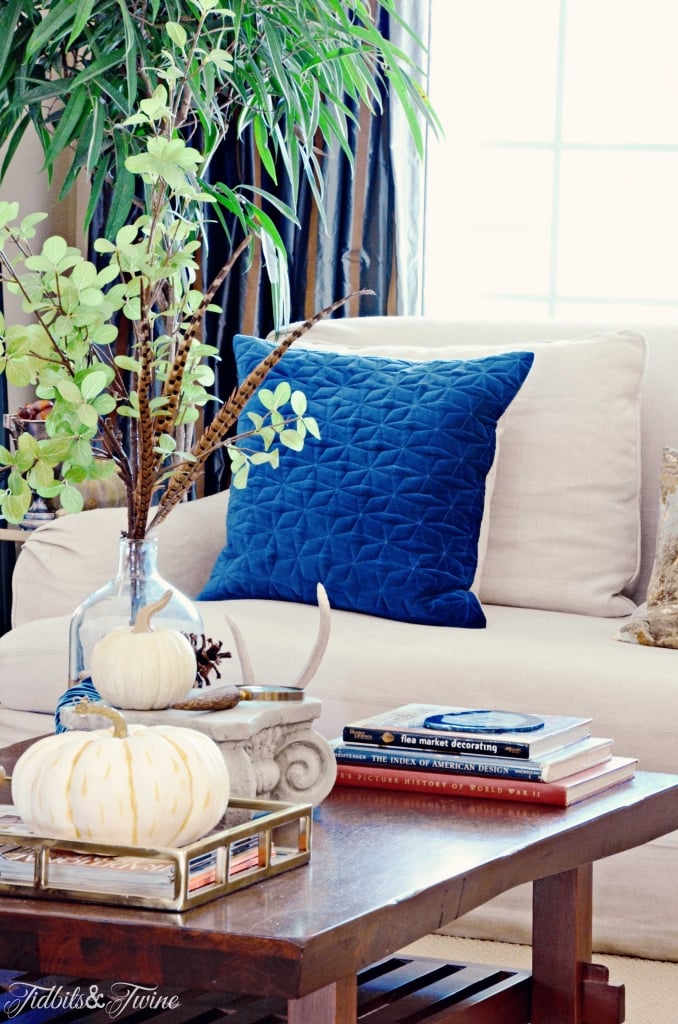 For the mantel, I left the gold framed chalkboard and my friend who has amazing handwriting drew a Fall saying for me. Didn't she do an amazing job?!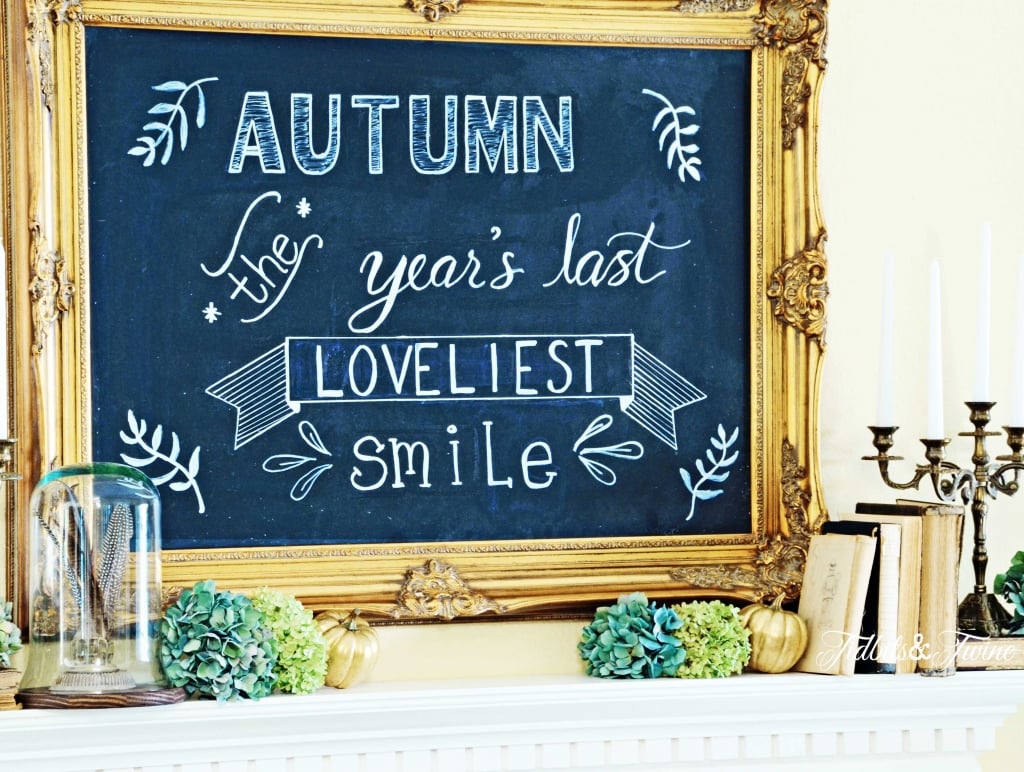 On one side, I accented it with hydrangeas, gold pumpkins, and feathers stuck in a vintage flower frog under a cloche.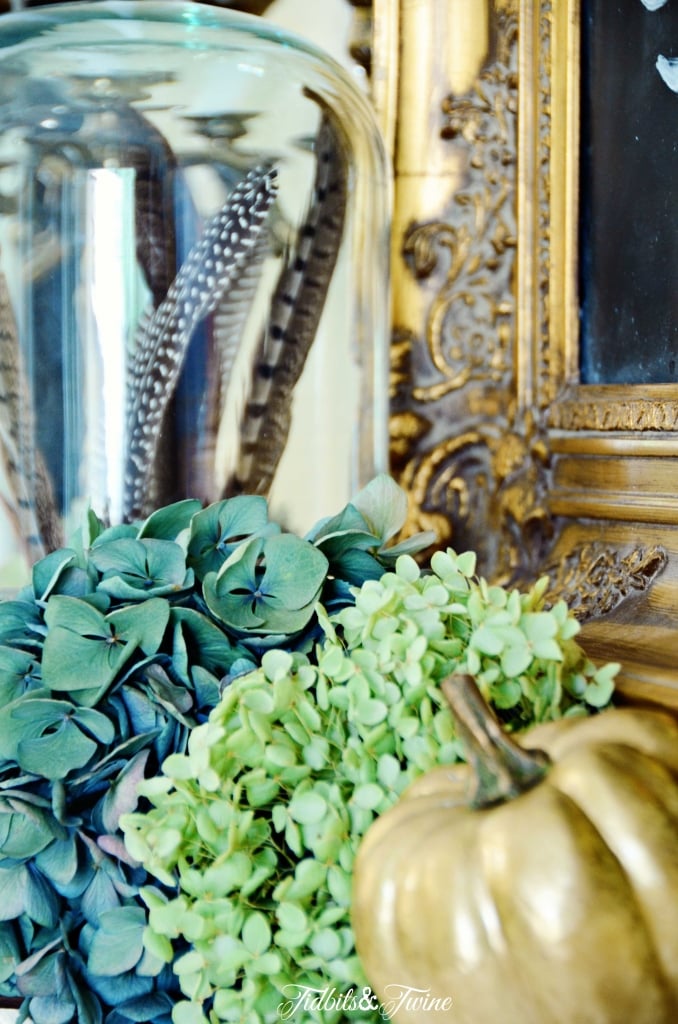 The other side has flowers and pumpkins and some old books for texture.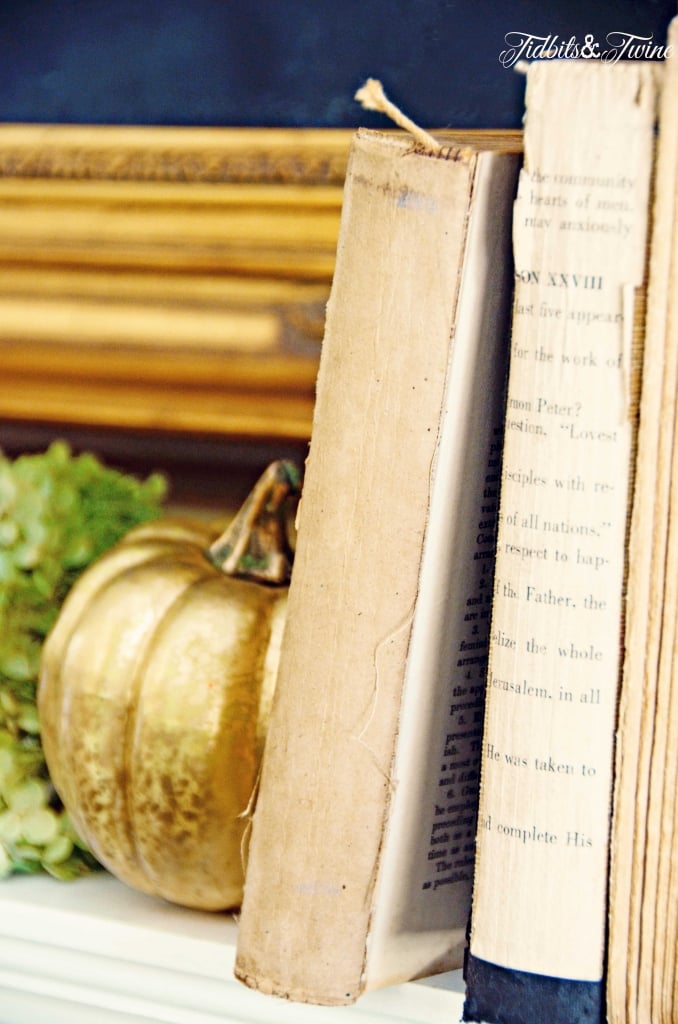 My wingback chairs face the fireplace and back up to my entryway. I'm using a stack of vintage suitcases as a small side table for one of the chairs. Also, you might recall that the blue shutters in the background used to be in my dining room flanking a gold mirror. I can't wait to show you what's in their place now!
So that's my living room as it looks today! I'm sure I'll continue to change things around, but I'm thrilled to finally have some seating in that room and thankfully, my cat doesn't like linen and so leaves the new sofa alone!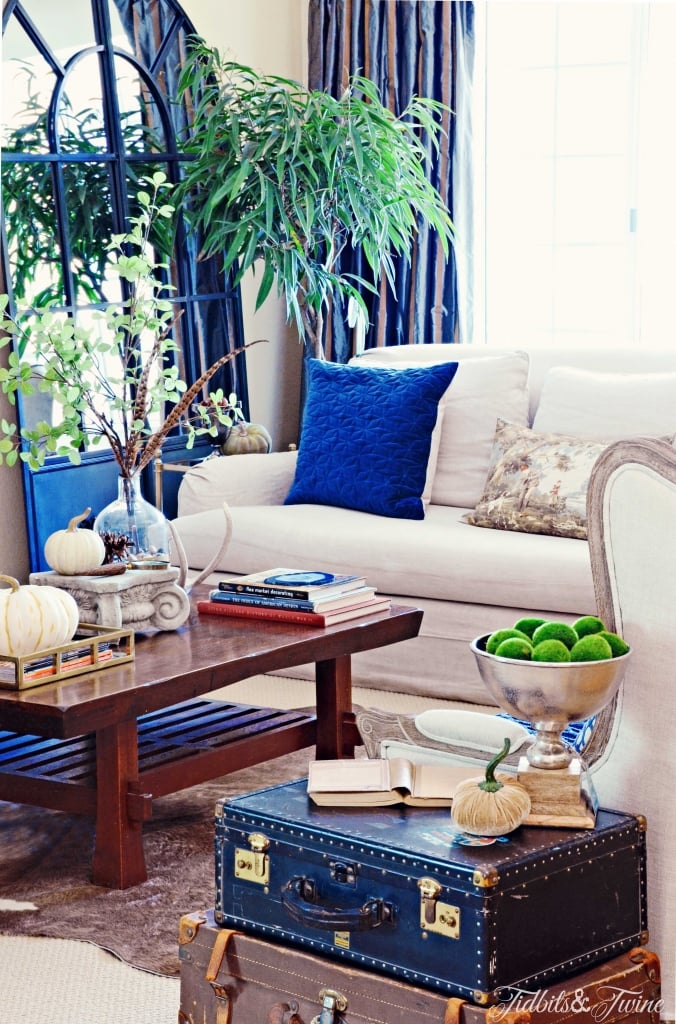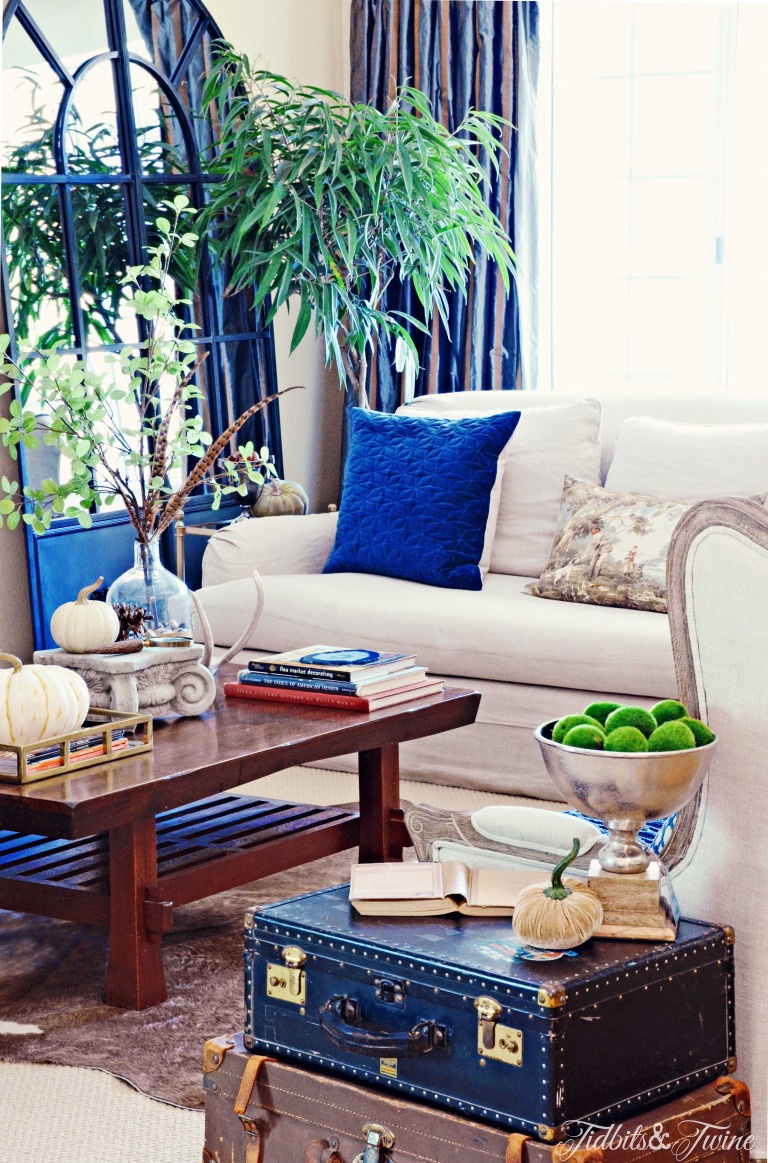 I'll see you again Friday for my Fall Home Tour, but be sure to check out these blogs that are sharing today!
Wed – Sept 9th

Join the Community
Let's keep in touch! Get exclusive artwork plus the latest news delivered directly to your Inbox!