Everything you need to know before buying a beautiful nostalgic Italian range from ILVE, Bertazzoni, or Officine Gullo. Learn the features, pricing, options, pros and cons, and more in this comprehensive guide.
As you might already know, we're considering a kitchen remodel. In thinking about my functional and aesthetic needs, I can't help but notice the vintage style ranges that are popping up everywhere these days.
Ranges aren't always the showstopper in a kitchen. But they can be!
If you've been following kitchen trends over the last few years, you'll know that nostalgic ranges are making a big splash. With a wide array of colors and finish options, these retro stoves are luxury statement pieces. But they don't just look good. In fact, many of them are professional ranges that can be enjoyed by even the most seasoned chefs!
While appliance makers like SMEG have captured the essence of 1950's appliances, the retro stoves I'm focusing on are old-world European looks, specifically France, Italy and England. This is truly where form and function collide.
Today, I thought we'd take a deep dive into three nostalgic Italian ranges that have caught my attention: ILVE, Bertazzoni, and Officine Gullo.
I'll share what I learned from my research including history, pricing, and pros and cons! You can use the Table of Contents below to quickly navigate this post.
The beauty of Nostalgic Italian Ranges
There's no denying that Italy is known for style, sophistication, and craftsmanship in all that they do. Not to mention their amazing cuisine! So it's really no surprise that there are some absolutely gorgeous nostalgic Italian ranges available in the U.S. market.
These ranges aren't just for looks but are very high-end in terms of innovative engineering and capabilities! And for me, once I saw how beautiful a range could truly be, I just couldn't fathom having something…well, regular!
In addition to gorgeous lines and enticing decorative details, these vintage-style ranges are available in more than just stainless steel. They offer colored enamel finishes, as well as options for metal finishes from brass, to bronze, and even copper.
I'm starting with a look at Officine Gullo, whose distinctive style is as distinctive to Italy as a La Cornue is to France. This brand was never really in my consideration set, though, because I knew it wasn't realistic for my home before I even started my research! But it's so beautiful and I thought you'd enjoy learning a bit more so I've added it to the list.
If you're looking to create a bespoke kitchen with a nostalgic Italian range, look no further than an Officine Gullo range. You've probably seen these in Architectural Digest, the New York Times, Elle Decor, and more.
History
Started by Carmelo Gullo in 1990, the company may not boast the long history of other Italian manufacturers, but the definitely boasts distinctive quality and style, as well as a slew of high-profile clients.
There are three factories in the Chianti area with the design center located near Florence. Even a cursory glance will showcase the dedication to detail and craftsmanship of the artisans who make them.
Officine Gullo is made for "those who enjoy the pleasure of good food and appreciate the art of living in a sophisticated atmosphere." These ranges can produce up to 35,200 BTUs!
Series
There are two main series of ranges in Officine Gullo: The OG Professional Series and the Fiorentina Series.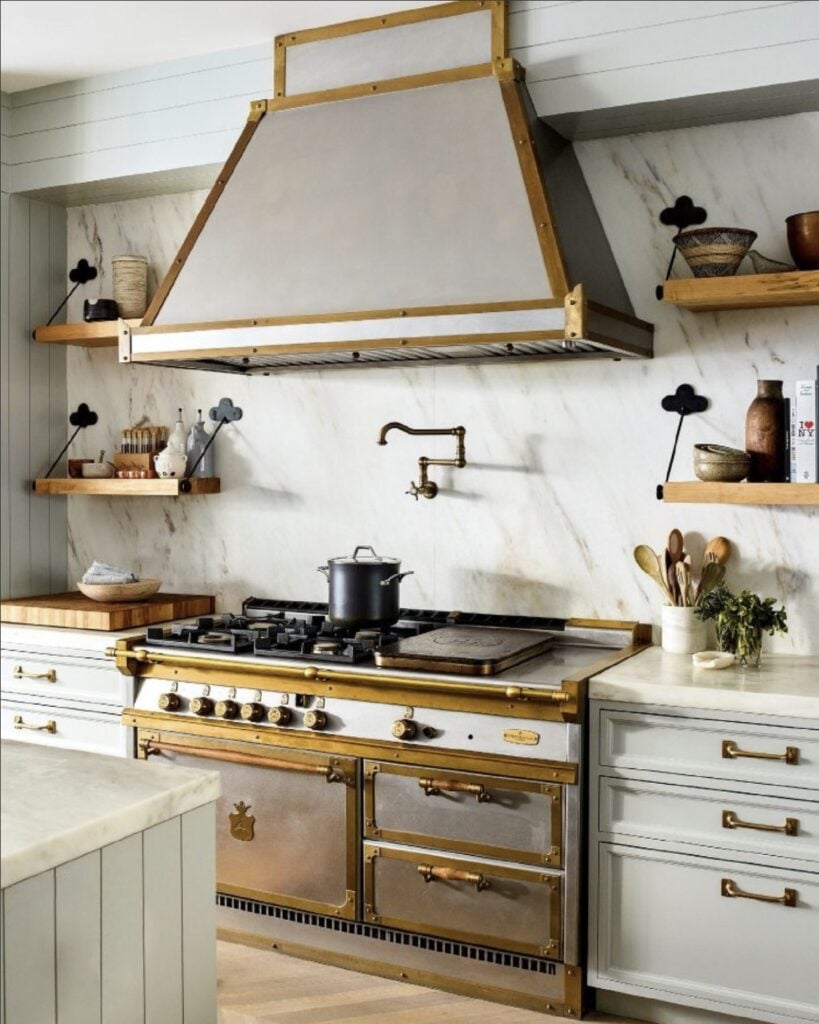 Customization
To list all of the customization options would be overwhelming. There are 212 colors to choose from, along with any RAL color match. Metal finishes include burnished or polished brass, polished or satin chrome, polished or satin nickel, or gold. There are 30 different cooktop options plus a choice of gas or electric oven.
Officine Gullo brings innovative technology to the home through appliances, cooking ranges and accessories, such as burners that can release power up to 10kW, lava stone grills, coup de feu, professional fryers, polished fry-tops, steamers, pasta cookers and refrigerators finished in anti-bacterial stainless steel, multi-temperature wine fridges, blast chillers, sous vide machines and everything else that is required for a kitchen to meet professional standards.
Sizes
These OG Professional ranges are measured in Centimeters and include: 88, 128, 148, 168, 188 and 208 cm. The Fiorentina ranges are measured in inches from 30″ to 72″.
Cost
Ranges are a minimum of $30,000 and can go up to $500,000. Prices are not readily available because their clientele is very exclusive and information is not available to the average consumer.
If you follow other bloggers online, you'll know there has been a recent explosion in the popularity of the ILVE brand! Why? Because the style is amazing and the price is affordable for a luxury Italian range.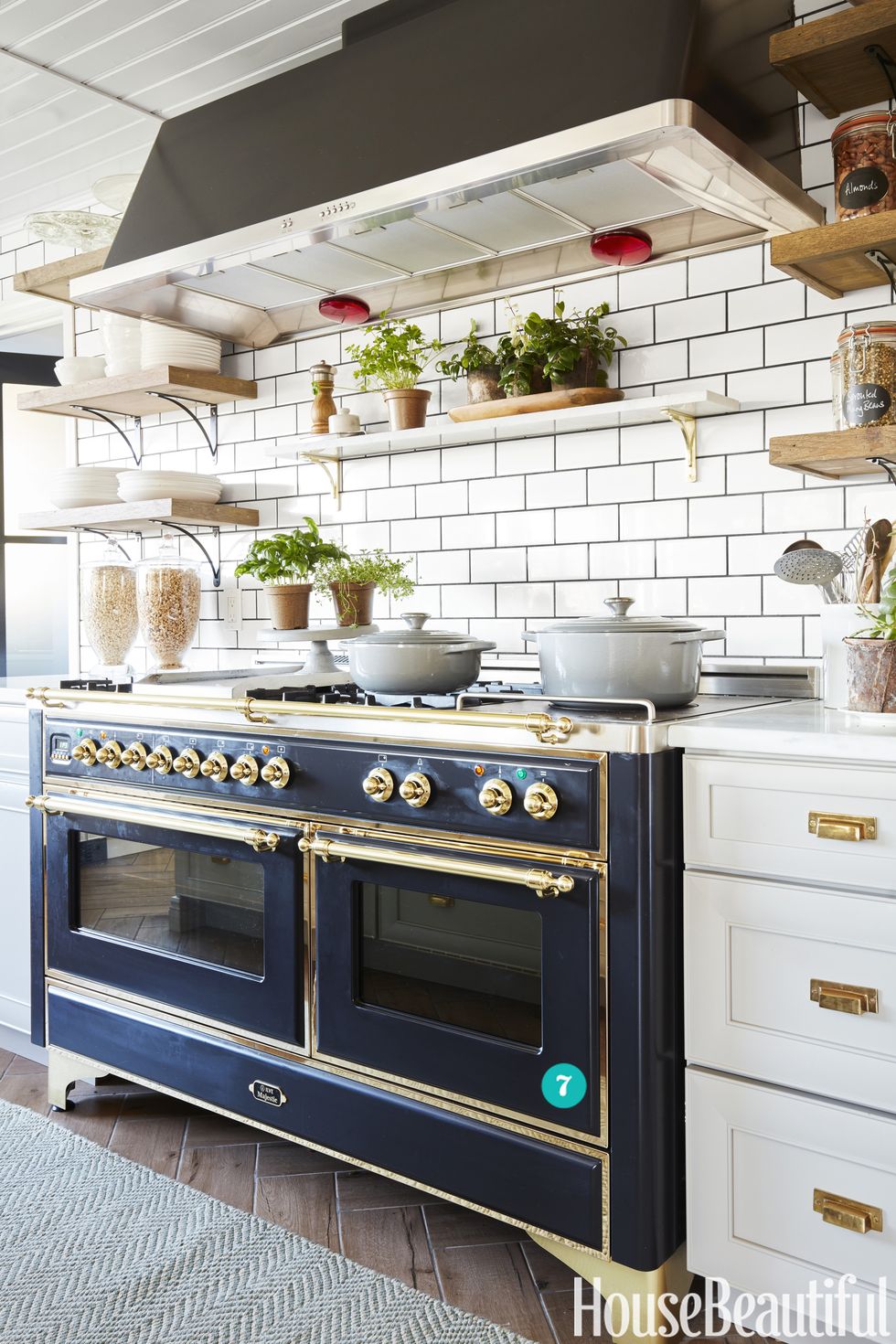 History
The ILVE brand (pronounded ILL-VAY) began in 1952 near Venice, Italy. Founded by Eugenio Illoti and Evelino Berno, all ILVE ranges are still handcrafted by artisans in their facility just outside of Venice.
Series
There are three series within ILVE: Majestic II, Nostalgie, and Professional Plus. I'm going to focus on the first two since they're aimed at consumers and have more of the old-world styling.
ILVE Nostalgie
ILVE Majestic II
The Majestic II has many more cooking features compared to the Nostalgie, but also comes with a higher price point. It has square windows, compared to Nostalgie's arched windows, but offers an induction cooktop up to 40″, whereas Nostalgie has a gas cooktop only. The Nostalgie series offers a dual fuel option if you prefer an electric oven but Majestic II is gas only. Depending on size, you can also add fun cooking accessories like a griddle, pizza pan and some come standard with a rotisserie.
They all have true convection, which means the convection fan has its own heating element and will allow multi-rack baking with consistent results. Both series also heat much higher than standard ranges, up to 500° F for Nostalgie and 575° F for Majestic II.
Customization
For both, you can choose from 9 standard colors, or pick any of the 213 RAL color of your choice for a custom look. You can also add custom claw feet to either (priced around $250 for brass). The Majestic II comes standard with plinth feet, whereas the Nostalgie comes with tubular. You can also change the color of the trim, choosing from chrome, brass, bronze, or copper (Majestic II only). There is also an option to add trim to the door, much like the look of La Cornue. You can also add an option toekick if you prefer not to have legs.
Sizing
Models are sized in inches and available in 24″ (Nostalgie only), 30″, 36″, 40″, 48″ and 60″. Their dimensions are given in inches and true to size, which is helpful for U.S. kitchens.
Pricing
The Nostalgie series starts at $4,000 and runs up to $17,000 for a 60″ Majestic II.
Pros
Styling:
I'd be lying if I didn't put styling at the top of the list! These ranges are absolutely stunning with gorgeous attention to details and customization options.
Pricing:
Compared to other high-quality Italition ranges, ILVE ranges are much more affordable for the average consumer.
Practical:
The glass doors offer practicality missing on other high-end, old-world European ranges.
Cooking Options:
There are 16 cooking modes for the Majestic II and 9 for the Nostalgie, plus cooktop configurations that can include a griddle, a wok, or a steam basin.
Cons
Learning Curve
Because these are Italian ranges, the double burners take a little more time to light than many Americans are used to with gas ranges. The manual recommends holding the ignition for 10 seconds. There is also a lot of calibration required for a professional range than a standard consumer might be used to.
Sizing
The depth of these ranges is 22″, which is shorter than standard U.S. cabinets at 24″. If you're retrofitting this range into an existing space, you'll need to fill the gap. If you're remodeling or building new, you'll need to plan ahead to have your countertop cut to fill the gap.
Double Oven
Looks can be deceiving! The 40″ ranges offer two ovens, but measure carefully. With the 40″ option, neither oven is a standard American size and typical items like a roasting pan or pizza pan don't fit. Always look at the interior dimensions of the oven and compare with your needs.
History
Founded in 1882 by Francesco Bertazzoni at Guastalla, a town in Emilia Romagna region, the company has been led by six generations of the Bertazzoni family. The company originally produced wood-burning stoves which were discontinued in the 1980s. It began producing gas stoves in 1956, adding electric stoves in 1975, and induction cooktops in 2005. To this day, Bertazzoni ranges are still made in Guastalla, Italy.
Series
Bertazzoni offers three main series of ranges: Professional Series, Master Series, and Heritage Series. Both the Professional and Master Series have a bit more of sleek look that works well in modern and transitional designs. Given that this article is focused on vintage-style ranges, the below refers only to the Heritage Series which combines classic styling with innovative engineering.
Sizes
The Heritage Series comes in just two sizes: 36″ and 48″
Pricing
Pricing for the 36″ model starts around $10,200 up to $17,00 for the 48″ with additional options.
Customization
Consumers can choose from three colors: stainless steel, powder-coated matte black and enamel ivory. As part of the Collezione Metalli, you can change the color of the knobs and end caps for an additional $1,500, choosing from gold, copper, or black nickel.
Pros
Craftsmanship
Bertazzoni offers excellent craftsmanship with good quality and a long history.
Large Capacity
The oven cavity is the largest in its class. The 36″ has a total capacity of 5.9 cubic feet, compared to ILVE at 3.5, for example
Full Appliance Suite
Bertazzoni also offers a full suite of kitchen appliances including hood, refrigerator and dishwasher so all of your appliances can match.
Cons
Gas Burners
As the U.S. slowly navigates away from gas burners to induction, the Bertazzoni ranges have yet to make this switch with their U.S. imports. Gas burners are the only option at this time.
Lacking Features
The base models have aluminum burners (versus brass) and no temperature gauge or storage drawer.
Temperature Regulation
Some users have complained that the temperature in their ovens varies greatly and is unreliable.
Size
With only two sizes available, a Bertazzoni might not be an option for some.
Additional Tips & Tidbits
Appliance sizes are not necessarily the same between Europe and the U.S. so check measurements carefully!
Check connection fittings and electrical/gas requirements prior to installation
Obtaining service and parts can be tricky depending on your location
Gass burners are being banned in some states, so you'll likely see a move toward induction in the future. Some brands are already making induction versions, others are not. Know your state and local laws regarding gas burners before making a purchase decision.
For baking, an electric oven bakes drier and more evenly and is preferred over gas. Gas ovens retain more moisture and are best for meats.
Checking shipping costs, lead times and whether there are any additional import fees or taxes when ordering a range from overseas.
A high-end Italian range can add value to your home during resale. While the potential buyers might not be familiar with the brand, any good real estate agent should be able to highlight the range's value.
I'm still trying to decide what range to get for my own kitchen. Do any of you own one of these nostalgic Italian ranges? I'd love your input!
More Decorating Tips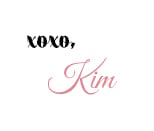 Join the Community
Let's keep in touch! Get exclusive artwork plus the latest news delivered directly to your Inbox!