Wondering what to expect in the world of home decor this year? I've rounded up my personal list of 2023 interior design trends to watch for the average homeowner. From moody hues to bold wallpaper and aged metals, this is shaping up to be a great year!
Believe it or not, it's that time of year again. The time of year when everyone makes predictions as to what we'll see happening in interior design for 2023. And of course, the predictions all depend on who you ask! Some say bold colors will be in, while others say it's all about neutrals.
So who is right?
Well, that's the thing about predictions. No one knows until after the fact. But, I've done my own research and created my own list of eight interior design trends for 2023 that I think will resonate most with my readers.
In researching for this year, one thing that I found interesting was how interior design is now heavily influenced by social media. While at one time it was the experts and manufacturers that helped to set the trends, these days, it's more heavily dictated by the average consumer who posts on social media. For example, the current Dark Academia trend in decorating really took off from TikTok!
Use the Table of Contents below to navigate through the article!
Should You Follow the Trends?
Looking ahead to what's "new" in interior design is something that I look forward to every year. While some are just passing fads that don't really catch on, others seem to have more sticking power.
Those that tend to last are the ones that are more affordable, approachable, and adaptable… After all, no one wants to jump on the bandwagon only to find out that their house looks dated within months!
Personally, I can't say that I really follow the trends. But the truth is, I can't help but be influenced by what I see in the stores and online. So while I might not set out to follow a trend, sometimes, I see it and fall in love and the next thing I know, I'm all in!
But I really only like trendy things that I think will have longevity. I don't want to wallpaper an entire wall with a bold geographic wallpaper one year, only to have it look dated and "out" the next.
To me, the best trends are ones that inspire us and broaden our interests, but that have staying power.
The Best Decorating Trends for 2023
Delays in manufacturing and shipping have caused the style evolution to slow a bit, so several of the top decorating trends for this year were on last year's list as well. Things people ordered last year are just arriving this year, so last year's items are still "new" this year!
Curvy furnishings, heavily textured accessories, natural materials, vintage pieces, and maximalism still reign supreme this year. Add to that some bold paint choices and striking wallpaper picks, warm & mixed metals, and pops of black, and 2023 is shaping up to be a fantastic year for home decorating!
2023 Design Styles to Watch
2023 is really marking a shift in design styles. One shift is that there's a much broader range in terms of what is trending. Instead of "everyone" doing white kitchens or "everyone" painting their walls navy, you'll see everything from white cabinetry to rich woods trending in 2023 and paint colors of all shades. 2023 seems to be more about personal expression than what is "trendy".
One exception to this is that you'll see less Minimalism in 2023 and more Maximalism. This is because there's an emphasis on luxury in 2023 that incorporates lots of layers in home decor. If Minimalism is more your style, though, you can always select furnishings and accent pieces that reflect simplicity to give a more streamlined look even if you do incorporate more layers.
A Note About Farmhouse
Farmhouse, however, hit its peak a few years ago and has been trending down since. At this point, the old version of Farmhouse (think country signs, buffalo check and shiplap walls) has pretty much fallen away in favor of a more sophisticated version of Farmhouse. Many of the elements of farmhouse design were rooted in history and so will never fall out of style, but instead of going ALL Farmhouse, you'll see farmhouse elements mixed in with traditional and contemporary.
So is it time to remove your shiplap walls? Not necessarily, but this year, you might paint them a dark moody color instead of white! And perhaps mix in some additional fabric choices, like a great velvet curtain as one of your layers!
2023 Home Decor Trends
I've read and researched a variety of predicted trends and have narrowed down the list to my own personal predictions. These are the things that I think will be big in 2023!
I've tried to specify how you can adapt each trend to suit your own taste as well as which things I believe will give you the biggest bang for your buck.
1. Moody Paint Colors
Color on the walls is making a big comeback! People are foregoing whites, taupes and grays in favor of bold, moody colors.
You'll see a lot of designs that include black walls (Tricorn Black from Sherwin Williams is a favorite). But really, the moody trend includes deep blues, eggplants, greens, and browns as well. These colors are dark but not so dark that they are over-saturated and flat.
Farrow & Ball is really leading the charge when it comes to creating these nature-inspired moody colors. Many homeowners, though, color match to a less expensive brand for budget reasons.
While these dark moody paints are trending right now, they're using nature-inspired colors which I really think give them a classic look. If you have an open floorplan, it's not easy to separate one room to make it your cozy cocoon, but that's what makes using these dark choices perfect for bedrooms, bathrooms, and laundry spaces.
While a lot of designers are embracing moody paint colors for cabinetry, you can opt for a less expensive approach by painting the walls in a darker hue. Changing a wall paint is much easier than changing or painting your cabinetry if your taste evolves over time.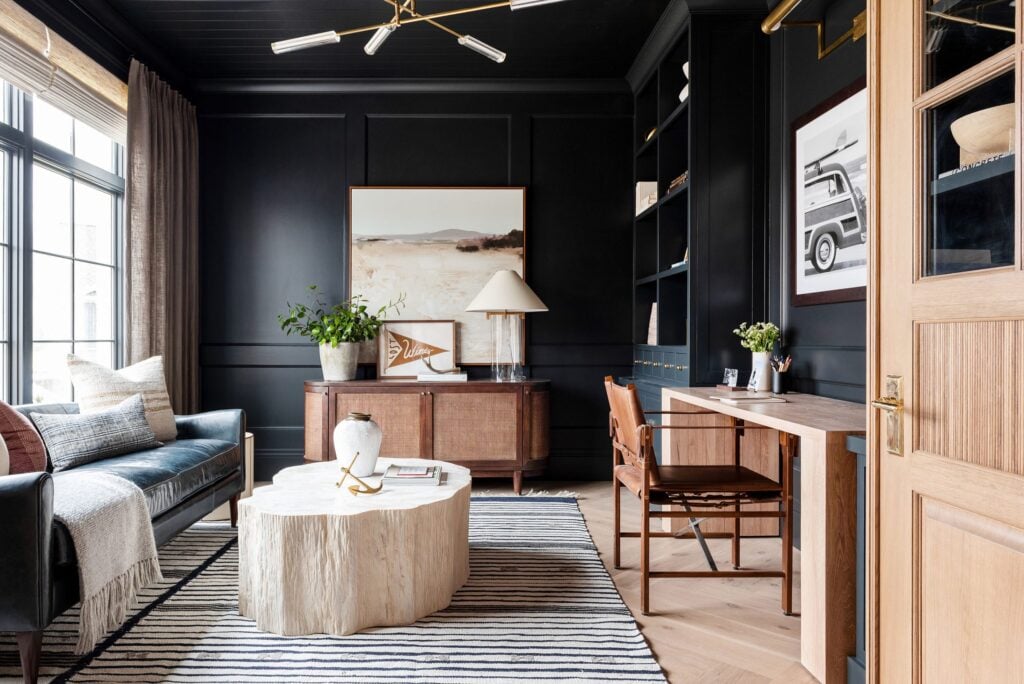 Alternatively, you can embrace darker-colored accents if you just want to dip your toe into the trend. Try adding one large black or charcoal piece of furniture, like a bookcase or media cabinet. Or just use dark-hued pillows and rugs!
2. Rich Wood Cabinets & Furniture
With dark, moody paint colors and accessories popping up, it's no surprise wood tones are leaning in the medium to light direction. These medium wood tones help pop against their darker wall and cabinet counterparts, while also conveying a sense of depth and luxury.
These warm wood tones are earthy and rich, from honey-colored oak, to deep mahogany or rich walnut. You'll see them this year in cabinetry in kitchens, bathrooms and laundry rooms. But you'll also see warm woods come into play in coffee tables, side tables, and even wood accents!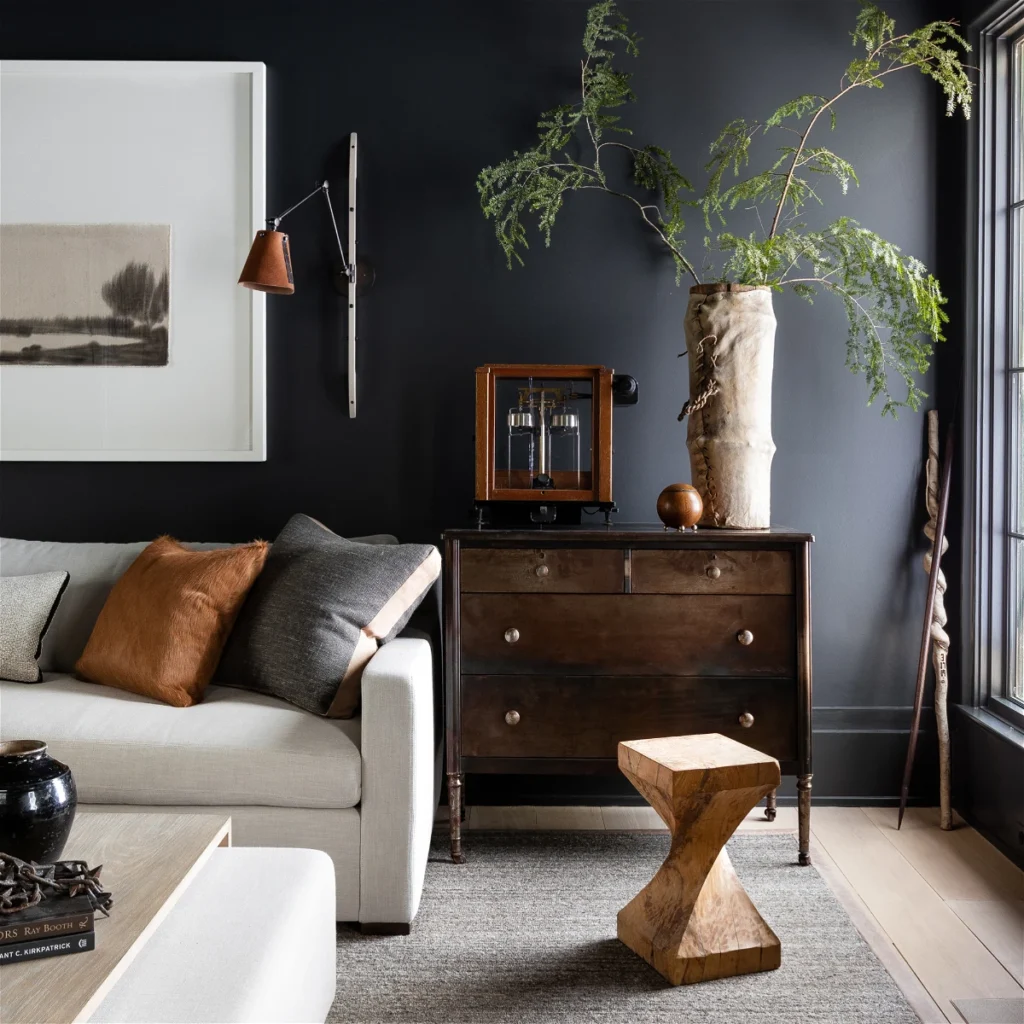 But if you recall the Tuscan trend of the early 2000's, you'll know that there can be too much of a good thing! Use your warm woods as a layer in a space that is balanced with whites and creams to avoid a heavy-looking and heavy-feeling space.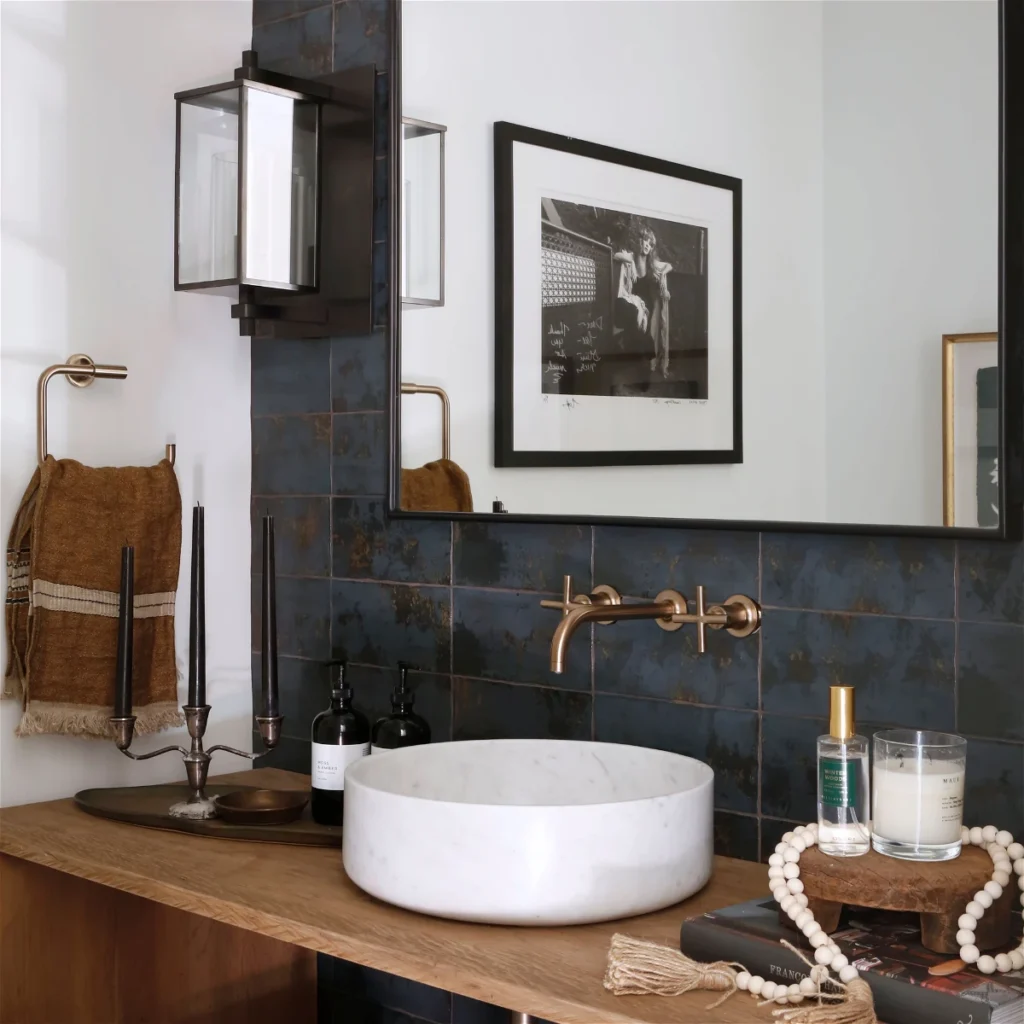 3. Natural Materials
Nature-made materials will continue to dominate in 2023. Natural materials are unmatched in beauty and really help to add texture, dimension, and a sense of luxury to a space. And the real beauty of using natural materials? Nature never goes out of style.
These natural materials include marble (particularly statement marble pieces), rattan, sisal, real wood, and even live plants!
In kitchens and baths, marble is the go-to for most designers, but it's expensive and takes maintenance. Quartzite is on the rise for countertops, as opposed to quartz. Granite remains popular as well, although there is a trend away from a more speckled look to a striated look of marble or quartzite.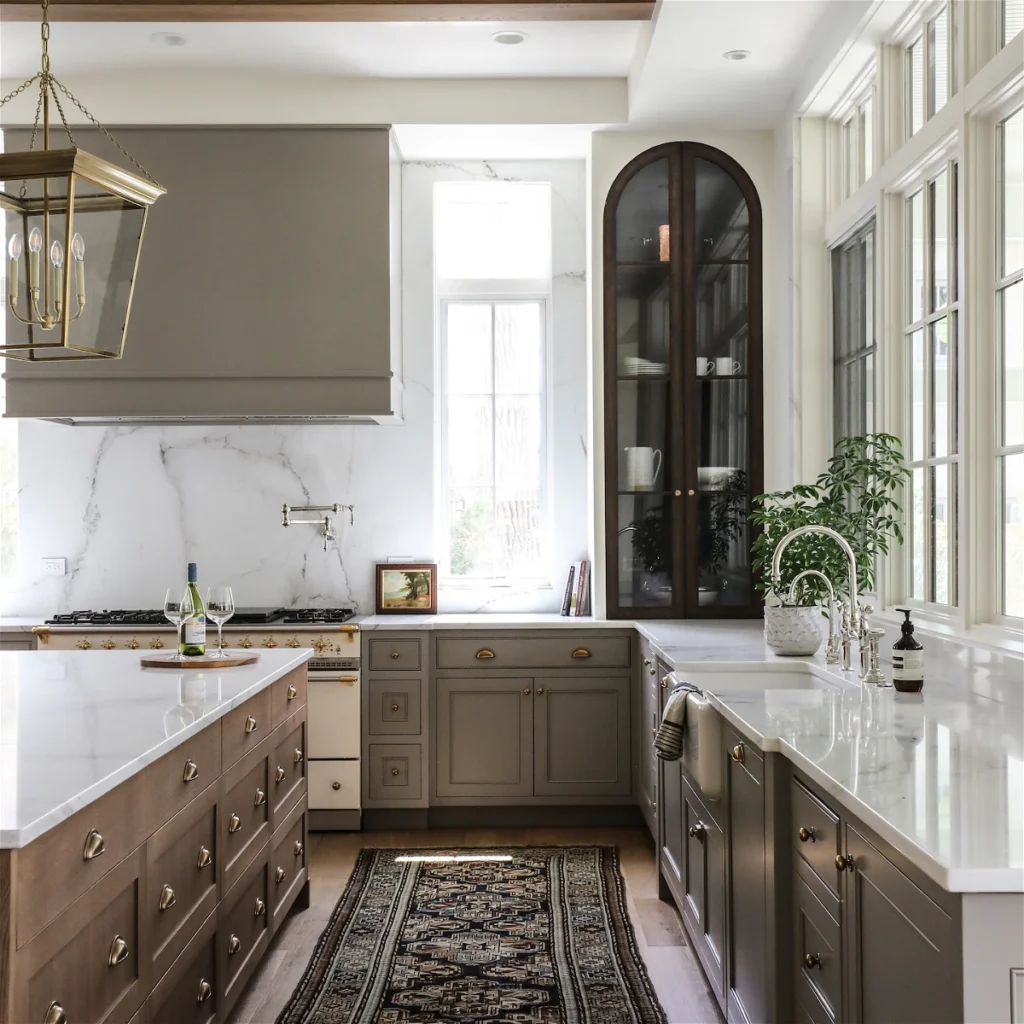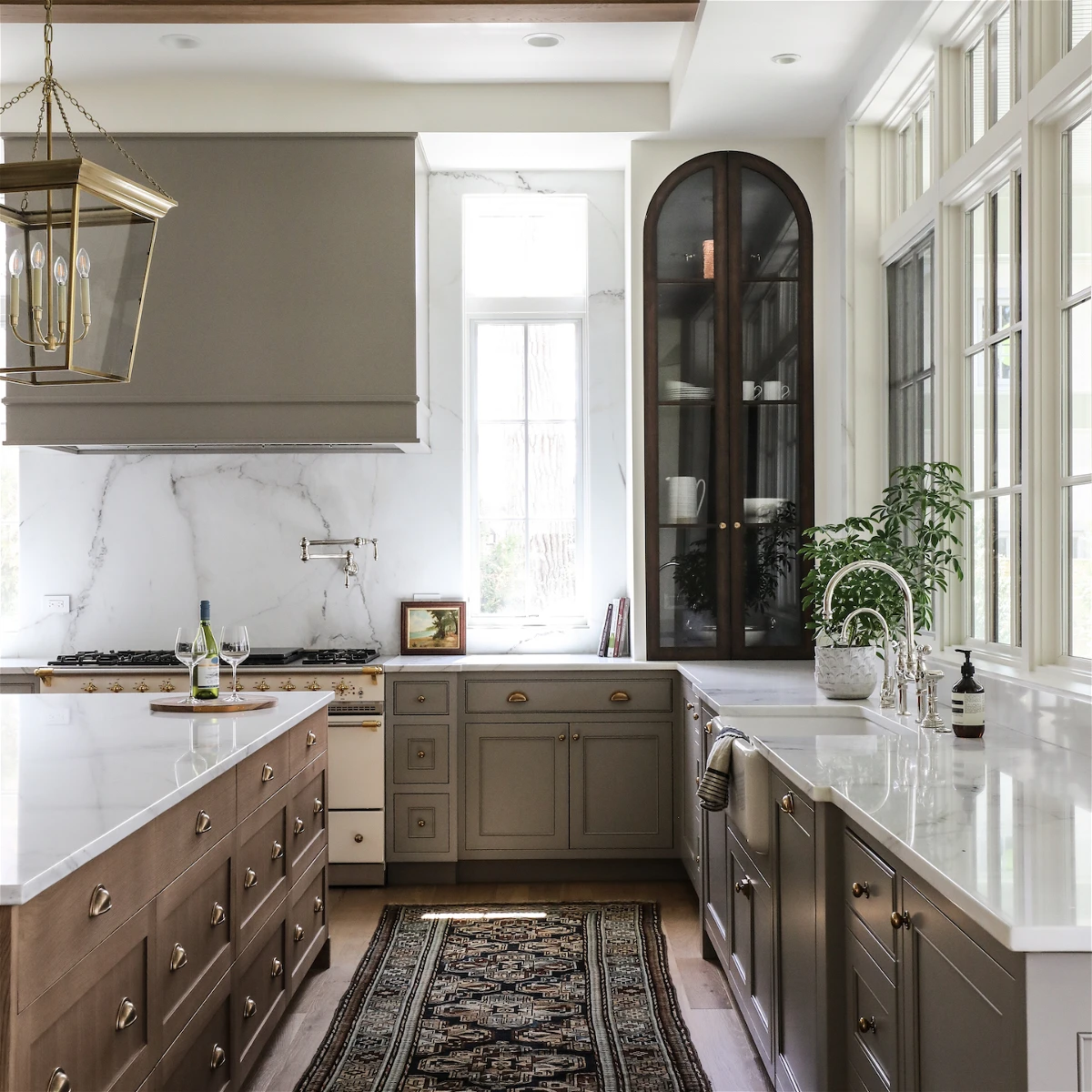 In terms of fabrics, you'll see a mix of organic fabrics used in tapestries and furnishings, including cotton, linen, velvet and wool.
A Note About Boucle
While the 2022 boucle trend is continuing in 2023 as the 70s vibe is very in fashion right now. If you want to create a timeless look but still incorporate some of this trend, I'd personally advise using it for an accent pillow, as opposed to an expensive sofa, for example.
Is Zellige Tile Trendy?
I'd be remise if I didn't make mention of Zellige tile, which is absolutely everywhere right now! Yes, it's trending in 2023. Does that make it trendy?
Well, yes and no.
Zellige is a clay tile handmade in Morocco that has been used for centuries. Typically, it was used for creating mosaics, but the current trend uses Zellige tile in a monochromatic palette. Because every tile is unique in color, texture and shine, even a monochromatic Zellige tiled wall makes quite a statement!
Zellige fit perfectly into so many interior design trends for 2023, as it's an old-world natrual material that is quite luxurious. Plus, you can use it with almost any design style!
My personal opinion is that certains shapes or installations will eventually look dated, even if the tile itself is timeless. For that reason, make sure you really love it before installing and think about what installations might provide a more timeless feel.
As an example, I personally think neutral Zellige tile in a rectangular subway shape with a staggered pattern will have a more timeless look than a rectangular colorful stacked tile. If your decorating style is meditteranean, though, well then, the sky's the limit when it comes to Zellige!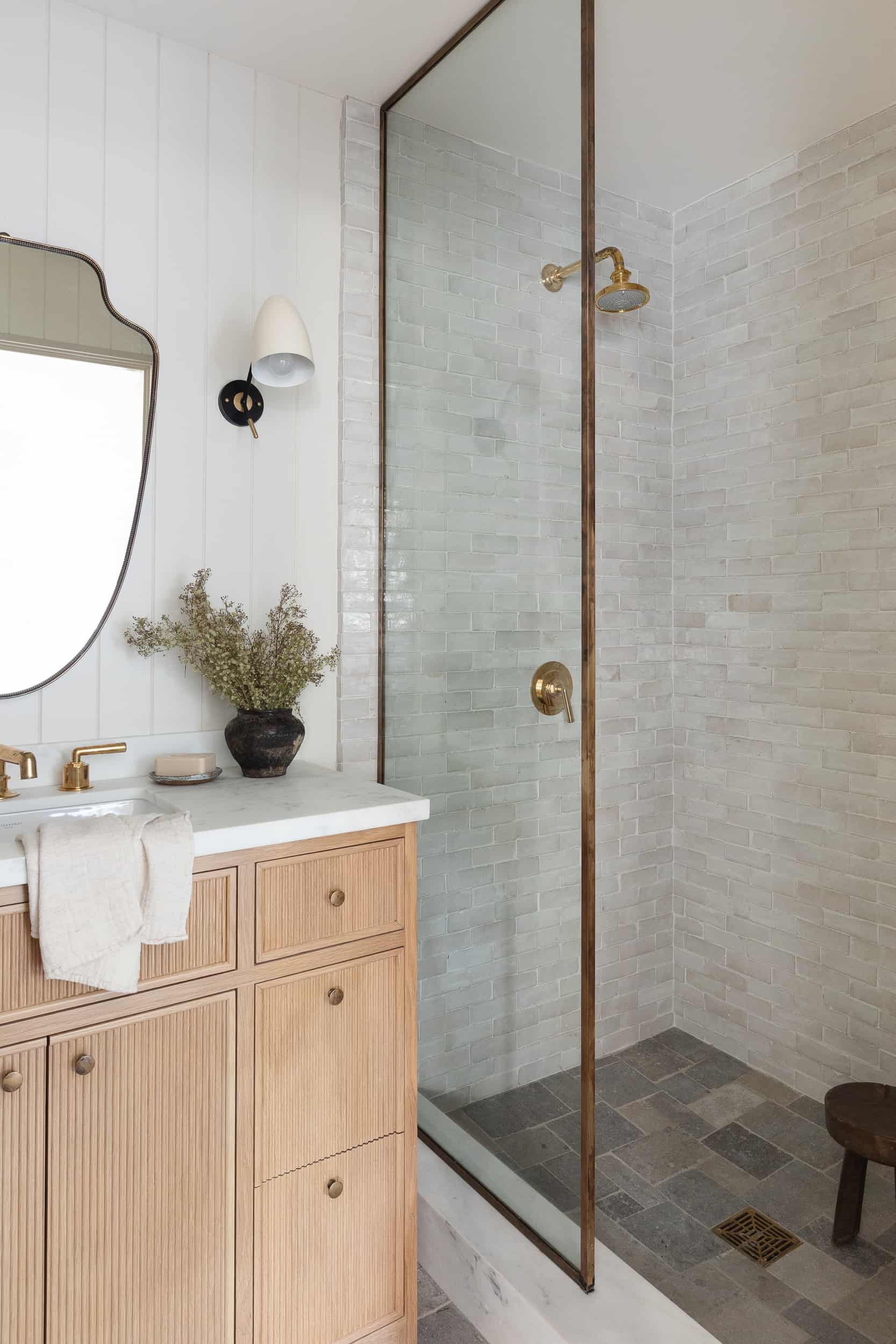 4. Old is New Again
Given the evolving desire for craftsmanship, it should be no surprise that vintage and antique items are making a resurgence. These older pieces allow homeowners to individualize their space with one-of-a-kind and unique pieces that reflect their individual tastes. Mixing in vintage pieces also helps to eliminate the matchy-matchy look and incorporate use a mix of high/low price points.
Selecting antique or vintage items really helps to give your home a unique look and feel. You can select items that showcase your style and personality! Perhaps these are heirloom pieces handed down over time, or they might be fun finds that you've thrifted. Either way, bringing something "old" into your space is an easy way to create a unique look.
5. Wallpaper Wows
Wallpaper has been trending for a few years now and seems to be picking up speed. Rather than an entire wallpapered bedroom, though, we're seeing maybe just an accent wall. Smaller spaces like powder rooms and laundry rooms are where people are testing their limits and going big.
In keeping with the moody paints, these wallpapers have bold, dark colors in floral or geometric patterns. And the quality and designs of peel-and-stick wallpaper have really come a long way! So if you're hesitant to make such a big commitment, adhesive wallpaper might be a great option for you!
Also trending in wallpaper in 2023? Wallpapered ceilings, of course! The ceiling is often referred to as the "fifth wall" and is sometimes overlooked when decorating a space.
Personally, I love the idea of wallpapering the ceiling for a bit of personality and creativity!
6. Luxurious Living
Do you recall the days when everything was sleek, gray, and minimalist? Well, those days are finally behind us because traditional design is staging a comeback! 2023 is all about luxurious details and expert craftsmanship.
Sleek, simple, cookie-cutter designs are falling out of favor as consumers look for something more sophisticated and timeless. This version of luxurious living is all about warmth and comfort, as opposed to glitzy and shiny. Think of ornate crown molding, hand-woven rugs, upscale window treatments, and rich wood tones.
Luxurious design doesn't have to be expensive, though! Careful thrifting and heirlooms help to achieve a mix of price points.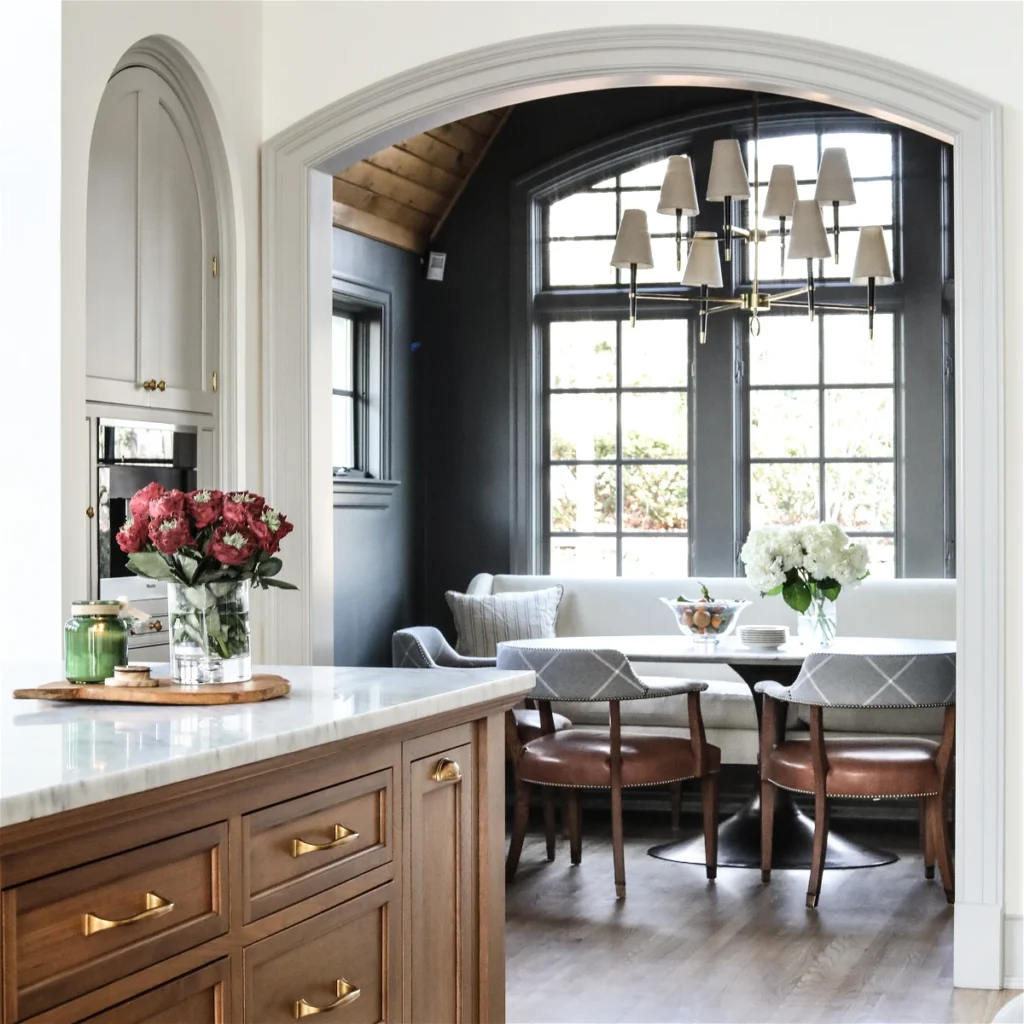 So as you pick out furnishings and decor in 2023, pay close attention to the details and craftsmanship. Look for embellishments that make the piece unique and not so cookie-cutter but in a way that is meaningful to you and expresses your style.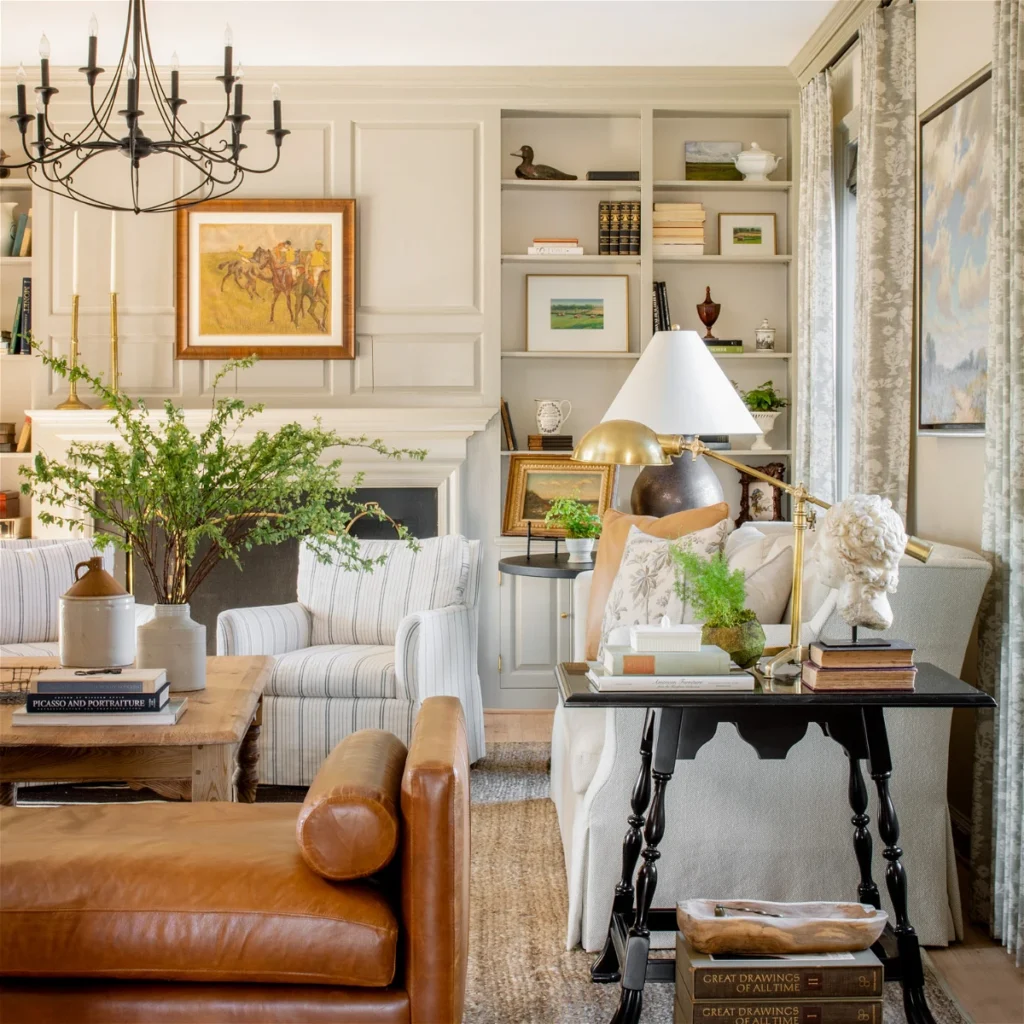 7. Warm Metal Finishes
A curated home gives an air of sophistication and with that, you'll often see mixed metal finishes. Gone are the days of matchy-matchy so each fixture can have whatever metal finish you want!
Plus, mixing your metal finishes can be more economical during a renovation or update. If you're willing to mix your metals, you can update a light fixture, for example, without feeling like you need to replace all of the other finishes in the room, too.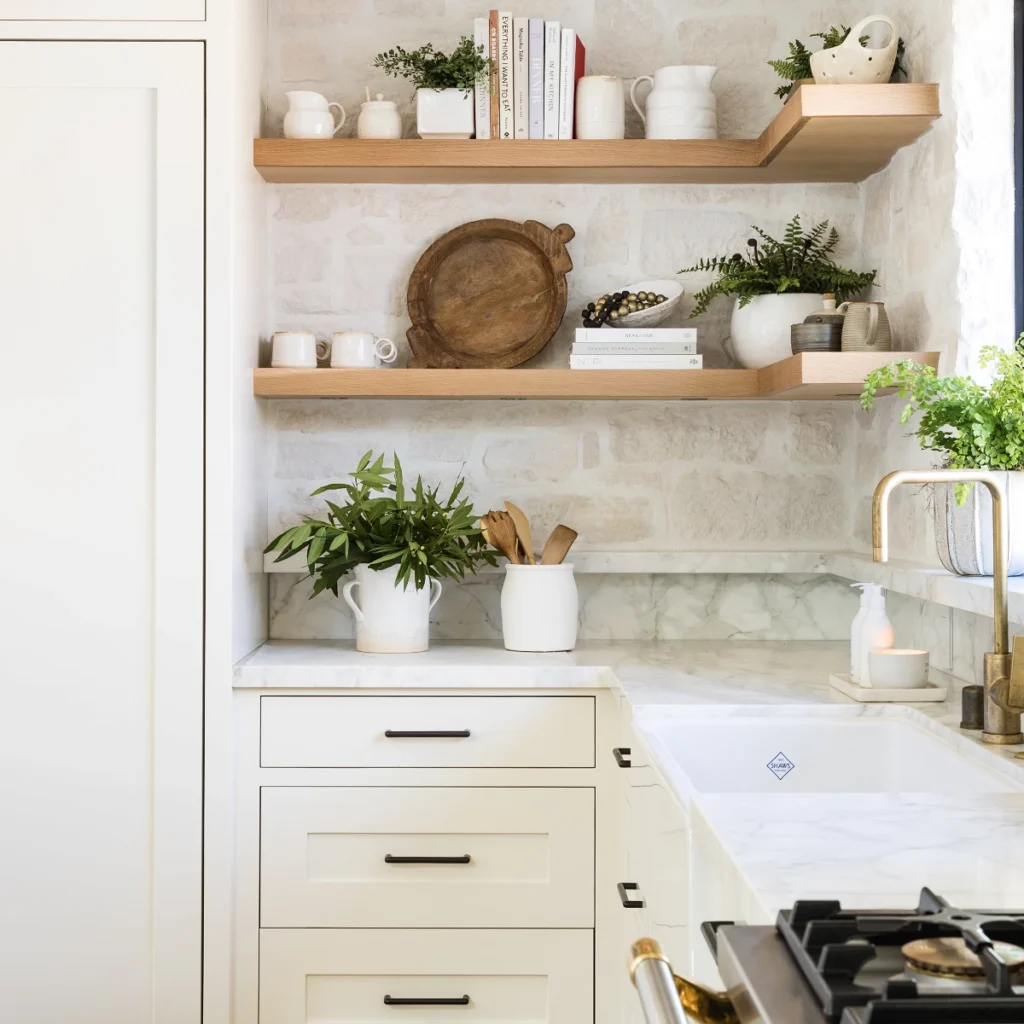 But more specifically warm metals are trending right now. Brass has made a bold comeback over the last few years and will continue to dominate in 2023. This isn't the same brass used in the 80s that was a very yellow and very shiny polished brass. Today's brass is a bit more subdued, even if you opt for polished. But brushed brass and aged brass are also quite popular, as is unlacquered brass. Because brass is a natural material, if left unlacquered, it will age and patina over time giving it a more organic look.
8. Black Accents
Let's be honest. Black is CLASSIC! Black never goes of out style, but the way in which is used might change over time.
The color black adds depth and richness to a space and offers a nice contrast to other decor. Some might go bold and try a black wall for the moody look, but black accents are also trending in home decorating.
You'll see a lot of black-framed windows replacing traditional white. Also popular are black and white checkerboard marble floors.
You can incorporate black in statement lighting, like chandeliers or oversized floor lamps. Also look for furnishings with black legs (perhaps mixed with natural wood?)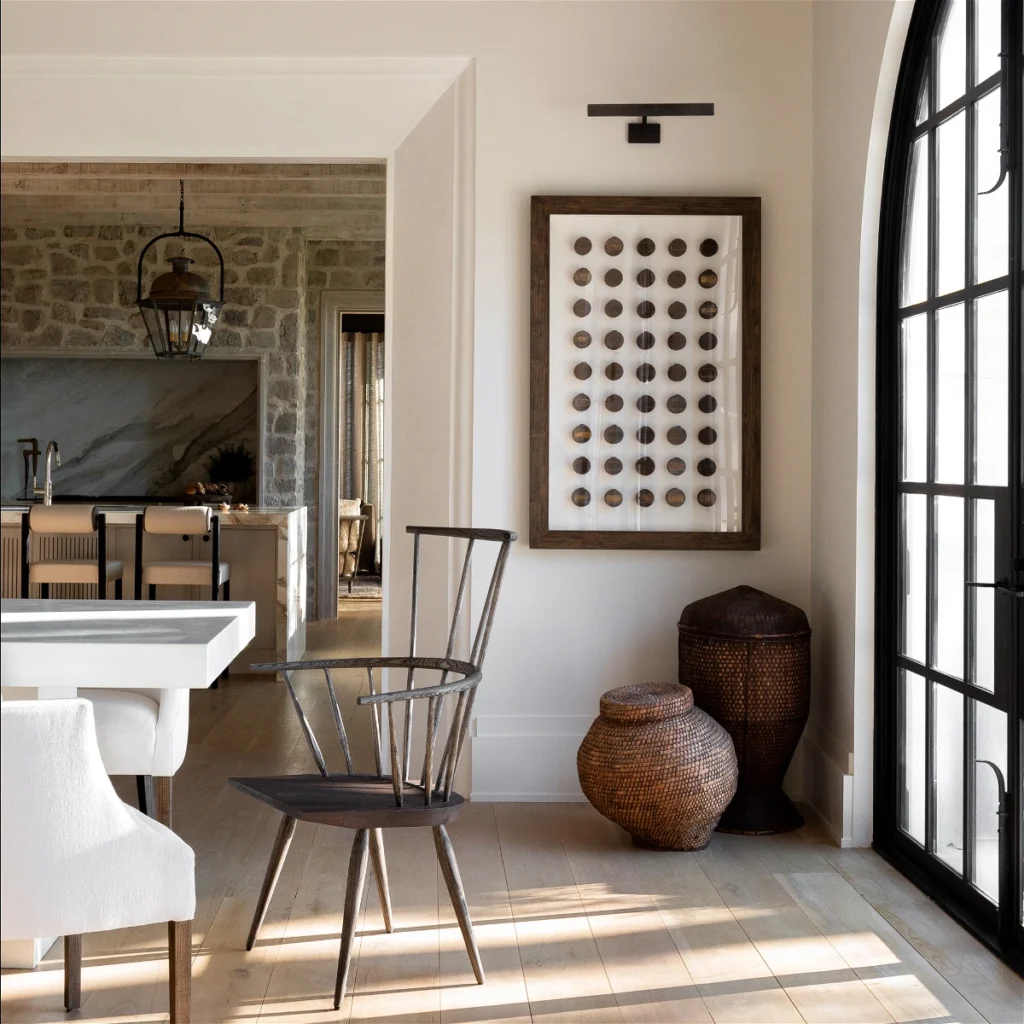 Additional Tips and Tidbits
Use darker wood tones with restraint. Make sure to balance them with lighter counterparts.
Boucle is trending but if you want to keep your sofa for 5 or 10 years, I'd stick to the classics like cotton, linen, or velvet.
Zellige tile is everywhere right now! And while it's made from terracotta and fits with the natural material craze, I'd be cautious about how you use it unless you're going for an Old World look.
So long shiplap! As I predicted a few years ago, the Farmhouse phase wasn't going to be a timeless, classic look. While elements of Farmhouse are still trending, it's evolved into a more sophisticated, textural, and layered look.
If you love the moody paint trend, go for it! Paint is one of the easiest things to change should you tire of it or it goes out of fashion. This is a trend that's easy to embrace!
Keep and eye out for fluted details this year! They play perfectly into the Luxurious Living trend.
Oversized statement lighting is also trending in 2023, just make sure you have the space to support a large statement piece.
Look for decorative concrete planters for both small and large indoor plants.
More Decorating Tips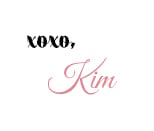 Join the Community
Let's keep in touch! Get exclusive artwork plus the latest news delivered directly to your Inbox!