A warm white marble bathroom remodel. Timeless elements combined with vintage touches for a perfectly curated look.
It's been almost three years since we finished our primary marble bathroom remodel. It went from '80s ugly to timeless beauty!
And if I could do it all over again…I wouldn't change a thing.
But I've been remiss in photographing this space. Recently, though, I started sharing some videos on my Instagram page. Realizing that not all of you are on Instagram, I thought I'd share some new photos with you here today!
For those of you that weren't here when this remodel happened, you can see the full reveal and details in this post. But here's what it looked like when I started.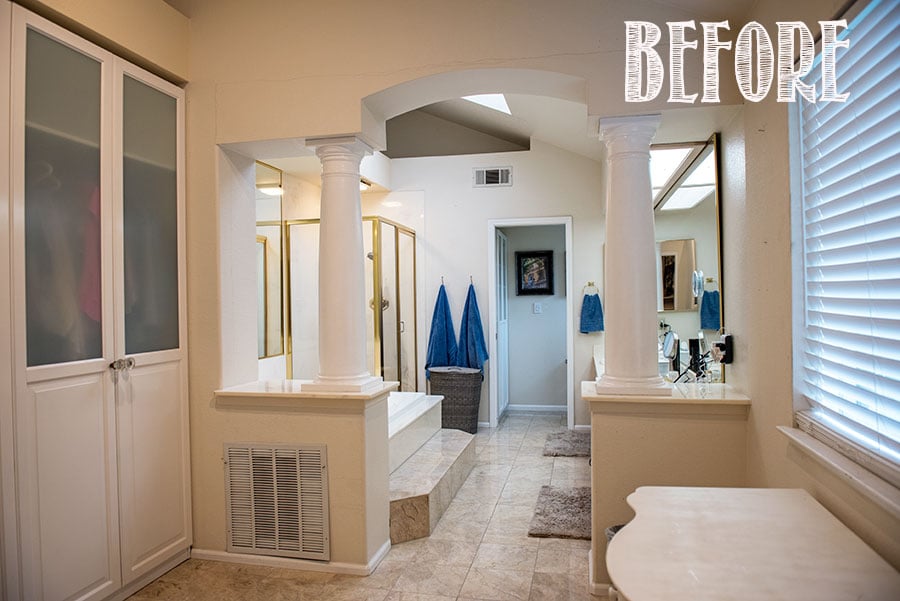 And here it is today! The arches are gone but other than that, we didn't make any structural changes.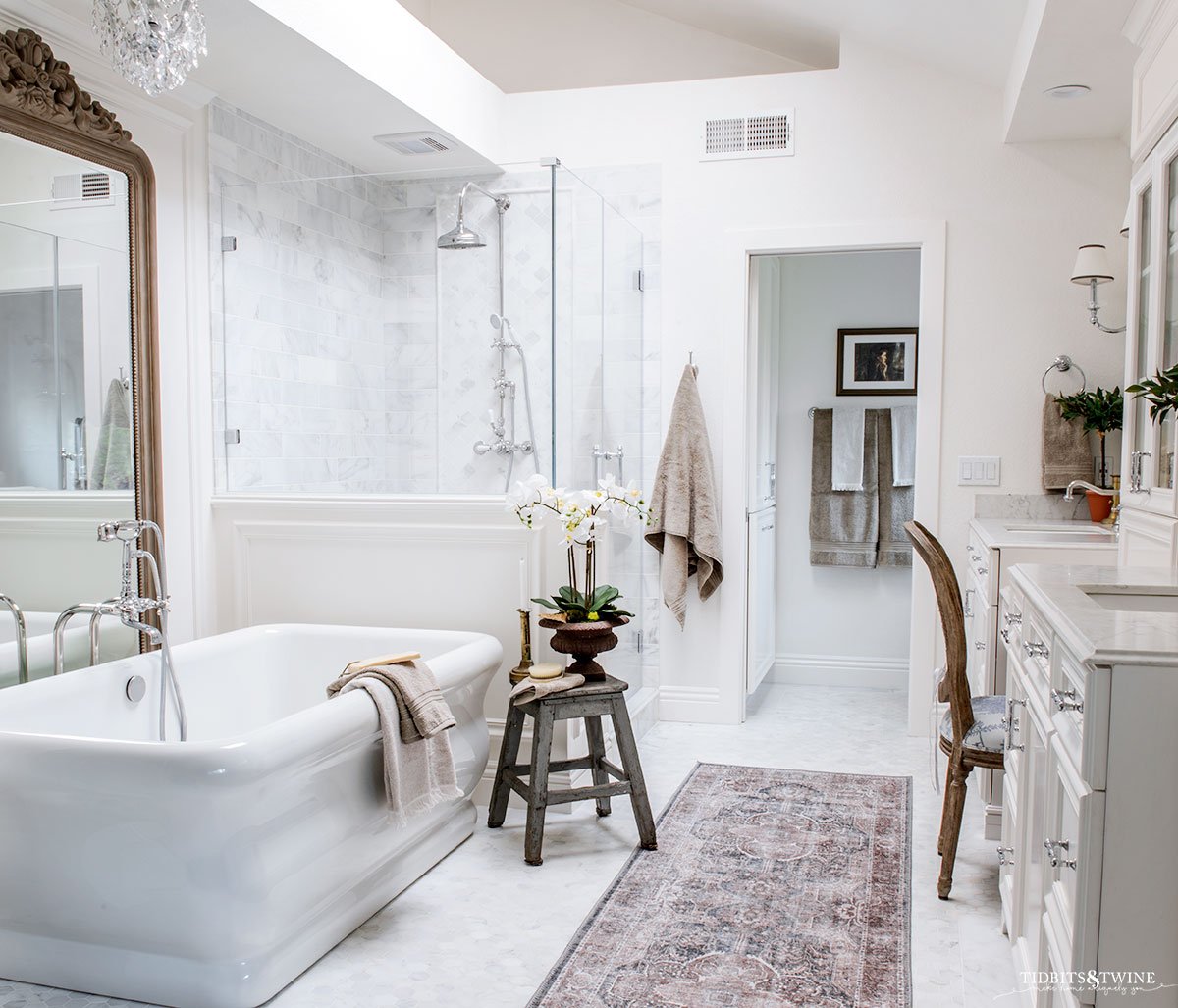 Truthfully, the reason that I finally took updated pictures was because I finally found the perfect rug for this space after almost three years of searching! I knew I needed something to warm up the space and bring in my favorite rustic touches. This rug is the perfect addition!
Warm browns, taupes, and deep blue help tie together the vanity chair and DIY mirror that sits behind the tub.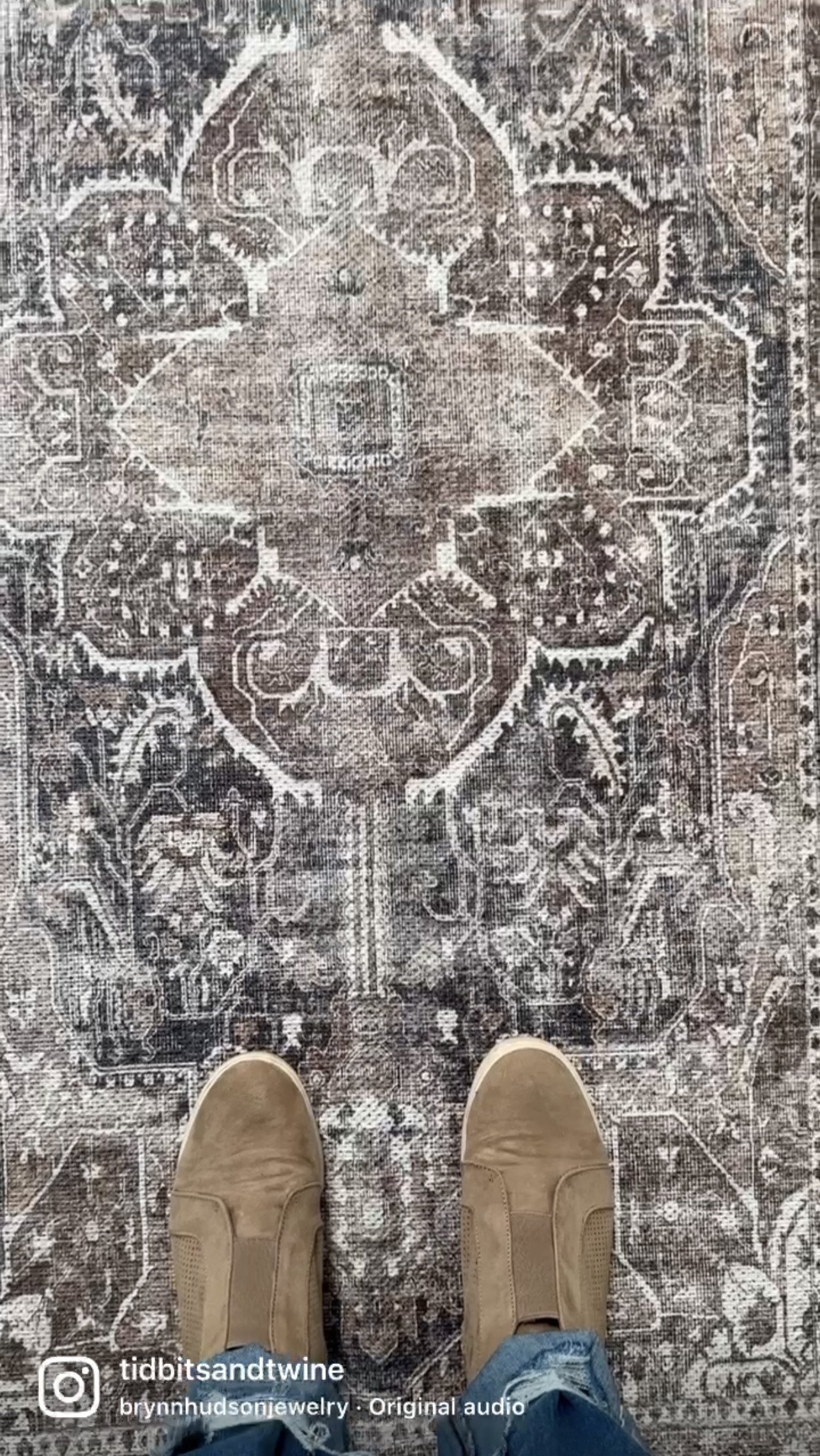 The warm browns also gave me the perfect excuse to swap out some of my accessories like towels and art to incorporate the color palette throughout the room.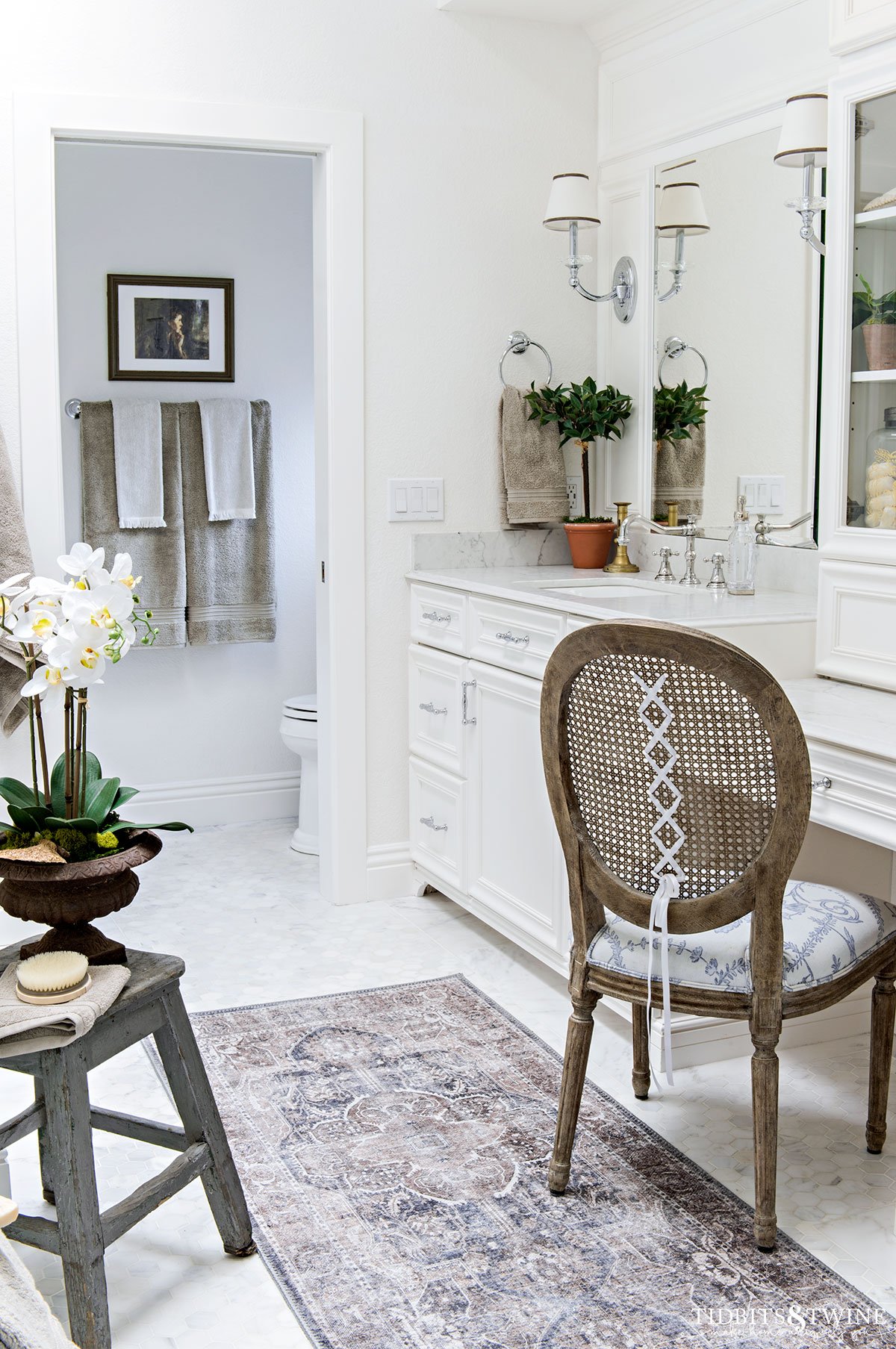 Marble Marble and More Marble
For those of you wondering, yes, 2″ hexagon white marble bathroom flooring is hard to maintain because of all the grout. But I still love it as much today as when we installed it.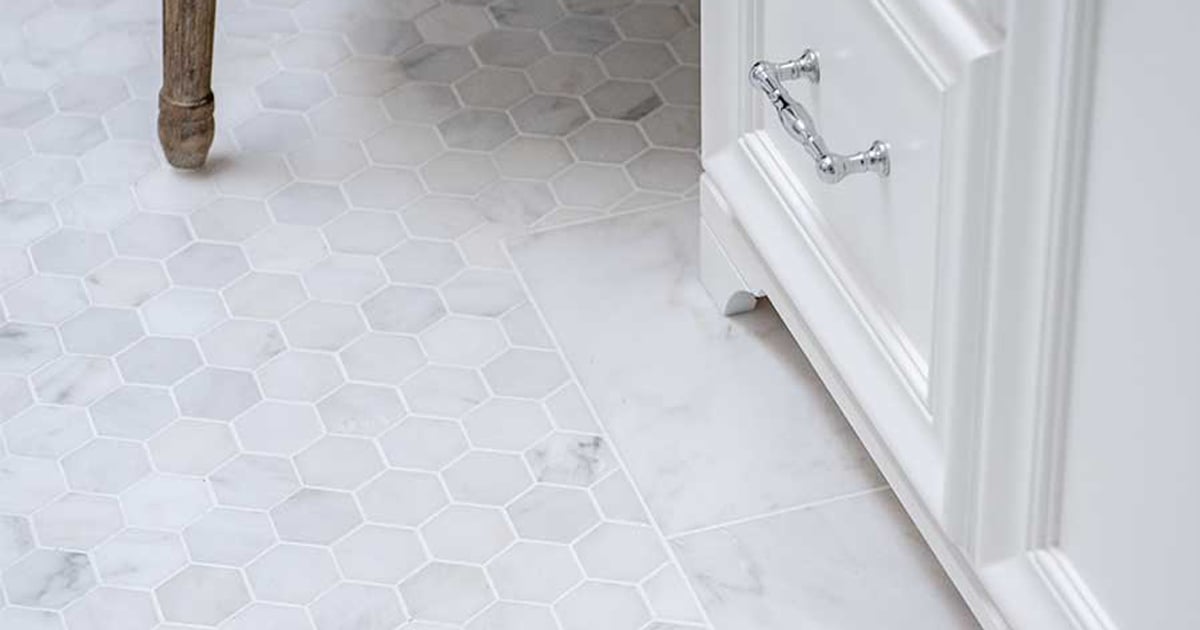 The marble on the shower walls has required no maintenance at all. Nor has the marble on the floor, actually, but cleaning all that grout is terrible I'll admit. I finally hired a grout cleaning company to come out and sadly, they flooded the bathroom and ruin all of the baseboards. Everything had to be replaced and repainted and the grout was no cleaner when they finished.
The Freestanding bathTub
I'm obsessed with my HydroSystems Michelangelo tub. It has gorgeous lines and holds the heat really well.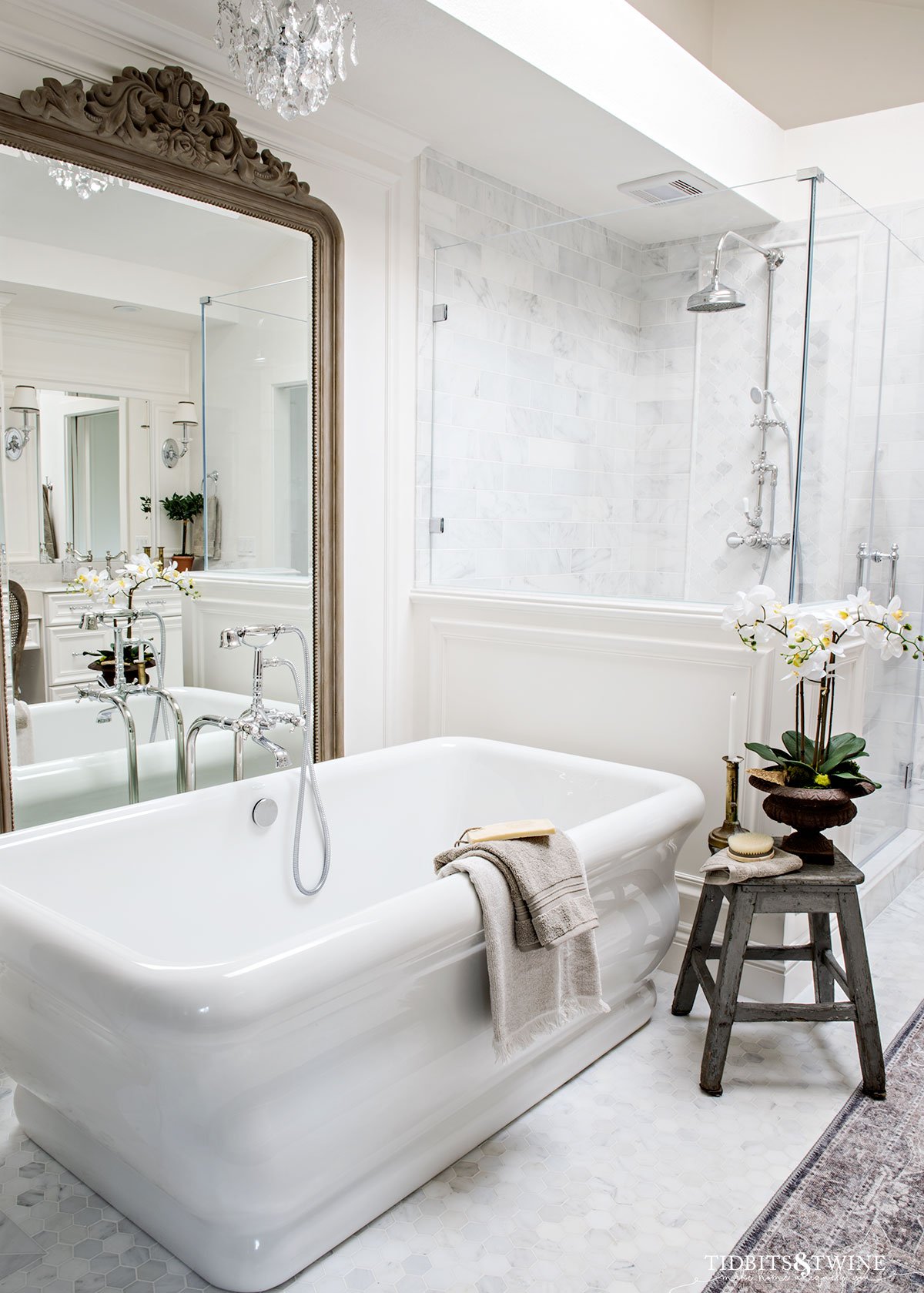 The tub pairs perfectly with this gorgeous tub filler that reflects beautifully in the mirror.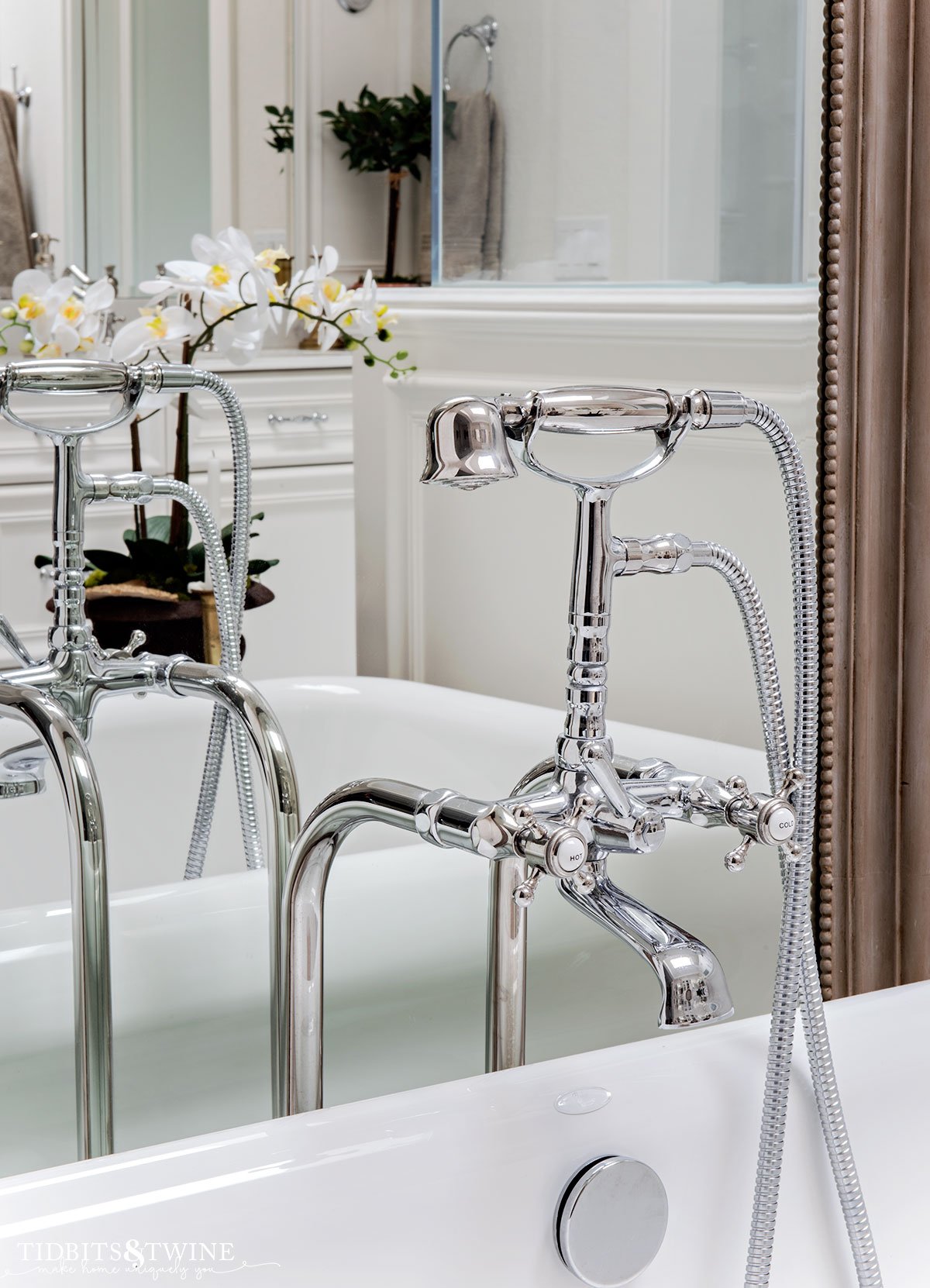 And when I spied this chippy little bench at a warehouse sale at Elsie Green I knew I'd find a spot for it. I didn't realize that spot would be in the bathroom, but I love the juxtaposition with all of the elegant marble!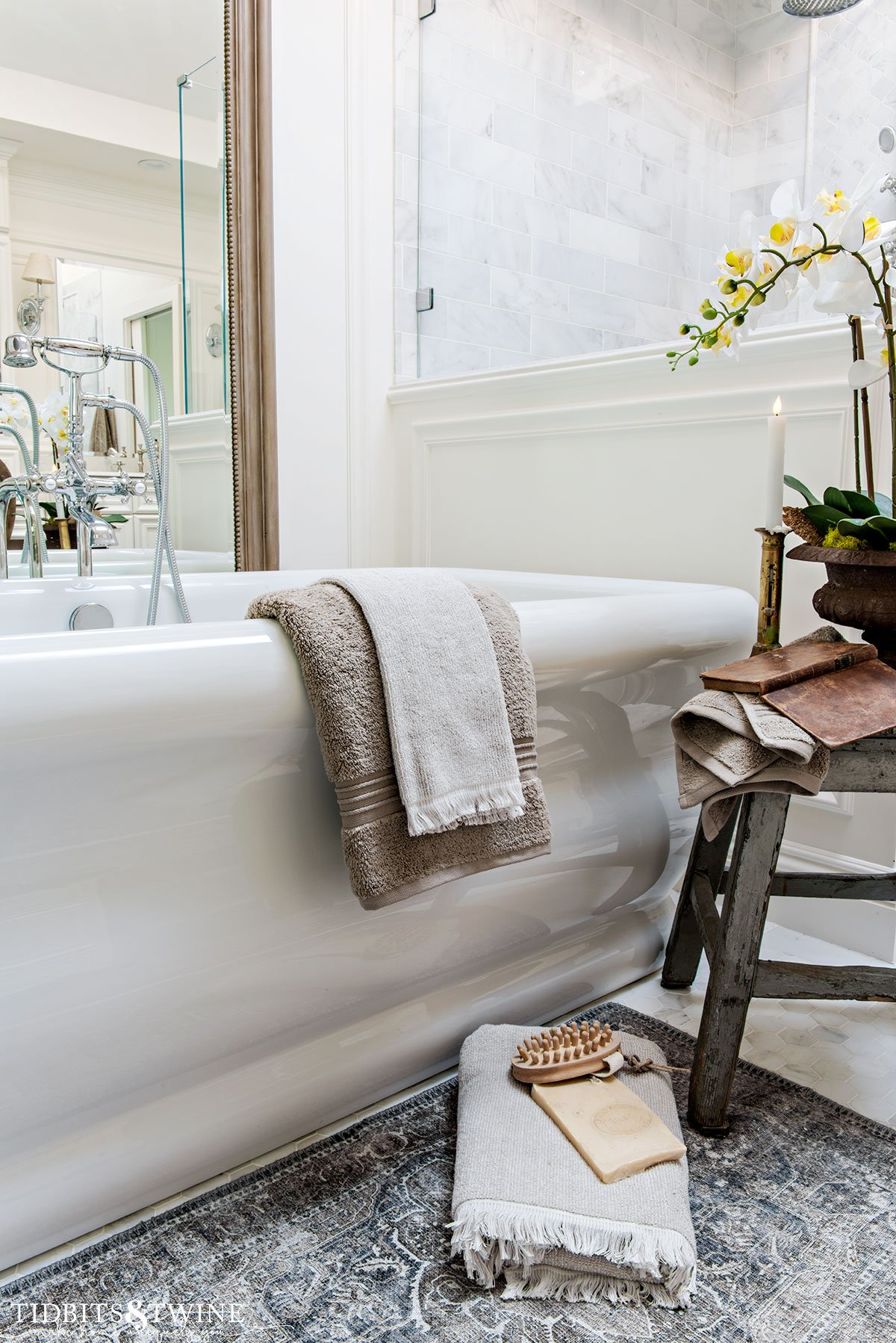 I added a small vignette to the stool with an inexpensive orchid that I placed in a vintage iron urn. I believe that every space should have something organic and the bathroom is no exception! (Okay, so the orchid isn't real but the little mushroom is!)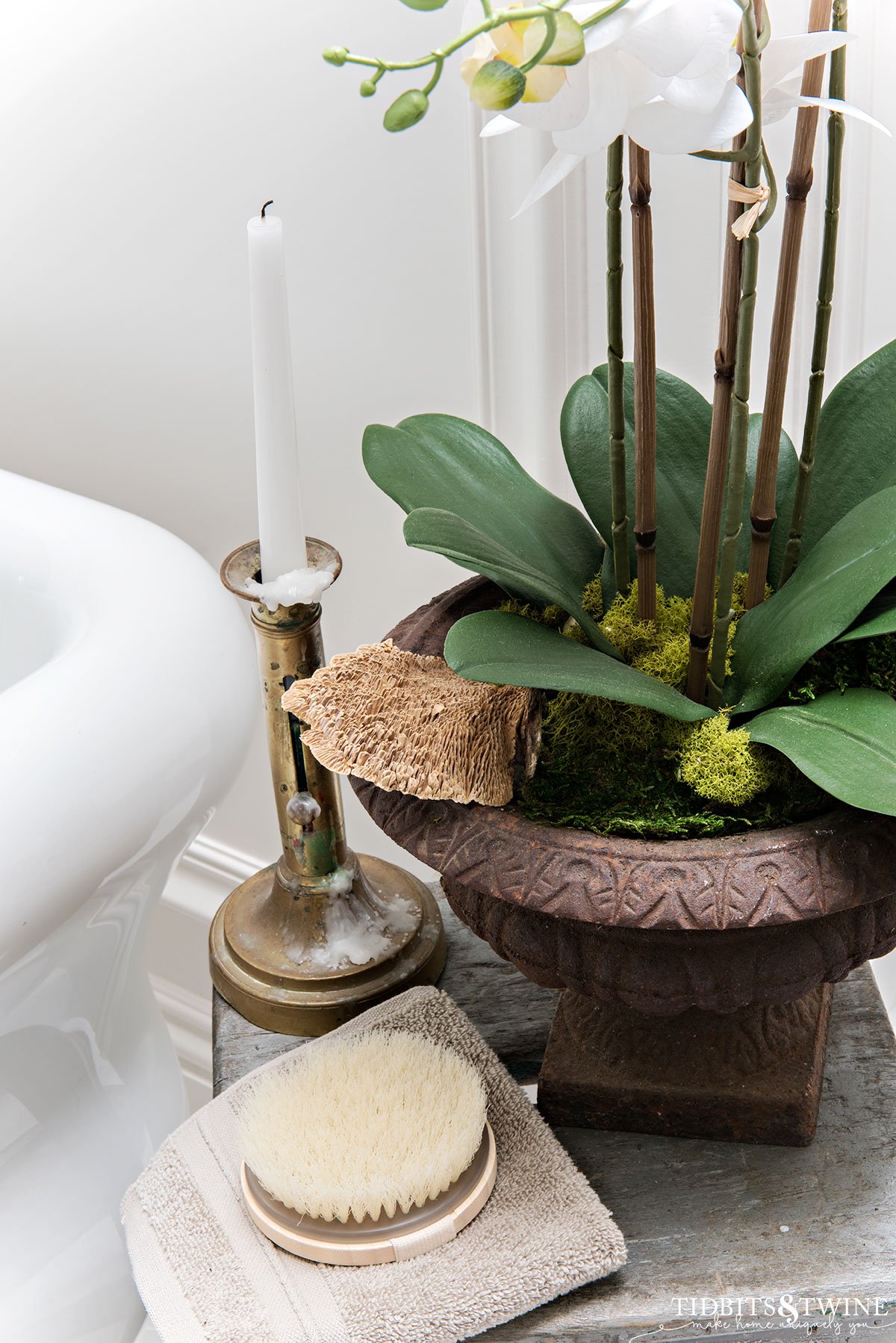 You can see a video my daughter made for me using the bath as inspiration below:
Shower Area
Over the years, I've been asked about my shower niche and bench a lot. You can find all of the measurements in my Bathroom Guide. But adding the pony wall to hide a shower niche might be my favorite thing about the remodel! this niche has been amazing!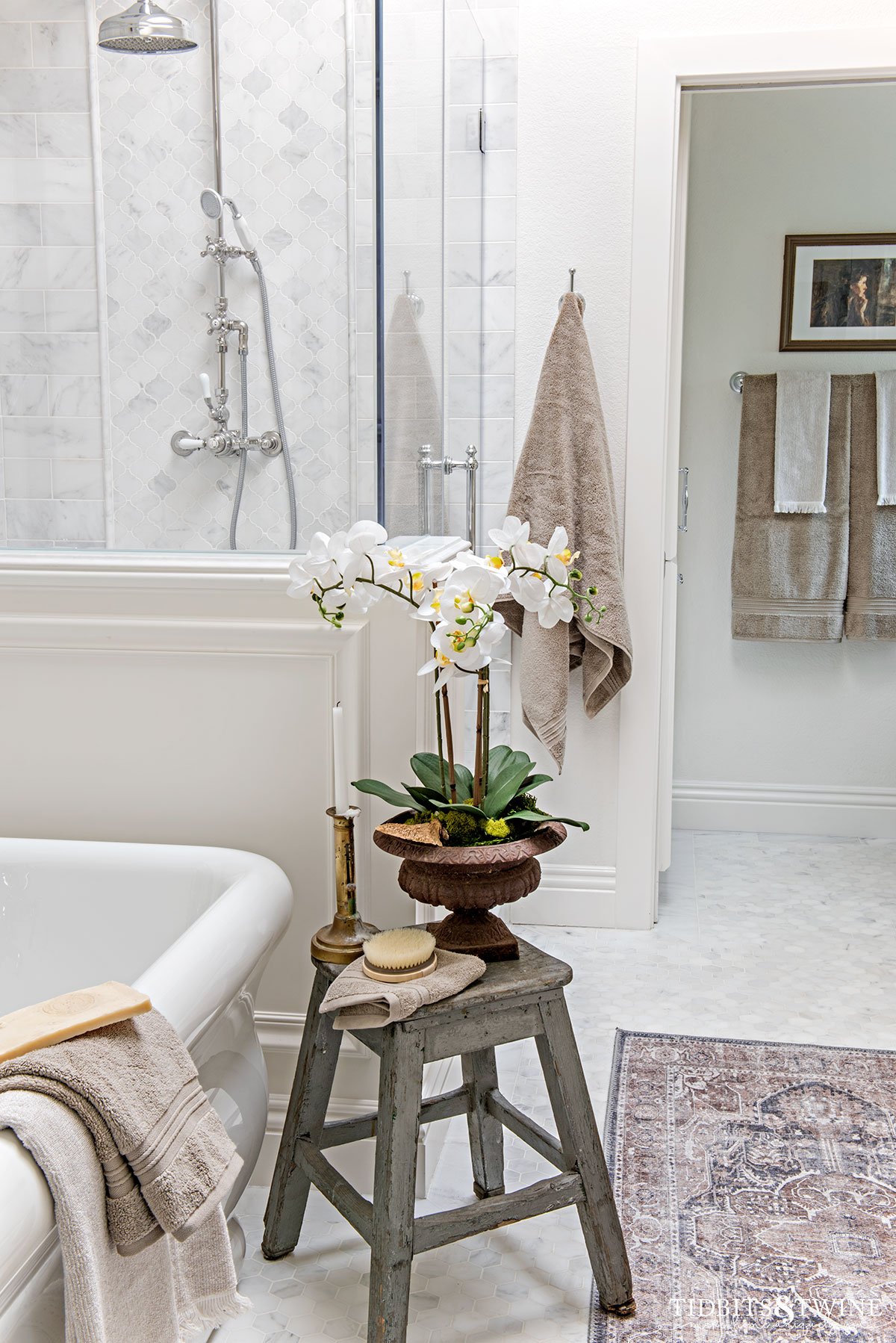 I've only shown you pictures of a few pretty bottles lined up here. The reality, though, is that I like the giant pump bottles from Costco. I try something, change my mind, and try something else. And before I know it, this entire niche is full of shower products! But that's what it's for.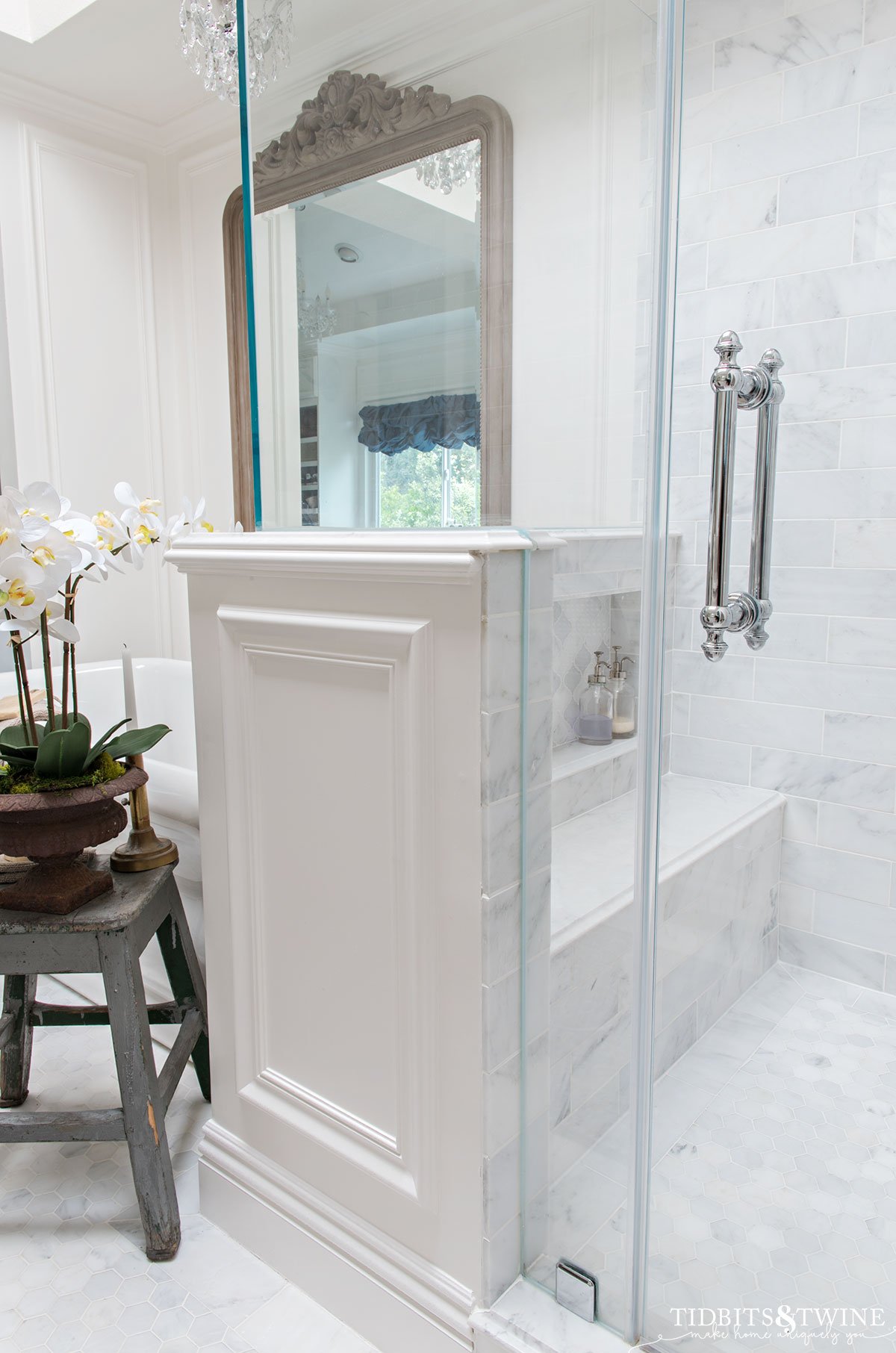 Despite using a squeegee to wipe down the glass after each use, I'm amazed at how much soap scum is left behind. I have an easy fix that you can see on my IG page here.
Exposed Pipe Shower
This shower. Oh, this shower. It's from Sigma Faucets and we have had zero issues with it. I love it. I chose it because the rain head and the handheld shower head are affixed to a single pole, whereas some require a second pole to be drilled into the shower wall.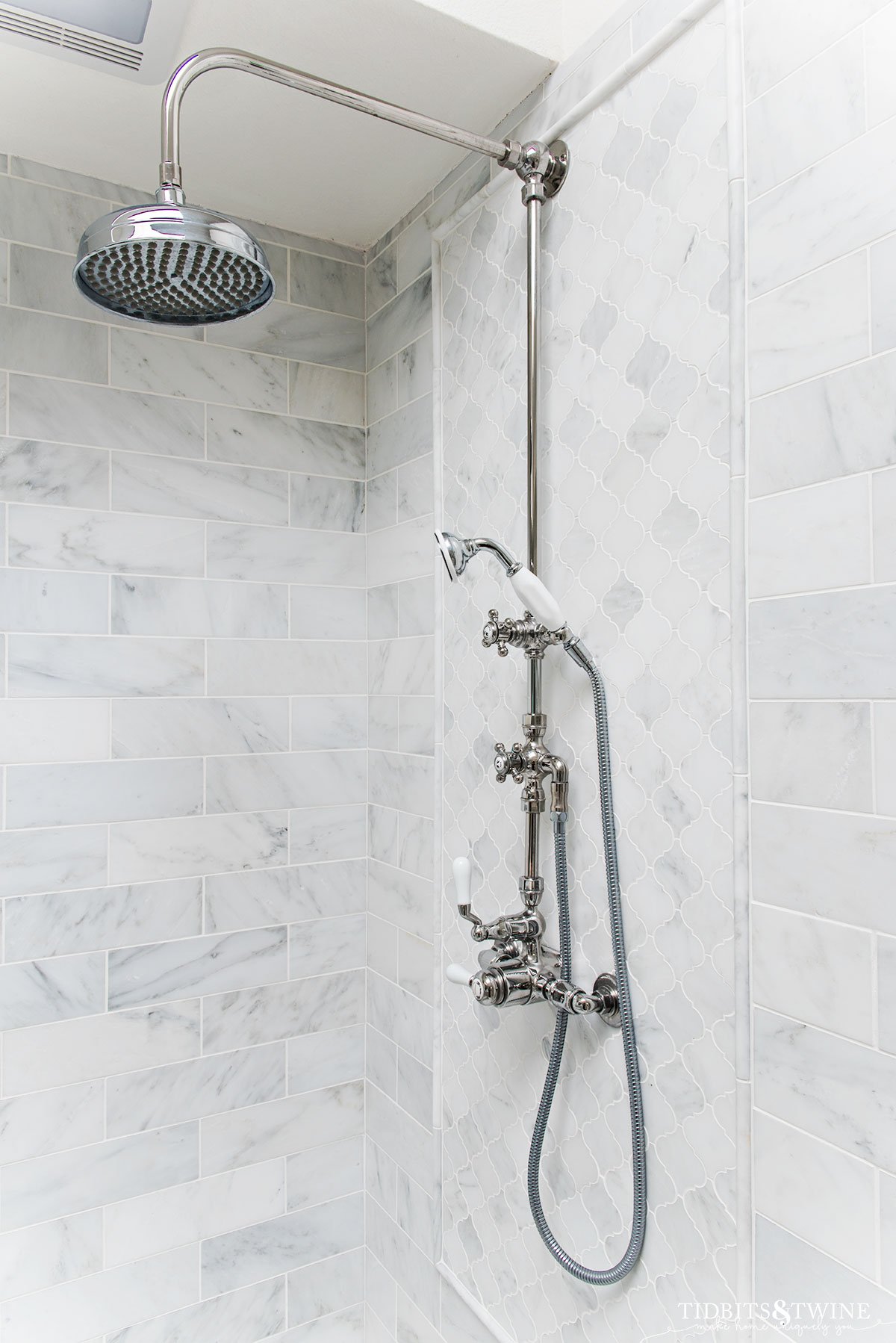 The Vanity
And do you remember that drawing I made of my "vision" for the bathroom cabinets? I have zero artistic ability but I did take mechanical drawing in 7th grade and it seems to have paid off. Lol!
I'm still happy with the design!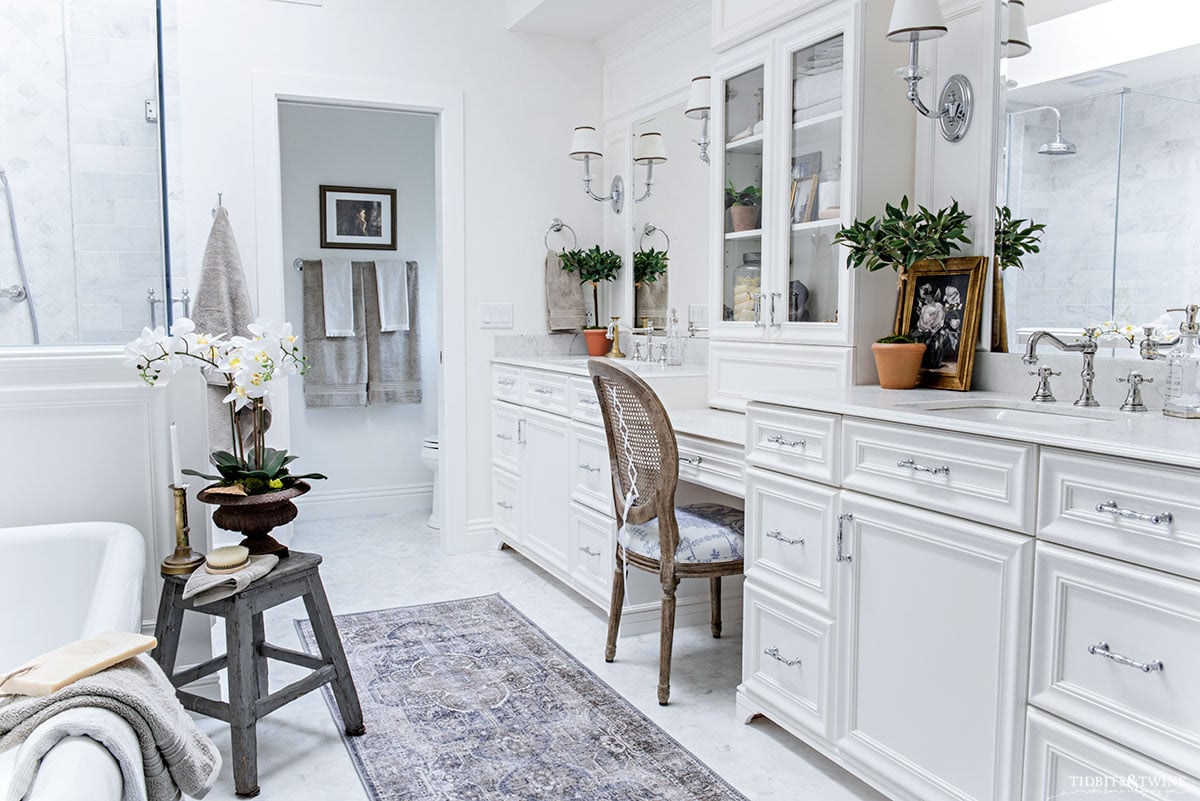 Full disclosure…I added the velvet trim to the sconce shades at the last minute. I wasn't sure if I was going to like the addition, so I only used tape to secure the ribbon. What do you think? Should I keep it? If so, I'll glue it on.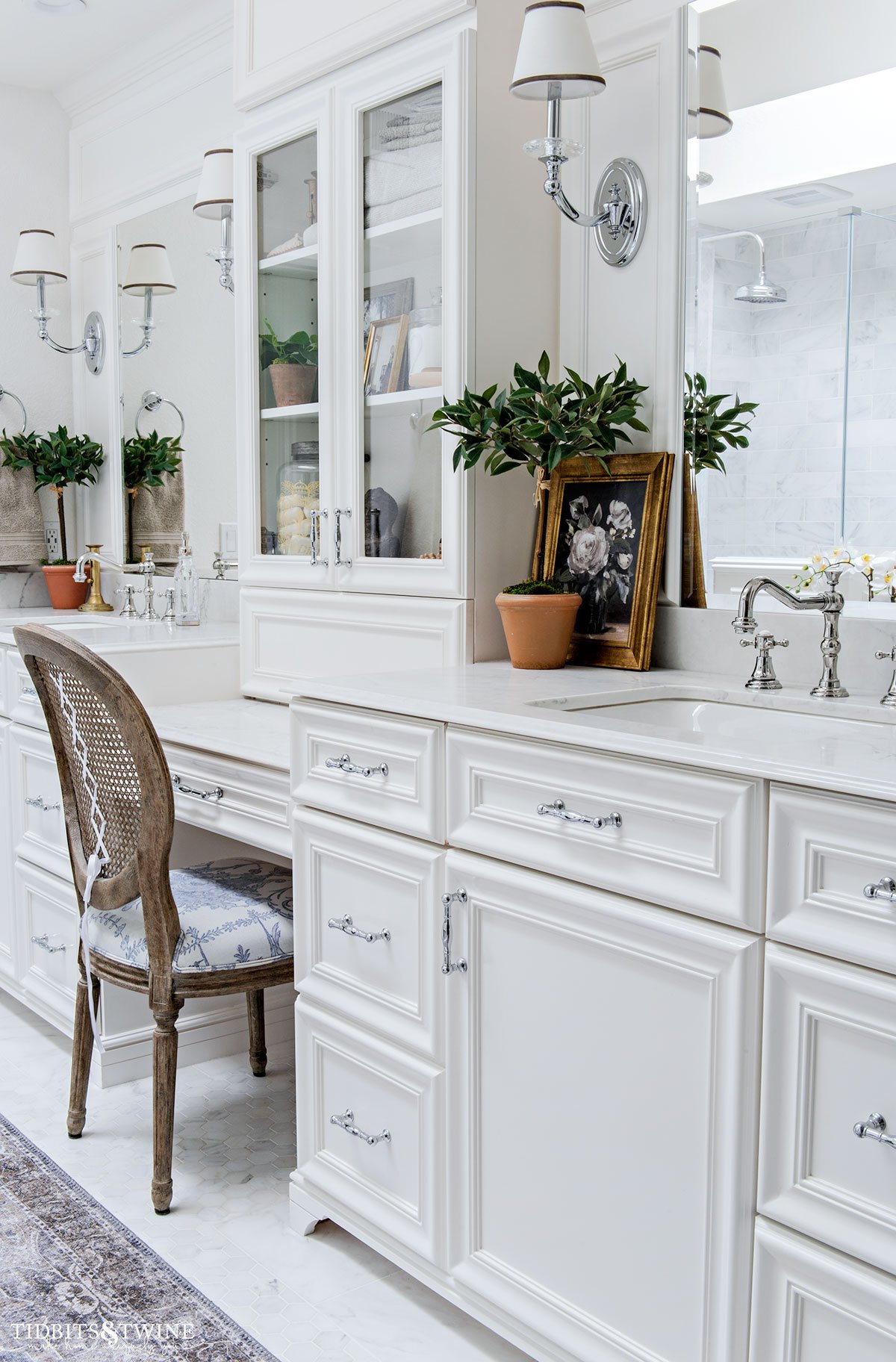 I don't change the decor in the cabinets very often. At least not as often as the rest of my house…I did recently update some of it, though, to bring in some of the warmer colors from the rug.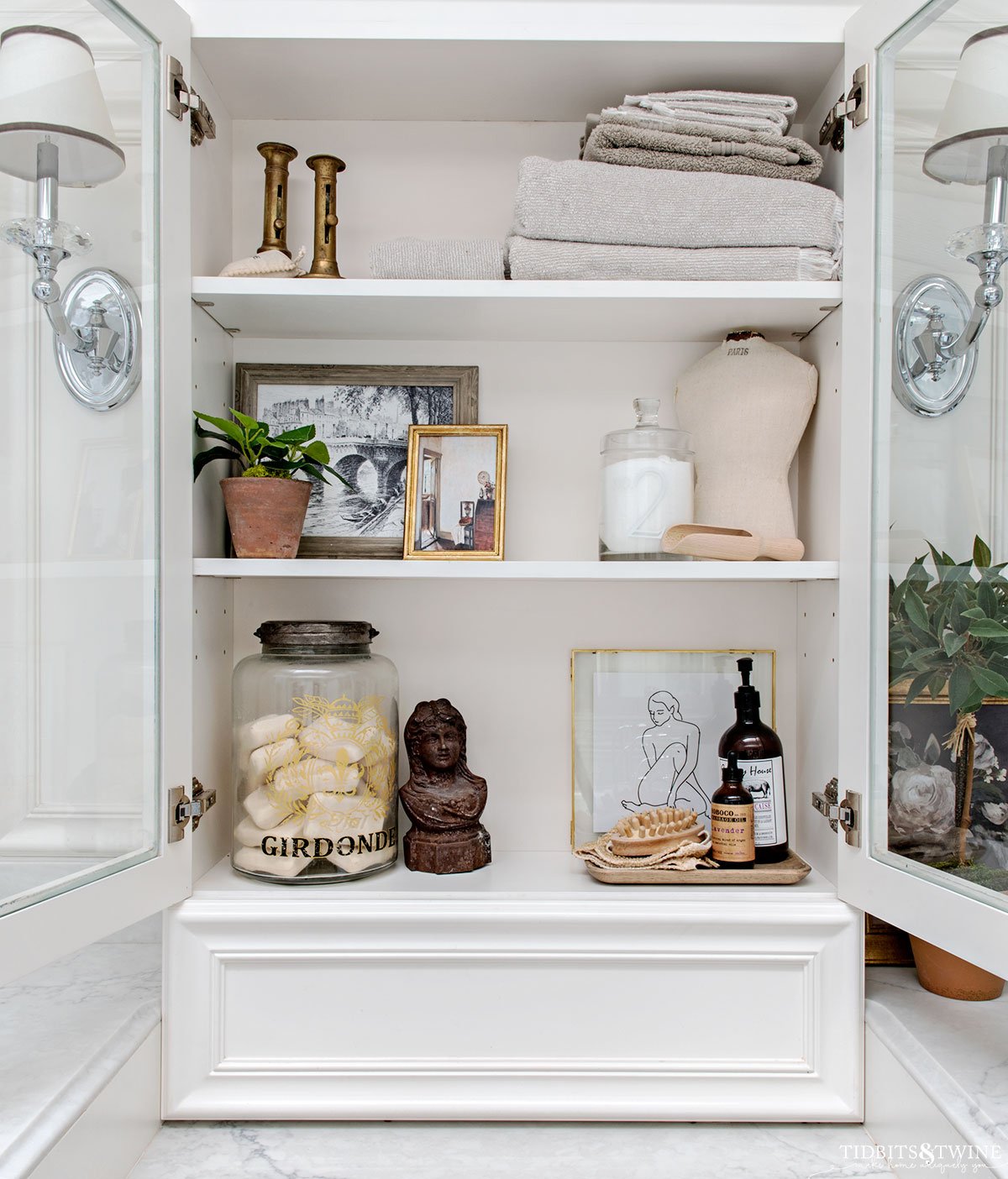 I found this cute #2 apothecary jar at HomeGoods last week and paired it with some art that I printed from home. The bottom shelf has a floating frame but that's the art that came with the frame! I liked it so I left it. Lol!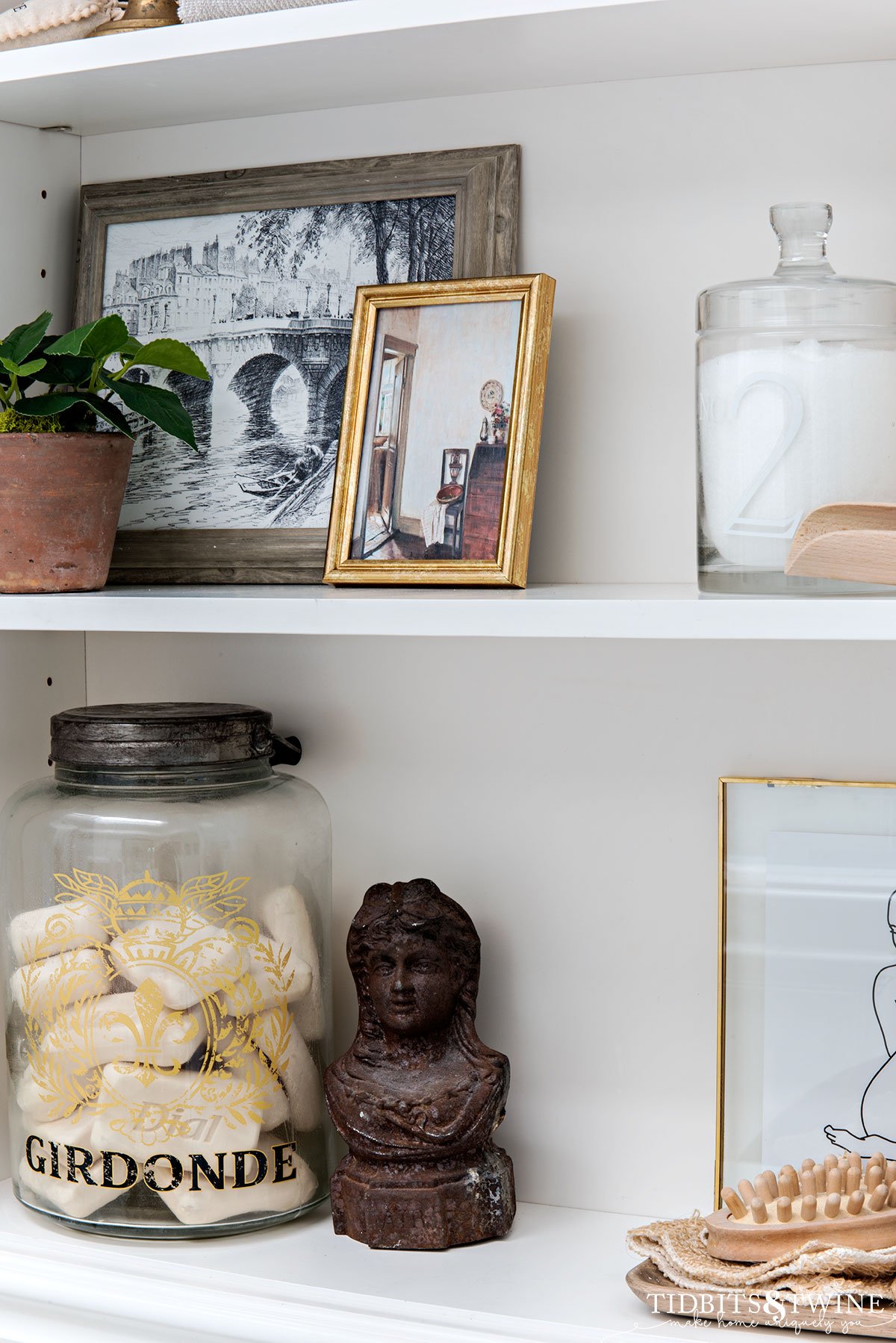 That's it for today's tour. What do you think of the recent updates?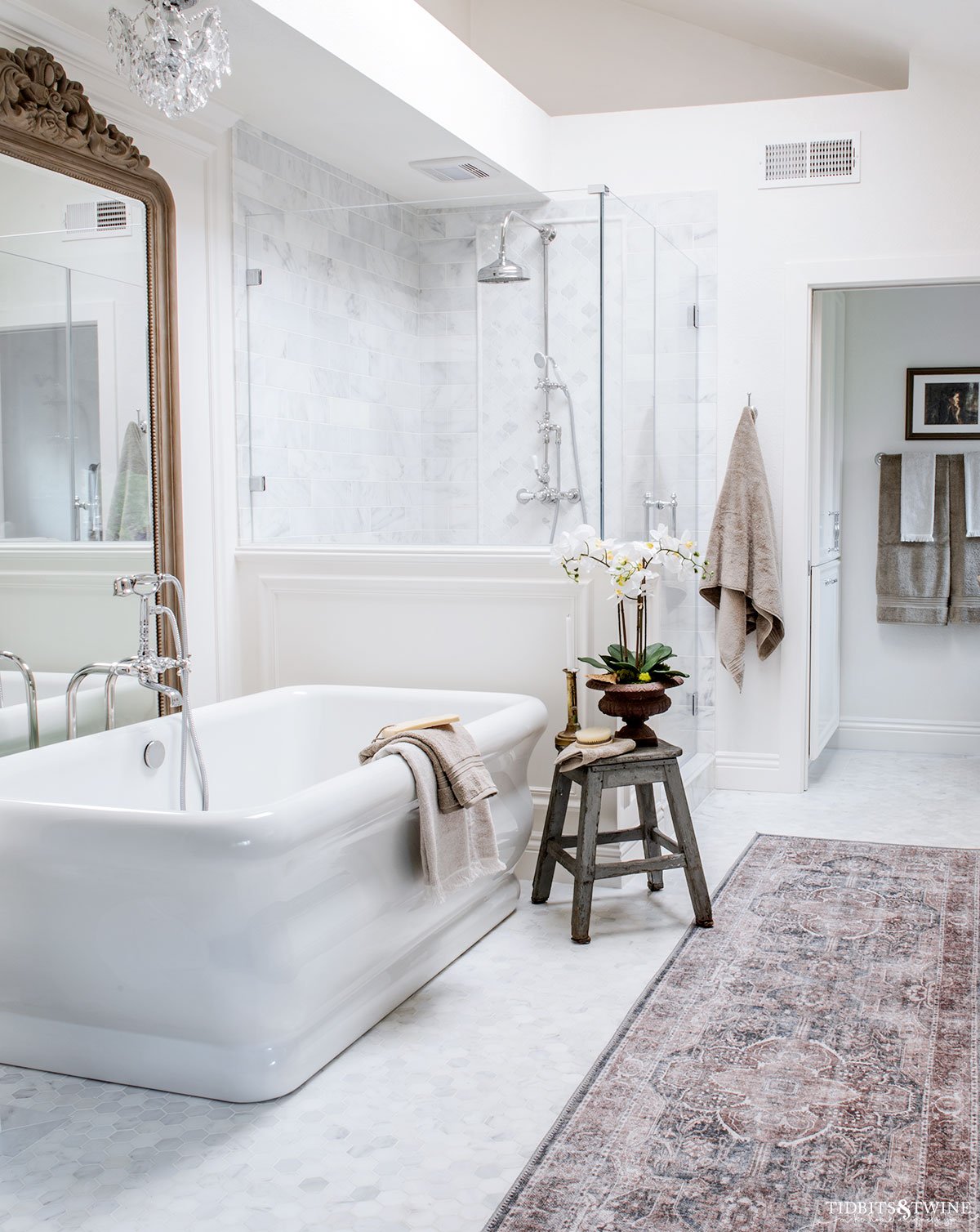 More Decorating Articles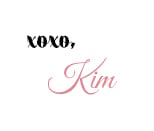 Join the Community
Let's keep in touch! Get exclusive artwork plus the latest news delivered directly to your Inbox!