A look a gorgeous Serena and Lily dupes that will give you the look for less! Love the modern, beachy vibe? Here's how to get the look for less.
Serena and Lily is currently the "it" retailer du 'jour. They describe their style as coastal casual with modern lines and eclectic inspiration. I'll admit, their style is beautiful….but it comes with a hefty price tag!
If you like the look of Serena and Lily but not the prices, I've got good news for you! I scoured the internet and found some great dupes to share with you. Affiliate links provided for your shopping convenience. You can read my full disclosure policy here.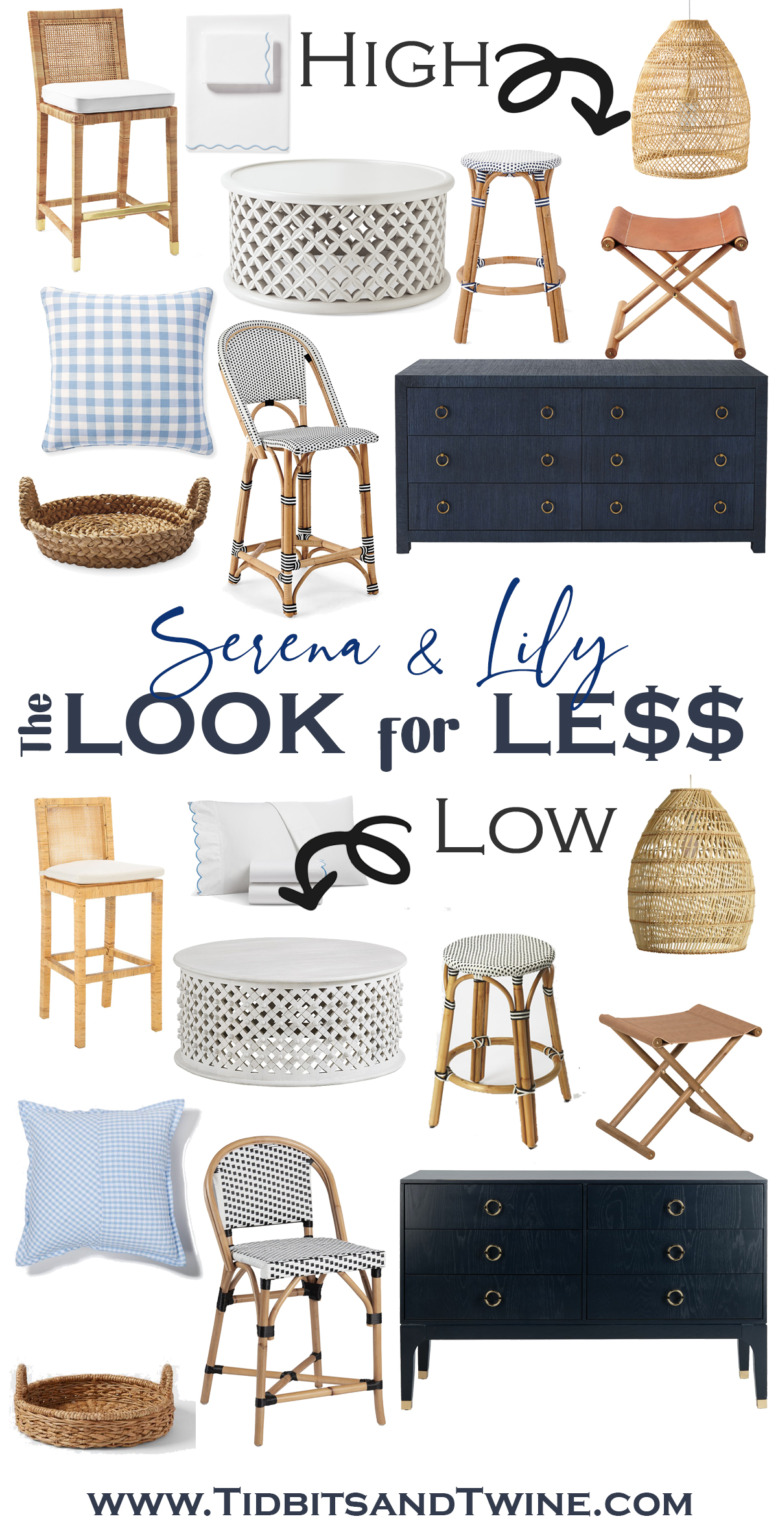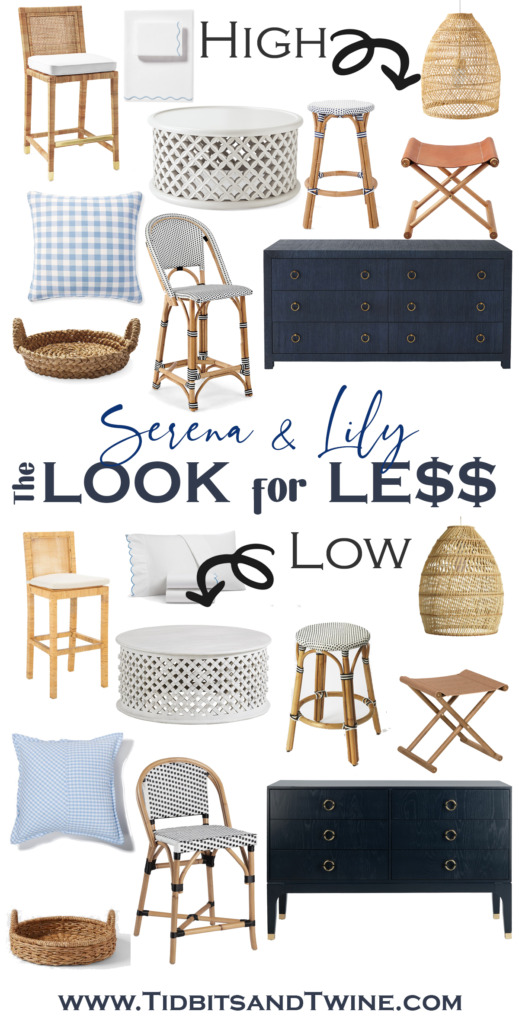 What is a dupe?
A dupe a product that looks similar to a more expensive one, but at a fraction of the cost. Win-win!
Table of Contents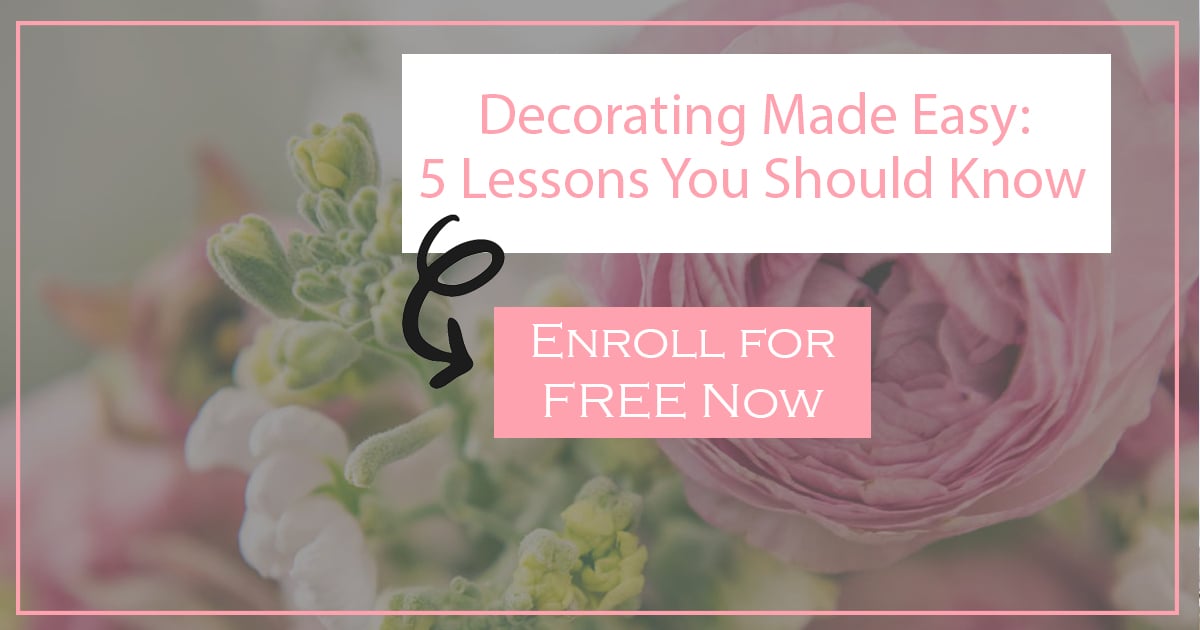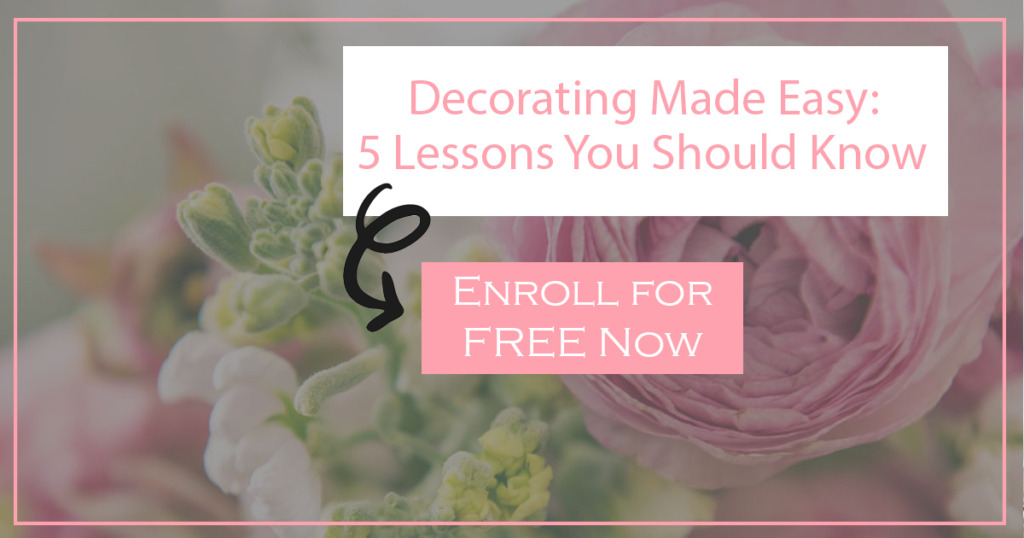 20 Gorgeous Serena and Lily Dupes
Iconic Serena and Lily style is their Riviera line of chairs and barstools. They describe this line as the classic Parisian bistro chair, reinvented. The colorful rattan and resin design really is practical for dining since it can be easily wiped down.
The Riviera Counter Stool is beautiful and fresh and available in five different colors. It also costs $368 per stool!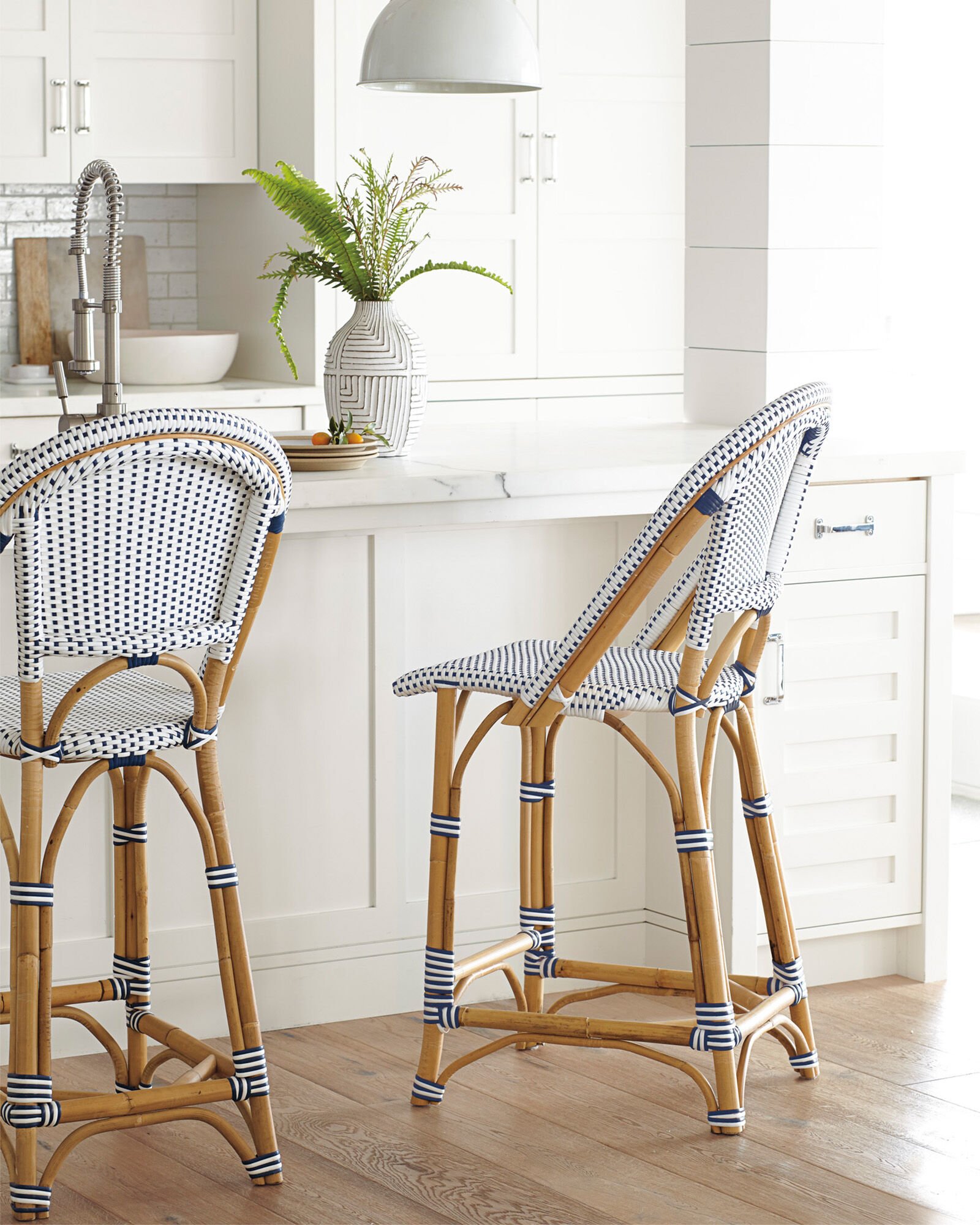 World Market carries this Black And White Woven Rattan Carla Counter Stool for just $84.99! Like the Riviera, the frame is constructed of rattan and then has woven polypeel. It's only available in black and white, though, so colors are limited compared to the Riviera. But what a great Serena and Lily stool dupe option!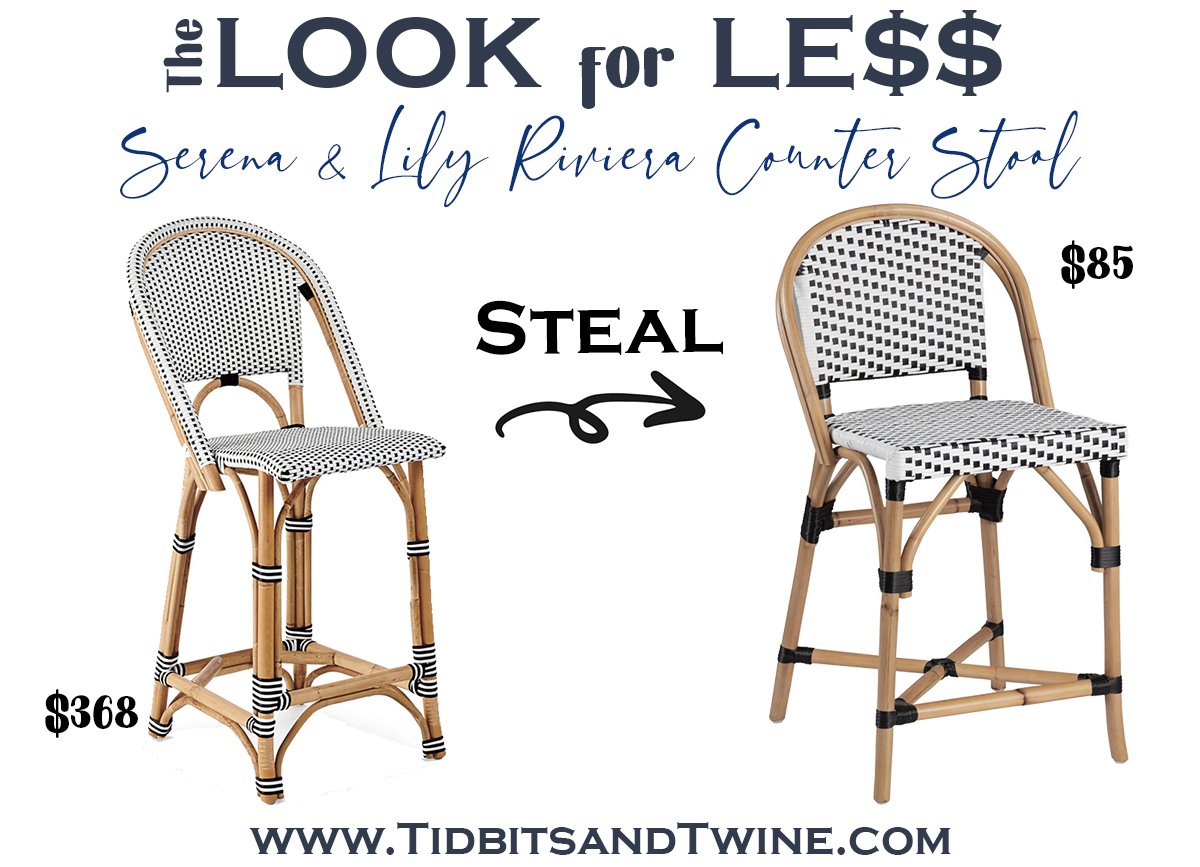 Serena and Lily Riviera Counter Stool – $368
If you want to tuck stools away, you might not want a back on them. You're in luck! The Riviera line comes without backs as well and for much less money at $288. It's available in four color options.
Wayfair's Alastair Bar Stool looks very similar to the Riviera, but costs over a $100 less at $158. It looks very similar, don't you think?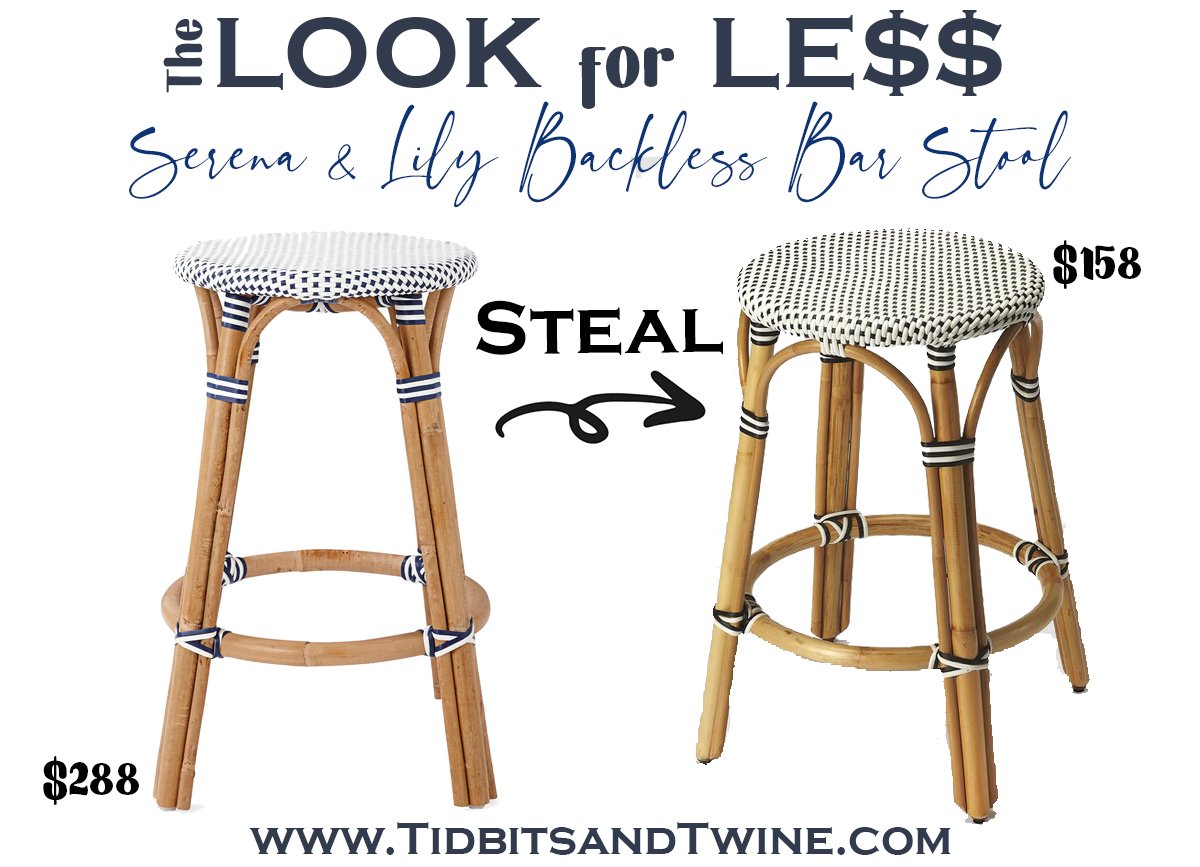 Serena and Lily Riviera Backless Counter Stool – $288
Chandeliers are another classic item for Serena and Lily. This Summerland Outdoor Bell Pendant has a beautiful, open weave design. The small retails for $398.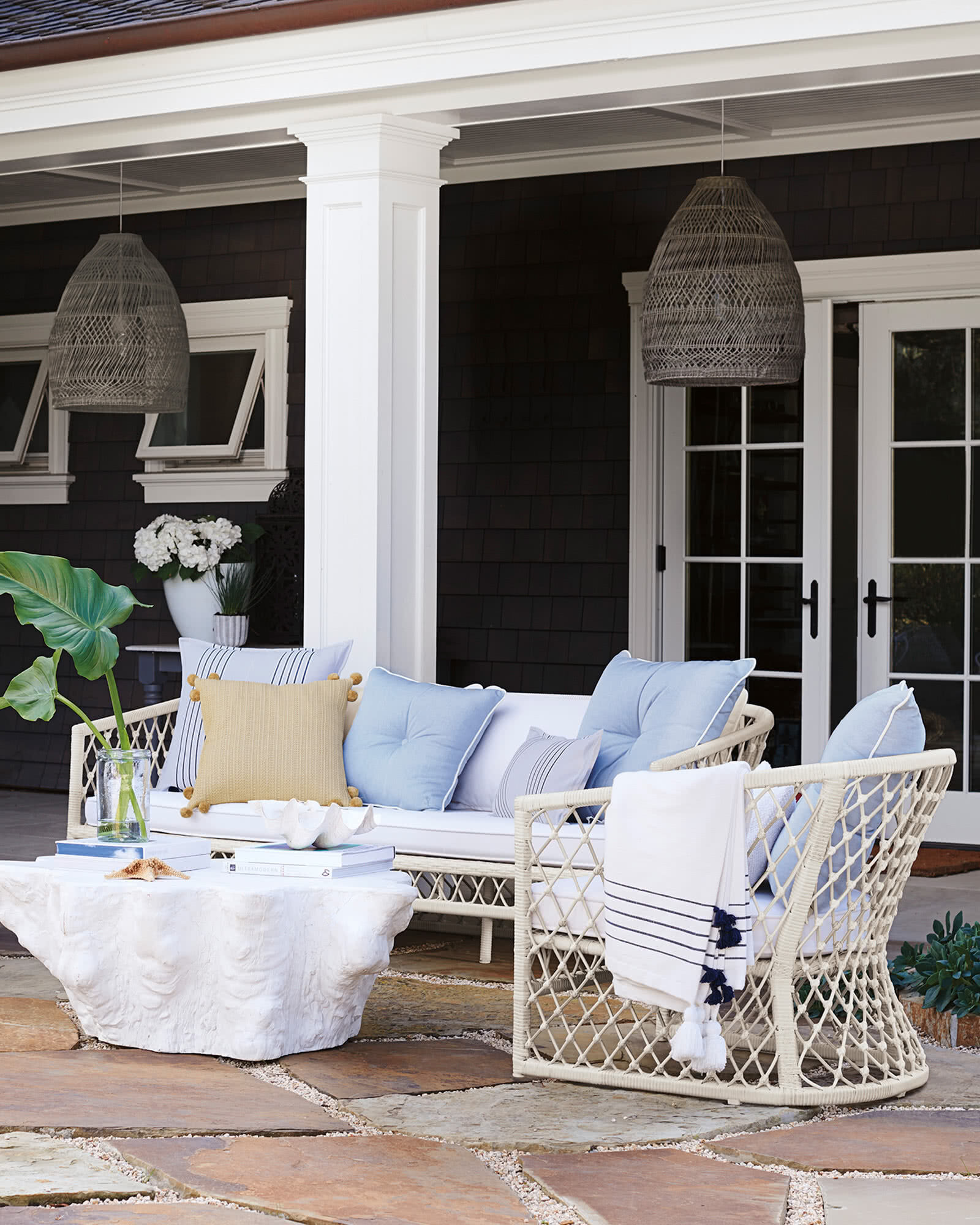 Slightly larger is World Market's Basketweave Bamboo Pendant Shade. The weave appears to be slightly tighter, which I actually like because it shows less bulb. It retails for $79.99.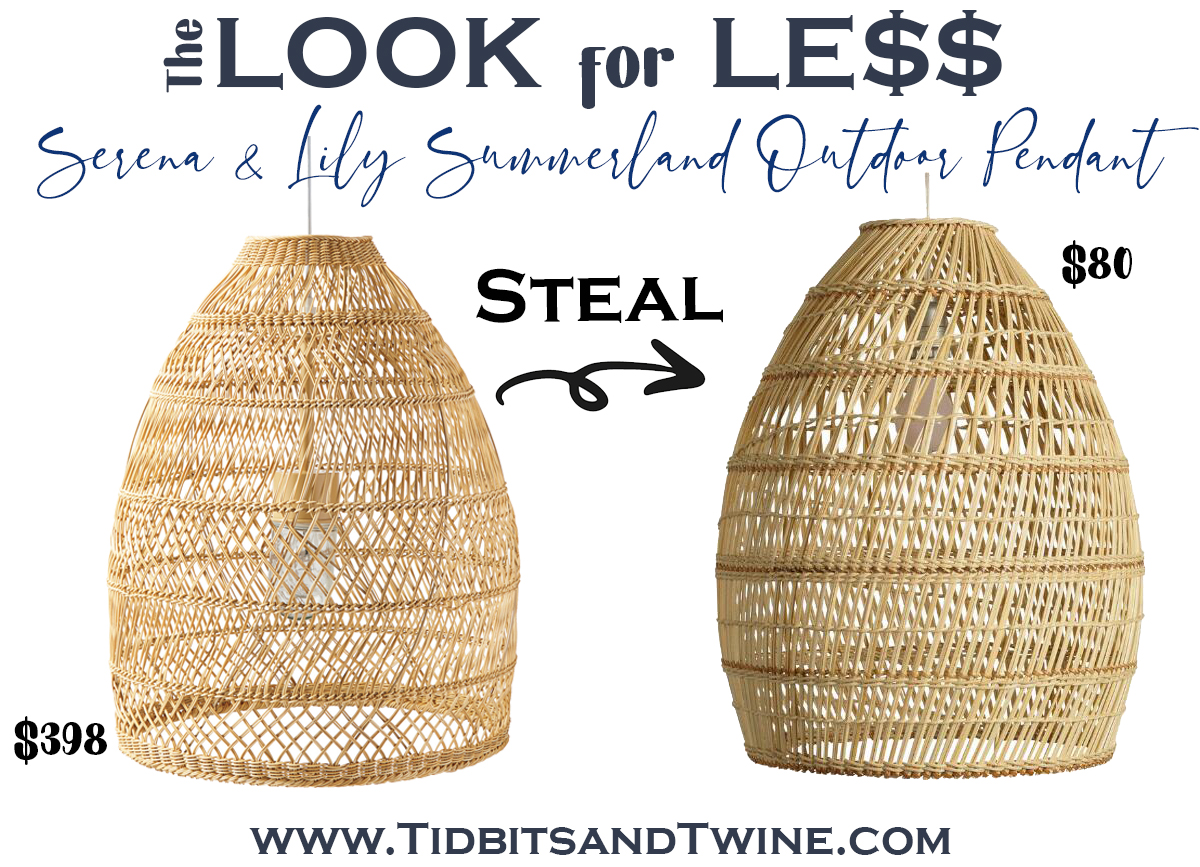 Serena and Lily Summerland Outdoor Bell Pendant – $398
This 20″ pillow is a classic in beachy blue gingham. It has piping on the bias for extra detailing but does not come with the insert. It sells for $148.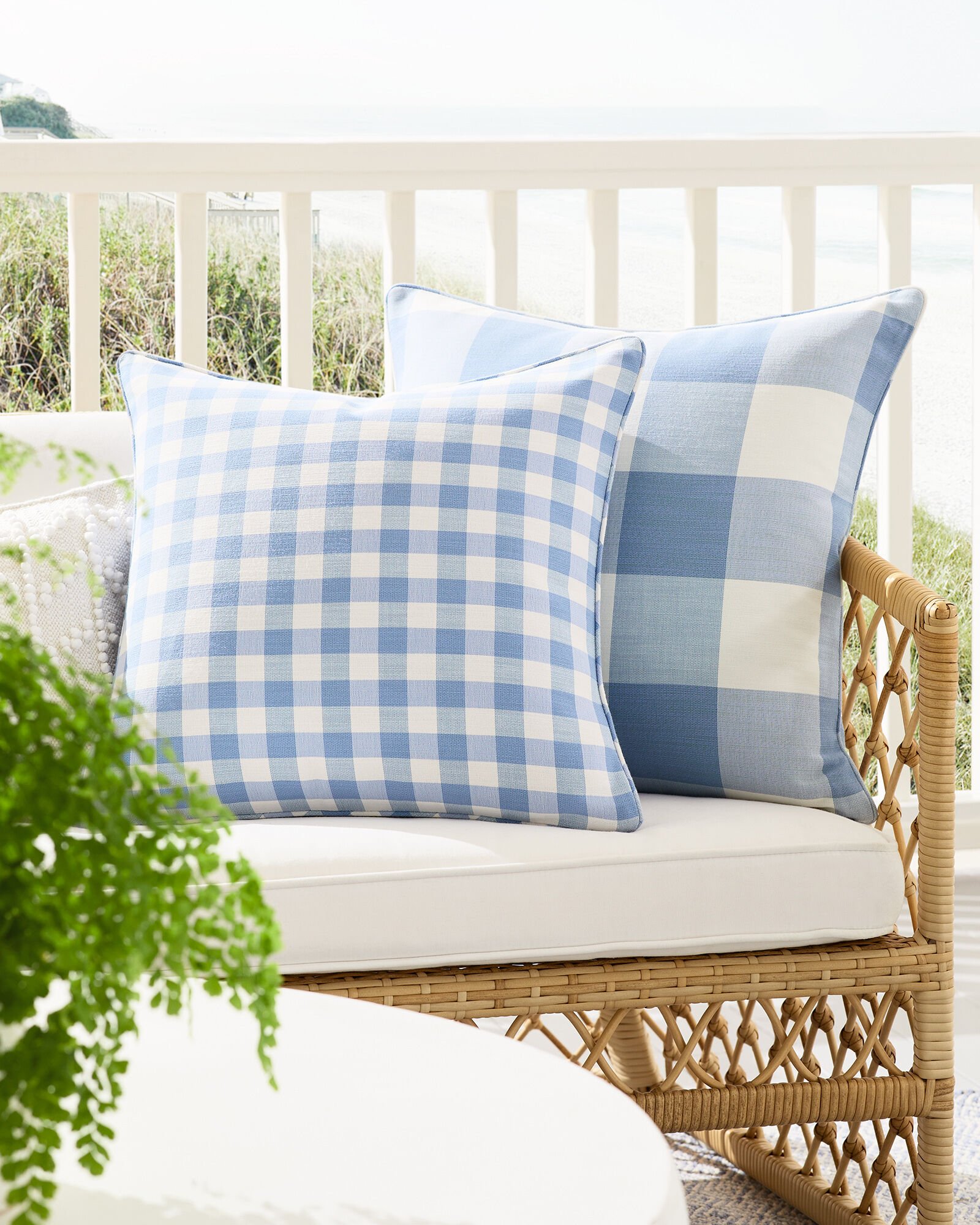 Target's Seersucker Gingham Throw Pillow is slightly smaller at 18″ square but comes with the insert (cover is removable). It has a flat edge finish instead of piping and is on sale for $21.66.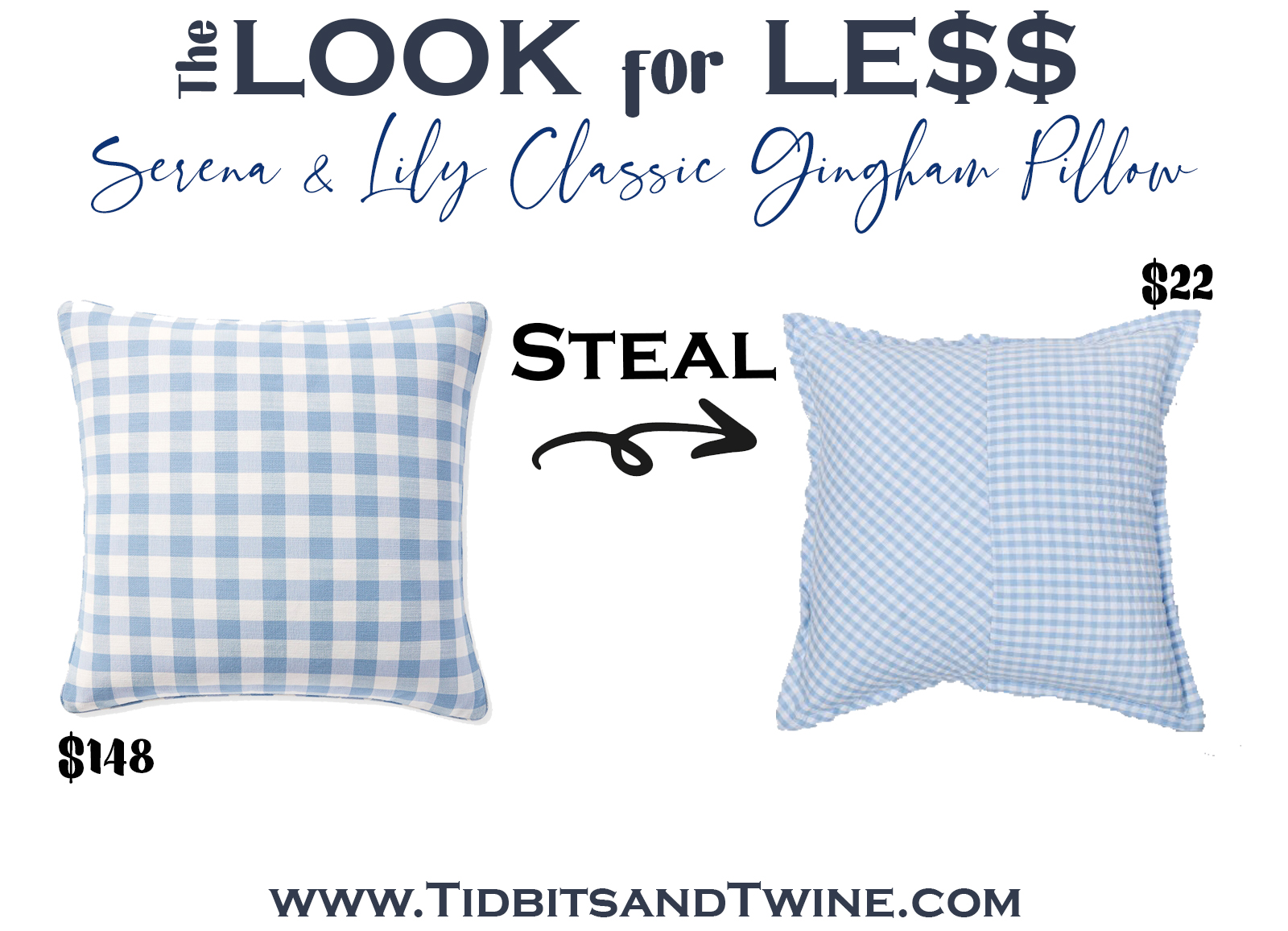 Serena and Lily Perennials Classic Gingham Pillow – $148
Made of wood and leather, this Serena and Lily Cooper Stool is a timeless design.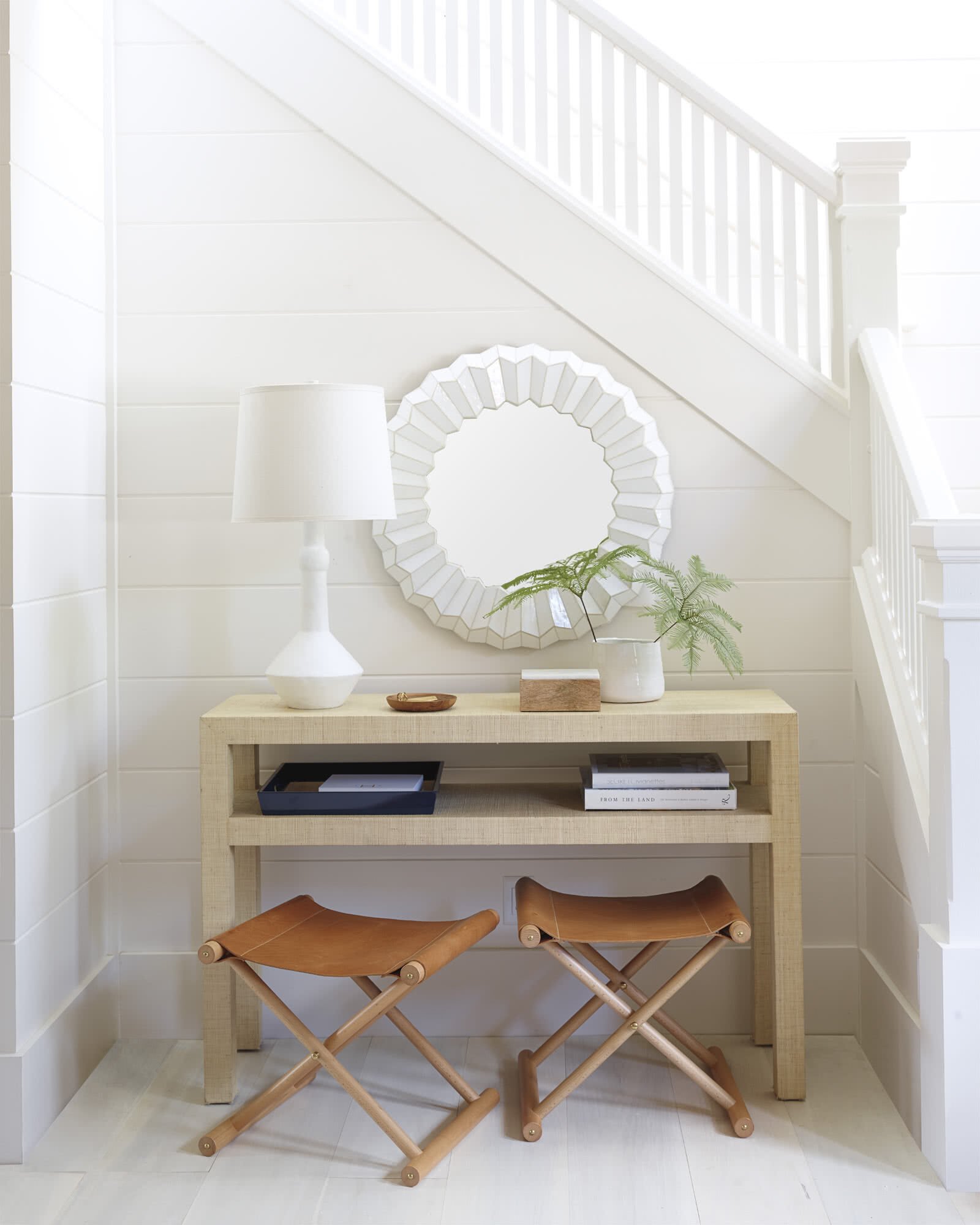 The main difference here is that it's made of faux leather so the longevity will be less compared to real leather, but you could purchase several for the price!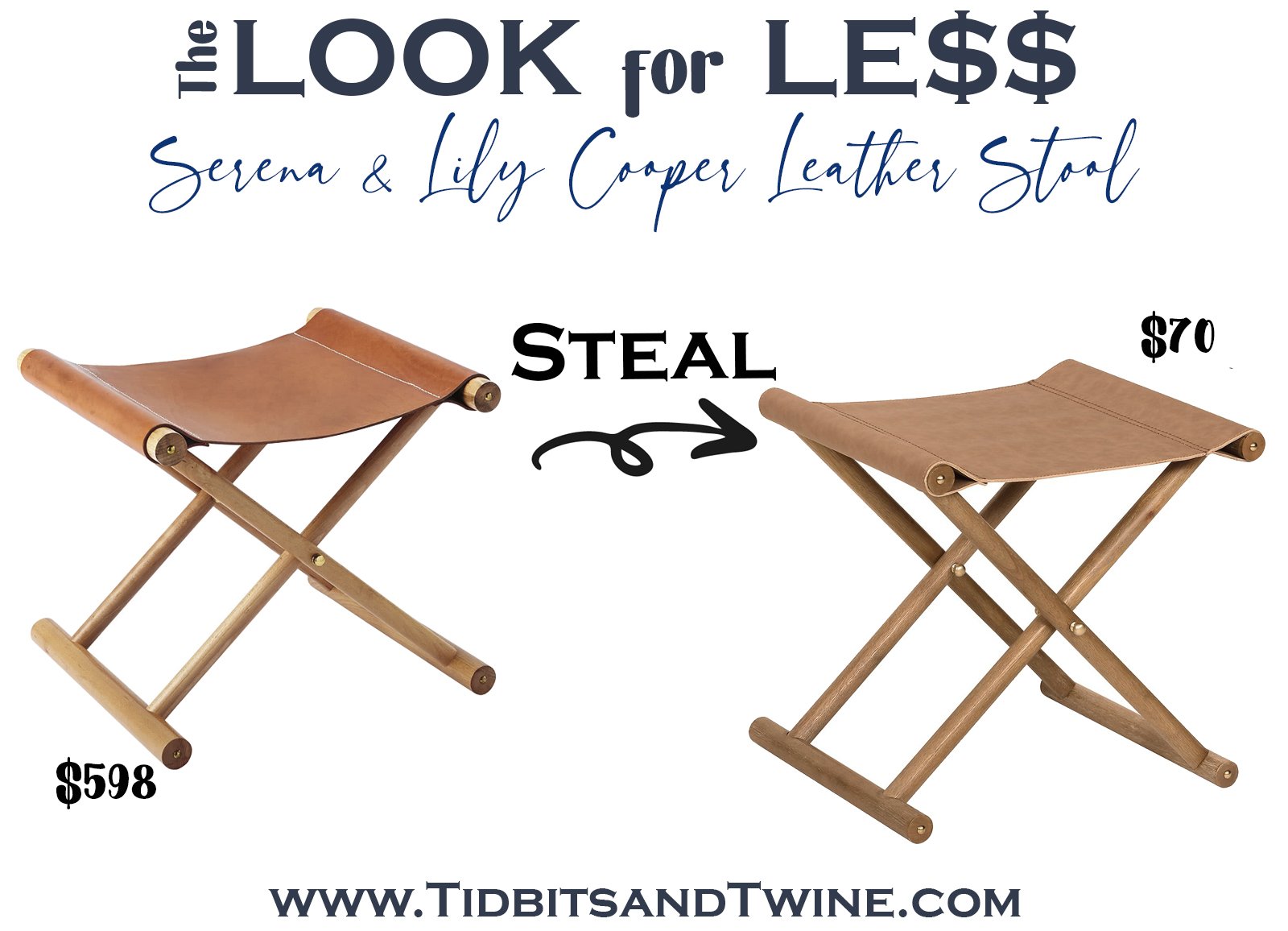 Serena and Lily Cooper Stool – $598
The Blake Dresser is wrapped in raffia and finished with brass accents for a modern, clean look.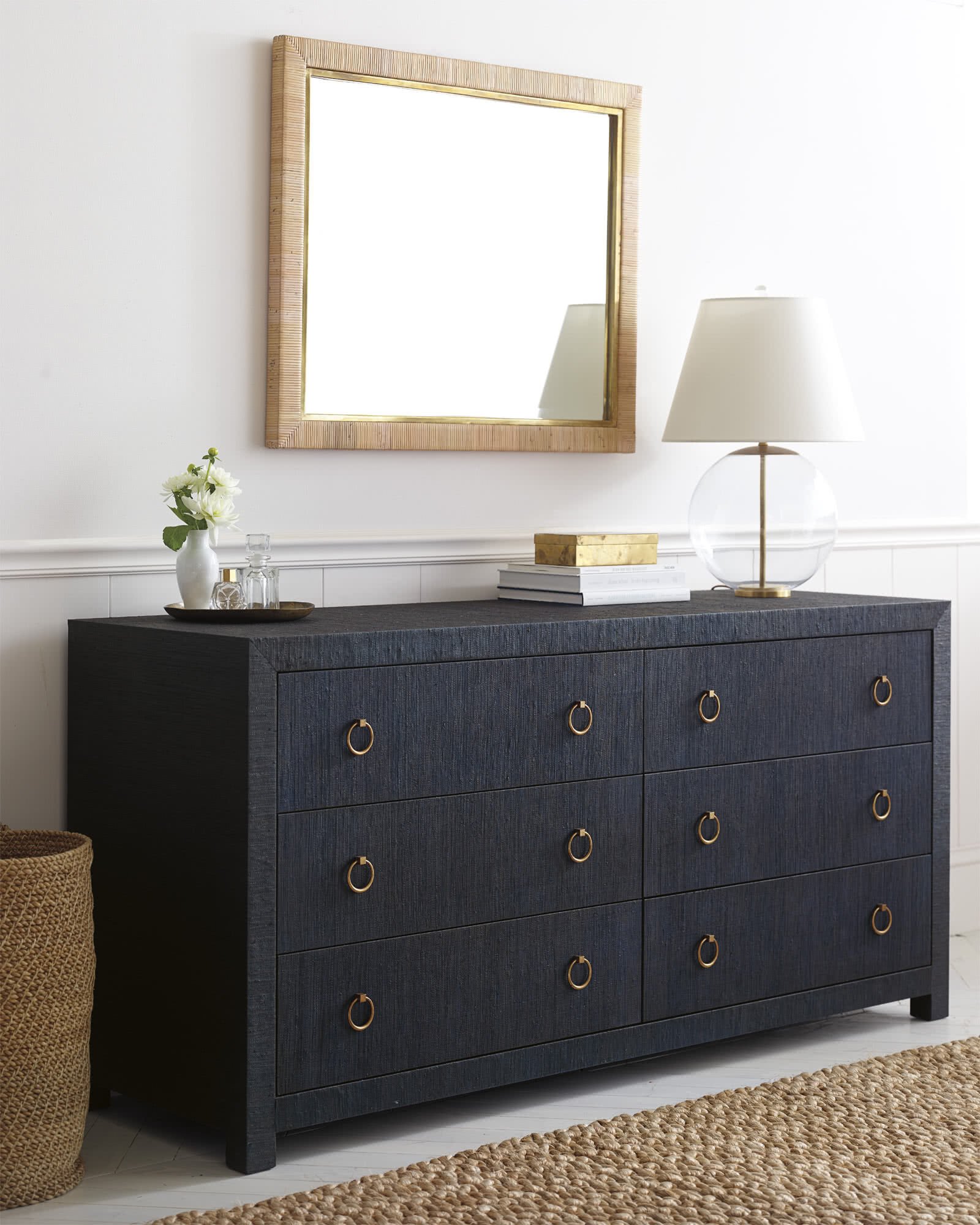 Similarly styled, the Safavieh Lorna Dresser isn't raffia-wrapped but the visible wood grain gives it a textured look.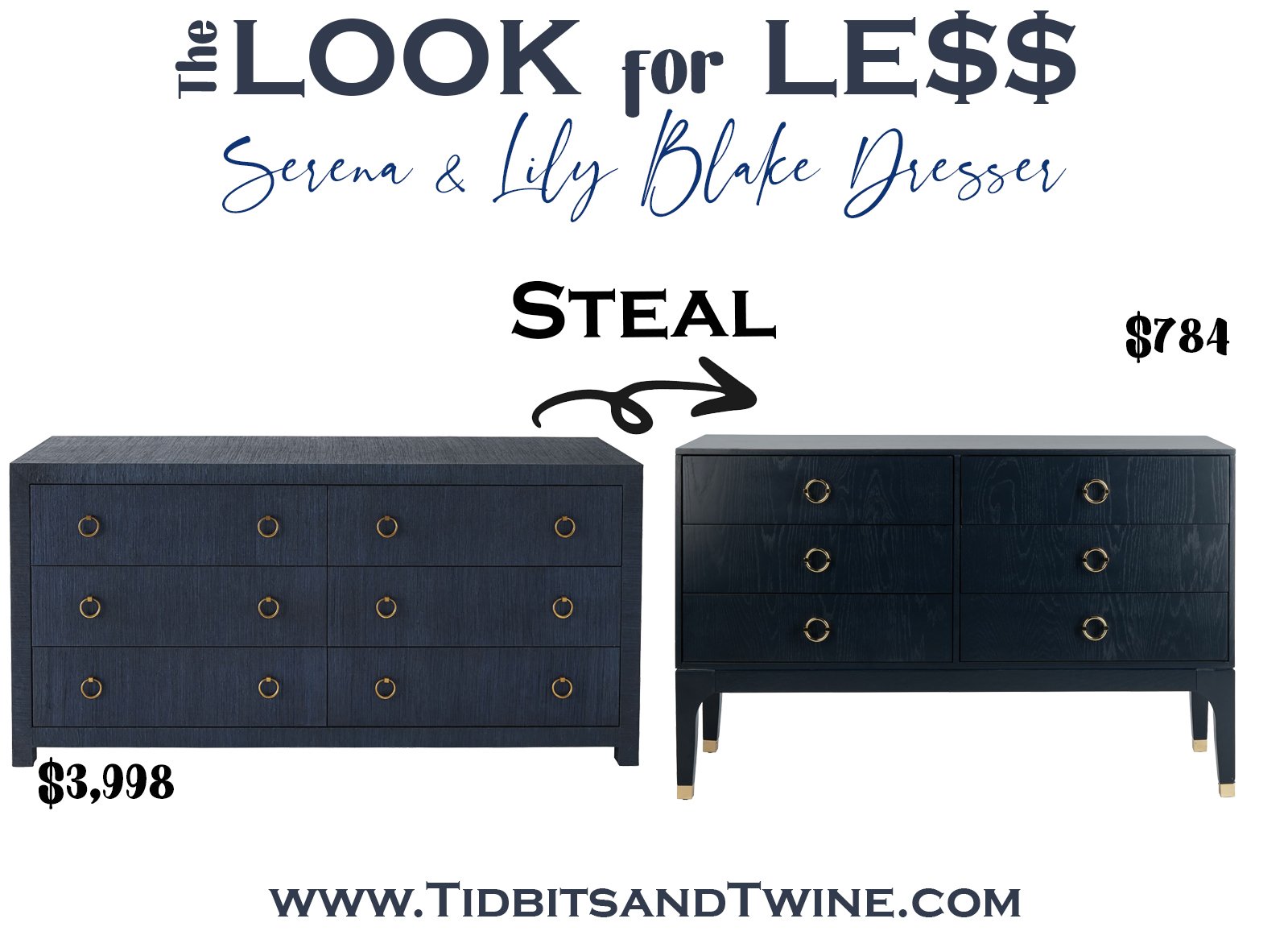 Serena and Lily Riviera Blake Dresser – $3,998
Serena and Lily Sandbar Tray
This round woven Sandbar Tray is 18.5″ and perfect for a coffee table display.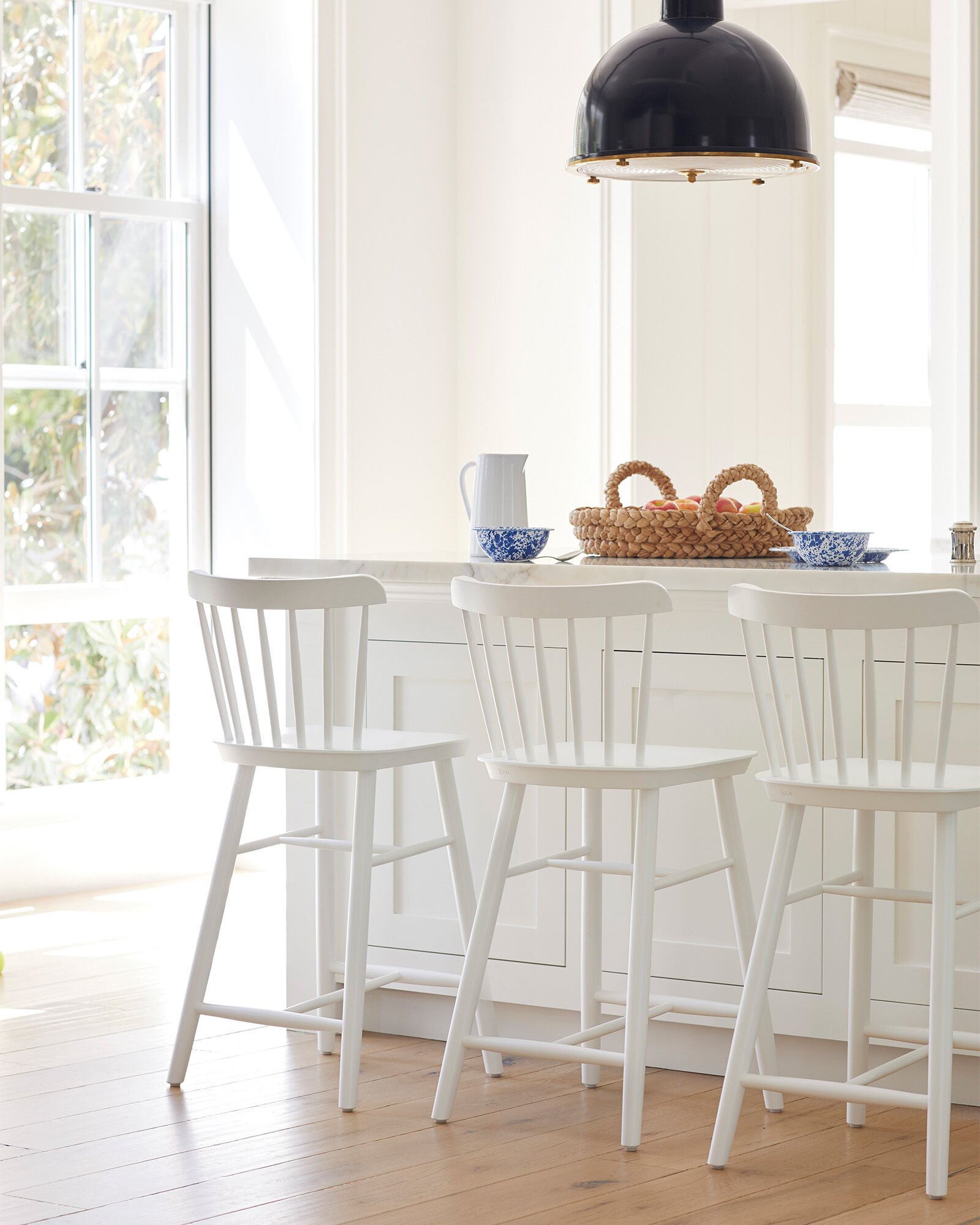 Also made of woven seagrass, this 14.5″ serving tray is a great price! This really is an amazing Serena and Lily basket dupe.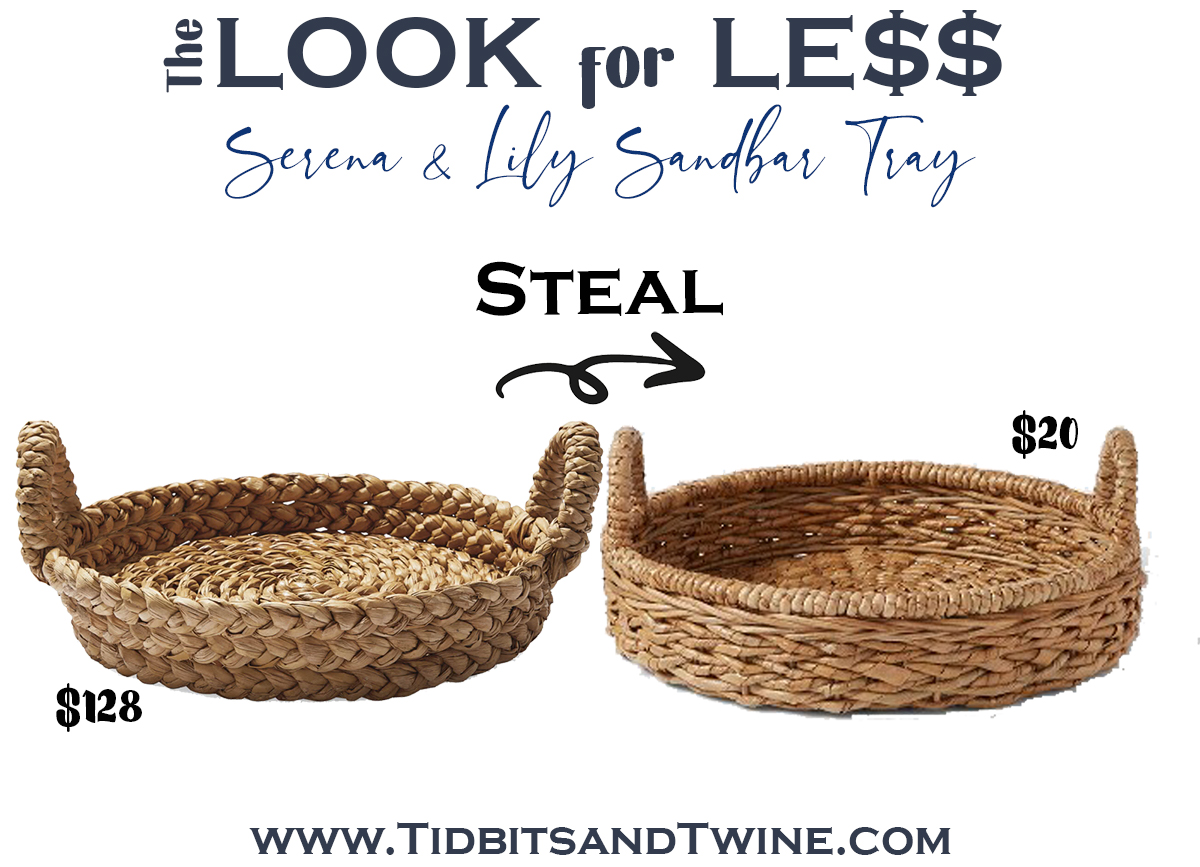 Serena and Lily Sandbar Tray – $128
This is a gorgeous indoor/outdoor coffee table that is a modern take on a traditional African design.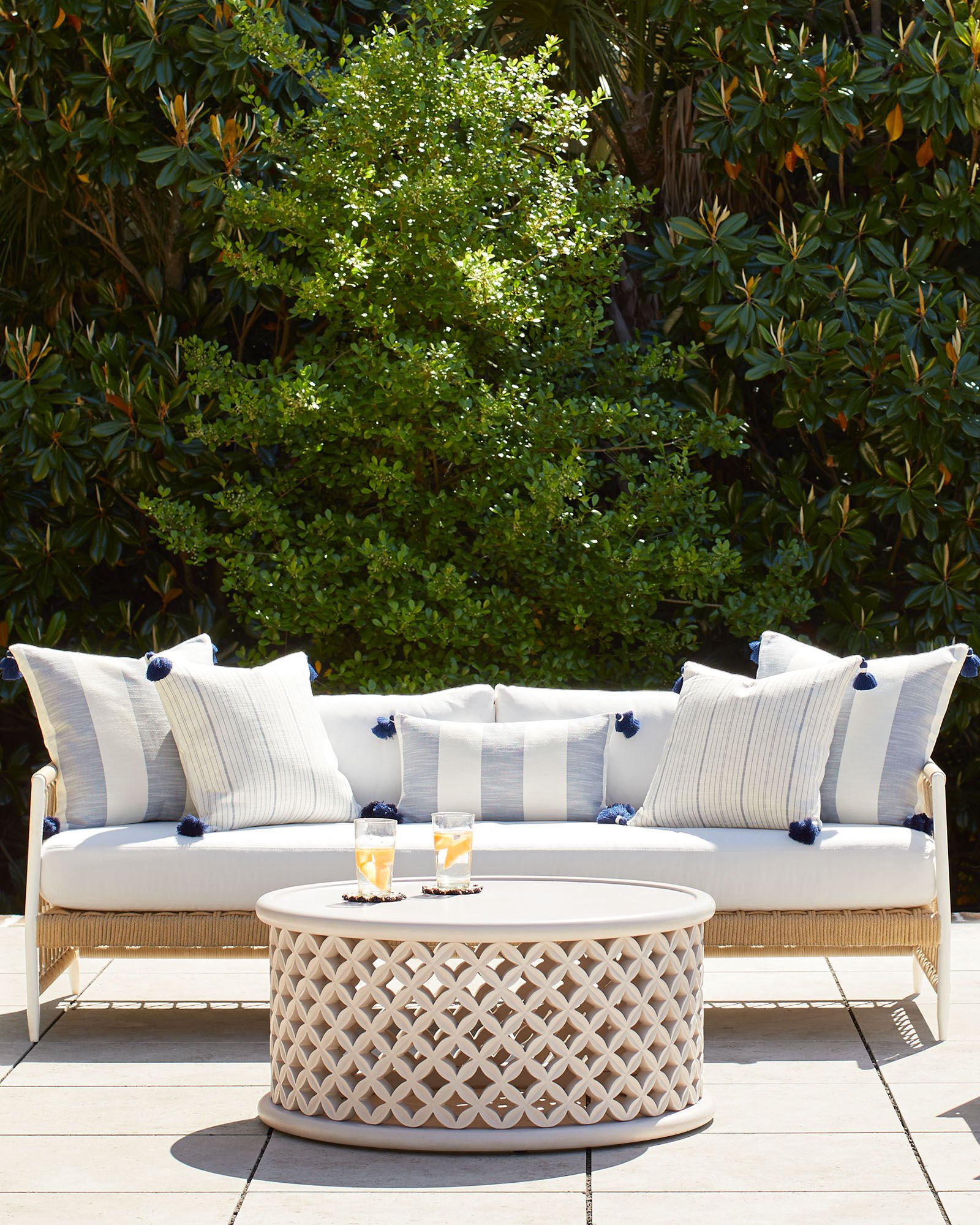 A beautiful coffee table constructed of solid mango wood with rivet details. A very similar look for a fraction of the price.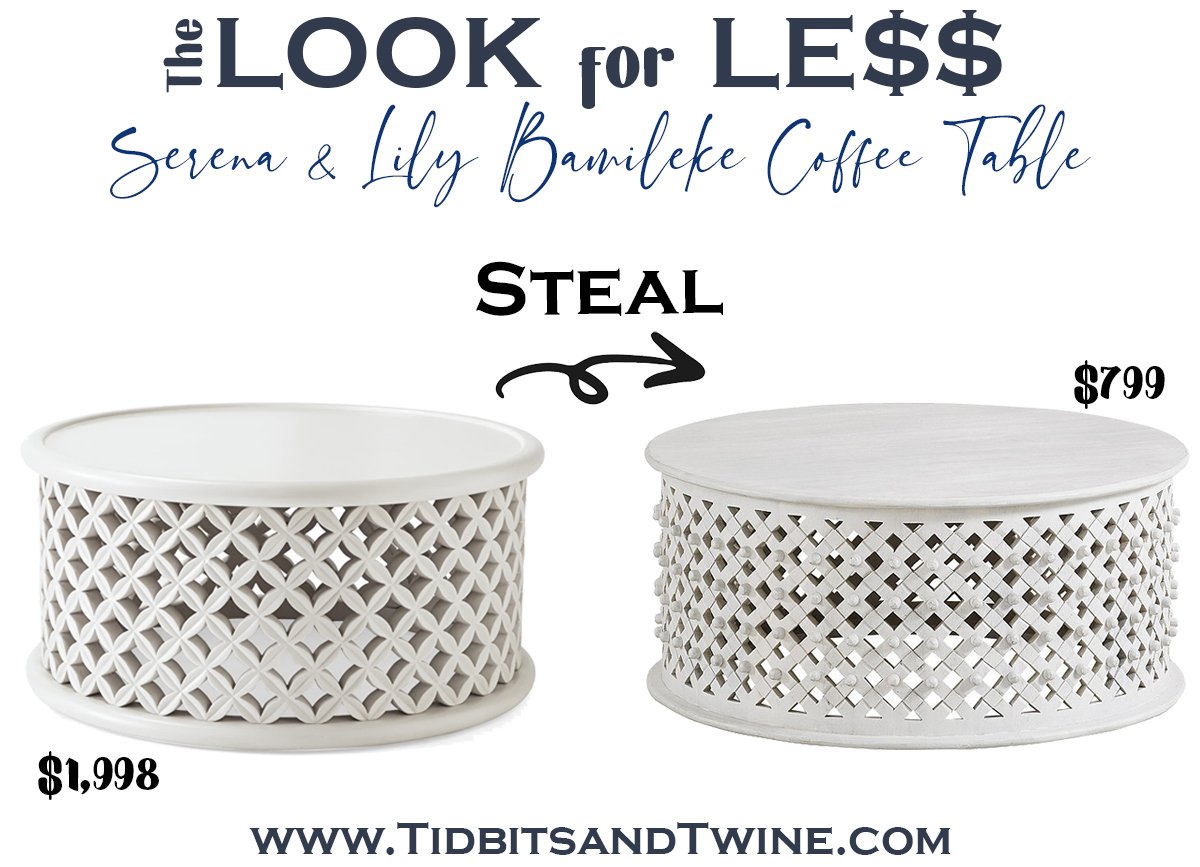 Serena and Lily Bamileke Outdoor Coffee Table – $1,998
Serena and Lily's Wave Sheet Set is a Portuguese cotton percale. What is percale? It's a type of tight weave with a matte finish. The material is desirable for bedding since it's breathable with a crisp look. The sheets have a 200 thread count.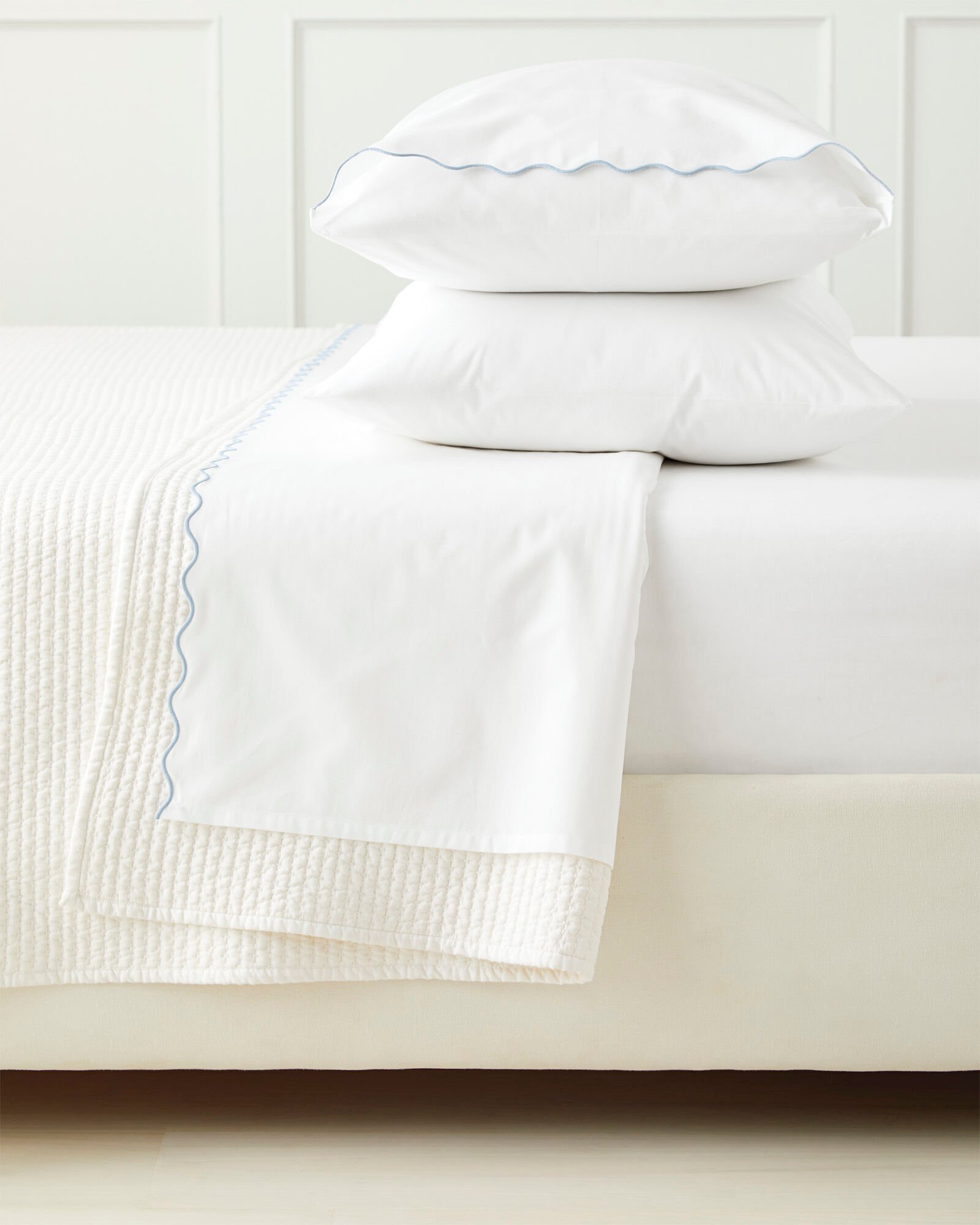 This Martha Stewart Scalloped Sheet Set is a 400 thread count Egyptian cotton percale set.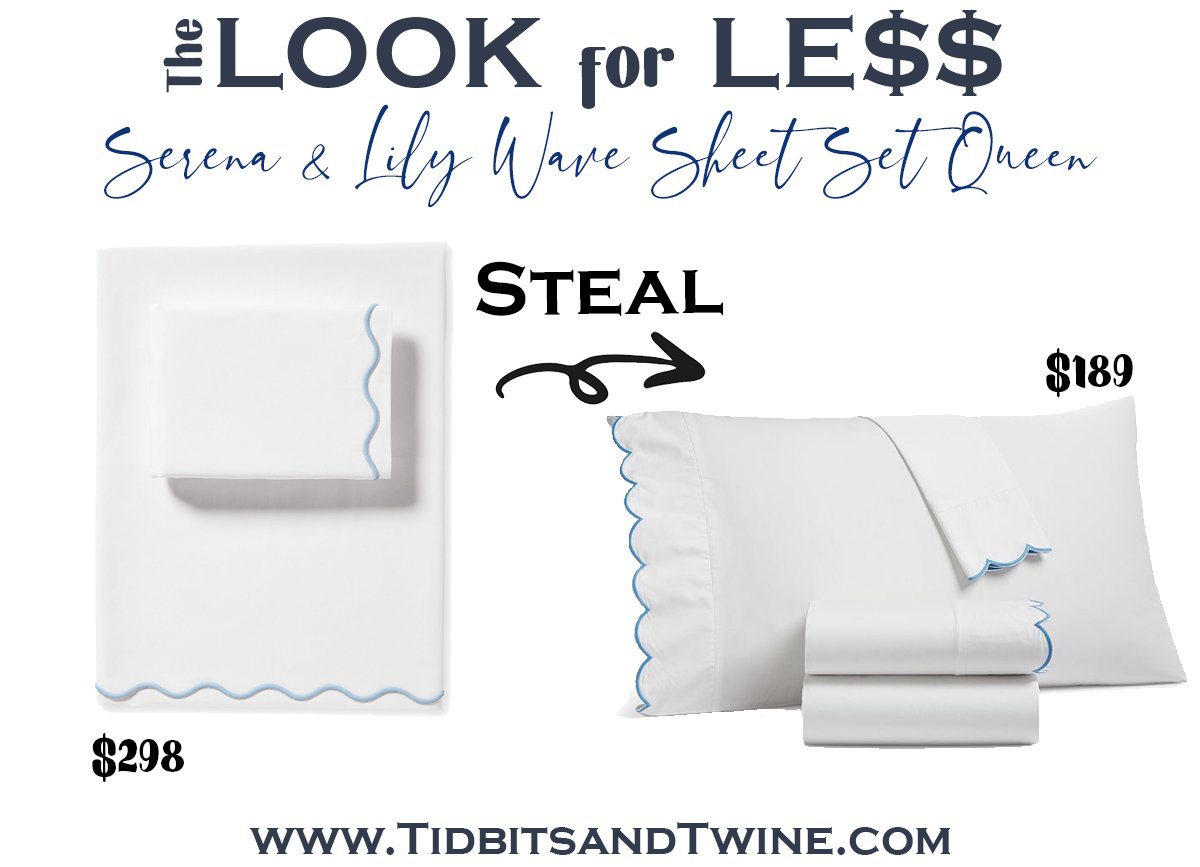 Serena and Lily Queen Size Wave Sheet Set – $298
The Serena and Lily Balboa Counter Stool has a rattan-wrapped mahogany frame with angular lines for a modern look. The brass details add a bit of elegance and whimsy!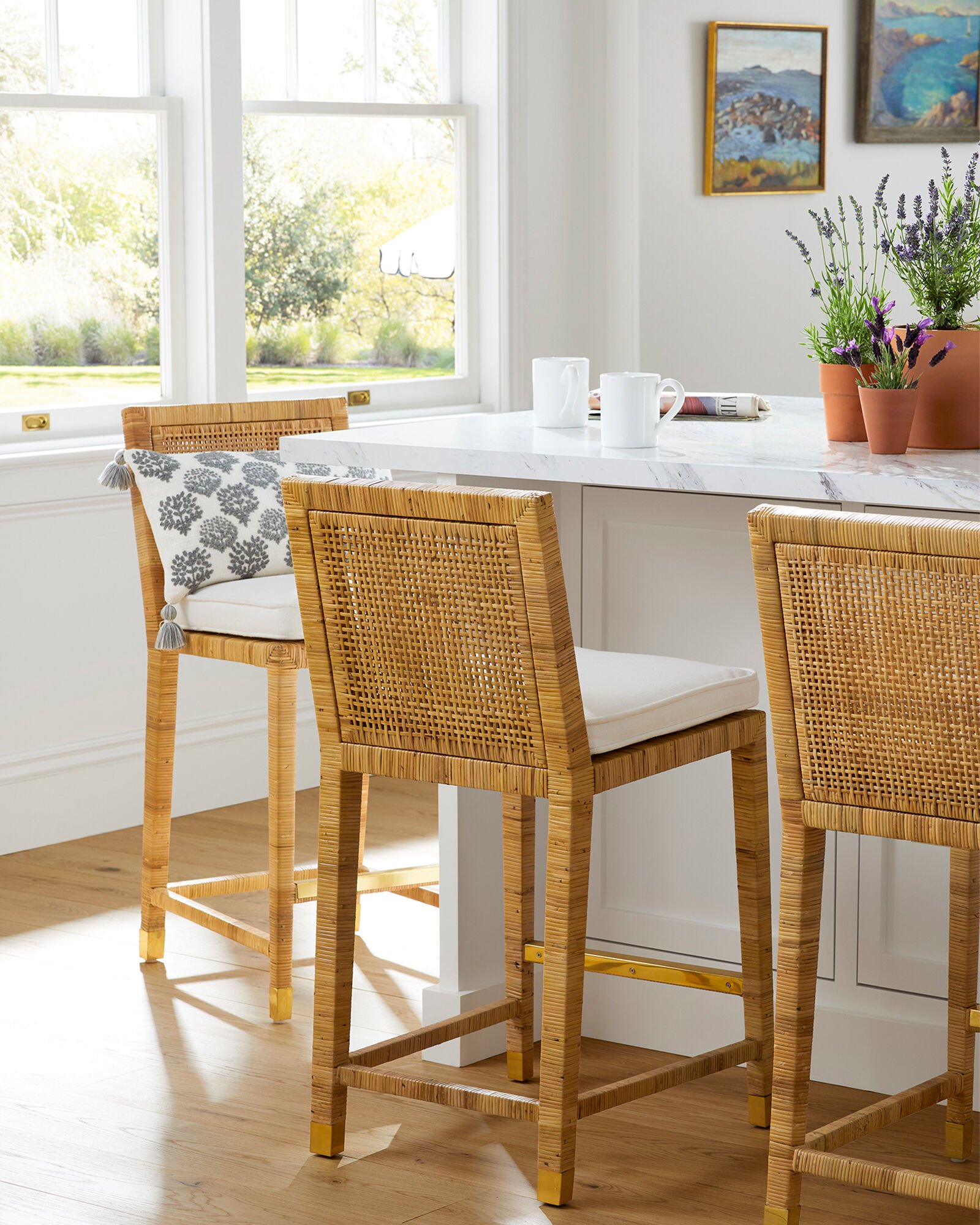 These Mariah Bar Stools are missing the brass details, but are otherwise a pretty close match!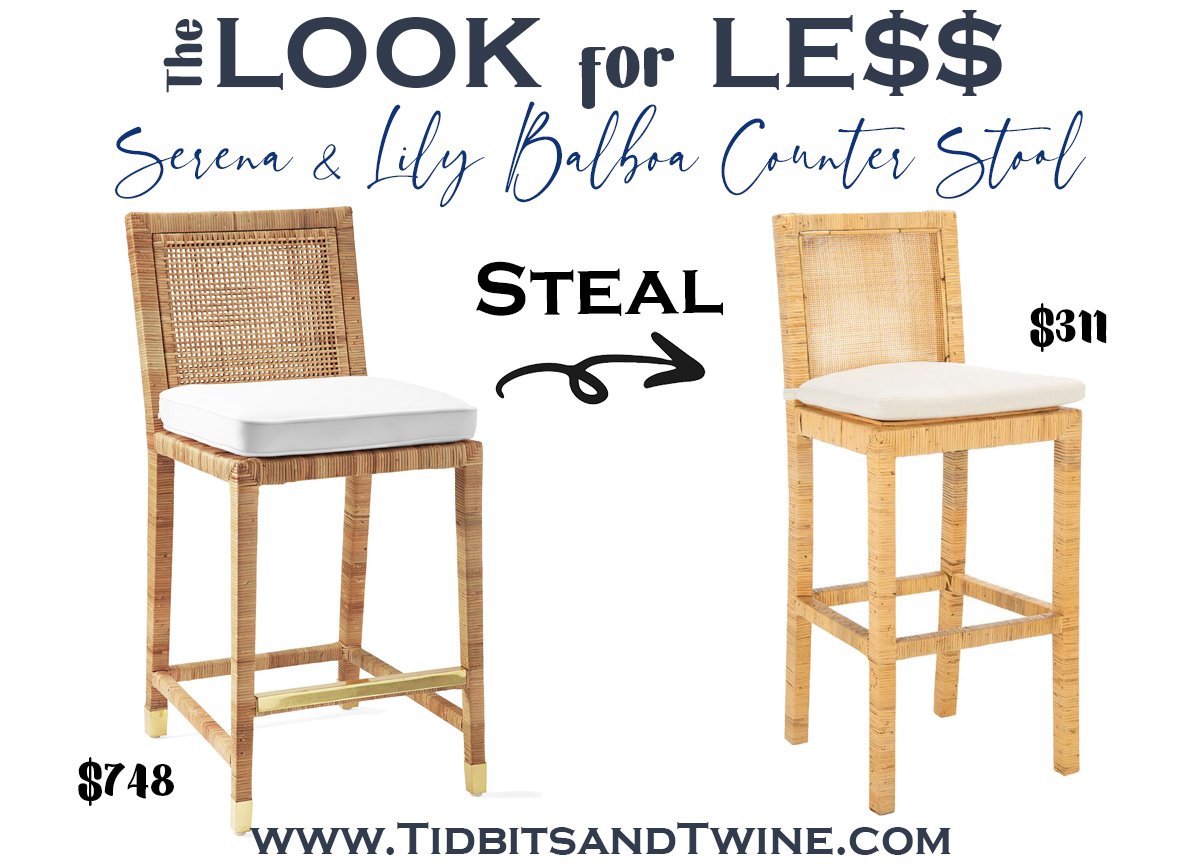 Serena and Lily Balboa Counter Stool – $748
More Decorating Ideas:
More Serena and Lily dupes:

Happy Shopping!