A look a beautiful Pottery Barn dupes that will give you the look for less! If you love Pottery Barn's mix of traditional, vintage, and timeless, here's how to get the look for less.
Pottery Barn is one of those retailers that so many others copy. They tend to be consistent in terms of adding new looks while maintaining some of their classics. They dip their toe in the latest trends, but not so far as to ever seem out of style. I've written extensively about annual trends and how you can incorporate them, as well as how to affordably follow the trends.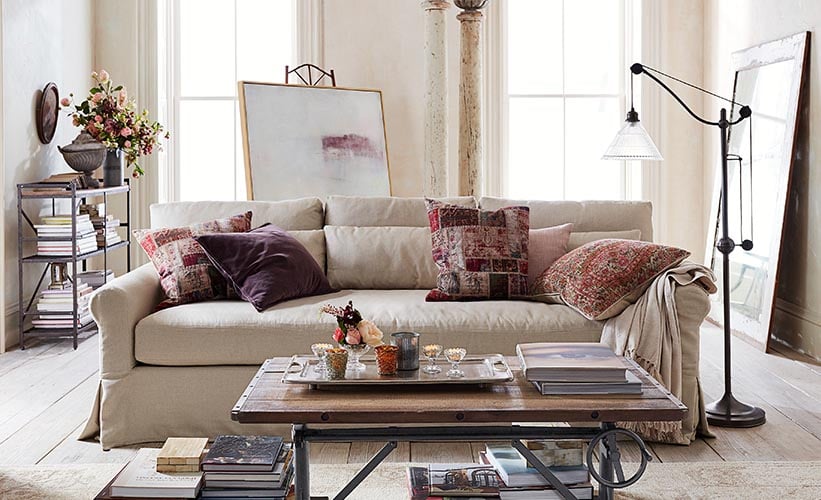 Pottery Barn even carries "found" or vintage items that they mix with new pieces for a curated look. And while Pottery Barn isn't the most expensive, they certainly aren't the least.
All of this makes Pottery Barn a target for others to copy! And while Pottery Barn might be the "first" to sell a new style or particular product, it doesn't take long for others to follow.
My Quest for a Pottery Barn Dupe
Personally, I love Pottery Barn, and own their throw pillows, flatware, napkins, and even their sectional sofa! Pottery Barn displays their products beautifully and I love thumbing through the pages of their catalogs. Sometimes there's something I see at Pottery Barn that I just can't find anywhere else, but often, with a bit of looking, I can find a good dupe.
My quest for the perfect Pottery Barn dupe started when I wanted a paneled mirror for my family room. I loved the Eagan mirror at Pottery Barn but it wasn't in my price range. So I scoured the internet for the perfect dupe, eventually finding one from Litton Lane! (I haven't photographed my new mirror for the site yet, but you can see it in my Instagram account!)
So today, I'm sharing some of my favorite Pottery Barn dupes with you so you can get the look for less. Affiliate links provided for your shopping convenience. You can read my full disclosure policy here.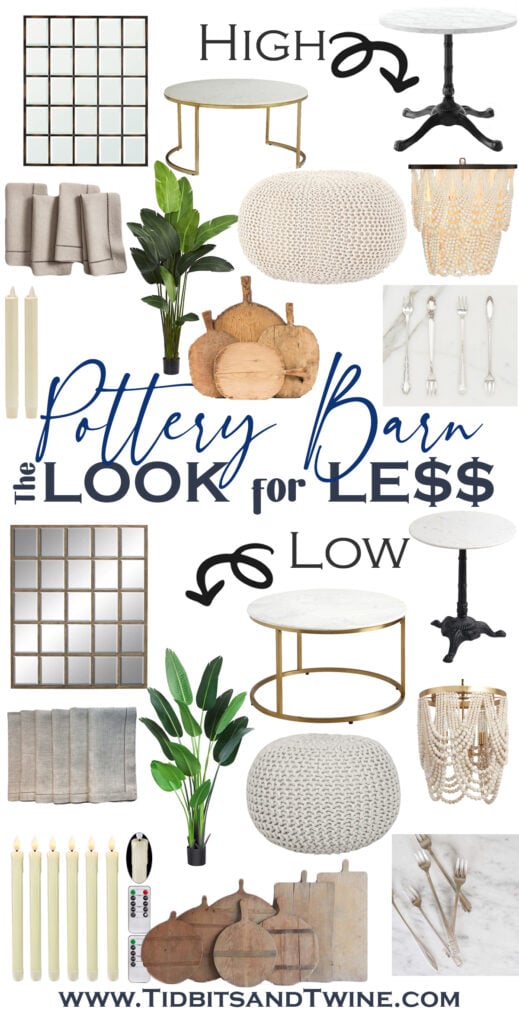 This is the item that kicked off my search! I really wanted the Eagan Wall Mirror for my family room to put in place of my TV once I had moved my TV above my fireplace. The mirror is made of bronze metal with 25 beveled mirrors. It's big at 44″ x 55″, but so is the price tag! It costs a whopping $600.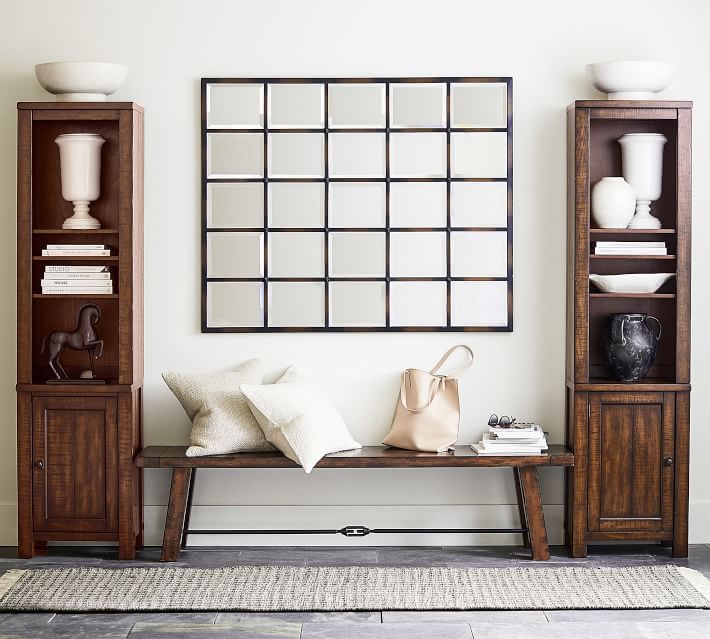 Enter this amazing dupe from….Home Depot! Yes, you read that right. I ended up ordering this Litton Lane wall mirror and I'm thrilled with it! It's also bronze metal with 25 beveled mirrors and it actually 1″ larger, but is a fraction of the price at $345. That's a 50% savings!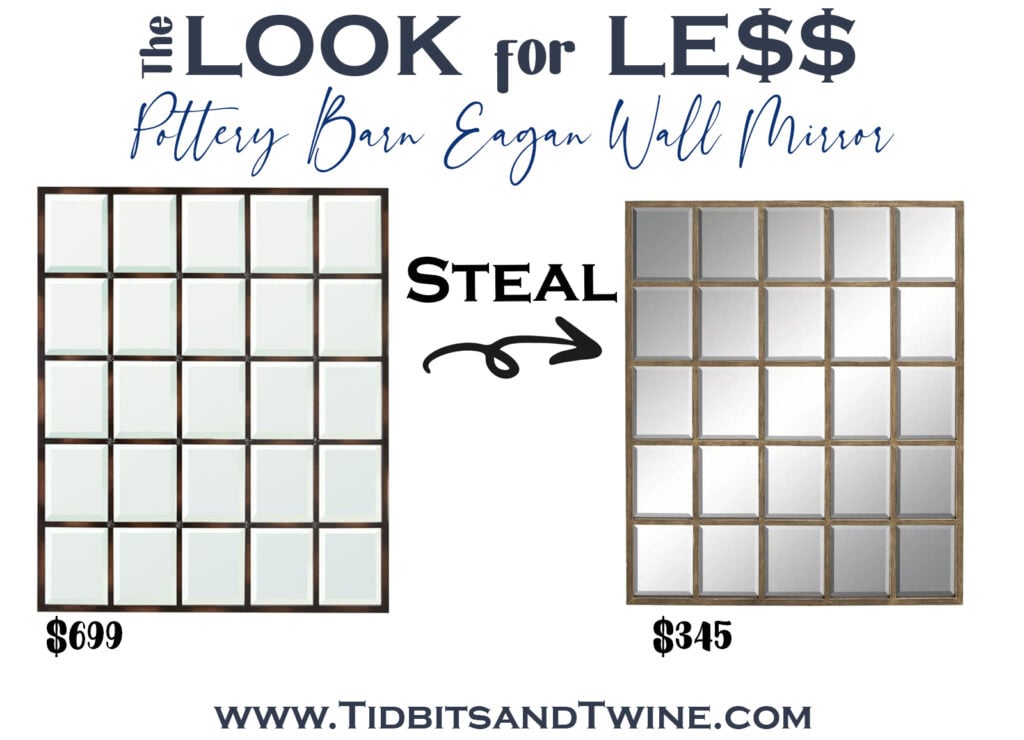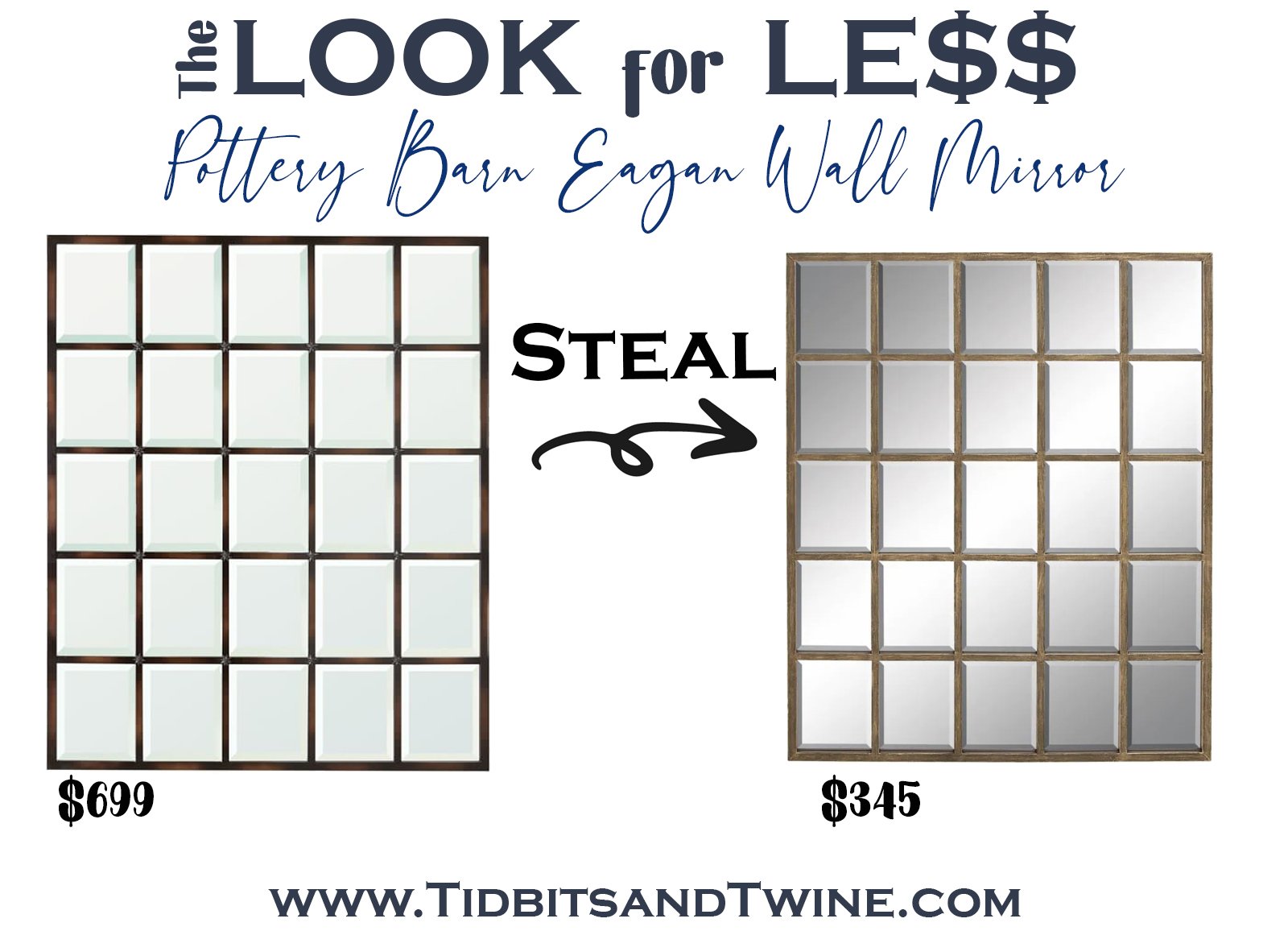 Pottery Barn Eagen Multipanel Wall Mirror $699
Decor Seal: Litton Lane Wall Mirror $345
I blame dark corners for the reason that I always kill my large houseplants, which is why I love a fake plant! Pottery Barn's Travelers Faux Palm Tree appears to have 13 leaves with realistic slits and edges. It measures 84″ tall and costs $399.
This is the plant that I ordered for my own home off of Amazon! It's 12″ shorter but also has 13 leaves with realistic detailing. And the best part? It only costs $114.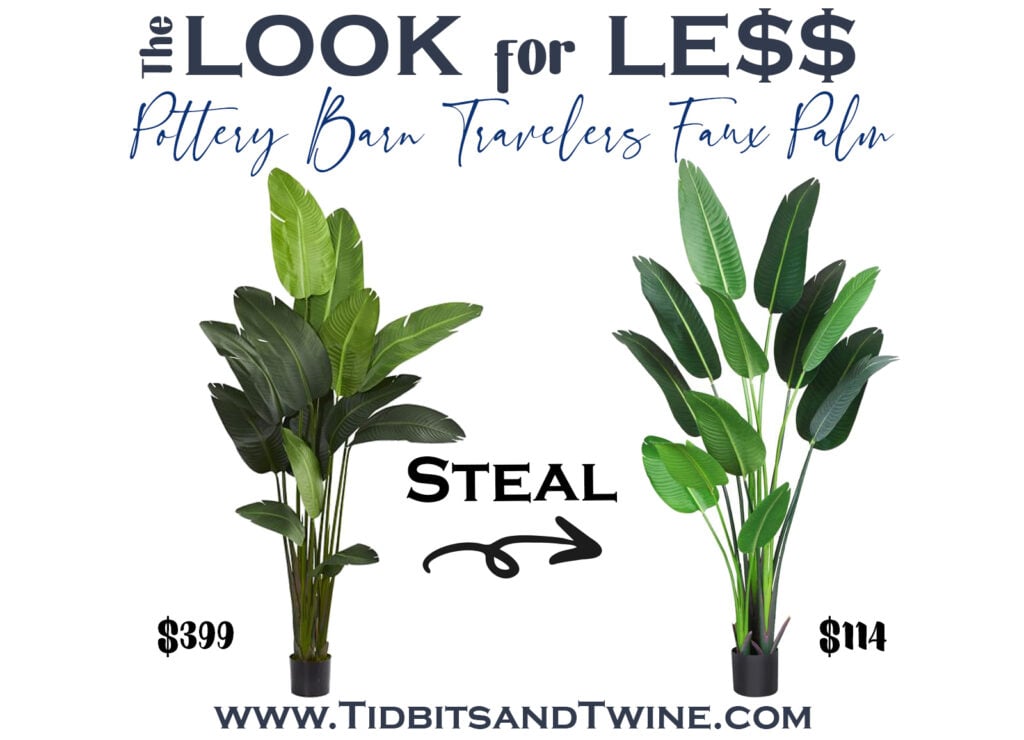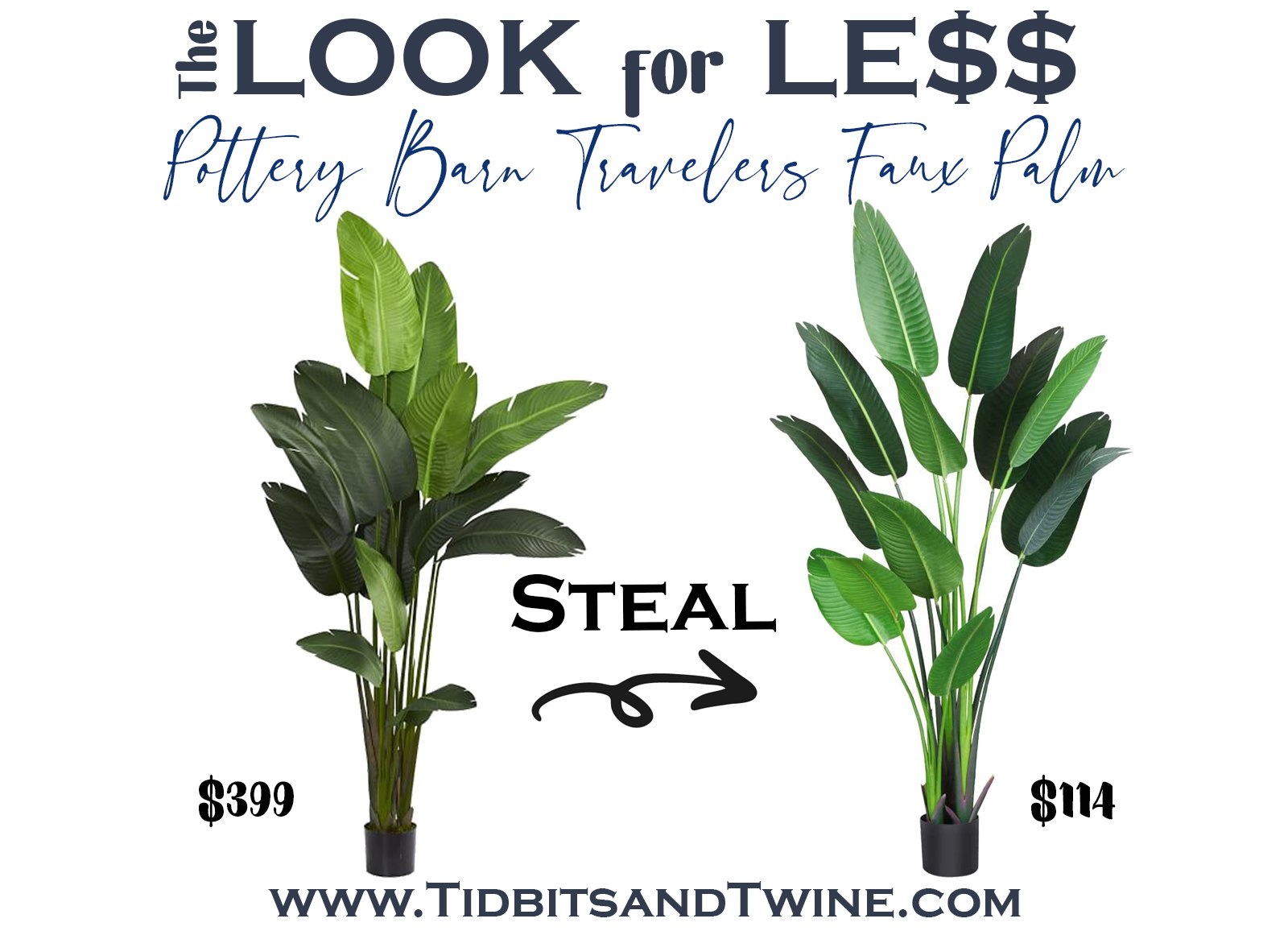 Pottery Barn Travelers Faux Palm Tree $399
Decor Steal: Fopamtri Artificial Bird of Paradise Plant $79
These days, LED candles look quite real and are a great alternative for an actual flame! Pottery Barn sells these 8″ wax taper candles with a flickering flame. They go on for 5 hours and then off for 19, but the remote control is sold separately. A set of two candles will run you $118!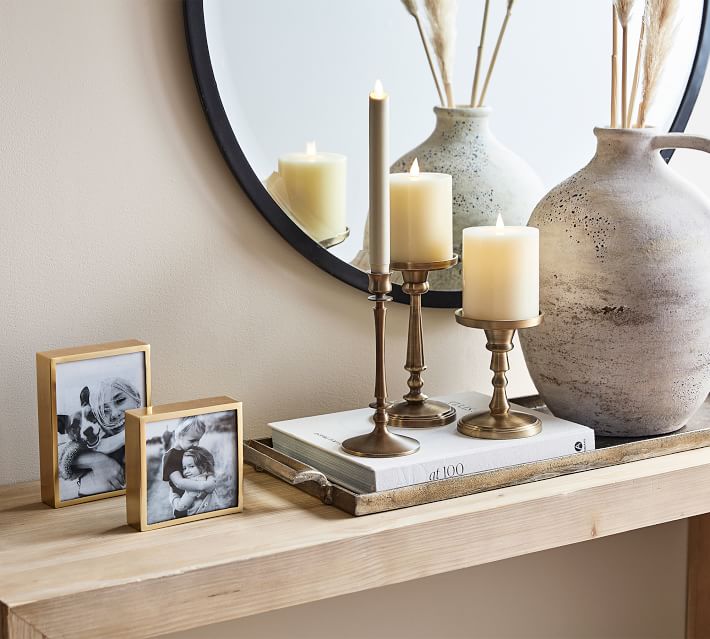 Enter my latest Amazon find. I own and LOVE these candles. A set of six 9.6″ candles PLUS two remotes cost $30. They are made of wax and have a drip effect on the sides. The remote allows you to choose between a flickering or steady light, and has a timer with 4 different options. You can even adjust the brightness! If you want to see them in action, you can find a video on my instagram account.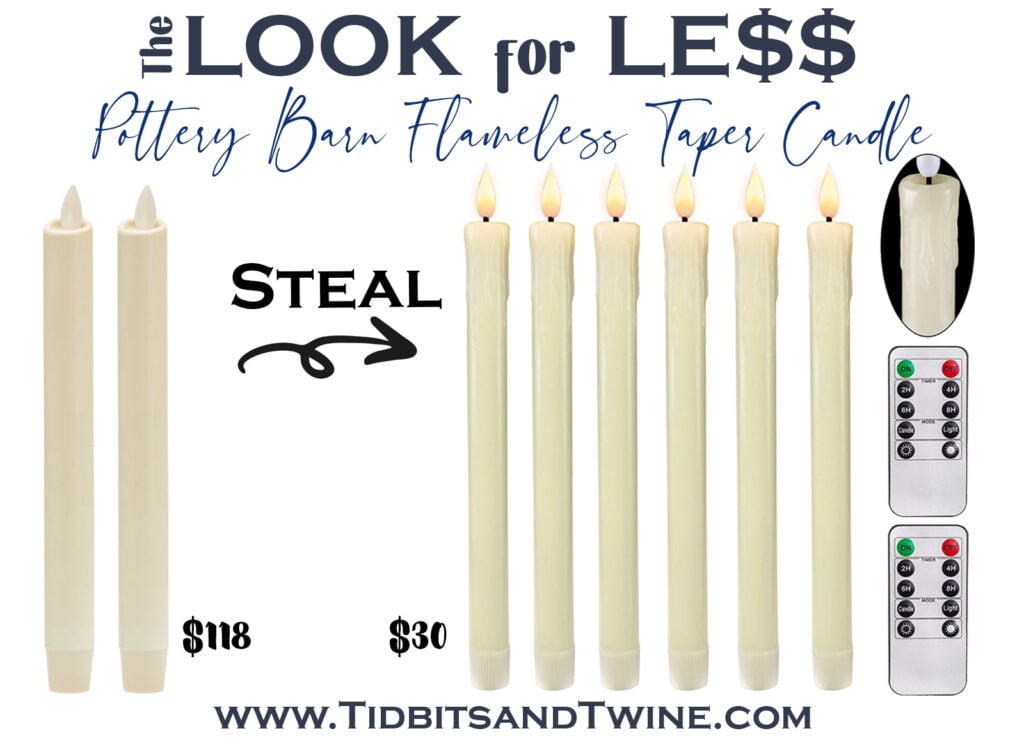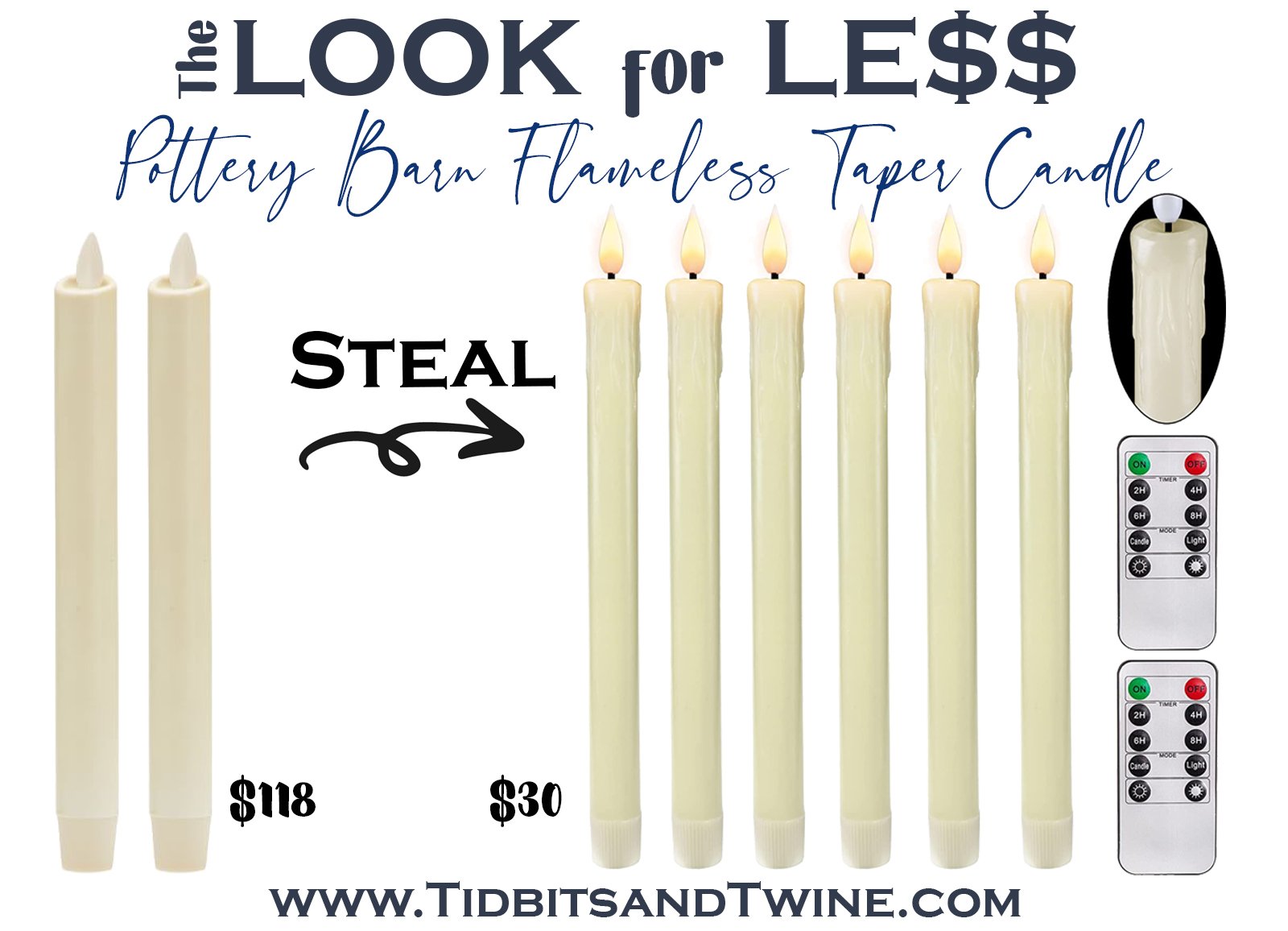 Pottery Barn Premium Flickering Flameless Wax Taper Candle $118
Decor Steal: Homemory LED Flameless Taper Candles with Timer $30
I own and love my Pottery Barn linen napkins, but a set of 4 will run you $56, so they are an investment!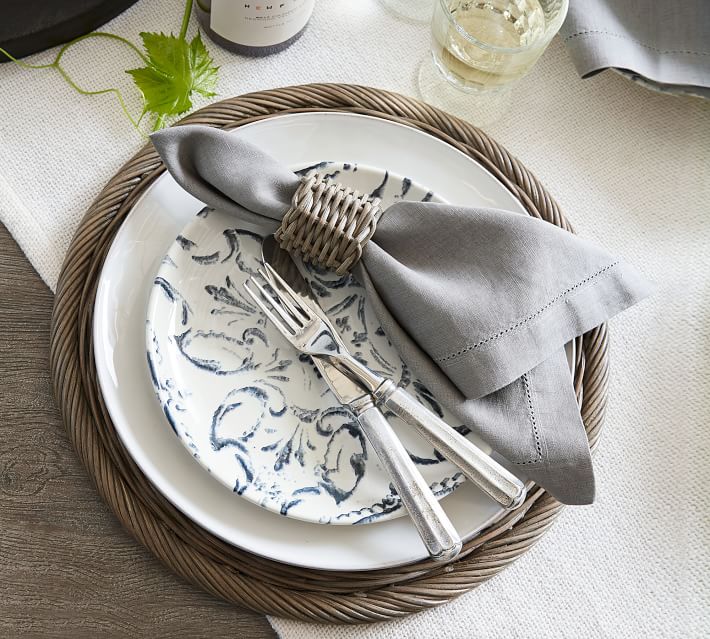 Etsy is one of my favorite places to shop. I found this set of 6 hemstitch napkins for $31 and they are the exact same size! That's just over $5 per napkin versus $14! It never hurts to shop around for the best price.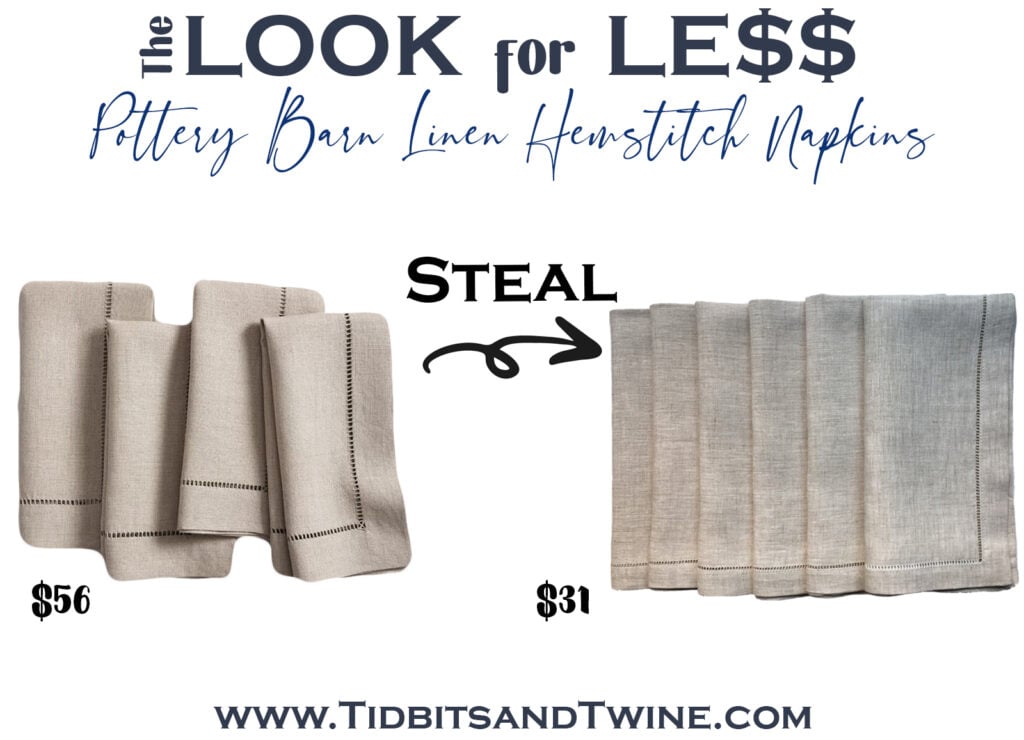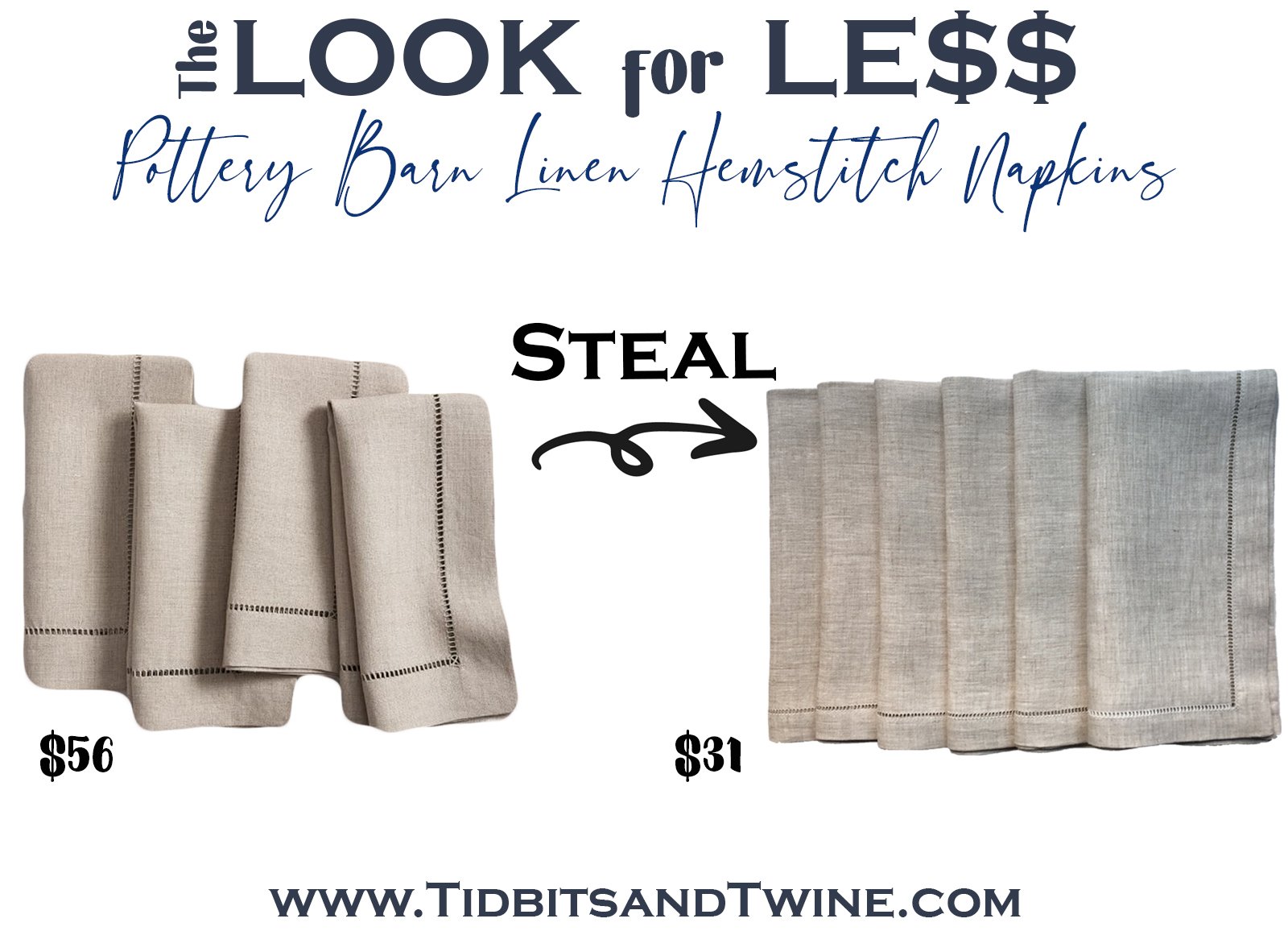 Pottery Barn Linen Hemstitch Napkins $56
Decor Steal: 6 Hemstitch Linen Napkins $31
Did you know Pottery Barn sells vintage and antique items? If you type the word "found" in the search box on their site, you can pull up a list of vintage items that they have for sale. These boards are sourced from Hungary and a medium measures 18″-29″ but will run you $229.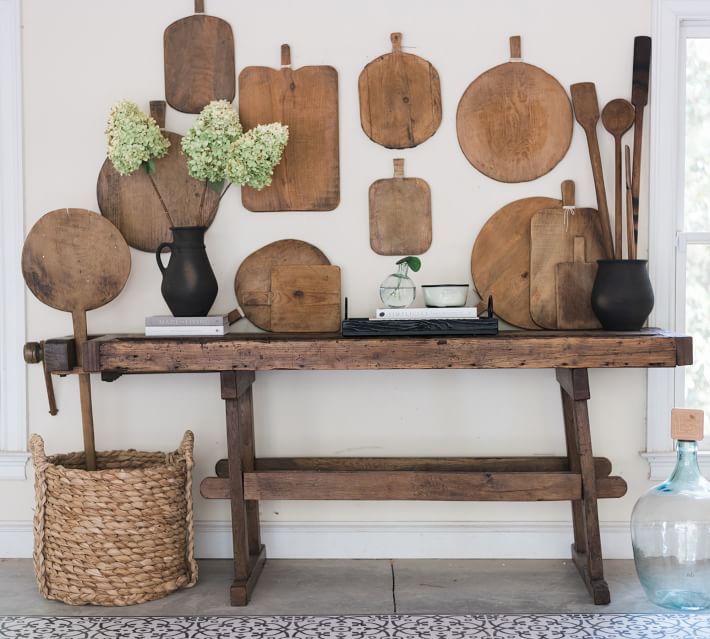 Elsie Green is one of my favorite shops for European antiques. Their German bread boards are handmade vintage items sourced from a flea market in Lyon. A round board is about the same size as Pottery Barn's medium and costs $125.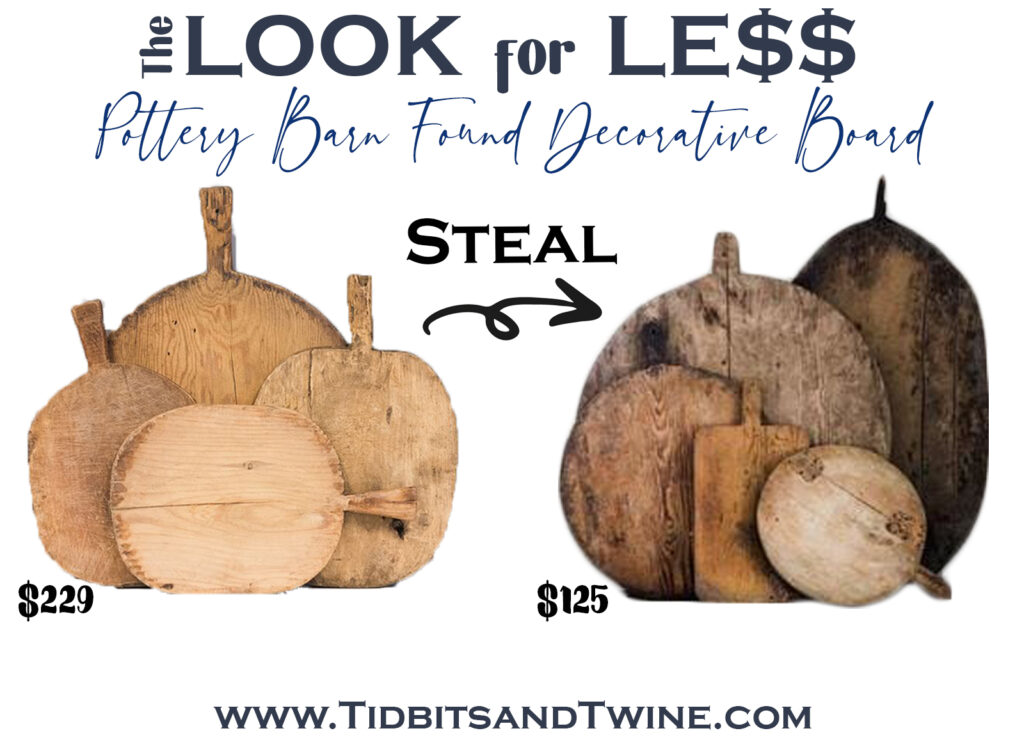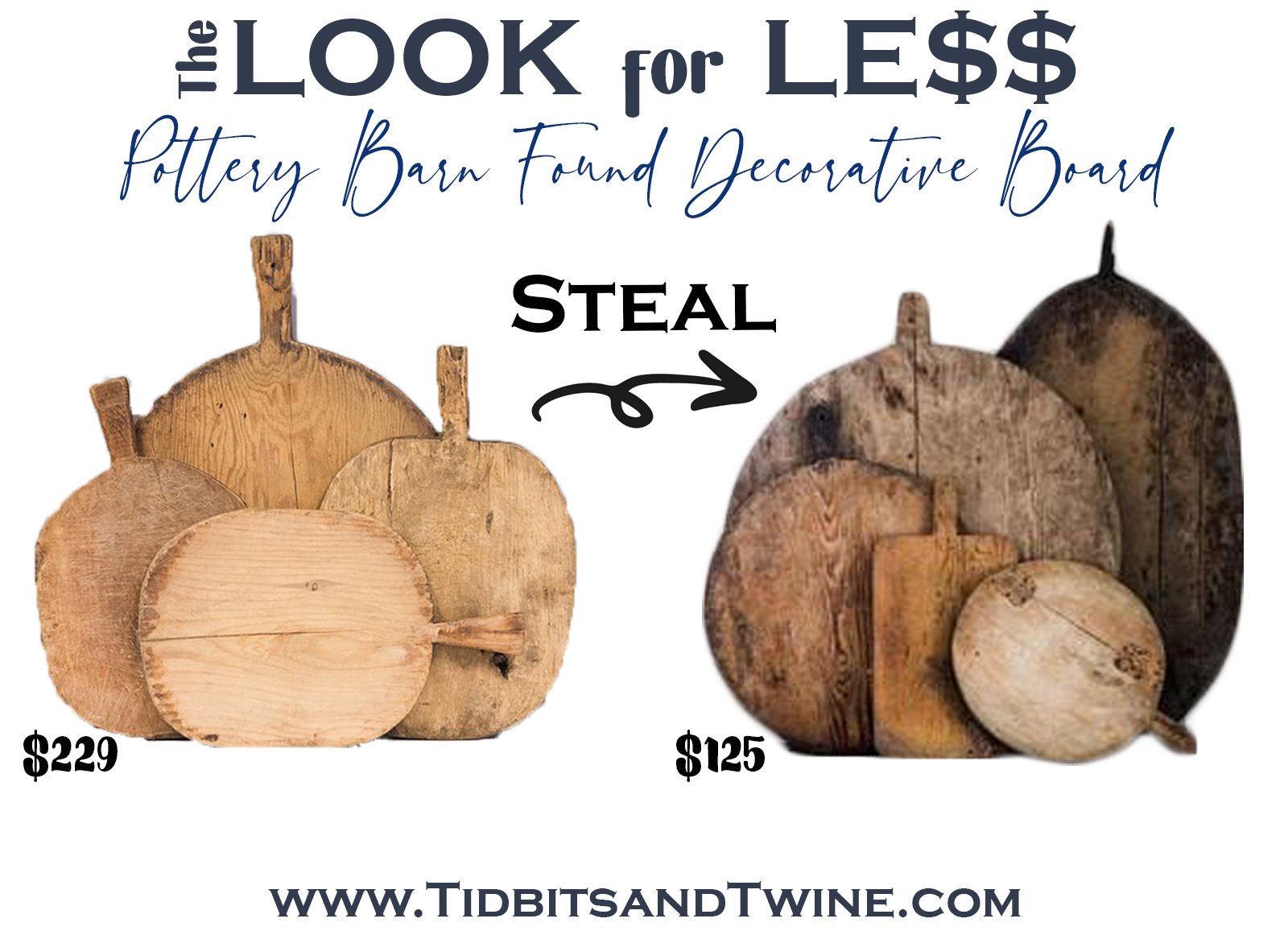 Pottery Barn Found Antique Decorative Board $229
Decor Steal: Vintage German Bread Board $125
Another beautiful found item sold at Pottery Barn is a set of appetizer forks, each one with a different pattern. These are sourced from hotels throughout the United States and a set of four runs $69.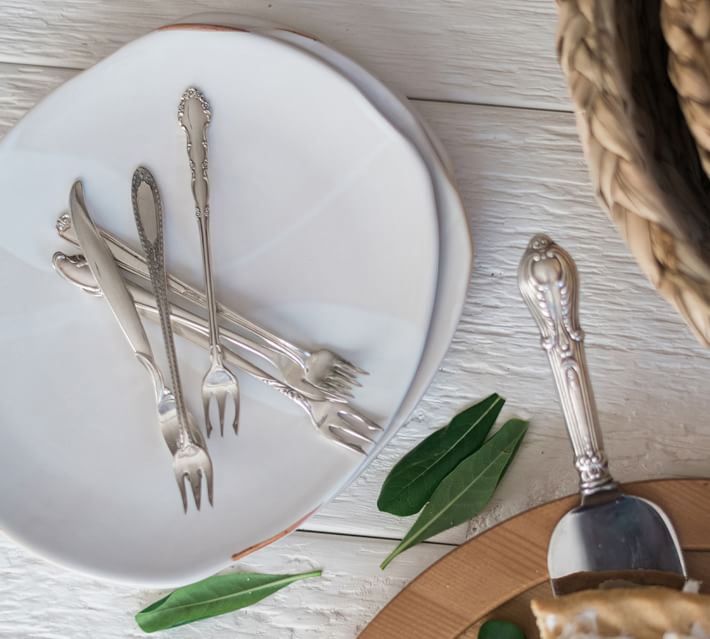 Another one of my favorite finds at Elsie Green is their set of 8 relish forks! They are also mismatched, but cost $39. That's just under $5 per fork versus over $17 at Pottery Barn.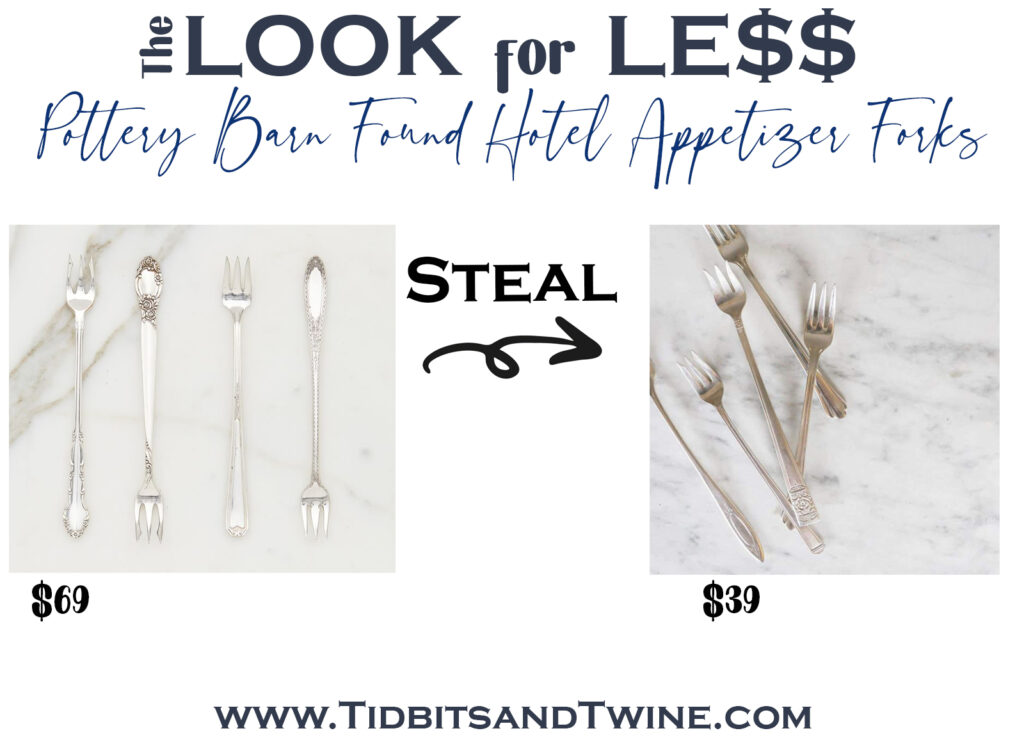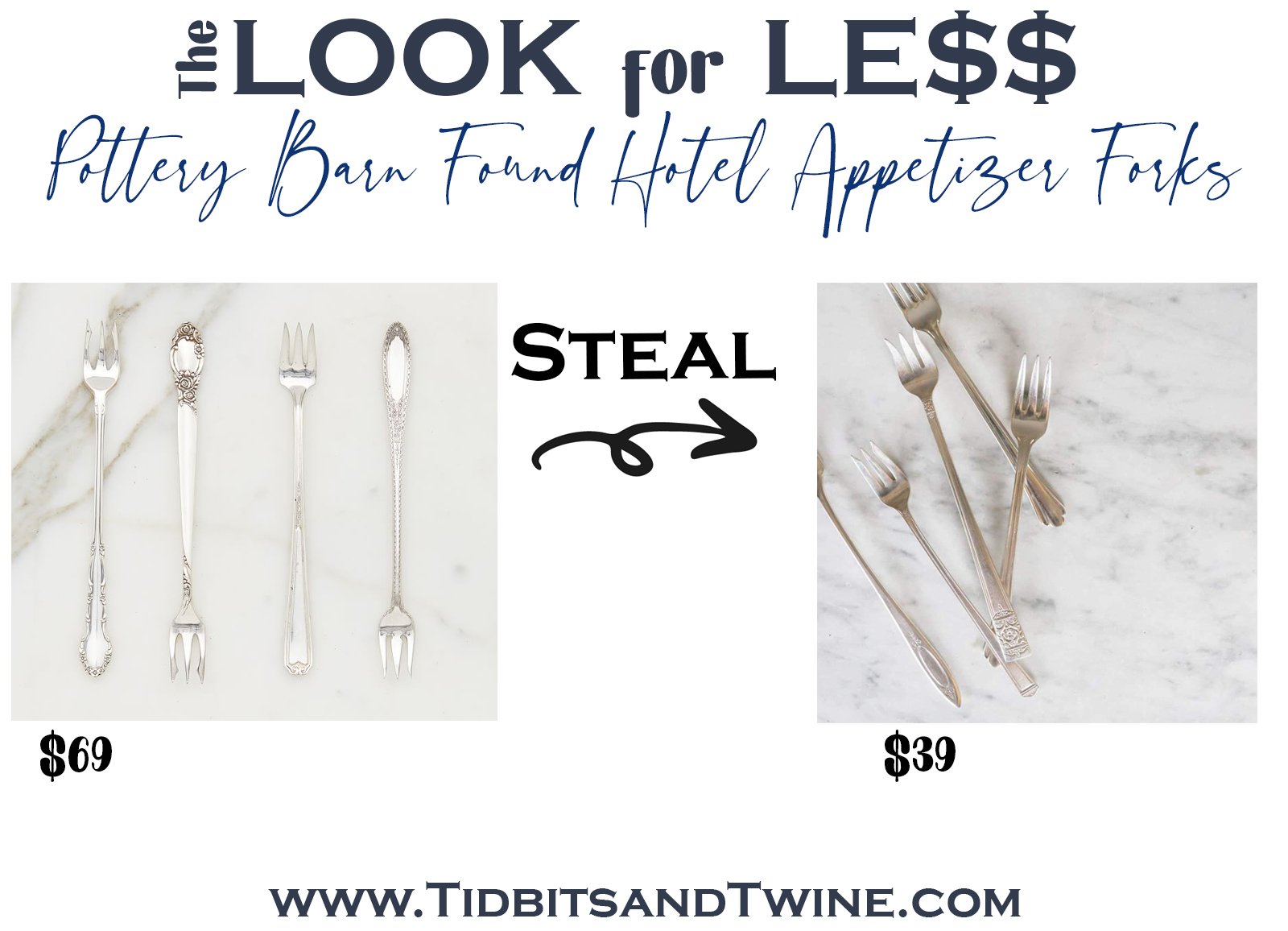 Pottery Barn Vintage Found Hotel Silver Appetizer Forks Set of 4 $69
Decor Steal: Not Your Grandma's Vintage Relish Forks Set Of 8 $39
The Amelia wood bead chandelier is gorgous at 24″ wide and 28″ tall. The double layer of beads helps to give it an expensive look, but for $899 I was surprised that it isn't compatible with a dimmer switch.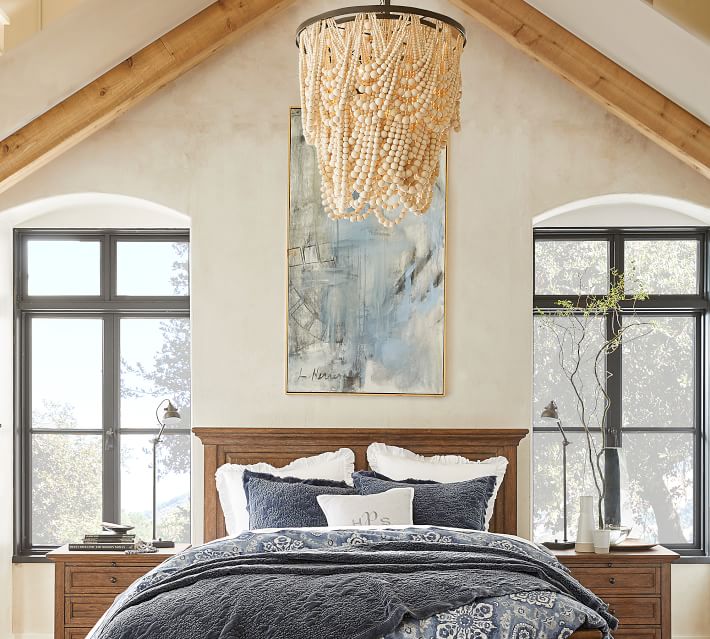 This Whitewashed Wood Draped Bead chandelier is a close match in terms of style and size, although admittedly, it doesn't have as many beads. But then again, it's less than 50% of the price.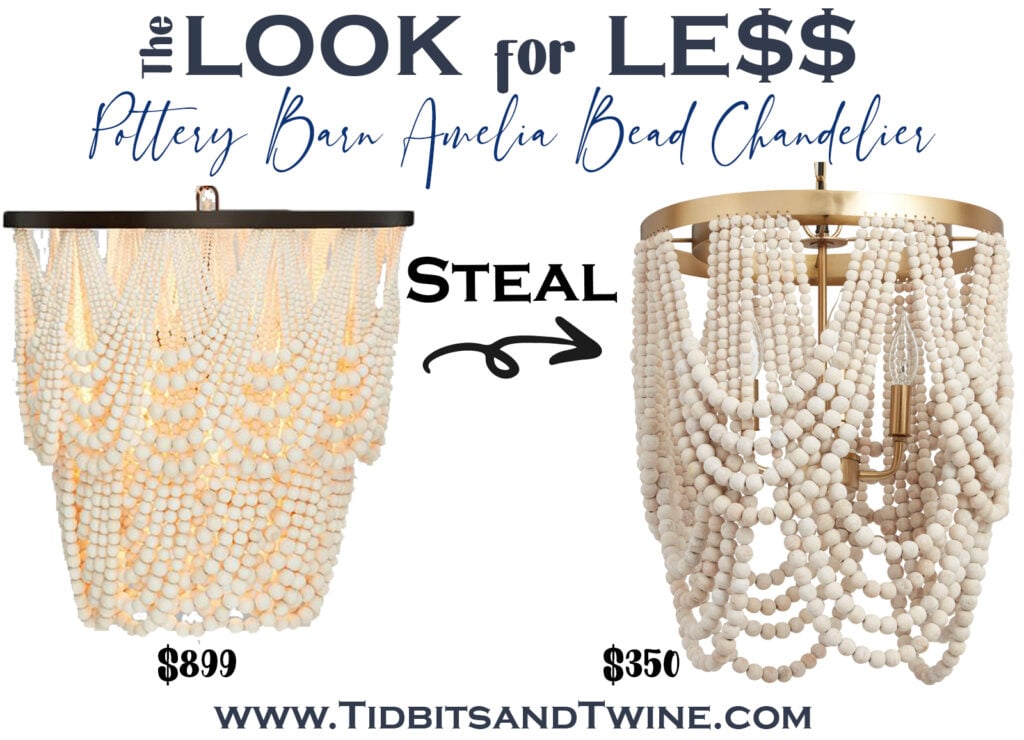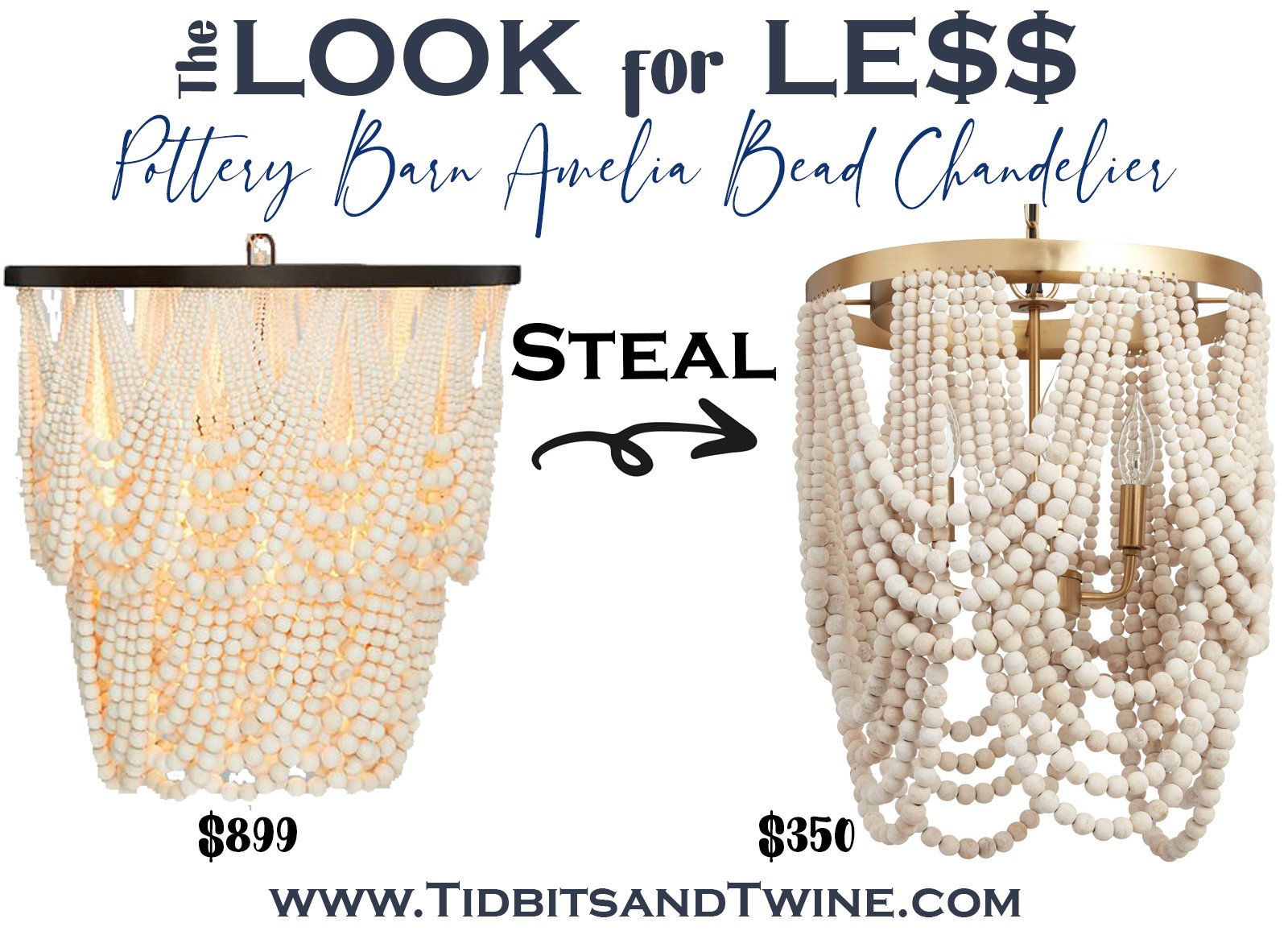 Pottery Barn Amelia Wood Bead Chandelier $899
Decor Steal: Whitewashed Wood Draped Bead 4 Light Chandelier $350
If you didn't realize, poufs are very "in" right now. Pottery Barn's 30″ wide pouf is made of jute and comes at a price. $299 per pouf!
Wayfair's Highland Dunes Garst pouf comes in a variety of colors and has a very similar look. It's smaller at 20″ but also comes with a much smaller price tag.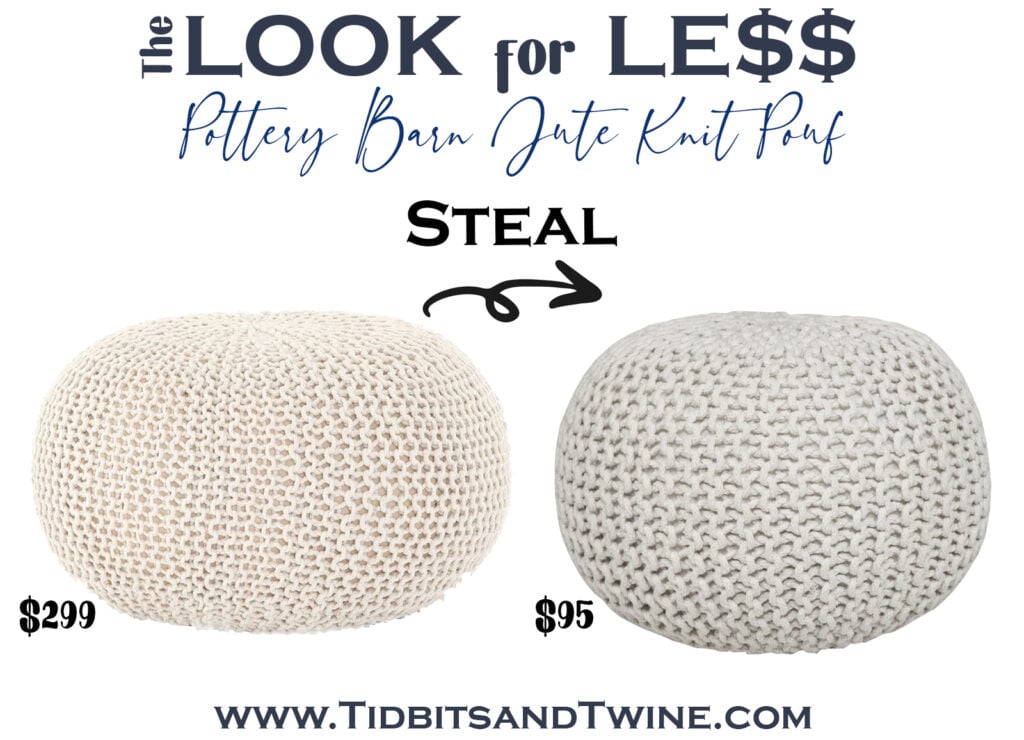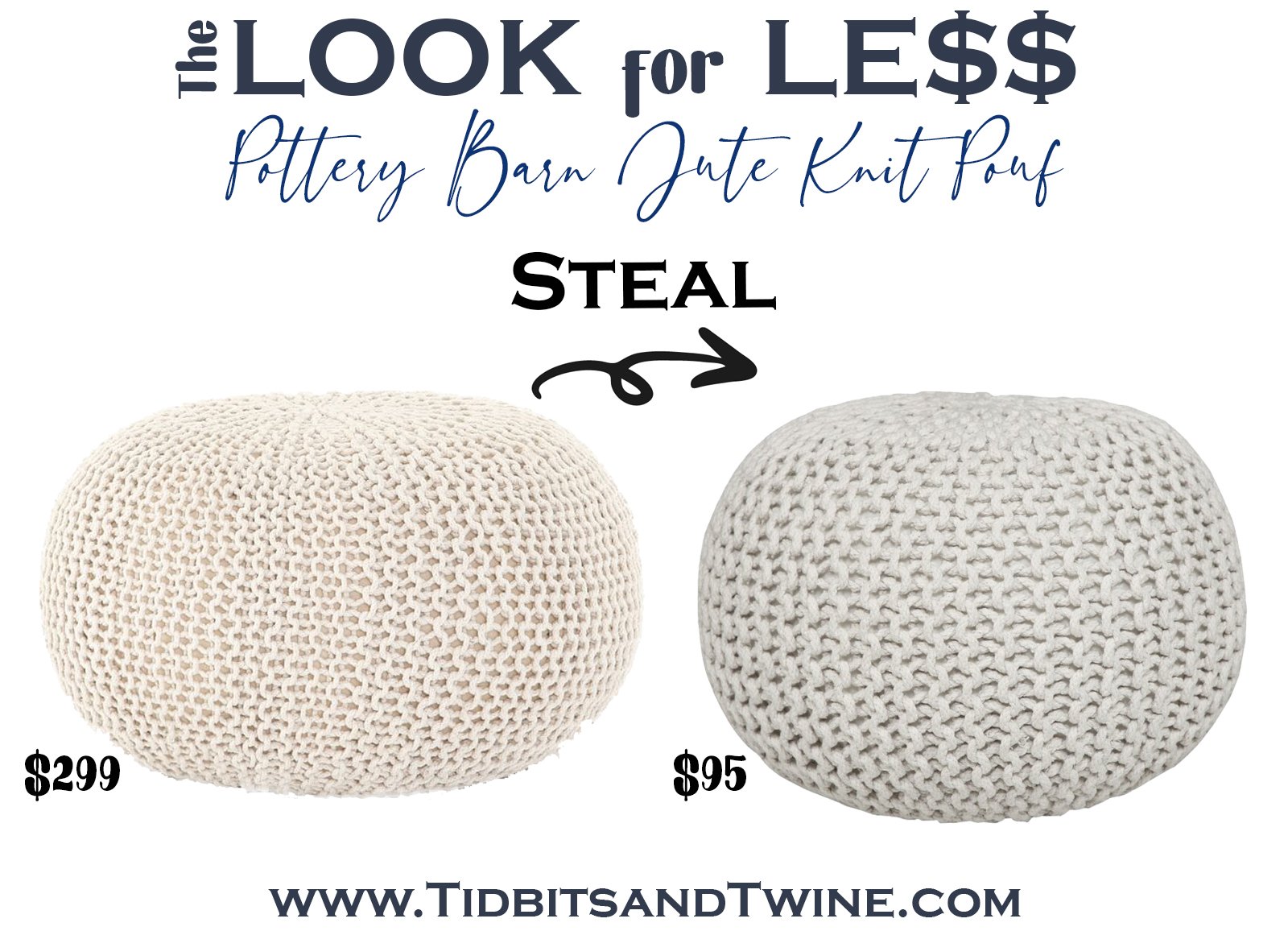 Pottery Barn Jute Knit Pouf $299
Decor Steal: Garst 20" Wide Round Pouf Ottoman $95
If you recall from my 2022 trend predictions, curved furniture will be big this year. The Delaney Round Marble Coffee Table has a beautiful brass finish and is 38″ wide. It's base is open on two sides in case you purchase the smaller nesting table.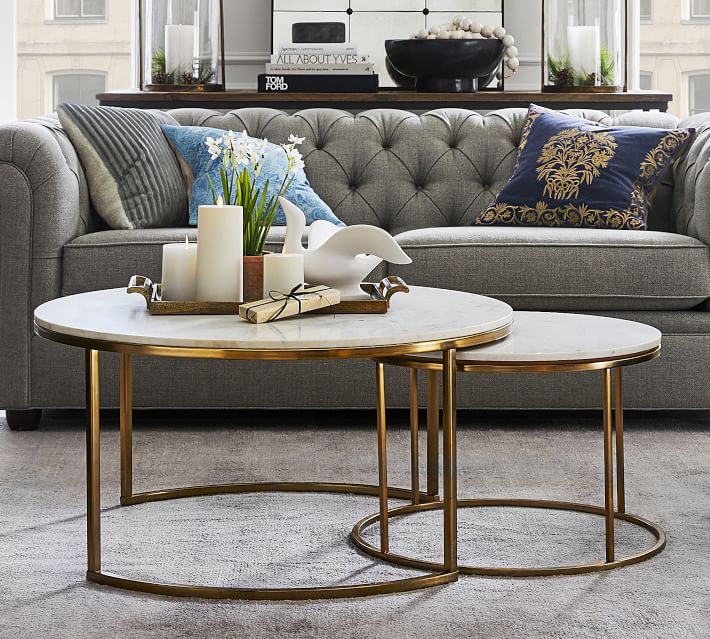 World Market sells a very similar coffee table with a marble top and gold colored base. At 30″ in diameter it's slightly smaller, but so is the price tag!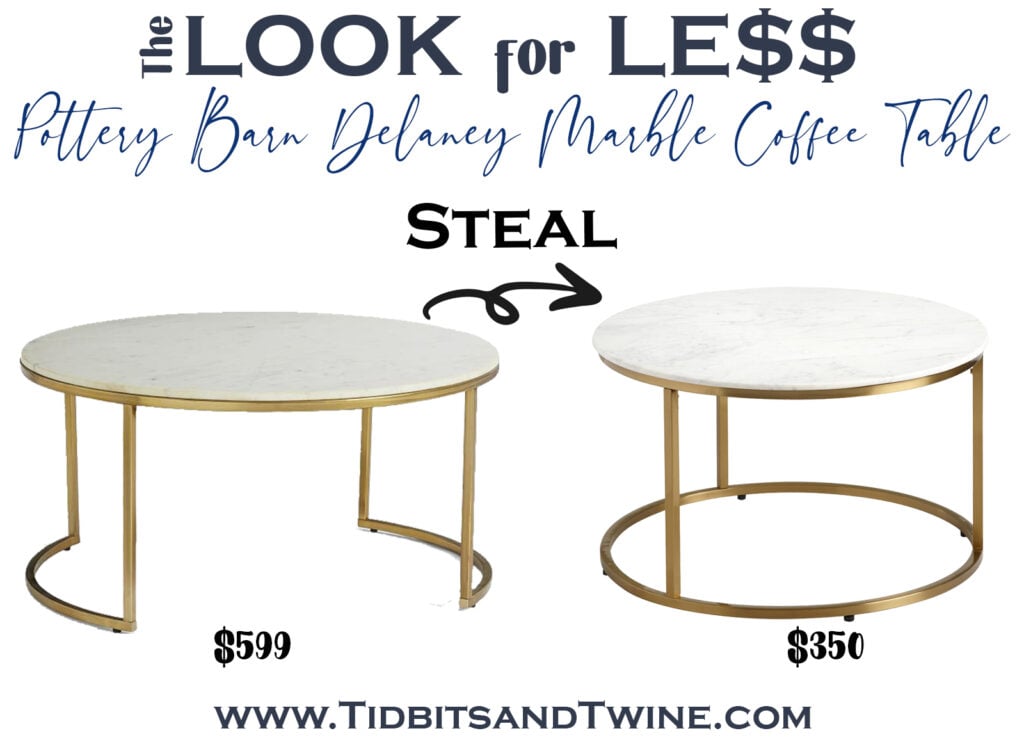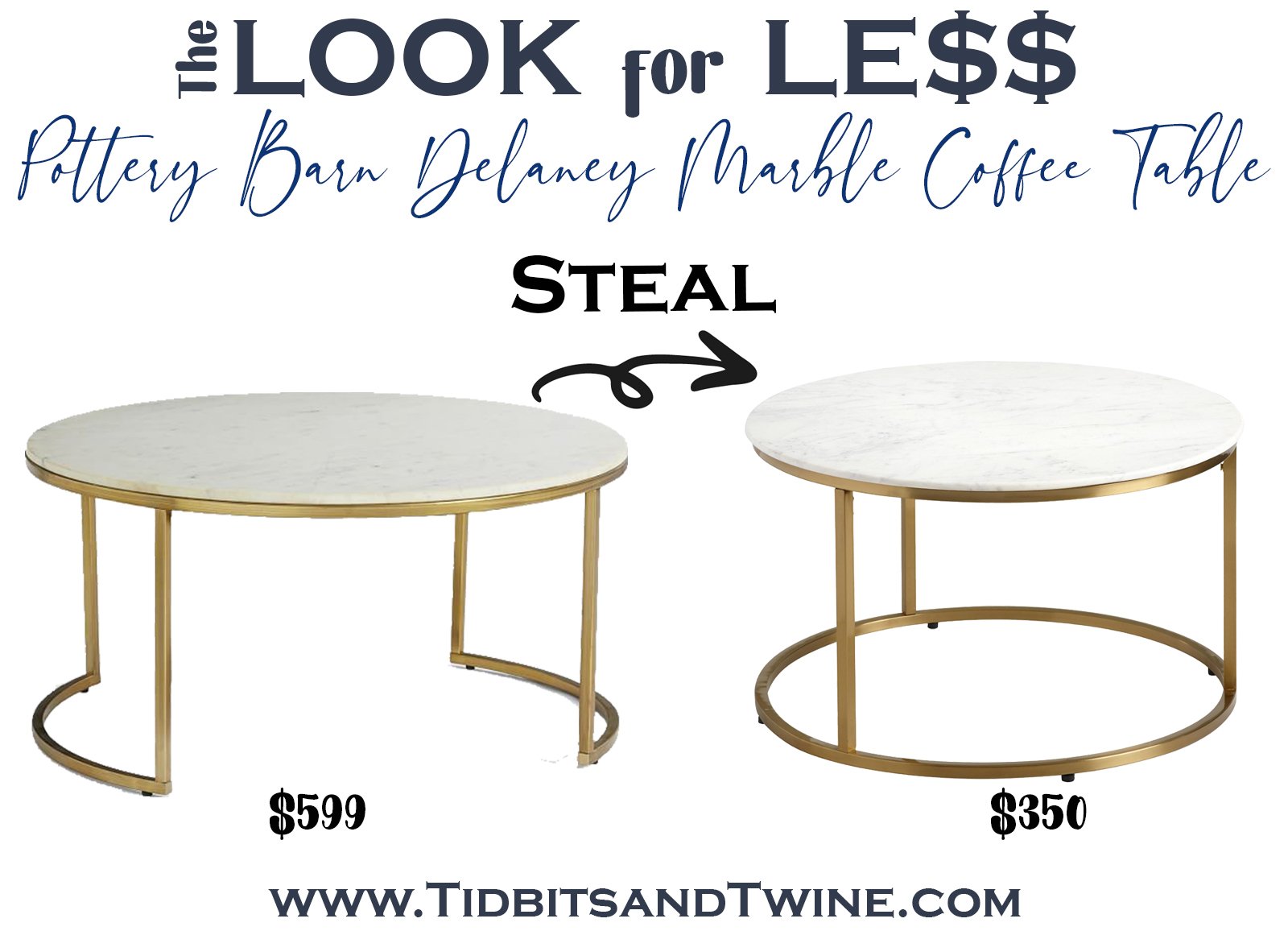 Pottery Barn Delaney Round Marble Nesting Coffee Tables $599
Decor Steal: Round White Marble Milan Coffee Table $350
This pedestal table has a very French look to it. Can't you just see it lining the cafes along the streets of Paris?! It has a 24″ marble top with black base.
Every so slightly smaller, World Market's Bistro Accent Table also has a marble top and black base. It's just 1/2″ less in diameter but sells for less than half the price!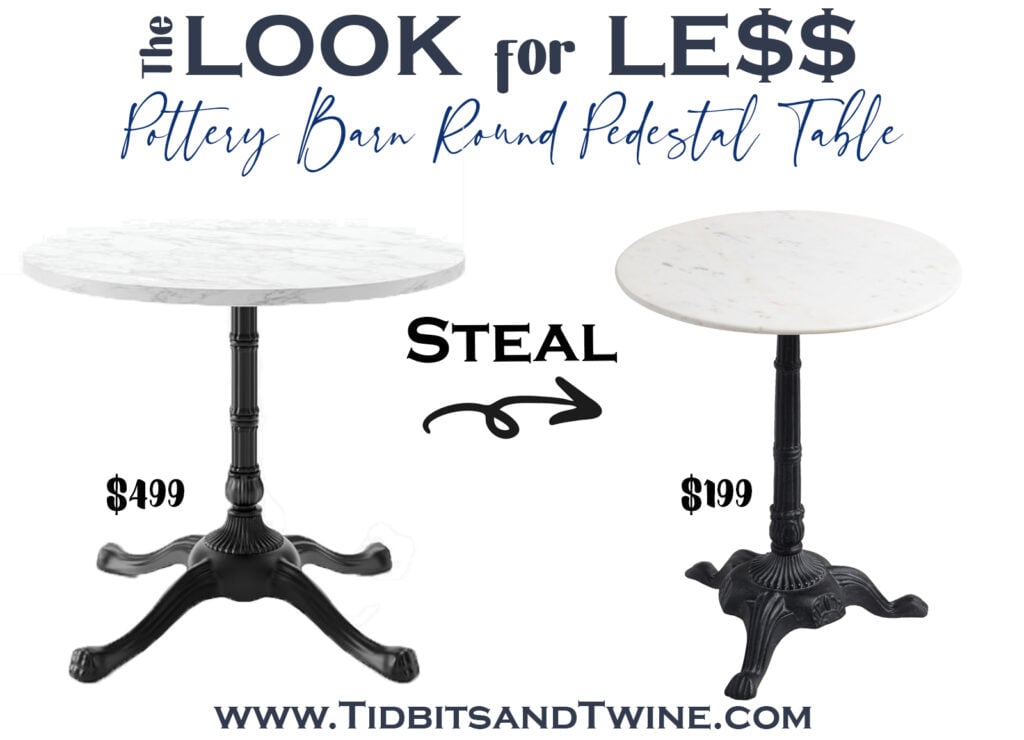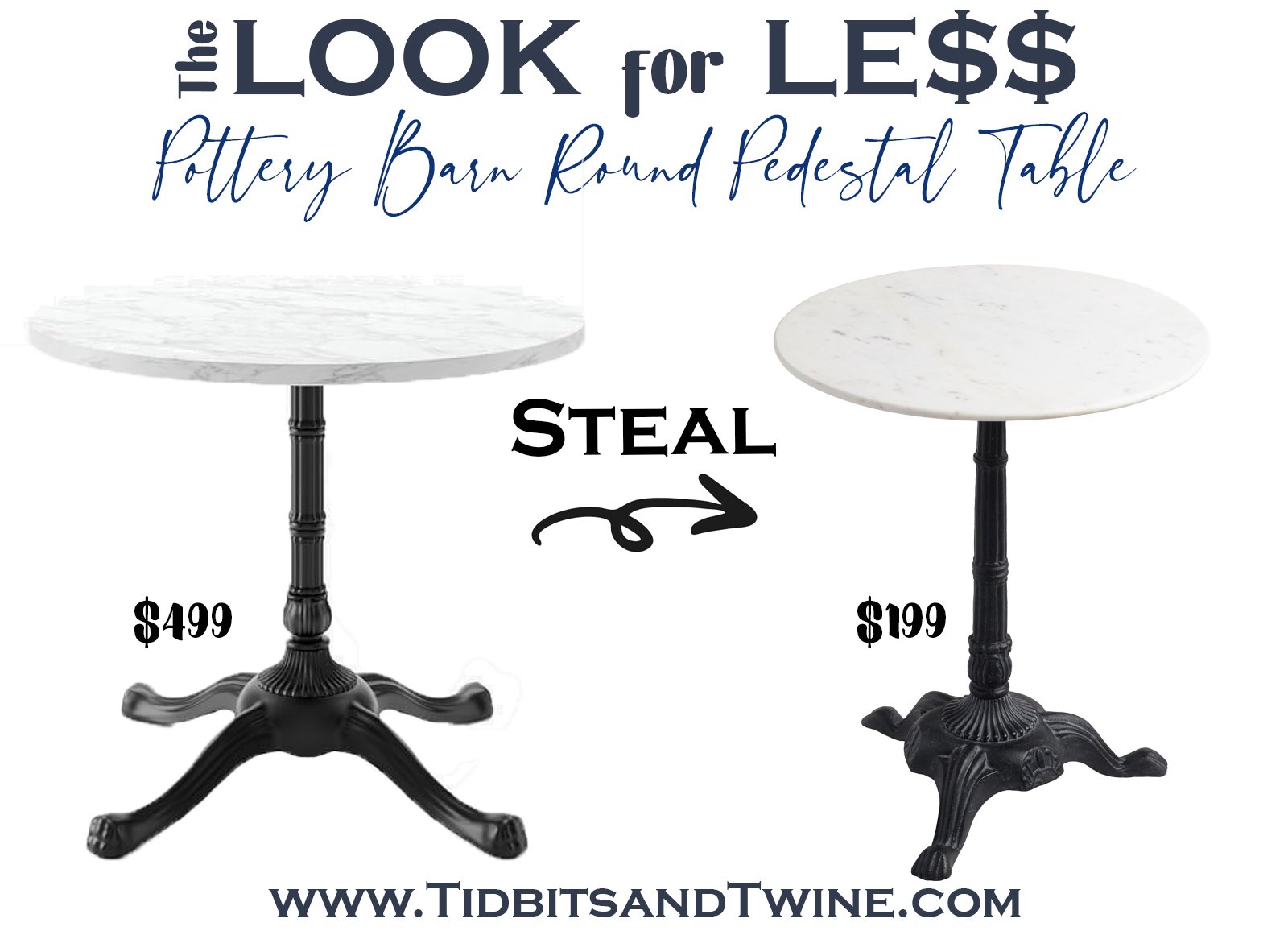 Pottery Barn Round Pedestal Dining Table $499
Decor Steal: Round White Marble and Black Metal Bistro Accent Table $199
More Shopping Tips
More Pottery Barn Dupes

Happy shopping!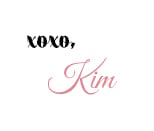 Join the Community
Let's keep in touch! Get exclusive artwork plus the latest news delivered directly to your Inbox!