I am all over the board when it comes to my "style."  Sometimes I like French, sometimes Traditional and sometimes Rustic.  Because of this, I sometimes find myself mixing and matching my furniture styles to help create a look that is uniquely me!  It used to be that matching furniture sets were a sign of luxury, but today, there is a move away from having all pieces in a room be identical.  While this makes the buying decisions a bit more difficult, it creates a more interesting and unique space!
Is it okay to mix different furniture styles together in one space?  Absolutely!  But when mixing and matching furniture styles, try to create something in common between all of your pieces to help create a unified look and keep your space from looking cluttered or chaotic.  Here are 5 ways to find common ground among differing styles.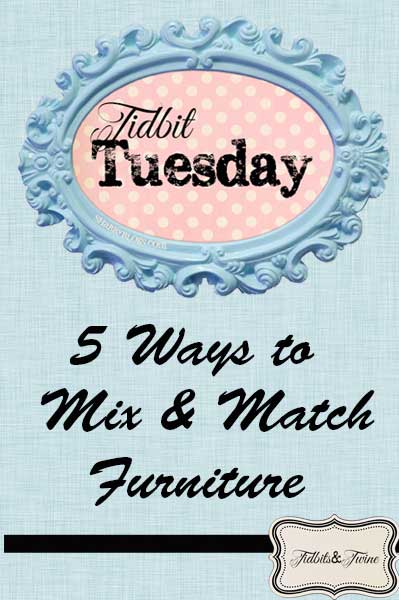 1.  Color
Using a consistent color throughout all of the pieces to help the items "speak" to one another and achieve a cohesive look.
2. Shape
Look for pieces that have similar shapes so that even though they might have different styles, they still "match."  For example, all of the seating in a room might have rounded arms, or all of the chairs in a dining room might have low profile backs.
3.  Scale
Scale doesn't just refer to measurements, but also the visual weight of varying objects.  Using a uniform scale among differing piece helps create a sense of balance and gives differing pieces something in common.
4. Feel
Once you know the feel that you want to create in a space, it's best to ensure that all pieces fit this feel.  For example, regardless of the style, formal pieces tend to mix best with other formal pieces, casual with casual, and so on.  The same is true for ornate pieces and simple pieces.  So for example, Arts and Crafts, which has a more simple design, will mix better with contemporary or Shaker style furniture, which also tend to have a more simple design.
5.  Visual Balance
When dealing with dissimilar objects, you can "cheat" the eye by creating visual balance so that they no longer look so dissimilar.  This visual balance is often created through the use of the other tips listed above, color, shape, scale and feel.
Mixing and matching furniture styles not only allows you to create a look that is uniquely yours, but also gives you a freedom to constantly evolve and update your look!