Are you looking for some cute pumpkins to incorporate into your Fall decor? From velvet to twig, ceramic, and more, I've rounded up my favorites at every price point!
Decorating with fake pumpkins, the ultimate fall decorating hack! These faux beauties bring all the autumnal charm without the fuss. They're like the pumpkin spice latte of decor—festive, cozy, and without any messy pumpkin carving dilemmas.
With their durability and variety of styles, you can unleash your inner decorator and go wild. Fancy a bit of rustic flair or a touch of glam? Fake pumpkins have got your back! From vintage vibes to modern marvels, there's a pumpkin style to suit every taste.
I previously wrote about my favorite realistic fake pumpkins and today is a roundup of my favorite decorative ones!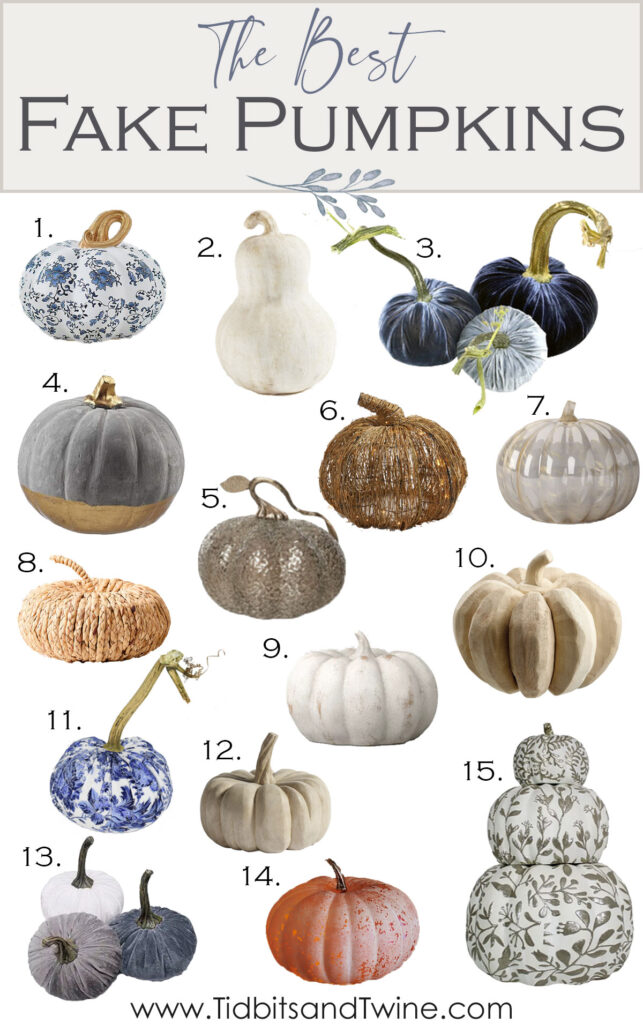 Calling all Fall enthusiasts!
I do love decorating with realistic faux pumpkins, but sometimes, I want something more elegant, cuter, or just different!
This is where decorative pumpkins come in!
While fresh pumpkins undoubtedly have their charm, the rise of artificial or fake pumpkins in recent years has revolutionized fall decorating. These faux alternatives offer durability, versatility, and an array of designs that make them a popular choice for seasonal decor.
I make a distinction between realistic and decorative fake pumpkins. Obviously, they are both fake, but personally, I use them a bit differently.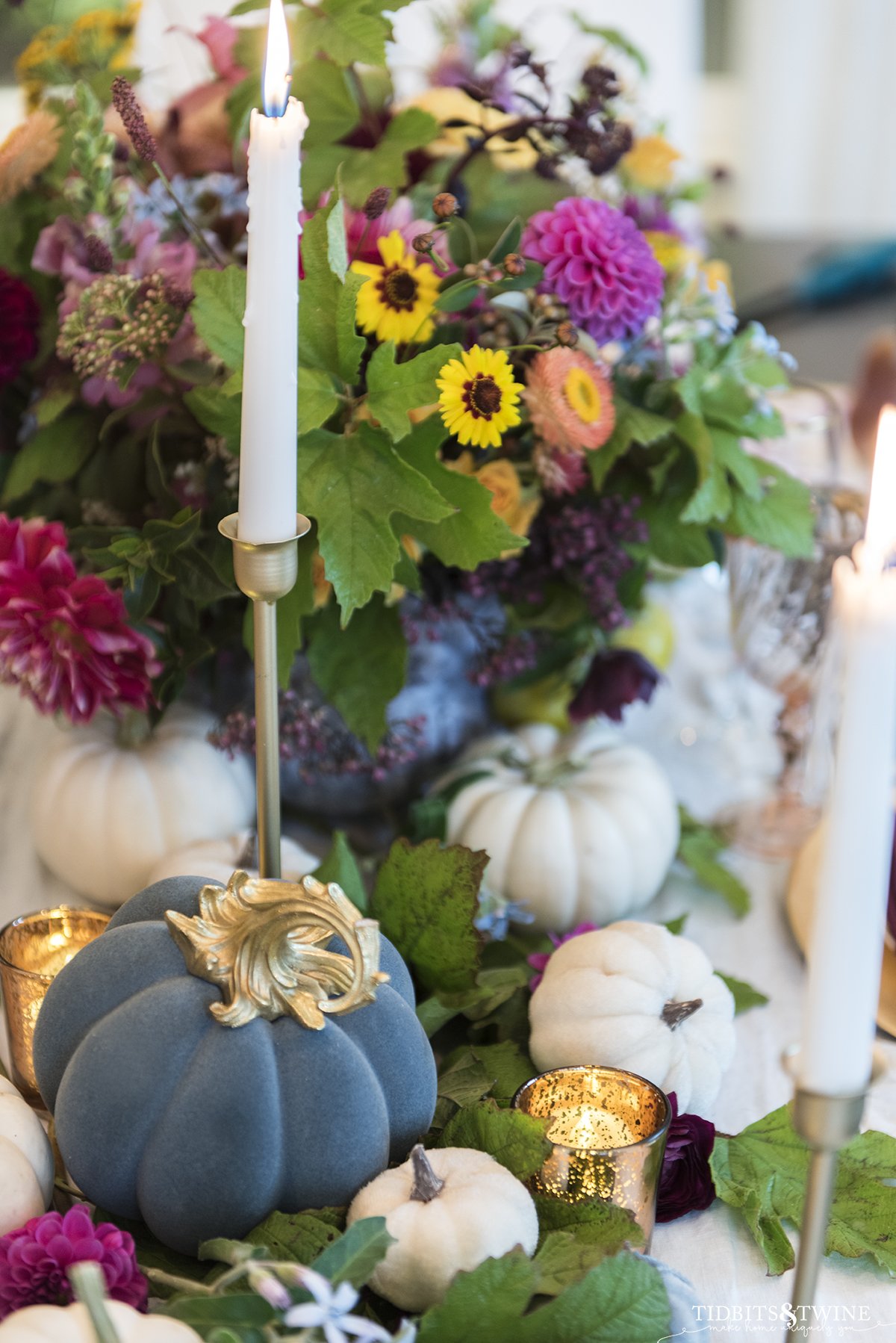 The Advantages of Decorating with Fake Pumpkins
Durability
One of the primary advantages of using fake pumpkins for decorating is durability. Unlike real pumpkins, which eventually decay and need to be replaced, artificial pumpkins can be reused year after year. Their ability to withstand the test of time makes them a cost-effective and sustainable choice for fall decorating.
Versatility
Fake pumpkins come in a wide range of shapes, sizes, and colors, offering unparalleled versatility. Whether you prefer classic orange pumpkins or opt for trendy metallic or pastel hues, there's a fake pumpkin to suit every style and theme. Additionally, artificial pumpkins can be easily customized and decorated to align with your unique vision.
Unlimited Designs
Artificial pumpkins are not limited to the typical round shape. You can find fake pumpkins in various shapes, including oblong, ribbed, squat, and even flat-bottomed designs. This diversity in shapes allows for creativity in arranging and styling, making it easier to achieve the desired look for your fall decor.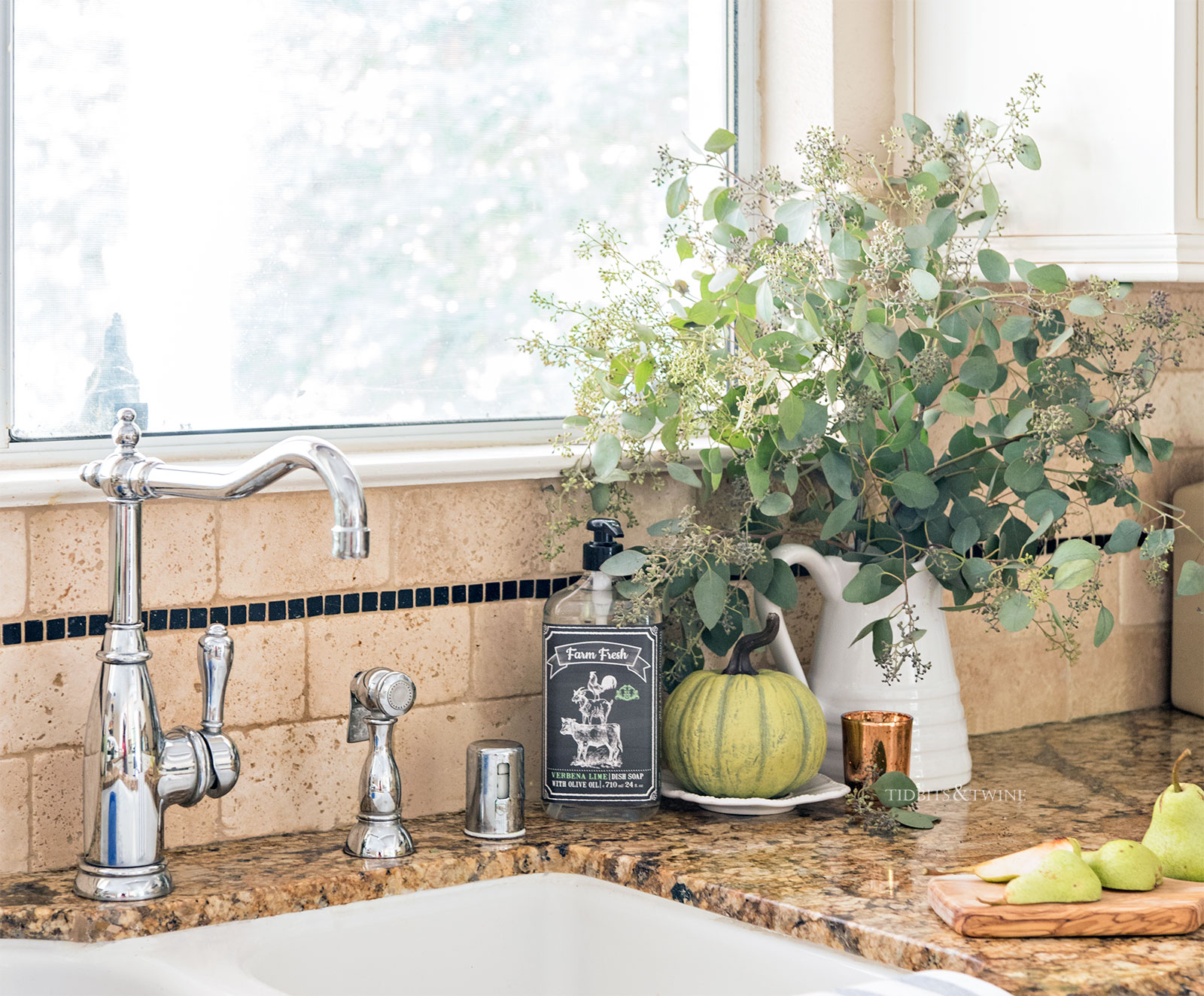 Types of Decorative Pumpkins
Honestly, if you can imagine it, it probably exists! There are so many different types of decorative pumpkins available these days to suit your taste, budget, and decorating aesthetic. Here are some categories that most pumpkins fall within (pun intended).
Traditional
The traditional style of fake pumpkins mirrors the look of real pumpkins in shape, size, and color. These pumpkins typically feature the classic round or slightly oblong shape, complete with a textured surface resembling the ridges and grooves of a natural pumpkin. The colors are typically in shades of orange, ranging from deep and vibrant to softer, more muted tones.
You can check out my style guide for the Most Realistic Fake Pumpkins
Rustic
Rustic fake pumpkins often have a distressed or weathered appearance, mimicking the look of aged pumpkins. They may have a slightly faded color or rough texture, giving them a vintage or farmhouse feel. These pumpkins are often adorned with accents like twine, burlap, or fabric stems, enhancing their rustic charm.
Glamorous and Metallic
For a touch of elegance and sophistication, consider glamorous and metallic fake pumpkins. These pumpkins are typically adorned with metallic paints or finishes, such as gold, silver, bronze, or rose gold. They may also feature embellishments like sequins, glitter, or rhinestones, adding a luxurious and glamorous element to your decor.
Whimsical and Fun
Whimsical fake pumpkins embrace a playful and imaginative aesthetic. These pumpkins often come in non-traditional colors like pink, teal, purple, or lime green. They can be adorned with playful patterns, polka dots, stripes, or even cartoon-like facial features, making them perfect for a lighthearted and fun approach to fall decor.
Vintage
Vintage-style fake pumpkins take inspiration from the past, embodying a nostalgic and timeless look. These pumpkins may have a slightly muted color palette, reminiscent of old-fashioned autumn hues. They often feature unique designs, patterns, or illustrations that evoke a sense of vintage charm, making them ideal for a retro-inspired fall decor.
Farmhouse
Farmhouse-style fake pumpkins exude a rustic and cozy ambiance. These pumpkins often have a muted color palette, including whites, creams, and soft earth tones. They may feature fabric or burlap accents, twine ties, or jute rope, giving them a natural and organic feel that complements a farmhouse aesthetic.
Modern and Minimalist
For a sleek and contemporary look, opt for modern and minimalist fake pumpkins. These pumpkins often have clean lines, smooth surfaces, and a minimalist color palette, such as white, black, or metallics. The focus is on simplicity and understated elegance, making them perfect for modern and minimalist decor themes.
Glitter and Sparkle
Glitter and sparkle fake pumpkins bring a touch of dazzle and glamour to your fall decor. These pumpkins are adorned with glitter or shimmering finishes, creating a luminous and eye-catching effect. They are perfect for adding a festive and celebratory ambiance to your space.
Natural and Textured
Natural and textured fake pumpkins mimic the organic textures and appearances found in nature. They may have a rough or textured surface, resembling the natural imperfections of real pumpkins. These pumpkins often feature realistic stems and colors, making them blend seamlessly with natural elements in your decor.
Themed and Novelty
Themed and novelty fake pumpkins are designed to represent specific themes, characters, or motifs. Whether it's a spooky Halloween theme, a beloved character from a story, or a seasonal icon, these pumpkins add a unique and personalized touch to your fall decor, allowing you to express your creativity and enthusiasm for the season.
My Favorite Decorative Pumpkins
I tend to like decorative pumpkins that add texture and fit with my other natural Fall decor…but of course, I make an exception for blue pumpkins which will always have my heart! My favorite pumpkins are usually:
Velvet – Obsessed! Especially if they have real pumpkin stems!
Wood
Ceramic
Grapevine or Twig
Concrete
Blue and White – Toile or chinoiserie
I searched high and low to source my favorite decorative pumpkins. You can find some of my favorites here: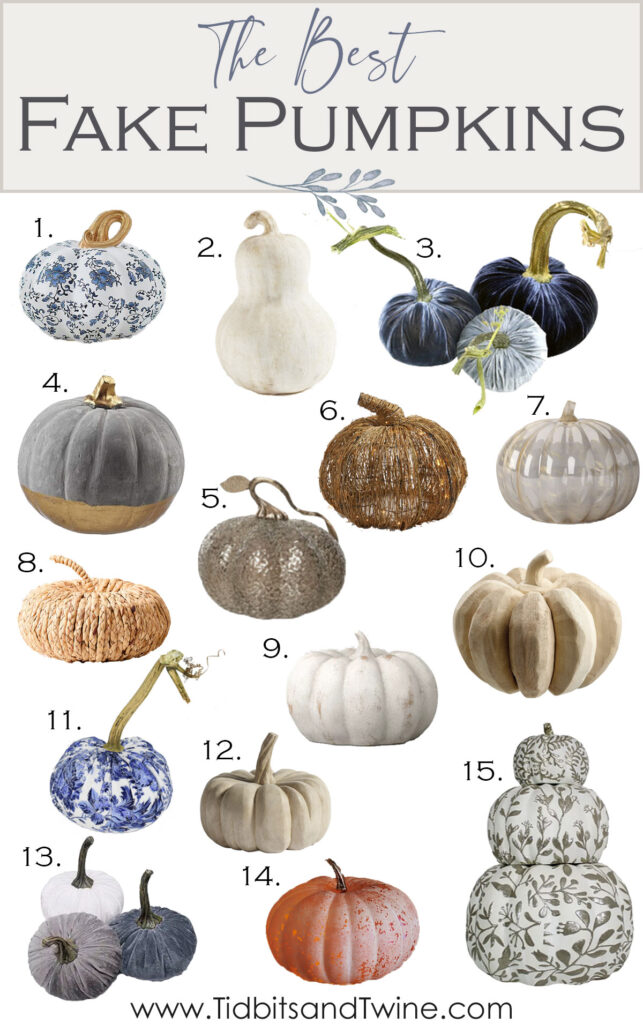 Since creating the graphic above, I found even more! You can find all of them below. Click on any of the images below to shop the product.

Join the Community
Let's keep in touch! Get exclusive artwork plus the latest news delivered directly to your Inbox!